Gluten-free diets seem to be more prevalent than ever before, but that doesn't mean dining out is always easy. While some restaurants have dedicated kitchens to prepare allergen-free food for health-conscious eaters, other establishments may not even employ a staff that understands what gluten really is. If you have a medical condition like celiac disease or another important reason to be strict when it comes to avoiding wheat and related grains, this list of dining-out tips is for you.
Even if your friends think you're a buzzkill, your family thinks you're demanding or your co-workers think you're bothersome, looking after your health is paramount. Don't be embarrassed to take whatever steps are necessary in order to ensure you have a safe eating environment with verifiable gluten-free meal options. Sometimes, you just have to prioritize your own well-being and having a food intolerance means that eating out is definitely one of those times.
What to Do Before You Dine Out
1. Know the Facts About Gluten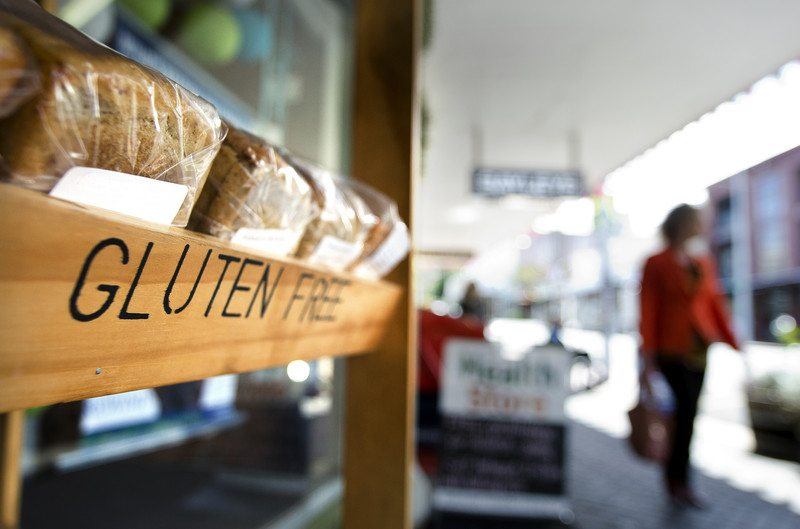 Gluten is a protein composite found in wheat and related grains including barley and rye, which means that many seemingly innocuous foods are actually problematic. In addition to obvious picks like traditional pasta and breads, recognize that sauces, imitation meats, dressings and seasonings often house some form of gluten if such products were not specifically made for a gluten-free audience.
2. Do Your Research on Restaurants

Spontaneity may be the spice of life but showing up at a random restaurant you've never researched isn't a great way to ensure that you're going to have allergen-free options at your beck and call. If you're serious about avoiding gluten, do your research and stay away from locations where a language barrier will prevent you from communicating your needs.
3. Look for a Gluten-Free Menu

If you're interested in hitting up a certain eatery, look online to see if the establishment has published a gluten-free menu, which is a great sign that such a restaurant may be able to provide you with a positive dining experience. If the business doesn't have its own official website, do a general search to see if an aggregate dining-out site or some other resource may have the menu listed.
4. Check for Certification or Training

Verify that the restaurant is reliable by looking for certifications from credible organizations like the Gluten Intolerance Group, which designed the Gluten-Free Food Service Certification Program to help restaurants provide safe options while raising consumer confidence. If an eatery lists training from a gluten-free organization you're unfamiliar with, research the organization to see how its standards compare with your own.
5. Ask Your Gluten-Free Friends

Talk with your friends and colleagues who also maintain gluten-free diets and ask if they've ever been to the restaurant you're considering eating at. Additionally, ask if they have other places to recommend or to advise against. You can also poll your social media connections to get feedback from other people whose opinions you value.
6. Call Ahead

Consider placing a call to the restaurant you're interested in frequenting so you can ask questions about the menu and how the kitchen is run in order to identify potential cross-contamination issues. To increase your chances of connecting with a kitchen manager or authoritative chef, make sure you call in between standard meal times so you're not catching the workers during their busiest time of day.
7. Know Your Cross-Contamination Limits

Recognize what your body can and can't handle. If you maintain a gluten-free diet for general health reasons, you may not be overly concerned about your salmon being grilled on the same surface that previously heated a wheat tortilla. Alternatively, if you have a severe wheat allergy, it may make a world of difference to know that your French fries will be cooked in the same oil as breaded meat. Based on your personal circumstances, you may need to be extremely picky about where you eat.
8. Print Out an Informational Card

Create or find a digital file, which you can print out and carry with you, that explains your situation of suffering from a food-related illness that requires you to avoid all meals that contain any derivative of wheat, rye and barley including traditional white flour, bread crumbs, most soy sauces, etc. Be prepared to show your printed card to your waiter and to members of the kitchen staff, if needed, to help you communicate that your food sensitivities are very serious.
9. Pack an Epinephrine Auto-Injector

Talk with a healthcare professional to see if your condition puts you at serious risk for developing anaphylaxis when eating out. If advised by your medical practitioner, pack in your bag supplies to safely administer an intramuscular injection of epinephrine. Make sure you have read the patient information that accompanies your injector, you have verified the expiration date and you act in accordance with what your doctor recommends.
10. Wear a Medical Alert Bracelet

If you have a life-threatening problem concerning gluten exposure, wear a medical bracelet that explains your condition so that emergency personnel can immediately understand what they're dealing with if anything were to happen you. If you have multiple allergies and sensitivities, consider getting a customized engraving that details all of the important facts concerning your health.
11. Eat a Small Meal Before You Go

If you have no say in what restaurant your company is heading to for a work function or what venue your friend is hosting her birthday party at, you may not be able to determine ahead of time what kind of meal options will actually be available to you. When in doubt, eat a snack or small meal before you arrive. That way, you won't be absolutely starving if you don't end up finding something on the menu that's actually gluten free.
What to Do When You're At The Restaurant
12. Be Friendly

Whether you have legitimate health concerns or not, nobody likes catering to a total pain in the butt. Go in with a kind and appreciative attitude. Be prepared to choose your words wisely, conveying an awareness that you're asking for a favor and you appreciate that these employees are going above and beyond to help you stay safe. Remember to smile and make requests rather than demands.
13. Talk to Your Server

As soon as you're seated, explain that you're on a gluten-free diet. If the waiter who takes your initial drink order is different than the employee who will place your dinner order, you may have to repeat your introduction once the latter arrives, but that's fine. Once you've had a chance to gloss over the menu, pull out your typed card and start a dialogue with the server. To be informative without being condescending, you can introduce your allergens list by starting with something like "I'm not sure how familiar you are with a gluten-free diet, but for medical reasons I can't consume anything that contains . . . ." Don't just assume your server understands what gluten actually is.
14. Ask for Specific Details Regarding Ingredients and Cross-Contamination Possibilities

Once you're interested in ordering a particular item listed on the menu, ask to see a full list of ingredients for that dish. Even if your waiter successfully grasps what your food sensitivities are, she may not be in the know regarding what all goes into a dish and what all takes place in the kitchen, in which case you can politely ask to speak directly to a chef or manager who will know the answer. Make sure to ask related follow-up questions like "Is the gluten-free pasta cooked in the same water as the regular pasta?" or "Are the skillets washed in between every meal?"
15. Take Your Time to Understand and Consider Your Options

After your questions have been answered, you may need some time to think over what option is going to be best for you. Don't let yourself feel pressured or rushed into making a decision on the spot. If needed, ask for a few more minutes to think so that you can carefully evaluate all of the possibilities before you.
16. Avoid Ordering High-Risk Foods

If you can't get all of your questions answered and you're severely sensitive to gluten, stay away from high-risk possibilities like soups, sauce-covered dishes and fried foods. Consider playing it safe by ordering a dressing-free salad or some plain broiled meat–and skip dessert.
17. Request the Use of New Food-Handling Gloves and Freshly Washed Spaces

To minimize cross-contamination concerns, issue a friendly request that those preparing your food will put on new gloves to handle ingredients and will only use freshly cleaned surfaces including cutting boards, frying pans, knives and spatulas. Remember to express your gratitude and patience.
18. Analyze Your Plate and Ask Questions if Anything Seems Amiss

Whether or not the person delivering food to your table is the same person who took your order, carefully look at the contents of your plate before you dig in. If there are any surprises, ask what the questionable item is so you know sooner rather than later if something is wrong with your meal.
What to Do After You've Finished Your Meal
19. Pull Out a Protein Bar or Shake from Your Bag If You Still Need More to Eat

Even if you do your best to plan ahead and order a safe-looking meal, dining out can always throw you a curveball. If your meal ends up seeming sketchy so you stop eating after a couple of bites, or if the dish is simply less filling than you had imagined, don't be shy about reaching into your purse or briefcase for a ready-to-go protein shake or energy bar, which you can eat right then and there. Granted, drinking a bottled shake may not seem exciting when everyone else at your table is still digging into a hot meal, but it's good to be safe and satiated.
20. Leave a Great Tip if the Service Was Good and Your Meal Was in Order

If your server enthusiastically tended to your every question, reward his outstanding service with a handsome tip. Also, be sure to find the manager before you exit the restaurant so you can sing the praises of your waiter, the kitchen staff and the establishment itself, leaving a positive impression that gluten-free diners are the best.
21. Analyze How You Feel Over the Next Few Days

If you're so inclined, keep a food journal so you have a record of the when, where and what concerning all of your dining-out adventures. Monitor your health over the next few days or weeks to verify that you aren't experiencing any negative effects that could be associated with having unintentionally come in contact with gluten. That way, you'll be able to better judge if you should frequent that place again or stay away.