The food has always been one of my favorite parts of Halloween, particularly all the different types of candy and candy-like desserts. There are just so many fantastic options out there, and they really make the holiday special. But, why limit it just to the food itself?
From spending some time digging around on Etsy I've found many different examples of how fantastic Halloween candy looks when used in other applications – particularly jewelry. Now, to be clear, I'm not talking about actual candy here. Instead, I'm talking about handmade creations sold on Etsy that look like miniature versions of the candy that we all know and love. Okay, I know that pumpkins aren't candy – but they do remind me of the mallowcreme pumpkins, so they count.
This type of jewelry is a fantastic way to get into the spirit of the season, and it lets you have some fun without having adding onto your waistline. Plus, much of the jewelry is subtle enough that you could wear it all year round if you were so inclined. My favorite from this list is the monster ice cream necklace, but I'm betting that you have a different favorite.
Caramel Apple Earrings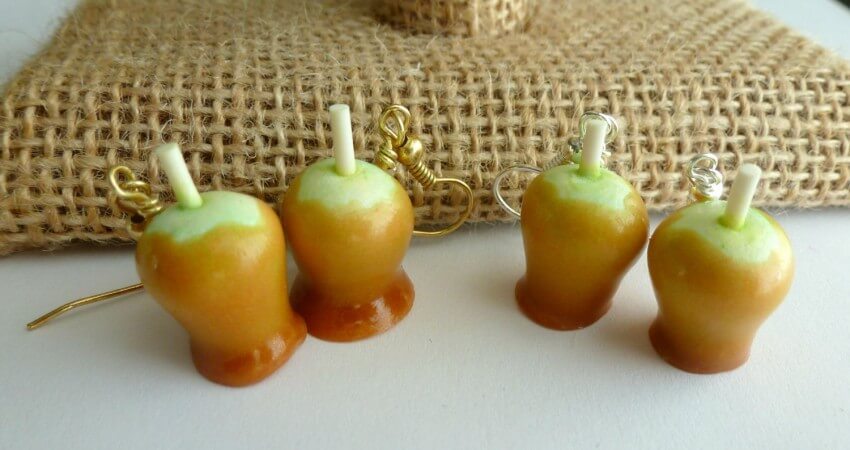 As a symbol of fall and of Halloween, these cute caramel apples would work well throughout the fall and well into winter.
Cartoon Pumpkin Earrings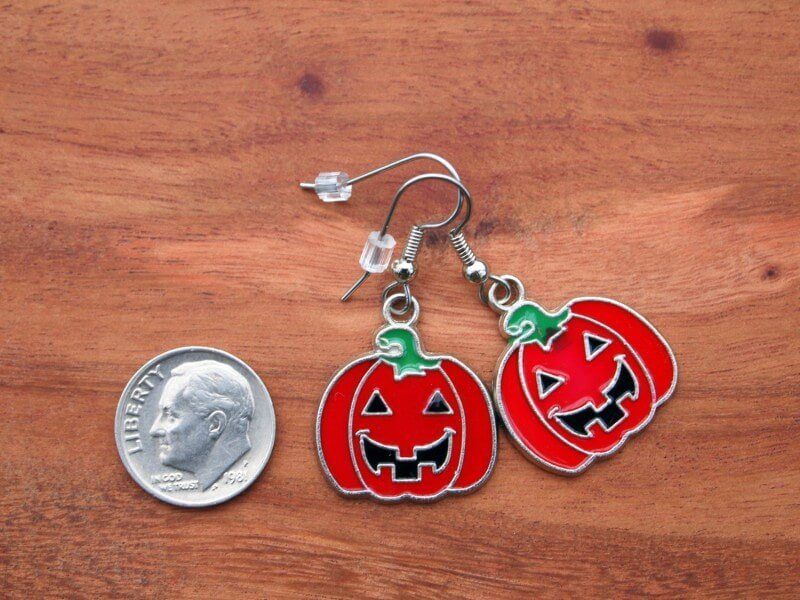 I love the way these pumpkins look like cartoon characters, don't you?
Halloween Cupcake Necklace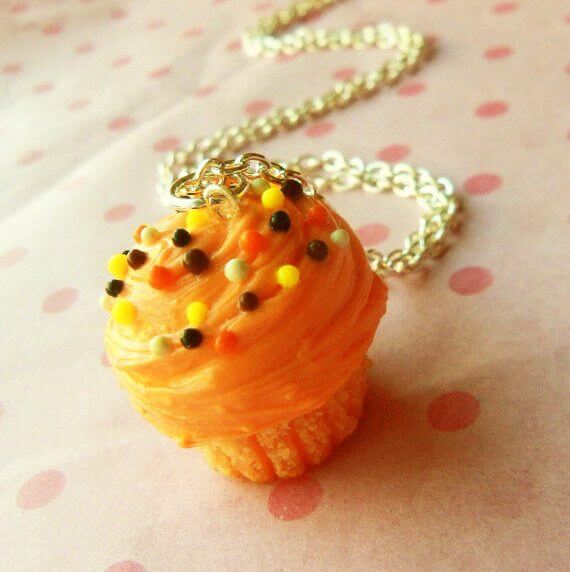 This cupcake looks good enough to eat, and it certainly has the whole fall colors thing going.
Candy Apple Donut Earrings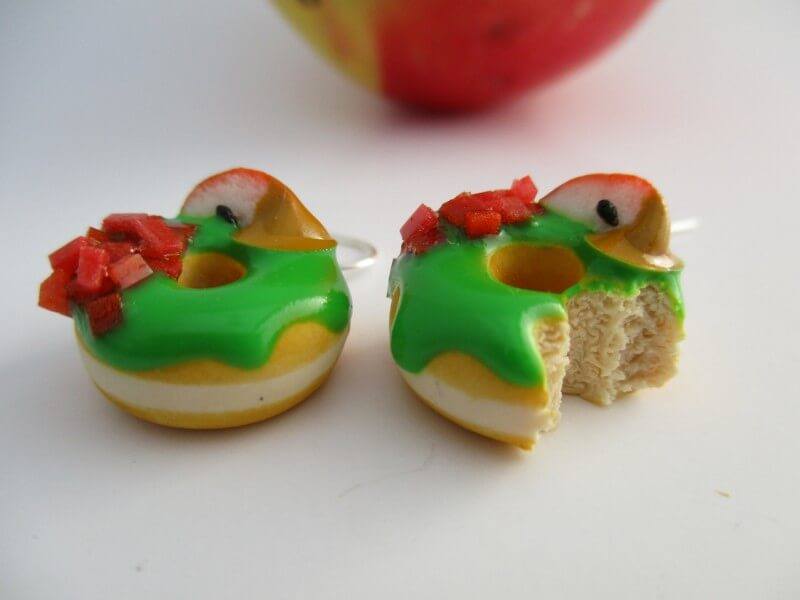 Not only are they donut earrings – but someone has even taken a bite!
Antique Bronze Pumpkin Earrings and Necklace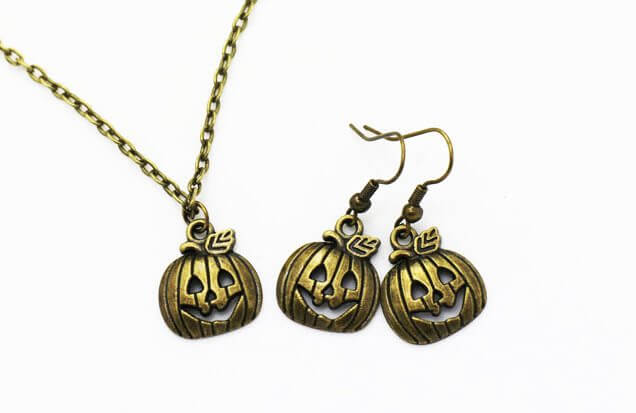 These pieces are great if you want something a little different, because they have that whole vintage look.
Halloween Lollipop Earrings

I think it's the colors of these lollipops that make them seem like Halloween. Whatever the reason, they sure are stunning.
Candy Apple Charms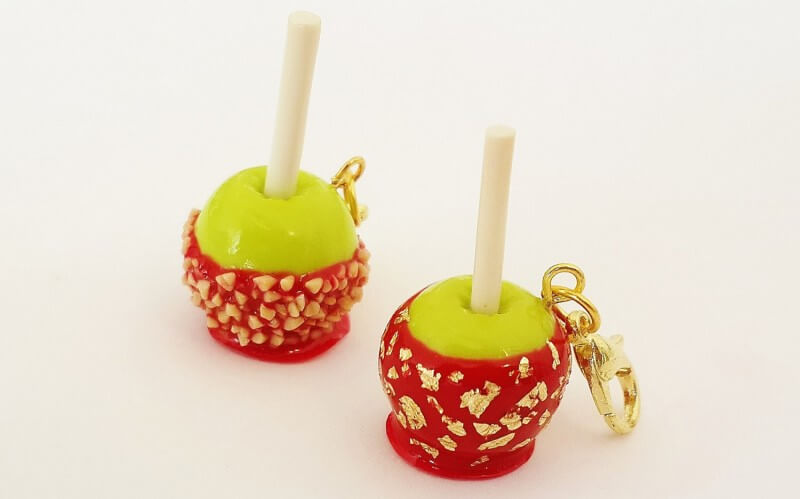 I love both styles of these charms, although the ones with gold flakes do seem a little better to me. What about you?
Monster Ice Cream Cone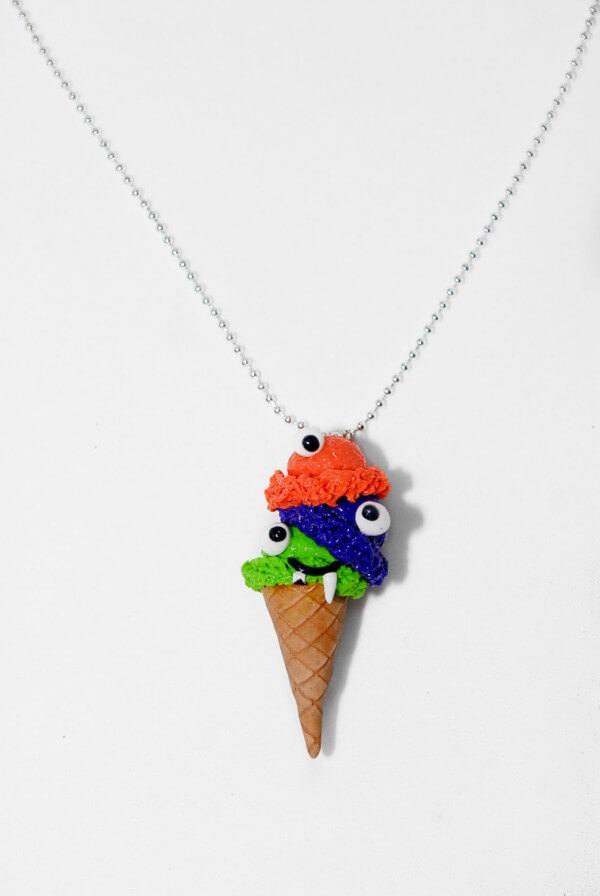 I absolutely love this. The necklace is very Halloween-like and very unique.
Pumpkin Pie Earrings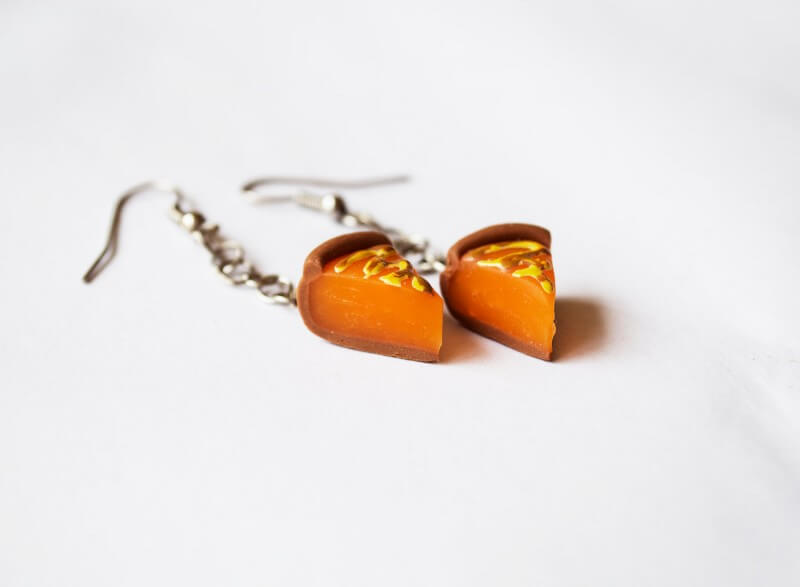 Have you ever thought about hanging pumpkin pie from your ears? If not, these pie slices might make you reconsider.
Fall Sandwich Cookie Necklace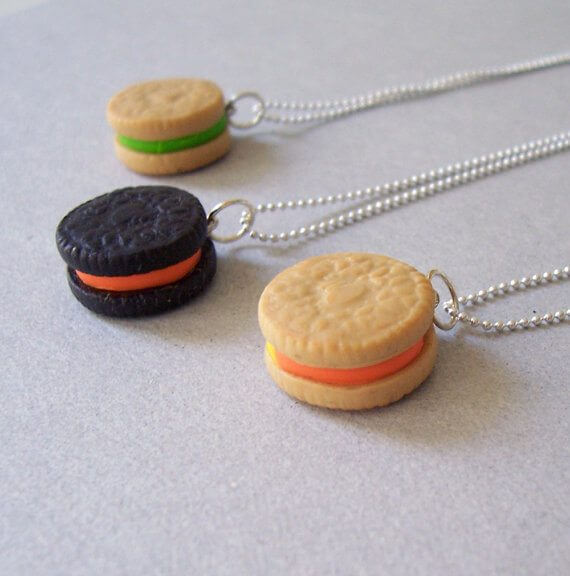 Sometimes the Halloween theme doesn't come from the item itself, but from the colors – this is another case of that.
Pumpkin Pie Necklace

Here's a pumpkin pie slice you can hang around your neck – just don't try to eat it. One of my favorites on this list!
Lollipop Earrings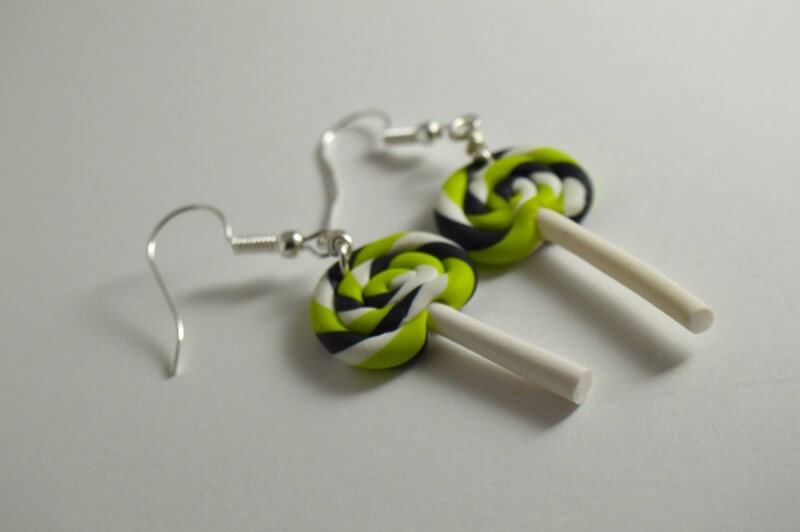 These spooky lollipops are cool and the use of green, black and white just works so well. It reminds me of Beetlejuice for some reason 🙂
Spooky Mini Cake Ring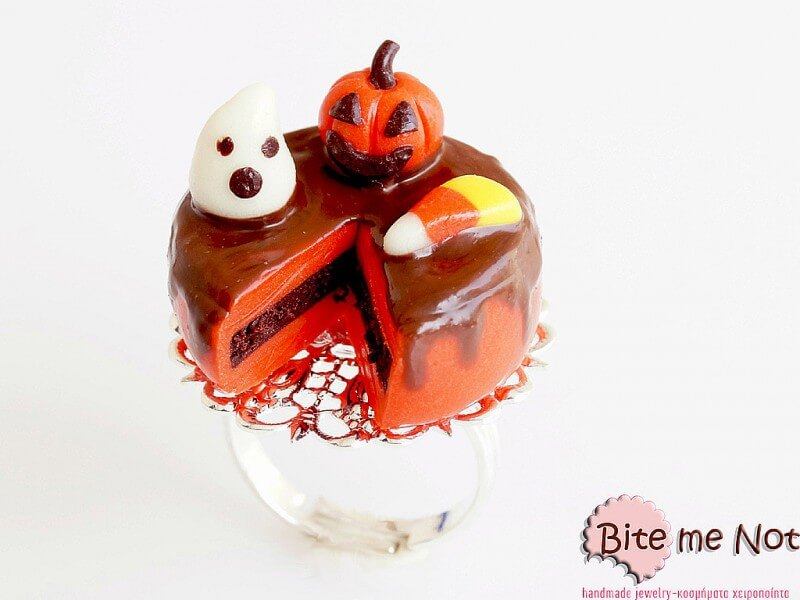 I'm not sure that a ring like this would be very practical, but it does look cool.
Candy Corn and Pumpkin Necklaces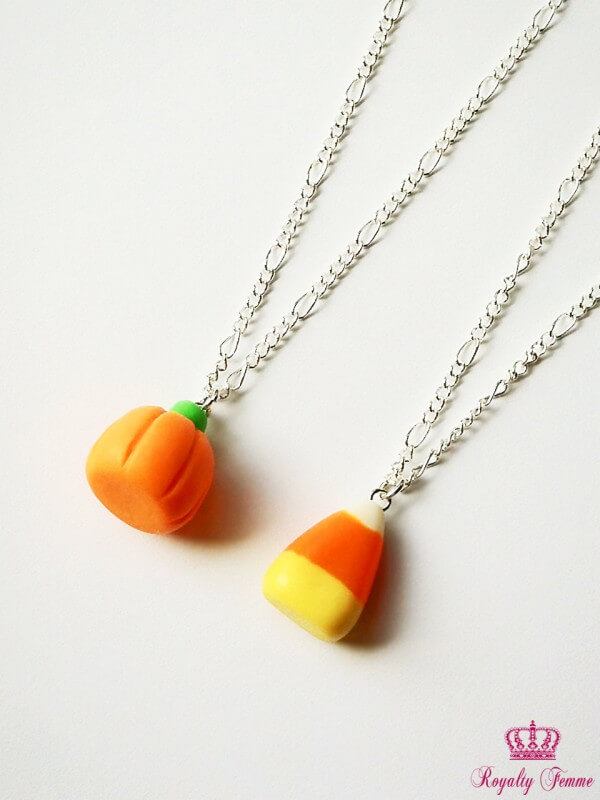 These pieces look exactly like mallowcreme, so hopefully no one will try to eat them.
Novelty Pumpkin Earrings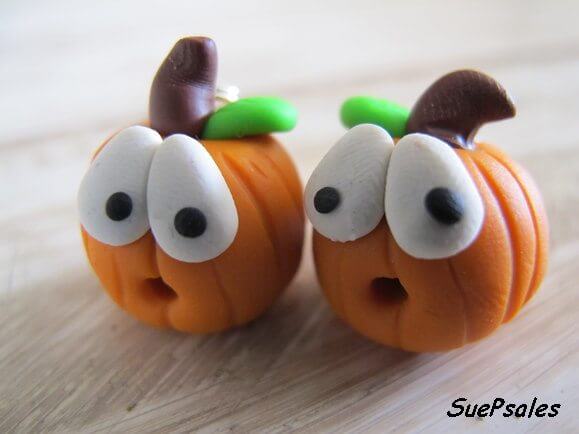 I love these very surprised pumpkins, they also have that homemade look, so everyone would wonder where you got them from.
Peanut Butter Cup Earrings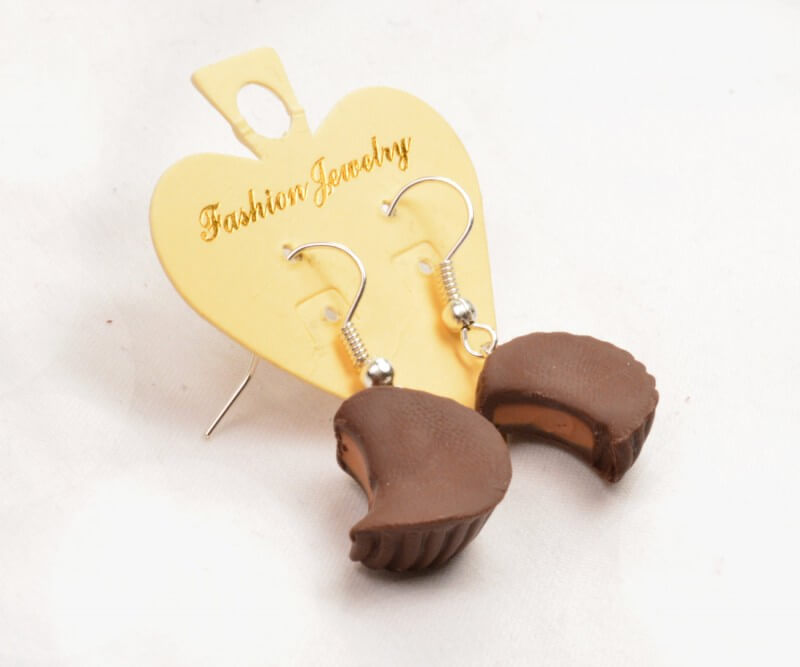 With these earrings, the fact that the peanut butter cups are bitten into is a good thing. They wouldn't be as recognizable if they were whole.
Candied Apple Necklace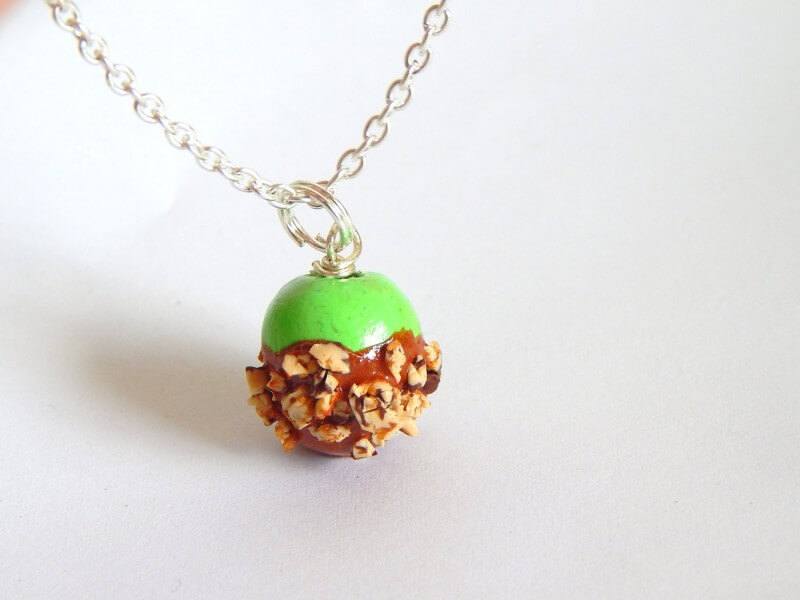 I love the way this one looks, particularly the way the green and the caramel contrast. It would be great fun to wear at a party.
Donut Earrings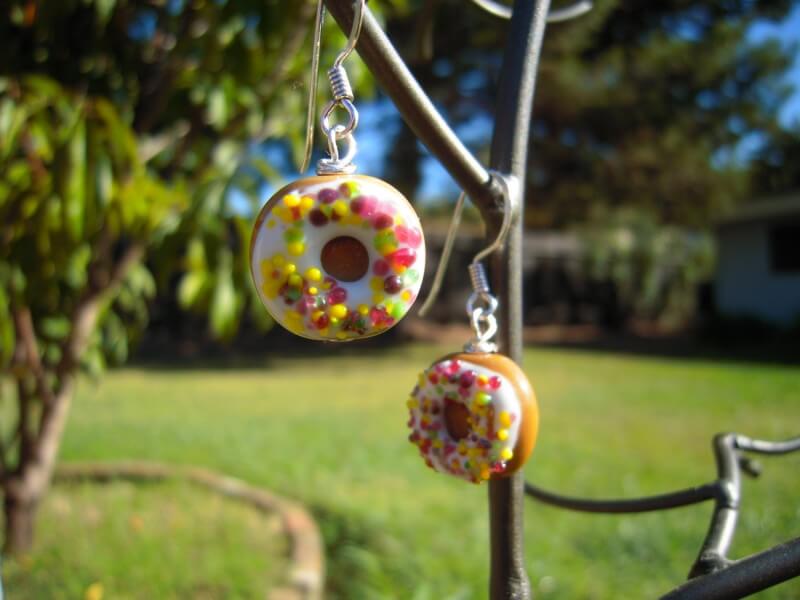 These would make a great gift for anyone who likes donuts.
Devil Horns Red Velvet Cupcakes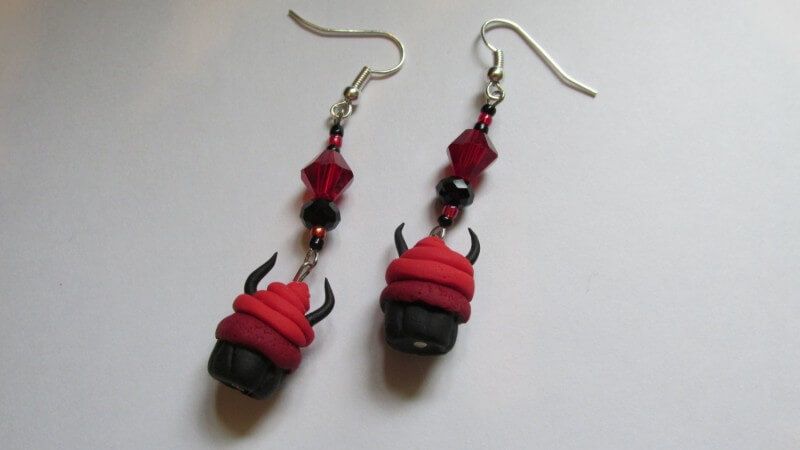 These actually look very elegant and they'd even work well with some Halloween costumes.
Orange and Black Macaron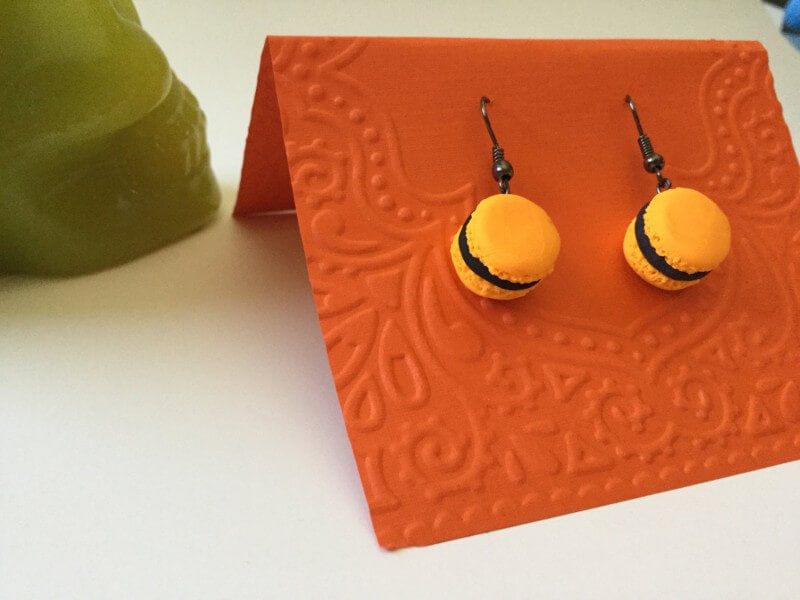 These look tiny, but cool – and perfect Halloween colors.
Realistic Pumpkin Earrings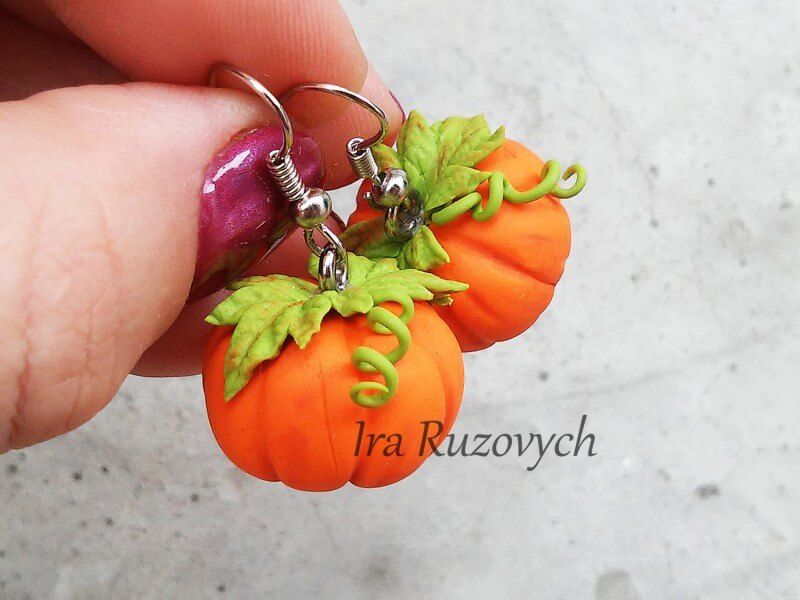 A lot of time must have gone into making these, because the detailing is very well done.
Halloween Cake Earrings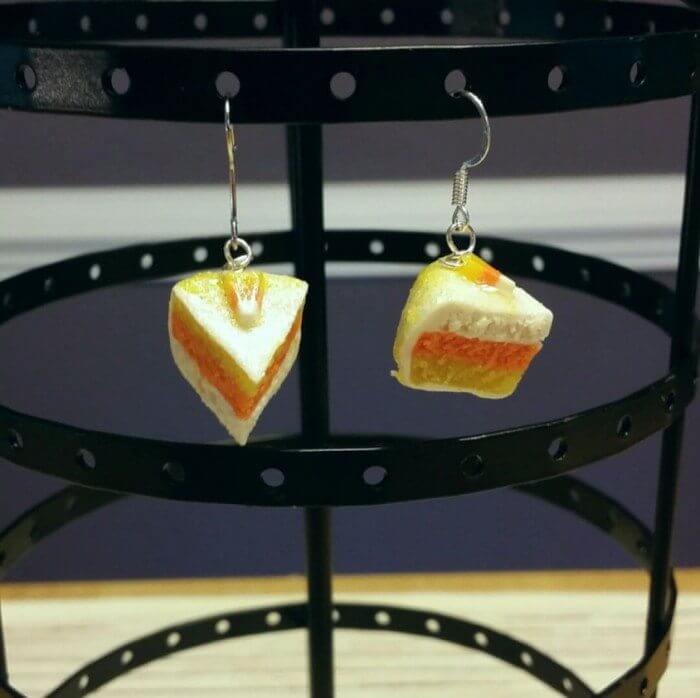 To me, this looks like a candy corn cake, which is doubly cool.
Candy Corn Earrings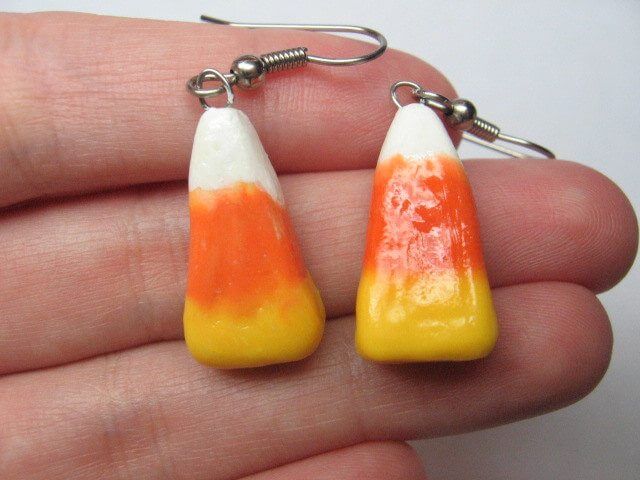 Speaking of candy corn, here are some relatively large candy corn earrings, aren't they cool?
Halloween-Themed Donut Earrings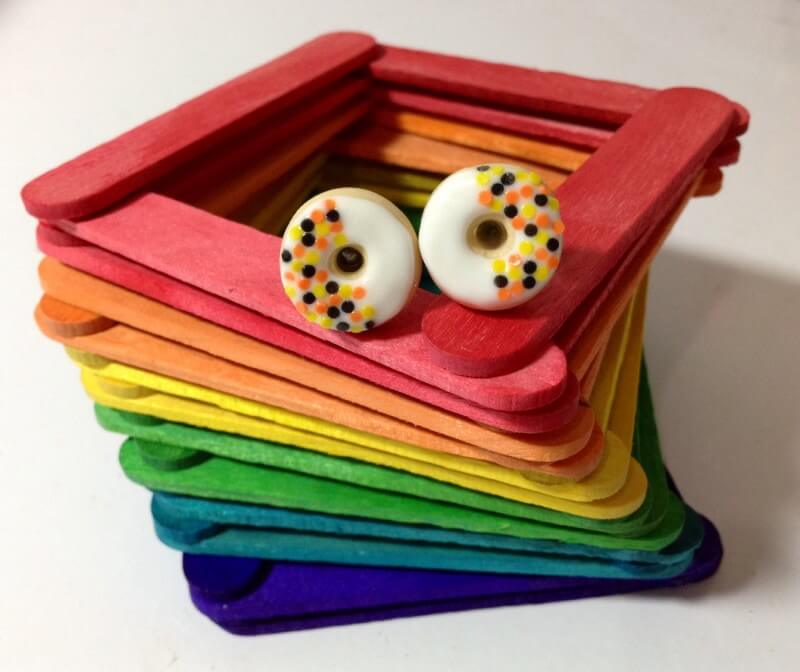 These donuts are one of the few examples of stud earrings on this list, and the attention to detail is fantastic.
Cute Ghost Cupcake Charms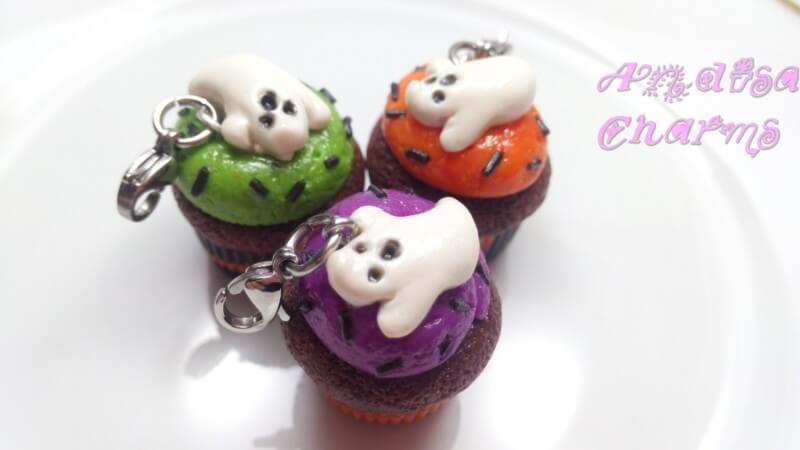 The ghosts on here are cute, and because it is a charm, you could use the cupcakes on all sorts of things.
Halloween Cake Ring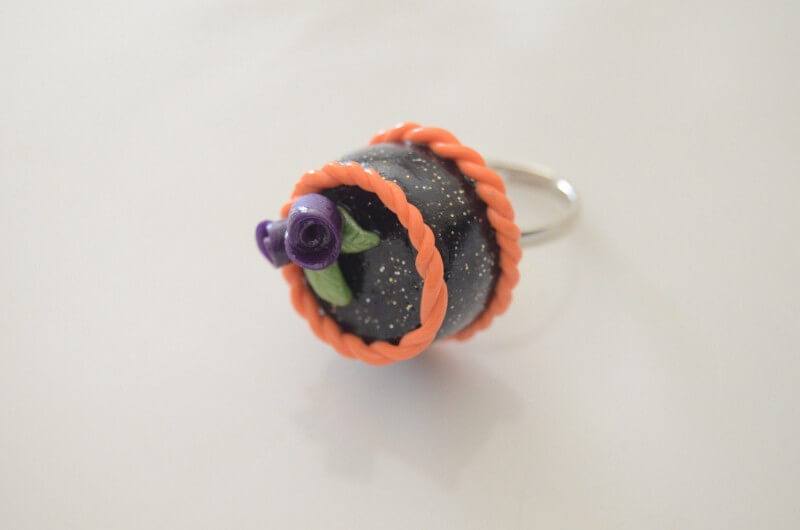 On first glance I thought this one was a hat, but it's actually a detailed cake that's decked out in Halloween colors (and a bit of glitter).
Pumpkin Charm Necklace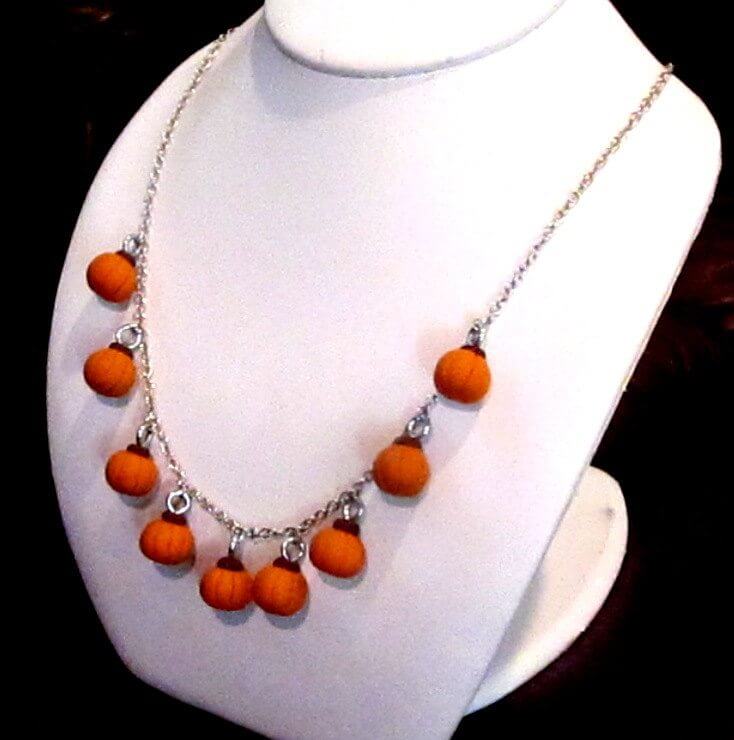 Why settle for one pumpkin? This necklace manages to look both seasonal and refined by having multiple pumpkins.
Ghost Cake Slice Necklace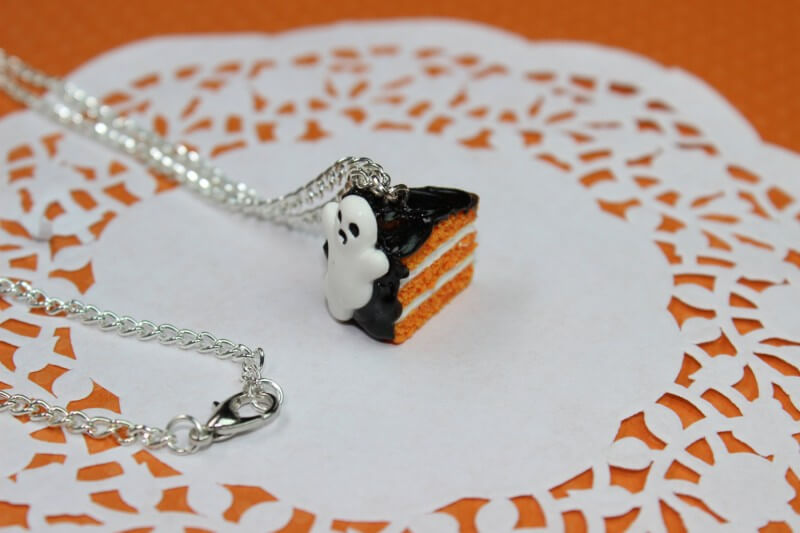 Halloween colors, cake and a ghost…what's not to love?
Lollipop Swirl Earrings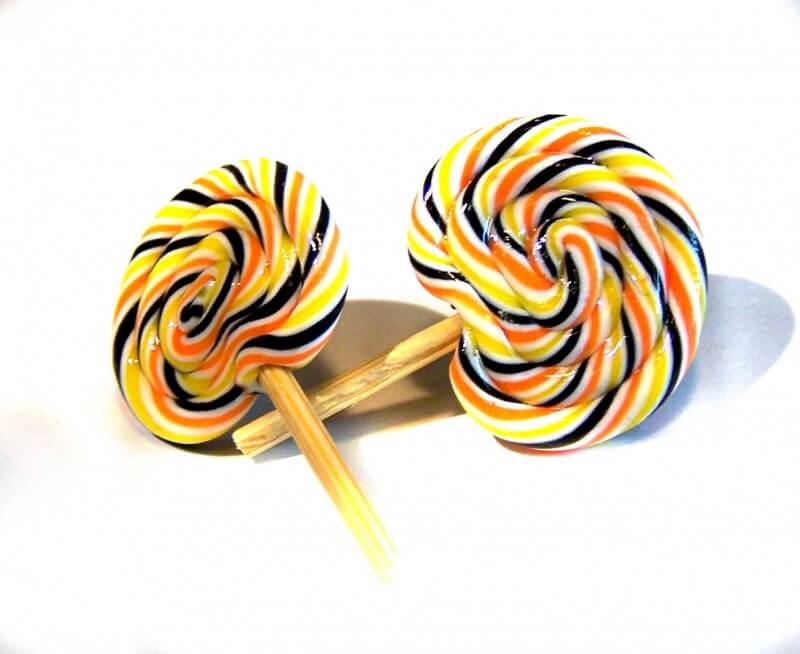 Lollipops seem to be a pretty common in this list, but these ones are a bit different in style and in color. That's what makes them fun and unique!
Ghost Cookie Earrings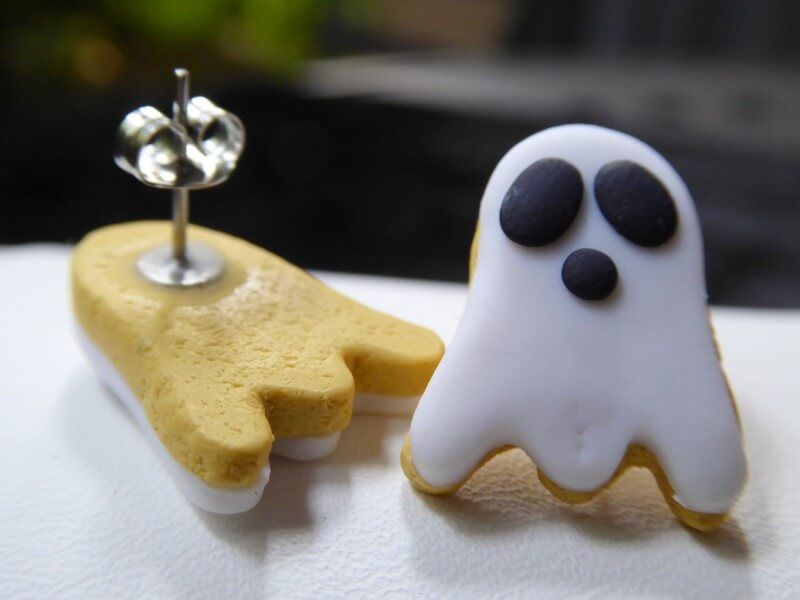 These ghosts are cute and simple, although without looking closely, most people probably wouldn't realize that they are also supposed to be cookies.
Cute Pumpkin Earrings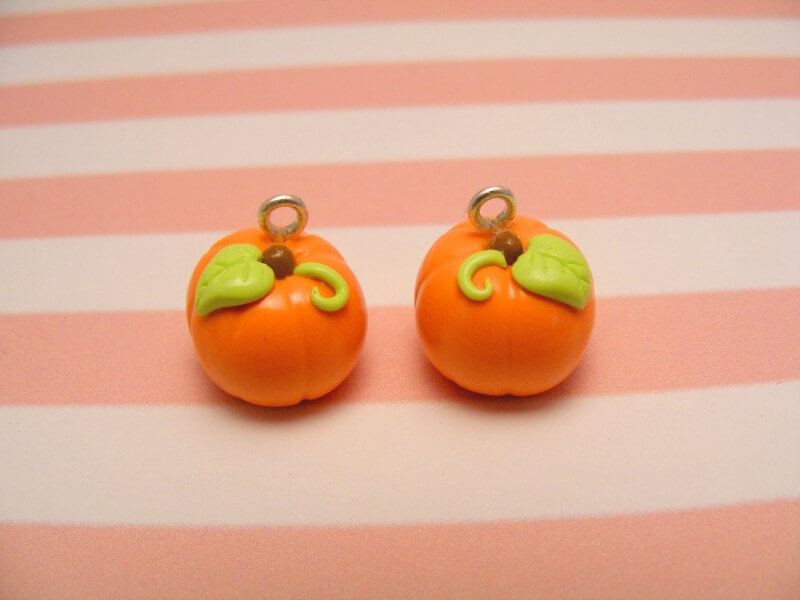 This cute take on pumpkins reminds me of the pumpkins from a Disney movie.
Whipped Ghost Cookie Earrings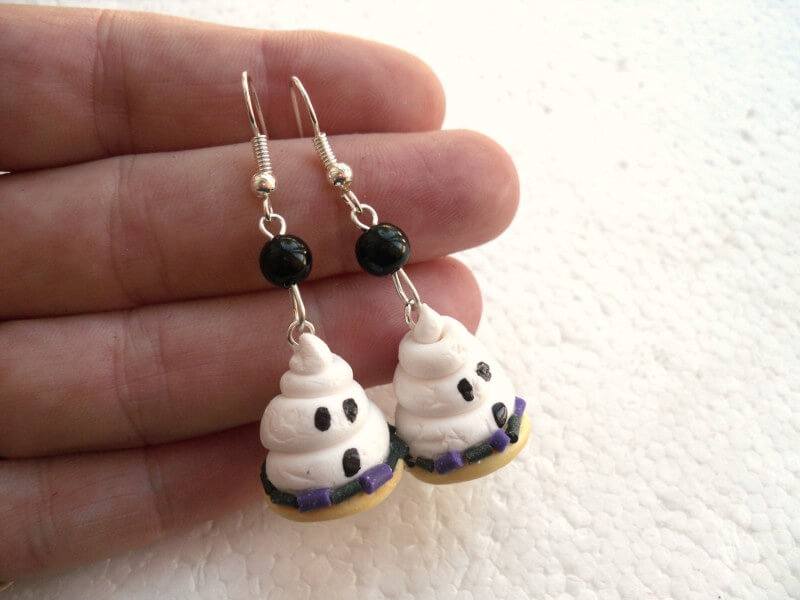 Here's a fun one – actually, making cookies like that would be fun too.
Red Candy Apple Earrings

The inspiration for these earrings is easy to recognize and the creator did a great job of pulling them off.
Sad Zombie Cupcake Necklace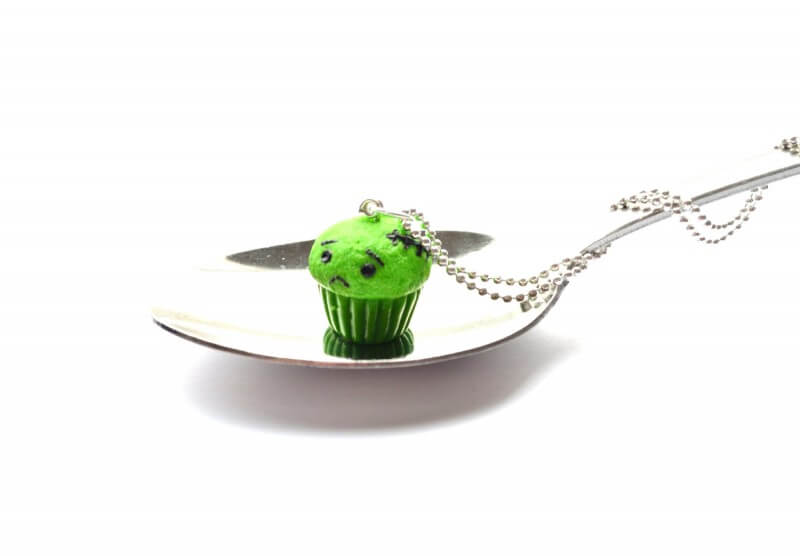 A zombie cupcake necklace. That might be a mouthful, but that is exactly what this necklace looks like and exactly what it is supposed to be.
Halloween Donut Rings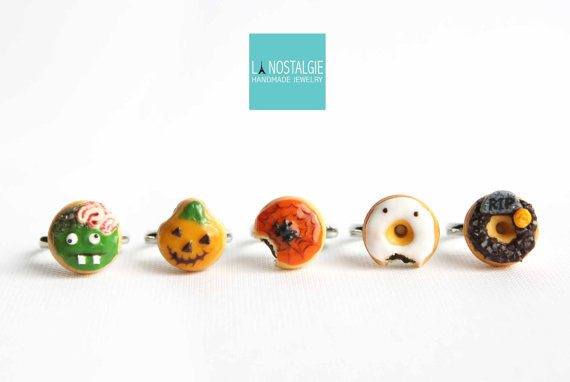 The image is smaller than I'd like, but I had to include these nifty donut rings – they perfectly suit Halloween.
Candy Corn Necklace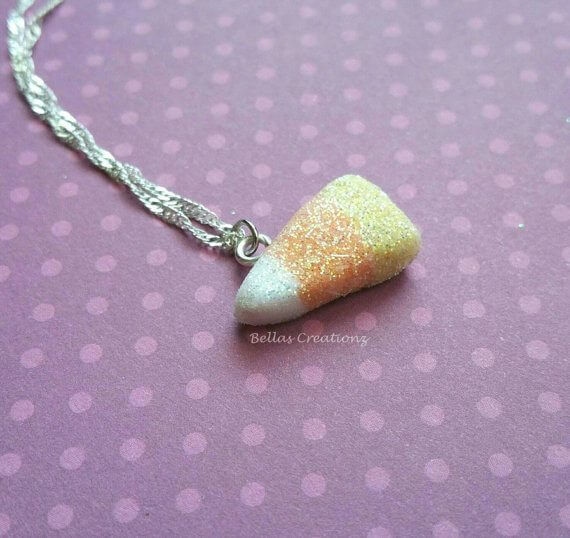 Want candy corn and glitter on a necklace? This piece has you covered.
Ghost Cupcake Necklace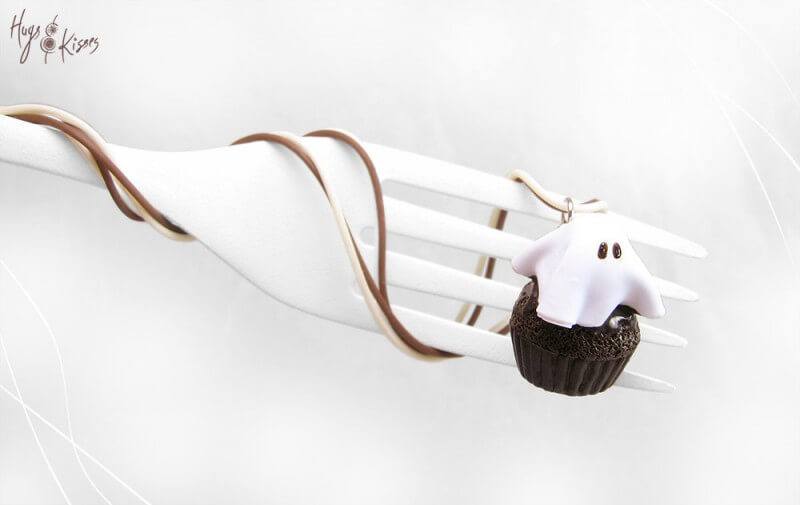 I had a hard time choosing just one item from this Etsy store, they have so many great items – but you have to admit, the ghost cupcake necklace is awesome.
Cake Slice Food Ring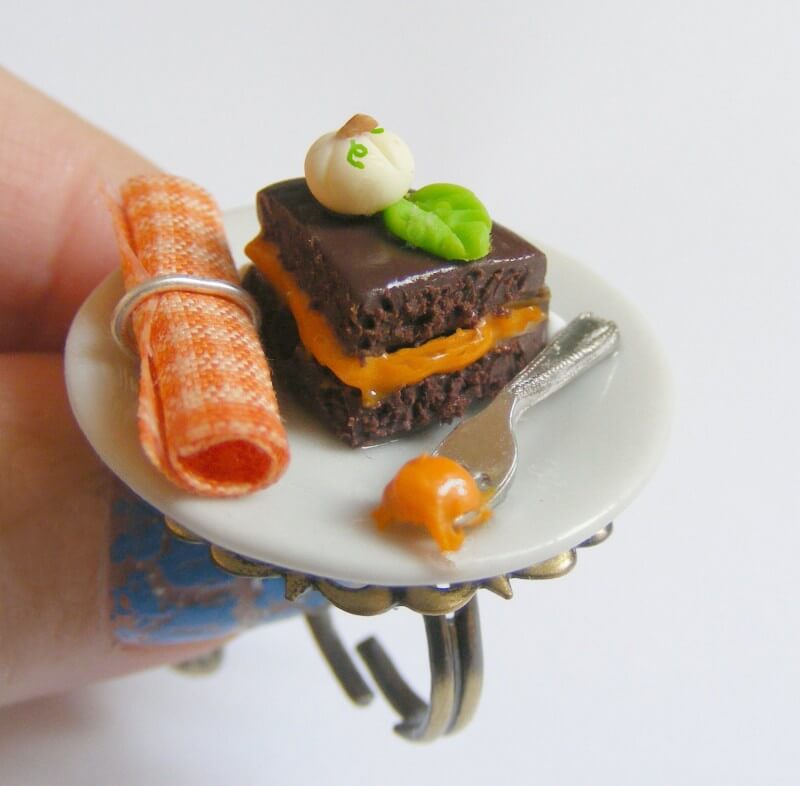 This piece of jewelry is a fantastic talking point and I doubt you will find anyone else wearing something quite this cool.
Pumpkin Jewelry Set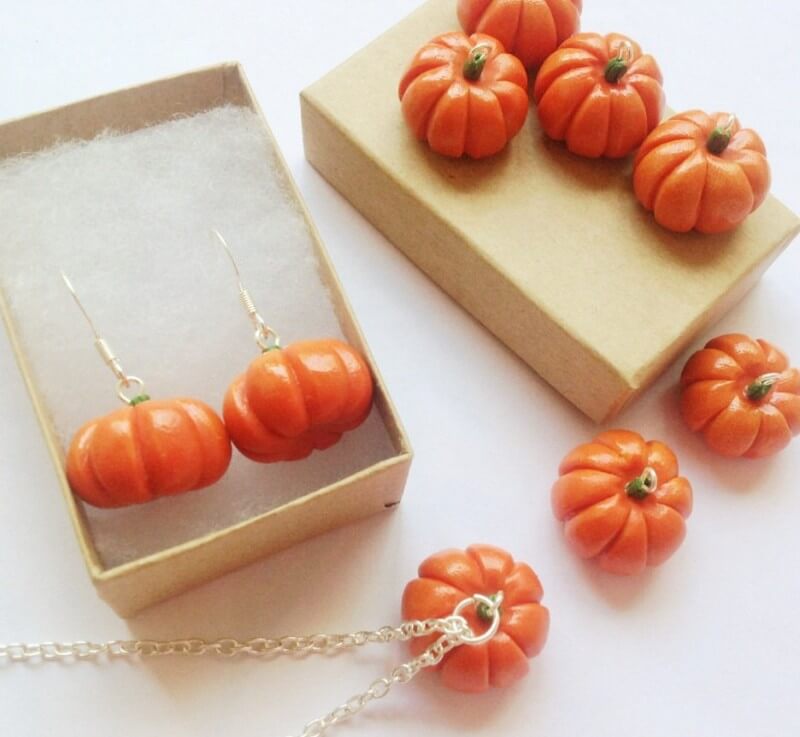 If you want food for jewelry, why not go all the way with a jewelry set?
Pumpkin Pie Charm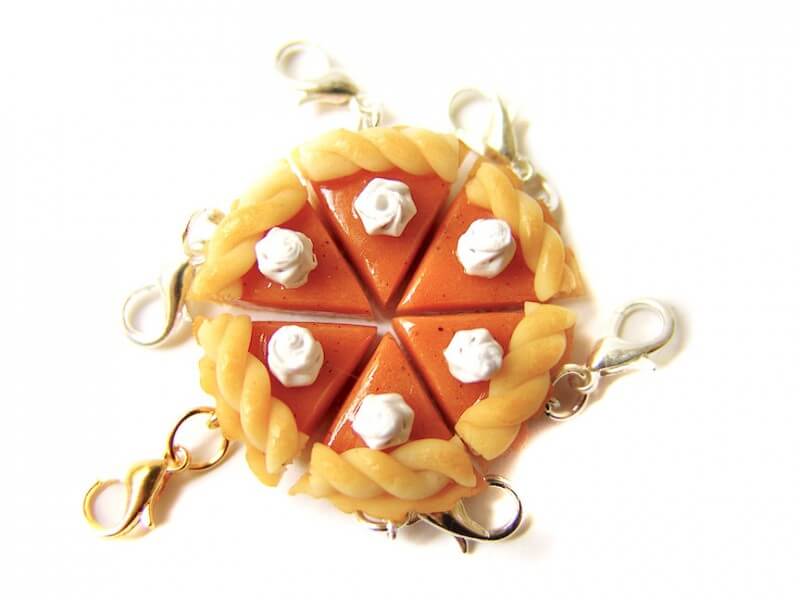 Even though the pieces are sold individually, this would also make for unique matching jewelry between friends – especially if there were six friends.
Creepy Pumpkin Ring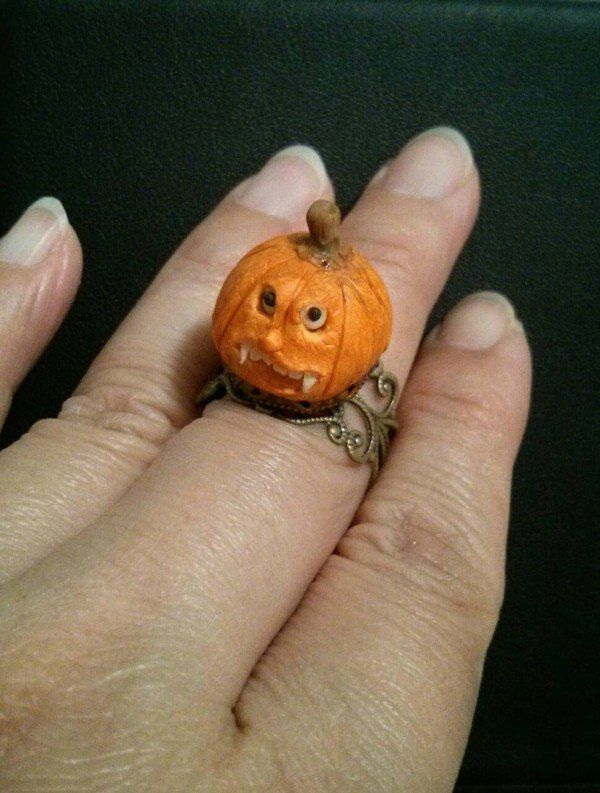 This pumpkin ring looks a little too realistic – but that's part of the fun.
Candy Corn Jars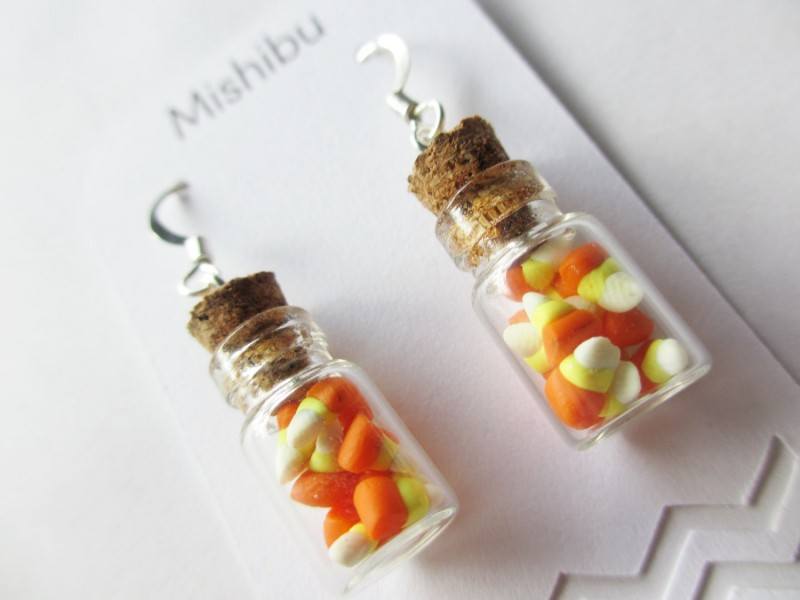 Here's a unique one – small pieces of fake candy corn in jars. Love it.
Caramel Apple Earrings (version 2)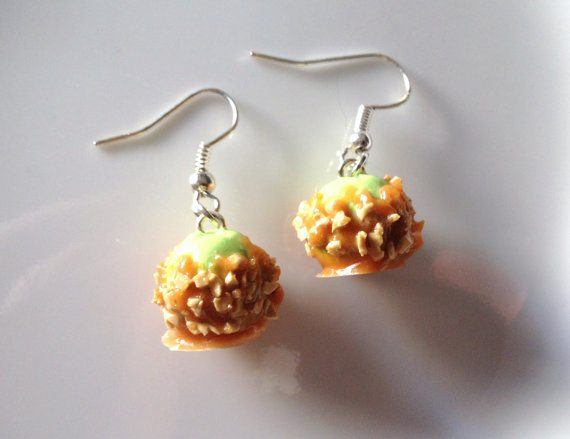 I have featured a few different examples of caramel apple earrings, but these ones do look cool and would be easy to wear. That's the fun thing about Etsy…people can use one great idea and make their own creative twist on it!
Lampwork Glass Pumpkin Earrings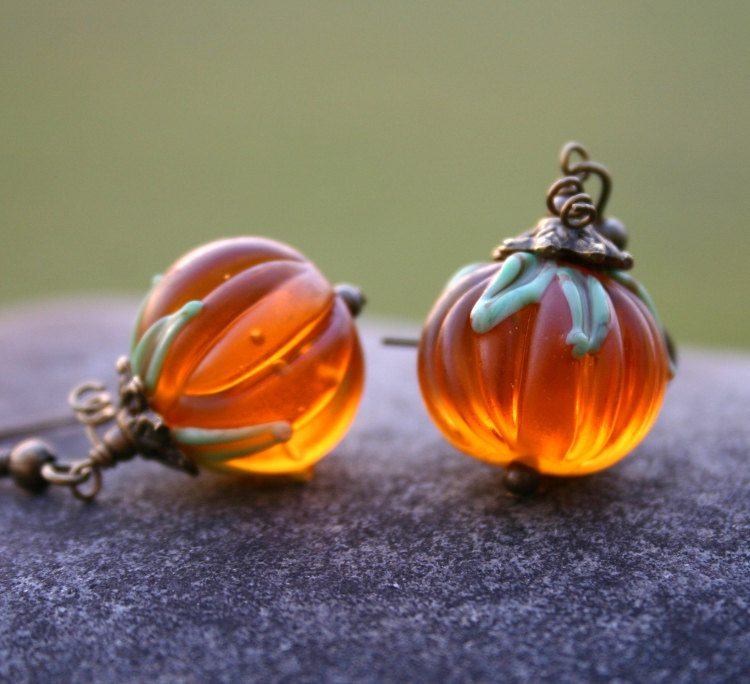 Let's close this list of with a unique piece. I love the glasswork in these earrings and they really stand out.