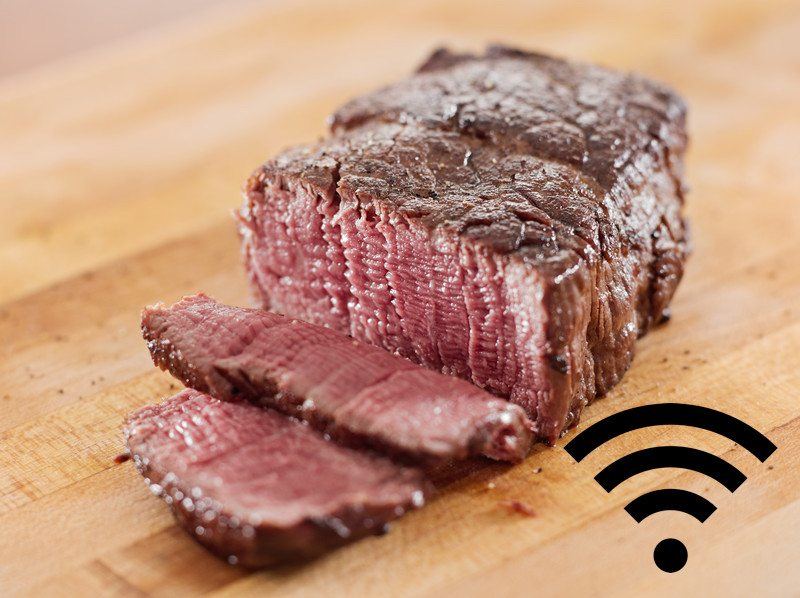 After testing 13 immersion circulators, and doing research on another two future releases, I've collected very single WiFi sous vide device and organized them here on this page for you.
I'll cover the basics of what makes each unit unique, plus the pros and cons of each. Three of the five I've purchased and done more extensive reviews on, which will be linked within the mini review on this page.
My top recommendation should be obvious, but I do give tips on why you might want to pick something different than would be my preference.
Some people say that connecting your kitchen appliances to WiFi is excessive and unnecessary. I disagree. When you have a 2 hour cook time, babysitting food is no fun.
Immersion circulators are meant to "set and forget", but it's nice to have a reminder of things like current temperature, time left, or total time passed since you reached your target cook time.
WiFi sous vide immersion circulators are great for just checking in to see how things are going rather than worrying about your steak dinner while you're at the gym or needing to get off the couch to check your chicken breast.
Gourmia GSV150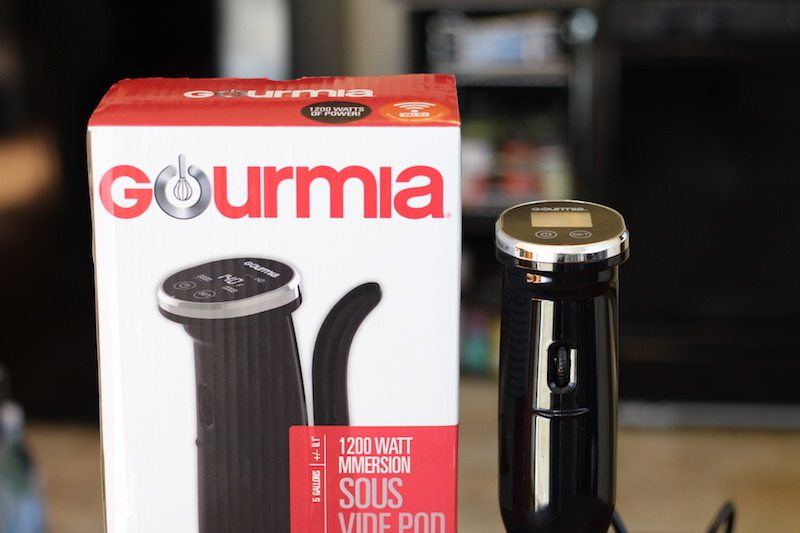 ==> Current Pricing
The GSV150 is very clearly the most inexpensive product on this page, but a big margin. Though price fluctuates, it's priced similarly to very basic sous vide circulators.
Yes, the Wifi/bluetooth connection does work, and yes, you can cook your food remotely just as well as the premium devices you'll read about below.
However, the app is kind of a mess. It's confusing to use, and the cook times listed are hard to find, or don't make sense. There are some typos in the notifications, and no delicious pictures to look at.
Though I really like Gourmia products, the GSV150 (full review) just didn't live up the standards of other WiFi-enabled sous vide devices on this list.
The advantage of the GSV150 is that you get 1200 watts of power, but you can also get that with their first generation device, the GSV130.
If you want a WiFi sous vide cooking appliance, I would not recommend the GSV150 unless you are specifically looking for a cheap device. It's good, don't get me wrong. It's just clearly not as good as Anova or Joule.
If you just want a cheap immersion circulator and are not concerned about WiFi options, then the GSV130 is a good option, or even the NutriChef Prime.

Anova Culinary Precision
==> Current Pricing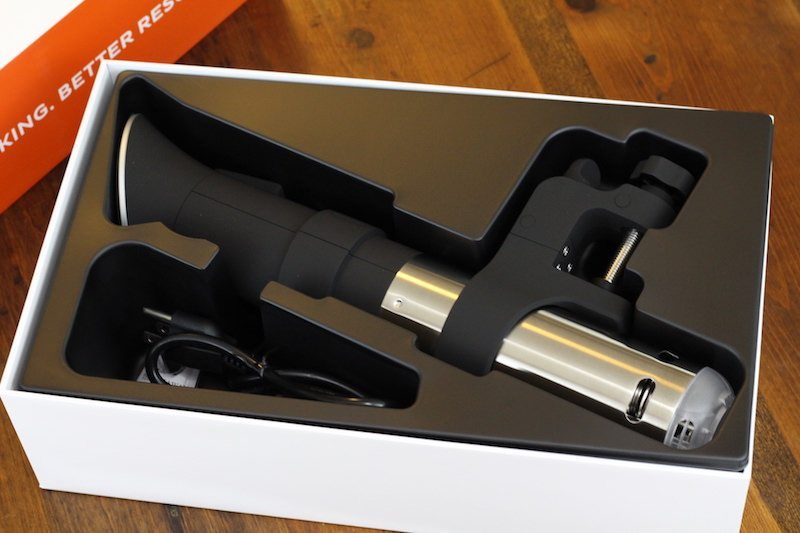 Anova was one of the pioneers in home sous vide technology, and the Generation 2 is wifi-endabled. They've racked up a ton of good reviews on Amazon, so clearly have a great product.
Of course, I couldn't resist buying and trying it myself.
Looks-wise, it's pretty standard, with a matte black top and a stainless steel cover for the heating element and pump. It's definitely a lot higher quality material than many other cheaper versions of immersion circulators though!
The Anova app needs some work, but it's not terrible. It's not very intuitive, and definitely not as beautiful as the Joule app (read below).
For details on the app experience and more info about the product itself and my experience with it, check out the full review.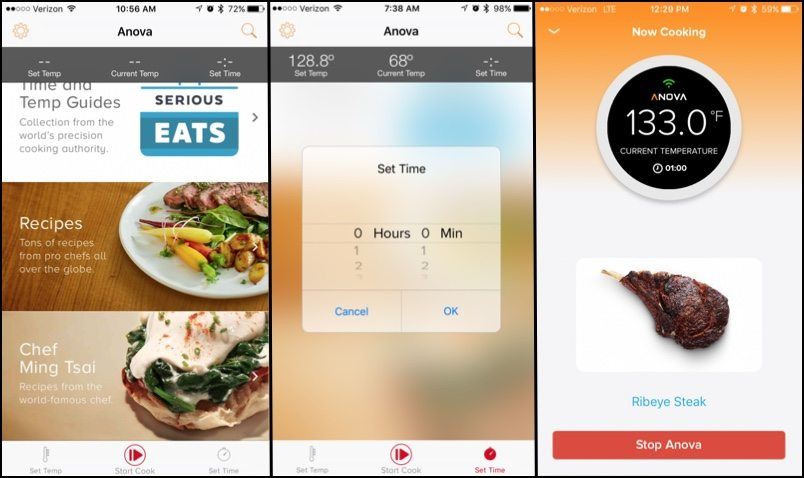 I was able to grab the Anova Precision Cooker at a discount, which made it worthwhile. However, normally, it's priced the same as a Joule, which in my mind, makes Joule the clear winner here.
One big advantage for some users of the Anova is that there's a manual setting for when you don't want to use your smartphone. If you don't have a smartphone, then you don't need a WiFi sous vide device though.
Well, I could see this being handy if you really don't feel like pulling your phone out of your pocket. If you really just want the option of manual interaction, then Anova is a good choice.
The bummer for this one is that it's only 900 watts, which means your water will heat slower than the 1100 Joule or 1200 watt GSV150.
ChefSteps Joule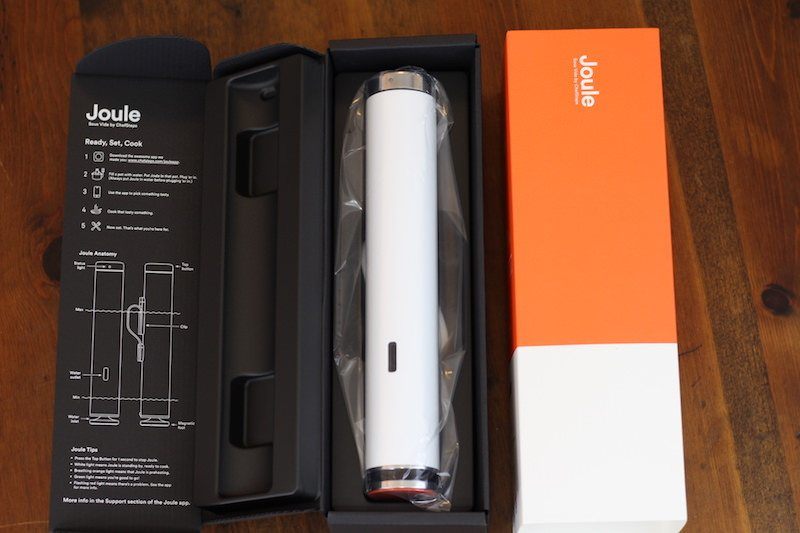 ==> Current Pricing
Definitely my all time favorite sous vide device, regardless of the WiFi-connectabitiliy, Juole gets everything right. It's light weight and tiny. It's only 11 inches tall, 2 inches wide, and 1.3 lbs. That's the smallest and lightest immersion circulator on the market (that you don't have to pre-order).
Yeah yeah, the thing is accurate and cooks sous vide. We already know how that works, and congrats on making an accurate device.
What really makes the Joule stand out is the amazing app it works with.
You can choose your recipe based on video clips of how "done" you want your meat. So if you want a medium rare steak, you get to watch a delicious video of someone cooking a medium rare steak, then press "go", and it'll cook it for you (based on the thickness of the meat).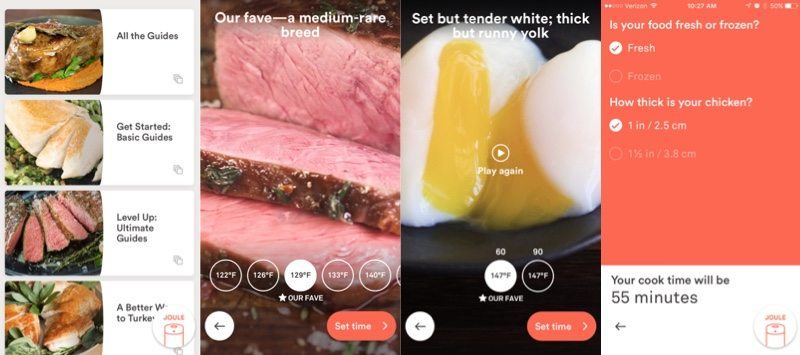 The same goes for most other standard dishes like chicken, pork, and eggs. There are also some good finds like leg of lamb, honey-glazed ham, and crème brûlée. In all there's about 30 video-based recipes like that, but you can search for more on the ChefSteps app or website.
You can even talk to Alexa (Amazon's in-home device) to activate your Joule and cook. I haven't tried this yet, but do own an Amazon Tap so will let you know how it goes.
There are many other cool features like a magnetic bottom, but you can read those details in my full Joule review, which includes more pictures and info on the product.
The only potential downside to Joule is that you must interact with it using a smartphone. There's no way to program it without a phone.
Sansaire Delta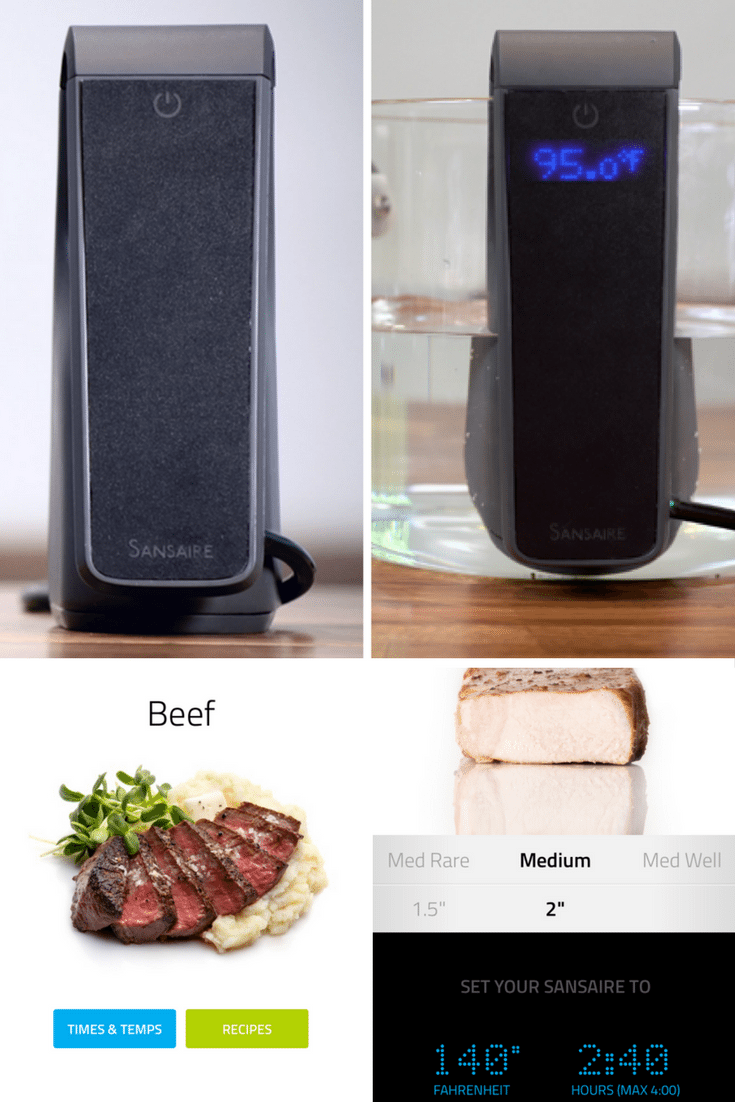 ==> Currently Unavailable
Sansaire was a Kickstarter darling back in the day. 4000 people backed this project and raised over $800,000 to produce this product! This was a few years back, so you can buy it on Amazon. In fact, I bought and reviewed the original Sansaire.
It was pretty good, but now that there's a ton more options available on the market, it looks very bulky and cheap.
However, the Sansaire company is now making the Delta – a wifi enabled version that's smaller, more stylish, and can be controlled remotely.
They are on Kickstarter again though. What I don't get about this company, as well as Nomiku (read below), is that if their first project was successful and they sold a lot of products, how do they not have funds for the new version?
Maybe I just don't get how businesses work, and they need investments for each new product.
The Delta is not currently available, but you can back it. For $99, you can pre-order the Delta. That really is a cheap price, but at what cost?
Estimated delivery date is April 2017, but that's likely to be pushed back several months, if not a year or more. Kickstarter projects usually go like that.
If you definitely want a WiFi sous vide cooker, and want it now, do not get the Delta.
I did check out the Sansaire app, and it does look nice so far, so there is potential to have a good user experience in this area. However, it's still too early to tell. There are usually lots of bugs to deal with in beta or early access items.
My suggestion is to wait until it's actually selling and shipping normally unless you are in no hurry to get your device.
WiFi Nomiku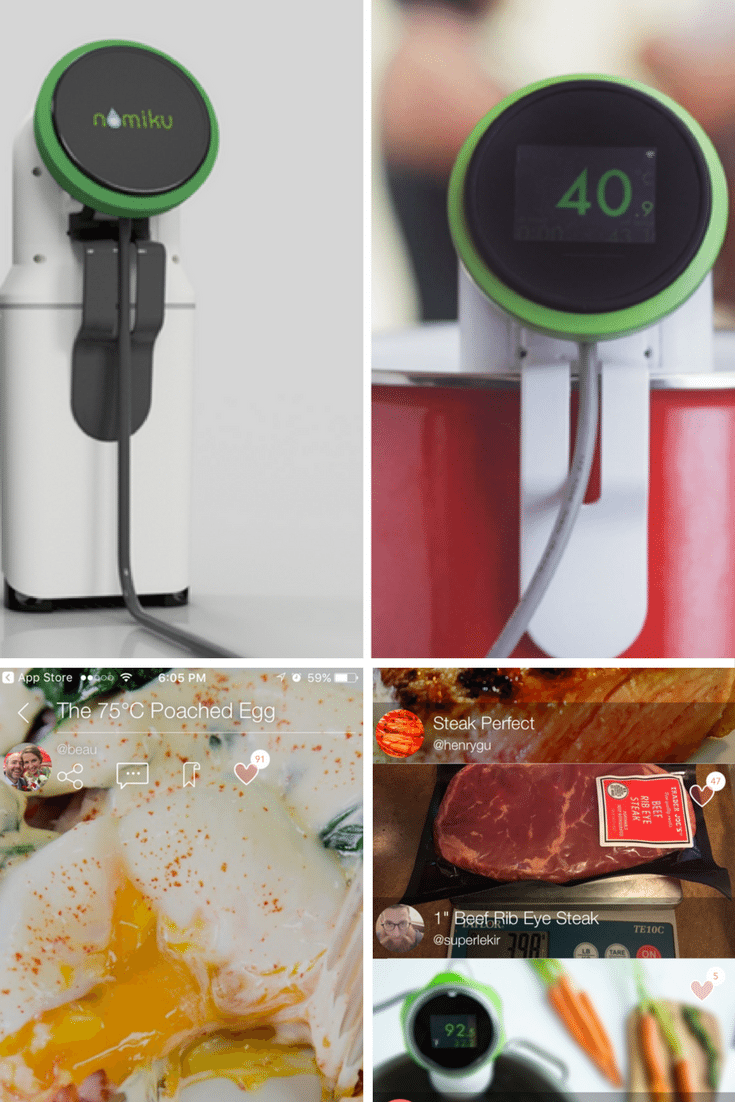 ==> Current Pricing: $249.95
Nomiku is another "famous" sous vide device due to the amount of TV and online coverage its got. It had a very successful Kickstarter a few years ago, raising over $500,000 to product their first product. It's no longer available, and now they are working on a new version, called WiFi Nomiku.
Somehow, they raised another $750,000 via Kickstarter again. Oh yeah, and they got another $250k from SharkTank for 10% stake in their company.
Despite all this investment, there seems to be quite a few issues popping up with production of the product. The Kickstarter page is full of angry people, upset at delayed shipments (as of Nov 2016).
This reminds me of my one Kickstarter investment which took 3 years to ship, and was obsolete within a year of receiving it.
Costing $249, plus the risk of dealing with shipping delays, it's hard to recommend this product. Sure, I haven't tested it personally…and I may in the future. But I'll wait for a more reliable ordering system and the price may come down in the future.
I honestly can't see how they can sell their device at $50 premium to other very similar devices like ChefSteps Joule or Anova Precision.
The one feature that does look kind of cool is that you can share your recipes on an app called Tender. Is an app worth $50 extra though? Probably not. It's already rocking a 2-star review in the app store on iPhone, which is not a good sign. Just from looking at it a few minutes, lots of recipes don't have pictures (they are user submitted), which is distracting with 80% of what you're looking at is text and some repeated pictures of the old Nomiku.
Sous Vide Apps
The only sous vide app that comes with a WiFi cooker is The Joule. If you end up with a Gourmia or an Anova, or even if you choose the Joule and want more types of items to cook, then you gotta try the Sous Vide ºC app. No, it's not free, but yes, it's worth the $4. It's got an extensive list of types of meats, veggies, and fruits, plus size measurements, temperatures, and times you need to accurately cook your food.
It can actually connect to a variety of Wi-Fi enabled devices. So far, I've just tried it on my Anova Precision Cooker, just out of necessity, but will continue to test it with others.
Namely, I'm interested to see how it does with the Gourmia GSV150. If a $4 app can supercharge the most inexpensive WiFi sous vide cooker on this list, then that may change how people feel about buy it versus something more expensive like Delta, Nomiku, or Joule.