Summer is the perfect season for outdoor barbecues so you will need a nice, reliable grill that will deliver great performance and help you cook delicious meals. With so many options on the market, we comprised a top of the best outdoor kitchen grills that will meet virtually any need you may have.
​​
Here is an amazing outdoor kitchen grill for the pocket-conscious summer BBQ lovers who are dreaming of high-end features for an affordable price. The Coyote C-series 28-inch 2-burner Built-in Natural Gas Grill is well-built and has an eye-catching, simple design that will look flawless in any setting—perfect for any outdoor cooking. It's made of all 304-grade stainless steel and sports a trustworthy push and turn ignition system that delivers a safe, reliable start. Its cast stainless steel Infinity burners offer long-lasting durability and high heat.
The continuously welded stainless steel grill box also adds to its durability thanks to the polished, seamless edges. The interior halogen grill lighting will allow you to cook even during evenings and nights. The heat control grids distribute heat evenly across the grilling surface. Overall, its price and features highly recommend this lovely grill for outdoor barbecues with your dear ones.
​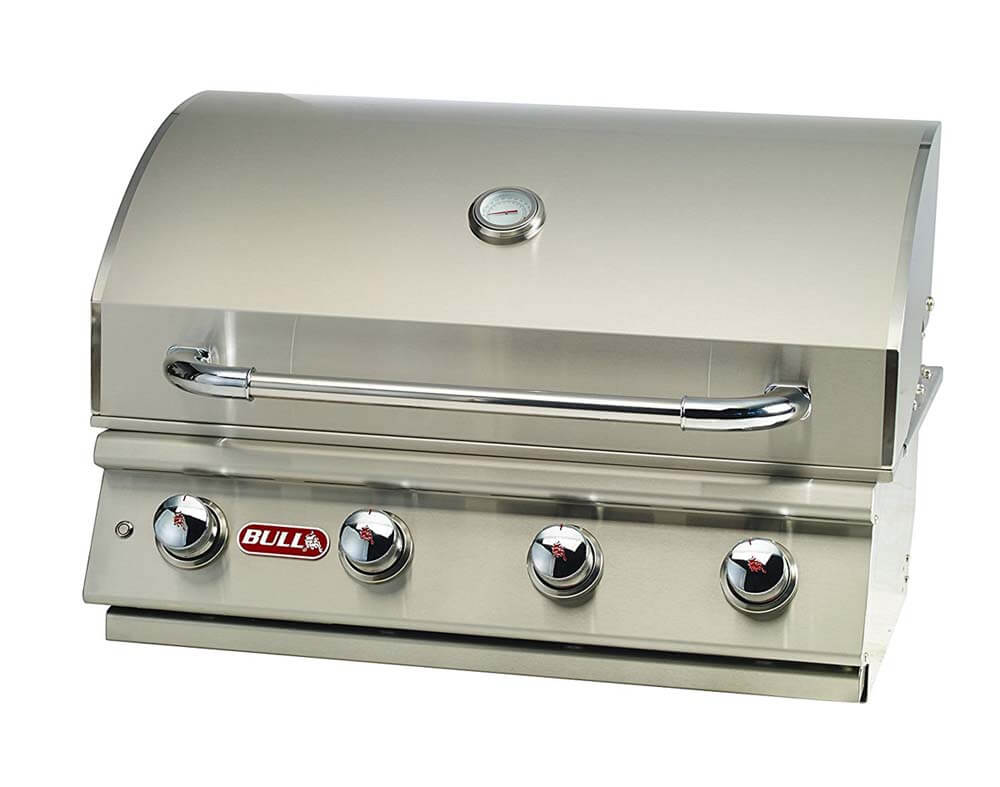 Staying in the affordable price range, the Bull Lonestar Select Natural Gas Drop-In Grill Head is another great-value grill that will certainly exceed your expectations. It includes a smoker box, a twin lighting system, 60,000 BTUs, Piezo Igniters on each and every valve (simple push and turn ignition), as well as four welded stainless steel bar burners.
Made out of 304 stainless steel, this durable, rust-resistant beast will grill tasty steaks on its large (600 square inch) cooking area. Moreover, you can place your food on the warming rack (210 square inch) in order to keep it warm until being served. It's very easy to light it and it will successfully keep all the heat inside. The dual halogen internal lights and the thermometer will help you have awesome visibility and precision when you cook at night.
​
The double-lined Napoleon BILEX605RBIPSS Built-in Propane Gas comes with a roll-top lid that will offer you oven-like performance—a very handy feature when we're talking about outdoor barbecues. The Accu-Probe temperature gauge will help you monitor the grill in order to cook your food just as you like it. Lighting the burners is done safely and reliably thanks to the Jetfire ignition system and I-Glow backlit control knobs will make it easy for you to cook at night.
The high heat infrared ceramic burner lets you sear just like a steakhouse while the other dishes are nicely cooked on the grill. You'll enjoy plenty of cooking space, too: a 605 square inches main cooking area and a 245 square inches warming area. Plus, you'll be able to keep your food moist while controlling the flare-ups thanks to the grill's stainless steel, self-cleaning sear plates vaporize drippings. Do you want to burn just like a professional? Well, you can rely on the 15,500 BTU ceramic rear infrared burner for that. This is an ideal product to consider if you're looking for a high-value outdoor grill with plenty of cooking features.
​
If you're searching for a nice-value commercial outdoor grill that includes features of professional grills, you'll love the Blaze Built-In Natural Gas Grill with Lights. One of its best characteristics are the heat zone separators which allow you to cook several food dishes at the same time using different temperatures. You'll be able to minimize flare-ups while you grill, thanks to the amazing flame stabilizing grids cover.
The push and turn flame-thrower ignition ensures a trustworthy start and the cast stainless steel burners add to the grill's longevity and durability. This product was designed with your barbeque needs in mind: spacious cooking space (748 square inches), a total of 56,000 BTUs cooking power, and a removable warming rack where you can keep your food heated while you grill. Not to mention the 10,000 BTU infrared rear burner which delivers nice versatility as it works amazingly with the optional rotisserie kit. Another bonus point goes to the wide drip tray that makes the cleaning process easy peasy.
​
​Dreaming of a versatile and super-efficient infrared grill? Look no further! Thanks to the infrared grilling, the Tec Patio Fr 44-inch Built-in Infrared Natural Gas Grill will help your food stay moist and retain more natural juices. You'll be able to cook low and slow as well as sear your steaks thanks to the 200–900 degree temperature range. The heat-up time is only 10 minutes, thus you'll spend less time waiting and more grilling. The patented radiant glass panels will remove the hot or cold spots and flare-ups. In addition, this grill has a self-cleaning cooking surface and a no messy drip pan to clean.
A top-notch outdoor kitchen grill is, undoubtedly, the hot ticket item for a pleasant summer BBQ. With the above top in mind, you can easily choose the best product for your needs. Once installed, you can go ahead and host some home-grilled, tasty meals. Have fun!