There is something truly fantastic about cooking your own pizza. For one thing, you simply end up with a great tasting dish, much better than anything you could get from the local Pizza Hut or Dominos. Doing so is also much more practical (and less expensive) than going to an authentic pizza restaurant on a regular basis.
To make things even better, you don't need a top of the line wood fire pizza oven to get amazing results. In fact, wood doesn't have to be your fuel source at all. You can even have a portable pizza oven, one that you can take tailgating and camping, as well as using in your own backyard.
That goal is precisely what this list is all about. In it, I'm focusing on countertop pizza ovens for your backyard, partly because these are simply so convenient. But, convenient or not, these products are mostly just powerful ways to make great pizza in the comfort of your own home.
Pizzacraft PizzaQue
Cuisinart Portable Pizza Oven
Camp Chef Artisan Pizza Oven
Mr. Pizza Pizza Oven
Pizzacraft Pronto Pizza Oven
Mont Alpi Table Top Pizza Oven
Uuni 3
These are not all the units available either! For more outdoor options, check out our post on charcoal grills, gas grills, and wood-fired ovens.
Pizzacraft PizzaQue Outdoor Pizza Oven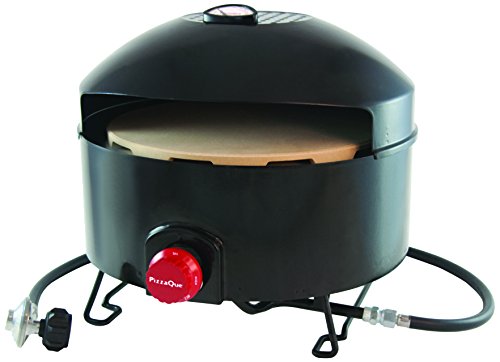 The Pizzacraft PizzaQue may not be the most elegant pizza oven but it does have everything you need. In particular, it contains a 14-inch pizza stone and can be easily used for pizza around 12-inches in diameter. The style is incredibly portable, allowing you to move it from one location to another.
As with most countertop options, this model runs on gas. It is mostly designed for a 20 lb propane tank and comes with the adapter you need to use this. However, it is also possible to use a 1 lb portable propane tank if you buy the adaptor separately. This is also an inexpensive example of a pizza oven, which is a key reason why it sells so well.
= = > Get The Pizzacraft PizzaQue Here
Cuisinart Portable Pizza Oven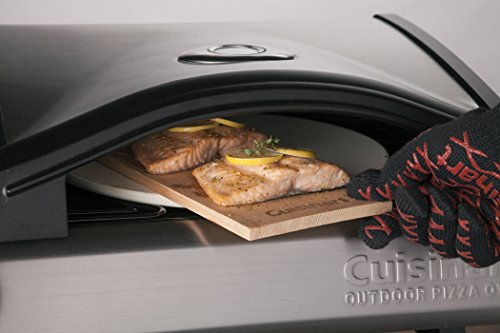 Another interesting option for the countertop comes from Cuisinart. The brand seems a strange choice for a pizza oven but the product actually works surprisingly well. Once again, the device works with a 1 lb gas canister or a 20 lb one, although in this case you have to buy a converter to use the 20 lb option.
The product does also come with an integrated smoker cup, which allows you to smoke wood at the same time, imparting a wood fire taste to the food. Likewise, there is a warming tray – although you may find that pizza gets eaten too quickly for that to be of any use. There are also handles on the pizza oven, so it is easier to move than some of the other products out there.
The brand also offers a leg kit and a grill stand for anybody who wants a free-standing pizza oven. However, using it on the counter works just as well and would be perfect in many situations.
= = > Get The Cuisinart Portable Pizza Oven Here
Camp Chef Artisan Pizza Oven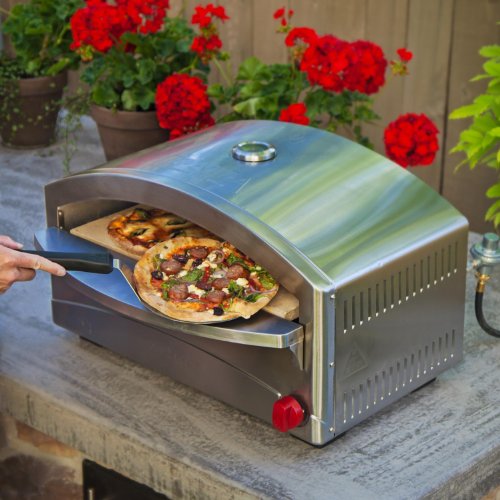 Unlike most of the other options, this pizza oven doesn't seem to have a leg kit that you can buy. But, that doesn't stop it from being an interesting choice overall. The general style here is the same as the previous model and it does run on gas once again. However, the difference here is the pizza stone.
Most countertop pizza ovens use a round stone but this one has a rectangular one instead. The width of the stone is roughly the same, so you can't cook larger pizzas. However, the shape difference would allow you to cook two round pizzas (around 10 inches) or two oval ones at the same time.
This could be especially fun if you were cooking for a large number of people – or if your audience all had their own opinions about what pizzas they wanted. On the other hand, if you plan to cook one pizza at a time regardless, then this pizza oven is roughly the same as the other alternatives.
= = > Get The Camp Chef Pizza Oven Here
Mr. Pizza Pizza Oven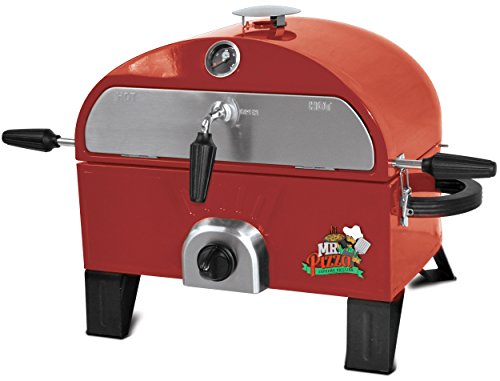 For small backyards or decks, this pizza oven is an alternative choice. At first glance, there isn't much that makes it unique, aside from the fact that you can carry it like a suitcase. But, the cool thing is that the top of this pizza oven will open, making it function like a small grill.
The cooking surface is around 260 square inches with another 150 square inches of warming space – so it isn't a large area to work with. However, if you don't have a conventional grill, it's easy to see how the idea could be appealing. The red does also make the pizza oven look fun and means it stands out.
= = > Get The Mr. Pizza Pizza Oven Here
Pizzacraft Pronto Pizza Oven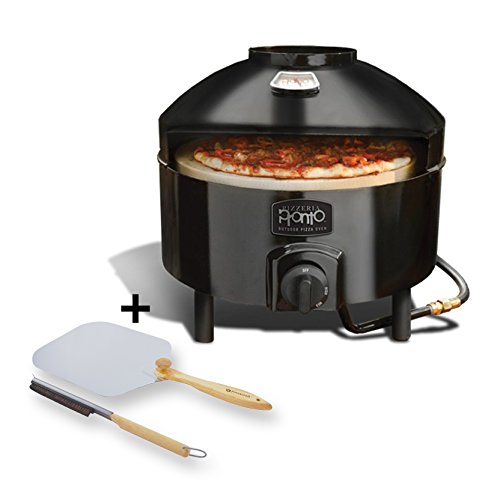 I mentioned the Pizzacraft PizzaQue earlier but this is a second pizza oven from the same brand. In many ways, the two products are similar to one another and they do both work well for cooking pizza in your backyard. Nevertheless, there are differences, particularly in the overall design.
Of the two, this product looks better visually and seems to be higher quality overall. At the same time, it does heat up faster and is ready to use in just 10 minutes. The product also works well with smaller (1 lb) gas bottles and you can even use the rain cap as a holder for the propane tank.
= = > Get The Pizzacraft Pronto Here
Mont Alpi Table Top Pizza Oven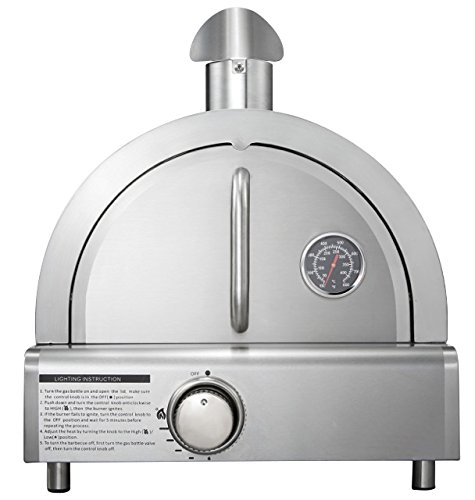 Another interesting option for a pizza oven is this Mont Alpi model. Here, the pizza oven is considerably larger, taking up much more physical space. Yet, the actual capacity of the oven is fairly similar to the other items on this list. In particular, it just contains a 12-inch pizza stone and it isn't feasible to get a much larger one in there.
With that in mind, the biggest advantage of the model is the height. Most of the other pizza ovens have relatively little height, mostly because of heat regulation. That design is fine but it does make the oven a little tough to use and clean. Additionally, a higher roof allows you to use the pizza oven for other things or to simply pile on the toppings.
With that in mind, this pizza oven could be a great choice for some people and less attractive for others. Personally, I imagine that the high ceiling results in some heat loss and your pizzas may not be as crisp as they could be. Still, the tradeoff may be worth if you're interested in cooking other things in the oven as well.
= = > Get The Mont Alpi Pizza Oven Here
Uuni 3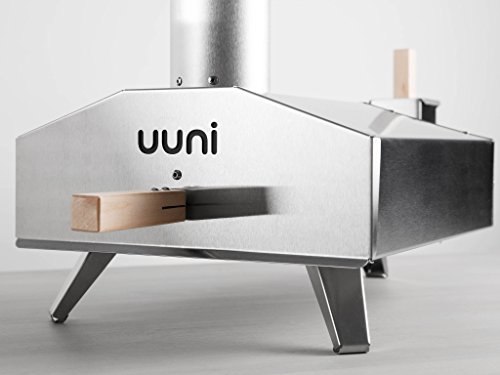 Pizza ovens tend to follow similar patterns but this particular product is different than every other one I've seen. Part of this difference is simply the visual style, as the oven certainly stands out. However, the most unusual aspect is how the pizza oven runs off wood pellets.
By doing so, the pizza oven can get hotter than many other options (excluding an actual wood fire pizza oven). This also means that it cooks much faster than other countertop models. That's a major selling point if you want Neapolitan-style pizza.  At the same time, you're getting that wood fire flavor and you don't have to rely on gas or electricity.
= = > Get The Uuni 3 Here
Making Your Own Pizza
Cooking pizza in your backyard is an amazing experience – regardless of your skill level or background. All of these products make great countertop options for doing just that and are also very portable. As a result, you might even choose to take them camping with you or out tailgating.
If this type of product doesn't appeal, you might also consider turning your gas grill into a pizza oven. Doing so is surprisingly easy and gives you the opportunity to take advantage of a tool you already have.