AdirChef Digital Sous Vide Immersion Circulator Review
Quality - 97%
Features - 95%
Price - 96%
Personal Experience - 94%
Value - 97%
The highlight of the AdirChef Digital Sous Vide Immersion Circulator was the sleek, high quality design. Plus, in spite of the great look, it's very inexpensive compared to other devices that do the exact same thing. The low power is a drawback, but not so much that I would not recommend this device.
Introduction
There's not a lot of information online about the AdirChef brand or its products. In fact, as of the writing of this review, they seem to only make four things: a fruit press, two coffee makers, and this sous vide device. None of their products, with the exception of the immersion circulator, seem to be unique or interesting. I wonder if they started out as a sous vide company or how this unit was brought into production.
Maybe that stuff isn't that interesting to you, but after testing 13 immersion circulators, I find it fascinating. Two other "one off" sous vide cookers that are worth reading about (but not buying) are from Travellor and Kitchen Masters. They weren't that good – so those reviews will only be interesting if you are just curious to look at the different styles and features of immersion circulators out there. There's a lot (I've reviewed them ALL now!). Update, brand has come and gone…the Sous Smart SSV2700. Bye!
Anyway, let's get looking at what AdirChef can do and how it compares to other brands of sous vide cookers.

Standard Features
The AdirChef immersion circulator is currently selling a lot cheaper than other similar devices (though the price may change). The features you get with the AdirChef reflect the pricing; they're pretty standard. You get +/- 0.1ºF and can cook food sous vide in just about any pot you have laying around. I happened to have bought a polycarbonate container so you can see through it for photos, but you can use a regular stock pot as well.
There are two buttons to operate the device. You press the POWER button to begin choosing you settings. Then the gear icon is used to toggle between target temperature, hours, and minutes. The wheel around the top of the device works counterintuitively. Counterclockwise turns the temperature up, clockwise turns the temperature down. Unlike the Sansaire Sous Vide, which has a smooth wheel, AdirChef has a click for each degree.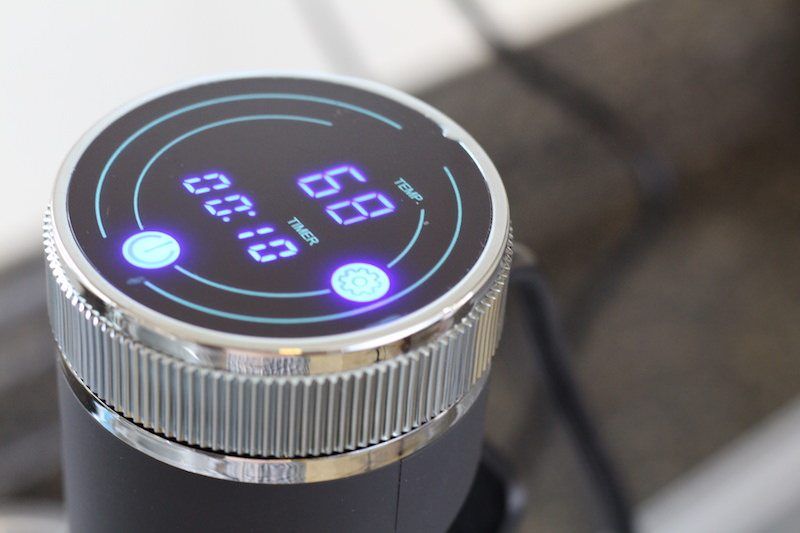 What's very hard to show in the photos is the beautiful design of this device and the very "high tech" look of the face of the device. Just looking at the device another time today while I write this review, I'm surprised it's one of the cheapest immersion circulators out there.  It reminds me a little bit of another device I reviewed , with its silky-matte finish and long light-indicator on the front of the device. I also liked the design of that one. Check the comparison section below for details on how these two devices are suspiciously similar.
Extra Features
The AdirChef doesn't "do" anything special, but there are a few reasons to buy this device over all the other similar ones out there. These reasons would namely be: Price and Design. It's as simple as that. Sometimes there is not "best" device out there, just the one that you prefer!
Oh, but I will add that this device is very quiet! Sounds of immersion pods range from a low whir, to a hum, to a gurgle, to high pitched annoying noises. AdirChef does very well with their ultra-quiet appliance.

Cooking Experience
How do you like your scrambled eggs? I love them soft and fluffy. Usually when I cook them in a frying pan I cook them until they are just a little underdone. Then I turn off the heat, stir them around a bit, then take them out. They finish cooking themselves from the residual heat on the pan and then on the plate.
Everyone else I know consistently overcooks their eggs. They simply are not restaurant quality. To rubbery!
However, cooking sous vide scrambled eggs is a pleasure. It's very simple to do and they come out perfectly fluffy each time. The only trouble is that they take longer to make. If you can wait for them, it's worth it at least once to taste the difference.

The AdirChef will beep when you reach the target temperature to let you know you can put your food in. However, when it stops (beeps again), it just shuts down. I prefer cookers that keep your food at the target temperature. You can actually keep cooking a food sous vide for and hour or more (depending on the food). It doesn't "overcoook" as easily like with the oven or stovetop. However, letting your food cool too fast can be bad, both for taste, and for bacteria growth. (a little won't hurt, but we're talking big-picture here)
Technical Stuff
Unit Size Size: 17.9 x 5.4 x 4.5 inches, 2.1 lbs
Temperature Range & Precision: +/- 0.01, Up to 194ºF
Power: 800 Watts
Pump Circulation: 2.1 Gallons Per Minute (GPM)
Everything looks good here – my only issue is that 800 watts is not very much power. With only 800 watts of power you can expect to wait longer to heat larger volumes of water. With 2.1 GPM you could  heat up to 5 gallons of water and keep the temperature stable.

Comparing The AdirChef To Other Immersion Circulators
As mentioned above, one of the best things about the AdirChef immersion circulator is the design. You can see in the image below that it has a nice silky-matte finish that's pleasant to the touch.

I did notice however, that it was strikingly similar to the Kitchen Gizmo Simplified Sous Vide. Notice that the heating shaft cover is the exact same design, as well as the locking mechanism. The clamp is the same, and it even has a blue/red light indicator on the front. The face and top part are quite different, but once you start seeing some similarities, others start to pop out. Notice how the small side dial from Kitchen Gizmo is also chrome and has ridges?
The bottoms are different, but that's just a plastic cap.
Comparing the looks of these two devices, I probably like the Kitchen Gizmo better. Plus, it comes in 3 colors. However, the standard black of AdirChef is also nice! With regards to function, they are pretty  much the same, although the KG has more reviews on Amazon and the company has more products available so personally, I'd tend to trust that company more. Plus, you get a free sous vide cookbook with that one!

Talking about pricing, AdirChef is currently in the rare club of being under a hundred bucks. The only other cheaper ones you'll find are going to be the NutriChef Prime and the SousSmart SSV700 [LINK]. The Prime performed well in my review, but I have yet to try the SSV700.
If you want to venture out a bit and get something with a stronger water heater and a compatible app to help you cook better food, you should check out my list of the best immersion circulators. Though they are a little more expensive, they can enhance your sous vide cooking experience. Here's a review of my #1 favorite from that bunch. that particular device also fixes the issue of the clamp not being good for small pots. Anova also has an adjustable clamp, so if you plan on cooking with a small pot, you should check out one or both of those links.
Who Is The AdirChef Immersion Circulator Best For?
If you are particular about what your appliances look like, and you like the AdirChef design, then this immersion circulator is a definite buy. It performed as expected, so beyond that, it's just a matter of what type of look your prefer. I didn't like that the clip would not work with shallower pots, but that's fixable – just use a bigger pot or container. Considering the device is so cheap, money shouldn't really play into a buying decision in my opinion. You aren't going to get much cheaper!
If you think you want a few more controls through apps to cook remotely and get recipe help, then you may want to look at premium circulators.
Conclusion
This was an interesting product to review! I'm curious to see if AdirChef will come out with any more products in the future or if they'll just stick with sous vide for now.
Pros/Cons
Pros
Great Design
Inexpensive
Ultra-Quiet
Cons
Shuts Off After Reaches Target time
Clip Not Idea For Small Pots
Cannot Stand In Middle Of Pot (Must Clip To Side)
==> No Longer Available 🙁