In case you didn't know, I'm American. Cooking is great for taking you all around the world, without ever leaving your home. In fact, I've had some amazing dishes that use flavors from Indian, Asian or Malaysian meals, along with many other variations. But, there is something special about the comfort food from home as well. This is the type of food that just makes sense to so many of us and makes a perfect meal for almost any occasion.
On this list, I've focused on ten different American slow cooker recipes recipes from across Food for Net, all of which can be broadly categorized as "American" food. Many of these may be variations on meals that you have grown up with, while others could be entirely new.
But, familiar or not, these are all dishes that you can easily make with a slow cooker. Likewise, many of them are simple to prepare and they are bound to impress whoever you are serving them to.
American Slow Cooker Recipes
Slow Cooker Pork Luau
Blue Corn Beer Chicken Taco Soup
Kolsh, Broccoli and Cheese Chicken
Cajun Chicken and Corn Rice Jambalaya
Pork and Apple Stew
Buffalo Chicken Mac and Cheese with Amber Ale
Smoky Slow Cooker Pork & Beans
Lemon Herb Whole Chicken with Blonde Ale
Spiced Ale Cinnamon Apple Pork Tenderloin
Tangy BBQ Porter Beef Short Ribs
10. Slow Cooker Pork Luau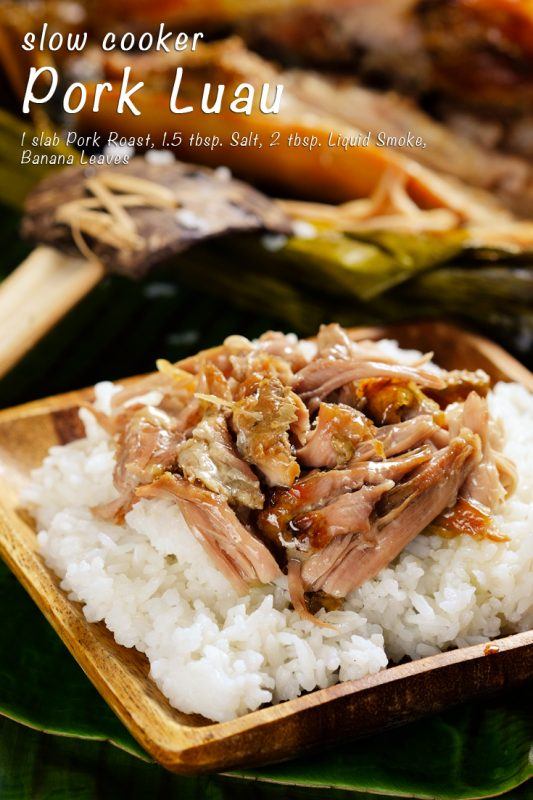 This Slow Cooker Pork Luau is actually one of my favorite pork recipes and it works extremely well in the slow cooker. In many ways, the slow cooker approach is actually better, because traditional versions of the Hawaiian luau tend to be messy and frustrating to prepare.
The one catch is that you need to pay attention to the bones and the structure of your cut of meat, so that it will fit in the slow cooker. However, the process is worth doing and you end up with something that looks and tastes as good as the original (if not better).
9. Blue Corn Beer Chicken Taco Soup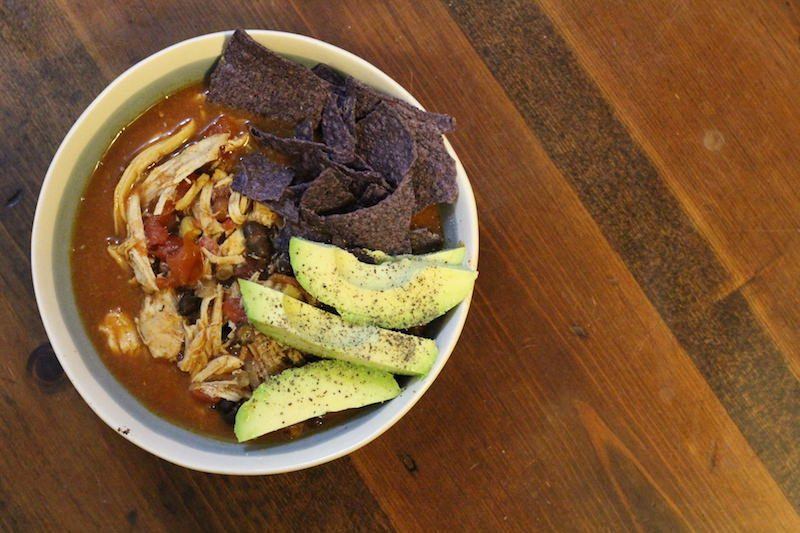 Needless to say, the inspiration for Blue Corn Beer Chicken Taco Soup comes from Mexican food but it does have a distinctly American aspect to it as well. Despite the appearance, this is one of the easiest slow cooker recipes on this site, as the ingredients are simply dumped directly into the slow cooker and left alone.
The only real work that you need to do to make it look nice when you serve it. I used avocados and blue corn chips in the image, although you can also rely on cheese and sour cream. Really, the serving aspect is up to you and you can pick whatever suits your own personal tastes.
8. Kolsh, Broccoli and Cheese Chicken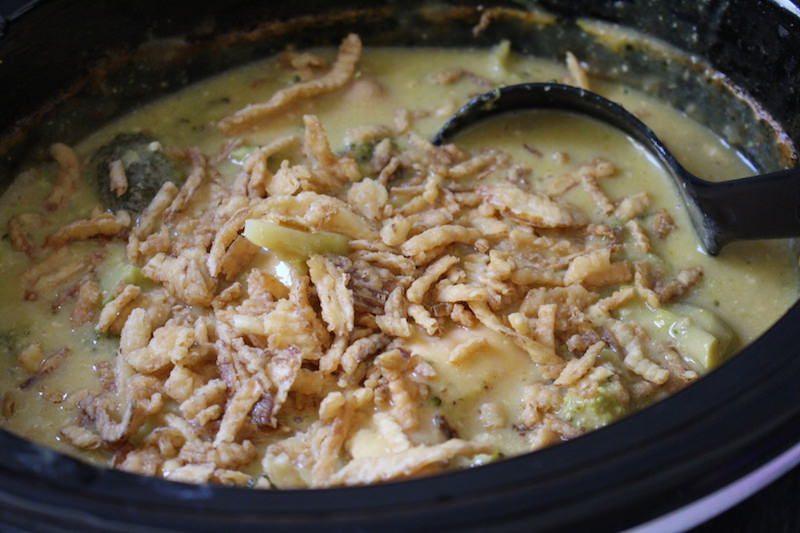 This Broccoli and Cheese Chicken dish works really well as a dinner at the end of a long day, especially as it is extremely simple to make. The recipe looks a little like a soup, although it isn't designed that way. Instead, you take advantage of the flavors of the soup and this becomes a sauce that adds to the flavor of the chicken, while also helping to keep it moist.
The dish itself can be served with just about anything, like white rice or potatoes. I sometimes make a side salad to go with it, which balances out the creaminess of the soup nicely.
7. Cajun Chicken and Corn Rice Jambalaya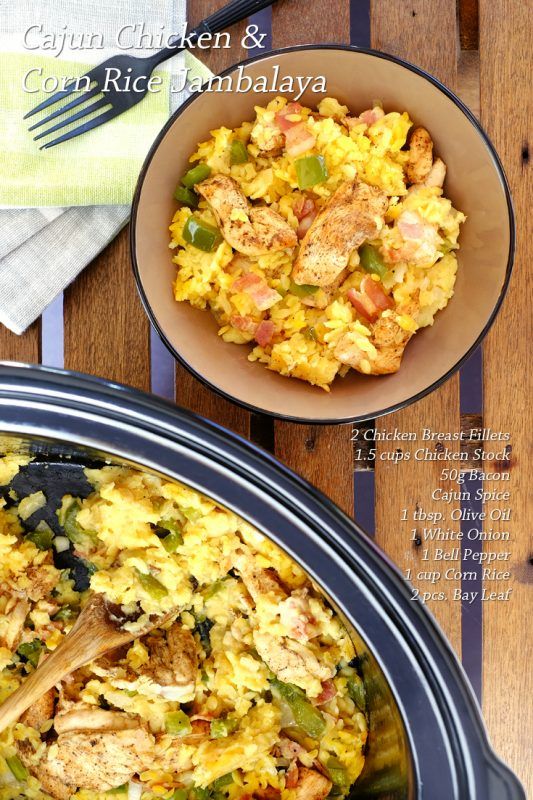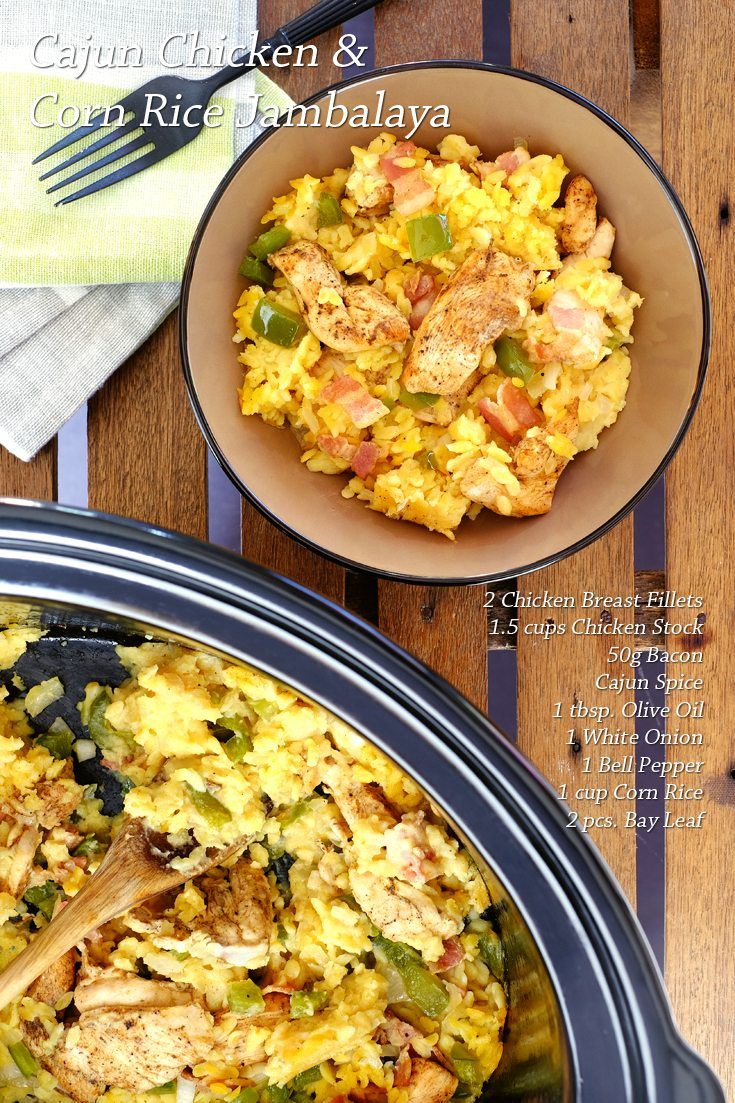 The first thing I love about this Cajun Chicken and Corn Rice Jambalaya recipe is that it is all in one dish. That makes it easy to prepare and to serve, especially as the meal is fairly hearty. But, I also especially love the combination of flavors that is present. Cajun spices seem to work exceptionally well with the rest of the dish and the corn rice also adds to the flavor and the complexity.
There is also considerable flexibility with the flavors and you could vary up some of the spices and ingredients that you use. For example, I find myself using a slightly different combination each time that I make the dish. That type of flexibility is always nice, as each cook has their own preferences.
6. Pork and Apple Stew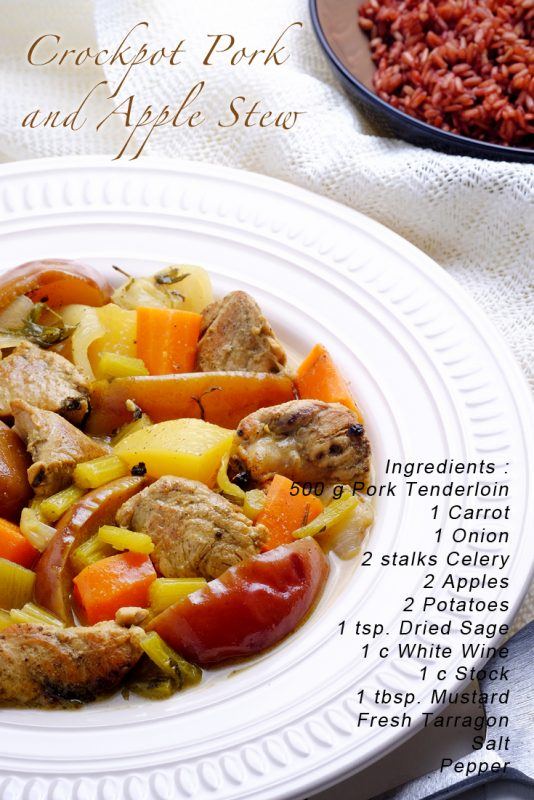 This Pork and Apple Stew is perfect for anybody who already loves the combination of pork and apples. But, even if you don't, the dish is still worth trying. In addition to those two main flavors, the recipe also takes advantage of mustard and white wine to create an attractive flavor profile that works extremely well.
The finished dish is particularly effective if you're looking for a stew that isn't too heavy or one that is somewhat refreshing.
5. Buffalo Chicken Mac and Cheese with Amber Ale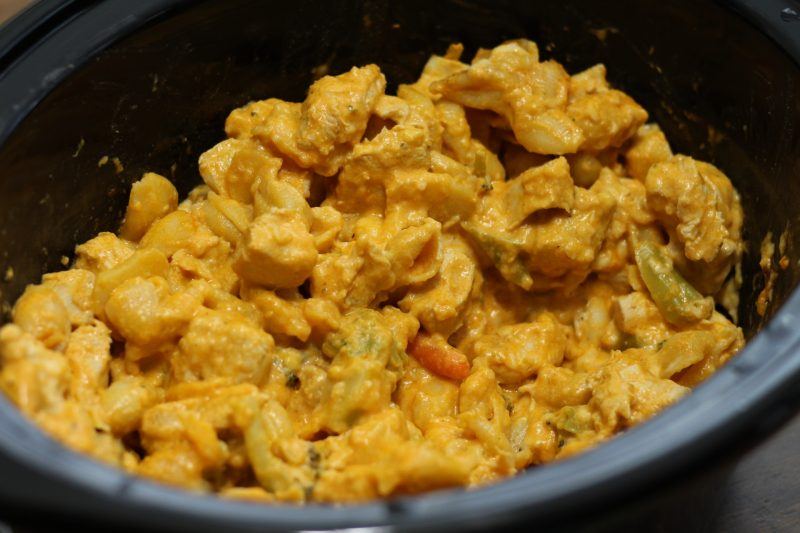 I'll admit that I have a soft spot for mac and cheese anyway, but this Buffalo Chicken Mac and Cheese is an appealing variation on an old favorite. As the name suggests, the flavor here is considerably more complex, taking on elements of buffalo chicken and amber ale.
At the same time, the dish involves more ingredients than normal, including some vegetables and chicken. These act to make the dish hardier overall, making that you could have it as a meal in its own right. Plus, the entire thing is easy to make and even the pasta can be cooked in the slow cooker.
4. Smoky Slow Cooker Pork & Beans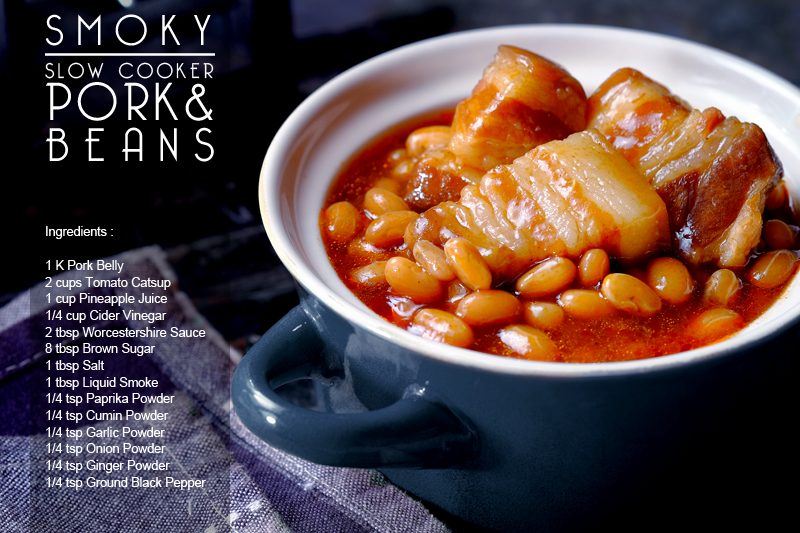 I often turn to pork and beans as a comfort food, which was the whole incentive behind these Slow Cooker Pork and Beans. There is nothing complicated about the recipe at all, instead it's just a matter of pre-soaking the beans and then cooking. The pork does need to be added in part way through the cooking process but don't worry, this is easy to achieve.
The end result is a comfort dish that has a lovely smoky flavor. It also makes great leftovers, although I find that it tends to get eaten up rather quickly.
3. Lemon Herb Whole Chicken with Blonde Ale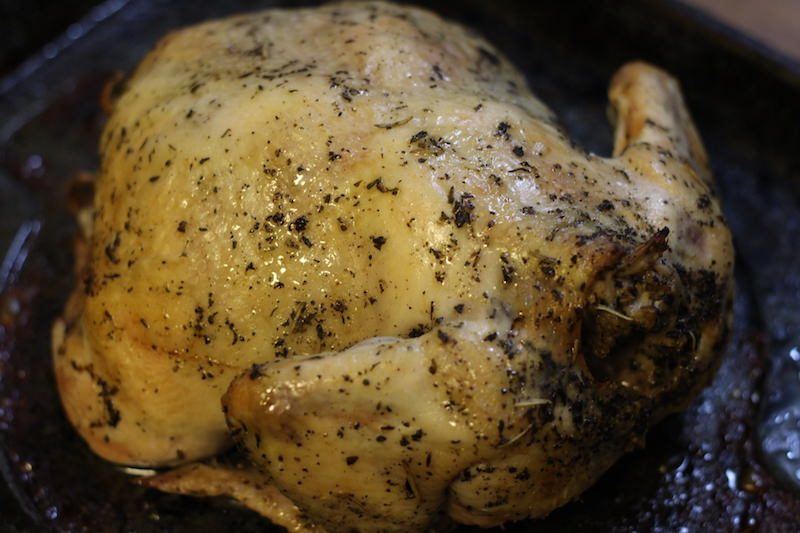 Most people don't use slow cookers to roast a whole chicken but this Lemon Herb Whole Chicken recipe shows that you can. In fact, the texture of the chicken itself is much the same either way, while the slow cooker does serve to make the process that much simpler.
If nothing else, using a slow cooker is much better than having the oven on for hours and heating up the entire house. Plus, you can go out while the chicken is cooking – something that you couldn't do if you made it in the oven. You do still need to finish the chicken in the oven if you want a crispy skin. But, that is easy to achieve and the recipe provides instructions for doing so effectively.
2. Spiced Ale Cinnamon Apple Pork Tenderloin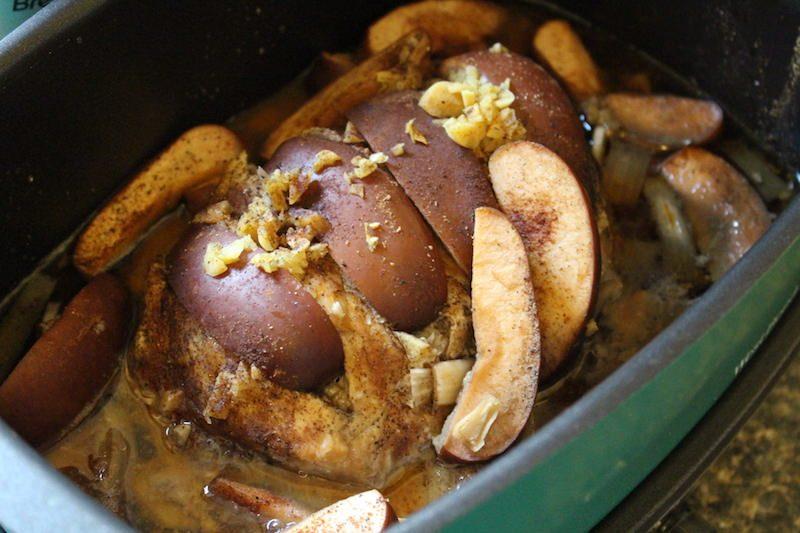 This Cinnamon Apple Pork Tenderloin recipe always reminds me of fall and it's not hard to see why. This combination of flavors really does work well with food, especially when the meat in question is pork. After all, pork is often paired with apples and the cinnamon and spices simply add a nice complexity to the flavor profile.
Like many other recipes on this list and this site, the tenderloin is easy to prepare, with the slow cooker doing most of the work for you. So, you can sit back and relax or use the time for something else entirely.
1. Tangy BBQ Porter Beef Short Ribs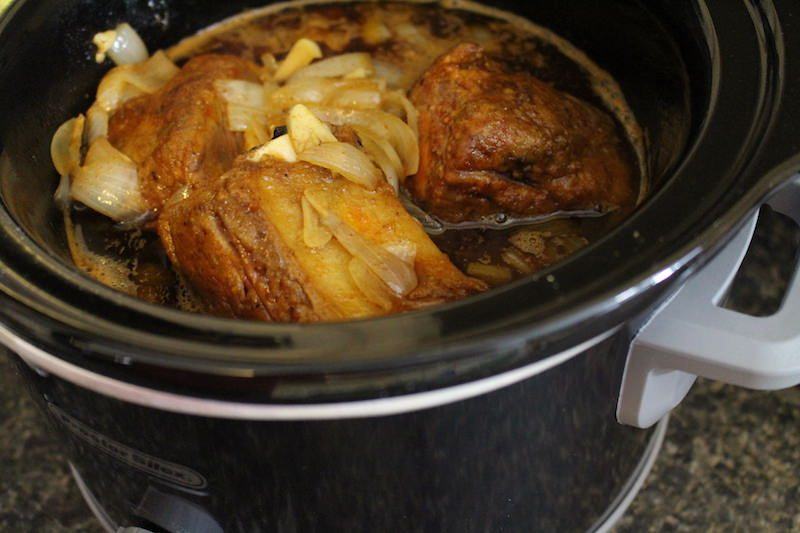 BBQ ribs are a great go-to meal for so many occasions, and this Tangy BBQ Pork Beef recipe is an example of a version that just turns out amazing. In fact, making short ribs in the slow cooker is the best way to do it, as there is no risk of overcooking or undercooking the meat. Instead, it turns out the same each time and is bound to be a popular dish.