So you are all ready to try sous vide for yourself, but are at a loss of where to start? Or you have already begun your sous vide exploration and are ready to elevate your recipes to the next level?
Either way, we've got the cookbook for you. Sous vide is a fairly simple method of cooking that employs submersion of sealed bags of food in water that is held at a specific temperature for a precise amount of time. This is done to cook the food perfectly at the desired level of doneness. You can cook the same thing over and over again with the same delicious results knowing it will be good each time.
Whether you want to expand your existing repertoire of recipes, or if you want to just add to your skill set in the kitchen, you can find excellent choices from this compiled list of popular cookbooks on this topic. Keep in mind as you read below, some books are targeted towards people looking to improve their sous vide cooking skills, while others are focused on recipes. To save you some time, I'll just briefly cover my top 2 picks on the page, and why.
Best Sous Vide Cookbooks]
My favorite recipe book on this page is Sous Vide At Home. It's got 100 easy-to-make recipes, including beautiful photos. It's most like a traditional recipe book that focuses on the sous vide cooking technique. It's more of my style, and what I enjoy reading. It's reasonably priced, and well worth the money. Some of the other books I looked at were quite in-depth, and the cost a lot more than I expected.  I love the photos in this book as well. A beautiful shot of what you're supposed to be cooking can be wonderful motivation.

For experts looking to further their craft and are looking for more than just a "recipe book", I recommend Under Pressure, from Thomas Keller. It digs more into the reason behind why we cook foods using sous vide, and how to achieve ideal flavor and texture for each one. There's also anecdotes from his experience as a profeessional chef and no shortage of tips for each individual recipe. Again, the photos inside are amazing as well.

Although sous vide is fairly recent home cooking phenomenon, it has been tested in professional and high end kitchens for much longer. Whether you've just bought your first sous vide immersion circulator or are a savvy home chef and early adopter of home water ovens, you'll find what you need on this page. Go any suggestions? Leave a comment and help us build an amazing list of the best of the best out there.
Best Sous Vide Cookbooks
The Science of Good Cooking
Modernist Cuisine at Home
Under Pressure: Cooking Sous Vide by Thomas Keller
Sous Vide – The Art of Precision Cooking
Modernist Cooking Made Easy
The Everything Guide to Cooking Sous Vide
The Sous Vide Supreme Cookbook
Codlo Sous-Vide Guide & Recipes
Sous Vide at Home
Immersed: The Definitive Guide to Sous Vide Cooking
New Discovery! Cooking Sous Vide
Top Pick
1. The Science of Good Cooking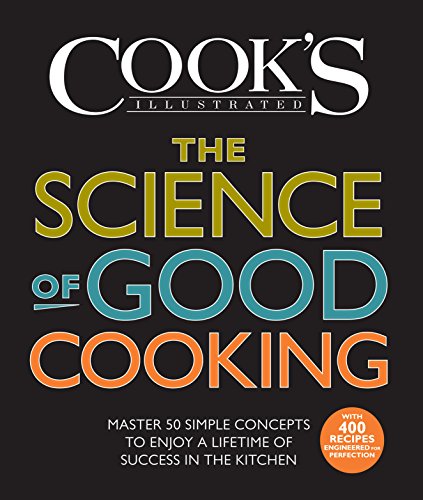 Written by the editors for America's Test Kitchen, these scientifically tested methods of preparing food in a variety of ways including top notch sous vide are sure to be trusted by those looking to enter the world of precise cooking. Cooks Illustrated is known for providing accurate instructions for home cooks that want to reproduce the recipes they perfect. It is a fine book for fine tuning cooking techniques that you are already familiar with as well as new ones.
Sous vide cooking is featured in this book, but it is not a dedicated sous vide cookbook. However, it is a great companion guide to cooking that you can use to create the best versions of your favorite foods.
There are 400 recipes inside this book however, which would make it one of my favorites on this list. The photos inside were not as good as my other top two picks though, which is why it didn't make the cut. However, I do really like that they were able to focus on 50 cooking techniques to improve your culinary skills, making it a great mix of both simple recipes to try as well as an instructional guide to making good food.
If you're looking for a balance of these two things, you should consider getting The Science of Good Cooking. This book also has a huge number of excellent reviews, probably because American Test Kitchen is a well known NPR program.
2. Modernist Cuisine at Home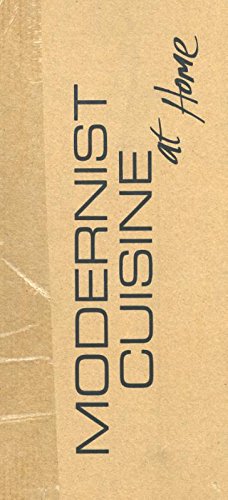 This is not only a sous vide cookbook because it seeks to be a well-rounded modern cooking guide. Don't let the general nature of this book dissuade you, it includes very detailed instructions for cooking sous vide at home. It is another book that elevates cooking to a higher standard than typical home recipes, so if you are just beginning your sous vide journey, this may be a book to consider for later on in your culinary training.
You'll drool over the gorgeous food photos and aspire to re-create these modernist delicacies. You can use this cookbook to explore avenues of food preparation often seen in excellent restaurants in this modern era and also master sous vide.
3. Under Pressure: Cooking Sous Vide by Thomas Keller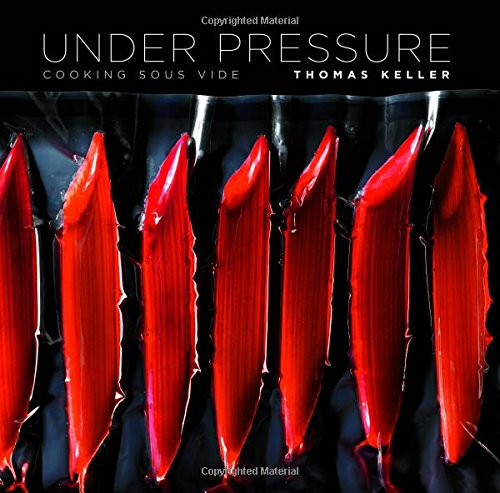 Written from the perspective of a seasoned professional, Under Pressure: Cooking Sous Vide is a great deep end of sous vide recipes that aren't specifically targeted for the casual home cook. It unlocks the secrets to many complicated recipes that can be found in a commercial kitchen.
It was written before the widespread availability of affordable immersion circulators and excellent home vacuum sealers, so with the advent of these technologies for the home cook it is a more approachable volume for those looking to make restaurant quality meals.
4. Sous Vide – The Art of Precision Cooking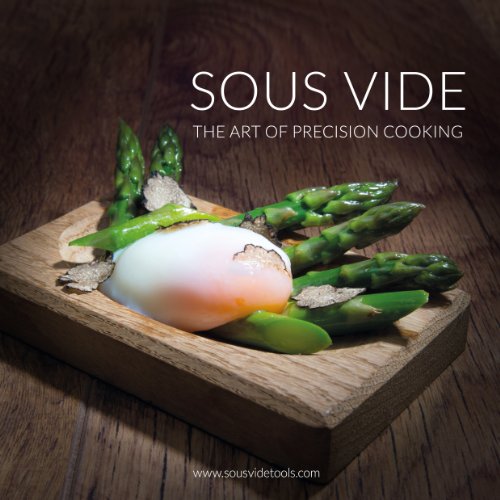 Precision Cooking is exactly the title that suits these sous vide recipes, as they are very accurate and easy to follow. It is a British flavored book, and the first of its kind according to the authors. They even show you how to plate our dishes to look like your favorite fine dining restaurants.
Recipes like butter poached asparagus, smoked crème fraîche and poached egg yolk, or salmon with whiskey and orange will be easy to make, following the simple instructions once you get your hands on this UK guide.
Right now, the print version is only sold by third parties, and is shockingly expensive. The Kindle version is free though for Kindle Unlimited subscribers.
5. Modernist Cooking Made Easy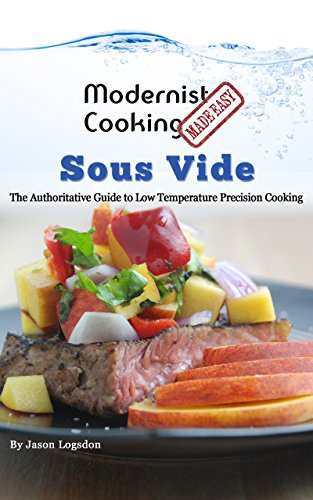 If you are new to sous vide, this super simple cookbook is the definitive choice for your pantry. It is filled with 85 recipes that cover every type of meat, veggie, and assorted delicacies including alcohol infusions and decadent desserts.
Written by an experienced home cook with a passion for easily and consistently replicated results so you can be confident that each recipe has been thoroughly tested for everyone. Most importantly, it covers the details for safely cooking to perfection, which is great for beginners. If you're afraid of doing things wrong, this is a great book to get you started on the right foot. The one complaint that caught my eye is that the print version only has black and white pictures. That's a bit of a bummer!
However, I really like that the table of contents is separated by the type of food you'll be making, e.g. red meats, fish, infusions, or even yogurt (yes, that's possible!). They also cover basic techniques like how to smoke or sear to finish meats.
Jason Logsdon is a home-cook-turned-sous-vide-expert and his guide explains every aspect of this modernist method of cooking. Far from the professional guide, it will give you the basics without needing the highly expensive professional equipment to do so. It also has a host of recipes, charts, explanations, and other tidbits at a steal, so you can be on your way in the sous vide world without turning out your pockets.
6. The Everything Guide to Cooking Sous Vide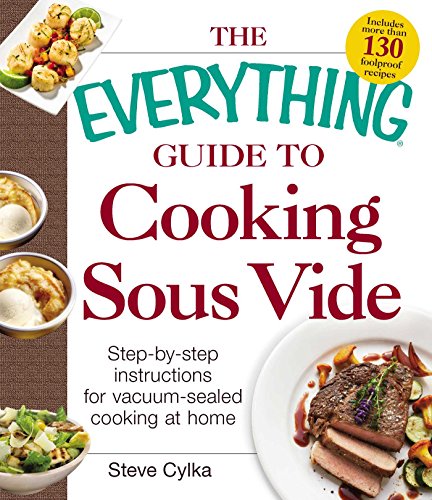 Make your way through 150 recipes and feel like a professional chef when you are through. Covering all aspects of sous vide, this cookbook is a primer for those looking to dip their toes in the sous vide revolution. If you aren't looking for fancy recipes and just want to try sous vide for everyday family classics, you'll love this cookbook.
It has just enough variations on family style dishes like Sous Vide Chicken Caesar Salad and Eggs Florentine. Some newer recipe choices like Thai Pork Chops with Green Curry Sauce or Flank Steak, Apricot, and Brie Bites will satisfy your creative side.
The simple nature of the recipes is what makes this book stand out.
7. The Sous Vide Supreme Cookbook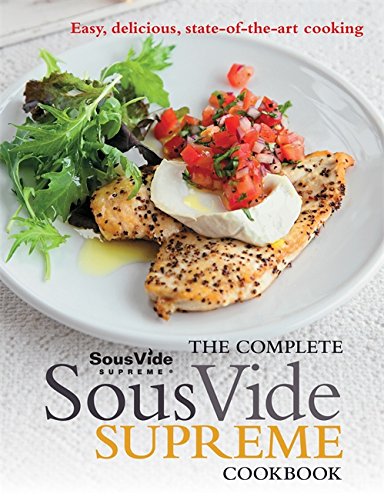 This is the companion guide to the Sous Vide Supreme Water Oven and it covers a host of 80 everyday recipes that include the quintessential techniques and tips for this cooking method. Whether you have a water oven, a combi-oven, or an immersion circulator, you are ready to go with this cookbook.
It includes helpful timing and temperature charts for beef, pork, poultry, seafood, vegetables, fruits, and eggs. This means you'll be able to hone in your favorite preparations so that you can make perfect poached eggs to your liking every time.
8. Codlo Sous-Vide Guide & Recipes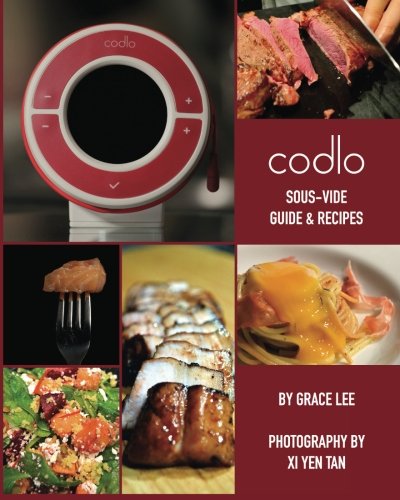 Another take on the sous vide cooking technique from a company that makes a water temperature controller, Codlo presents easy instructions to take your recipes to the next level. It features 36 recipes, specific instructions for the beginner on the sous vide method, as well as helpful charts to let you explore on your own.
You can try cooking your favorite classic recipes and also fine tune your techniques to become proficient at home sous vide with the help of this guide. The color illustrations make it hard to pick which recipe to start with, but you won't be disappointed with any of the recipes once you begin your sous vide journey.
9. Sous Vide at Home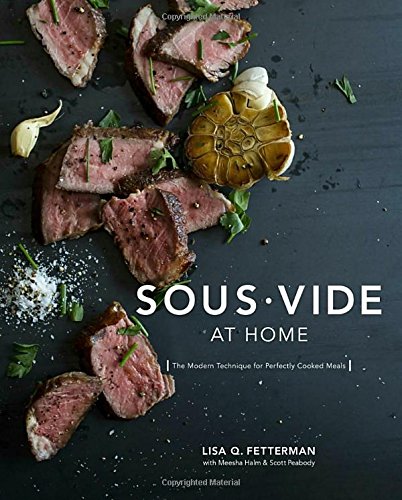 Although it is still forthcoming, you can pre-order Sous Vide at Home and have it delivered just in time for the holiday season in November of 2016. It promises to be a revolutionary guide on the topic of sous vide, and from the cover art, it is clear that this will be a sleek, classy take on the genre.
The main author Lisa Fetterman, an avid home-cook-turned-professional-chef who hosts a popular cooking blog and also created an immersion circulator called Nomiku, will guide you through the basics and on to higher skilled cooking. You can make recipes like Duck Confit, a whole turkey, Chicken Tikka Masala, and even Coffee-Cardamom Bitters for cocktails.
I really like that this book covers a variety of cooking skills, both easy and advanced recipes, and is accompanied by amazing pictures. This makes it a great gift as well. Even if you're not a home-chef yourself, if you're buying for someone else, this would be the best choice.
10. Immersed: The Definitive Guide to Sous Vide Cooking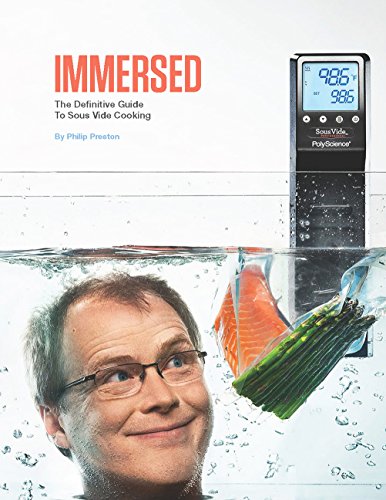 Rounding out our list of sous vide guides and cookbooks is this cumulative collection of recipes, technique, and inspiration from a host of restaurant owners, culinary experts, and professional chefs. Published by the makers of the PolyScience sous vide cookers, it has an accommodating tone for those exploring sous vide for the first time and those who have been at it for as long as they can remember.
It is a jovial book, written from the perspective of Preston, documenting his explorations of sous vide in search of delicious modern cooking. If you are looking for a more straightforward approach, this book might be too narrative for you, but it is nonetheless a good starting place for this method.
New Discovery! Cooking Sous Vide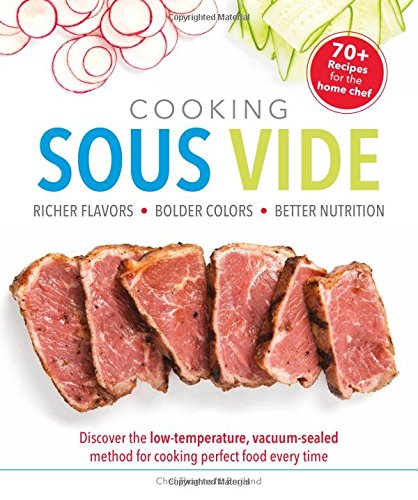 This is one that I discovered recently. The target audience for this book is definitely beginners, and you'll find lots of basic information about how sous vide works, how to cook each food properly, and broad concepts like searing steak, pickling veggies, and making infusions. There's tons of color, and it's a beautifully designed book. With 70 unique recipes, there's enough to keep you busy. Some recipes are pretty easily found online, like chicken noodle soup or cheese burger, while others are "gotta try" like compressed watermelon or Korean Style Short Ribs.
Most recipes in the book are pretty common, so if you are an experienced sous vide chef looking to expand your knowledge of sous vide, this one isn't for you. But for beginners or intermediate chefs, it's great!
Top Pick
If you are looking for a top pick, we've got you covered. There are several that caught our eye for specific purposes or interests. For those who have already tried sous vide, own a water oven or immersion circulator and vacuum sealer and are already on their way to being a professional or very serious home chef, we suggest picking up a copy of Under Pressure: Cooking Sous Vide by Thomas Keller. It has the specific directions for making awesome recipes at home for those who have considerable existing equipment and knowledge of cooking.
However, it can be intimidating and possibly alienating for the casual home cook looking to expand their cooking skills. In that case, we suggest Sous-Vide at home: The Modern Technique For Perfectly Cooked Meals. It's the newest of the bunch, and does a great job of covering the basics, but also getting into the more fun stuff. It was actually rated one of NPR's best books of 2016. One reviewer said that it's a perfect choice for your first cookbook, and another said that the recipes are very accessible. The beautiful photos means it can double as a coffee table book as well. LOL.
Which one are you getting? Let us know in the comment section!