Belly fat is associated with several lifestyle-related health conditions, including heart disease and diabetes. Exercising and eating nutritious foods are some of the best ways to prevent belly fat build-up and to help get it off once it's accumulated.
Flat belly foods have some common characteristics. They're generally high in fiber, especially soluble fiber, and they're rich in protein and monounsaturated fats. These nutrients help regulate how fat is stored in the body, as well as providing the right ratio of nutrients to allow for fat burning.
If you're interested in learning more about these nutrient-dense foods, read through the following list of the 15 best foods for flat tummy lifestyles. At the end, I'll share three spices you can use to add flavor to your foods as well as an extra fat-burning punch.
15 Flat Belly Foods
Berries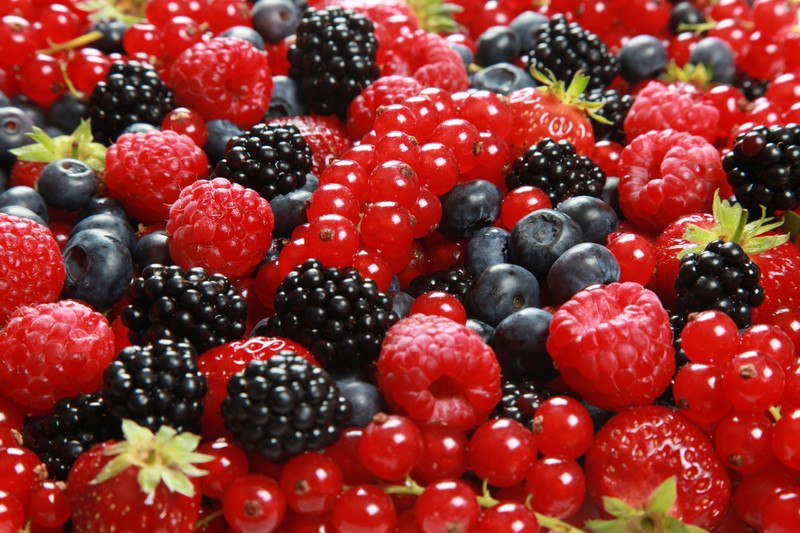 Berries are a nutrient-dense food that fight belly fat in a few different ways. Berries are a low-calorie food, so it makes sense that they fit well with other flat belly foods. One cup of berries generally has less than 84 calories, and some have fewer. A cup-sized serving of strawberries contains just 53 calories.
The fiber in berries counts, too. Most high-fiber foods help promote flat tummies. Berries are relatively high in a type of soluble fiber called pectin. This type of fiber aids in weight loss by helping create a sense of fullness, so you feel satisfied and don't overeat. Pectin may also aid with insulin resistance, which could also help with weight loss.
Some berries have specific weight-loss benefits. Blueberries, for example, turn on the genes that allow people to get thin and help burn belly fat.
Avocado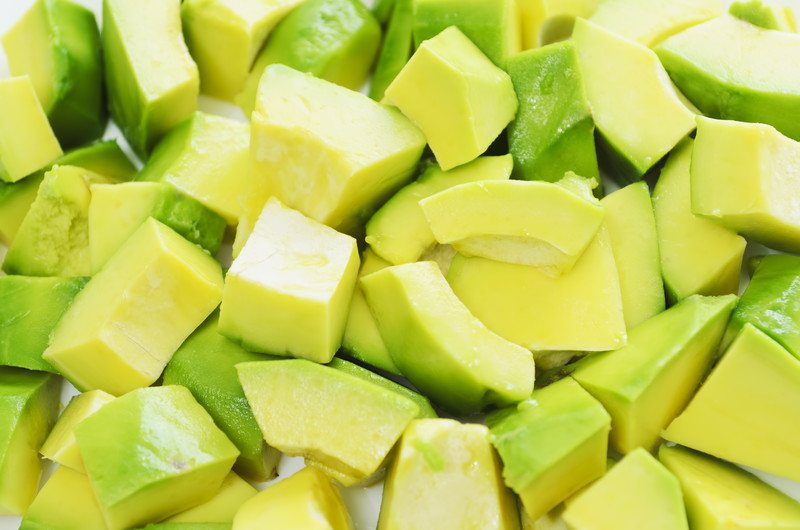 When it comes to promoting a flat belly, avocado's claim to fame comes from its rich nutrient profile. Avocados are packed with fiber. As with berries, much of the fiber in avocados is soluble, so it can help suppress the appetite and aids in burning belly fat.
Avocados are rich in healthy fats. One cup of avocado slices provides around 32% of the daily recommendation for fat, but most of it is monounsaturated fat, including oleic acid. Oleic acid could help with the absorption of vitamin D, which promotes weight loss and slows weight gain. Avocados also provide several other vitamins and minerals, including vitamin B6 and potassium. Potassium is important because it could help prevent cravings for sweets.
Quinoa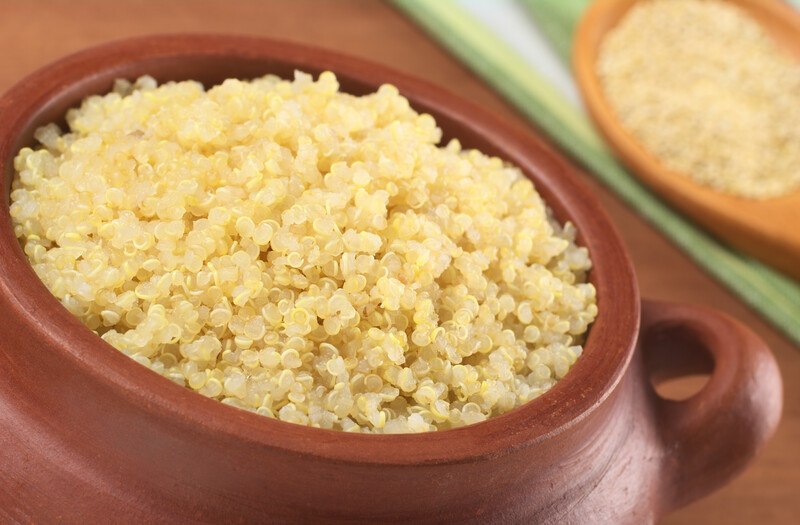 Quinoa is a high-fiber, high-protein seed that provides all nine essential amino acids. Both fiber and protein could help create a flat stomach. Quinoa also has a relatively low glycemic index rating of 53. This could be helpful for preventing the buildup of belly fat because foods with low glycemic index ratings are slower than other foods to turn to sugar.
Quinoa contains several vitamins and minerals, ranging from folic acid and vitamin B1 to trace minerals like manganese and phosphorus. It's also rich in magnesium, which could promote a flat stomach by influencing insulin sensitivity.
Quinoa is often used as a healthy substitute for white rice. It's also a key ingredient in many keto recipes.
Dark Leafy Green Vegetables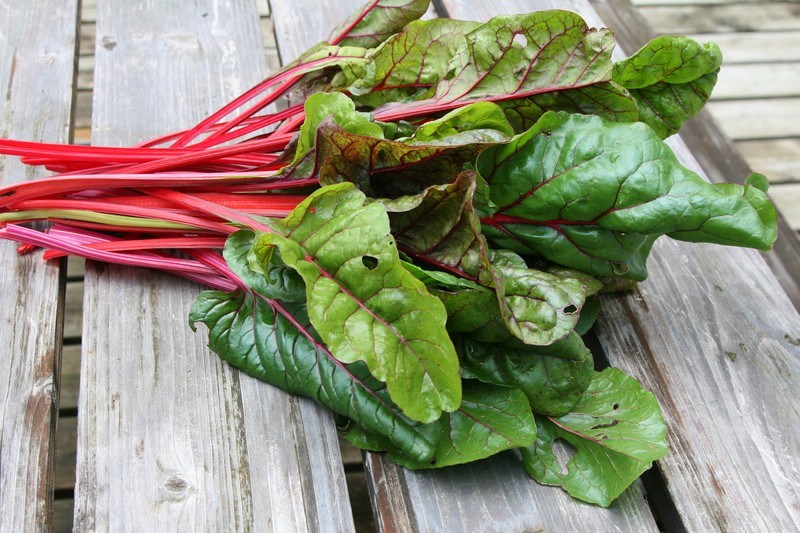 Darky leafy green vegetables like spinach, kale, and Swiss chard are one of the best types of food for health overall. They contain vitamins A, C, K, and several B vitamins. They're rich in folate and cobalamin, which help promote a healthy metabolism. They're also high in fiber and low in calories.
One significant mineral that most green leafy veggies are high in is potassium. Potassium could help with belly fat by reducing cravings for sweet, sugar-laden foods. One cup of Swiss chard provides around 549 mg of potassium per cup. A cup-sized serving of spinach contains 540 mg, and a cup of kale contains 329 mg.
Olive Oil And Olives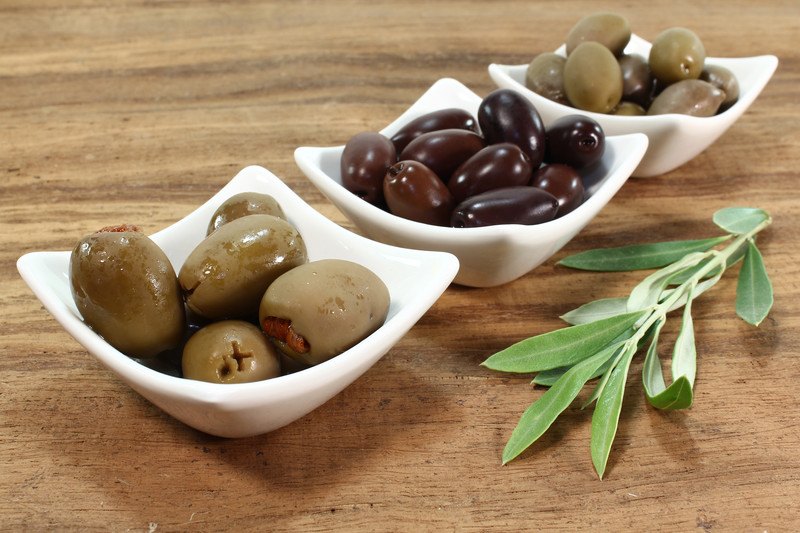 Both green and black olives contain phytonutrients that have antioxidant and anti-inflammatory properties. This is important because inflammation stresses the body and causes it to release cortisol, a hormone associated with storing fat in the belly.
Olives are also high in healthy fats, and olive oil is known for its significant amount of monounsaturated fat, including oleic acid. Oils high in oleic acid have been found to help influence the storage of fat in the belly.
Chia Seeds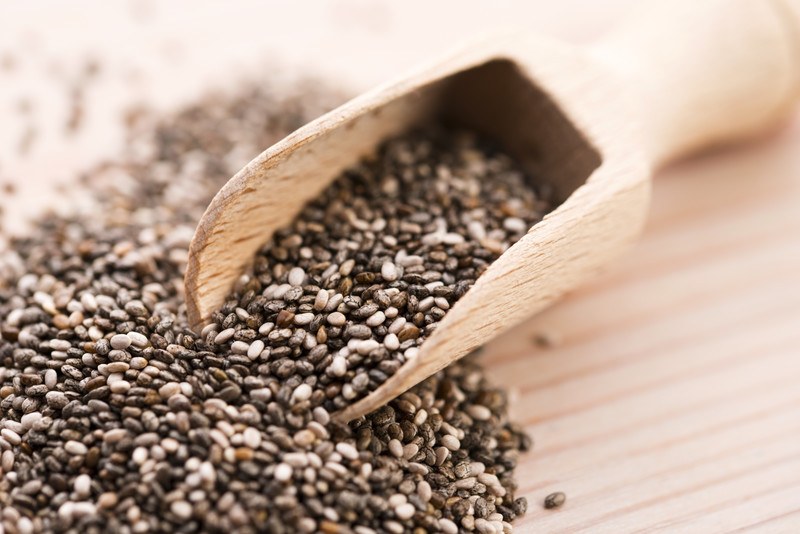 Chia seeds are tiny black seeds that come from a flowering mint family native to northern Mexico. Chia seeds are well known for being rich in healthy omega-3 fatty acids, which help reduce inflammation and belly fat. As with berries and avocados, much of the fiber in chia seeds is soluble, so it helps create a sense of fullness so you don't overeat.
Chia seeds are also rich in fiber and minerals. A one-ounce serving of chia provides 23% of the recommended daily value for magnesium, which is involved in more than 300 enzyme reactions in the body. This includes regulating insulin sensitivity, which is associated with how much fat the body stores.
Chia seeds are easy to mix into smoothies and healthy desserts. like this quick Nectarine, Chia Seeds, and Mint Dessert recipe.
Turkey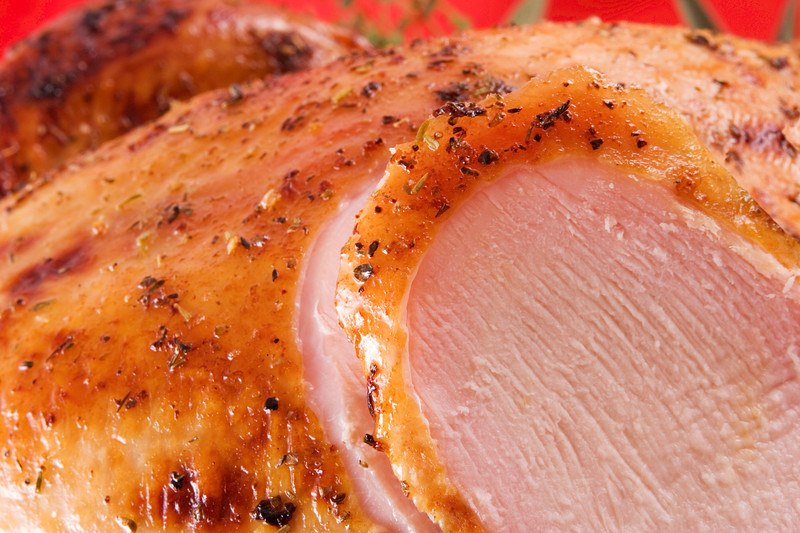 Poultry is a great source of protein, with cuts that are relatively low in calories. Turkey is a good source of minerals and vitamins. These include potassium, magnesium, iron, phosphorus, and calcium, as well as vitamins such as folate, vitamin B12, and vitamin B6. Turkey is also a significant source of a compound called tryptophan, which could aid in weight loss.
Besides full Thanksgiving-style meals, turkey meat can be chopped and used in salads and casseroles or sliced as a sandwich filling.
Kimchi And Sauerkraut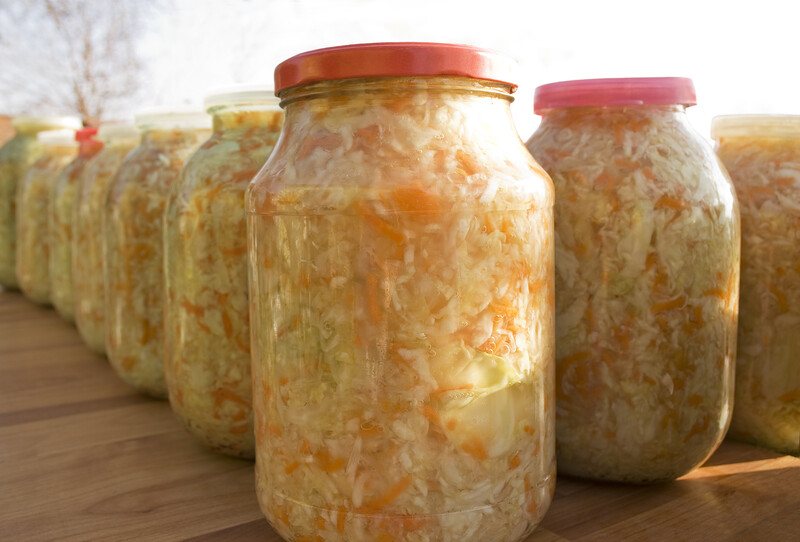 Both Kimchi and sauerkraut are fermented cabbage foods that are often served as side dishes. Sauerkraut is a German food that's often served with bratwurst or corned beef. Kimchi is a Korean dish that also includes garlic, radish, ginger, and a red paste made from gochu peppers. Some people eat kimchi with every meal.
Both kimchi and sauerkraut are high in fiber, low in calories, and rich in nutrients. A cup-sized serving of sauerkraut provides significant amounts of vitamin K, copper, folate, manganese, potassium, iron, and vitamin B6, as well as 23% of the daily recommended intake for vitamin C.
Kimchi and sauerkraut are fermented foods. They contain good bacteria, such as lactobacillus acidophilus, that promote a healthy gut microbiome.
Beans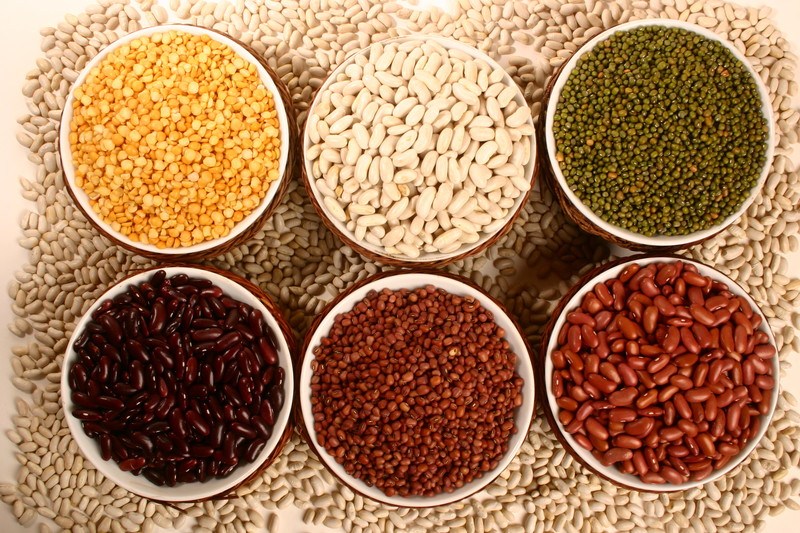 Beans and legumes are packed with soluble fiber that could help get rid of belly fat. For example, a cup full of black beans contains 4.8 grams of soluble fiber, while navy beans contain 4.4 grams per cup. Beans are also a good source of protein.
Protein is important because it has several weight-loss benefits, including feeling full after meals and balancing hormones that cause people to store fat. A cup-sized serving of black beans provides around s 42 grams of protein, which is about 84% of the recommended daily intake.
Oatmeal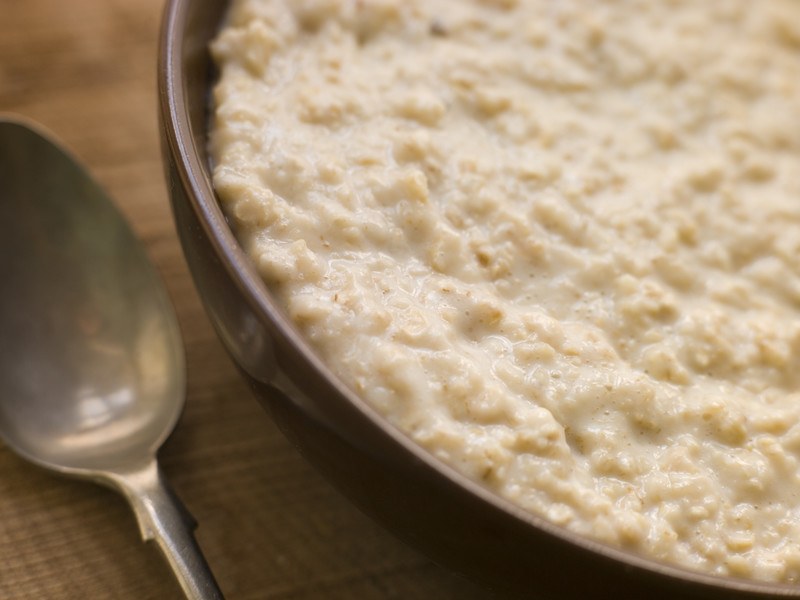 Oatmeal is a low-glycemic food, so it doesn't turn to sugar as quickly as some other foods do. This is great news for people who want a flat belly because it could be eliminated before it provides enough sugars to store as fat.
Oatmeal also contains soluble fiber that helps burn belly fat. A 3/4-cup serving of dry oats provides around 3 grams of soluble fiber. One interesting thing to note is that people who eat around 10 grams of soluble fiber every day build up less visceral fat than people who don't eat much soluble fiber.
Apple Cider Vinegar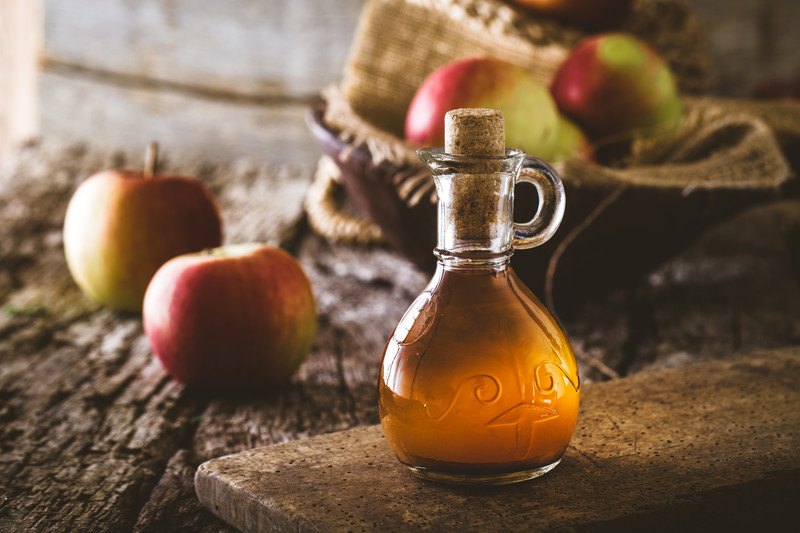 Apple cider vinegar is touted as a home remedy for several conditions, including weight loss, and there is some scientific evidence to back it up. Animal studies indicate that apple cider vinegar can lower blood sugar levels, decrease insulin levels, and improve metabolism—all of which are great for building a flat belly. Apple cider vinegar also helps regulate the appetite.
Apple cider vinegar is also known to help burn fat overall and is one of those drinks that help lose weight and it could help reduce the amount of fat your body stores by changing the way your genes are expressed. Apple cider vinegar can be mixed with olive oil for a quick salad dressing. Some people take it in capsule form, and some people drink vinegar in water.
Salmon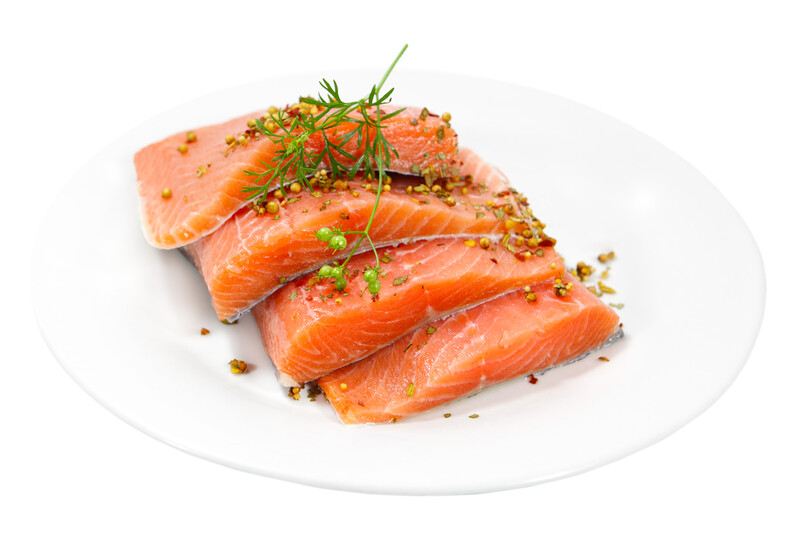 Salmon and other fatty fish, including trout, sardines, mackerel, and tuna, are rich in omega-3 fatty acids. Besides fighting inflammation, omega-3 fatty acids could boost the metabolism and decrease fat in the liver, so it's easier to burn belly fat.
Salmon is also a significant source of protein. One medium salmon fillet provides around 59 grams of protein, which is more than the daily recommendation. It also contains 156% of the daily recommendation for vitamin D and 420% for cobalamin, which could both play a role in weight loss.
Yogurt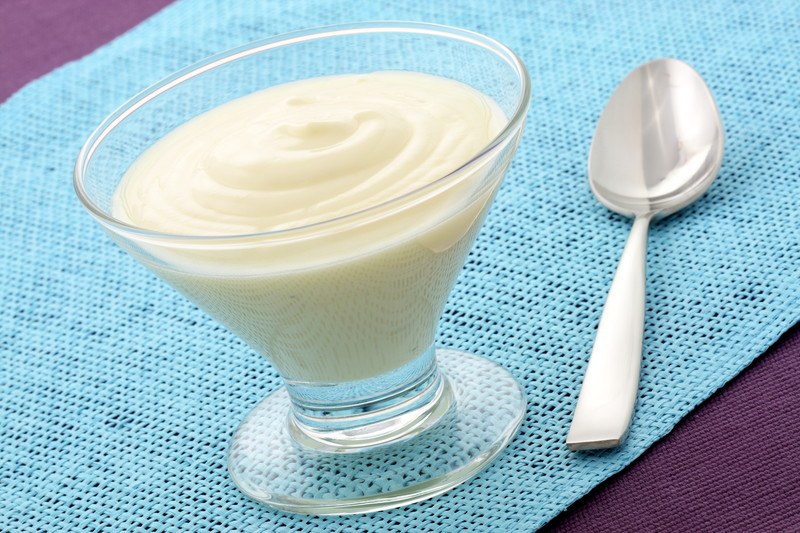 Yogurt is a fermented dairy product containing many of the same types of good bacteria that kimchi and sauerkraut do. These good bacteria help build a healthy microbiome. This is important because a poor microbiome is associated with more belly fat, while a healthy gut is associated with less belly fat.
Yogurt is also a decent source of protein. A seven-ounce container of plain Greek yogurt provides 20 grams of protein, including seven of the nine essential amino acids.
Nuts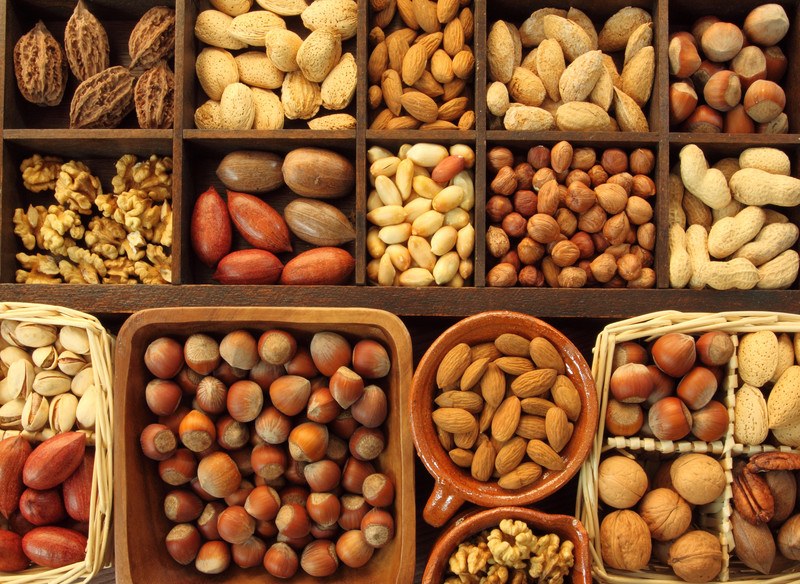 Nuts are a great choice for snacks because they're high in protein and healthy fats. For example, an ounce of almonds provides 6 grams of protein, while an ounce of walnuts contains 4.3 grams of protein. A cup of pecans supplies consumers with 9 grams of protein.
The high levels of monounsaturated fats in nuts could also help reduce abdominal fat. One cup of pecans provides around 71 grams of fat and 10 grams of fiber.
Eggs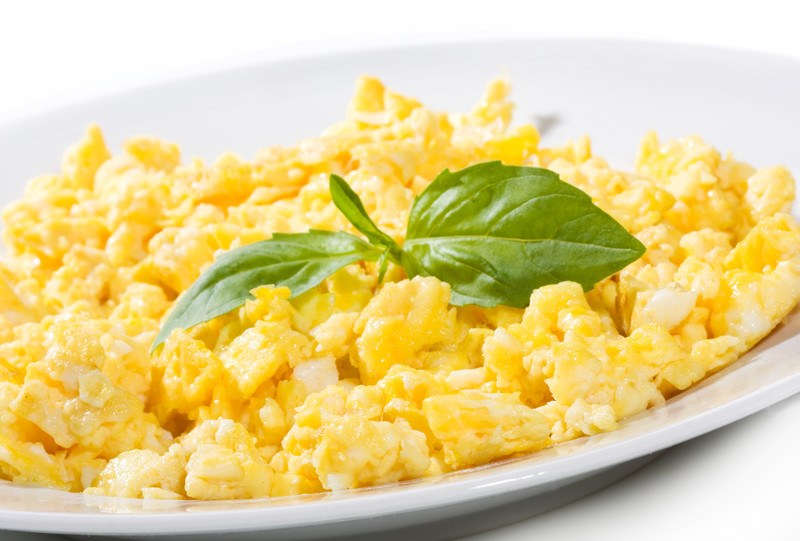 Eggs are a low-calorie, protein-rich food that contains several vitamins and minerals to help people lose weight. One boiled egg provides around 77 calories, but it also contains around 15% of the daily recommendation for riboflavin and cobalamin.
Eggs are also a good source of potassium, zinc, and iodine. Iodine could be important because it's essential for the proper function of the thyroid, which regulates metabolism. 
One interesting thing about eggs is that they contain a compound called choline. Choline has been shown to help remove fat from the liver. One egg contains around 25% of the daily recommendation for choline.
Spice It Up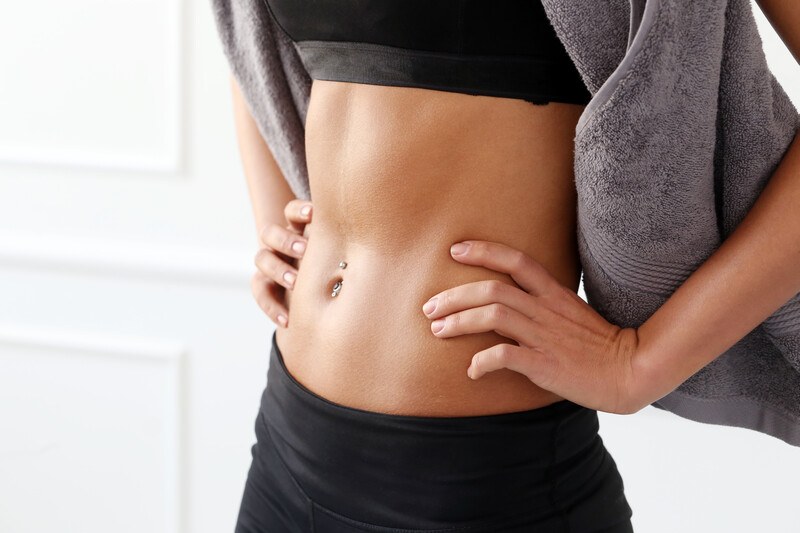 Now that you've read about the 15 best foods for flat tummy lifestyles, let's talk about ways to enhance their benefits. One of the best things you can do is spice up your food with carminative herbs like cinnamon, ginger, and turmeric.
Spice #1: Cinnamon
Cinnamon is a sweet, warm spice that comes from the bark of the cinnamon tree. It's known for increasing insulin sensitivity, and it's been studied for its positive influence on body weight and body mass index.
Spice #2: Ginger
Ginger has strong anti-oxidant and anti-inflammatory properties and is known to be one of the spices that help lose weight. It could help fight stress and lower cortisol levels so that less fat is stored around the belly. It could also promote burning belly fat, and it is often used as a digestive aid, too.
Spice #3: Turmeric
Turmeric is a yellow root herb in the same family as ginger. This is the herb that gives yellow curry its distinctive taste and color. Because of its high levels of the compound curcumin, turmeric has several health benefits, including reducing the risk of heart disease and cancer, fighting depression, and combatting age-related symptoms, as well as reducing inflammation.