Rice cookers may seem like fairly simple tools but if you want to get the most out of them, getting a decent rice cooker cookbook is absolutely essential. This is true regardless of whether you have a very simple and inexpensive rice cooker or a much more complex and feature-heavy device.
One of the key reasons for investing in a good cookbook is simply that a rice cooker can do so much more than most people imagine. The most basic example of this is simply the various types of rice. Getting rice perfect is a bit of an art, especially as different types of rice have their own requirements. Likewise, you may want your rice to turn out a particular way or you might want to make more complex dishes that heavily rely on rice, like risottos. But, there is much more to rice cookers than simply making rice.
Instead, even basic rice cookers can be used to make a wide range of different types of dishes, including many that you wouldn't expect. For example, we've seen recipes for mac and cheese, chili, frittatas and even cakes, not to mention recipes for cooking alternative types of grains, like quinoa. These types of meals mean that a rice cooker is much more versatile than most people assume and that's what makes a good cookbook so important.
In this list, we're highlighting some of the best cookbooks that you can use to get the most out of your rice cooker. It is worth noting that there are surprisingly few cookbooks on this topic when compared to other devices or types of cooking, possibly because so many people assume that rice cookers are just about making rice. But, all of the books on the list really are worth checking out and offer some amazing recipes to try.
Best Rice Cooker Cookbooks
Aroma Rice Cooker Cookbook
The Ultimate Rice Cooker Cookbook
The Everyday Rice Cooker: Soups, Sides, Grains, Mains, and More
300 Best Rice Cooker Recipes
Asian Cooking Rice Cooker Recipes
Rice Cooker Meals: Fast Home Cooking for Busy People
The Everything Rice Cooker Cookbook
Quick & Easy Rice Cooker Recipes
Rice Rice Baby
Rice Cooker Meals
Quick & Easy Rice Cooker Meals
Top Pick
Aroma Rice Cooker Cookbook
This Aroma Rice Cooker cookbook may have been specifically designed for rice cookers from Aroma Homewares but the recipes are still relevant for other brands of rice cooker as well. The book opens with a relatively basic introduction to rice cookers, which could be perfect for those who haven't used one before. However, the real focus of the book is the recipes and these mostly focus on grains and on vegetables, including an emphasis on Cajun-style foods.
With 50 recipes, the amount of variety in this cookbook isn't huge but it's more than enough to showcase the more unusual types of meals that you can make with a rice cooker. It would also be possible to take these recipes and just use the general concepts to create your own recipes and meals.
The one downside of the book is that, in the Kindle version at least, there are no images. That can be a deal breaker for some people but honestly, the presence of absence of images doesn't affect the quality of the recipes themselves. Additionally, that pattern is actually true for most of the cookbooks on this list.
The Ultimate Rice Cooker Cookbook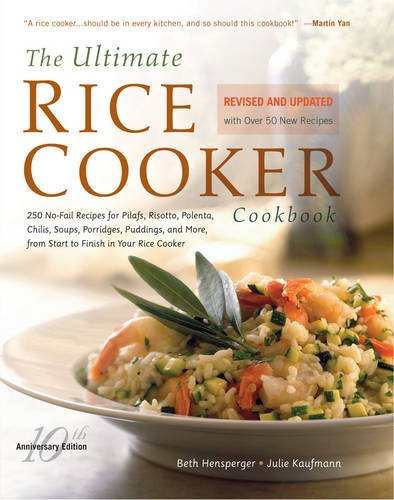 This cookbook is one of the most highly recommended options and it's easy to see why. For one thing, the book offers 250 different recipes, which means that there is also a lot of variation in the types of recipes. For example, the recipes cover both sweet and savory, including some fairly simple dishes and others that are much more complex. As a general rule, the recipes appear to be popular and are easy to follow.
However, it is worth noting that based on reviews, this cookbook appears to be primarily designed for fuzzy logic rice cookers. It may still be possible to make many of the recipes in a basic rice cooker but it some cases adjustments to recipes may need to be made if you are using a non-fuzzy rice cooker.
The Everyday Rice Cooker: Soups, Sides, Grains, Mains, and More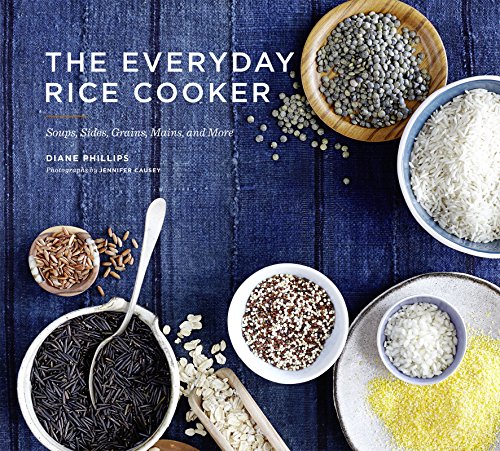 Unlike many other rice cooker cookbooks, The Everyday Rice Cooker was specifically designed with the various types of rice cookers in mind. Because of this, the recipes contain instructions for modifications based on the specific rice cooker type that you are using.
At the same time, the book offers many different types of recipes, with a particular focus on the various types of grains and grain alternatives (like quinoa). This makes the recipe book great for people who enjoy multiple types of grain or simply like mixing their meals up. There are also meat-free options provided for many of the recipes. Overall, the variety of recipes suggests that there is going to something in this cookbook for most people.
300 Best Rice Cooker Recipes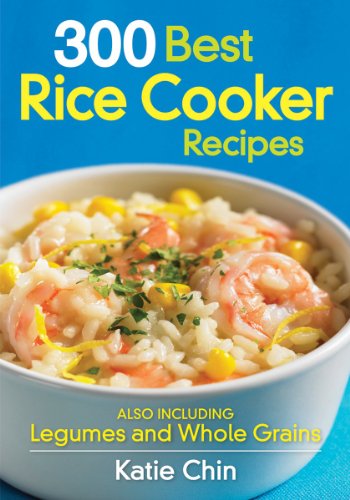 One of the biggest advantages of this cookbook is the sheer number of recipes. While many similar cookbooks might contain less than 100 recipes, this one offers 300 different recipes. That's great, especially as people vary so much in the food that they like to eat and to cook. The book also has a considerable range of meat-containing recipes, which may be appealing to some, as many rice cooker cookbooks focus more heavily on vegetarian and side dish options. At the same time, reviewers have noted that there is a lot of different styles of food represented in the recipe book, including Japanese, Indian, Mexican and many others.
Nevertheless, it is important to note that this cookbook is a little different you might expect. Often, the recipes make use of a rice cooker but not exclusively. In some cases, this means you end up cooking most of the meal on the stovetop and then add in rice from the rice cooker. There are still a decent number of recipes that are created entirely in rice cookers but the fact that some aren't may be enough to turn some people off this book.
Asian Cooking Rice Cooker Recipes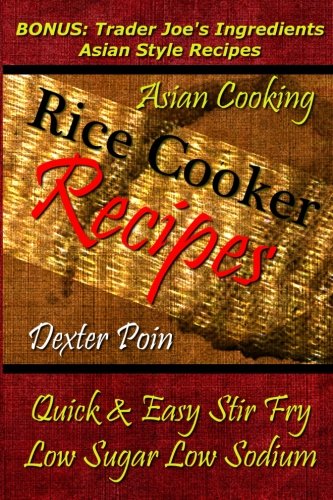 Needless to say, the emphasis with this cookbook is specifically on Asian recipes. The recipes also tend to be relatively simple to create and don't require many specialized ingredients. The author also provides nutrition information for his recipes, which is great for anyone trying to watch what they are eating. Now, there isn't a huge number of recipes in the book but that isn't too surprising as the emphasis is on one specific type of meal.
One interesting thing about this particular cookbook is that there is also advice about how to use the rice cooker effectively, especially for recipes like stir-fry, which are not simple in a rice cooker. The overall style of the book is a little unusual and in some ways it is more in the style of a blog than a traditional recipe book. Nevertheless, it is still an appealing choice, especially for people who are looking for cheap meals to make.
Rice Cooker Meals: Fast Home Cooking for Busy People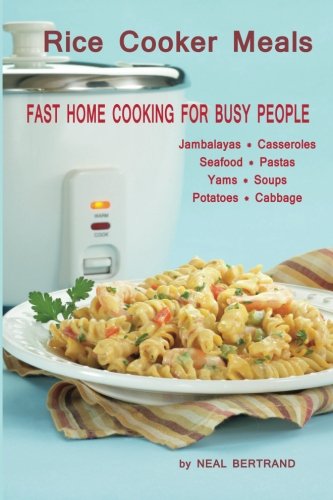 With this cookbook, the emphasis is strongly on the idea of cooking food fast and with minimal hassle. In fact, the book even contains tips for making meal preparation faster in general. As such, it's a great approach for busy families, offering people a way of making good food fast.
The recipes in this cookbook are also a little different than many of the other books on this list. This includes a strong focus on more conventional and basic meals, including many that kids would have no problem eating. Likewise, some reviewers noted that the recipes are great choices if you love Southern food because of the ingredient choices.
Now, this does mean that the cookbook may not be a good choice for people who have a strong focus on healthy food. However, for people looking for simpler and more down-to-earth food, the cookbook is certainly worth checking out.
The Everything Rice Cooker Cookbook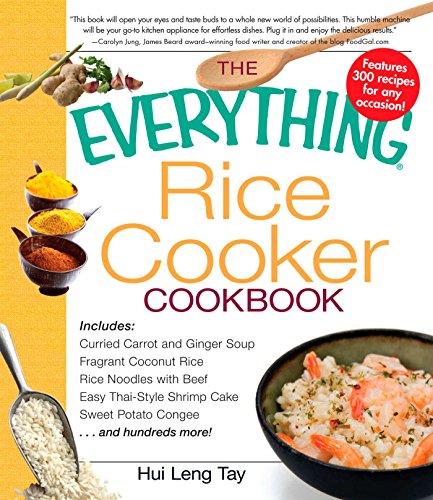 This cookbook is one of the few on this list that actually scores badly in terms of Amazon reviews. However, we're including it because this is an example of a product that gets some bad reviews simply because it is controversial. The big difference with this cookbook is that it uses the rice cooker in a different way than most of the other cookbooks. In particular, there is a heavy focus on opening the rice cooker and adding ingredients at different stages in the cooking process. This isn't what many people expect from a rice cooker cookbook and seems to be a key reason why the book gets so many negative reviews.
Nevertheless, it's also clear that some people do love this cookbook and some reviewers state that it is worth giving this one a try. Even though the approach is different than you might expect, the recipes do provide unusual ways of taking full advantage of a rice cooker. It would be great in situations where you are extremely limited in space or in cooking tools. In fact, the book would be great for people who only have a rice cooker and don't have conventional cooking tools.
However, for people who want to use a rice cooker in a more traditional way or are looking for recipes that you can simply set up and forget, this cookbook wouldn't be the best choice.
Quick & Easy Rice Cooker Recipes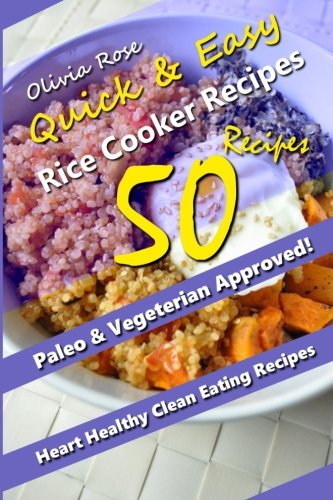 One of the most interesting things about this cookbook is that the recipes are specifically designed for vegetarians and people following the Paleo diet. To be honest, this is a little bit of a strange combination, as the Paleo diet tends to have a strong focus on meat but nevertheless, the recipes may be appealing for a person following either of those diets.
The recipes within the book tend towards being simple and most of them use ingredients that are easy to access. Likewise, many of the recipes require relatively little preparation and can simply be put in the rice cooker and left to cook. That style really does mean that the recipes are quick and easy, and cleanup would also tend to be fast.
Rice Rice Baby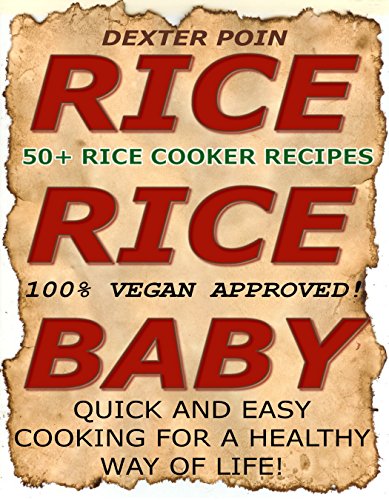 Dexter Poin has actually produced a few rice cooker cookbooks and we mentioned one of these earlier in this list. However, this particular book is a little bit different than the earlier one, as it has a more general focus, offering a range of different types of recipes. In this case, the recipes are also entirely suitable for vegans. Now, Dexter has a very unusual style with his recipe books, which tends to read more like a blog post than anything else. However, the recipes themselves are still worth taking a look at.
In this case, the book offers 50 different recipes that cover a range of different styles. Many of these are rice based (no surprise there) but there are also recipes that involve couscous, quinoa, pasta or some other options. There are even a few desserts in the mix, although the main focus is on meals and side dishes. All of the recipes are easy to follow and many use ingredients that you would already have in your cupboard, which is another appealing aspect.
Rice Cooker Meals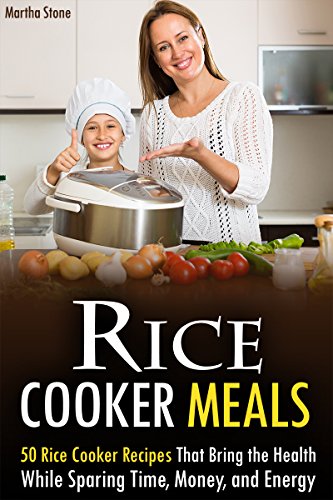 This book hasn't made waves in terms of sales or reviews but despite that it is actually a good option if you want to make meals in a rice cooker. The cover image suggests that you need to be using an expensive rice cooker but most of the recipes suggest that this isn't the case and that you can basically use whatever rice cooker you happen to have. The only restriction seems to be that you need a rice cooker with a keep warm function but most rice cookers on the market will have this.
As with many other cookbooks, there is some prep work involved in some of these recipes, including the need to marinate meat overnight in some cases. However, none of the prep work is particularly extensive and all of the basic cooking can be done in a single pot. There are also some more unusual options for meals in the rice cooker, such as ribs and Mexican pizza.
Because the Kindle version of this book is fairly inexpensive, this is one that may well be worth picking up for new ideas on how to use your rice cooker.
Quick & Easy Rice Cooker Meals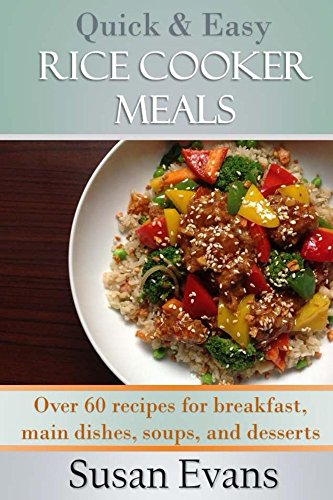 First off, one of the appealing things about this cookbook is that the author actually separated out the recipes into different sections based on their type. Now, that mightn't sound like a big deal but this approach seems to be relatively rare among the cookbooks on this list. The recipes can also be made in a simple rice cooker, so it doesn't really matter what type of rice cooker you have.
At the same time, this cookbook offers an appealing combination of recipe types, including many that you may expect along with some that are more unusual. The recipes tend to be very easy to follow and rely heavily on straightforward ingredients. The variety of styles means that there would probably be something in the book to suit everyone and many of the recipes sound like they would taste amazing.
Top Pick
While rice cooker cookbooks may not be especially common, this list shows that there are still some good ones out there. Many of these cookbooks are great options for getting more out of your rice cooker and saving yourself time. Out of the various cookbooks on this list, the one that we recommend the most highly is The Ultimate Rice Cooker Cookbook.
With 250 different recipes, this cookbook offers a large amount of variety and makes it easy to find some recipes that are going to suit your individual tastes. The recipe book is also an especially good choice for people with fuzzy logic rice cookers, as it appears to have been specifically designed for that type of rice cooker.
A second book that we strongly recommend is Rice Cooker Meals: Fast Home Cooking for Busy People. The appealing thing about this book is that the recipes are a little bit different. Most rice cooking cookbooks seem to heavily focus on very healthy food, which often ends up being relatively complex to prepare.
In contrast, this cookbook has more straightforward meals, including options that would be suitable for kids and for picky eats. As such, it is a good choice for busy households and people who want to turn to a rice cooker as a way of saving time.
And if you haven't gotten yourself a rice cooker yet, or are thinking of upgrading, be sure and check out all of our rice cooker reviews. We review specific brands like Hamilton Beach, or styles like induction heating. The first link will list all posts, so if you want to browse what's available, including prices, brands, styles, and reviews be sure and spend some time in that section of our site!