Slow cooking is one of the most convenient ways to prepare food. Done right, it can also be one of the most delicious. Whether you're a busy parent looking to feed a large family, a young college student trying to eat on a budget, an overworked professional who's away from home all day, or a kitchen novice who's afraid of the stovetop, a slow cooker can help. But slow cooking isn't just for newbies and busy people.
Even for experienced chefs, sometimes slow cooking simply is the best option for preparing a specific type of meal. No home should be without such a handy countertop appliance.
There is no shortage of slow cooker cookbooks on the market. In fact, there are slow cooker cookbooks that cater to practically every type of cuisine imaginable. If you love Asian dishes, great. If you need to stick to a gluten-free diet, no problem. If you're mostly just into desserts, that works, too. Chefs and publishers know that everyone's preferences are unique, which is why the cookbook industry is filled with diverse options.
To help you successfully navigate the slow-cook market, we've compiled this list of top options that cover everything from health-conscious to easy-to-follow recipes. They are based on my own experiences, as well as other reviews and discussions from around the web.
18 is a lot, so I've narrowed down my favorite to a "top 6". They are
The Gourmet Slow Cooker
The New Indian Slow Cooker
The Mexican Slow Cooker
The Italian Slow Cooker
365 Slow Cooker
I picked a diverse range of books. I love making meals from different cultures, and couldn't decide on which one was "best". I also picked to American style slow cooker books since those are usually the most popular. Of the two here (Gourmet and 365), there's a big difference.
The Gourmet Slow Cooker is more for experienced cooks with time to cook beautiful, unique, and delicious meals. 365 Slow Cooker is more for the traditional "set and forget" style of slow cooking, more appropriate for busy moms & dads with families. The recipes are simpler and require less preparation. Both are good books, but each targeted to a different type of reader/cook.
Get The Gourmet Slow Cooker Here
Of the other cookbooks, the one with the most purchases and highest number of positive reviews from around the web is the Italian Slow Cooker. For a more detailed look on each of these books and the other 18 in this list, keep reading below. Links are provided for each. Hover over the image or link for current pricing (click on mobile).

Best Slow Cooker Cookbooks
Regional Cookbooks
The Italian Slow Cooker
Thai Slow Cooker Cookbook
The Mexican Slow Cooker
The New Indian Slow Cooker
The Gourmet Slow Cooker
Regimen-Based Cookbooks
The Vegan Slow Cooker
The Everything Gluten-Free Slow Cooker Cookbook
The Paleo Slow Cooker Cookbook
Healthy Cookbooks
Healthy Slow Cooker Revolution
American Heart Association Healthy Slow Cooker Cookbook
Cooking Light Slow-Cooker Tonight!
Easy-Prep Cookbooks
101 Super Easy Slow-Cooker Recipes Cookbook
Fix-it and Forget-it 5-Ingredient Favorites
Slow Cooker Revolution Volume 2
Meal-Specific Cookbooks
Crockpot
365 Slow Cooker Suppers
Slow Cooker Desserts
Regional Cookbooks
The Italian Slow Cooker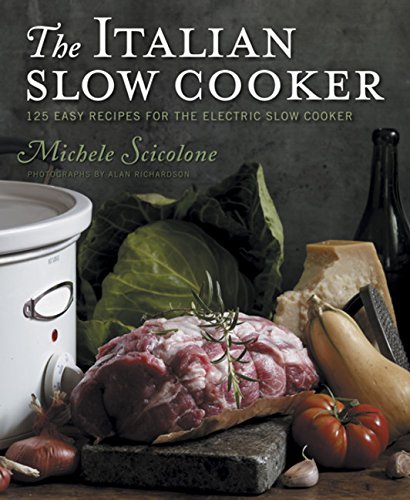 Written by Michele Scicolone, a renowned authority on Italian cooking, this cookbook contains over a hundred easy recipes that will make you realize slow cooking and fine dining aren't mutually exclusive. Whether you're in the mood for something as ritzy as ossobuco, as tasty as mushroom ragu pasta, as decadent as chocolate truffle cake or as simple as chicken with peppers, Michele has got you covered.
Featuring the tagline, "Plug it in, walk away–and cook like an Italian Grandmother," this cookbook comes in paperback and Kindle form, both of which cost around fifteen bucks. Since some recipes only require five or ten minutes of prep, you can serve your guests an amazing Italian dinner without spending hours in the kitchen. Bellissimo!
Thai Slow Cooker Cookbook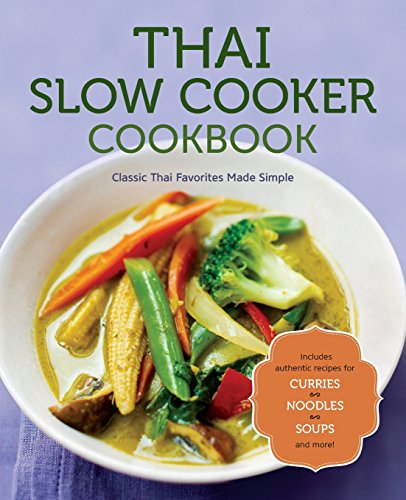 Brought to you by Rockridge Press, this collection of Thai recipes will help you make all of your favorite classics with ease since slow cooking takes out the guesswork and consolidates the number of steps you have to take. If you love dishes like sweet pork, massaman tofu curry, Thai sticky wings, kabocha coconut soup and chicken satay, you're going to love this cookbook.
Priced at under five dollars for the digital edition and under fifteen for a paper copy, this recipe collection contains special labels to help you easily understand if a dish is vegetarian friendly, soy free or nut free. Remarkably, the food prep needed for each of these recipes can be done in twenty minutes or less.
The Mexican Slow Cooker: Recipes for Mole, Enchiladas, Carnitas, Chile Verde Pork, and More Favorites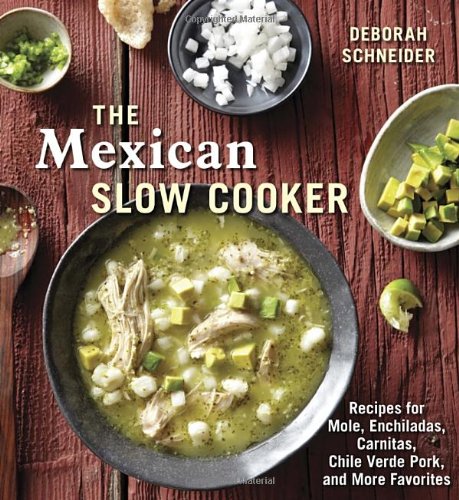 Composed by Deborah Schneider, an acclaimed chef, this collection of fifty-five fix-it-and-forget-it recipes features everything from tortilla soup and zesty shredded beef to slow-cooked tamales. Using a Crock-Pot to make such dishes actually helps enhance the flavor, which is something your tastebuds will appreciate.
For these directions on how to make yummy south-of-the-border cuisine, you can expect to pay around seven dollars for the Kindle format or nearly double for the paperback. Either way, that's not a bad price.
The New Indian Slow Cooker: Recipes for Curries, Dals, Chutneys, Masalas, Biryani, and More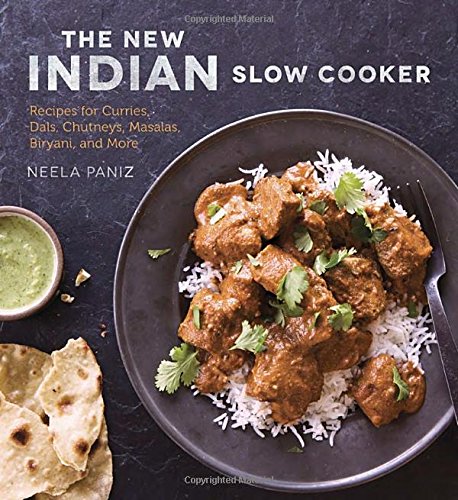 Featuring over sixty Indian favorites, this Neela Paniz masterpiece is a must-have. Low simmering is the ideal way to produce lamb biryani, palak paneer and a host of other classics that will make you feel like you're in New Delhi or Bangalore.
Priced near twelve dollars for digital access and fourteen for a paperback, this collection is full of no-fuss dishes that are perfect for busy cooks who want an easy yet delicious dinner. Careful, though; with one look inside the book, you might be hooked on Indian foods for weeks.
The Gourmet Slow Cooker: Simple and Sophisticated Meals from Around the World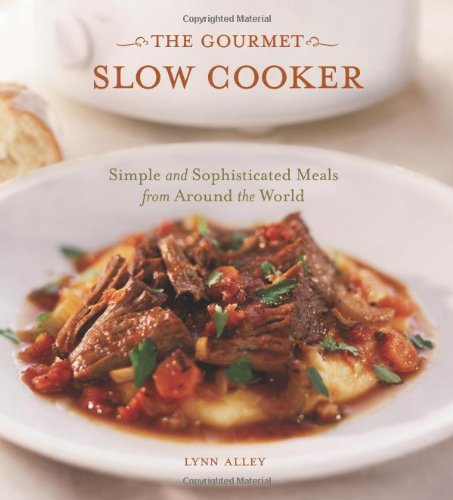 If you want a mix of exotic favorites from around the world, this cookbook from Lynn Alley might serve you well. Making use of fresh ingredients, these imaginative recipes draw from beloved traditions to help you serve everything from French provencal chicken stew and Greek lamb shanks to Italian white truffle risotto and Indian apricot chicken.
This sophisticated compilation will cost you around twelve dollars for the e-book and sixteen for a paperback. Considering you're getting a taste of the best dishes worldwide, neither price tag seems outlandish.
Regimen-Based Cookbooks
Fresh from the Vegetarian Slow Cooker: 200 Recipes for Healthy and Hearty One-Pot Meals That Are Ready When You Are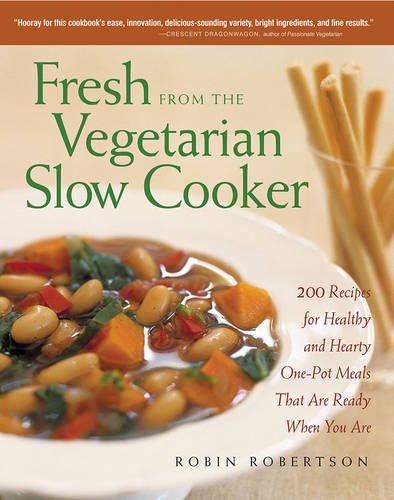 Proving that slow cookers can produce delicious meals without the use of meat, Robin Robertson uses a countertop appliance to make everything from white bean stew and stuffed bell peppers to Boston brown bread and chocolate fondue. There are two-hundred recipes in total and all are proudly vegetarian.
Based on your preferences, you can pay around ten bucks for the Kindle version or a couple of dollars extra for a paper copy. Regardless of the format, these recipes will surely help you get the most out of your slow cooker while pleasing your vegetarian guests.
The Everything Gluten-Free Slow Cooker Cookbook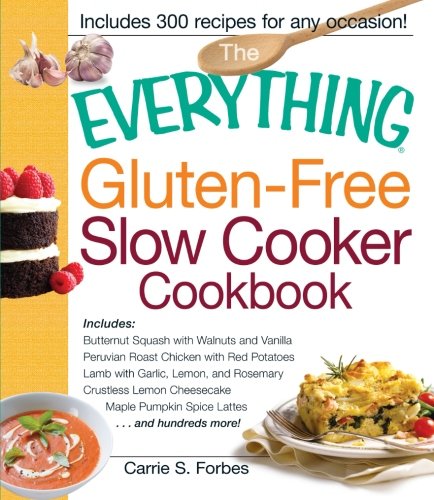 If you have celiac disease, a wheat allergy or some other aversion to gluten, this specialty cookbook is phenomenal. Pineapple teriyaki drumsticks, pull-apart cinnamon raisin biscuits, bacon corn chowder, blueberry cobbler and shrimp jambalaya are just a few of the three-hundred recipes that are featured.
Subscribers of Kindle Unlimited can read for free; otherwise, you can pay around ten bucks to purchase a Kindle or paperback copy. After flipping through the book, we think you'll agree: wheat free has never looked better.
The Paleo Slow Cooker Cookbook: 40 Easy To Prepare Paleo Recipes For Your Slow Cooker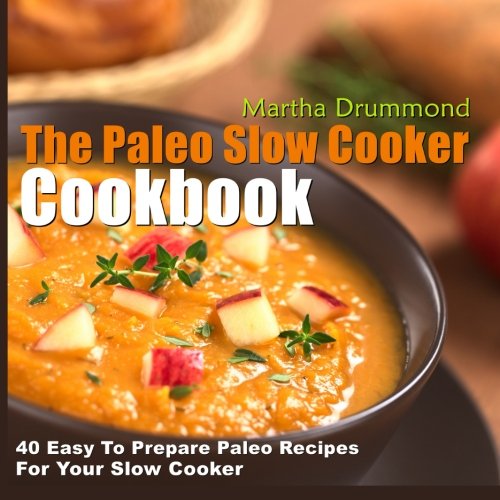 Packed with forty recipes that will collectively get you through breakfast, dinner and dessert, this Martha Drummond cookbook is completely paleo friendly. With a variety of recipes to choose from, there's something here for practically everyone.
You can pay eight bucks for the softcover book or three for the Kindle. Conveniently, Kindle Unlimited folks can access the book for free.
Healthy Cookbooks
Healthy Slow Cooker Revolution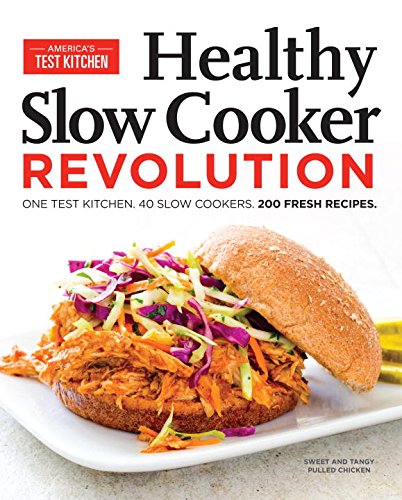 America's Test Kitchen is known for its quality recipes and this collection is no exception. Packed with foolproof instructions from reliable chefs, this product features healthy options that will satisfy your tastebuds without relying on the fat-packed ingredients put to work by many other slow-cook recipes.
Featuring snacks, sides, desserts and main courses, this cookbook costs around sixteen dollars for the digital edition and about a dollar more for the paperback. Consequently, this pick has a higher price tag than many of the other products in this list, but we still think this cookbook is a worthy purchase.
American Heart Association Healthy Slow Cooker Cookbook: 200 Low-Fuss, Good-for-You Recipes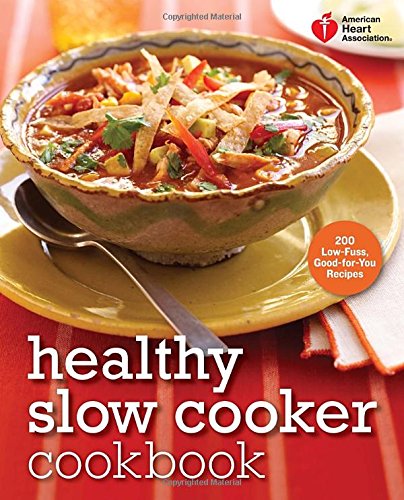 Brought to you by the American Heart Association, this health-conscious cookbook is all about eating well without sacrificing your well-being. The collection contains Crock-Pot-friendly recipes for braised curry-rubbed chicken, cioppino with white wine and country cassoulet as well as a number of appetizers and desserts.
For this healthy book, you can anticipate paying just over ten dollars for the paperback or under seven for a Kindle-friendly copy. Obviously, your heart will thank you.
Cooking Light Slow-Cooker Tonight!: 140 Delicious Weeknight Recipes that Practically Cook Themselves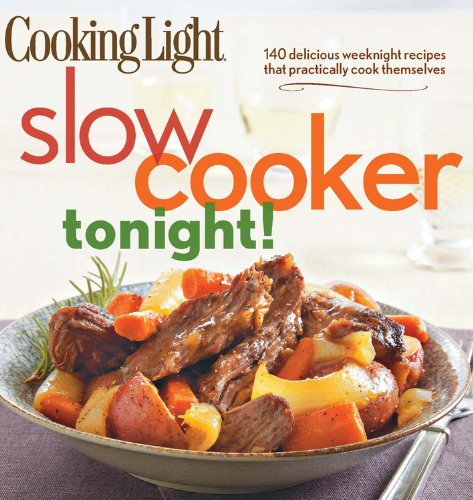 Ranging from drinks and appetizers to meats, sides and desserts, the diverse recipes in this yummy cookbook each come with a nutritional analysis to help you make smart and healthful choices that suit your goals. How cool is that?
A paperback copy costs less than fifteen dollars and the Kindle version costs less than ten. Regardless of your preferred format, you'll get access to dozens of filling and flavorful dishes that won't make you feel guilty.
Easy-Prep Cookbooks
101 Super Easy Slow-Cooker Recipes Cookbook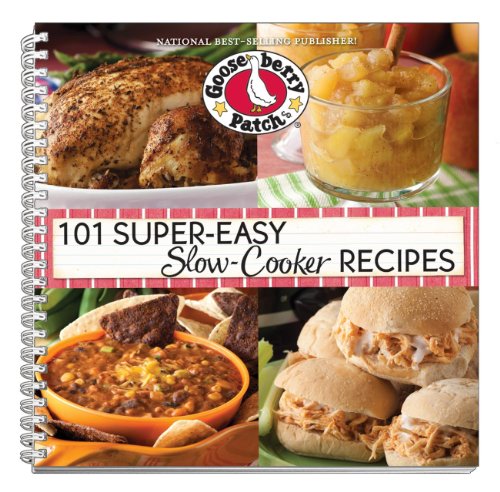 Created by Gooseberry Patch, this user-friendly cookbook is divided into chapters based on required cook time so you can easily flip to whichever section works for the day at hand. In the midst of recipes for Greek chicken pitas and zesty Italian pot roast, you'll also find tasty appetizer and dessert recipes as well as make-ahead meal ideas.
Priced around seven dollars for the digital book and eleven for a spiral-bound copy, this easy-to-make recipe collection is very affordable. Warning: the pictures will likely make your mouth water.
Fix-it and Forget-it 5-Ingredient Favorites: Comforting Slow Cooker Recipes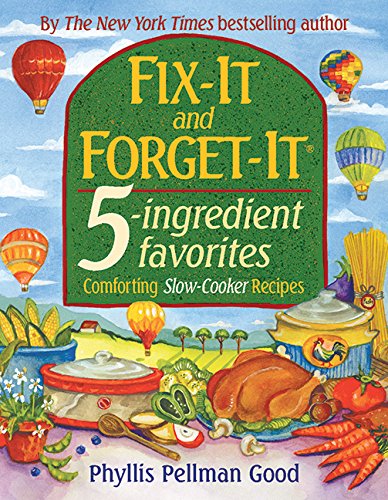 Phyllis Pellman Good, a New York Times bestselling author, is known for her satiating recipes, which is why this slow-cook collection featuring recipes that only use five ingredients each is something to take note of. The book contains over seven-hundred recipes including picks like apricot chicken, lazy lasagna, broccoli tortellini and upside-down chocolate pudding cake.
Covering all kinds of main dishes as well as snacks and sides, this detailed cookbook is worth every penny. Kindle aficionados can pay ten bucks for the e-book while paperback lovers will only have to shell out around a dollar more.
Slow Cooker Revolution Volume 2: The Easy-Prep Edition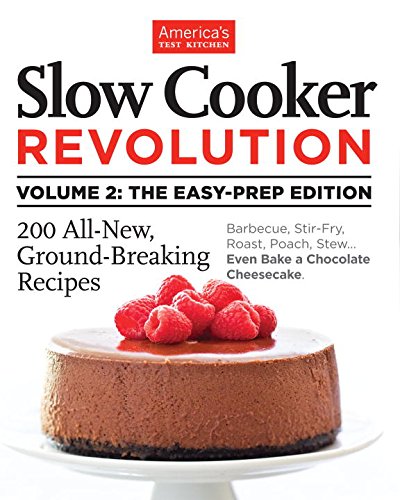 We've already raved about America's Test Kitchen, which is why adding this easy-prep cookbook to our list of favorites is a no-brainer. With this collection, you can make one impressive dish after another including unexpected choices for a slow cooker such as garlicky shrimp, flourless chocolate cake and poached salmon.
Packed with two-hundred ground-breaking recipes, this twenty dollar paperback–or seventeen dollar e-book–really can transform the way you Crock-Pot. Bring on dinner time!
Meal-Specific Cookbooks
Crockpot: 25 Easy and Healthy Crockpot Breakfast and Brunch Recipes
With the intent to help you cook like your mother or grandmother, Janet Widener put together this short book of twenty-five yummy morning foods including egg casserole, vegetable quiche, sweet quinoa and banana bread. Divided into egg-based, meat-based, soup, pasta and sweet dishes, this recipe collection features a nice assortment of flavors.
The Kindle version costs a measly three bucks and Kindle Unlimited subscribers can even read for free. If you really want a paperback version, you'll have to pay twenty-five dollars, which makes the Kindle format look even more appealing than it already did.
365 Slow Cooker Suppers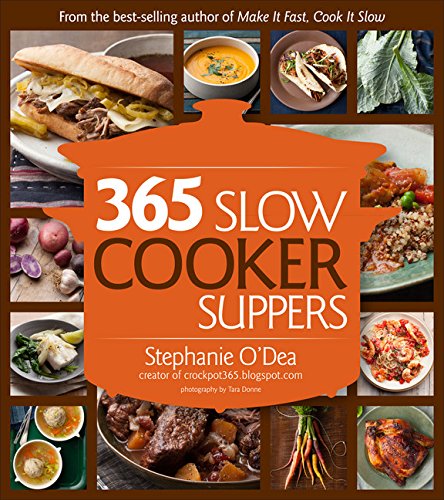 Written by Stephanie O'Dea, who has a popular Crock-Pot-based cooking blog, this cookbook features a different dinner recipe for every night of the year. If you're a serious fan of slow cooking, this lengthy pick is a great find.
A paperback copy costs around fifteen dollars and the e-book costs a couple dollars more. An extra perk is that every recipe lists gluten-free options, which makes it easy to customize according to your individual needs.
Slow Cooker Desserts: Oh So Easy, Oh So Delicious!

Authored by Roxanne Wyss and Kathy Moore, this scrumptious collection features more than fifty recipes and a plethora of tips to make the yummiest cakes, cheesecakes, puddings, fondues and more. For stress-free desserts that are warm and moist, this cookbook is king.
You can pay around ten bucks for the Kindle edition or just over fifteen for a hardcover book. The only tricky part is knowing which recipe to cook first: will it be the German chocolate cheesecake, tangy peach and mango cobbler or crispy peanut butter candy?
Interested getting a new slow cooker? We've done a ton of reviews here. Check them out based on what you're looking for.
Slow Cooker Brands