For many people, the idea of a vegan diet sounds challenging and fairly tasteless. That perception isn't too surprising, as vegans do cut out many of the ingredients that we commonly use in cooking, particularly meat and dairy products. Yet, despite this, vegan food doesn't have to be boring! Instead, the trick to making stunning and tasty vegan meals is as simple as having good recipes to follow.
That is what makes finding high quality cookbooks so important. Without a doubt, there is a huge range of different cookbooks out there, including many different styles, with some that offer mostly simple meals and others that discuss much more complex dishes. Yet, choosing between these books can be extremely difficult. Not only is there too many options out there but it's often hard to know whether a cookbook is any good until you try out some of their recipes.
In this post, we aim to make the process of finding good cookbooks easier. Here, we have collected some of the best options out there. These books cover a range of styles and levels of complexity and we also take a little time to highlight some of the most significant features of each cookbook, to make it easier for you to make an informed decision about the best cookbook for you and your family.
Best Vegan Cookbooks
But I Could Never Go Vegan!
Vegan Richa's Indian Kitchen
Fresh from the Vegan Slow Cooker
Vegan Soul Kitchen
The Oh She Glows Cookbook
Vegan Recipes in 30 Minutes
Chloe's Vegan Italian Kitchen
Isa Does It
The Homemade Vegan Pantry
Vegan Under Pressure
Minimalist Baker's Everyday Cooking
Thug Kitchen: Eat Like You Give a F**k
Plant-Powered Families
Vegan Cookbook for Beginners
Veganomicon: The Ultimate Vegan Cookbook
The Make Ahead Vegan Cookbook
Vegan Bowl Attack
Love Vegan: The Essential Mexican Cookbook for Vegans
One-Dish Vegan
Top Pick
But I Could Never Go Vegan!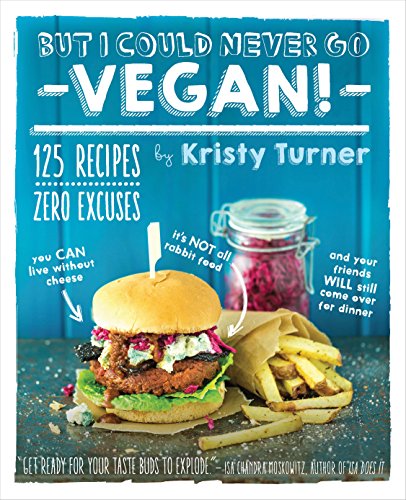 Two interesting things about this book are its focus on flavors and the overall design. For one thing, the recipes in the book emphasize the idea that vegan cooking doesn't have to be boring or low in flavor. Instead, you can create many meals that taste amazing and still fit within the restrictions of a vegan diet.
In terms of the design, this book doesn't rely on a traditional table of contents. Instead, it offers lists of recipes that suit specific issues that people face, such as the idea of not wanting to give up cheese. That way of breaking down the book is quite interesting and would offer a new way of figuring out good recipes for your meals. At the same time, the book does offer 125 recipes across a range of different food types. So, there is a lot of information to work with and that doesn't even count all of the general tips and direction that the author offers.
Vegan Richa's Indian Kitchen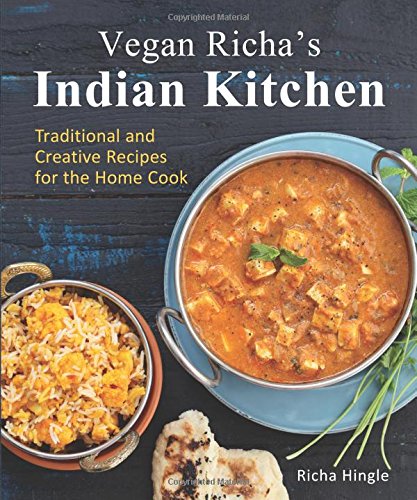 While vegan cookbooks often cover a wide range of different types of foods, you can also find options like this one here, which have a much narrower scope. As the cover indicates, the emphasis of the book is on Indian cooking, including entirely unique recipes as well as vegan variations on traditional Indian dishes. At the same time, the author focuses on making the recipes as simple to follow as possible and offers alternatives to some aspects of recipes, to allow for individual preferences.
Aside from the Indian food recipes, one of the most attractive aspects of this book is that the recipes take various allergies into account. Likewise, the different variations mean that you can may soy free or gluten free versions of most recipes. This is an important advantage, as individuals often have multiple dietary restrictions.
Fresh from the Vegan Slow Cooker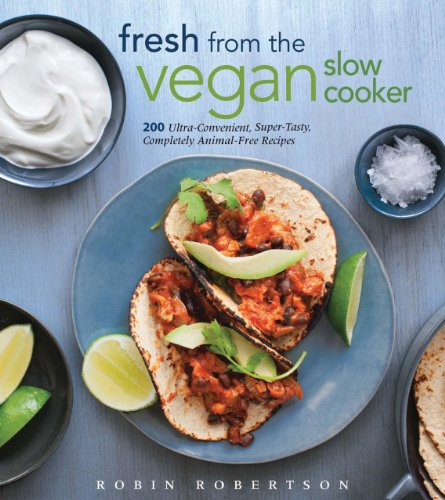 We mentioned slow cookers as an option for gluten free food, so here's a similar vegan cookbook that is all about using slow cookers. Often, it seems that slow cookers are underestimated when it comes to cooking, as people often assume that they tend to create bland food with an unappealing texture. Yet, if you are following a good recipe, the meals from a slow cooker can be extremely good. Likewise, there is a lot of variation in the type of recipes on offer, so there's bound to be something for everyone.
Nevertheless, it is worth noting that the recipes in the book aren't as convenient as one might expect and there is a reliance on some fairly specialized ingredients. The advantage of those aspects is that many of the recipes are unusual and not your typical vegan fare. But, if you're a person with relatively little time or money, the book may be something to think twice about.
Vegan Soul Kitchen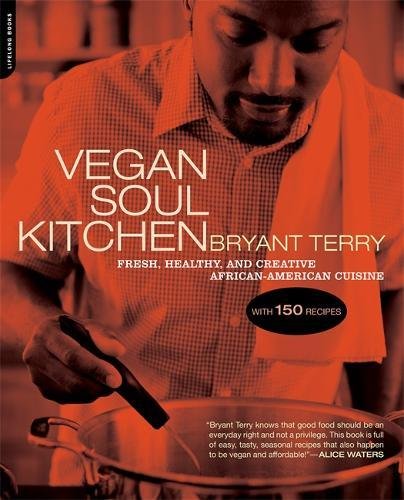 Soul food and vegan ingredients aren't a natural combination but with a little creativity, just about anything is possible in the kitchen. This cookbook achieves that aim, capitalizing on the appealing flavors that soul food offers while ensuring that the dishes are entirely vegan. With 150 recipes on offer, even the pickiest reader is likely to find at least some recipes that they will enjoy.
The overall focus of this book also means that there are a number of dishes on offer that you simply won't find in other vegan cookbooks. That aspect can make this a good cookbook to pick up if you want to add some more meal types to your repertoire.
The Oh She Glows Cookbook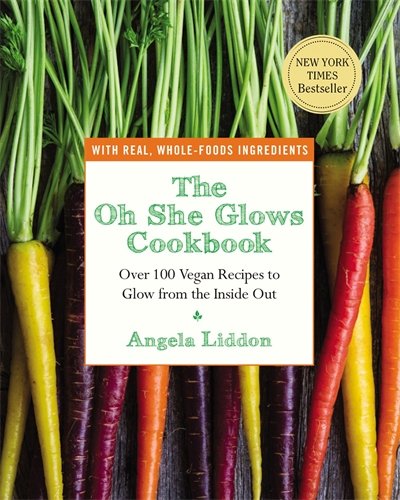 Oh She Glows is actually a vegan food blog and it is an extremely popular one, boasting upwards of 1 million followers. With that in mind, the creator of the site has a long history of making tried and true recipes that vegan readers actually love. So, it shouldn't be any surprise that this cookbook has extremely positive reviews and tends to be a favorite among many cooks. In fact, many of the dishes seem to go over well even with people who aren't actually vegans.
Vegan Recipes in 30 Minutes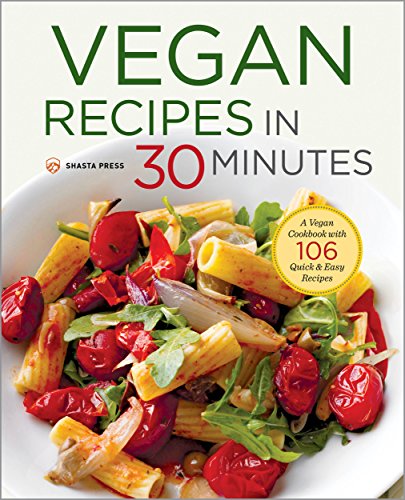 One common pattern with vegan dishes is that there is often a considerable amount of prep time involved. This cookbook attempts to get around this, offering more than 100 recipes that focus on taking less than 30 minutes from start to finish. As such, the meals may be perfect for busy weeknights and for people with limited time to cook.
The book does also offer an introduction to the concept of being a vegan, along with advice on how to get started. However, this information is not as detailed or as preachy as what many other vegan cookbooks offer. This is likely to be a positive feature for some people, as much of the intended audience for this cookbook will already be following a vegan diet and will be familiar with what is involved in doing so.
Chloe's Vegan Italian Kitchen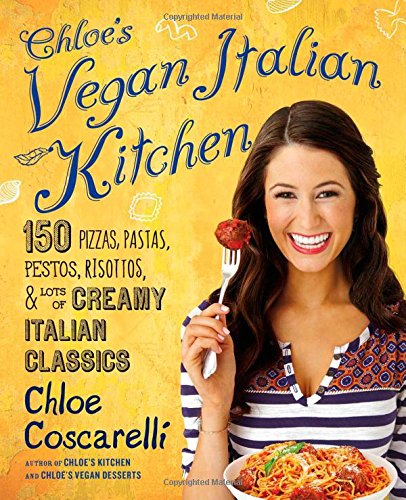 Italian food often tends to be on the creamy and rich side but this cookbook shows that you can still make many similar recipes even on a vegan diet. We imagine that this cookbook may be an especially good fit for anyone who has kids or picky eaters in their family, simply because pasta and pizza tend to be a hit even with non-vegan audiences.
As with many vegan cookbooks, there are mixed reviews about whether the recipes are easy or difficult. Multiple reviewers on Amazon note that the recipes are simple and easy to prepare, yet some other reviewers state that they are not a good pick for beginner cooks.
Based on what people have to say, it seems likely that these recipes are easier than many other vegan recipes, although certainly not as simple as conventional cooking. That almost goes without saying though, as you typically have to do more work to make vegan food taste as good as non-vegan alternatives.
Isa Does It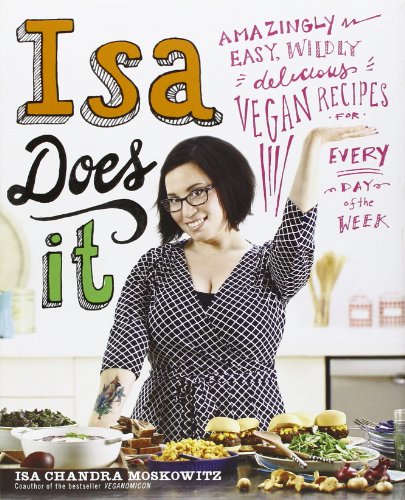 Isa Does It is another cookbook that comes from a food blogger. In this case, the blog itself is Post Punk Kitchen and it offers a large number of different recipes along with some wonderful food photography. Isa is also a vegan herself, which is an important distinction, as many people following a vegan diet tend to support recipes created by vegans over ones that are not.
Now, as with other food blog books, the reviews for this one are overwhelmingly positive but there may be some bias in there simply because the blog has so many passionate and dedicated followers. However, Isa has created a number of different popular vegan books and the positive reviews tend to be consistent across them, so it seems very likely that the books are as good as the reviews suggest.
The Homemade Vegan Pantry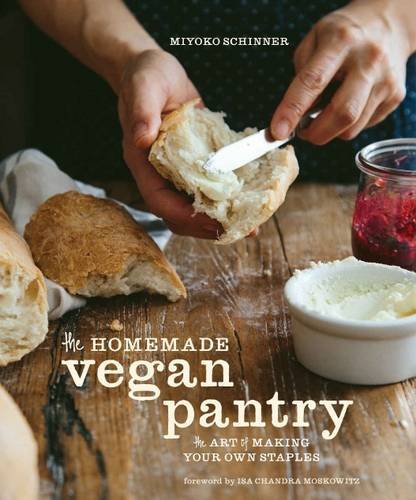 This cookbook is a little bit different because it acts more as a guide than as a recipe book. Here, the emphasis is on how to create your own pantry staples as a vegan. Many of these staples are things that can be used in countless other recipes, including those from cookbooks and recipes that you create yourself.
Knowing how to make basic pantry ingredients also serves to make the entire process of eating vegan much easier and means that you have less to worry about overall.
Vegan Under Pressure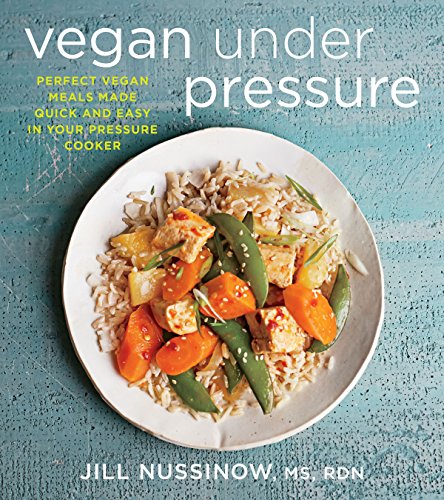 As the name might suggest, this recipe book is all about making vegan recipes within a pressure cooker, which means that it is a little bit different than the other books on this list. Pressure cooking has been out of style for quite some time but recently it has been making a comeback, especially as there are so many amazing pressure cookers on the market nowadays.
Plus, pressure cooking is a perfect approach in our modern busy lives, as it helps to save time without sacrificing the quality or nutritional value of the food that you are making.
This cookbook appears to offer a good variety of recipes, most of which are easy to make and seem to taste good. However, the book does also get some complaints. In particular, a handful of people find the format a little difficult to read while others note that some of the ingredients are fairly difficult to find, even for people who regularly cook vegan foods. So, those issues are worth considering, although it's likely that any issues only apply to some of the recipes and not to all of them.
Minimalist Baker's Everyday Cooking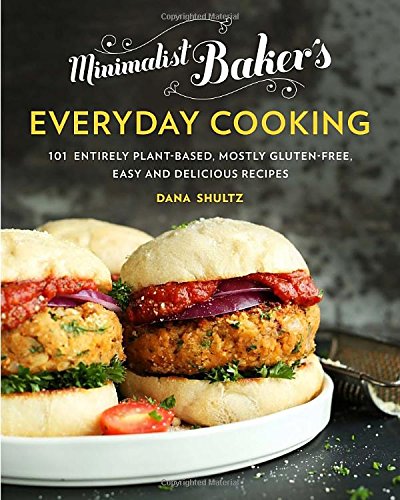 One nice thing about this cookbook is there is an emphasis on making sure recipes are on the simple side. In particular, all of the recipes have 10 or fewer ingredients, require just one pot or bowl, or take less than half an hour to prepare. That aspect alone is extremely appealing, as many vegan recipes are extremely fiddly and take a great deal of preparation work.
This is also a cookbook that focuses on having many pictures, along with step-by-step instructions. While you may expect that approach from a cookbook, many of the books out there actually have very few images and can have confusing instructions. The reviews on Amazon also confirm that the book looks fantastic and that the recipes themselves end up as they are described.
Thug Kitchen: Eat Like You Give a F**k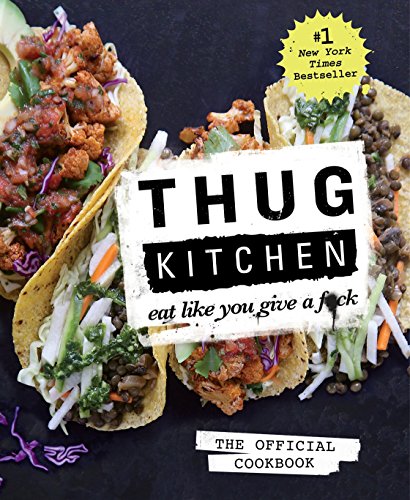 The concept of this cookbook is a fun one and once again the book comes from a food blog with its own dedicated audience. One unusual thing is that the book isn't actually marketed as being vegan at all. Actually, the book receives some negative reviews simply because some people buy it without realizing that the recipes are vegan.
Despite that, the book itself is a popular one and the recipes seem to draw their share of admirers. Many people note that there is a considerable variety in the recipes and that most of them seem to taste amazing, much better than what you find in other vegan recipes.
Plus, as the book cover suggests, the writing is a little unusual and is more entertaining than most other vegan cookbooks. Nevertheless, it is worth mentioning that there is a decent amount of swearing and references to thug concepts throughout the book. That pattern should be evident from the title alone but it does mean that you should avoid the cookbook if you are easily offended.
Plant-Powered Families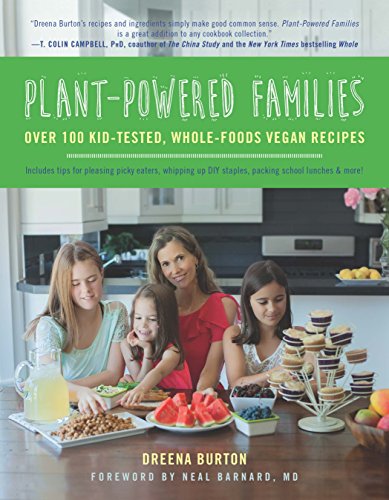 Vegan diets can be tricky for families to follow, especially as kids are often picky eaters and need a significant amount of nutrition as they are growing. This book attempts to address this issue, offering a range of recipes that are specifically designed to appeal to all different age groups.
The book also offers suggestions for substitutions in cases where people are sensitive to nuts or need to avoid gluten. One issue with the cookbook is that it does repeat some recipes published previously by the author but that's likely to be a non-issue if you've never purchased anything from Dreena Burton before.
Vegan Cookbook for Beginners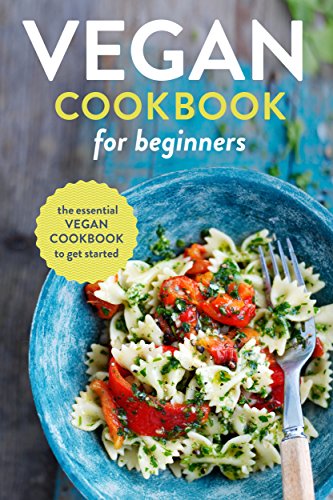 Getting into the swing of vegan cooking can be tricky, so an introductory cookbook like this one is a good place to start. The price also makes this book a particularly good option, as it is fairly inexpensive compared to other choices on this list, especially if you are picking the Kindle version of the cookbook.
As with many of the other books on this list, this one does start off with rationale about why people should follow a vegan diet, with some reviewers arguing that this part was a little shaky and preachy. Nevertheless, if you're already a vegan or have decided to become one then the recipes are the most relevant part of the cookbook and that is where the book shines.
The recipes offered are perfect for people who are just getting started and there are also tips and tricks for setting up your pantry and making sure you have common ingredients on hand.
Veganomicon: The Ultimate Vegan Cookbook

We mentioned a cookbook from Isa Moskowitz earlier in this list but this book is a little bit different, as it combines the insights of two different vegan chefs, each with their own styles in the kitchen. The book also relies on icons to make the recipes easier to navigate. For example, there are icons for low fat recipes, for those that take less than 45 minutes, for those with easy ingredients and for recipes that are either soy free or gluten free. Those icons make it much easier to find recipes that suit your particular needs.
For the most part, the book appears to be designed for people already experienced with vegan food and for those who are looking for more unique and unusual recipes. Because of that, there are some recipes in the list with relatively unusual ingredients and others that are a little complex to prepare.
None of those issues are major and they certainly don't stop most reviewers from loving the recipes. Nevertheless, this overall style suggests that the cookbook probably isn't the best choice for anyone who is new to being a vegan.
The Make Ahead Vegan Cookbook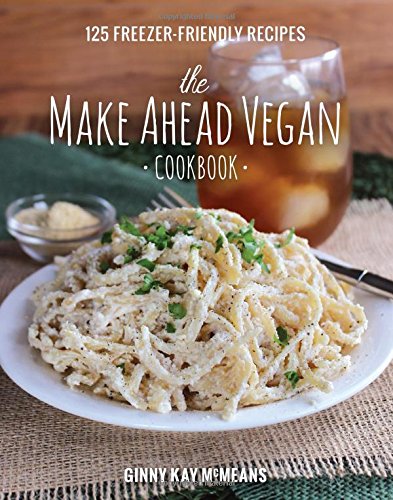 One of the challenges with vegan cooking is that meals frequently take a lot of time and energy to prepare. This can be a major problem if you have a fast-paced life and don't have the time to cook a complicated dinner at the end of the working day.
This cookbook attempts to get around that problem by offering a range of vegan recipes that can be easily frozen and reheated. Doing so would allow you to make a bunch of meals at once and then freeze them for later on. Likewise, it lets people keep healthy meals in their freezer, so they always have something to turn to.
Reviews suggest that the recipes throughout the book do work well, although many tend towards the basic side. Indeed, you could find many similar recipes in other books. However, having a collection of freezable meals all in one place is appealing and the more basic nature of some of the recipes does mean that they are fairly easy and fast to prepare.
Vegan Bowl Attack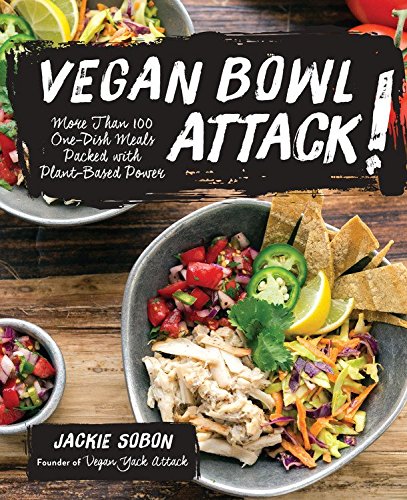 Power bowls have been a pretty popular way of getting lots of nutrients all in one go, especially in the warmer months when a cold and easy to eat meal is appealing. This cookbook takes that concept to the next level, offering a large amount of different bowl recipes, all of which are entirely vegan.
This type of meal also tends to be less work than many other vegan recipes, although some of the bowls do still have fairly complex or time-consuming components. That may be an issue for people expecting a meal that they can just throw together but many elements of the bowls can be prepared in advance, so it isn't likely to be a huge issue for most people.
Love Vegan: The Essential Mexican Cookbook for Vegans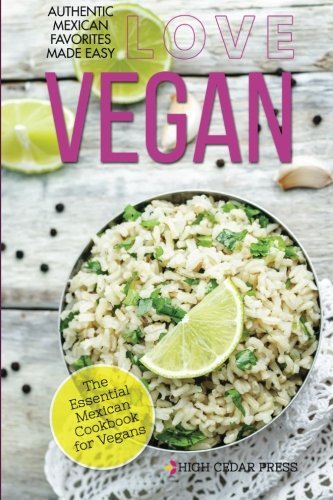 It's easy to see that the focus of this cookbook is on Mexican food but what is less obvious is that the author also has a focus on meals that are fast to prepare and ones that don't rely on obscure ingredients. Because of this, most of the recipes make use of ingredients that most vegans will already have and ones that can be easily found at the grocery store.
The one disadvantage of the cookbook is that it limited in the number of recipes that it contains. From looking at the table of contents, we counted less than 50 recipes. In contrast, many of the other books in this list offer at least 100 recipes. Nevertheless, this book is fairly inexpensive, especially if you buy the Kindle version, so it may well be worth the investment.
One-Dish Vegan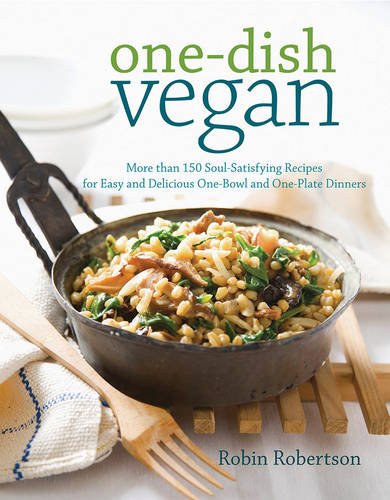 While vegan meals are often complicated, they don't have to be. This cookbook attempts to simplify vegan cooking considerably by offering meals that are either created or served in one dish. Despite the title, it's important to note that many of the recipes do actually use multiple pots and pans during cooking, especially in cases where the meal works best with an accompanying salad. Nevertheless, even with that limitation the recipes seem to be appealing and are still fast to make overall.
Top Pick
There is a large selection of cookbooks on this list and many more that didn't make the cut. Ultimately, which cookbook works best for you is going to depend mostly on your own personal preferences and needs. However, there are also two books that we strongly recommend. These books are The Oh She Glows Cookbook and Isa Does It. Both of these cookbooks have come from food blogs, which means that you can actually check out the recipes on the respective blogs to figure out whether you like the author's style.
Of the two, the Oh She Glows cookbook is considerably more popular, partially because the blog appears to have a larger following. However, this cookbook is also the more controversial, as some people take issue with the fact that the author's family doesn't follow a vegan diet. That aspect doesn't affect the recipes themselves but it is something that may matter to some people.
In this list, we focused on providing the most relevant information about each cookbook to help you make a decision. However, you can also find a lot more information on Amazon's product pages, especially in terms of the opinions expressed by reviewers who have used the books. That information may also help you figure out what to expect and whether a given cookbook will meet your needs.