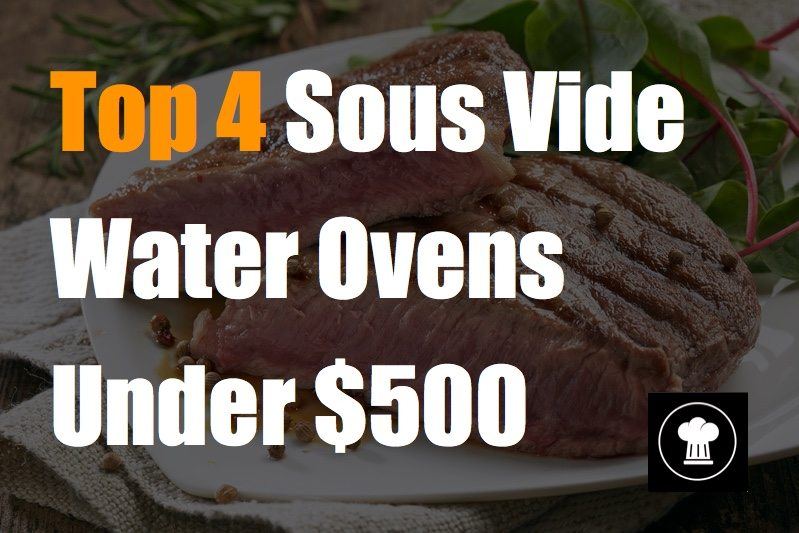 Already a sous vide enthusiast? Ready to trade in your basic model for a more high performance machine, but don't want to spend thousands of dollars on an a commercial level machine? We've got the top four choices for higher end sous vide water ovens and they are just as functional as the ones made for restaurants. Elevate your meals with sous vide cooking at its finest.
Sous vide is the precise way to cook, because it uses bagged pouches of food in temperature controlled water at a preset time for minimal flavor loss and excellent moisture retention, leading to awesome and consistent results every time you cook. It really is a simple technique, but the important part is having a piece of equipment that can be set and not have to worry about whether it will hold the set temperature for the required time. All of the water ovens in this list do just that, and some do even more.
What makes this list of water oven sous vide cookers high quality is their additional features, capacity, and even multiple uses. You can expand your recipe collection and make all sorts of foods from moist flaky fish, prime rib, tenderloin, and many other desserts and vegetables. Take the guesswork out of sous vide and upgrade your equipment or just start with the best that is available right now.
Also, don't forget that we've also reviewed some different price points and models, including inexpensive sous vide water ovens, and immersion circulators, which work with existing pots and containers you have in your kitchen. If the cookers in this list aren't what you're looking for, give those posts a look to see if they offer something that's more within your guidelines.
1. Sous Vide Supreme Water Oven

Brand: Sous Vide

Model Number: SVS10LS

Dimensions:11.4 x 14.2 x 11.4 inches

Volume: 11.2 Liters (12 Quarts)

Temperature Range: 210°F/99°C maximum temperature and 77°F/25°C minimum temperature

Temperature stability: reaches and maintains set temperature within +/- 0.1°\
This is the most popular and well received sous vide water oven on the market. It is the larger model and currently at a more affordable price than the demi, making it all the more attractive (see below). It holds an impressive 12 quarts of cooking water and is completely quiet during operation due to thermal convection, which means it does not need to circulate the water for temperature stability.
It will consistently maintain the selected set temperature for hours or days (up to 99 hours) if you so desire all within a range of 1°F or .5°C. With the included rack that you can adjust three different ways, easily accommodate whatever you choose to cook, whether it be a dessert bread pudding or a huge pork tenderloin. This size is rated to hold 20 four ounce portions of food, which is substantial.
The square design is about the size of a small bread maker, and the exterior is finished with a brushed stainless steel that matches many standard kitchen appliances. This could be considered a downside if you were looking for something that takes up less space. However, you'll be using this sous vide water oven so much that you'll want to keep it out for easy access over most other appliances. Enjoy the premium quality of the Sous Vide Supreme, and you won't be disappointed at the upgrade.
2. Sous Vide Supreme Demi Water Oven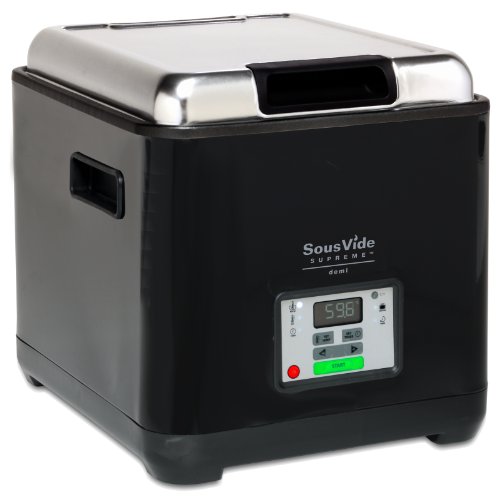 Brand: Sous Vide

Model Number: SVD-09L

Dimensions: 11.3 x 10.96 x 12.99 inches

Volume: 8.7 Liters (9.2 Quarts)

Temperature Range: 210°F/99°C maximum temperature and 86°F/30°C minimum temperature
If you want to have a smaller and more compact version of the Sous Vide Supreme, check out the Demi. It even comes in a beautiful candy red or glossy black, which are very sleek and stylish. It comes with all the bells and whistles that the above Sous Vide Supreme includes, but with a more petite capacity of 9.2 quarts.
This size is still a whopper compared to less expensive sous vide water ovens. It can accommodate 12 four ounce portions of food, which is a good amount for larger needs. With the smaller capacity, it is a bit more compact and will fit easily on the counter without taking up as much space. You can still cook larger items like a leg of lamb as long as you aren't cooking sides at the same time.
It uses the same thermal convection to heat the water and keep it at temperature without the noise of an immersion circulator. The main difference is the size and the fact that the price is much higher than the Sous Vide Supreme. If price is an important consideration, this is not the best choice, but it is still a high quality precision sous vide water oven.
3. Oliso PRO Smart Hub Induction Cooktop with Precision Smart Top Removable 11 Quart Sous Vide Oven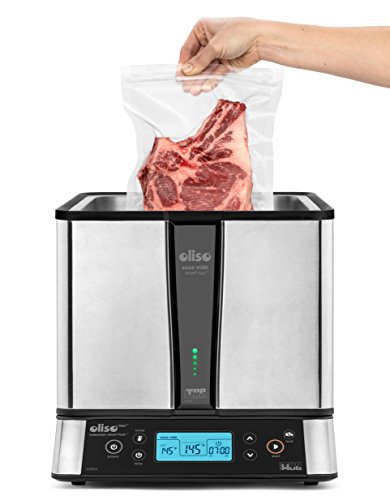 Brand: Oliso

Model Number: B00P36NMRO

Dimensions: 18 x 14 x 17 inches

Volume: 10.4 Liters (11 Quarts)

Temperature Range: Not specified
This sous vide setup made our list because it is a unique take on the cooking style. It is a two piece cook-top and detachable vessel that communicates to make sous vide cooking easy. It's not a combination oven, but rather a range that can be used for many purposes. You can make items you'd usually make in a crock pot, stove, oven, or range and even make yogurt, which is not possible with most sous vide water ovens.
Since it uses an induction burner it heats quickly without the energy waste of other systems. A particular advantage of this type of system is that you can both cook your steak sous vide and then sear it in a pan on the cook-top for that beautiful brown crust. It is very affordable for being both a cook-top and also a sous vide water oven, despite being the most expensive item on this list.
If you want the versatility of an excellent, energy efficient cook-top, as well as the impressive ability to replicate recipes through sous vide, the Oliso Pro Smart Hub Induction Cooktop with Precision Smart Top Removable 11 Quart Sous Vide Oven covers all the bases and does it well.
4. Tribest Sousvant Sous Vide Machine

Brand: Tribest

Model Number: SV-101

Dimensions: 14.5 x 8 x 15.5 inches

Volume: 11.3 Liters (12 Quarts)

Temperature Range: Not specified
If you want to be able to see every part of the cooking process during sous vide, you will love the Tribest Sousvant Sous Vide Machine. It features a clear vessel that holds the cooking water, making it easy to see what is happening in this method of cooking.
You can easily fill the chamber with water since it is clear and removable, which is unique to this and the Oliso Cooktop/Sous Vide setup. This means you can directly fill the chamber from the sink and then place it on top of the base without worrying about damaging the unit.
It features an all-digital display that is very easy to set the desired time and temperatures you want for your recipe. It also has the additional security of alerting you whether the power has been interrupted during the cooking process, making it one of the safest sous vide cookers available. The only downside is that the plastic chamber is a bit less heavy duty than other cookers and also may be less efficient at insulation. If you are looking for something that is a unique design and also cooks sous vide with precision, this is the right choice.
Top Pick
It's another clear winner in this lineup of counter top sous vide water ovens for home use. The Sous Vide Supreme, classic model provides a perfect standard size for home use (although we really do like the mini version as well, in black and red). But for most families, the regular one will be best, plus, it's even cheaper than the demi (small) model.
The trusted brand name of Sous Vide Supreme, plus the impressive reviews on cooking websites means that for just a few hundred bucks you can start preparing your own restaurant-quality, perfectly cooked meals. If great food is your passion, you can't NOT learn this cooking technique.