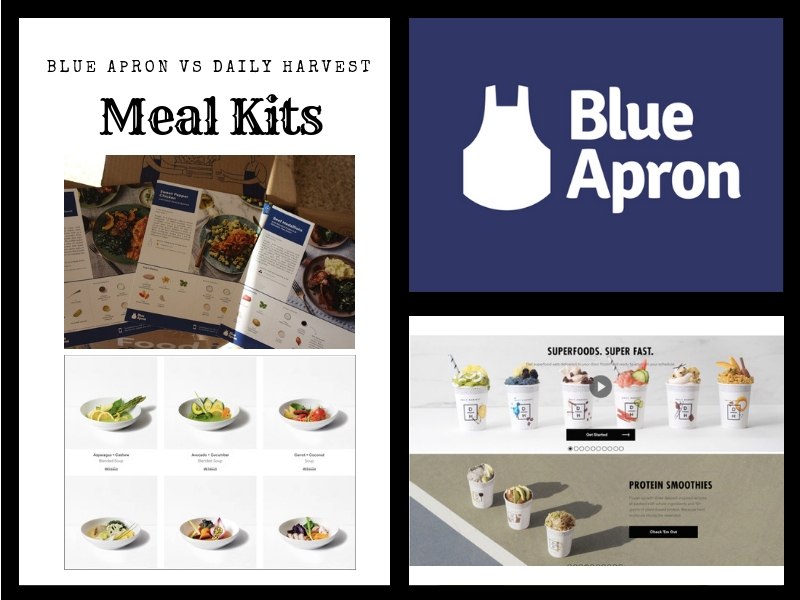 Which interests you more: a food kit service that is steady, reliable and offers delicious traditional foods, or one that offers tasty super-foods in smoothies, soups and one-dish harvest bowls?
That's the question in this Blue Apron vs. Daily Harvest article. In this comparison, I'll be hitting on the top selling points for both companies. You'll hear what I like and what I don't like and get the information you need to decide which one you would choose.
Overall, if you want a "meal kit", then I recommend Blue Apron, hands down. In my book, what Daily Harvest offers isn't really a "meal" at all. It wouldn't satiate me for longer than 30 minutes! That being said, maybe you are looking for a weight loss smoothie kit.
Keep reading to see which one fits you best.
Blue Apron VS Daily Harvest
Types Of Meals Offered
Daily Harvest is all about super-foods (all plant-based) and super-convenience. Rather than coming in plastic bags, its meals consist of smoothies, blended soups, oatmeal breakfasts and harvest bowls that come in individual cups.
There are also chia parfaits, sundaes, and lattes.


Unlike other foods that arrive raw packed in plastic bags, all of Daily Harvest's foods are frozen. The ingredients are already packed into the cups. All you have to do is add water and blend them up, soak them overnight, or heat them.
Though they are not labeled as vegan, they appear to be so, with the exception of chocolate in some recipes, which may contain milk products.
You can choose weekly or monthly deliveries, and you can build your delivery to your preference by choosing any combination of Daily Harvests' offerings to fill your box. Alternatively, you can choose from four pre-planned boxes: the smoothie edit, the breakfast edit, the all-day edit, and a box based on foods that are in season.
I'm not a huge fan of smoothie boxes so far, but I'm willing to keep trying! I just don't get how sugary, carb-ed up blends can be good for you…
The menus for Daily Harvest stay mostly the same, with some switches due to seasonal foods. Many of the cups serve more than one person. For example, the lattes come with three frozen servings in each cup. Harvest Bowls contain just one serving, but the smoothies and blended soups have two 8-oz. servings per cup.
Blue Apron's plans are based on the types of food you eat rather than on when the food will be delivered. You can choose from a meat-based or a vegetarian plan, although you're not locked into either one. Blue Apron offers eight menus for dinners each week, and you can mix and match them.
With Blue Apron, you also choose how many people you want to serve and how many meals you'd like to receive each week. You can choose to buy meal kits for two people or four people, and you can receive meals for two nights, three nights or four nights each week.
Blue Apron's meals are traditional all-American dinner fare. You get meals like Seared Steaks and Garlic Kale or Southern-Style Rice Bowl. Blue Apron also has a wine club.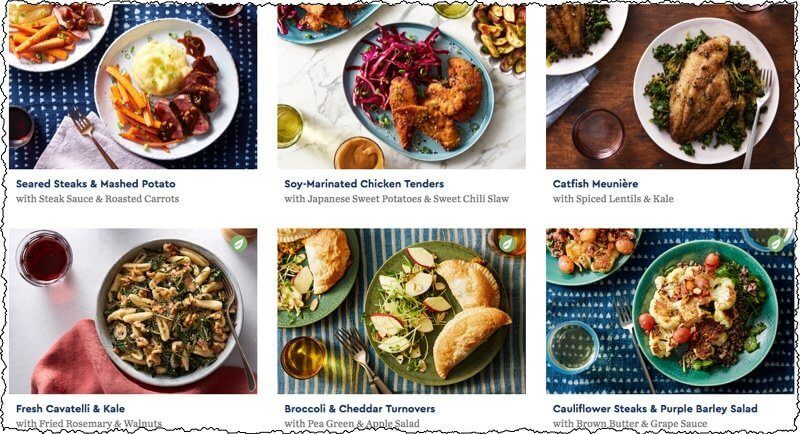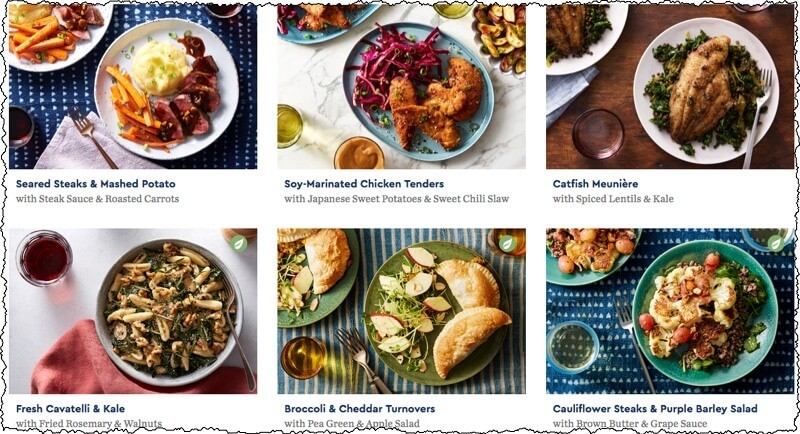 With Daily Harvest, you can choose from items like Cauliflower Rice and Kimchi Harvest Bowl or Mushroom and Miso soup.
For both of these companies, it's a little bit tricky to find information on whether the foods are allergen free or meet other specific dietary needs. Your best bet is to look at the recipes and see if the ingredients fit with your dietary needs.
Signing Up And Cancelling
Daily Harvest ships to 95 percent of the continental United States, but not everywhere just yet. The first step to signing up is to make sure that they can deliver to you. That means entering your zip code. Once that's done, you can pick your delivery plan and build your first box.
At checkout, you'll enter your shipping and billing information and complete your order.
For Blue Apron, you start by choosing whether you want a meat-based or vegetarian plan and whether you want to order meals for two people or four people. Then you enter the number of recipes you want for that week and enter your email and billing information.
Cancelling with Blue Apron is fairly simple. You can either e-mail them or telephone them.
It's a little trickier with Daily Harvest because the cancellation information is hard to find on the website. You'll need to go into your account management section (listed under the help button) to find out how to skip or cancel orders.
Packaging And Delivery
Many meal kit delivery companies, including Blue Apron, use packaging that is mostly recyclable. This includes the cardboard box, the plastics, and parts of the liners and ice packs.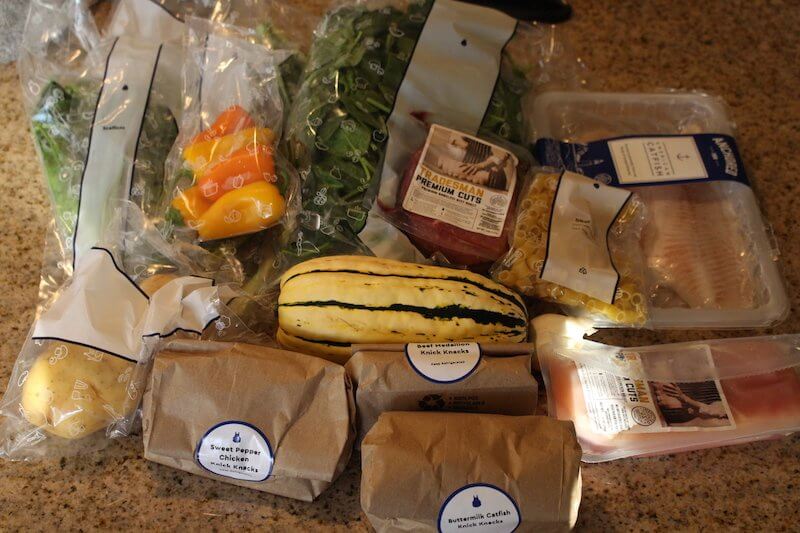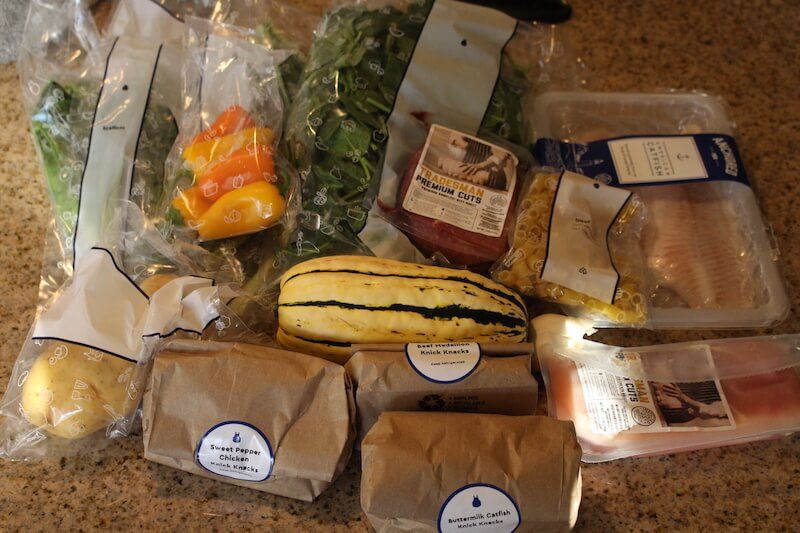 Daily Harvest's packaging consists of cups inside a box packed with dry ice. The box and the cardboard inserts can be recycled, and so can the lids on the cups. The cups themselves can be recycled in some cities, but not all of them. You'll have to check with your local recycling centers to find out what to do with them.
You'll also have to let the dry ice dissipate. The dry ice comes inside a silver bag. Leave it there, but put it in a well ventilated area someplace where children and pets can't reach it. You'll also have to make sure it's not resting on a hard surface, or it can cause serious damage.
Pricing
The pricing strategy for Daily Harvest depends both on your delivery plan and on the number of cups you order.
On the weekly plan, you can order 6 cups at $7.99 per cup, 9 cups at $7.75 per cup, 12 cups at $7.49 per cup, or 24 cups at $6.99 per cup. On the monthly plan, you get 24 cups at $6.99 per cup.
Prices with Blue Apron vary depending on the number of people you're feeding and the number of recipes you order.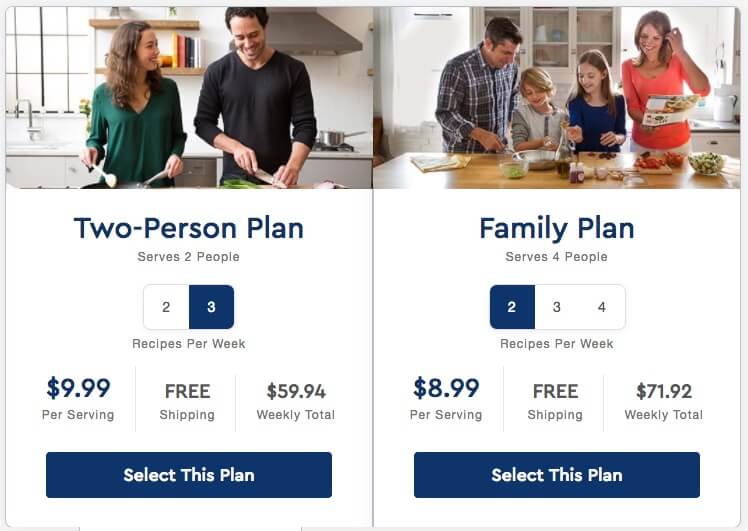 If you're ordering for two people, you'll pay $9.99 per serving for two recipes a week. If you're ordering for four people, you can get meals for $8.99 per serving for two recipes, $7.99 for three recipes, and $7.49 for four recipes.
Boxes with food for three recipes cost $59.94 for two people and $95.88 for four people.
Customizable Options
With Blue Apron you're limited to choosing within the weekly menu, but you can mix and match across plan types. This means if you've set up a meat-based plan, you can still order the vegetarian options. You can also change the number of people you're serving and the amount of recipes you want to get each week.
Customizing deliveries with Daily Harvest means you can choose which cups you want to get. You can also switch from weekly or monthly deliveries and the number of cups you want to order on a weekly plan.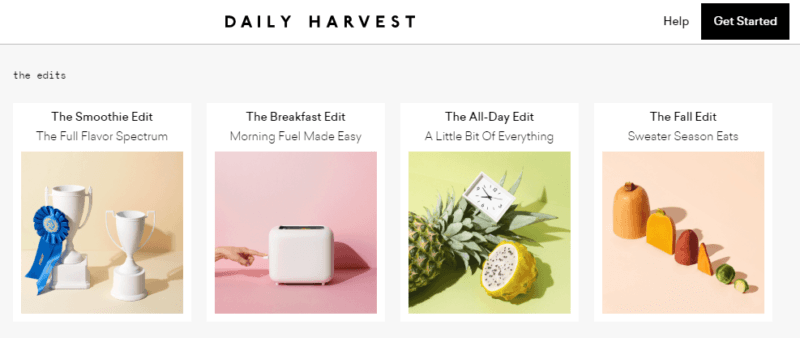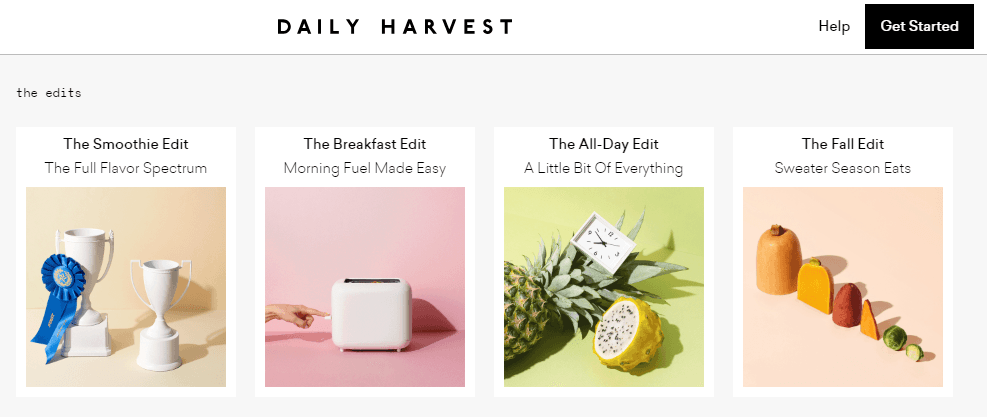 What Makes Each Meal Kit Unique?
Both plans are geared toward different tastes. People interested in Daily Harvest will most likely be health conscious, and those who like Blue Apron will probably focus more on taste and the experience of cooking great comfort foods.
Here's what I like most and least about both companies.
Blue Apron
Pros:
The food is familiar but delicious.
Blue Apron is one of the few meal kit services with a wine club.
Ordering from Blue Apron and customizing your order is simple and direct.
For a meal kit service, the pricing is reasonable.
Cons:
With Blue Apron, you're limited only to dinner menus. You can't choose breakfasts or sides.
Daily Harvest
Pros:
The pricing isn't outrageous.
You can fix your soups, smoothies and other foods within just a few minutes.
There are filters under the 'browse' button to help you find recipes that fit different dietary needs, such as paleo or avoiding allergens.
Cons:
You have to deal with the dry ice issue and figure out how to recycle the cups.
You have to find space in your freezer.
You might need to get a more powerful blender or add more water to your ingredients if they aren't blending well.
What Are The Alternatives?
Blue Apron and Daily Harvest aren't the only options out there. If you're health conscious, you might want to try Purple Carrot or Terra's Kitchen.
You could also try Sun Basket or Hello Fresh. I was a huge fan of Sun Basket!
Conclusion
The kind of meal kit that appeals to you most really has to do with your lifestyle. While Daily Harvest has some cool features, I'm not as into plant-based smoothies and soups as I am into traditional meals with meat. For that reason, I'll probably stick with Blue Apron.