In this Blue Apron vs. Gobble comparison, I'll be comparing two meal kit services I've tried. Both Blue Apron and Gobble were some of the first meal kit services to come on the market, and they've stood the test of time.
With these subscription-based meal kits, you can get delicious food to make from home without having to worry about what you'll cook during the week. Plus, you'll save time by not having to go to the grocery store as often, or browse Pinterest endlessly for new recipes to try.
If you had to choose one, which one should you order? Personally, I'd pick Blue Apron, hands down. They were first to market, are a publicly traded company, and it's clear they have a solid team that's improving the Blue Apron service over time. Lots of meal options, fun & exciting flavors, and fantastic wine club option.
Blue Apron is one of my all time favorite meal kits, but if you still aren't sure which one to pick, here's what you can expect from both Blue Apron and Gobble.
Blue Apron VS Gobble
Types of Meals offered
Like many of these types of companies, both Blue Apron and Gobble offer subscription plans for two people or four people a week.
With Gobble, the two person plan gets six total meals per week (three meals per week for two people). The four-person plan gets also gets three meals per week, for a total of 12 meals. However, you can add on as many meals as you want to, and there are add-on options for sides, desserts and a breakfast subscription.
You can choose from poultry, red meat, sea food or vegetarian menus. There are six meals for each set, but you're not restricted to staying in just one set. You could order one meal from the poultry menu, one from the red meat, and one from the sea food section if you wanted to.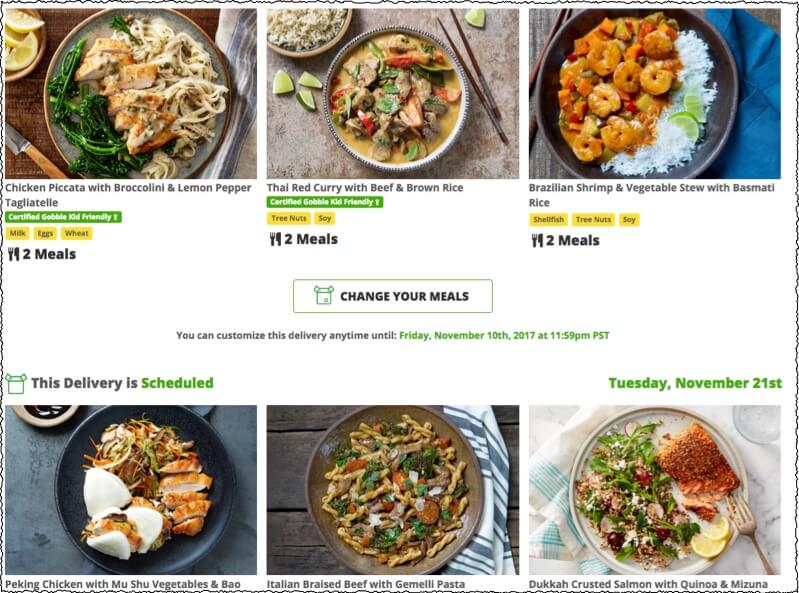 Blue Apron offers both meat-based and vegetarian-based menus. There are eight meals to choose from each week, and three of them are vegetarian. Like Gobble, Blue Apron gives you the option to choose your meals from everything that's offered for that week. You can choose to order two meals, three meals, or four meals per week.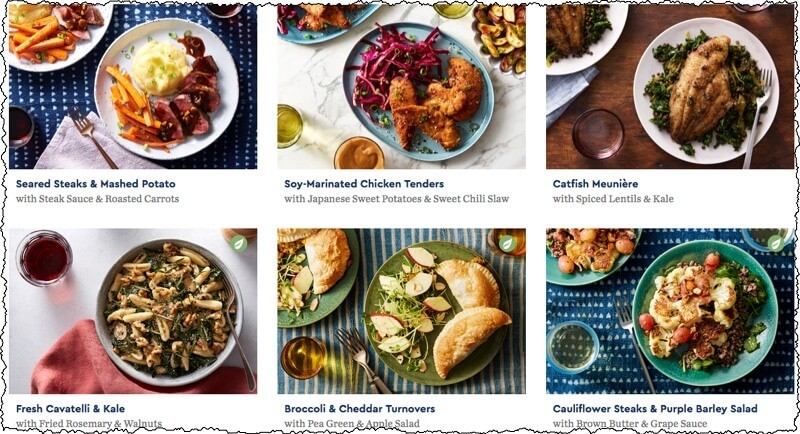 For Blue Apron, meals can take anywhere from 20 minutes to about 50 minutes to prepare. Gobble's meals come with all the prep work done, so they only take 10-15 minutes to cook and they can be cooked in one pan.
Gobble labels its recipes as kid friendly, gluten free, dairy free, and as containing wheat, eggs, soy or nuts. This allows you to choose foods around food allergies and personal preferences.
Signing Up and Cancelling
Gobble had its sign-up form right on the first page of its web site, so it was really easy to sign up. In the first box, you're asked how many people you'll be feeding. The second box has a drop-down menu so you can choose the types of meats you will or won't eat.

Then you enter your email address, a password, and your zip code and hit enter.
Blue Apron's sign-up process was fairly simple, too. You decide how many people you'll be feeding, whether you want a meat-based or a vegetarian subscription, and enter your e-mail and credit card information.
Cancelling with Blue Apron was super easy. This company has both a telephone number and an e-mail option for cancelling. For Gobble, cancelling was done by e-mail through a 'click here' link under 'managing my account.'
Packaging and Delivery
Both companies offer flexible scheduling. You can skip orders if you let them know far enough in advance. Both companies also have a minimum order of 2 dinner kits.
With Blue Apron, all the ingredients come packaged together, so you have to separate them by the meals you'll be cooking. Gobble separated all its ingredients by meals in simple plastic bags with stickers showing which ingredients were for which meal.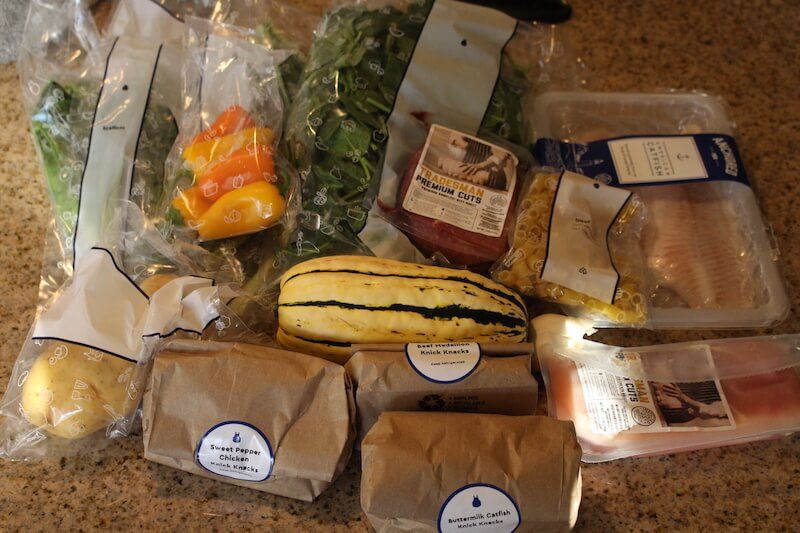 With Blue Apron, the delivery price for a two-person plan with less than three meals per week is $7.99. All other delivery prices are figured into the price of the food. The delivery price for Gobble is $6.99 per box, although new customers get free shipping on their first box.
Pricing
Prices for Gobble are a little more expensive than those of Blue Apron. Gobble's two-person meals are $11.99, and Blue Apron's two-person meals are $9.99 per meal. For one week of three meals for two people, you'll pay $59.94 with Blue Apron and $71.94 with Gobble (plus a $6.99 delivery fee).
Blue Apron's four-person plan varies by the amount of meals you order in a week. If you order four meals, they're $7.49 each. Three meals are $7.99 each, and two meals are $8.99 each. A three-meal box for four people costs $95.88 per week.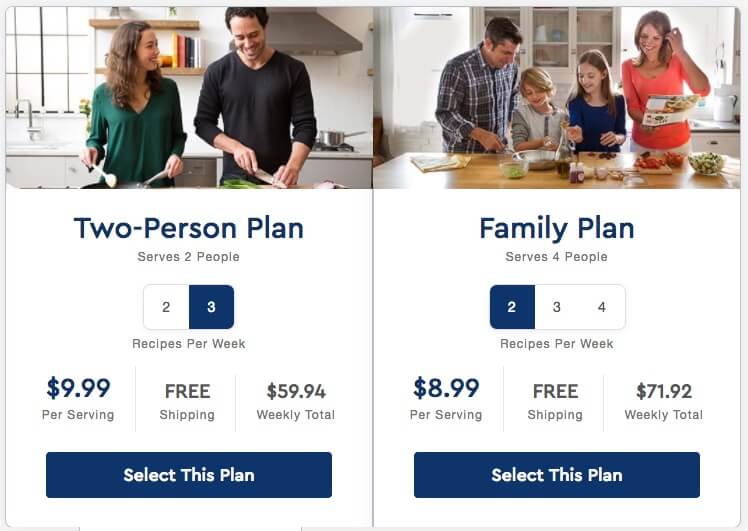 Gobble's four-person plan costs $143.88 for three meals plus the $6.99 delivery fee. Gobble also has an add-on breakfast subscription that costs $40 per week for 2 people and $80 per week for 4 people. The breakfast subscription contains ingredients for four meals.
Customizable Options
Gobble's add-ons (breakfast subscription, lunch, soups and desserts) make it one of the most customizable options available. The ability to choose your meat preferences is nice, too. Overall, it's a very family friendly set-up for people who may have to deal with allergies or picky eaters.
Blue Apron is also one of the most flexible options out there with its options to mix and match between vegetarian and meat-based meals.
It's also really nice to be able to switch up the number of meals you want to get per week, and both companies excel at this.
What Makes Each Meal Kit Unique?
Both these meal kit companies are family friendly. Blue Apron is geared more toward actual cooking, which means it can be a recreational activity for people who like to connect through the cooking process. Gobble is aimed more toward getting dinner on the table.
In my experience, Gobble's food is a little blander than Blue Apron's food, but that can be a good thing when you're trying to please a family.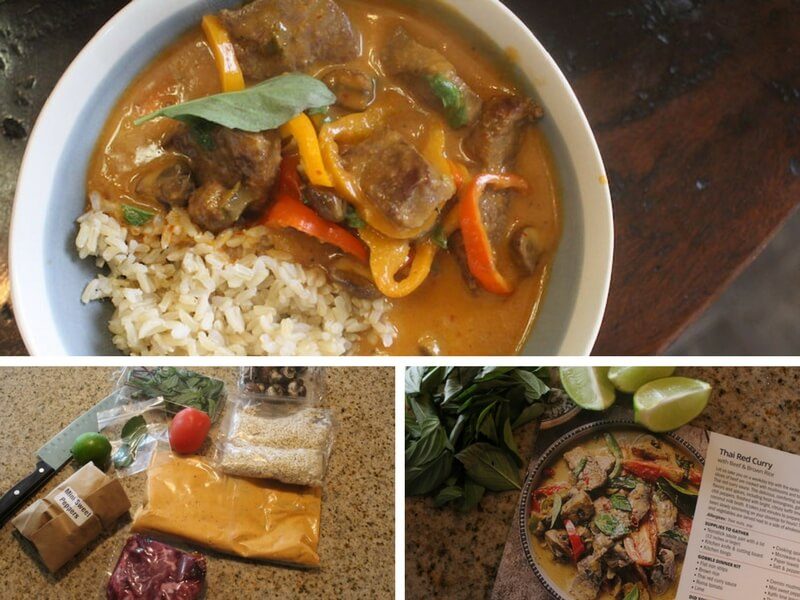 Here are some the things I liked best (and least) for both companies:
Blue Apron
Pros:
Blue Apron has an excellent Freshness Guarantee
Blue Apron also has a wine club
It's got one of the best prices available for meal kit delivery services
The food is simple but delicious
Cons:
There's not a lot of variety beyond meat-based and vegetarian choices
There's no labeling for food allergies (or anything beyond vegetarian meals)
Gobble
Pros:
Gobble was voted the #1 meal kit by Parent's magazine
Gobble gives credits in promotional offers that you can save up to get discounts on future boxes
This company's variety in its food offerings is outstanding
Cons:
It seems expensive for very simple meals
Sometimes the food is a little bit bland for a grown-up taste
There Are Other Choices Beyond Blue Apron And Gobble
I enjoyed both Blue Apron and Gobble, but they're not the only good meal kit options out there. Plated is a little more exotic than Blue Apron. Like Gobble, there are a lot of options for customizing meals by preferred ingredients, allergens and other preferences.
Hello Fresh has simple, easy to prepare meals that are less adventurous than Blue Apron's menus. Green Chef has more of a health-conscious twist than Blue Apron does, and Sun Basket was another one of my all time favorite services worth trying.
As you can see there are plenty of options out there!
Conclusion
The meal kit you choose depends on what you need and want. Between Blue Apron and Gobble, I would choose Blue Apron. The meals are tastier and still fun to make. While I'm impressed with Gobble's customization options and simple meals, half the fun of getting a meal kit is preparing the food.
That said, if you want simple, fast meals for a family with a lot of options for add-ons Gobble might be perfect for you!