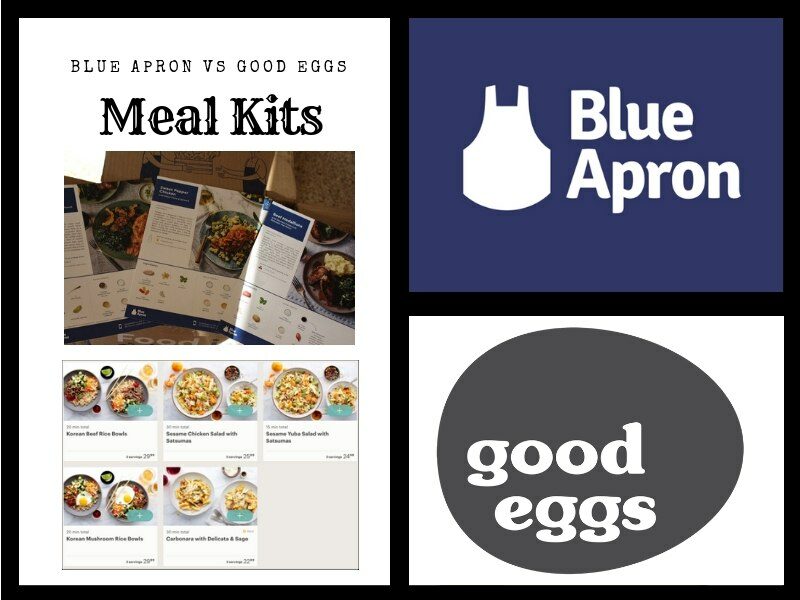 This Blue Apron vs. Good Eggs comparison brings to light another option in our foodie culture.
As busy as life is, it's no wonder that meal kit services have found a foothold in society. It's hard to find time for home cooked meals. Several meal kit services have stepped in, sending food right to the doorsteps of subscribers.

Food choices from these companies range from frozen smoothies to take on the go to ingredients for some fabulous home cooking experiences (and results) and quick, family-friendly dinners.
At the same time, subscription services like Blue Apron have their downside. If you're going to go on vacation, you have to pause your subscription or skip weeks. For many services, you also have to take the time to customize your orders so that you get the meals you want.
Online grocery store experiences like the one that Good Eggs provides can be an intriguing new find. In the right areas, Good Eggs provides the convenience of food delivered to your door without the ties to a meal kit subscription.
Types of Products Offered
Blue Apron was a one of the first meal kit subscription services on the scene. For the past several years, it's been one of the most steady meal kit companies. Its menu is full of tasty and familiar comfort-type foods without being too boring. It's also got a nice wine club that you can add on to your subscription.
With Blue Apron, you subscribe to a meat-based or a vegetarian meal plan. The weekly menu contains eight dinner menus. Three of those are vegetarian.
No matter which plan you've picked, you can mix and match within the weekly menu to get the meals you want for the week. You can also pick your meals based on how long they take to cook. Many Blue Apron meals take 20 minutes to an hour to cook.
You can choose to receive recipes and food for two, three, or four meals per week. You also choose to get enough food for two people or four people. Depending on the week, the menu might feature foods such as Dukkah-Spiced Beef and Couscous or Crispy Shrimp and Cilantro Rice.
Good Eggs also provides dinner meal kits, but there isn't a rotating menu. These dinner kits are part of the selection of online groceries that you can order anytime without a subscription.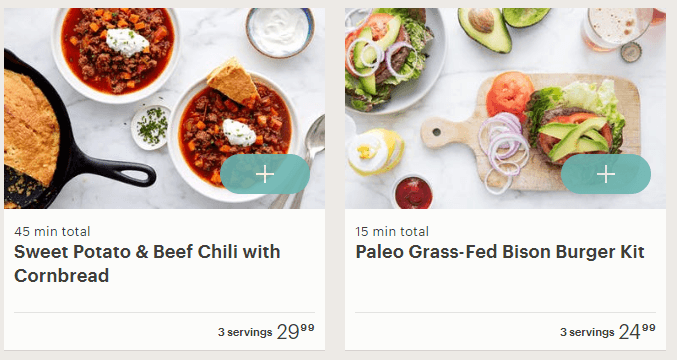 Good Eggs carries a full line of products, including meal kits, produce, dairy, meat and fish, prepared items, wine & beer, snacks, drinks, bakery, pantry items, products for health and home.
Its biggest selling point is that 70 percent of its products are sourced locally, so the foods are very fresh. In some instances, you can get foods right from the farm or bakery delivered to your home the same day that they're harvested or baked.
There's a lot of variety in the meal kits themselves. There are kits for breakfasts, lunches, soups, sides and salads, and dinners. Under the celebrations section, there are also kits for holiday snacks, sweets and cocktails.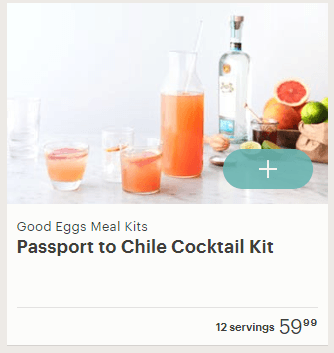 Lunch and dinner kits can serve two to four people, so you have to read the labels to know what you're getting. Many kits serve three people, including the Beet Salad lunch kit and the One-Pan Baked Salmon and Baby Broccoli dinner kit.
Since there's no subscription and no set delivery date, you order when you want to, pick a delivery window, pay for your groceries and wait for them to be delivered.
Signing Up And Cancelling
To sign up with Good Eggs, all you have to do from the main web page is enter your zip code, and then choose to sign up with Google, Facebook, or your email. Since you're only creating an account and not subscribing to anything, there won't be anything to cancel later on.
Once your account is created, you're ready to order. This gives you a lot of flexibility but not a lot security. If you don't remember to order, your meals won't get delivered.
Signing up to Blue Apron is simple. You choose whether you're going to feed two people or four people and what kind of subscription you want (meat based or vegetarian), pick the meals you want, and enter your payment information.
You can cancel easily, too. Blue Apron provides both an email address and a telephone number that can be used to cancel your subscription.
Packaging and delivery
Like many meal kit subscription services, Blue Apron's ingredients come in a cardboard box with ice packs to keep things cold. With this company, the ingredients are packaged together, so they have to be separated out for individual recipes. Most of the packaging can be recycled, though.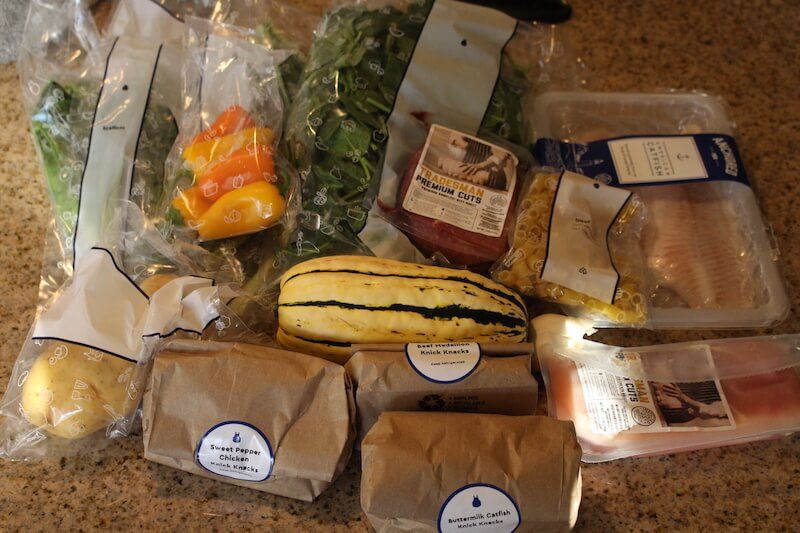 For most shipments, the cost of delivery is figured into the price of the plan. However, if you order less than three meals and you're only ordering for two people, Blue Apron charges a $7.99 delivery fee.
Here's the biggest difference between Blue Apron and Good Eggs: Blue Apron delivers across most of the continental United States, but Good Eggs currently only serves the San Francisco, East Bay, South Bay and Marin areas.
At one point, Good Eggs had a presence in other parts of the country, but economic trouble almost caused the business to go under. It pulled back and has been expanding slowly and steadily again since then.
The company has plans to expand back into southern California in the coming year. You can check with the company to see whether they will deliver in your area.
In most areas where Good Eggs deliver, you can choose a two-hour delivery window. A few places have four-hour windows. If you place your order before 1 PM, there's a good chance you'll get your delivery the same day you ordered it.
There's a $30 minimum purchase for delivery. Orders of $60 or more have free delivery. Any order less than $60 will have a delivery fee of $9.99.
Like Blue Apron, most of the packaging is recyclable. Frozen items are packed in cold sleeves with dry ice to keep them frozen until you receive your order.
Pricing
With Good Eggs, you pay for your groceries and a possible delivery fee. Since the products are so varied, they're priced individually the way they are in a grocery store.
For example, a dinner kit for Simple Street Tacos Carnitas costs $23.99 and feeds four people. The One Pan Seared Pork Chops and Baby Broccoli dinner kit costs $27.99 and serves three people. At these prices, costs per serving range from $6 to $10.
With Blue Apron, the cost per serving depends on how many people you're feeding and how many recipes you've signed up for.
For example, with the four-person plan, you pay 8.99 per meal for two meals per week and $7.99 per meal if you order three meals. For four meals for the family plan, the cost is $7.49 per serving. Costs per serving for the two-person plan are $9.99.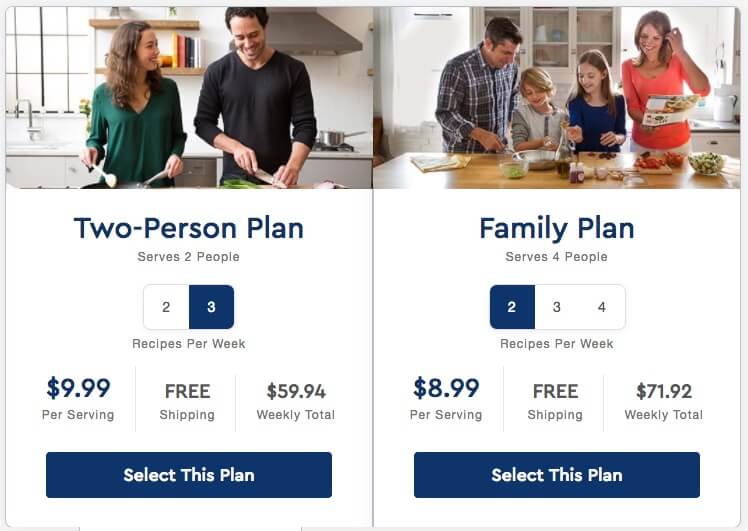 A three-meal box for four people costs $95.88. A box of three meals for two people is $59.94.
Customizable Options
Between the two, Good Eggs is by far the most customizable, allowing you to pick and choose not only from food items but from other grocery items as well. However, since it's so localized, only a handful of people will be able to use its services until it expands again.
Meanwhile, Blue Apron offers some basic customizations. You can change the number of people you want to serve and the number of meals you want to get each week, skip deliveries, and choose the meals you want each week.
What Makes Each Meal Kit Unique?
These two companies are more different than they are alike. The expanded product line but limited delivery services of Good Eggs makes it an intriguing but difficult company to get a feel for. On the national scene, Blue Apron is one of the most solid meal kit services available.
Here's what I like about each of them, and what I think could use some work.
Blue Apron
Pros:
Blue Apron's food is pretty tasty most of the time, although it could use some variety
While Blue Apron's ingredients don't have the ultra-fresh appeal of Good Eggs, the company does have a freshness guarantee for its foods.
The wine club is nice.
Cons:
Beyond vegetarian meals, there aren't a lot of options for health, tracking allergens or tailoring meals to specific dietary needs
The subscription-based service can feel a little closed-in sometimes, and it takes a few days for your food to arrive.
Good Eggs
Pros:
Sourcing most of its products locally allows Good Eggs to keep its promise to provide only the freshest ingredients.
The idea of same-day delivery is nice.
Being able to order all the products you need (not just foods) and have them delivered all at once sounds great, too.
The price per serving for the dinner meal kits ranks right beside what Blue Apron meal servings cost.
Cons:
The limited delivery ability means only people in one geographic portion of the United States can actually try this service out.
If you forget to order, you might still have to visit the grocery store to get your dinner items.
Alternatives
As wide a gap as there is between Good Eggs and Blue Apron, they're not the only meal kit delivery options available, and you can find something for just about every foodie lifestyle. Plated is always a solid option. There's also Sun Basket, Hello Fresh, and Gobble.
If you're looking for something a little more vegan, you could try Hungryroot or Purple Carrot.
Conclusion
Between Blue Apron and Good Eggs, Good Eggs wins hands down for customizability and innovative thinking. Shopping online for everything I need at one time appeals to me, too. However, I still like Blue Apron's solid status and dependable style. I'll probably keep using Blue Apron when I want a good meal kit delivery service.