It's surprising how many meal kit services there are available in the United States. Some are geared toward helping families cook and eat together. Others aim to help people move into vegetarian or special diet lifestyles without getting bored.
I've been reviewing as many of these services as I can. Now I'm ready to share my thoughts on Blue Apron vs. Green Chef so you can see what these two companies have to offer.
Both of these companies were great. Personally, I liked the variety and flavor of Blue Apron. However, the advantage of Green Chef (for me) was the catering to my keto diet (plus the cater to other diets as well).
Blue Apron VS Green Chef
Types Of Meals Offered
Both Blue Apron and Green Chef offer meal plans for two people or four people. They both have variations on the meals you can order, as well.
With Blue Apron, subscribers can choose the amount of meals they get each week. There's a two-meal minimum per week. You can pick between meat-based or vegetarian subscriptions, but you're not locked into meals for those plans.
It's easy to order meals from any of the Blue Apron menu selections for the week. There are eight offerings per week, and three of them are vegetarian.
You can also choose your food based on how long it takes to prepare. Meals with Blue Apron can take as little as 20 minutes or as long as 50 minutes to get to the table.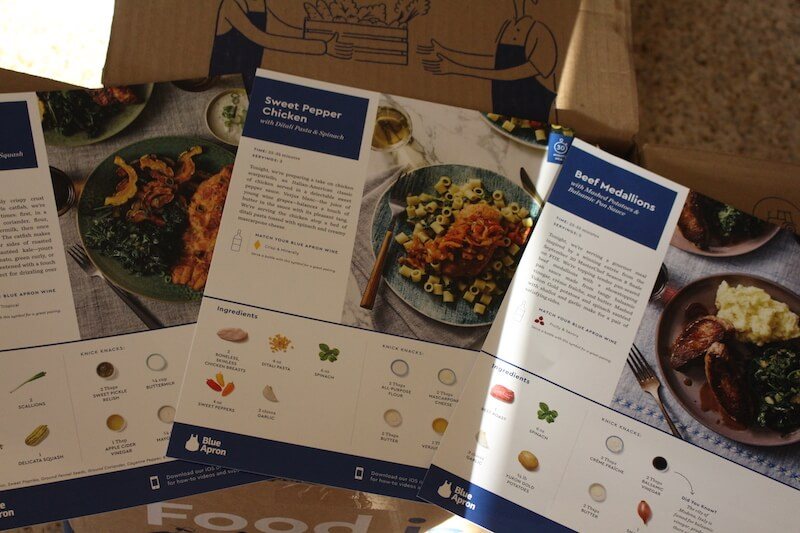 The cooking time for Green Chef meals ranges from 30 minutes to 45 minutes for family meals. On the two-person plan, subscribers get three meals per week, for a total of six meals. If you're on the family plan, you get two meals per week per person, for a total of eight meals.
Green Chef really stands out when it comes to healthy variety. The two-person plans offer keto, paleo, omnivore, vegan, vegetarian and gluten-free options. If you're on the family plan, you can choose between omnivore and carnivore meal plans.
The downside here is that you can't swap recipes around. For example, if you order a Keto meal plan, you'll eat all-keto meals at least for that week. Green Chef does allow you to switch plans between weeks, though.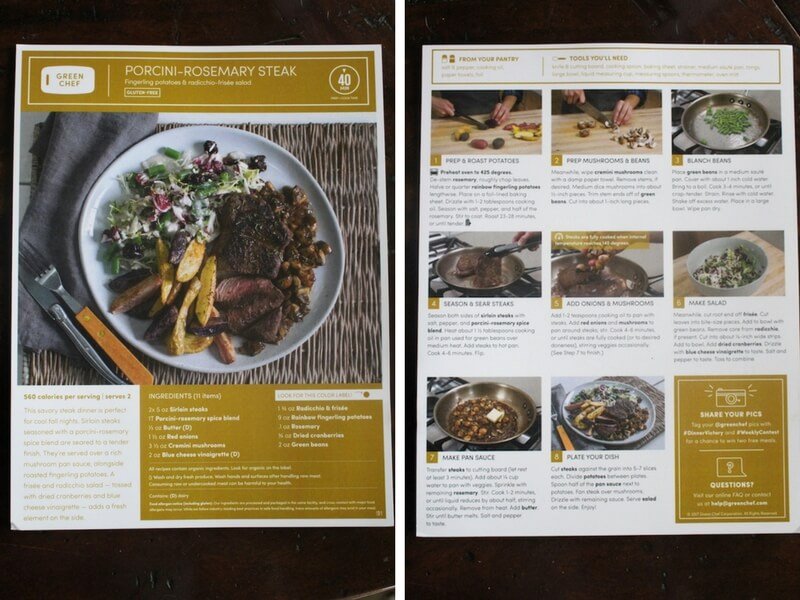 Both companies offer new menus each week, and the recipes are quick and easy.
Signing Up And Cancelling
With Blue Apron, the sign-up process is simple. You decide whether you want the two-person or four-person plan. Then you choose whether you want the vegetarian or meat-based plan and settle on the number of recipes you want to make for that week. The last steps are to enter your email and credit card information.
The process is similar for Green Chef. Once you know howmany people you'll be feeding, you pick a subscription plan and a delivery day and enter your information.
Cancelling with Blue Apron was simple, too. You can contact the company either by email or by telephone to cancel your subscription. It was a little more difficult to cancel withGreen Chef because it was difficult to find the email address on the website.
Packaging And Delivery
Like most delivery services, Blue Apron and Green Chef both send their ingredients in recyclable packaging inside a cardboard box with an ice pack.
With Blue Apron, subscribers have to separate ingredients by meals because they come packaged together.
Green Chef's ingredients are pre-measured and pre-prepped, so every ingredient has its own packaging within the box. It has a color-coded labeling system which makes it easier to find what you're looking for when it comes time to cook.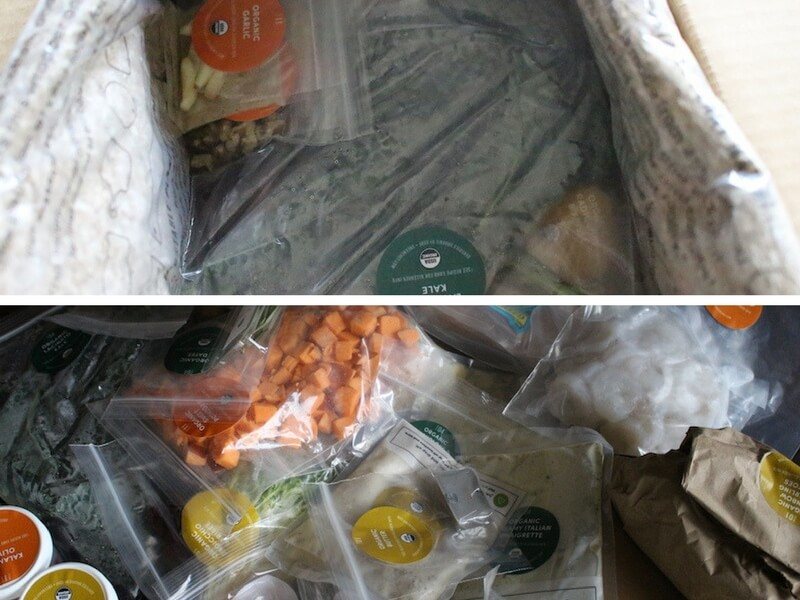 Both companies have no minimum commitment, and you can skip orders as needed as long as you give them enough advance notice.
Green Chef charges $6.99 to deliver each box. With Blue Apron, the cost of delivery is figured into the meal costs. The exception is if you only order two meals per week. Then you'd have to pay $7.99 for delivery.
Pricing
For both companies, pricing depends on the plans you pick.
Blue Apron subscribers pay $9.99 per meal for the two-person plan. This totals $59.94 per box for enough ingredients for three meals.
On the family plan, you'll pay $8.99 per meal if you order two meals per week, $7.99 per meal for three meals per week, and $7.49 per meal for four meals per week. A three-meal box for four people totals $95.88 per week.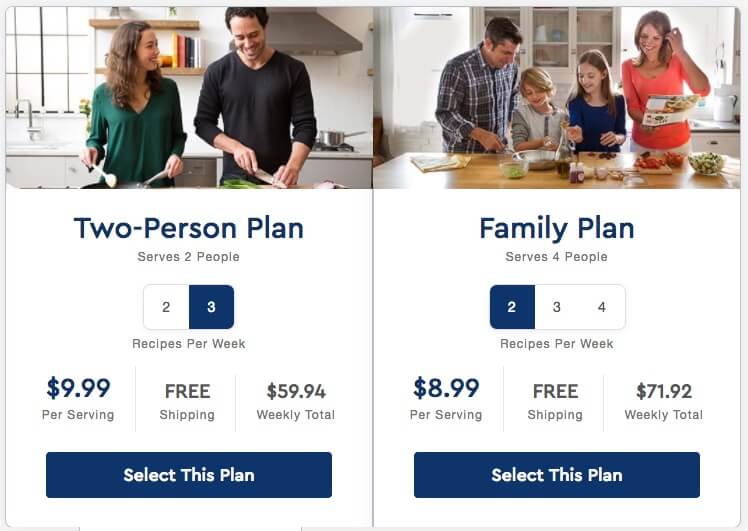 The price per meal for Green Chef is based both on the number of people you'll be feeding and the types of meals you choose. Two-person meals are $11.99 for omnivore, vegetarian, gluten-free, and vegan meals. Paleo and Keto meals cost $12.99.
For the family plan, both the omnivore and carnivore options cost $12.99 per meal.
Customizable Options:
Green Chef excels at its wide variety of options to cover vegetarian, vegan, paleo, keto and other lifestyles. You can also change the number of boxes you order per week. However, the fact that you can't mix and match between each meal type is a little disappointing.
Blue Apron doesn't offer as much variety overall, but you can choose plates from any of the menu offerings each week. Blue Apron also allows customers to switch up the number of meals they'd like to get each week as well as the number of people you'll be ordering for.

What makes these companies unique?
Both Blue Apron and Green Chef have a lot in common when it comes to the way their plans are structured. However, the type of variety they offer is very different.
Green Chef provides several types of meal plans geared around healthy lifestyle choices, while Blue Apron takes a more All-American family type approach with a few twists on familiar foods.
When it comes to what you can pick within a week, Blue Apron wins hands down. It's nice to be able to order more or less meals per week and to pick from every menu item offered.
Here's what I think about each company overall:
Blue Apron
Pros:
Blue Apron has a freshness guarantee for its ingredients
The level of mix-and-match between menu items and the number of meals you want to order is superb
Blue Apron has a wine club
Cons:
The price per plate is about what you'd pay for simple eating out, but it's still more than what you'd pay for similar ingredients in a grocery store.
The vegetarian meals are nice, but beyond that, there's not a lot of variety to allow you to tailor your meal plans for allergens or special diets.
Green Chef
Pros:
All of Green Chef's ingredients are certified organic
Green Chef's ingredients come pre-measured and pre-prepped, which makes meal preparation even easier
The carnivore option from Green Chef offers more meat and larger portions than some other meal kit companies do
Cons:
Per plate, Green Chef's meals were more expensive than Blue Apron's meals
While the menu plans offered a lot of variety, there was no opportunity to try meals from more than one menu plan in one week
What Are The Other Options?
If you're in a health-conscious mode, Purple Carrot offers vegetarian meal kits. It's closer to Green Chef in the types of customers it aims for than Blue Apron is. If you want to try other options, Sun Basket, Hello Fresh and Plated are all good options to try.
Like Blue Apron, Hello Fresh has a wine club. Plated has more exotic menus than Blue Apron. Sun Basket's meals were a little more interesting, too, although they were also more expensive.
Conclusion
I've had a lot of fun trying out different meal kits and seeing what each one has to offer.
Blue Apron is still one of my top choices for beginners because of its all-around appeal and customizable options. Green Chef is great for adding variety and for catering to special dietary needs.
The one you pick will probably depend on why you're looking for a meal kit company. Let me know in the comments what meal kit plan you pick, and why!