One of the best things about meal kit services is that they make busy lives so much easier. Having home-cooked meals that a family can eat together but that don't take forever to prepare means there's more time for bonding moments.
Some meal kits services are geared towards specific types of diets like vegetarian, paleo, or gluten free. However, many services aim right down the middle for general "eat everything" type of diets. In this Blue Apron vs. Home Chef comparison, I'll be comparing two of the best family-oriented meal kit services out there.
Expect a wide variety of meats, veggies, pastas, breads, and flavorings from both Blue Apron and Home Chef. Which one was best though? I love unique flavors and new recipes, so personally, it was clear to me that Blue Apron has more to offer. They really knock it out of the park when it comes to interesting recipes, plus they have a wine club.
Blue Apron VS Home Chef
Types Of Meals
Blue Apron is one of my favorite meal kits. Its meal plans allow you to purchase food for two or four people at a time, and you can get between two meals to four recipes a week. The food is basic but good. There are meat-based or vegetarian plans, and you can mix and match between the recipe types to get exactly what you want.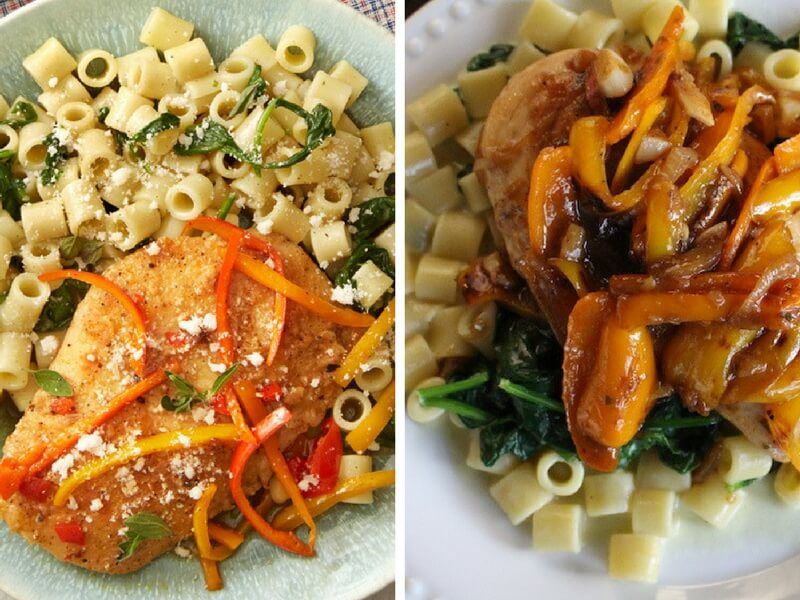 Each week, Blue Apron offers eight meal ideas to try. Three of those are vegetarian, but not necessarily vegan. While Blue Apron doesn't offer sides, snacks, treats, or other meals as add-ons, it does have a decent wine club.

Cooking time generally ranges between 20-50 minutes. Meals take longer to prepare than with some other services such as Gobble or Hungryroot, but it's not a huge time investment.
Home Chef's meals are also delicious without taking a ton of time in the kitchen. Most meals can be prepared in about 30 minutes. Ingredients are pre-portioned and pre-prepped, which speeds up the process when compared to Blue Apron.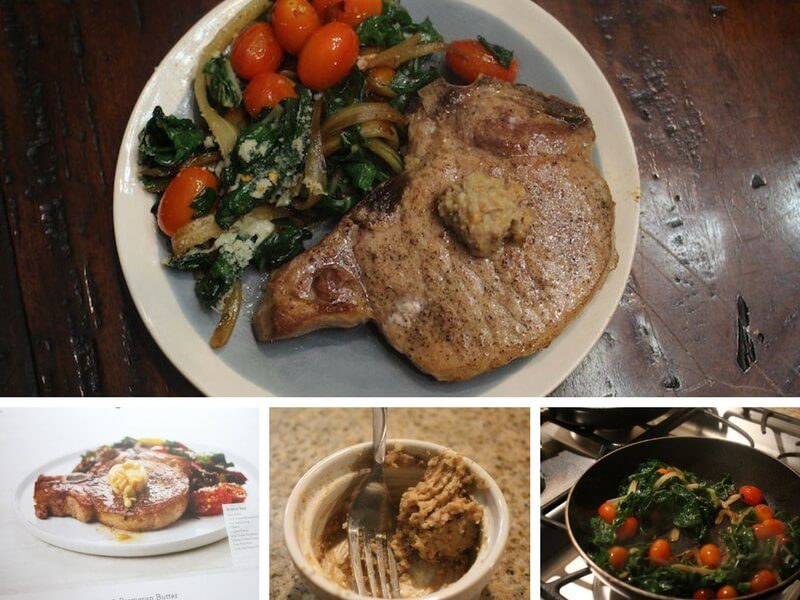 Like Blue Apron, Home Chef gives you the option to purchase meals for two people or four people at a time. Meals rotate weekly. The meals are assigned automatically based on a personal taste preference profile that you fill out when you sign up, but you can edit them to mix and match between menu choices.
There are about fifteen offerings per week with Home Chef. Three of those are lunches, and two are add-ons (usually some sort of smoothie and a seasonal fruit basket). Both companies include recipe cards.
One really great thing about Home Chef was the allergen markers on the menu selections. Milk wheat, soy, tree nuts, fish, shellfish and peanuts all had easy-to-see markers.
One not-so-great thing about the menu was that I couldn't find serving sizes indicated on the menu. I finally found that most meals come in two-person or four-person servings, but I had to do some digging to find that out.
Home Chef does have some vegetarian options, but like Blue Apron, there are no guarantees that those options will fit a vegan lifestyle. Home Chef also occasionally offers special recipes for breakfasts, desserts, and holidays, and some weeks you will find a higher-priced premium meal.
Signing Up And Cancelling
You do have to sign up with Home Chef before you can choose the food you want to purchase. When you sign up, you also create a taste preference profile that you can update later.
With Blue Apron, the sign-up process begins with a few decisions. You choose whether you'll be feeding two people or four people, how many recipes you want to order, and whether you want a meat-based or vegetarian plan. Then you enter your email address and payment information, and you're done.
Cancelling with Blue Apron is simple, too. You can either email them or call them (of all the meal kit companies I've reviewed so far, Blue Apron is the only one that allows you to cancel services by telephone.)
Cancelling with Home Chef can be cone completely online by logging into your account and navigating to the 'account information' page. From there, all you have to do is pause service. You'll effectively cancel the service, but you can start up again anytime by going back in and clicking 'unpause.'
Packaging And Delivery
With Home Chef, the five-minute lunch options cost $7.99. All the dinner meals except premium ones cost $9.95 each, and the prices don't vary by the number of people you're ordering for.

Like many meal kit services out there, most of the packaging for both companies is recyclable.
With Blue Apron, ingredients are packaged together, so you do have to separate them by meals before you can cook. Pre-portioned ingredients for Home Chef come in their own plastic bags or containers.
Both companies allow you to skip scheduled deliveries. For Blue Apron, the shipping cost is planned into the regular box price, with one exception: if you order less than three meals on the two-person plan, you'll have a shipping charge of $7.99.
Home Chef has free delivery for orders over $45 and a $10 fee for orders that don't meet the $45 minimum.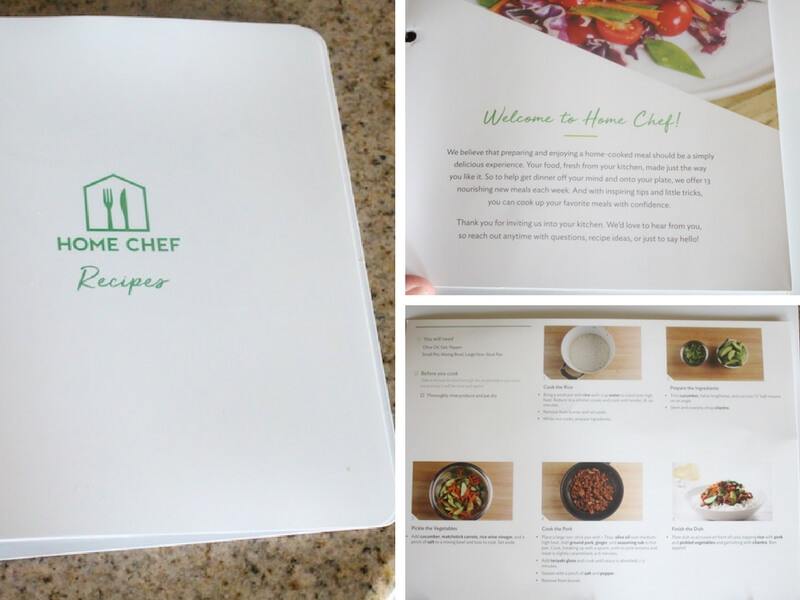 Blue Apron delivers across the continental United States. Home Chef's range is 98% of that. You can enter your zip code when you sign up to find out if Home Chef delivers in your area.
Pricing
Blue Apron's prices, while still higher than what you'd pay in a grocery store, are less expensive than some other meal kit services. If you order four meals for a family of four, you'll pay $7.49 per serving. If you order two meals for four people, the price per dish is $8.99.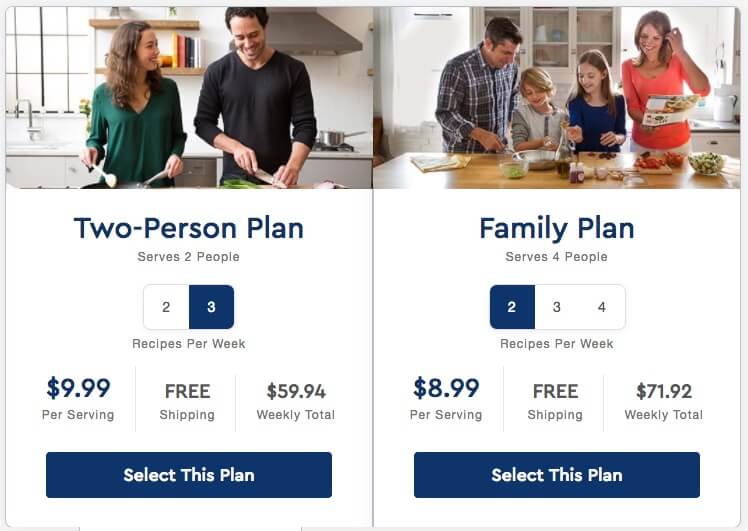 If you order three meals for a family of four, the cost per serving is $7.99, or $95.88 per box. Three meals for two people cost $9.99, or $59.94 per box.

Premium meals are priced separately based on the cost of the ingredients used in those meals. Home Chef requires a $45 minimum purchase per week.
Customizable Options
I really like the ability you have with Blue Apron to mix and match between all the meal offerings (both meat-based and vegetarian) for the week. I also like that you can shift the number of people you're ordering for each week.
You can change the number of servings you're ordering with Home Chef from week to week, as well. You can also customize the meals you'll receive by clicking on the deliveries section in your account and then clicking on the specific delivery you'd like to customize.
What Makes These Meal Kits Unique?
I like that both of these meal kit services are family friendly and decently priced. The food for both companies is tasty, too.
Home Chef
Pros:
You can add on items like smoothies, lunches and seasonal fruit.
Home Chef started selling meal kits in Kroger-owned grocery stores in 2018, which means if I want a particular meal kit that's not offered during the week, maybe I can find it locally.
I like the wide variety of menu items that Home Chef provides.
Cons:
It's a little bit dicey to have to sign up before you can really dig into the menu, but it works.
Blue Apron
Pros:
It's fun to pair Blue Apron's meals with the offerings from its wine club.
Blue Apron meals are delicious, relatively inexpensive and fun to cook.
Just in case ingredients aren't in the best shape when they reach you, Blue Apron has a freshness guarantee. I've never actually had to use it.
Cons:
When compared to Home Chef, Blue Apron's meals aren't quite as daring or flavorful
Separating the ingredients into meals seems a bit clunky compared to other meal services that send their ingredients pre-sorted and pre-prepped.
What Are The Other Options?
There are a lot of really good meal kit options out there. Besides Home Chef, Blue Apron compares really well with Sun Basket and Plated. If you have specific diet restrictions like keto or paleo, then Green Chef is the way to go.
Conclusion
While Blue Apron's meals are delicious and relatively easy to make. I liked that Home Chef meals were really quick! These two meal kit services come out neck and neck with me, but personally, Blue Apron was the winner.
Aside from the excellent wine club you can get with Blue Apron, I just liked the meals better. Home Chef wasn't bad at all! I'd recommend it totally. To me I just though Blue Apron tasted better and had more options to change up week to week. Home Chef was all pretty familiar flavors IMO.
So which one will you end up going with? Let me know in the comments!