There's been a lot of talk about meal kit services these past years. Some of them, like Chef'd, have gone out of business. On the other side, companies like Hungryroot have upped their game. After a complete overhaul in early 2018, Hungryroot is making three times what it was before.
Blue Apron was one of the first meal kit services on the scene and is one of my perpetual favorites. Hungryroot, which opened its doors in 2015, has a completely different take on what a meal kit service should be.
In this Blue Apron vs. Hungryroot article, I'll dig into some of the specific areas where these companies are different. I'll also show you where they're very much the same.
Personally, I recommend sticking with an omnivorous diet like Blue Apron delivers. Yeah, I'm biased. I'm just not into the vegetarian thing.
Blue Apron VS Hungry Root
Types Of Meals
This could very well be the biggest difference between Hungryroot and Blue Apron.
Blue Apron appeals to a wide range of families and individuals who are enjoy eating delicious twists on foods they see everywhere in society. Hungryroot is specifically geared toward vegans and vegetarians who want the conveniences of meal kit services without having to worry about animal what's in their food.
This means their food choice offerings are almost completely opposite. Blue Apron has choices for both vegetarian and meat-based meals, but not vegan ones. Blue Apron's Pasta in Italian Salsa Verde, for example, is topped with Grana Padano cheese.
Hungryroot's choices are completely plant-based and highly nutritious with good fats, fiber, low sodium and low sugar. Because these meals are all vegan, they're naturally free of eggs and milk. They're also gluten-free, and whenever it's possible, the ingredients are gathered from local organic non-GMO sources.
For Blue Apron, think Cilantro Beef Tacos or Adobo-Style Chicken. Hungryroot's dinner selections run more along the line of Crunchy Curry Beet Noodles or Lentil Curried Butternut Squash.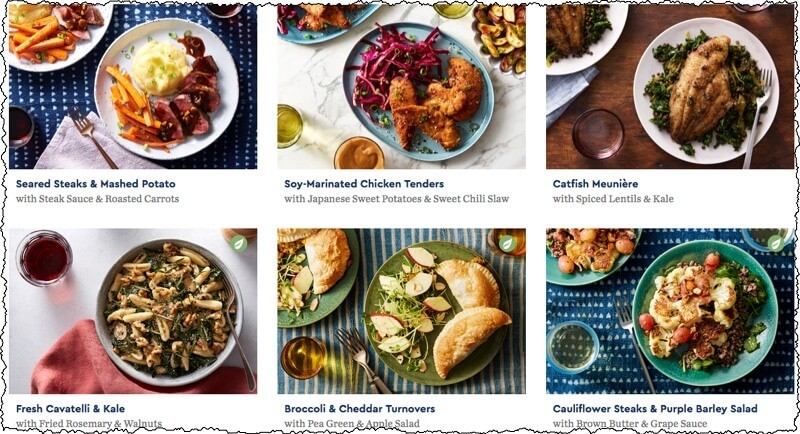 Some of Hungryroot's meals come pre-made. Others require very little preparation—just some basic mixing and heating. They come in nice packaging containing items like sweet potato ribbons and kale pesto. These meals are ready to go in ten minutes or less.
Many of Blue Apron's meals generally take 20-50 minutes to get to the table. Blue Apron also only offers dinners, while Hungryroot has options for breakfasts, lunches, dinners, and treats like black bean brownie batter.
Both companies offer a couple of different choices when it comes to plans.
With Hungryroot, you can order the Starter Set, which includes three meals for two people and three sides, snacks or treats. You can also order The Good Life plan, which includes five meals for two people and five sides, snacks or sweets.
The meal box is originally built around your taste profile, which you set up when you sign up. You rate the meals so the company can send you more of what you like and less of what you don't like—but you can also customize the orders.
Every month, Hungryroot has a new meal catalog. The meal catalogue for October 2018 included 4 breakfasts, 4 lunches, 9 sides, 19 dinners, and 5 sweets. The catalogue includes instructions for making the meals, but you can also order physical instruction cards.
Blue Apron's menu is set by the week rather than by the month. There are eight meal ideas per week, and three of them are vegetarian. Blue Apron doesn't have sides, desserts, or snacks, but it does have a wine club.
Blue Apron's meal plans are for two people or four people, and you can customize your order to get the amount of recipes you want every week.
Signing Up And Cancelling
Hungryroot's sign-up process begins with inputting your email address and selecting a password. For cancelling, you can go to settings, select account details, and click on 'edit account details.' This takes you to a screen where you can cancel the service.

For Blue Apron, you start by deciding whether you want the two-person or four-person plan, whether you want meat-based meals or not, and how many recipes you want to order. Then you enter your email address and credit card information.
Cancelling Blue Apron requires a quick e-mail or telephone call.
Packaging And Delivery
With enough advanced notice, both companies allow you to skip deliveries. For Blue Apron, shipping costs are figured into the price of the meal kits—unless you order less than three meals a week for two people. If you do that, you pay an extra $7.99 for shipping.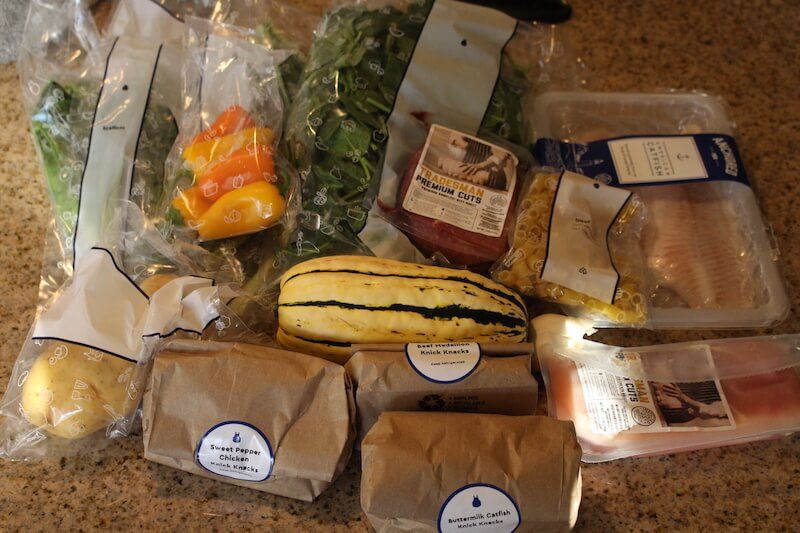 Hungryroot doesn't charge shipping for orders that are sent over ground, but if they require air service, you're charged a $10 fee.
Both companies send their meals in recyclable boxes with recyclable plastics. However, Blue Apron's ingredients come packaged together, and you have to separate them by meal. Hungryroot has beautiful packaging with ingredients sorted by meal.
Pricing
With Blue Apron, pricing varies by how many meals you're buying and how many people you'll be feeding. A box of three meals for two people runs $59.94, or $9.99 per serving.
The four person family plan is $8.99 per serving for two meals per week and $7.99 per serving if you order three meals. The three-meal box for the family plan costs $95.88. If you order four meals for four people, you'll pay $7.49 per serving.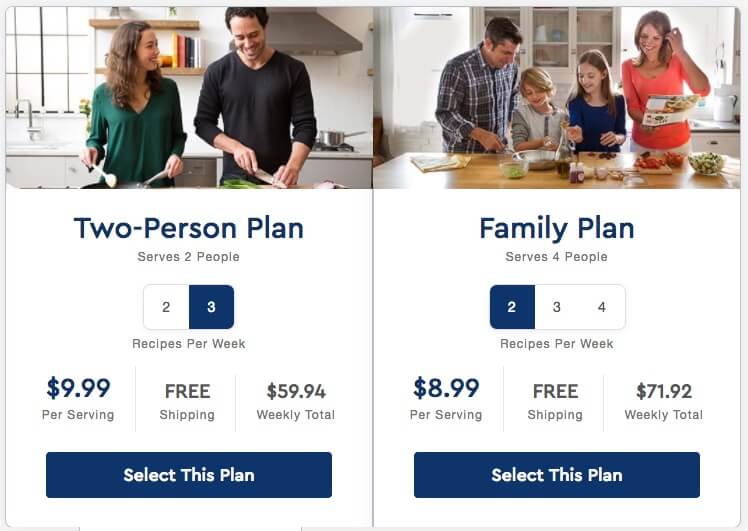 Hungryroot charges only by the box. The Starter Set costs $69 per week, and The Good Life costs $99 per week.
Customizable Options
Although Hungryroot will auto-build your box for you based on your personal preferences, you can tweak what you're ordering under the Deliveries section of your account.
You'll first have to remove items from your box that you don't want, and then add in items that you do want until your box reaches 100% full. This can customize the number of servings you purchase as well as the dishes you want to buy.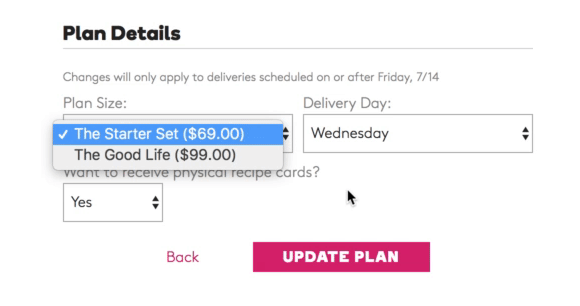 Although Blue Apron has less options to choose from every week, you can mix and match between vegetarian and meat-based meals. You can also choose the number of meals you'll be purchasing from week to week and how many people you'll be feeding.
Neither company offers an option to purchase a la cart or add-on items.
What Makes These Companies Unique?
These companies have more differences than they have similarities, ranging from the types of foods you can order to their pricing strategies and even the way the food is packed.

Here's what I like best and least about each company:
Blue Apron
Pros:
I really like the idea of the wine club for food pairings, and Blue Apron does the pairing thing right.
Blue Apron offers a freshness guarantee so you don't waste your investment if your ingredients aren't in good shape when they get to you
For a meal kit service, Blue Apron seems to be pretty well rounded with its option for both vegetarian and meat-based meals.
Cons:
Even at $7.49 per serving, it's still more expensive than I'd pay for similar items at the grocery store
Beyond the vegetarian offerings, there aren't any options for specialty diets or ways to track allergens.
Hungryroot
Pros:
There are some great reviews on the website from Forbes and other influential media
Since its overhaul in early 2018, the company is growing even while other meal kit services are struggling.
Cons:
The website was difficult to navigate, so it was hard to find to information on serving sizes, costs, and the menu. I finally found these under the frequently-asked questions section, but it took a little digging to get the information I was looking for.
For a company focused on health, it was difficult to find information on allergens in the ingredients. I finally found a downloadable PDF for allergens by going through the frequently-asked questions. Alternatively, you could simply look at the ingredients for each meal to decide if it would work with your allergies or not.
Hungryroot doesn't have a mobile app to make ordering and managing orders easily
What Are The Alternatives?
There are actually quite a few meal kit alternatives. Purple Carrot might match up better with Hungryroot than Blue Apron does, while Blue Apron compares more favorably with Plated and Sunbasket.
You can also try something completely different, like the southern flavors of Peach Dish's meal kits if you don't mind paying more money.

Conclusion
When it comes to Blue Apron vs. Hungryroot, the meal kit that appeals to you most really depends on what you're looking for. I prefer more mainstream foods, so I would go with Blue Apron hands-down. If you're vegan or on a vegetarian diet, Hungryroot might be more what you're looking for.