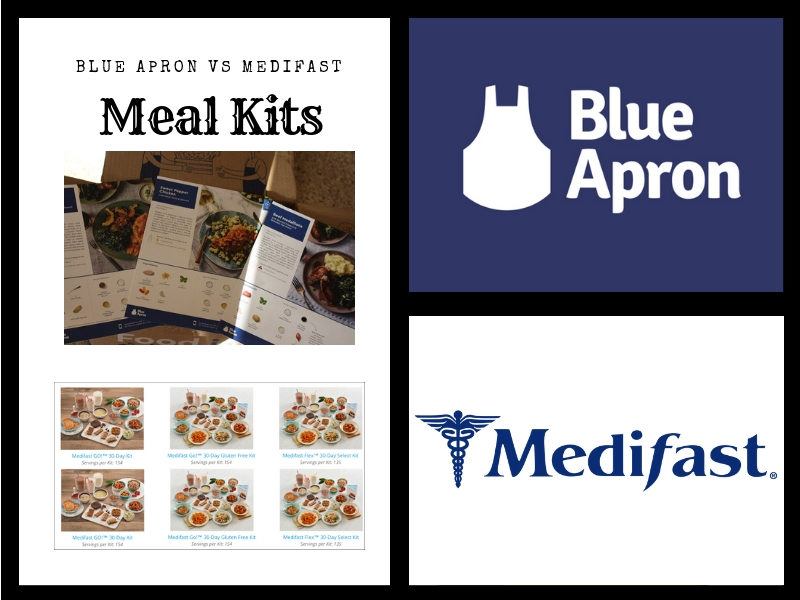 In this Blue Apron vs. Medifast comparison, learn how each meal kit service could impact your life, including which one would be the best fit for your household and why.
For the past few years, meal kit subscription services have been on an economic roller coaster ride. A few companies, including Chef'd and Burga Box disappeared, while companies such as Blue Apron continue to provide support for cooking and eating at home.
In the background, weight loss companies that deliver their own meals to your door have been in operation for decades.
What's the difference?
It comes down to the reasons why you want to purchase meal kits and have them delivered.
While both Blue Apron and Medifast provide meals delivered to your door, Medifast is intensely focused on helping people lose weight. Blue Apron is more about the joy of creating and eating a delicious, nutritious home-cooked meal.
If you're trying to decide between a weight loss meal plan and a meal kit subscription service that can get you excited about food and nutrition, this review might be just what you're looking for.
Types Of Meals Offered
Medifast has 65 meals that were developed by doctors to help with weight loss while maintaining lean muscle mass. The meals are portion controlled, low glycemic, low calorie and are fortified with 24 vitamins and minerals. They also contain low-fat protein and healthy fiber.
One interesting fact about Medifast products is that each meal has a similar nutrition profile to the others, which means they can be switched out with each other without worrying about significant changes in calories, carbs, fiber or protein.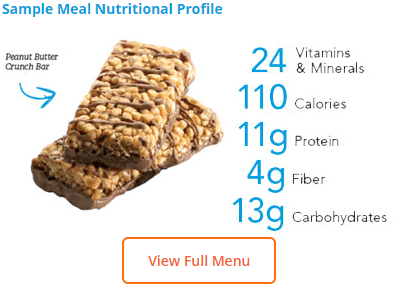 There are also special adaptations for Medifast's plans so that folks with diabetes, gluten allergies, or who are vegetarians or nursing mothers can keep up with specific dietary needs and stay on their eating plans. These guidelines for special dietary needs are developed by a scientific advisory board made up of doctors and scientists.
However, with the Medifast system, a shake, smoothie or granola-type 'crunch bar' counts as meals. You'll only find a handful of dinner-type options (Flavors of Home), which fall under the 'lean and green' meal category.
Most of the time, you're on your own for lean and green meals, meaning you still have to shop at the grocery store to get the ingredients you need. Medifast provides the guidelines for lean and green meals, but it's up to you to follow them.
With all Medifast plans, you eat six small meals per day. Medifast currently has three main plans: the Thrive Healthy Living Plan for people who want to maintain their weight, the Medifast Flex kit, and the Medifast Go kit.
All kits contain 30 days of individually pre-packaged food, such as Dutch Chocolate Shake, Peanut Butter Crunch Bar, Mixed Berry Cereal Crunch. You can also order a few dinner kits such as Wild Rice and Chicken Flavored Soup, Chicken Flavored Noodle Soup, or Sour Cream and Chive Mashed Potatoes.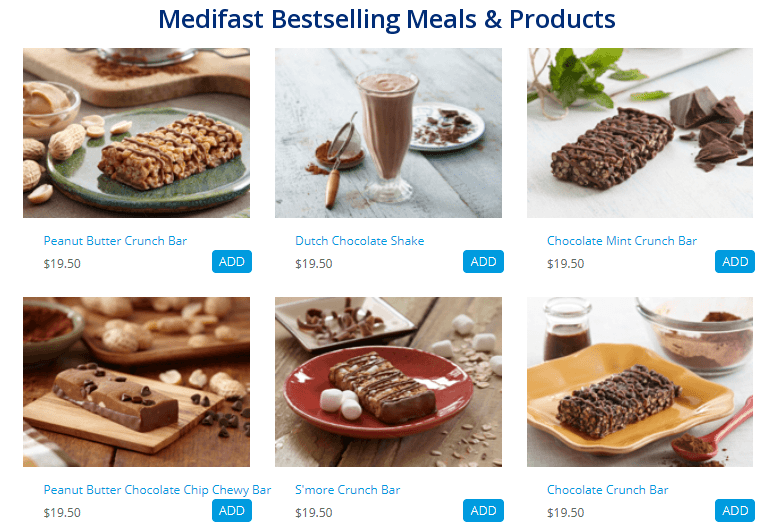 With the Medifast Flex kit, you get four meals and one snack per day and you are allowed two lean and green meals. The Medifast Go kit provides five Medifast meals, and you get to have one lean and green meal, as well.
The Thrive plan is the most flexible, with three Medifast meals, two lean and green meals, and one balanced meal of your choice.
You can order Medifast products without being on a subscription plan, but you can also sign up for automatic monthly shipments if you sign up to become a Medifast Advantage customer.
Blue Apron's service is a stark contrast to what Medifast has to offer. For example, Blue Apron provides the ingredients for full meals. This means you get what you need to make both a main dish and sides for more than one person.
These are all dinner-type meals including choices such as Steaks and Brown Butter Sauce with Mashed Potatoes and Fried Rosemary. Although you sign up for either a vegetarian or meat-based preference, you can pick and choose your meals from a list of eight recipes that vary week to week. Three of those will be vegetarian choices.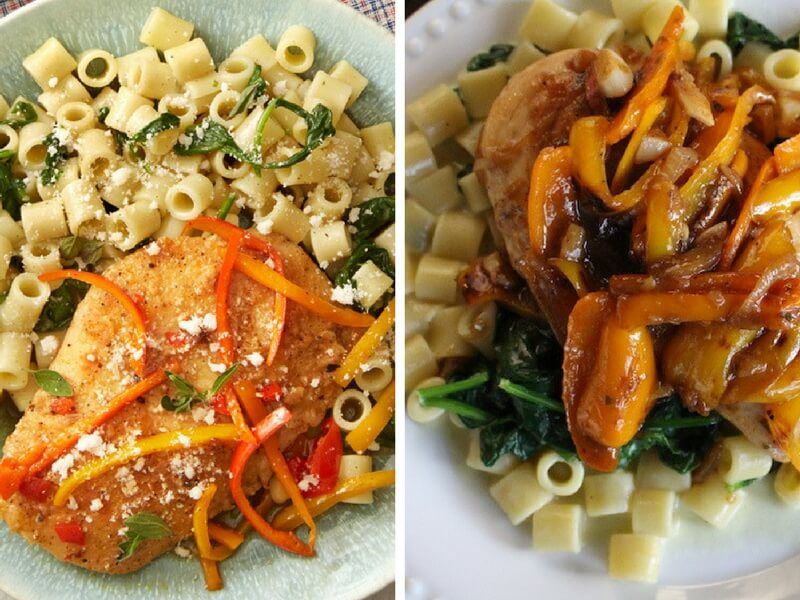 You can choose the amount of recipes you get per week as well as whether you want to buy food for two people or for four people. Rather than coming in individual packages, you get the ingredients to cook your own food. Prep time generally ranges from 20 to 50 minutes.
Blue Apron also has its own wine club, which adds another level of fun.
Signing Up And Cancelling
Both companies make this fairly simple.
With Blue Apron, you sign up by deciding whether you want to feed two people or four people. Then you set your food preferences (vegetarian or meat-based) and how many meals you want to order per week. The last step is adding your e-mail and credit card information.
Cancelling with Blue Apron can be done by telephone or by sending a quick e-mail to the company.
You can order Medifast products individually, but you can also get automatic monthly shipments when you sign up for Medifast Advantage. To sign up, place an order and select 'Automatic Meal Delivery' when you're checking out. If your order totals $149 or more, you can get rewards and shipping discounts.
To cancel automatic shipments, you have to log into your account and then call customer service. Once your automatic shipments are cancelled, you can still order products whenever you want to.
Packaging And Delivery
Medifast Advantage customers get free shipping if the order totals more than $250. Shipments come once a month.
Depending on the plan you purchase, you will get 138 to 154 individually packaged servings, often in seven-count boxes of identical products. For example, the Medifast Go kit contains two boxes of Dutch Chocolate Shakes and one box of Cookie Dough Chewy Bars, among other things.
Blue Apron's ingredients are all fresh, so they're packaged and shipped weekly. All the ingredients come in one cardboard box with an ice pack to keep things cold. Once you receive your food, you separate ingredients by the meals you'll be cooking, and you're ready to go.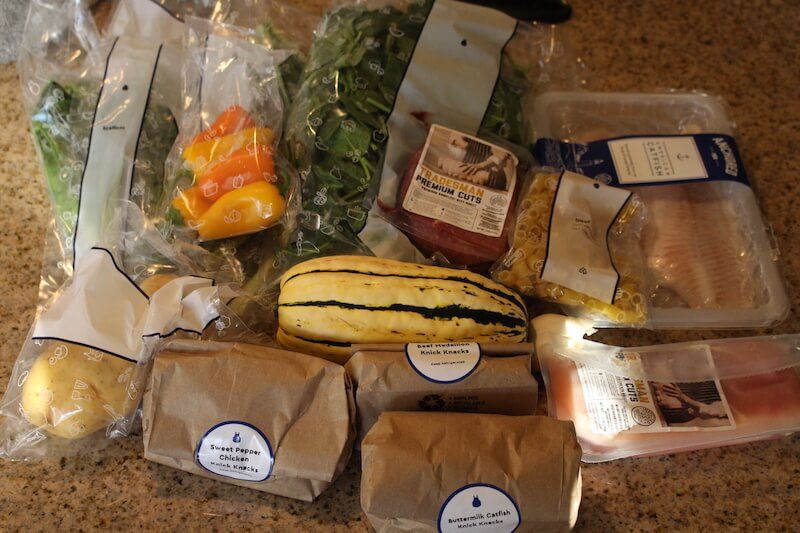 The cost of shipping is figured into the price of the plans for most Blue Apron shipments. The exception is if you order only two meals per week for only two people. Then you'll play a $7.99 delivery fee.
Pricing
The price you pay is another huge difference between Blue Apron and Medifast. Blue Apron meals cost between $7.49 and $9.99 per serving, and Medifast meals run around $2.79 per serving. The Medifast Flavors of Home options are around $4.95 per meal and can take the place of one lean and green meal.
At first glance, Medifast might seem to be more cost effective. However, with a Medifast kit you're purchasing enough food to eat four to six times per day. At the lowest cost per serving, that's still around $11-13 per day, and the meals only feed one person.
Medifast does provide a one-month discount for new Medifast Advantage customers. A new customer would pay $329 for a Medifast Go kit and $399 for a Thrive kit. The next month, those prices would rise by $126 and $158 respectively.
Blue Apron pricing depends on how many people you're cooking for and how many meals you're purchasing. For example, it costs $9.99 per serving for two people, and a box of three meals runs $59.94.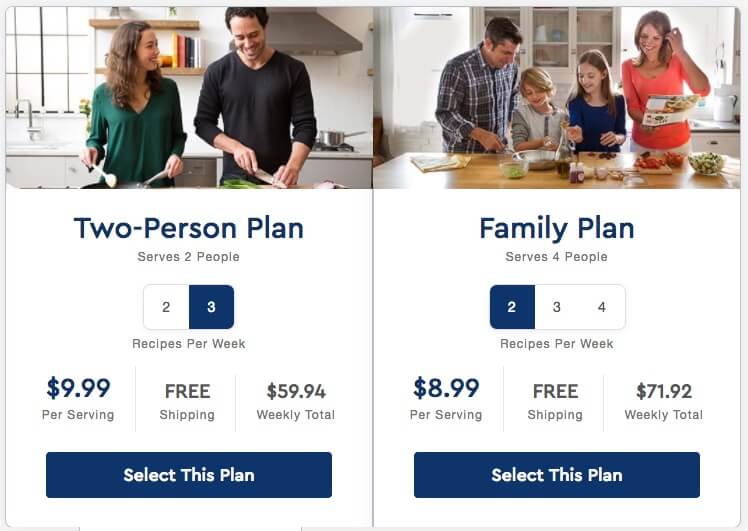 If you're feeding four people, the cost per serving is $7.49 for four meals, $7.99 per serving for three meals, and $8.99 per serving for two meals. A three-meal box for four people is $95.88.
Customizable Options
Both companies allow you to mix and match the meals you order with what's available. For Medifast meals, that includes 65 products.
Blue Apron's options are limited to eight per week, but the menu changes each week, so there could be greater variety overall.
With Blue Apron, you can also change the amount of meals you get per week or the number of people you want to order food for.
What Makes Each Company Unique
These companies stand out from each other mostly because they're offerings are created for such different purposes. Blue Apron is aimed at providing tasty twists on comfort food, and Medifast is solely focused on weight loss and nutrition.
Here are some things I liked and didn't like about each company.
Blue Apron
Pros:
I like Blue Apron's simplicity and stability as a company.
The meals are delicious without being too difficult or time consuming to prepare.
For a meal kit subscription service, the price is reasonable.
Meals are all well-balanced dinners, which is when I'm most likely to want to unwind as I cook and eat. It makes home-cooked meals as much a hobby as a way to get a nutritious meal.
The wine club is a nice addition.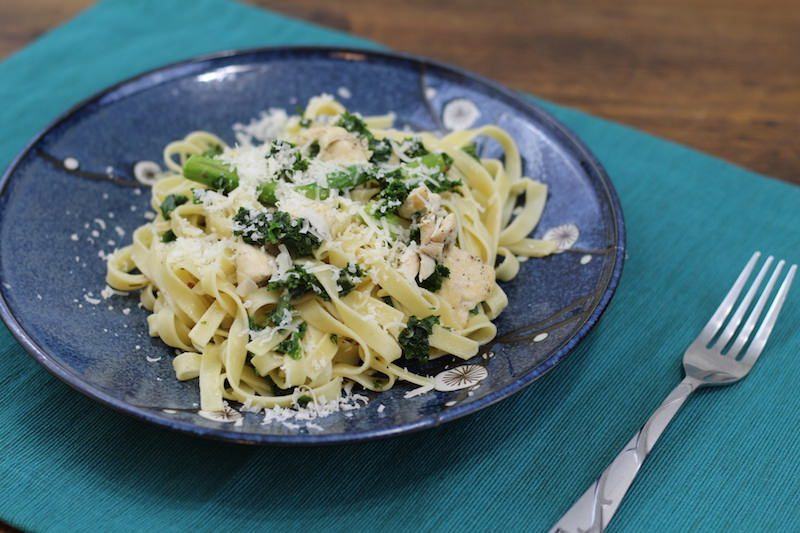 Cons:
It's still a little more expensive than just buying food at a supermarket.
You have to separate the ingredients by the meals you'll be cooking that week.
Medifast
Pros:
The Medifast program has a lot of science and testimonials backing its ability to help people lose weight.
The individual packages can make it easier for people who are trying to lose weight to eat right away without getting tempted by cooking in the kitchen.
You can place orders without being on auto-shipment.
When you are on automatic shipments, you only have to watch for one box per month.
Cons:
For feeding just one person, the cost per day and also the cost per kit seem expensive.
You miss out on the joy of cooking and enjoying the food you create.
I'm not a fan of eating a bar or a shake for dinner. I prefer a full plate of delicious food.
Alternatives
Although this comparison may be one of the most extreme, Blue Apron and Medifast are not the only options you have when it comes to having meal kits delivered to your door. There's a wide range of products.
For example, Purple Carrot and Hungryroot both focus on offering vegan meals. Peachdish brings the flavors of the deep south. Gobble is a family-friendly option that allows you to create home-cooked meals in a short amount of time.
For weight loss? No services are as regimented as Medifast, but there are some other decent weight loss meal deliveries worth looking into.
Conclusion
Between Blue Apron and Medifast, I go with Blue Apron hands down. While I believe Medifast provides a good service, it's expensive. I also really prefer a well-rounded meal that I can enjoy cooking as well as eating.