A lot of meal kit services on the market focus on health and convenience. Companies like Purple Carrot, Daily Harvest, and Hungryroot are plant based. Some, like Gobble, are all about convenience for families.
Both Blue Apron and One Potato fall more into the traditional, family-friendly comfort foods category. In this Blue Apron vs. One Potato article, you'll get all the information you need to compare which meal kit service would work best for you and your family.
Types Of Meal Kits Offered
Both Blue Apron and One Potato have menus that change weekly. Blue Apron has eight menu choices per week, and three of them are vegetarian. One Potato also has eight weekly menu options. Three of those are for picky eaters and include items like Classic Mac and Cheese or Pan Roasted Chicken.
With Blue Apron, you can choose between serving two people and serving four people. You can choose to get recipes for up to four nights a week. You can also mix and match the all the recipes offered for the week whether you've chosen the meat-based plan or the vegetarian option.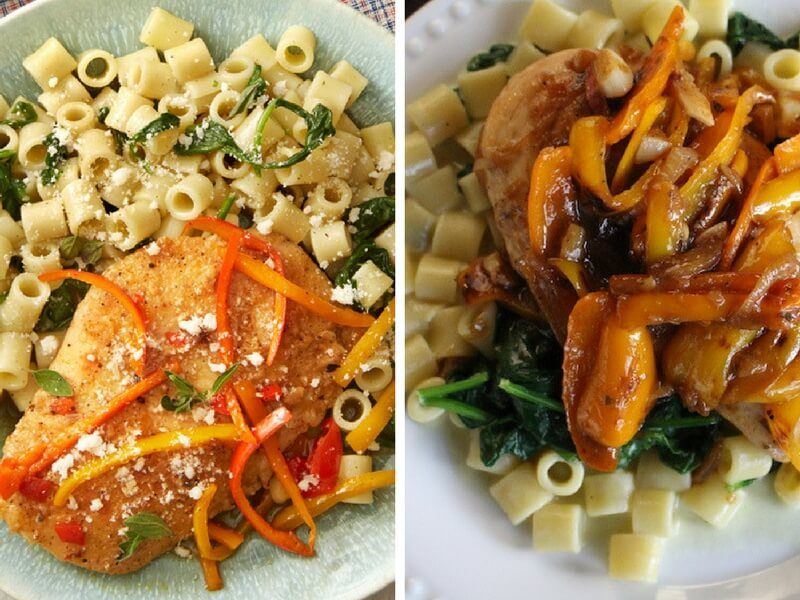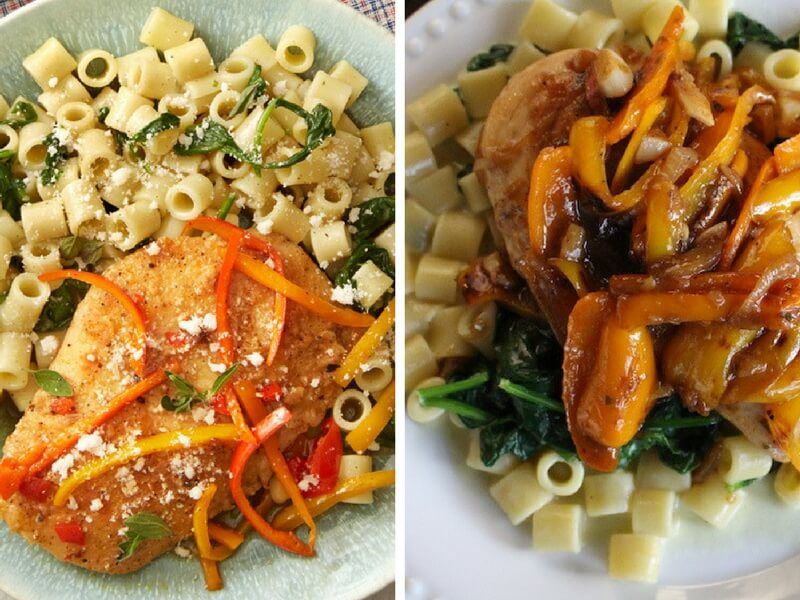 One Potato's plans start with two servings for two adults (the two potato plan) and goes up to six servings (the six potato plan). You can choose either two nights or three nights a week for your recipes.
Information on the website gives you an idea of how much food you'll get out of one plan. For example, with the four potato plan, you get enough food to take care of two adults and two children.
Like Blue Apron, One Potato also has a base plan that's either vegetarian or omnivore. Although you're initially assigned meals based on those plans, you can edit your deliveries to get the meals you want.
One Potato's ingredients come pre-prepared and portioned according to the number of people you intend to feed. The recipes are tested by Weelicious, One Potato's sister company. All of the ingredients are organic and non-GMO and seasonal produce is used whenever it's possible.

With One Potato, if you indicate that you need gluten-free meals, you'll get gluten-free ingredients with your recipes. You can also request no nuts in you recipes, although the company doesn't guarantee that there won't be cross-contamination from nuts stored in the kitchen.
Both Blue Apron and One Potato have unique offerings that make them seem warm and friendly. Blue Apron has a wine club. One Potato sends a free package of cookie dough with every box so that families can bake and share a treat together.
Signing Up And Cancelling
With Blue Apron, you start by entering the number of people you'll be feeding (two or four), the number of meals you want to receive for that week and whether you want the vegetarian or meat-based plan. Then you enter your email address and your billing information, and you're all set.
Signing up with One Potato is very similar. You start by telling the company how many people you'll be feeding, whether you plan on cooking two nights or three nights a week, and whether there are any dietary restrictions.
To cancel your service with One Potato, you have to email them at cancel@onepotato.com and then follow the instructions the company sends you. To cancel with Blue Apron, you can either email them or you can call them.
Delivery And Packaging
Both companies try to be responsible about recycling and avoiding waste. The boxes, the plastics, most of the linings and parts of the ice packs are recyclable.
Blue Apron delivers to most places in the continental United States. One Potato has a much smaller geographic range. Although the company plans to expand to other areas, right now deliveries are only made in Arizona, California, Colorado, Idaho, Nevada, Oregon, Washington and Utah.
Blue Apron has a $7.99 delivery fee for orders for two people and just two meals. For all other meal kit scenarios, the cost of shipping has been figured into the price of the meal kits.

One Potato's shipping charges are $7.99 for relatively small orders. Larger orders are either free or, if you live in Utah, Idaho, Colorado, Oregon or Washington, you pay a $4.99 delivery fee.
Both companies allow you to skip deliveries as long as you give them enough notice in advance.
Pricing
Blue Apron's prices per serving range from $7.49 per serving for a four-person, four-meal order to $9.99 for a two-person, two-recipe order. Four-person meals with three recipes cost $7.99 per servings, and with two recipes, they cost $8.99 per serving.
It costs $59.94 for a box of three meals to feed two people. A box with enough recipes for four meals for four people runs $95.88.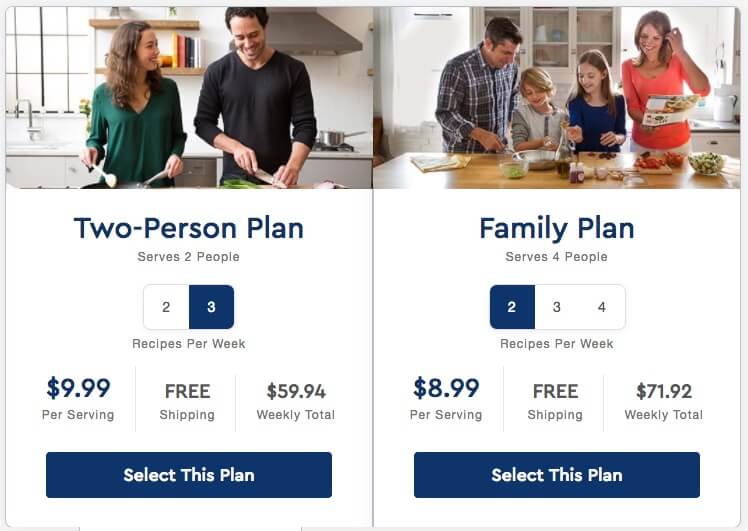 One Potato's pricing ranges from $7.32 per serving for six people to $12.99 for two people. The highest box price is $131.70 for a box containing enough food for three meals for six people. The lowest-price box is for two people and two meals. This option costs $59.79 plus the $7.99 shipping fee.
Customizable Options
Both companies are fairly similar when it comes to customizable options. No matter whether you choose their meat-based or vegetarian-based plans, you can pick and choose which meals you want from the weekly menu.
Blue Apron stands out because there is an option to allow orders of up to four nights per week when you're feeding for people. On the other hand, Blue Apron is limited to serving either two or four people, while One Potato has options for two, three, four, five or six servings in one order.
One Potato also gives you the ability to choose nut-free or gluten-free ingredients for your recipes. Beyond its vegetarian offerings, Blue Apron doesn't have any health-related filters or other options.
What Makes These Companies Stand Out
Both Blue Apron and One Potato are family-friendly companies, but they do have slightly different twists in a few areas. Here are some of my thoughts about what I liked best about each company and what I liked the least.
Blue Apron
Pros:
For a meal kit service, the prices are relatively inexpensive.
This service is dependable and well established.
The food is good. It's comfort food.
Blue Apron has a wine club.
Cons:
Blue Apron meals still cost more than if you were to pick up similar items at a grocery store (but less than going out to eat regularly for the kind of food you get).
Because the foods are so traditional, sometimes they get little on the boring side.
One Potato
Pros:
Prices are decent here, too—at least when you're ordering for four people or more. $12.95 per serving seems a little pricey for two people.
The food is delicious and seems to be palatable to a wide range of people, including children.
The free cookie dough inside each delivery is always a plus.
It's nice to be able to choose servings for up to six people in a week.
Cons:
It would be nice if this company could deliver to more areas in the nation.
When compared to Blue Apron, the shipping costs seem a little high.
What Are The Alternatives?
Blue Apron and One Potato might be the closest comparison between meal kit reviews that I've done so far. Blue Apron's steady, traditional approach contrasts with Purple Carrot, Daily Harvest and Hungryroot. It has the same comfort-food appeal as PeachDish, but it's less expensive.
Gobble, Sun Basket and Hello Fresh are some other meal kits services that compare pretty well.
Conclusion
This comparison was a close one. For me, I'd go with Blue Apron because of the wine club and the size of the plans. Feeding two people is just about right for me because it's just me and my girlfriend most of the time.
For a family, especially one that's growing, having the option of feeding up to six people is a definite plus. Also, with children around, you can't say no to cookie dough.