By now, many people have heard of Blue Apron. It's got a reputation as one of the first and best meal-kit services in the country. Peach Dish, another meal-kit service, is less known but it can hold its own in several ways.
Which of these two meal kit companies has the best taste? The most variety? The best value for your dollars? In this Blue Apron vs. Peach Dish article, I'll show you where these services shine and where they compare best and worst against each other.
Types Of Meals Offered
Peach Dish is focused on the flavor of the South. You'll find year-round dishes like Pableaux Johnson's Red Beans and Rice, Shrimp and Grits, and Zeb Stevenson's Chicken and Dumplings. You can search for meals with meat, vegetarian, vegan, no gluten, sweet, and quick fixes.
The menu for the week also includes three 'something special' choices (including items like Kentucky Bourbon Pecan Pie) and the year-round favorites.
Occasionally you'll see a red ribbon icon on a recipe, which means that choice contains a special ingredient. Ribbon Series recipes are generally more expensive than other options.

Both companies have weekly menus that feature eight different meals. For both of them, at least three of the meals are vegetarian.
Blue Apron's selection is more all-American, with simple, tasty dishes that stretch your imagination a little bit further than what you might choose to make yourself. You'll find dishes like Seared Chicken and Honey Mustard or Shrimp in Smoky Harissa Sauce on the menu. Blue Apron also has a wine club.
Blue Apron has less variety in its meals than Peach Dish when it comes to labeling for allergies or special diets. You have the meat-base choices or the vegetarian ones.
Recipes for both companies have labels to let you know how long it takes to prepare that particular meal. Blue Apron recipes generally take 20-50 minutes to cook. Peach Dish recipes range from 35 to 175 minutes for preparing and cooking the food.

With Blue Apron, you can choose meal plans for two people or for four people. You order two to four meals per week. Rather than being stuck to one type of meals (meat-based or vegetarian), you get to pick your meals from everything that's offered.
Peach Dish's typical shipments are for four people, although you can order as many servings and as many meals as you'd like. The only stipulation is that you spend at least $45 per box.
Signing Up And Cancelling
With Blue Apron, signing up is a simple process. You decide whether you'll be feeding two people or four people, choose a default plan (meat-based or vegetarian), and settle on the number of meals you want to order per week. Then you enter your email and credit card information, and you're all signed up.
Peach Dish gives you an interesting option when it comes to ordering. You can subscribe to a plan, or you can place an order as a guest (with an additional fee).
If you want to subscribe, you start by preparing to place an order. At the checkout, you enter your email and payment information. Then you choose between finishing the order as a guest or subscribing for weekly deliveries.
Peach Dish allows you to cancel your subscription on the website. With Blue Apron, you can cancel the service by calling or sending an email.
Packaging And Delivery
Both companies ship their meal kits across the 48 contiguous United States, and both send orders weekly. Both companies encourage recycling (or at least repurposing) their packaging.
Blue Apron's food arrives in bags that need to be separated by meals before you get started cooking. That takes a little bit of time, but it saves on packaging.
Peach Dish has some interesting packaging. The company packs some of the food in bags made from organza fabric rather than using plastic bags.

For Blue Apron, the price of shipping is figured into the weekly cost, except when you only order for two people and don't order at least three meals. Then you'd pay a $7.99 delivery fee.
Shipping costs vary with Peach Dish. In some states, shipping is free. In 19 other states, shipping is $15 per box.
Shipping costs also change depending on whether you'reordering as a subscriber or as a guest. Guests pay an additional $12 per order.If you live in a state where shipping fees are charged and you order as aguest, you could pay $27 for the delivery of one box of food.
Pricing
Blue Apron's pricing is pretty straightforward. You're charged according to the plan you subscribe to. For a two-person plan, you'll pay $59.94 for a box of three meals. That works out to be $9.99 per meal.
On the four-person plan, you'll play between $7.49 and $8.99 per meal. The more meals you order, the cheaper it gets. For a three-meal box, you can expect to pay $95.88.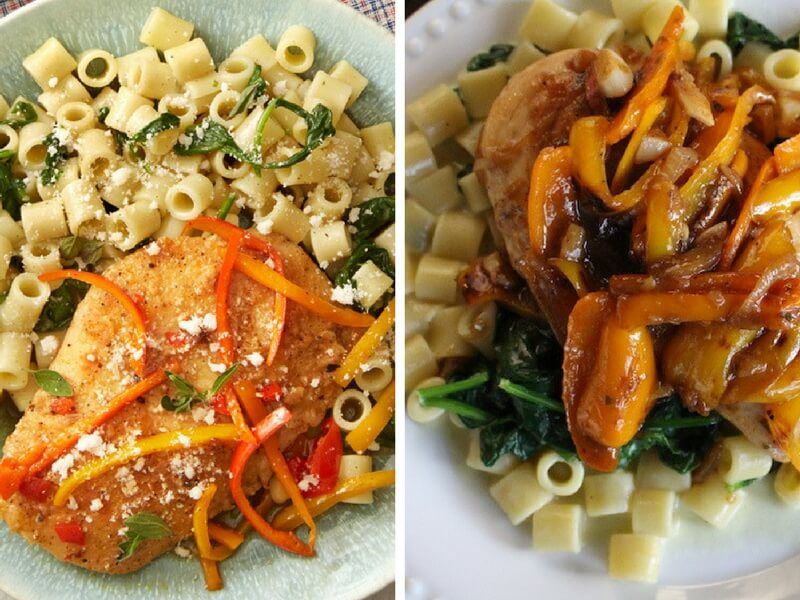 Peach Dish is quite a bit more expensive. Besides the shipping fees, meals generally run around $13 each for two people or around $12.50 each per meal for four people. Not all meals run at that price, though. Ribbon Series meals are generally more expensive.
With Peach Dish, you can see how much each meal costs on the menu when you're choosing what you want to order for the week. Prices for two people for one meal generally run around $26, but sometimes will go higher. At Peach Dish, I've seen prices for one two-person meal at $47.
When you add the shipping cost to what you pay for the ingredients, Peach Dish seems far too expensive.
Customizable Options
Peach Dish shines when it comes to customization. Besides offering several ways to order that meet specialty meal plans, you can order as many meals or servings as you like—as long as you spend more than $45 per box. You could do that with two meals for two people, or add more.
Blue Apron doesn't offer as much variety, but you can mix and match between all of the weekly options, change the number of meals you want per week, and switch up the number of servings (two or four) you want to buy.
What Makes Each Meal Kit Service Unique?
Peach Dish's focus on Southern flavors makes it different not just from Blue Apron, but from other services I've tried, such as Sun Basket, Plated, Green Chef and Hello Fresh.
The ways Peach Dish can be customized are better than Blue Apron's, but it's so expensive that Blue Apron stands out as a better choice simply because of the value.
Here's what I liked and didn't like about both options:
Blue Apron
Pros:
I really like the simplicity and the deliciousness of this meal kit service. Although I'm trying other companies, I keep coming back to this one.

It's nice that the shipping cost is already figured into the price of the food I'm buying

The Freshness Guarantee means I won't waste money if an ingredient arrives in a condition that I can't use it.

I really like that this company has a wine club.
Blue Apron's food is delicious, even if it's a bit simpler than some other options.

Cons:
There aren't a lot of options for health-conscious food choices beyond vegetarian meals.

Although it's one of the least expensive meal kit plans on the market, it still costs more than I'd pay at a supermarket for similar ingredients.

Peach Dish:
Pros:
Peach Dish has great options for customizing your meal plans in a variety of ways.

The idea of trying Southern food appealed to me.

Cons:
Between the exorbitant meal costs and theshipping costs, this company's meals are way too expensive.

Although the idea of trying a new food themesounded fun, the food wasn't as delicious as I anticipated it would be—especiallyfor the price I paid.

Some of Peach Dish's meals take a long time tocook. If you're paying for the convenience of a meal kit, that seems to goagainst logic.


Alternatives To Blue Apron And Peach Dish
There are a lot of other great meal kit services to try. Purple Carrot, for example, focuses on vegetarian meals. Gobble is very family friendly with delicious food, although I still liked Blue Apron's offerings better. I liked Blue Apron over Hello Fresh, as well.
Conclusion
Although there are some great meal kit plans out there, BlueApron is still one of my top choices. That's especially true when I compare it to Peach Dish. While I appreciated Peach Dish's focus and variety, it didn't live up to my expectations for taste.
The main difference was the price. Peach Dish is just too expensive to justify buying their products, and Blue Apron is a steady, delicious choice that I know I can rely on.
(click to see what discounts are currently available!)