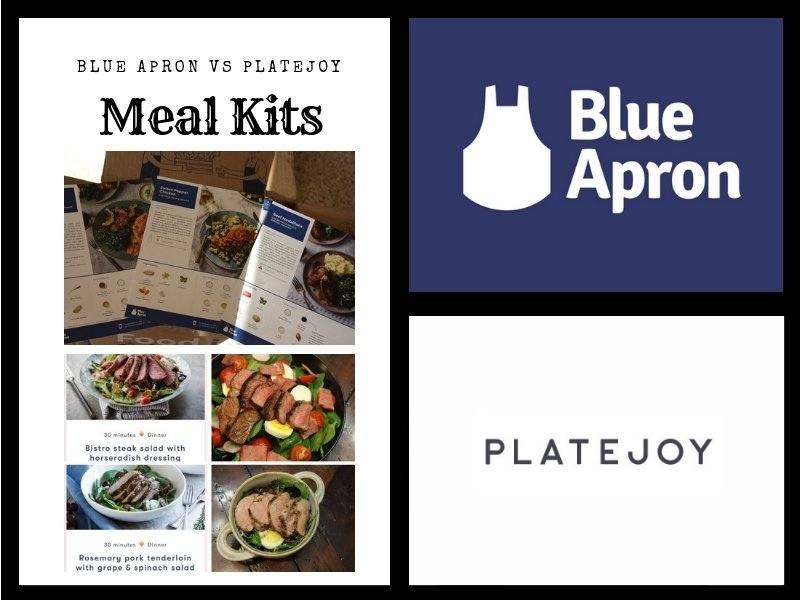 The past few years have seen a quite a few changes in the meal kit services industry. Some companies, including PlateJoy, have found innovative ways to thrive against tough competition. By focusing on avoiding the development of diabetes, PlateJoy found a way to get insurance companies to pay for the service.
PlateJoy is unique in many ways. In this Blue Apron vs. PlateJoy article, I'll share with you what makes each company unique. Which one suits you most? You decide.
Types Of Meals Offered
Blue Apron, one of my favorite meal-kit fall backs, is a subscription-based service. You set up a plan based on whether you want to feed two people or four people and whether you want meals for two nights, three nights or four nights a week.
You also get to choose whether you want a vegetarian-based plan or a meat-based plan. The Blue Apron menu changes weekly. There are eight offerings per week. Three of those offerings are always vegetarian, and no matter which plan you choose, you can pick the meals you want from that week's menu.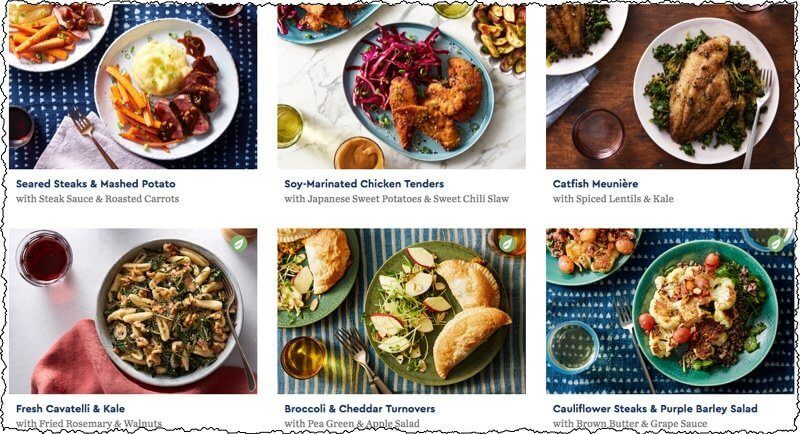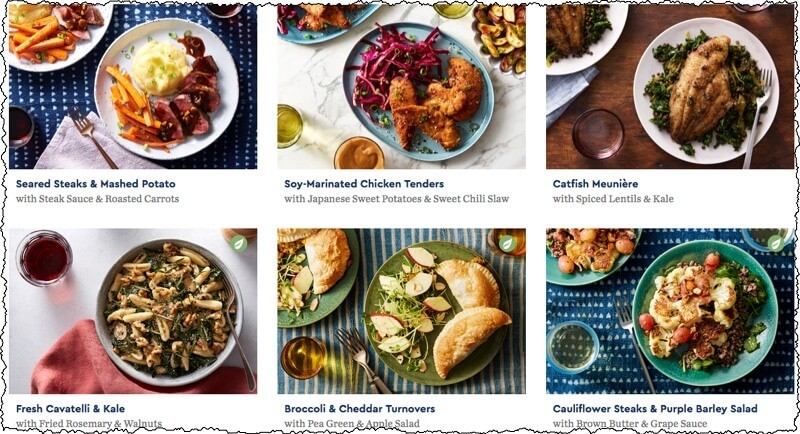 One nice thing about Blue Apron is that all its meals are dinners. This makes it simple to know what I'm getting. I don't have to worry about the extra cost of add-ons or making sure I have enough breakfasts scheduled to come in my box like with some other companies.
Blue Apron also has a wine club, which is another plus for me.
PlateJoy is a completely different. Instead of offering meal kits on a subscription, PlateJoy starts by offering you meal plans. These are tailored to your individual tastes and preferences with a detailed profile quiz. You also choose how many people you want to feed and which recipes you want to buy.
This profile quiz asks everything from whether you're trying to lose weight to what foods you're allergic to. These questions are asked for everyone in your family.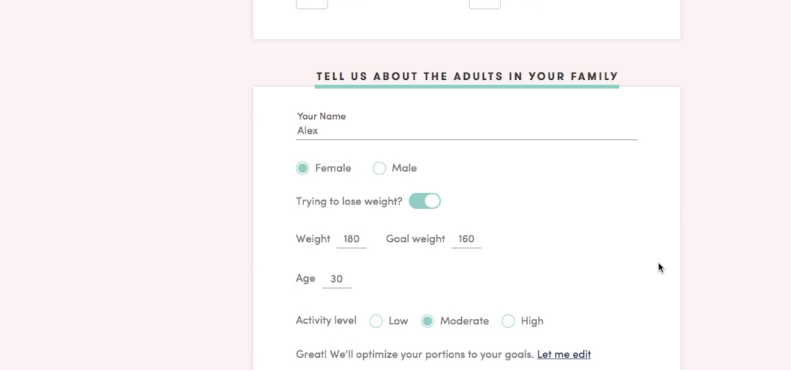 Then, rather than sending you a box of food, PlateJoy tailors the recipes to your serving size needs and sends you a list of meals tailored to you. You can change the recipes you want to get each week. PlateJoy will then send you a grocery list based on your recipes.
You can either decide to do the shopping yourself, or you can send your grocery list straight to a local grocery store through Instacart. Instacart is a shopping service which partners with PlateJoy to make sure you get your food locally and within just a few hours of placing your order.

PlateJoy also keeps a virtual pantry for you, so the shopping lists are based on what you already have at home as well as what you'll have to buy. In this way, PlateJoy aims to help reduce food waste. Using a local grocery store also helps cut back on packaging that would have to be recycled later.
Signing Up And Cancelling
With PlateJoy, you get started by signing up for their free trial. You'll make an account. From there, you can plan your weekly meals, choose the amount of people you want to feed, and get your tailored recipes and shopping list. Then you either order your groceries or plan a quick shopping trip.
Cancelling with PlateJoy isn't hard. There's a link on the website to use if you want to cancel, or you can send an email to hello@platejoy.com.
Signing up with Blue Apron is also fairly simple. You enter your email. Then you pick the number of people you want to feed and how many meals you want to order. When you check out, you enter your payment information.
It's simple and fast.
Blue Apron is great when it comes to cancelling, too. You can either send the company an email or give them a call. Of all the food kit services I've reviewed, this is the only one that I've noticed offers the ability to cancel by telephone.
Packaging And Delivery
Blue Apron has a pretty standard packaging and delivery system. The cardboard box that the food arrives in is recyclable. So are the plastic bags the food comes in, and even the outside of the ice packs can be recycled.
The company ships its boxes across the continental United States. The shipping charge is figured into the cost of the weekly boxes, except for when you order just two meals for two people. Then you have to pay a shipping fee of $7.99.

The way you get your food for PlateJoy's meals is completely different. Instead of sending a box of food through Fed Ex or the United States Post Office, PlateJoy relies on local grocery stores to get the food to you. It does this through a partnership with a company called InstaCart.

With InstaCart, you set up the local store you want to shop from. Instacart allows you to tailor your shopping list and then sends your list directly to the store. You pay a fee of $7.99 if you want the food to be delivered within one hour and a fee of $5.99 if you want the delivery to take two more hours. Tips are automatically figured in to the delivery prices.
Pricing
Here's where it gets tricky with PlateJoy. The amount that you'll pay for food depends on what was on your shopping list, how much you ordered, and what the prices are in your chosen store. It's basically like going to the store yourself, but without the hassle.
Besides the cost of food from the store, you'll also have the $5.99 or $7.99 delivery fee from Instacart and the monthly fee for PlateJoy's meal planning services.
PlateJoy has two main plans, each with two possible subscription lengths. For the weight-loss plan, you'll pay $89 for a three month subscription and $119 for a six month subscription, which runs around $20-30 per month.
The general meal-planning subscription can be purchased for $69 for six months or $99 for one year. The price per month goes down to $8.25-11.50. However, if you order a six-month subscription, you also pay for it all at once.
Blue Apron's pricing is simpler because there's just one company you're dealing with. You buy boxes of food at a set price. For example, a box containing food for two people for three meals costs $59.94, or $9.99 per serving. A box for four people for three days costs $95.88, or $7.99 per serving.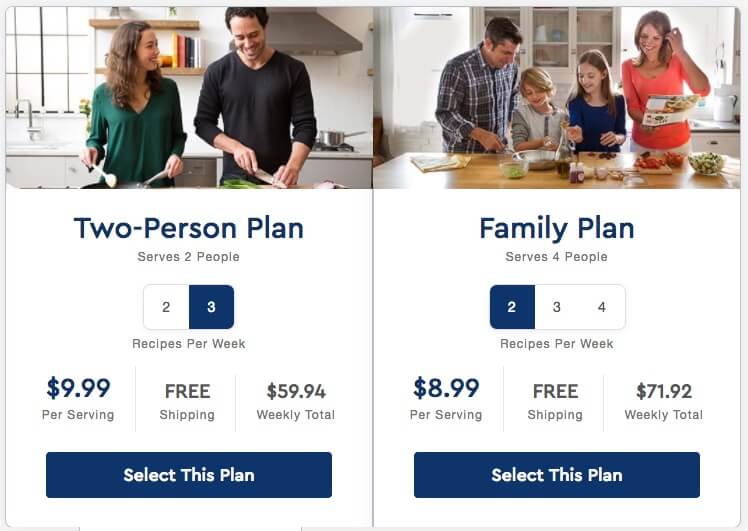 With Blue Apron, the cost per serving varies with the amount of food you're buying. For two-person boxes, serving sizes are $9.99 with three meals. If you want to order food for four people, the prices are $8.99 per serving for two meals, $7.99 per serving for three meals, and $7.49 per serving for four meals.
Customizable Options
For a simple service, Blue Apron is fairly flexible. You're not locked into any particular meal type, which means you can pick and choose which foods you want from the weekly menu. You can also edit the amount of people you're shopping for and the type of basic plan you want.
PlateJoy is possibly the most customizable meal plan I've seen yet. You can pick any number of recipes for any number of people, and the recipes will be tailored to your serving sizes.

You can also filter out allergens such as nuts, milk and soy, pick which meals you want to shop for (breakfast, lunch, dinners, etc.) or choose all vegetarian meals. With PlateJoy, you can set up your menus almost anything you can think of. The downside is that you don't actually get the food without some extra legwork and costs from two other companies.
What Makes These Companies Unique
These two companies are so different from each other that comparisons of any kind really bring up lifestyle issues. Blue Apron is more about providing delicious food within a reasonable amount of time. PlateJoy focuses on preventing diabetes by providing you with meal plans that you can tweak to fit your family.
Here's what I liked best and least about both companies:
Blue Apron
Pros:
The food is delicious, easy and doesn't take a ton of time to prepare. The fare isn't boring or completely outlandish like you'll find with some other companies, either.
Blue Apron has a wine club to compliment the menus.
This is a simple, stable service that I've enjoyed time and again. I like that it's easy to order food and not have to worry about the shopping or the meal planning beyond that.
Blue Apron comes with a freshness guarantee. You don't have to worry losing money because the food arrived in an unusable condition.
Cons:
Compared to PlateJoy, there aren't a lot of customizable options. The only meals you can order are dinners, and you're limited to choosing between eight offerings each week.
Also compared to PlateJoy, you have to wait longer for your food to arrive. Deliveries from Blue Apron come just once a week.
PlateJoy
Pros:
This company offers a free trial.
There are a lot of technical links with this company, including the ability to sync your nutrition with your Fitbit or manage you digital pantry.
Food delivery happens within a few hours of ordering.
Using a local grocery store to delivery your food cuts back on packaging and the costs of shipping across states.
There's more control over what you make at home, including portion size and customized flavors.
Cons:
PlateJoy is almost too technical. With PlateJoy, you can get really involved in your menu planning, your tastes and preferences profile, managing your digital kitchen and other items. You might get lost in the planning stages and forget to enjoy the food itself.
You have to pay three different companies (PlateJoy, Instacart and a local grocery store) in order to get your food delivered.
What Are The Alternatives?
As different as Blue Apron and PlateJoy are, they aren't the only meal service options to choose from. There are some interesting in-between options, too.
For example, Gobble is a family-friendly meal service kit that comes almost completely prepared. Gobble meals only take 15 minutes to prepare.
My favorite meal kit is Sun Basket, but Plated is a close second. For meal planning services? PlateJoy is clearly the best out there.
Conclusion:
In the end, it all comes down to what you prefer. There's no clear winner here. For me, since I do keto, PlateJoy is my top pick here. > Sign Up To PlateJoy Here!
For those that don't want to get into meal planning, weight loss, and other food-tracking tasks, Blue Apron is simpler to just sign up and wait for your kit with cooking instructions each week. > Sign Up To Blue Apron Here!