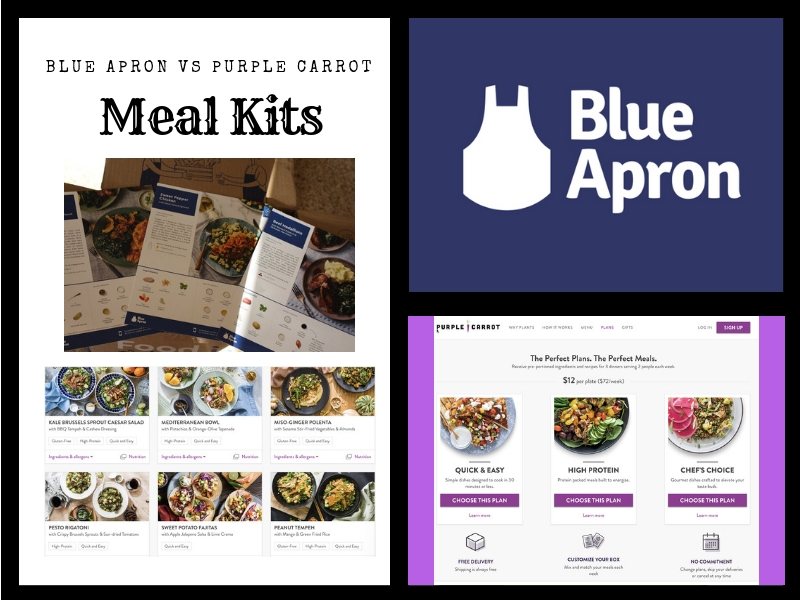 There's something to be said for the comfort of a home-cooked meal. It's as much about the creation process as it is about the quality of the ingredients, the scents that fill your home as you cook, and the tasty results that you share with people you love.
However, our society is an on-the-go culture. Grocery shopping often has to be squeezed in between long commutes in traffic and coaching afternoon soccer games. If you do get to the store, what do you buy?
Do you have a menu? How much food should you get? If you purchase too much, it'll go bad before you cook it, and if you don't get enough, you'll have more fast-food nights that relaxing nights at home.
In this Blue Apron vs. Purple Carrot comparison post, I'll give you a sneak peek into how meal kits can help with this. You'll also get a feel for two top meal kit companies and whether they might work for you.
Which one did I prefer? I haven't tried Purple Carrot yet, personally. I'm not a vegetarian or vegan. However, I have nothing but great things to say about Blue Apron! I've started and stopped my membership many times over the past couple years.
Meal Kits to the Rescue!
Enter the meal kit industry. Since its inception in 2012, businesses that provide customers with menu options, easy-to-follow recipes, and pre-portioned ingredients have skyrocketed. The industry recently reached $2 billion in sales, and it's projected to reach $10 billion in American dollars by the end of 2020.
If having the ingredients for home-cooked meals delivered to your door sounds like the answer you've been looking for, there's just one more question: which company should you choose? There are a lot of really great options out there.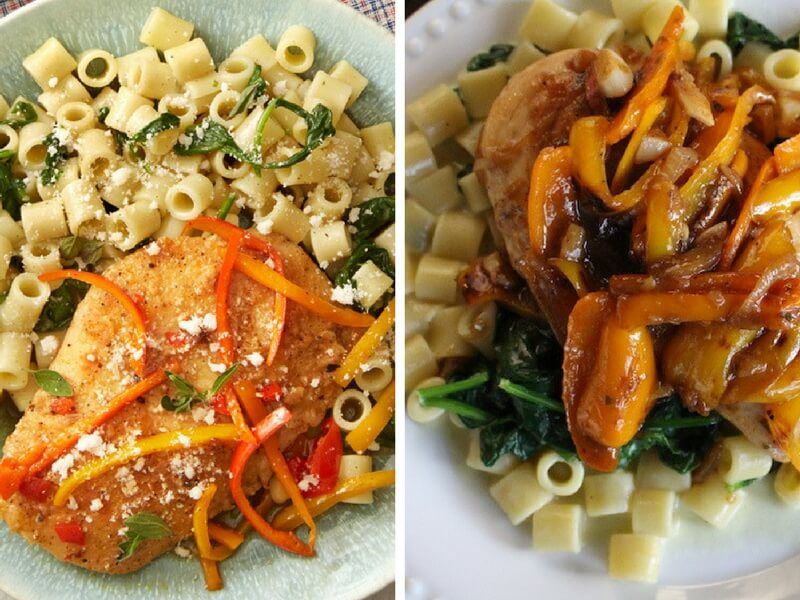 In this review, we'll be comparing two of them: Blue Apron and Purple Carrot. Blue Apron is one of the first meal kit companies to open its doors, and it's established a reputation for simple, delicious meals. Purple Carrot's meal plans are plant-based and focus both on building heath as well as being tasty.
Which one appeals to you most? Let's dig in and compare!
Blue Apron VS Purple Carrot
Types of Meals Offered
Blue Apron offers 2-person or 4-person meal kit plans with meat-based or vegetarian-based subscriptions. Subscribers can choose the amount of recipes they get each week. There are eight meal ideas to choose from each week, and three of them are vegetarian options.
Menus vary by week. Blue Apron subscribers pick and choose from the menus and can base their choices on how quick a meal is to prepare as well as the type of food. Cooking/prep time generally ranges from easy 20-minute meals to more challenging 50-minute dinners.
Purple Carrot caters mostly to vegetarians and people trying to eat with a more health-conscious mindset. Its meal plans offer three recipes per week, and each recipe serves two people.
There are three basic plans: Quick and Easy, which is designed to take less than 30 minutes to prepare; High Protein; and Chef's Choice, which offers gourmet meals.
Purple Carrot subscribers can mix and match meals from each plan. The weekly menus offer six choices. The menu section labels each meal by the type of plan (high protein, chef's choice or quick and easy). Gluten-free choices are labeled, and any type of allergens are listed in a pop-up menu.

While Purple Carrot doesn't provide meat-based dinners, it offers a wide range of flavorful, fresh takes on vegetarian ones. You'll find options for meals such as Sweet Potato Fajitas and Peanut Tempeh with Mango and Green Fried Rice.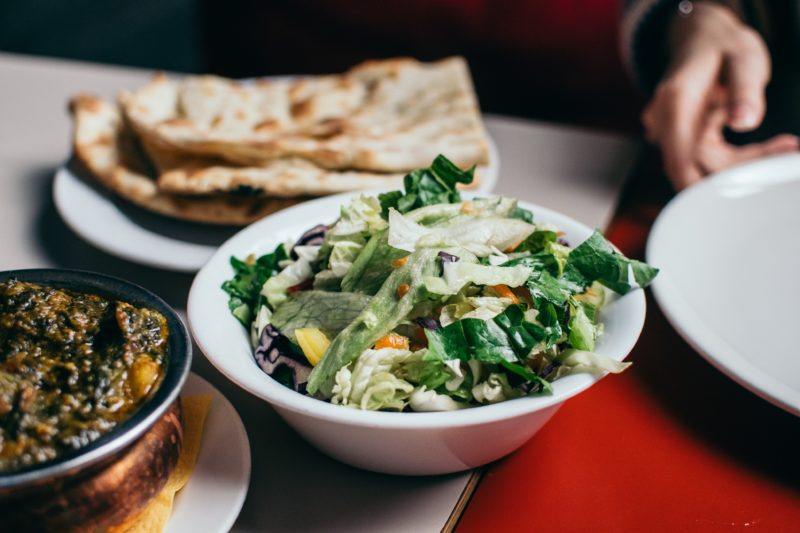 Blue apron provides a nice twist to familiar foods. Meat-eaters get options like Zesty Pork Burgers, Spicy Shrimp Pasta, Cilantro Beef Tacos, and Mediterranean Chicken and Orzo. Vegetarian subscribers get meals like Smoky Brussels Sprout and Black Bean Tacos or Indian-Style Cauliflower over Curry Rice.
Blue Apron also has a wine club.
Signing up and cancelling
For both Blue Apron and Purple Carrot, signing up is simple.
With Blue Apron, you decide how many people you'll be feeding (2 or 4) and whether you want a meat-based or vegetarian-based plan. Choose the number of recipes you want per week, enter your e-mail and credit card information, and you're done.
Purple Carrot's sign-up process is similar. You create an account using your e-mail (there's also an option to sign in through Facebook). Once you're signed up, you can customize your box to get the types of meals you want.
Both meal kit companies allow you to pull out of your subscription whenever you'd like to by sending a quick email to the company. Purple Carrot will reply with instructions on how to complete the cancellation once it receives the initial e-mail.
Blue Apron also has a telephone number for subscribers who might want to cancel that way.
Packaging and delivery
Blue Apron's ingredients come in one box with an ice pack to keep things cold. Subscribers need to separate the ingredients by meals, but it did contain less packaging overall.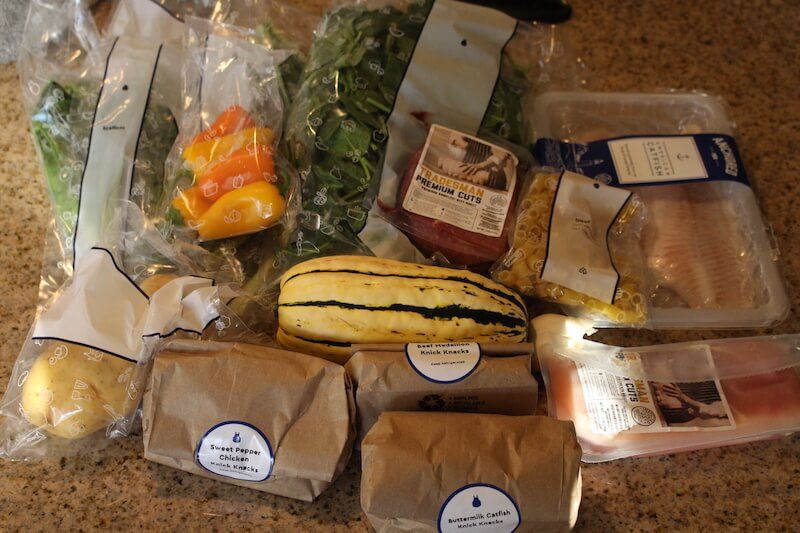 Purple Carrot contained a lot more packaging, with each meal packed into a separate bag and individual, pre-measured ingredients such as spices in their own bags within the meal kit pack.
Purple Carrot's environmental philosophy means that the majority of its packing can be recycled, including the outer layer of its ice pack; however, Blue Apron's packaging can also be recycled.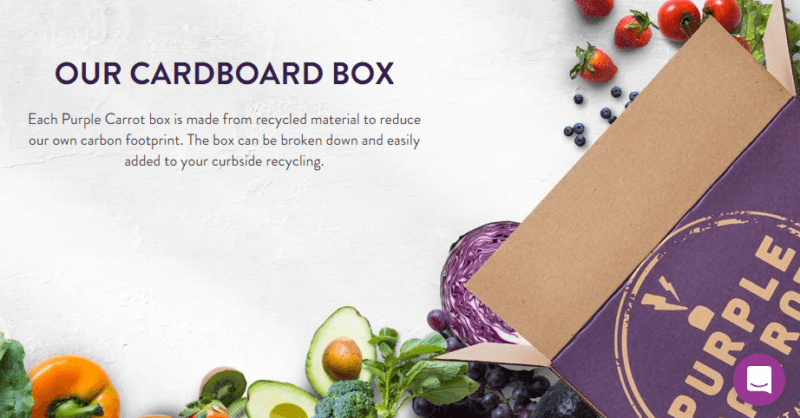 Both companies allow you to adjust your scheduled deliveries (think vacations!) and the cost of shipping/delivery is already figured into the plan price. There is one exception for Blue Apron: if you have the two person plan and don't order at least three meals per week, you'll pay a $7.99 delivery fee.
Pricing
With Purple Carrot, you pay $72 per week for three meals that feed two people each. That works out to $12 per plate.
Pricing for Blue Apron varies depending on which plan you subscribe to. The two-person plan is $9.99 per meal, or $59.94 for a box containing ingredients for three meals.
The four-person family plan is $8.99 per meal for two meals per week, $7.99 per meal if you order three meals, and $7.49 per meal for four meals. For a three-meal box, you can expect to pay $95.88.
Customizable Options
Overall, Blue Apron is one of the most flexible options out there. Subscribers have the ability to mix and match between vegetarian and meat-based meals as well as the number of meals they'd like to get per week and the number of people they'll be feeding.
Purple Carrot does have some customizing options but you have to have your account created first. Then you can customize your weekly box or stick with the three meals that come with the plan you ordered. You don't have an option to increase the number of meals or the number of people you feed, though.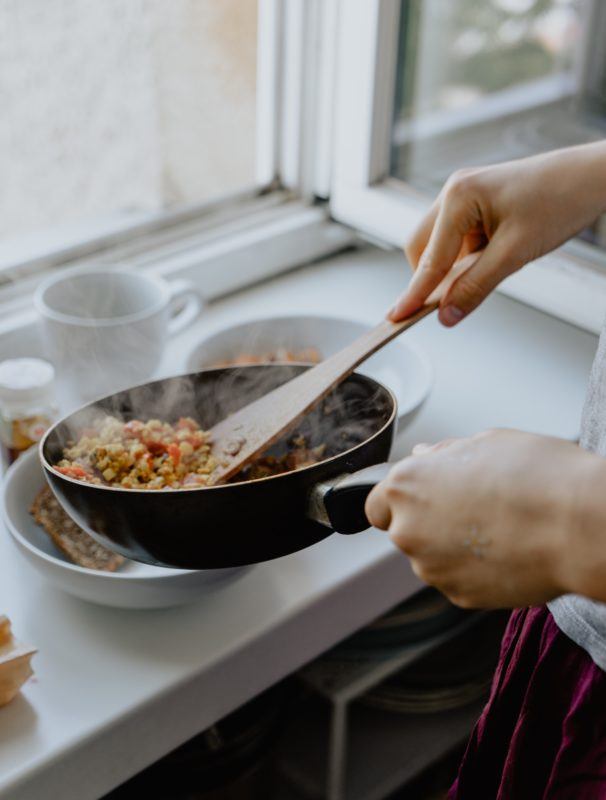 What makes these meal kit companies stand out?
Both Blue Apron and Purple Carrot are aimed at different target markets, and this makes them unique when they're compared to each other. Blue Apron caters more to the all-American family, while Purple Carrot addresses health-conscious folks who want to purchase vegan meals.
Here's an overall assessment for each:
Blue Apron
Pros:
Wide variety of menus to choose from
Lots of flexibility within weekly orders
Delicious mainstream food
Pricing is decent—per plate, it's around the same price as what you'd pay for a fast food combo meal but much better quality
Cons:
Although pricing is better than fast food options or many other meal kit deals, it's still more expensive than what you'd pay for similar items and amounts at a grocery store.
Other than its vegetarian offerings, there aren't plans that accommodate food allergens and specialty diets like gluten-free options.
Purple Carrot
Pros:
Meals are flavorfu
You end up trying new dishes that you probably wouldn't experience without a program like this
All-vegan meals give fun options for people who are trying to overcome chronic diseases or are otherwise deeply health conscious
Environmentally-friendly packaging
Cons:
Pricing is expensive compared to other meal kit plans
Not as much flexibility for meal offerings and customizing plans as other meal kit companies provide
These two meal kit companies stand out from each other mainly because of their intended customers. Blue Apron aims more toward the all-American family, while Purple Carrot shoots to gather customers who are environmentally inclined and deeply health-conscious.
They aren't the only meal kit alternatives, though. Sun Basket and Plated are two of my all time favorites.
Conclusion
As with any comparison, if you're choosing between meal kit companies, what's going to work best for you depends on what you're looking for.
If you want a basic option with lots of flexibility, you can't go wrong with Blue Apron.
If you want to try new vegan meals and you're impressed with the simplicity of three meals that you don't have to worry about customizing if you don't want to, you might prefer Purple Carrot.
Are you trying one out? Please let me which one you choose, why you chose it, and what your experiences with this company are!