The very idea of meal delivery kits are so simple and smart that it is no wonder there are now so many to choose from. I have personally tried my fair share of them and have found many of them to be both helpful and delicious. I, like many, began with Blue Apron and experimented from there. They have rarely disappointed, but from time to time it felt necessary to deviate from the original to see what all the fuss was about.
This is where Sun Basket came into play. Because there are so many different meal delivery kits to choose from it can be overwhelming at first. One of the good things about all of competition is the fact that doing some additional online research is easy to do.
This is exactly the case here, I've done some of this work for you and can help you on where to stand on Blue Apron VS Sun Basket.
Types of meals offered
Blue Apron has given me meals that were always, without fail, very easy to cook. Sometimes, their meals fell flat, with beef medallions that could have been of better quality, to pasta dishes that were a bit too heavy.
However, they have also sent me a recipe for General Tso's Chicken that I could not believe that I actually made myself. This was one of their more exotic dishes, making it more difficult to replicate without easy access to the ingredients.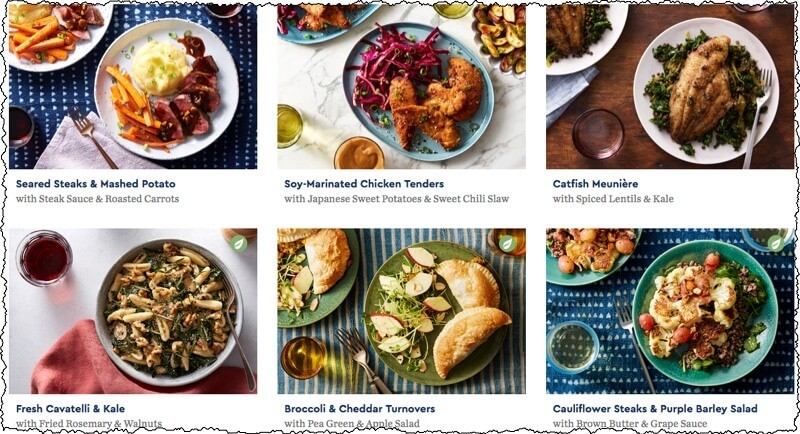 Sun Basket has also provided some easy to make meals that make me feel like a chef-in-training. Their meals tend to come together quickly, so if you're in more of a rush to cook dinner, then this would be the direction to go. Their food may be quick, but it is still delicious and satisfying.
I really liked the Moroccan lamb, which was pretty indicative of the style of Sun Basket cooking. It was fast, easy, but still had some unique flare to the spices and sauces.
Signing Up and Canceling
The signing up process with both kits are quite involved, but not in a bad or difficult way. You will have to customize your order with both. This involves choosing the amount of people you will be cooking for as well as the amount of meals you want per week.
You will then decide on the meal plan you wish to stick with. As Sun Basket has more dietary options, this is a little more detailed than what Blue Apron has to offer. However, if you have no dietary restrictions or allergies, then this shouldn't be an issue.
The cancellation process is one that differs more noticeably between the two. Blue Apron requires you to send an email to their cancellations team who will then send you a response with instructions on how to hit the self destruct button on your membership.
However, with the Sun Basket , you will have to pick up the phone and make a call in order to cancel your membership. This is not a difficult phone call as they do not try to rope you back in or make you feel bad for leaving, but it's still annoying that I can't do it within my membership area.
Packaging & Delivery
When it comes to meal delivery kits, it's all in the packaging. You can receive a perfect assortment of fresh food, but it all gets ruined with just one leak. Blue Apron is a pioneer in this field so it isn't surprising that they are pretty good at keeping foods fresh and separated when needed.
Fruits and vegetables such as lemons, garlic, potatoes and zucchini for example roam free uncovered in the box along with the bagged ingredients, which is basically everything else except for any meats. These are separated by a thick piece of cardboard and ice packs that can keep the entire box cold for the whole day.
Because the meats are on the bottom should you have a leak, gravity keeps it at bay. The biggest difference in Blue Apron and Sun Basket is that the latter has each meal in its own brown paper bag rather than spread out like the former's assortments of ingredients. However, the meat separation stays the same.
Price Comparison
Many people want to know the price before they know anything else about the meal kit they get delivered. In this case, Blue Apron is the cheaper option with two different plans to choose from. There is a couple's plan, this includes three different dinners for two people each week for $59.94, this comes down to about $10 per meal.
The next option is the family plan, this will serve up to five people and costs $69.92, this ends up costing about $9 per person. They also offer a wine of the month option, which on its own is $65.99 before tax.
Sun Basket is a little more expensive with their couple's plan adding up to about $75 per week. This adds up to about $11.50 per person. Definitely something to consider if you're concerned about pricing.
Customization Options
Blue Apron. provides many types of dishes for a person who does not have any specific food allergies. However, you do have the option of picking and choosing from meats and seafood you do and do not like. There is also a vegetarian option, but unfortunately, no gluten free options. The wine club is worth it too, unlike some other wine club options for meal kits which don't actually pair the wine to your meals.
Up until recently there were restrictions on the types of dishes you could pick as your 3 for the week. Luckily, this has changed as some weeks you can choose 2 vegetarian dishes and one seafood or even steak option. So if you have dietary restrictions, they may not be for you.
However, Sun Basket. offers several customization options such as lean and clean, gluten free, paleo, and vegetarian. So if you have allergies or are just looking for a specific diet plan, then they may be the better option for you. Options include gluten-free, soy-free, dairy-free, vegetarian, vegan, lean and clean, and paleo.
However, if you have no specific dietary needs, then there are classic family plans as well.
What Makes Each Meal Kit Unique?
Both of these meal kits are different in their variety meals available, but there are some other specific differences a well. Aside from the allergy/diet options of Sun Basket, I feel that something that makes them unique is that they offer "upgrade" options to increase the size or quality of the meat portion. For another kit with upgrades and awesome meals, try Plated.
With Blue Apron, the wine club options is fantastic. I'm not even a wine drinker, and I liked what they offered because it was a lot of unique styles of grapes I hadn't tried before. They are also cheaper. At $9.99 per person in the couple's meals and just under $9 in their family meals it is quite the deal to consider compared to other meal kit options.
Blue Apron
Pros
Great Price
Wine Club
Easy Cancellation
Better meal options as the company grows
Cons
Not Many Dietary Restriction Options
Meals Can Take Longer To Make
Sun Basket
Pros
Several Dietary Restriction Options
Organic Food
Meals Take Less Time to Cook
Cons
Which Meal Kit Is Best For You?
We've pretty much covered everything. My stance is that Blue Apron is a great choice for first time subscribers to meal kits since they offer a solid food choice at a good price, and you don't have to jump through a bunch of customization options to get started.
I've also noticed that their food options are getting more interesting as the company grows, so my issues with feeling bored after a couple months may not be an issue now.
However, Sun Basket is one of my #1 recommendations due to the ease of cooking the meals, and the unique flavor offerings they deliver. I just plain liked the meals better. My my main reason for joining was to cook interesting meals, not to save time, and that's what I got with Sun Basket!