You've probably heard of meal service kits by now. You might have even seen a delivery box or two on the porches in your neighborhood—but have you ever tried them yourself?
There are a lot of great meal kit companies out there to choose from. Some of them cater to southern flavors or to green, healthy eating. Others are geared toward quick fixes for families.
In this Blue Apron vs. Terra's Kitchen article, I'll be comparing Blue Apron's meal kits with the offerings from Terra's Kitchen. You can decide for yourself which one would best meet your needs.
Types Of Meals Offered
Both Blue Apron and Terra's Kitchen offer meal plans that feed two people or four people.
Blue Apron has basic offerings for both meat-based and vegetarian meals. You get meals like Seared Chicken and Honey Mustard Sauce with Roasted Sweet Potatoes (meat-based) or Cheesy Chipotle Black Bean Quesadillas (vegetarian).
Blue Apron's menu changes from week to week. There are eight offerings per week, and three of those are vegetarian. With Blue Apron, subscribers can choose to purchase anywhere from two to four meals per week. You can pick and choose what you want from what's offered for that week.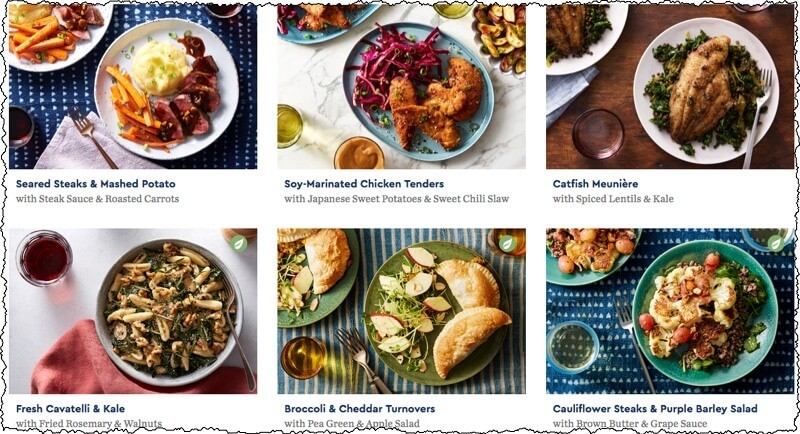 All of the meals from Terra's Kitchen follow the principles of the Mediterranean diet, so the menu is targeted toward health-conscious consumers. You can filter your options to find family meals, paleo, gluten-free, low calorie, vegetarian, vegan, pescatarian, lean + green, and keto meals.
Terra's Kitchen makes a point of not wasting food. Scraps leftover from food preparation before the boxes ship out are sent back to farms to use as animal feed. The proteins that Terra's Kitchen uses are non-GMO and free of hormones and antibiotics. Other ingredients are organic and sustainably sourced wherever the company can make it work.
With Terra's Kitchen, you get to try things like Korean Bibimbap Bowls and Mushroom Stroganoff. Terra's Kitchen also has salads, snacks, lunches and smoothies as well as the meal kits. The menu doesn't rotate week to week, which means you always have access to around 50 recipes.
Cooking time varies a little with Blue Apron, ranging from about 20 minutes up to around 50 minutes. Meals from Terra's Kitchen generally 15-30 minutes to prepare. They could be somewhat quicker because ingredients from Terra's Kitchen come pre-cut and pre-prepared.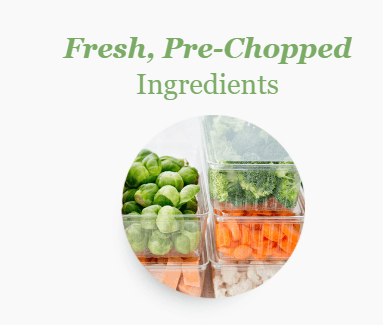 One thing that sets both these companies apart is that they have wine clubs. Blue Apron's wine club delivers wine monthly.
Terra's Kitchen partners with @grapefriend and suggests good pairings for wine and beer that you can order to go with your meal kits. Clicking on a particular meal kit from the menu will show you those pairings, as well as instructions for making the meals.
Signing Up And Cancelling
Signing up with Terra's Kitchen is as easy as starting the ordering process. The account is created at the checkout, where you'll enter your zip code and address. Then you select a preferred plan and delivery options and customize your order.
The sign-up steps are similar for Blue Apron. First you decide whether you'll be ordering for two people or four people, settle on a meat-based or vegetarian subscription, and choose the number of recipes you want to get. Then you enter your email address and payment information.
Both companies allow you to skip or postpone deliveries (with enough advanced notice). They're also both fairly easy to cancel with.
To cancel with Blue Apron, you send a quick e-mail or make a phone call to start the cancellation process. With Terra's Kitchen, you cancel online under the subscription settings.
Once you click on the green-lettered 'cancel my subscription' and follow the steps, you'll receive an online confirmation that your service has been stopped. If you want to, you can start the service again by logging into your account and clicking 'reactivate.'
Packaging And Delivery
Like many meal kit services, Blue Apron ships its ingredients in a recyclable box with recyclable plastic bags and an ice pack to keep things cold. Ingredients come bunched together, so you'll have to separate them by meals before you can get cooking.
Most of Blue Apron's shipping costs are figured into the meal plans, but if you order less than three meals for two people, you'll have a $7.99 shipping fee. Shipping is free for all other orders.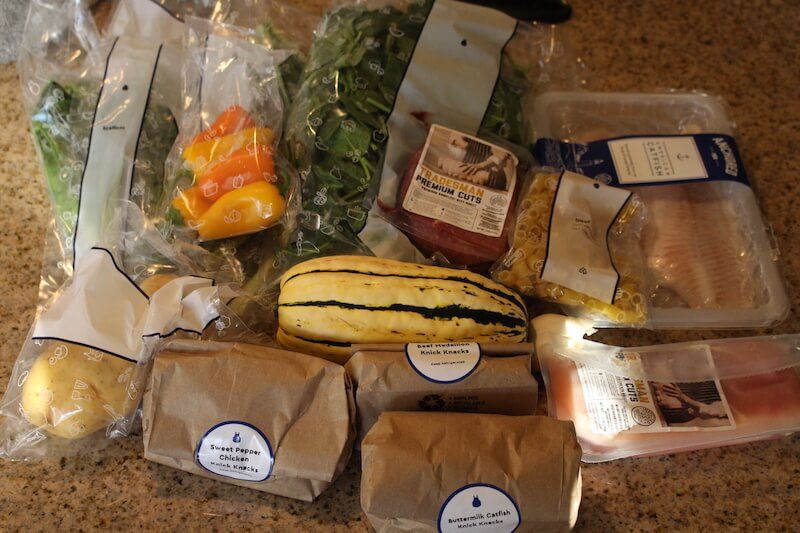 Terra's Kitchen is unique when it comes to packing and shipping food. Instead of sending food in a cardboard box with insulation, Terra's Kitchen uses what it calls a 'vessel.'

The vessel is a climate-controlled box with recessed handles and slide-out drawers. Pre-prepped ingredients are packed in small plastic containers and then stored inside the drawers during delivery.
Rather than recycling the vessel, you ship it back so it can be sanitized and reused. Terra's Kitchen asserts that because the controlled climate helps keep food from spoiling during transit, it's a more green option than cardboard boxes.
It's also supposed to be more economical, because the vessels can be used up to 100 times before they need to be replaced.
Terra's Kitchen uses individually sealed containers rather than plastic bags to keep the ingredients in good shape while they ship. The containers can be recycled.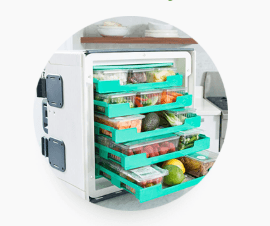 Terra's Kitchen's doesn't have its own delivery fleet. Food is shipped from Terra's Kitchen through UPS and FedEx, although vessels can't be shipped to PO boxes.
With Terra's Kitchen, the first week of delivery is free. After that, orders over $100 have free shipping. Orders for less than that have a shipping fee of $6.99 per vessel.
Pricing
For Terra's Kitchen, a minimum order for a vessel is $72 per week. Meals are priced individually. They range from $9.99 to $13.99 per serving. Grab-and-go items start at $1.99 each.
Prices for Blue Apron boxes vary depending on which plan you subscribe to. A box containing three meals for two people costs $59.94, while a box with three meals for four people costs $95.88.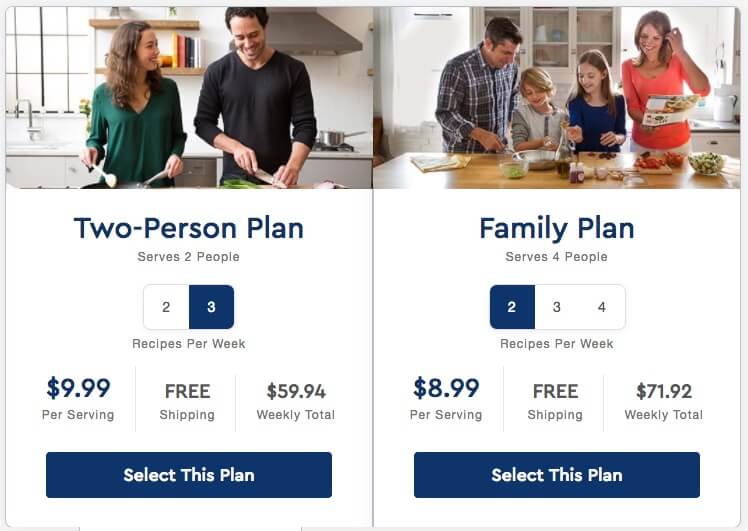 Both companies offer discounts on their meal kits if you buy more servings.
For example, with Blue Apron, three meals for two people cost $9.99 per serving but only $7.99 per serving if you're ordering for four people. If you order just two meals for four people, the cost is $8.99 per serving, and it drops to $7.49 per serving if you order four meals for four people.
With Terra's Kitchen, two servings of a meal like Skillet Lemon Garlic Chicken and Rice would normally be $12.49 for two servings, but it drops to $9.99 per serving when you order a four-serving meal kit.
Customizable Options
Overall, Blue Apron is fairly flexible. You can choose any of the menu options available for the week as well as the number of recipes you'd like to order and how many people you're ordering meals for.

It's nice, but these options pale in comparison to what Terra's Kitchen has to offer.
Terra's Kitchen has six powerful filters plus advanced filter options to help you choose exactly what you want to order.
You can start by deciding what type of meal you'd like to look at (breakfast, lunch, dinner, snacks, desserts, or beverages.) You can also filter options by allergens, prep time, ingredients, and special diets like keto or paleo meals.
What Makes Each Meal Kit Service Unique?
Terra's Kitchen stands out in a lot of ways. The shippingand packaging differences, the focus on health-conscious meals and the focus onreducing food and transportation waste set this company apart.
Both companies have a 100% customer satisfaction guarantee. They are also both some of the very few meal kit services that offer wine clubs.
Here's what I like and don't like about each company:
Blue Apron
Pros:
The meals are basic but delicious and they don't stray too far from the familiar.
Blue Apron's meal kits are a decent cost per serving compared to those of other meal kit services.
Cons:
There isn't a way to track whether a meal will fit within certain lifestyles such as keto eating plans or avoiding allergens.
The ingredients aren't promoted as non-GMO, sustainable or organic.
Terra's Kitchen
Pros:
The powerful search filters make this meal kit service one of the most customizable companies available.
The large menu allows you to try a lot of new things while sticking to specialty eating plans.
The unique reusable vessel is economical to use and helps reduce food waste.
Pre-prepped ingredients make cooking a breeze.
Cons:
These meal kits can be a little more expensive per serving than what Blue Apron charges.
What Are The alternatives?
Meal kit services offer a spectrum of choices for eating quick at-home meals, sticking to healthy eating plans, or enjoying home-cooked comfort foods.
For example, Peach Dish focuses on bringing southern flavors to your table, while Gobble's specialty is simple, one-skillet meals that only take a short time to prepare.
When it comes to comparisons between meal kit services, Blue Apron is always a good standby. It's not quite as delicious as Plated, but much better than Hello Fresh. With its focus on healthy foods, Terra's Kitchen might compare better with Purple Carrot or Hungryroot.

Conclusion
Blue Apron is a steady, dependable choice for me, and I've used it several times. However, Terra's Kitchen has a lot going for it. If you're health conscious and environmentally conscious, Terry's Kitchen might be a great way to go.