The line between bluetooth sous vide appliances and ones that connect to WiFi is blurred. As of 2017, there's only one "bluetooth only" device on the market, though you do need to have bluetooth in order to use the the WiFi-enabled ones.
Usually, it means you'll pair the device via Bluetooth, then connect the device to your WiFi signal through your smartphone.
Bluetooth is quite limited in range, so without an additional WiFi feature, you'll be limited to being as far as "the next room" before you'll lose remote control. That means other than monitoring your sous vide steak while watching TV (which is still pretty cool), you'll basically have a regular immersion circulator.
I'll dig into that a bit more below when talking about the only bluetooth sous vide device, but I just wanted to clear up what we'll be talking about in this post. Yes, it's going to include the WiFi devices as well.
The main thing I want to cover in this article is whether or not you actually need bluetooth, or wifi, or any type of remote control for your immersion circulator. In short, no, you don't need it, but yes, it's a really cool and useful feature.
So let's briefly take a look at the main devices that offer this feature, then below that I'll dig into why it's a cool feature that's absolutely worth paying for.
Anova Culinary PCB-120US-K1
This is the only true "bluetooth" sous vide cooker on this list, in the sense that it does not have WiFi capabilities. It should be obvious that this is the previous generation from Anova Culinary because it's about $50 cheaper than the newer model listed below.
The main disadvantage of going bluetooth-only is range. If you have ever used a bluetooth speaker, then you should be familiar with how far you can go before losing connection. For me, I can go in from the kitchen to my bedroom (about 50 feet), but once I step outside and close the door, I lose the connection.
The main advantage of buying Gen 1 over Gen 2 would be price. It's about $50 cheaper currently, depending on where you buy. So is it worth it to upgrade to the WiFi-enabled one for fifty bucks? Yes. The bluetooth-only feature is too limiting. My advice is to either get WiFi or nothing.
Anova Precision Cooker, WIFI 2nd Gen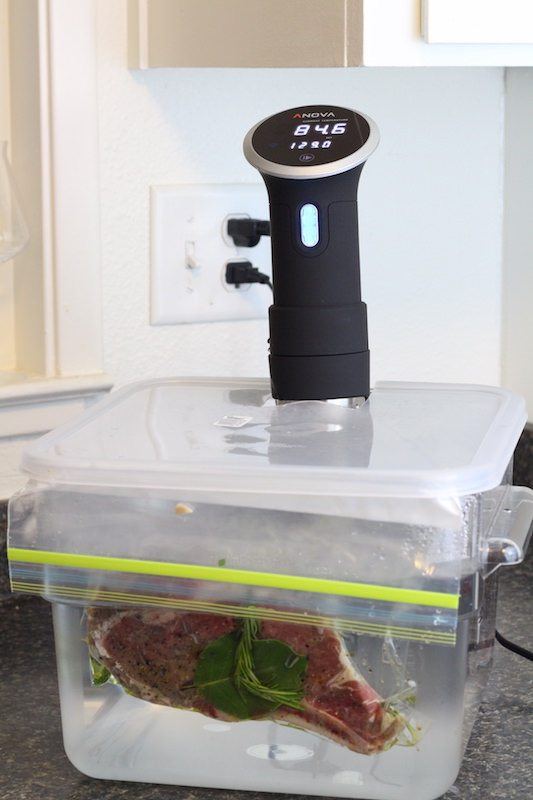 The look and feel of this immersion circulator is exactly the same as the first generation PCB-120US-K1. There are two main differences.
One, is the addition of WiFi-connectivity. That means you'll be able to control your device remotely as well as receive push notifications from anywhere in the world as long as you have a cellular data connection.
The other is the addition of an extra 100 watts of heating power. The previous generation has a minimal 800 watts of power, which is common for cheaper immersion circulators.
For large baths or particularly cold water, only 800 watts of power can take a while to preheat the bath. I waited 40 minutes once just to get a 2-gallon pot ready to cook some chicken!
+100 watts isn't that much extra considering some devices have 1100-1200 watts of power, but it's moving in the right direction.
Oh yeah, as I mention in my review, the Anova app is pretty good, but I prefer the 3rd part app called Sous Vide Celsius. It costs about $4, can connect to your Anova, and has a much wider range of foods to choose from to properly set your cook temp/time.
Gourmia GSV150

Gourmia has a number of sous vide pods available but the 3rd generation model is bluetooth and WiFi enabled.
The big advantage of the Gourmia brand is that they are very good at heating water, with 1200 watts of power versus the 800 or 900 you get with Anova. That means starting your cook faster!
They are a little noisier though, especially if you're using a smaller pot of water. You can hear the strength! But with deeper water, they get quieter.
I actually really like the GSV150, but my main issue with it regarding bluetooth and Wifi is that the app isn't that good. It's hard to navigate, the recipes aren't that great, and when you start comparing it to others, it's clear they didn't have a really savvy tech team put it together.
Sure, it works, but I ended up looking for recipes online or through another app then just manually setting the time on the device. Push notifications and remote start/stop still came in handy though!
Plus, considering this device is the cheapest bluetooth enabled sous vide cooker on the market, for many, the issues with the app will be forgivable. I gave it an excellent rating when I reviewed it back in December.
ChefSteps Joule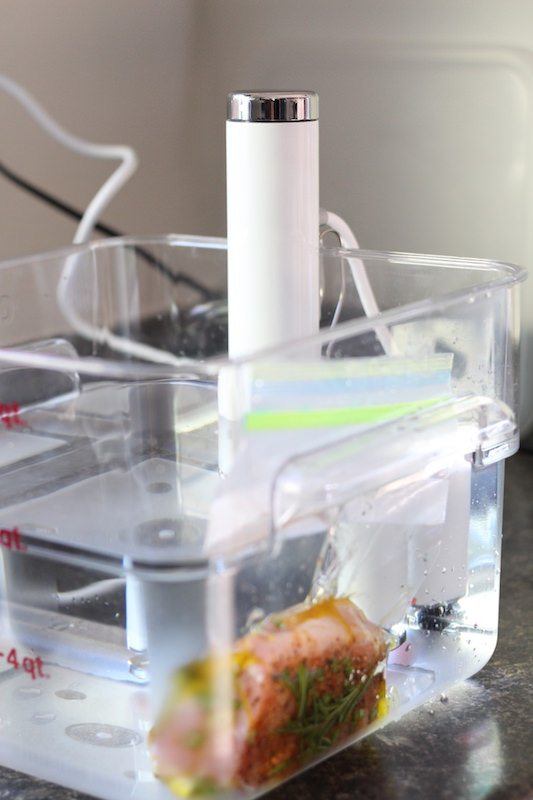 By far my favorite bluetooth sous vide cooker, The Joule gets everything right. It's got a unique design, it's small, lightweight, and a a stellar app to control the device.
It's even got features you didn't know you wanted like a magnetic bottom so it can sit in the middle of pots instead of the side (for better circulation), and a very small minimum water depth so you can use it on shallow pots. Oh, and it can circulator up to 10 gallons of water which is double what most circulators do.
Since we're talking bout remote connections via bluetooth/WiFi, I should highlight here that the app is amazing. It's got beautiful videos to watch so you can decide how "done" you want your meat, plus you can visually see how to do the recipes. You can see screenshots in my review.
This helps novice cooks, as well as experienced chefs that just want to get excited about the dish they're cooking. The language they use on the app for notifications and recipes is also pretty humorous. It's clear they put a lot of thought and work into making the app great.
The main downside to Joule is that there's no manual setting – you MUST use a smartphone to start, top, and monitor your cook. If that is a deal breaker for you, then you should decide between the Anova and the Gourmia.
Nomiku WiFi

Not many people are talking about the Nomiku WiFi. Partly this is because it's on backorder, but partly it's because it's having a hard time competing with all the new players on the market.
When the original Nomiku came out on Sharktank, people were excited. Sous vide was exciting and new, and there were very few devices that would allow you to do it at home, for cheap.
Now, there are about 15 devices on the market, some selling for less than $100. When Nomiku WiFi came out, they had to start ANOTHER Kickstarter campaign to raise money. There were numerous delays and setbacks, frustrating customers.
By the time it was out, it wasn't the only bluetooth sous vide cooker out there, and it wasn't the cheapest. What's worse, is that it didn't have any defining features. Plus, the app is pretty bad, with only user-generate recipes, many without pictures or proof that they actually taste good.
So why would you pay more, for a delayed device, and a mediocre app? It's not a "bad" product. But I just don't see a huge reason to pay 3x more than, say, the NutriChef Prime.
Sansaire Delta

The Sansaire Delta isn't out yet, so I can't say much about it. I can say however, is that it's supposed to launch some time in 2017 from Kickstarter, so don't hold your breath. Everything gets delayed, so unless you've got the hots for the Sansaire brand, wait until you can order from Amazon or you might not get it until 2018.
So far, the app looks pretty nice! The pictures are not as beautiful as the Joule app, but they have a similar system of choosing doneness through the app to find the correct temperature for your food.
Why Remote Connections Via Bluetooth Are Worth It
Connecting to your immersion circulators via bluetooth seems a bit excessive, right? I was very surprised at how useful it was, and as I continue to cook sous vide in my home, I continue too use the bluetooth/WiFi devices. It wasn't the way of the past, but it's certainly the way of the future.
I have a few great examples:
One time I cooked a large roast for 24 hours while at my girlfriends house. I put the steak cooking on Friday, left to her house, and came back Saturday afternoon. The roast was done, so I popped it in the oven at 400º for 20 minutes with some seasoning. Done and delicious!
Just today I put three eggs in a bag in some ice water over night. I set my alarm for 6AM and 7AM. When I woke up at six, I set my device going to poach the eggs. By the time I woke up at 7, they were done. Yum! Perfectly poached eggs for breakfast and I didn't even have to wait. With my Keurig coffee machine preheated and ready to rock, it was like living at a hotel!
Lastly, a common thing I'll do is leave the house at like 3PM to go to a coffee shop to type up some blogs. Now what I can do is set a steak going at 3, cook it for 2 hours, and come back to a medium-rare delicious meal. I receive notifications when the water is starting to cook, and when the cook is done.
Considering I'm about 20 minutes away from the cafe, I just wait for the cook to finish, then hop in my car and drive home. Steak won't get "overdone" with an additional 30 minutes in the bath.
Now I just sear the steak, pan fry some veggies, and dinner is done. You could do the same thing grocery shopping, or even partying on Friday night!
I've linked to reviews of all of the bluetooth sous vide appliance I bought and tried within the article, but if you can jump over to Amazon and get the Joule if you want to get my favorite one.
What about Bluetooth Water Ovens
Sous Vide Supreme is a brand that makes some extremely popular (and expensive) "water ovens", which are enclosed units that cook sous vide. A few other brands are starting to make them as well, like Gourmia.
So far there are no WiFi enable water ovens yet, although I think that could be coming in the future depending on how successful the WiFi immersion circulators are.
My guess is that ChefSteps could possibly follow up with a water oven because their circulator is so successful. I'm not sure how the demographics differ for buyers of water ovens versus circulators, but people buy them, so there's a market for them.
I don't think ChefSteps needs one because the Joule is so good, but I'm not sure how their company can grow with any other type of product. What else would be related to sous vide?
However, I think the strongest chance for developing a bluetooth or WiFi enabled water oven is going to be Gourmia. They've already got a couple models of water ovens on the market, and their most recent generation of immersion circulator, as you know, has WiFi. It's a natural move I think!
Anyway, just some speculation here! What do you guys think?