Bows have been around for centuries, but it wasn't until the 20th century that they became popular accessories for little girls and babies. Today, bows are still all the rage, especially for baby girls.
Bows are an easy way to add some color and fun to any girl's outfit. Plus, bows come in various styles, sizes, and shapes, so even babies can take advantage of these fashionable accessories. However, matching the right bow to every outfit can not only be time-consuming but costly too. And we all know that bows often get lost throughout a hectic day.
The good news is that there are now several bow of the month clubs that will ensure your baby is always dressed and accessorized like a princess without breaking the bank. Plus, bow subscription boxes help save parents' time by eliminating the need to spend hours online or at the mall looking for replacement bows.
And bow of the month club memberships make the perfect gift for new babies or a little girl's birthday. Children especially love receiving bow subscription boxes since they get a new fun surprise every month.
Best of all, bow of the month clubs are all a little different. Depending on what you are looking for, some clubs specialize in unique bows and others offer more cost-conscious bows. The clubs also vary in what they include in their bow boxes.
But regardless of their differences, all of the bow subscription companies have one thing in common, fashionable fun bows that any little girl would love. You could even try another child-friendly subscription at the same time, like baby books or cloth diaper delivery.

Bow of the Month Clubs
Little Poppy Co
Olivia's Bow Club
JoJo's Bow Club
The Mod Mango Baby Boutique
Bargain Bows
Moccs and Bows
Bek & Jet
Chic Pipsqueak
Little Poppy Co

The Little Poppy Co's goal is to make parent's lives easier by sending out an array of stylish bows each month so that your child will have a bow to match all of their outfits. The Little Poppy Co is a bow subscription company, though they offer various accessories for individual sale to their members. Some of the items you can find in their online shop include colorful bobby pins, bracelets, snap clips, headbands, scrunchies, and conversion kits to change from headbands to clips.
The Little Poppy Co offers 5 subscription boxes:
Mini Headband – Best for newborns to 6 months
Original Headband – Best for kids 3 months to 3 years

Features a nude colored nylon headband with bow

Original Clip – Best for kids 3 months to 3 years

Uses a non-slip alligator clip to hold the bow

Oversized Clip – Best for girls 3 years and up

Heavier duty alligator clip for thicker hair

Accessories – Best for girls 3 years and up

Includes items such as colorful snap clips and scrunchies
Each membership includes 3 fashionable handmade bows each month.
After selecting your bow subscription box, you can choose from 3 different subscription lengths: monthly, 6 months, and 12 months. All of the options include free shipping, and the longer the commitment, the deeper the discount. The month-to-month option can be canceled or paused anytime, but the 6 and 12-month options cannot be canceled until you reach the end of the term.
All subscriptions can be changed as your daughter grows to ensure they always get the perfect fitting bow. Bow subscription boxes ship out at the end of each month between the 25th-28th. All new orders and changes must be finalized by or before the 28th.
Olivia's Bow Club

Olivia's Bow Club is an affordable way to buy "classy, sassy, and comfy" bows for your baby. The founder of Olivia's Bow Club started the company after looking for matching bows for her newborn's outfits. It didn't take long for her to realize that bows weren't exactly cheap, so she made it her mission to help other parents find cute affordable bows for their children.
In addition to bows, Olivia's also has a variety of apparel and some home decor options like:
Matching T-shirts for children and their parents
Sweatshirts
Onsies
Blankets
Though you can purchase individual bows and accessories, they do have Olivia's Bow Club Subscription box. Each box contains 3 stylish seasonal bows. All of the bows are designed by moms and only use premium material. The subscription box comes in 12 bow-type options, including a variety of colors for the base. Some of the options include headbands, clips, skinnies, and Audrey. And you can change between the different styles as needed.
All options are on a flexible monthly plan and cost $15.99, except for the Audrey style, which is $17.99 a month. And you can pause or cancel your account at any time.
Subscription boxes ship out between the 26th and 31st of each month. Shipping is always free in the US.
JoJo's Bow Club

JoJo's Bow Club is based on Nickelodeon's young star JoJo Siwa, featured in shows like The JoJo and BowBow Show Show, Lip Sync Battle Shorties, and Kid in a Candy Store.
When you sign up for the JoJo Bow Club, you will receive a new limited edition bow, collectible storage bag, and exclusive pin. The JoJo Bow boxes are only sold through the JoJo Bow website, so you will never see these bows in the stores.
The JoJo bow subscription box comes in 3 options:
Monthly for $19.95 per month
3-month prepay for $49.68 (17% discount)
6-month prepay for $89.76 (25% discount)
Your bow subscription box will ship out on the 15th of the month. Shipping is included in the cost of your membership.
JoJo's is a bow subscription box company, so they do not sell their items individually. However, they do offer past bow boxes for sale while supplies last.
The Mod Mango Baby Boutique

The Mod Mango Baby Boutique first started as The Girl Baby Boutique, which sold handmade bows. However, Christy Myres expanded the business to include stylish, fun apparel for toddlers and babies.
The Mod Mango Baby Boutique isn't just any online baby store either; they focus on special occasions such as 1/2 and 1st birthday outfits. Plus, at Mod Mango, you can get almost anything personalized or custom-made to fit your baby's needs. In addition to clothing, Mod Mango also offers coming home hats for newborns, baby blankets, gift sets, shoes, and matching family outfits.
And though they have since expanded from handmade bows, they still offer a wide selection of headbands, bows, and a bow of the month subscription box. Mod Mango offers 4 bow club membership options to choose from:
Medium Bow of the Month Club for $15.99 per month

4″ bow
Best for babies and toddlers

Large Bow of the Month Club for $16.99 per month

5″ bow
Best for toddlers and young girls

Sister Set Bow of the Month Club for $31.95 per month

Choose 4″, 5″, or both size bows
2 bows included each month

Over the Top Bow of the Month Club for $21 per month

6 1/2″ bow
Ideal for those who like large vibrant bows
All of the clubs come with 3 style options: headband, alligator clip, or barrette clip. The cost of shipping is included in the prices listed for each of the bow boxes above.
The bows included in the bow subscription are all carefully selected based on the season and current fashion trends. Plus, during the recipient's birthday month, they will receive a special birthday bow.
The bow memberships are all month-to-month and auto-renew unless you choose to cancel.
Bargain Bows

Bargain Bows is an internet boutique located in Miami, Florida. They first opened in 2015 and are headquartered out of a warehouse but do not have a storefront. This female-owned small business strives to put customer service first and focuses on selling quality bows at a reasonable price.
In addition to bows, they also sell a variety of Disney-themed accessories, superhero tees, accessories, dresses, and more. Though they offer various items, they specialize in bows and have one of the widest selections around. Many of the bows can be purchased in bundles of 30 and 90 piece collections.
If you are having a hard time choosing, they do have The Bowscription Box so that you can receive various bows every month. The Bowscription Box includes:
Special edition bows not found on the website
Boutique style bows
Interchangeable headbands
Exclusive coupons
10% off all store items
Free shipping
There are at least 7 bows and headbands in each box. The box is available in 2 different sizes Kiddiez for older children and includes hard headbands or clips, and the Littlez box for babies and toddlers which includes elastic headbands.
There are 4 different duration options:
Month-to-month for $19.99 per month
3 months prepay for $39.98
6 Months Prepay for $107.94
12 Months Prepay for $203.88
Moccs and Bows

Moccs and Bows is an online bow boutique store that sells a wide array of bows. They carry hair clips, headbands, single bows, and bows in bulk at a discounted price. Additionally, Moccs and Bows have a variety of specialty bows like Minnie Mouse ears, bunny ears, sequin bows, and more.
Although Moccs and Bows are a full bow boutique, their focus is their Bow Box. The Bow Box is a monthly bow subscription that comes in 3 choices: bands, clips, or a combination of both. The cost of The Bow Box is $21.99 per month and includes the cost of shipping.
All of the boxes include 5-6 unique fashionable bows. Plus, some boxes have specialty bonus items like the 4th box has a unicorn band, and the 6th box has a mermaid bow. All of the bows subscriptions have the options to include matching sets, perfect for sisters or twins.
All of the subscriptions are flexible monthly memberships that can be canceled anytime. The bow boxes ship out the first week of each month, so if you want to get next month's order, you need to place your order no later than the last day of the month. Bow subscription boxes go out via USPS, and tracking information is available online after the 1st of the month.
Bek & Jet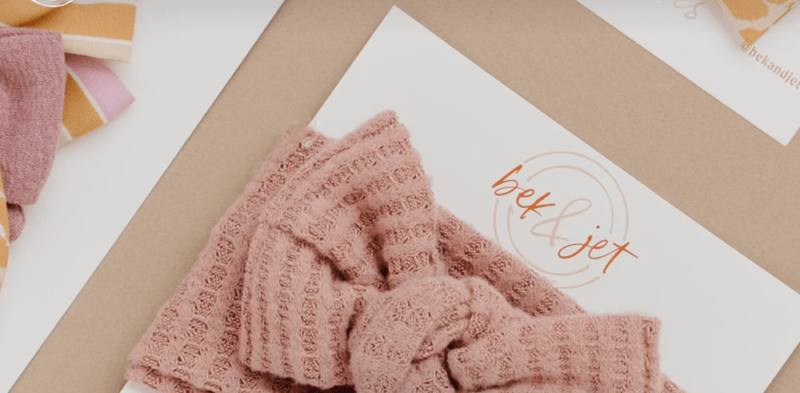 Bek & Jet is an online store that focuses on bows, bibs, changing mats, and headwraps. Items can be ordered individually or through one of the subscriptions. Regardless of how you order, Bek & Jet focuses on high-quality products that are stylish and comfortable.
The company offers 4 subscriptions:
Monthly Bow Subscription for $11.99. Provides a pack of bows each month. You can choose between headband or alligator clip styles.
Monthly Headwrap + Bow Subscription for $12.99. Provides a headwrap and a bow each month. The bow can follow the headband or alligator clip style.
Monthly Jet Pack Subscription for $12.99. This subscription provides 3 bows each month (headband or alligator clip style) and a digital download. The avaliable digital downloads vary, but can include presets and nursery art.
Monthly "Jet's Pals" Subscription from $5.99. This subscription includes a single bow (headband, alligator clip, or pigtail style), a digital download, a letter or drawing, and a stamp.
The monthly bows are often new, ones that haven't yet been released to the public. Subscribers can also access the Bek & Jet shop to buy some bows and accessories that aren't available to anyone else.
Chic Pipsqueak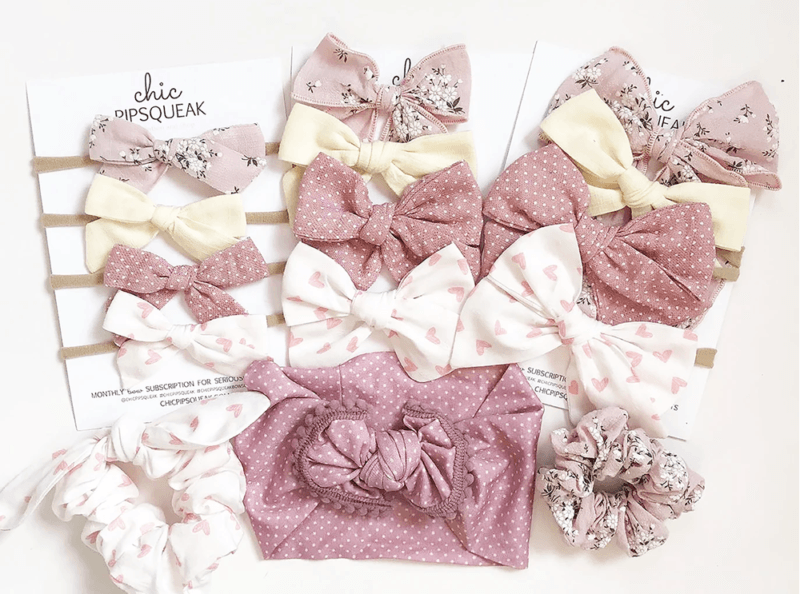 If you're looking for a flexible subscription, Chic Pipsqueak is an easy choice. There is a variety of subscriptions to choose from, giving you the chance to choose the type of bow that you want.
Petite Bow Subscription for $13.99
Nylon Headband Bow Subscription for $13.99
Alligator Clip Bow Subscription for $13.99
OVERSIZED Bow Subscription for $15.99
Mixed Set Box Subscription for $13.99
Petite Bow Full Pig Tail Bow Subscription for $13.99
Full Pig Tail Bow Subscription for $13.99
Headwrap + 3 Bows Bow Subscription from $15.99
Add On Pig Tail Bow Subscription $10.99
Nylon Headwrap Subscription $7.99
Each month has a different theme, which influences all of the bows that are shipped out. For example, March 2021 included muted lavender, sage, and gray bows, while February 2021 had a pink, yellow, and white theme.