Pizza ovens truly are amazing tools, letting you create much better pizza than you could any other way. In fact, the end results with a pizza oven are so great that you'd probably never go back to any other approach.
But, for many people, actually getting a pizza oven can seem a little confusing. One problem is that there are simply so many brands, not to mention all of the individual products out there. Additionally, there are multiple different styles of pizza ovens, each offering their own advantages and disadvantages
To help make things simpler, this post will introduce some of the major brands making great pizza ovens, along with some of their most popular options. All of these are good choices for getting started with cooking your own pizza – and I'll show you which ones stand out.
But, before that, let's take a look at the different considerations to make which choosing a pizza oven, along with why you may want one in the first place.
Why Use A Pizza Oven?
There can be no doubt that pizza from a pizza oven tastes different.
This is partly because the oven gets much hotter than conventional cooking. In some cases, the cooking temperature may be around 700°F, while you also find pizza ovens that bake somewhere between 570°F to 660°F. Regardless of the precise temperature, pizza ovens are typically much hotter than ovens and there is a considerable amount of radiant heat.
The heat in a pizza oven means that a pizza will cook fast, really fast. This dramatically changes the flavor profile and helps make sure you get a crisp pizza every single time. The end result is simply that your pizza is better overall – once you get the hang of the pizza oven.
There are other advantages too.
One of these is time. Because individual pizzas cook fast, you are being incredibly efficient. This is great if you have a large number of pizzas to cook. For that matter, you can normally heat the oven and make the pizza in less time than it would take to get one delivered.
Making your own high-quality pizzas is also much better for health. After all, doing so puts you in direct control of what you are eating. This is particularly significant for anybody with food allergies or who is on a specific diet. For example, you can make gluten-free pizzas in a wood fired oven, often by relying on gluten-free pizza dough recipes.
Types of Pizza Oven
If you're going to make your own pizza, picking a pizza oven is a critical step. But, before we talk about brands and individual products, let's take a look at the different types that are out there.
For the most part, pizza ovens can be broken down into four distinct types. The first one of these is brick and immobile, which is the type of pizza oven you build yourself or have someone build for you. This style of pizza oven takes up a lot of space but it does add value and is extremely functional.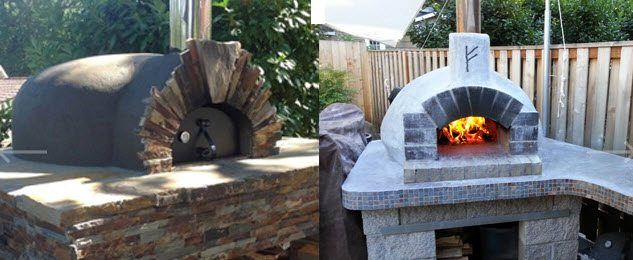 The second style would be prebuilt and this type of pizza oven is often mobile. Many brands offer at least one pizza oven of this type and they can vary in size, price and functionality. But, in most cases, this type of pizza often does tend to be relatively expensive and is still fairly bulky.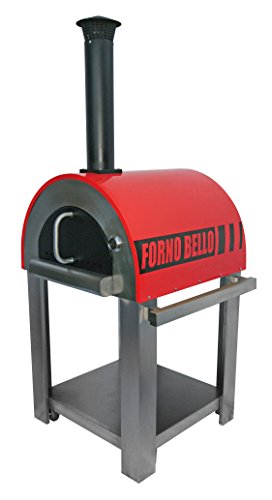 Both these two styles have many of the same advantages and disadvantages. In particular, they are wood fire pizza ovens, which will give you the unique smoky taste that comes with wood fire cooking. In most cases, the size of these ovens would also allow you to cook a range of other meals, rather than just pizza.
But, their bulk and price tag can make them unsuitable for some people and situations. After all, not everybody has the budget to spend hundreds of dollars on a pizza oven. Besides, you might simply find that you don't make pizza often enough to justify the expense.
With that in mind, let's look at the other two types. The first of these is a smaller scale portable pizza oven. These are ovens that are often designed for the countertop and for indoor use rather than outdoor. The size difference means that you have less versatility but that's not really an issue if you just want to cook pizza.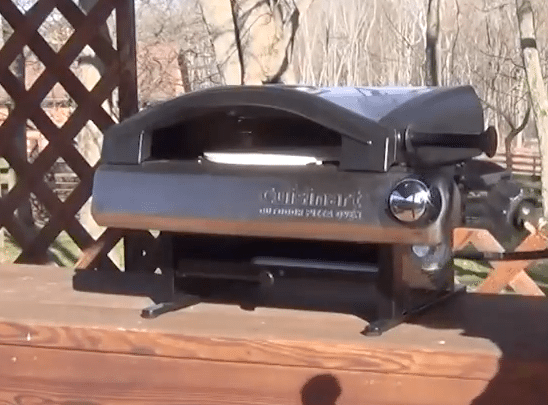 One final style is barbecue conversion. Here you're not buying an entirely distinct pizza oven. Instead, you are basically turning your barbecue into a pizza oven. There are various ways to do so, some of which work better than others. However, products designed for this purpose often have a major advantage and some of these can produce truly amazing results.

These latter two approaches are more practical for many situations and tend to be less expensive as well. This makes them perfect for casual backyard cooks and people who want to try out the idea before they invest too much money.
However, be aware that these types of pizza oven aren't wood fire ovens. As a result, you don't get the unique flavor that comes with wood fire cooking. The ovens do still produce amazing results but the difference in flavor is still something to consider.
Great Pizza Oven Brands
Now that we've looked at the types of pizza oven you can choose from, let's look at which brands are the top of the game, along with some of the key products they offer.
KettlePizza

KettlePizza is a brand that I have considerable experience with and I've been extremely impressed with some of their products. However, the company doesn't specialize in pizza ovens per se. Instead, they offer inserts that create a pizza oven in your grill, regardless of whether it is gas or charcoal.

The KettlePizza Gas Pro is their insert for a gas barbecue and it has the distinct advantage of fitting most styles of 3-burner barbecues. I've found it to be an amazing tool myself, especially as it can get above 700°F. You can check out the full review to find out more about my experiences with the insert and how my pizzas turned out.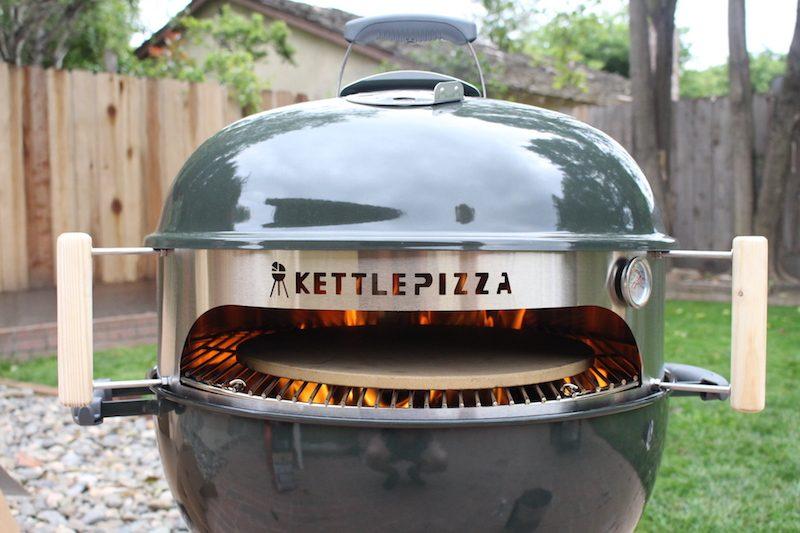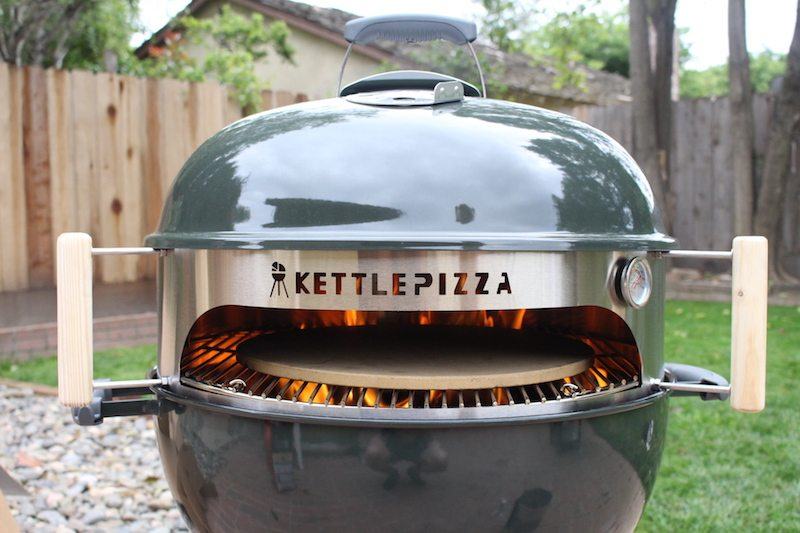 The other main product from the brand is the KettlePizza Weber Grill Insert and again, I've done a separate review on the insert if you want more details. In this case, the product is specifically designed for the Weber grill, so it may not fit into other types of grill. That's a major disadvantage when compared to the gas option.
Still, the Weber grill is a good choice in its own right and if you have one, this insert does simply make sense. While the product does have its limitations, I did still find it very effective for cooking pizza, especially once I learned what to expect.
The KettlePizza brand itself also has a good reputation and their site offers various kits that let you get accessories along with whatever insert you are interested in.
PizzaCraft
PizzaCraft is a brand with a strong focus on pizza making and offers many different products that support this goal. For example, they have an outdoor pizza oven called the Pizzeria Pronto, which uses gas and goes up to around 700°F.
The general design here is a simple one, making it great for people who have very little space. At the same time, the portability also makes it viable for anyone who wants to take the pizza oven tailgating or camping.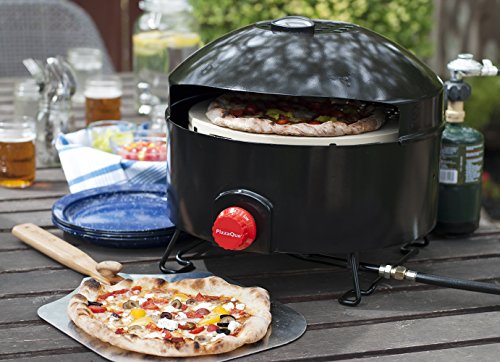 Because the company strongly specializes in pizzas, they have no shortage of different accessories. This includes peels, pizza stones, baking plates and more. Additionally, there is also a leg kit if you want to make the pizza oven stand on its own, rather than having to be placed on a table or counter.
The company's site also offers other variations, such as a side table, which essentially gives you a pizza workstation.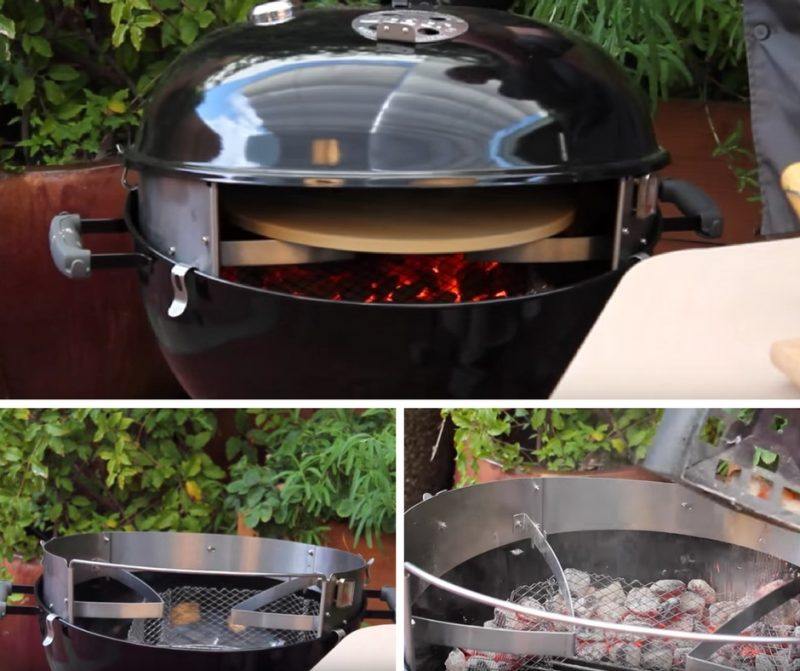 PizzaCraft also offers a similar product to KettlePizza for converting a charcoal barbecue into a pizza oven. The overall kit here has a different design and isn't as nice to look at visually. However, it does have the advantage of being considerably cheaper than KettlePizza's version. This alone may be a reason to choose it if price is a limiting factor.
Besides that, it is clear that the brand knows what it is doing in terms of pizzas. As such, it can be a good choice if you're looking for relatively inexpensive pizza ovens that have a lot to offer.
BakerStone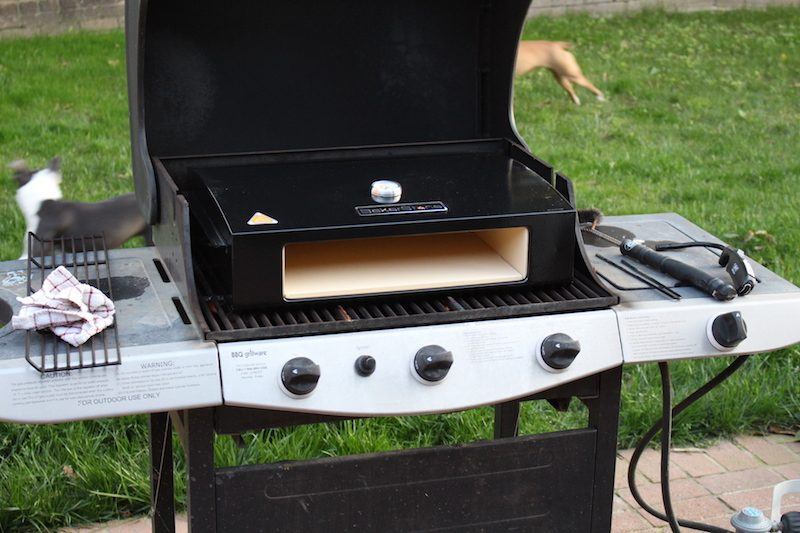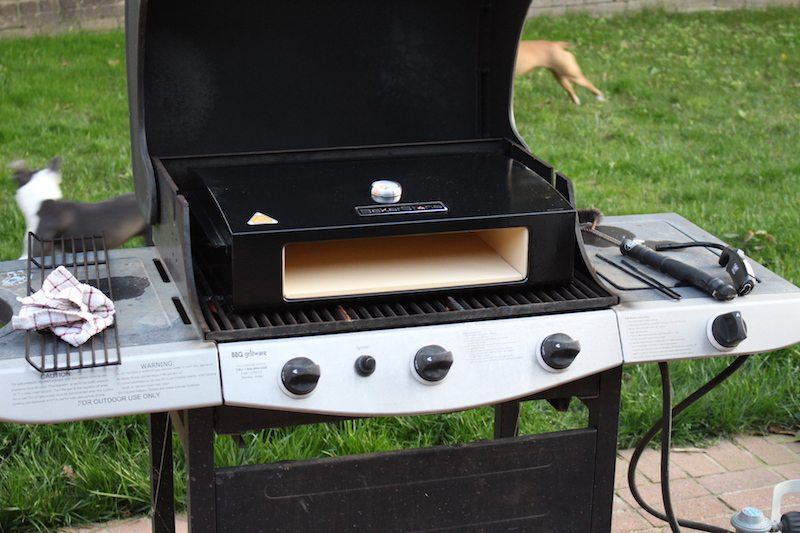 BakerStone is a company that just offers a single product. However, that product is far too significant to ignore. The item here is called the Pizza Oven Box and it is another item that is designed to convert a barbecue into a pizza grill. However, it isn't an insert.
Instead, it is an actual box made out of pizza stones that has a black outer casing. The design looks extremely elegant but it is also very functional at the same time. In particular, the pizza oven can be used with most 3-burner barbecues and has a maximum temperature in the range of 750°F to 900°F.

For the most part, I found that this pizza oven works well and it does function as advertised. In fact, it could even be a perfect choice for some people and situations.
Still, there are some limitations to mention. The biggest one is that the box is relatively small and sturdy. Both are positive features but they do create some complications when it comes to cooking and cleaning the device.
If you're interested in the device, you can read more about my experiences with the pizza oven in the full review.
Camp Chef
As the name suggests, Camp Chef specializes in products that let you cook outdoors and away from home. This focus has resulted in some fairly inventive products, including two different options for pizza ovens.
Now, both of these are very portable, so they don't offer the same quality level you might find from a permanent fixture. Likewise, they are gas powered, rather than burning wood. Still, they are an interesting option for anybody who plans to make pizza on the go.
One of these two is a pizza oven that acts as an accessory. So, you use it in conjunction with the portable gas grills that Camp Chef creates. This is most useful if you already use a gas grill from Camp Chef or if you want to have a portable gas grill as well. Indeed, this could be a particularly powerful option for making pizza during a tailgate party or while camping.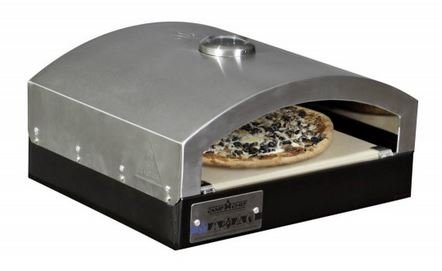 The other product is a standalone pizza oven. This one runs off propane and a single tank will fuel it for hours at a time.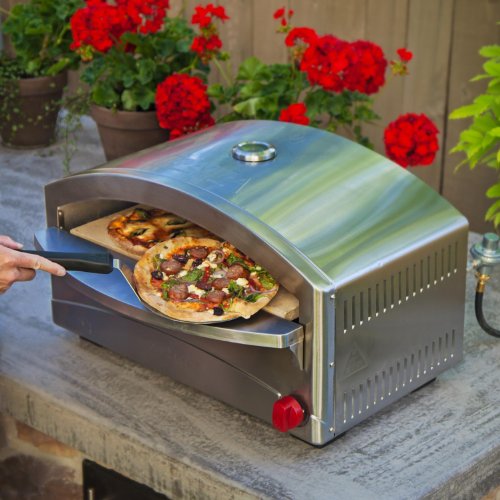 Both products do work well for their intended purpose. Still, they are mainly relevant for people wanting to cook pizza while tailgating or camping. If you're just thinking about pizza in your backyard, there are better products to choose from.
Cuisinart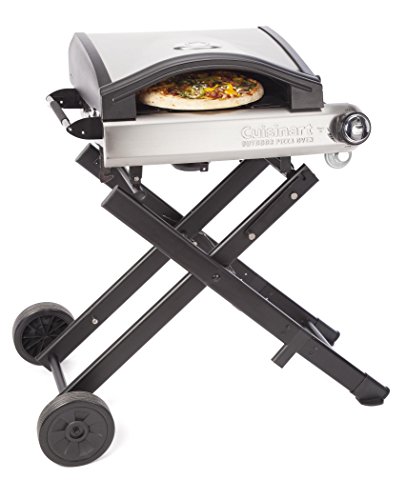 Cuisinart isn't normally a brand you would associate with pizza ovens but it does offer one interesting product. The tool is a countertop pizza oven, one that uses gas as the source of energy. The entire device is compact and fairly elegant, making it easy to use in just about any setting. There are also some cool features, including a warming tray and a built-in smoker cup.
In terms of quality, this pizza oven isn't as amazing as what some other brands offer. But, is still a good choice for many situations. If nothing else, it makes a good way to get started with making artisan pizza and learning the processes involved.
Blackstone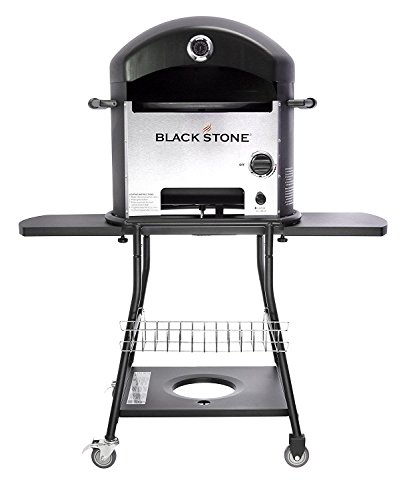 Blackstone may only sell a single pizza oven but the product itself is an interesting one. This is a portable outdoor pizza oven, one that is very practical and also affordable. It is a gas-based model and has the advantage of being fairly easy to move and setup.
There are also some cool additional features, including a rotating pizza stone, which helps to make sure the pizza cooks evenly. That alone makes the model worth considering, as turning a pizza by hand is sometimes frustrating.
However, unlike the previous models, this option is a freestanding model, rather than a countertop one. In many situations, this might even be more useful, especially if you don't have a spare countertop. Still, the difference is worth being aware of and could be a problem for small spaces.
Uuni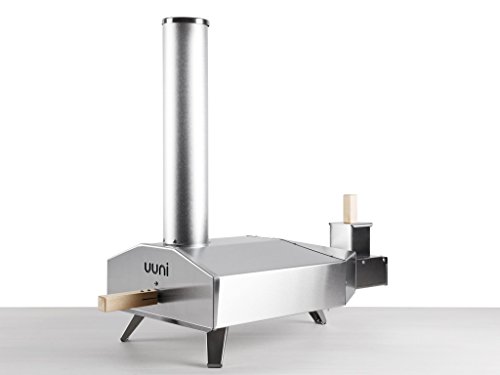 Uuni is an unusual brand and product, but it's too cool to ignore on this list. For one thing, the company is European, which means you have to get the item shipped to the United States. But, trust me, it's worth the wait.
In general, you have two choices with a pizza oven. The first is paying a large amount of money and getting something that actually uses fire. The other option is choosing a product that runs on gas, charcoal or electricity and approximates some aspects of a wood fire pizza oven.
This particular product is an exception to that general rule. The item itself (called the Uuni 3) is basically a countertop wood fire pizza oven and is a similar price to other countertop pizza ovens. The difference is that it actually uses fire – by using wood pellets as a fuel choice. As a result, this is a powerful brand to choose and is the most realistic way to get the best of both worlds.
Forno Bello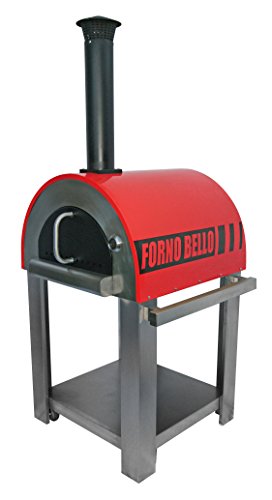 This brand offers one main product, which is a mobile wood fire pizza oven. The item does still take up a considerable amount of space and it is on the expensive side. But, it's still considerably cheaper (and more practical!) than building a physical pizza oven in your backyard.
Plus, the color and addition of racing stripes simply make the entire thing look cool.
ilFornino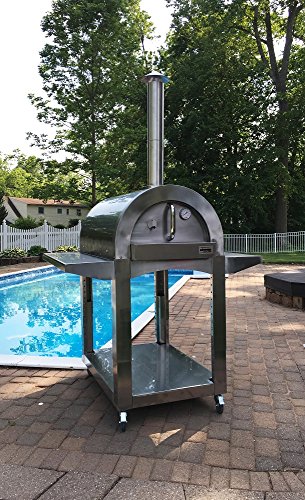 ilFornino has the same general idea as Forno Bello, except this company offers a wider range of products. So, they have multiple styles of wood fire pizza ovens, including some that are smaller than the Forno Bello.
Additionally, the brand also has a mini wood fire pizza oven that can be used on a countertop. That model acts as a great compromise, especially for people who want to be burning wood but are trying to keep costs as low as possible.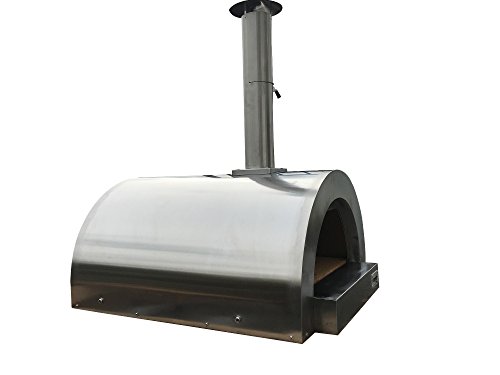 Wisco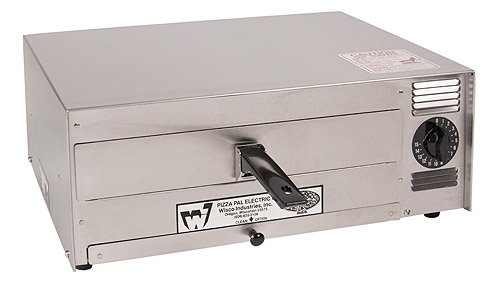 Wisco pizza ovens are a different style than most of the other items on this list. In particular, they tend to have a commercial-like feel to them and rely on electricity, rather than gas or wood fire.
This style means that the pizza ovens would mostly be useful indoors and you would tend to keep them on the countertop. However, the idea is still appealing, especially for the colder months when you don't want to cook outside.
The brand has multiple different ovens on offer, with the one below being another example. But, for the most part, the various ovens are similar to one another and just have minor differences in the features that they provide.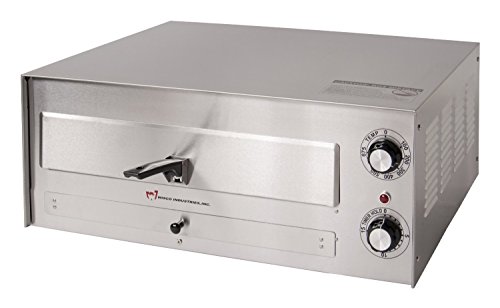 Nemco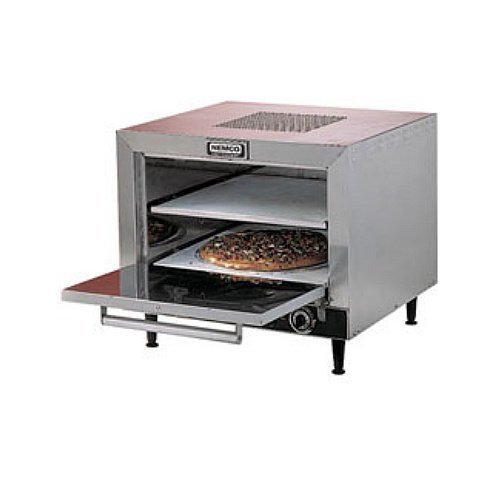 This is a second brand that focuses on fairly commercial pizza ovens that run off electricity. So, once again, you would be using the pizza oven indoors. In this case though, the oven is larger, giving the ability to cook multiple pizzas at the same time. The company does also have other sizes but the same commercial style is present across all of them.
For most home cooks, this type of pizza oven probably isn't amazing. But, it may be viable if you consistently need to cook for a large group of people. I can also imagine it being useful in other situations where that occurs, such as in a church kitchen.
Final Thoughts
With so many different brands, choosing the best pizza oven may seem complicated. But, that's not really the case. Instead, the process mostly comes down to figuring out your price range, along with the type of pizza oven that you want. After all, the various styles all come with their advantages and disadvantages.
In some cases, you might be looking for an inexpensive option for cooking pizza outdoors, such as with a grill conversion or a countertop pizza oven. Alternatively, you could be planning to make pizza indoors, which involves a different set of considerations again.
Regardless of the type of pizza oven you want – it's clear that there are many high-quality choices that let you make your own pizza at home. And honestly, when you've tried this type of pizza once, you'll never look back.