After doing some research for a Snickers-themed recipe roundup I found two awesome recipes that helped me to create my own. This chocolate pretzel protein shake is a great post-workout refuel and recovery snack, or you can drink it in the evening to stave off cravings. What I did was to use something called casein protein and drank it just before bed.
Why?
There's nothing worse than going to be hungry and waking up hungry. A lot of protein shake recipes you see online call for whey protein because it's easily and quickly absorbed into the body. Most people take whey right after a workout so your muscles can use up all the nutrients and recover faster. Your body will basically use the protein from a whey-based shake in about 20 minutes. Casein on the other hand, takes between 3-4 hours to reach peak protein synthesis.
This is why it's a great recovery drink to have at night while your body is resting and doing nothing anyway. This can keep your metabolism working even at night. Contrary to the old thinking, starving your body for 8 hours at night isn't always great for a diet (thought it can help with achieving a caloric deficit).
Chocolate Pretzel Protein Shake Recipe
1 scoop protein powder (whey or casein)
1/4 cup low-fat cottage cheese
ice
2 large pretzel sticks
1/2 cup water
1/2 cup chocolate almond milk
1 tsp cocoa powder
2-3 twists of salt grinder (to taste)
Everything is blended together. You may have to add more water/almond milk depending on the consistency you want. The magic thing about this recipe is the blended pretzels. I was skeptical, thinking it would make it like a mushy bowl of soggy pretzels but no. It added a really amazing texture to the shake that I wasn't expecting.
Of course, pretzels have carbs, but carbs are not evil in moderation! Actually, I made this again with three large sticks and thought it was better than two but you can see what works for you.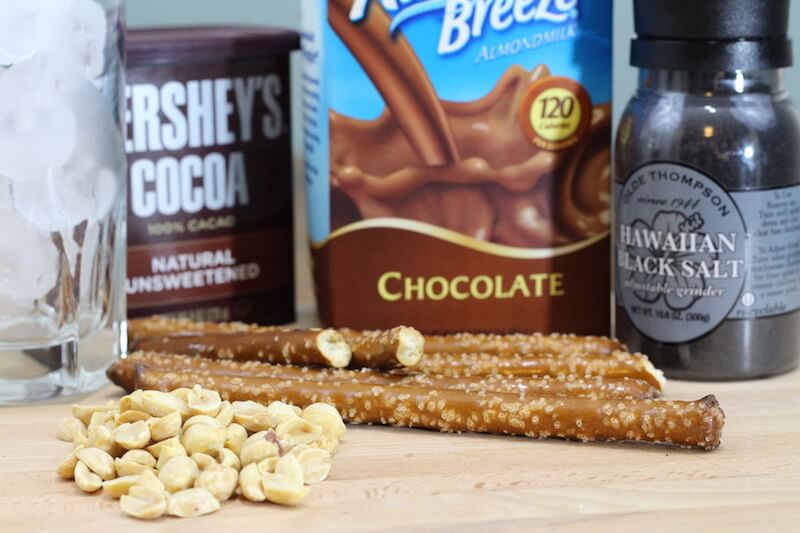 Nutritional Information
320 calories
37 carbs
30 grams protein
To cut calories in this recipe you can add unsweetened almond milk and use an artificial sweetener like stevia, or you can cut the milk altogether and just use water/ice. You can also substitute for fat free cottage cheese or tofu, and cut it down to about 220 calories!
Adding a bit of 72%-80% dark chocolate blended or crushed on the top would also be a great way to add some low fat, low calorie indulgence to the recipe.
Oh, and as mentioned above, this recipe was inspired by the Snickers Protein Shake and the Snickers Pretzel Milkshake.