Necessary & Unnecessary Tools for Cooking Sous Vide!
Sous vide is an old technique, but it has been growing in popularity in recent years. In this post, I'm going to cover all the sous vide tools you absolutely need, and a few you probably want, so you can have some fun in the kitchen making amazing food.
A while back, an extremely successful Kickstarter campaign funded the Sansaire Sous Vide machine. The raised more than eight times their goal – almost a million dollars to bring this machine to life!
Since then, a number of newer, smarter devices have come onto the market. They've gotten smaller, more powerful, and many can now be operated by smartphone of even by voice.
So you wanna cook sous vide but aren't sure what tools you need? I completely understand. Pretty much every tutorial I watched when I got started had a bunch of things I had no idea where to buy, or what they were called.
In just a sec here I'm going to organize these items by level of necessity, and describe what they do, so you can figure out which sous vide tools you need and which ones you can save to your "wish list" for later (you'll probably want them eventually).
It's actually pretty cheap to get started, so let's just dig into the absolute basics first.
Cooking Sous Vide For Free
You should probably know that you can start for free. It's kind of a pain the butt, but you can do it. All you need is a regular pot, a thermometer, and a Ziploc bag.
You'll need to monitor the temperature so you don't melt your bag, but if you tweak your stove enough so you can maintain the proper temperature for the right amount of time, that's basic sous vide cooking right there.
For me? I'm not going to baby a pot of water for two hours. It also means you won't be able to do large roasts or ribs which can take 24 hours or more.
Basic Sous Vide Tools For Convenient Cooking

To get started with very basic, and also awesome sous vide cooking, you need a cooker, a container and some bags.
Sous Vide Bags: Any Ziploc-style bags that have a seal will do. I prefer to use the stronger ones meant for the freezer, but even the weaker ones will work most of the time. The temperature we're cooking foods is low enough that it won't melt the plastic.
Is cooking is plastic safe? Again, the temperatures we're using will not break down the plastic, so yes, it's very safe. This topic has been discussed many times.
For a single person, I use quart-size bags. It'll fit a large chicken breast, double-thick pork chop, or prime rib steak just fine. For two people, I double up the meat and put them in a gallon bag or use two separate quart bags.
For a family, you probably want to use separate bags to simplify. Stacking too much meat in one bag can cause the food to cook unevenly.
Container: Any deep pot will do! If you don't have a deep pot, the Anova cooker is adjustable, and the Joule cooker has the smallest minimum water depth (just 1.5 inches). The Joule also has a magnetic bottom, so it works especially good with metal pots.
Chances are, you have something on hand that will work! Soup pots, stock pots, crock pots, or even plastic containers that are heat safe will be fine.
Sous Vide Cooker: You'll need to choose between an "immersion circulator" or a "water oven". Water ovens are typically more expensive, and have limited space, but they come with their own container, and do not require you refill the vessel even after long cooks.
Immersion circulators are cheaper, take up less counter space, portable, and allow you more versatility with the amount of food you can prepare.
Personally, I recommend an immersion circulator! I've tested 13 of them, and they are really easy use. When you are done, you can store them in a cabinet. It's not another microwave-sized appliance you need to find counter space for! Plus, they're a great way to get started with sous vide quickly, for very little money.

My all-time favorite is the Joule because you can control it with your smartphone, and they have a beautiful app that helps you learn how to cook sous vide with pictures, videos, and easy-to-follow recipes. They are basically the leading company in the sous vide space!
But their immersion circulator is on the higher end of the price spectrum. You an get a circulator for 1/2 the cost. My favorite inexpensive model is the Gourmia GSV140. Gourmia has several models available, but that's my favorite one.
You can also see the full breakdown of cheap and not-cheap models that I've reviewed. Cheap models are usually $70-$120, and the not-cheap ones are $150-$250.
So with those three basic tools, you can cook restaurant-quality meats, flavor-packed veggies, and many different creative dishes (sous vide scrambled eggs are amazing). Considering bags will cost you $0.03 a pop, and you can get out the door with an immersion circulator under a hundred bucks, it's very inexpensive to get started, even if you're on a budget.
Some Minor Upgrades To Your Sous Vide Toolset!

As I was watching lots of "how to" sous vide videos, I noticed a few items that a lot of the tutorials were using. I had to figure out what they were since the chefs never explained!
Of course, I had to buy them too in order to figure out if they were worth the money, so I could report back to you guys 🙂
Polycarbonate Containers: If you have a container you like to cook sous vide and don't want to buy something else you have to find a storage place for, then you don't need a clear polycarbonate container. That being said, I really like mine.
It's clear, so I can easily see and check on my food as I pass by the kitchen. Part of the fun of cooking sous vide is knowing how tasty your food is going to be, and checking on it from time to time can add to the experience. It also means I'm not clanging around pots and pans, and is doubles as a storage container.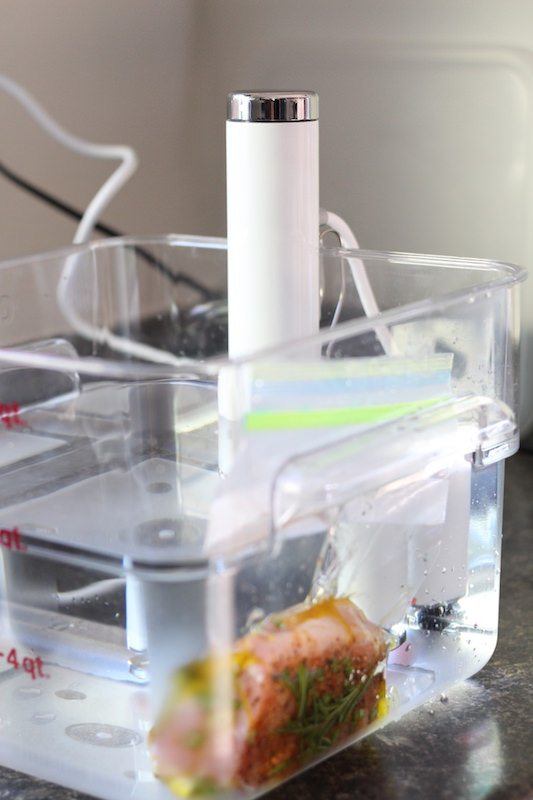 When it's empty I can set my immersion circulator in it along with other bits and pieces I use for cooking. I use the 12-quart model (3 gallon), and it's the most popular size. It's quite versatile since you can cook a few pieces of meat at once, but it's not huge, so you can put about 2 gallons of water in it and heat that up to your target temperature pretty fast.
However, you could probably get away with a 6-10 quart size if you are cooking for one, since typically I don't fill up the whole container with meat when I'm preparing dinner for myself.
They have models up to 22 quarts (5.5 gallons), which is perfect because that's the capacity cutoff point for most inexpensive immersion circulators. Some do go up to 10 gallons though, namely the Joule and the GSV140, which I've mentioned before.
Lids Or Heat-Trapping Plastic Balls: If you get a polycarbonate container, I highly recommend getting a lid for it. They have some lids which come pre-cut! They are specifically made for the Anova Precision Cooker, but will work with most others because the Anova larger in diameter than most devices.
I went the redneck way and bought a regular lid, then cut it with a utility knife. It didn't turn out perfect because the plastic cracked a bit when I tried to cut a perfect square, but it's close enough.
The point of having a lid is to keep in the heat and moisture, and it does that quite well. Keeping heat and moisture means you won't need to refill your container from water vapor loss!
Preventing evaporation is exactly what those "sous vide balls" or ping pong balls are supposed to do as well. Personally, it sounds like a big mess to me, and I don't feel like keeping track of a bag of balls in my kitchen. If a bag breaks? Wow, that's an even bigger mess to clean up.
I'm going to suggest you skip the balls and get a lid.
Sous Vide Bag Clips: I actually had to do a bit of research to find a style of clip I liked, but you can use anything from a clothespin to a set of magnets.
I didn't realize how important clips can be until I had a few mishaps. One time, I cooked some asparagus and they floated in the water, obviously not cooking properly.

Another time, I left a huge roast cooking over 24 hours while I was at my girlfriend's house for the weekend. The bag sat too close to the circulator I guess and broke, ruining the roast and then I needed to clean the appliance.
A sous vide clip will help keep your food in one place, under water, and not touching other food so that the water can properly circulate and maintain temperature. It's not super necessary you get these, but for a couple dollars, buying 2-3 is worth it! I got the 3/4 size. This size works great, but is a little small. You might want to try the 1-inch, but if you get the same ones I did you'll be fine.
Do I Need A Vacuum Sealer?

Simple answer? Probably not. I'd cook sous vide for a while before investing in a vacuum sealer, although there are some pretty good cheap ones out there. Hey, I'm trying to save you guys some money…and counter space.
However, when you are ready, vacuum sealing your food can be a great way to improve your sous vide cooking quality.
You're "locking in" the marinade and flavor more efficiently by removing ALL of the air and just leaving lovely juices and flavor to stew for a few hours.
You're saving yourself the hassle of using the water displacement system, which can leak water in your bag if you aren't careful, and is pretty impossible to get all of the air out unless you are obsessive.
The bags feel more durable and are less likely to break. Yes, I've read over and over again that Ziploc bags are safe for cooking sous vide, and I believe the articles. But there's something about the feel of a solid vacuum-style bag that makes me more confident in my cooking.
Plus, you won't have to worry about bags breaking – ever.
The downside is that they are a tad big more expensive, and harder to find. You probably will have to buy them on Amazon unless you can buy them in bulk at a local Costco or Sam's Club type store.
Fun Stuff To Play With
Here comes the really cool stuff!
Searzall: This is a pretty awesome upgrade for your sous vide cooking, albeit completely unnecessary. Actually, searing your food in a pan with some butter is delicious and effective, and very quick too. Plus, you can add herbs, garlic, and other seasonings in the meantime.

But sometimes you just want a plain salt-and-pepper steak with some crispy sears around the edges without adding a bunch of buttery fat to the mix.
Also, it's very easy to ruin your perfect medium-rare steak by searing too long on each side (I've done this many times).
For those situations, you want a Searzall.
It's basically a gas torch that will flame your steak evenly, instead of using a blowtorch and burning a black hole through your steak with a concentrated flame.
I'm still working on a full review and instructions, but keep in mind that seasoning your Searzall is a must, and it does take about 20 minutes to do before you start cooking. It's smell, and nerve-wracking since it costs an extra $30 to replace the parts if you season it incorrectly.
Ya, it was a bit stressful because I didn't really understand the instructions, but I'll dig into that in the full review. But if you can get over being a wuss and seasoning your torch properly, you can get a beautiful, crisp, brown crust on your steak. (I eventually did).
(Searzall Accessories)
Don't forget, you also need a special gas canister to go with this! Time to make a decision though…
Some people say they prefer the MAP-Pro gas, which is a combination of gasses in a YELLOW canister, namely because it doesn't stink like propane. In the instructions, you'll read that the Searzall is only meant to be used with 16.4 ounce propane tank, which is the short, stocky one used for camping. It's not that it's only meant to be used with propane, it's just that the canister shape is more fat, therefore gets knocked over less easily.
I use MAP-Pro and am happy with it. I hate the smell of propane. Although, I should mention that the point of the Searzall screen is to block out that propane smell so you don't get steak tasting like gas.

Then you need a torch attachment too! This is the part that fits between the Searzall and the canister. The lower model is the Bernzomatic TS4000, the better and stronger model is the Bernzomatic TS8000. You'll get a better sear with a stronger flame, so I recommend going with the TS8000. Prices vary, but the 8000 model is currently cheaper than the 4000 model which doesn't make sense, but it is what it is.
In addition to this, you might want to get a roasting rack and baking pan to match. You will probably do fine with just a cutting board or any other heat-resistant surface, but I'm obsessive about this stuff and wanted a designated steak roasting rack and pan to catch the drippings.
Here's the setup I got. I like to keep it nice and clean like my other kitchen tools. I certainly don't cook anything else on it but meat with my Searzall!

WiFi Sous Vide
More and more immersion circulator brands are adding Wifi-connectibility to their newer models. There's now a total of four on the market, and a fifth coming soon.
Cooking with WiFi? Is this necessary? Nope. But it's fun. And it kinda makes sense.
Sous vide cooking can take anywhere from an hour to 72 hours, and it's impossible to monitor your food for the entire time. Being able to monitor and operate your device remotely makes it easier to leave the room, or even your house while cooking.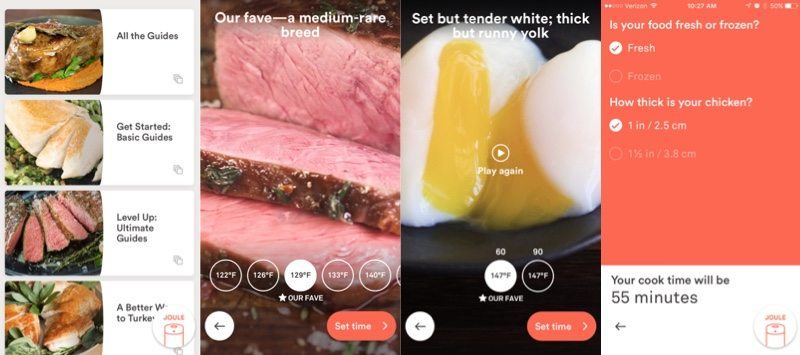 Imagine going away for the weekend and coming home to perfectly cooked ribs! Or what about partying on Friday night and having a delicious steak in the morning the next day for a steak and eggs breakfast to cure a hangover or a better yet, a BBQ'd medium rare steak with a hair of the dog brew? Ah, perfection!
Ok, so those are my fantasies, but the point stands. Wifi adds versatility to your sous vide experience. I love it. There are a few options out there, but my favorite is Joule which I've mentioned many times in this article already! They have the best app, and the most interactive user experience for home sous vide chefs.
Cookbooks
You'll get by for a while with simple recipes you can find online. Everyone wants to try cooking a perfect steak and juicy chicken breasts. I cooked double-thick pork chops weekly when I got my first machine.
But eventually you'll want to branch out to more interesting recipes to improve your culinary skills and see how far you can push your immersion circulator or water oven.
There are a number of good sous vide cookbooks out there, and well as a few boring ones. Check out my list of top sous vide cookbooks for a full rundown, but for the new chef looking for a very visual book full of unique recipes you can't just find anywhere online for free, the best one to get is called Sous Vide At Home.

It's got 100 full color recipes. It's not super-boring basic stuff like how to cook a steak, and won't get into too many crazy technical culinary-theory that will confuse you.