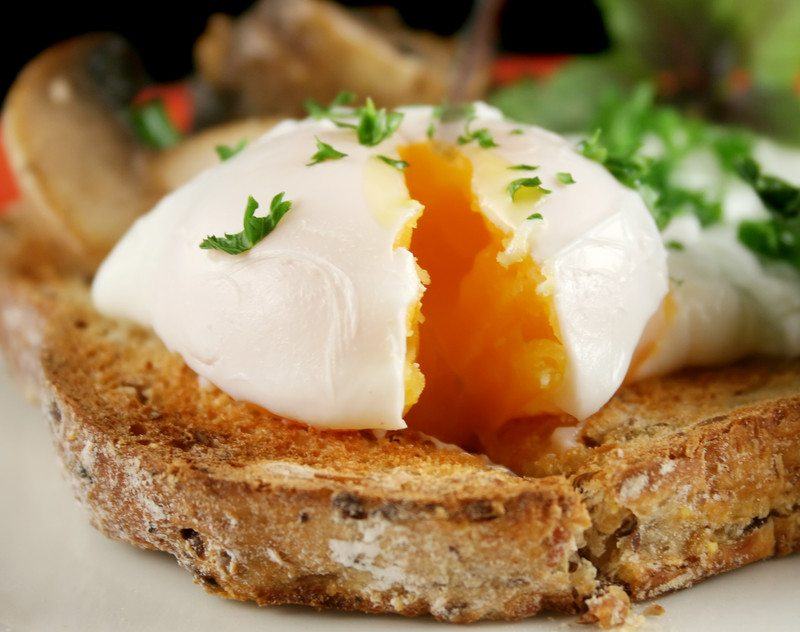 Sous vide has been transported from being a high-end cooking style used in upscale restaurants right into the home kitchen thanks to different types of devices that cook via this method and are more affordable than commercial gear. Let's go over the basics of the sous vide method first, shall we?
What Is Sous Vide?
This seemingly ostentatious term literally means "under vacuum" in French, and it describes the now popular cooking technique of the same name. This definition doesn't quite describe the process exactly, because the important part is immersion of a sealed packet of food in water that is held at a specific temperature for a long period of time.
Think of it as poaching once removed, because the plastic bag (not necessarily vacuum sealed, good old Ziploc freezer bags will do) around the food is protecting its flavor and textural properties, instead of being diluted by direct contact with the water.
It was initially documented as a way to cook food way back in 1799, long before it had commercial implications. Later in the 1970s, it was further developed by a French restaurant most notably for keeping the texture of foie gras perfectly intact. It didn't attract very much attention by the public or study by food scientists until around the early 2000s. Now there are even charts of known parameters for cooking in this way that are great guidelines for preparing tasty food accordingly.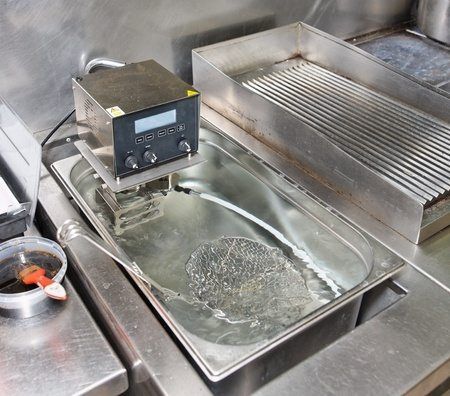 Submerging a sealed plastic pouch of food in a temperature controlled amount of water, where it is then left for a considerable amount of time in order to cook the food to the desired temperature is almost as simple as it sounds. The basic components of sous vide are the plastic bag (usually food grade and heat-stable) and water temperature regulation.
Regarding what type of plastic to use, most people use regular Ziploc style freezer bags (I like Glad brand because it's cheaper), or vacuum sealer bags for food.
Yes, it's safe. No, they won't give you cancer. It's been studied and documented extensively. The temperatures to break down plastic are way out of the range of what you cook at with sous vide.
Why Use Sous Vide?
The reason that this is an effective cooking method is that the temperature of the food stays the same as the temperature of the cooking water, making this a cooking nerd's dream because it is such a precise way to cook food and achieve dependable results time and time again.
Take a rib eye steak for example. If it is cooked on a grill on in a skillet on the stove top, this exposes it to much higher heat than the target temperature that most people want the finished steak to have. You are basically using a very hot temperature on the outside to heat the inside, but you can't really tell when the inside is done. It's guesswork based on experience. This leads to either under cooking or over cooking the meal, making it much less reliable for the desired outcome.
By utilizing sous vide, the meat can evenly cook and stay at at the exact point of pretty pink medium-rare for long periods of time, only needing a quick sear in the pan for the crispy outer surface once completed en sous vide. You can pick anything from a 129ºF "blue", to a 131ºF medium-rare, to a 156ºF well done.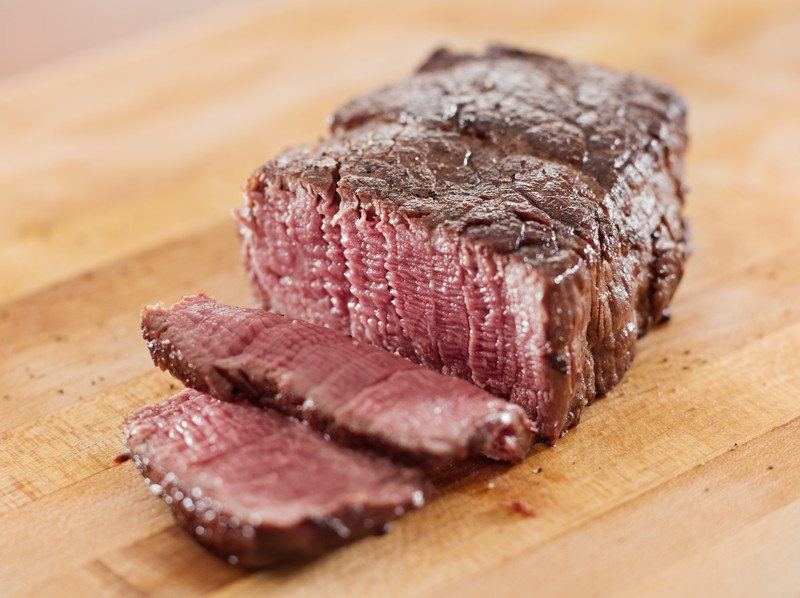 The best part about sous vide though is the way that food cooked this way tastes. Sous vide has been proven as a method to cook food predictably and evenly to the exact level of done-ness wanted through the piece of food, it pasteurizes foods while at a low temperature (so it is possible to have a medium-rare steak that is also completely safe to eat as mentioned above), and it creates tender morsels out of tougher cuts of meat, while still retaining moisture and absorbing seasonings with more intensity of flavor.
Imagine cooking spare ribs for 24 hours or a brisket for 72 hours. Talk about juicy and soft!
I know it sounds too good to be true, but it really isn't that revolutionary or complicated. And to those that are thinking this is the same as boiling food a la rice in a bag, the crucial difference is that this is usually a low and slow process, with temperatures staying well below the boiling point.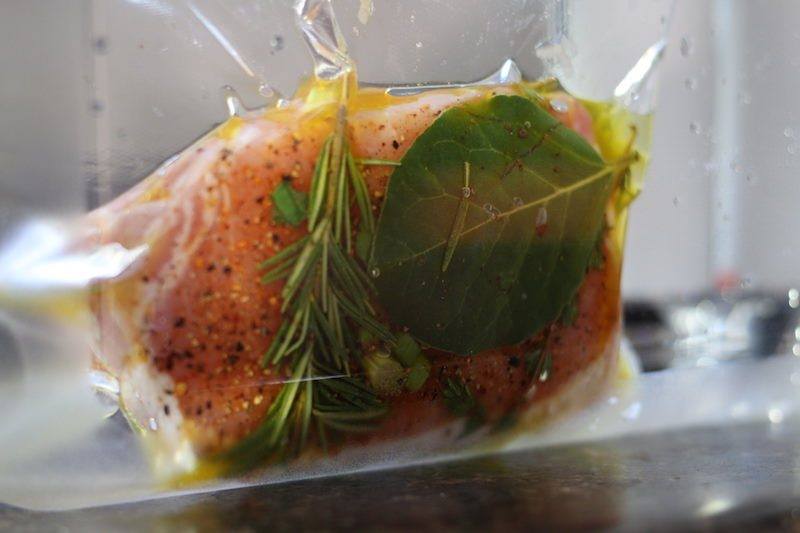 However, it is of utmost importance to keep the water consistently at a specified temperature to eliminate the risk of bacteria that cause food-borne illness, which is why this method usually requires a device to regulate the water temperature effectively. Before there were readily available devices, it was a bit more risky to try and get the results found in restaurants.
Using Sous Vide At Home
It is an oft used technique in professional kitchens because it is quite easy and also provides excellent results that can be replicated. What more could a restaurant dream of than having the same quality dishes every night? This prepared food can subsequently be saved for longer than conventional methods of cooking and food storage/preservation.
Professional and commercial equipment is often too expensive for the average home cook, however. Those looking to try their hand at sous vide might end up annoyed at the time consuming task of babysitting a pot of water with a thermometer in it to safely regulate the temperature of the water.
Don't fret, these days there are many more affordable options on the market and it is possible to achieve sous vide in a variety of ways with a small investment. This advance in home cooking equipment means tasty food is much easier and safer to achieve with sous vide.
Hacking a rice cooker, cooler, or slow cooker is one of the cheapest (if not as simple) ways of getting the desired end product with minimal additional equipment purchase, but it is certainly more complicated to produce. That's why we aren't going to describe it in detail here. The biggest downside to a hack is not being able to leave the setup to do its thing as well as the fact that it is not as accurate for long cooking times at precise low temperatures.
But for those looking to make their experience easier and safer, there are several types of sous vide cooking devices, namely the following: immersion circulators, proportional-integral-derivative (PID) controlled water baths, and combi-ovens that are specially made to cook sous vide in addition to conventional cooking. Let's go into detail to talk about the differences between these very scientifically grandiose sounding machines.
Immersion Circulators VS PID Controlled Water Baths (AKA Water Ovens)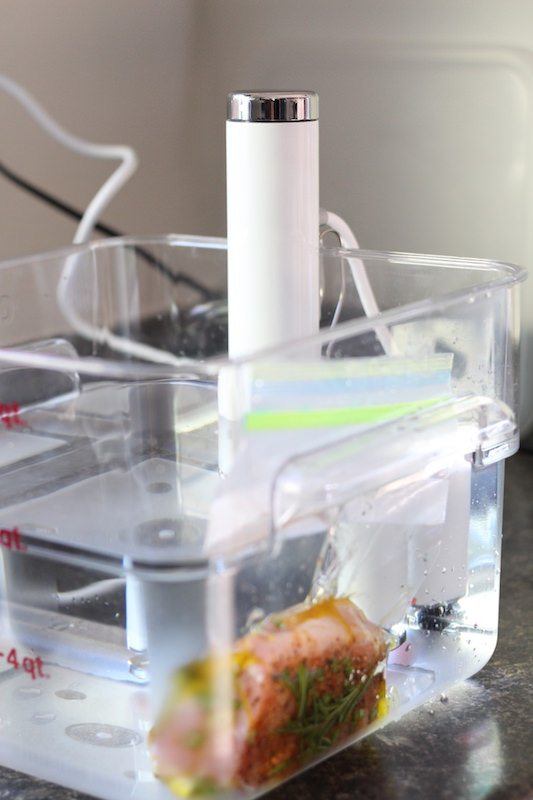 Immersion circulators are typically the least costly of the sous vide cookers because they attach to an existing pot in the kitchen. It is a smaller device that clips on and effectively heats and circulates the cooking water to prevent cool or hot spots from forming during the sous vide process. There are some with integrated apps to set the temperature and time for temperature-variated recipes.
The PID controlled water bath is a larger device and it looks much like a rice cooker or counter top steamer. It holds the cooking water and has an integrated heating element, eliminating the need for the circulation of water.
This is because it uses thermal convection to heat the water thoroughly and consistently with a regulator to make sure it stays persistent. It is an all-in-one setup, but it does take up more physical area in the kitchen meaning it is not ideal for those with limited counter space.
The last type is a combi-oven, which is a combination of moist vapor heat and traditional dry heat of a convection oven. Each feature can be used in conjunction or each individually. This machine gives many more versatile options with what can be cooked since it has this duality. The downside of this type of sous vide cooker is that it is not as accurate when using at low temperatures as the aforementioned types of sous vide cookers.
The temperature in a combi-oven fluctuates between 4°-9° F of the set temperature, while the immersion circulator or the PID controlled water bath maintain a 1°-2° F fluctuation from the set temperature. This is important for cooking certain foods, such as fish, that require a more consistent low temperature.
About Immersion Circulators
I've actually spent an extensive amount of time purchasing and testing 13 different devices to do individual reviews so you can find the best one for your home! (I'm still working on the ovens…they are quite expensive). You can check out the entire list of reviews of immersion circulators, or you can check out my favorites.
My all time favorite is the Joule because it looks sleek, and they have a solid team of engineers behind the device, as well as a very useful app to help make your first, and hundredth recipe turn out perfect. Seriously The whole company is dedicated to sous vide, unlike most other immiersion circulators which are just one device among many that the company sells.
My favorite budget option is here. But there are many other options which are mentioned in those individual articles.
Ziplock Freezer Bags or Vacuum Sealed Bags?
The other component of the sous vide process that is very important is the type of sealed container, usually plastic bags, used to seal the food. There are several different types that can be used and are useful to mention since they are a crucial part of this method.
A decent choice is using the classic Ziploc freezer bags (this is because they are guaranteed to tolerate temperatures that are used in sous vide), a vacuum sealer bag (which requires an additional piece of equipment), or in some recipes glass canning jars will do the trick (especially good for certain side dishes and desserts that require shorter cooking times and for those worried about heating in plastic).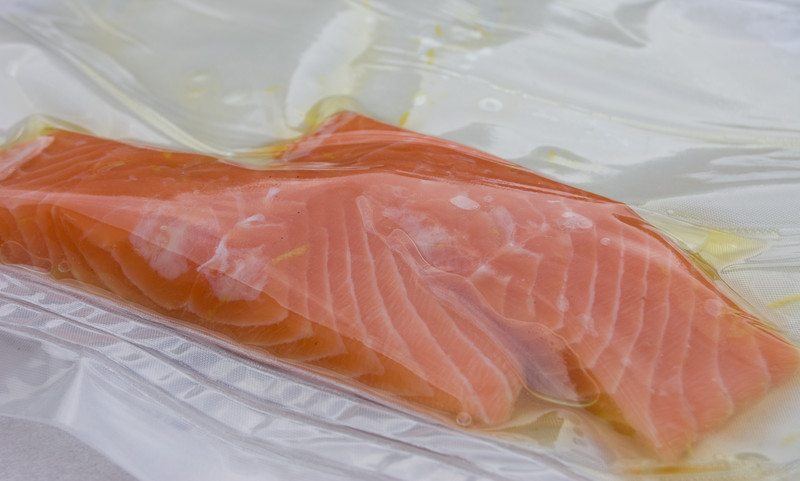 The important part is placing the food in a bag with minimal air left in, so that it doesn't float on the surface and therefore not fully immersed in the cooking water, which means it won't cook evenly or thoroughly.
If using Ziploc freezer bags, the gallon size is a great starter, it takes some creativity with the task of removing excess air. A straw can be manually used to suck out the air from bags containing non-meat items, such as fruit or vegetables. (No one really wants to accidentally suck up raw meat juice, yuck.)
It is also possible to remove air by using a bowl of water to press the bag so that the air gets pushed out from the pressure of the water. Just don't let extra water flow into the bag! A weight or stay may be needed to keep these bags submerged, since they may still have some air remaining inside.
Both of these methods are reasonably reliable, but the easiest solution is getting a small vacuum sealer machine. These use a modest air compressor to suck air out of the bag, which is then heat sealed closed, so the air stays out. This reduces the volume of the bag, which also helps it to stay put in the water bath. There are many different models available of this type of machine, and there are some that are reasonably priced as well.
The final type of container that can be used with sous vide is the glass canning jar. This is a bit more limited in application, as it works best for things that require lots of water, space, or shorter cooking times. Think beans, grains, and desserts like pudding and custards. There are specific guidelines for using mason jars that are listed online here.
What Can You Cook Via Sous Vide?
But what exactly can one cook in via sous vide? It's for more than just steaks, but don't get me wrong, steak makes a great example. It is easy to cook juicy chicken of all cuts, flaky and moist salmon or other fish, soft or fluffy eggs that are exactly the way they should be, tasty vegetables that are extremely concentrated in flavor but still plump, and even decadent desserts. It can also be used to make things like gelato, poached fruit, bread pudding, crème anglaise, brownies and cheesecake, to name a few options.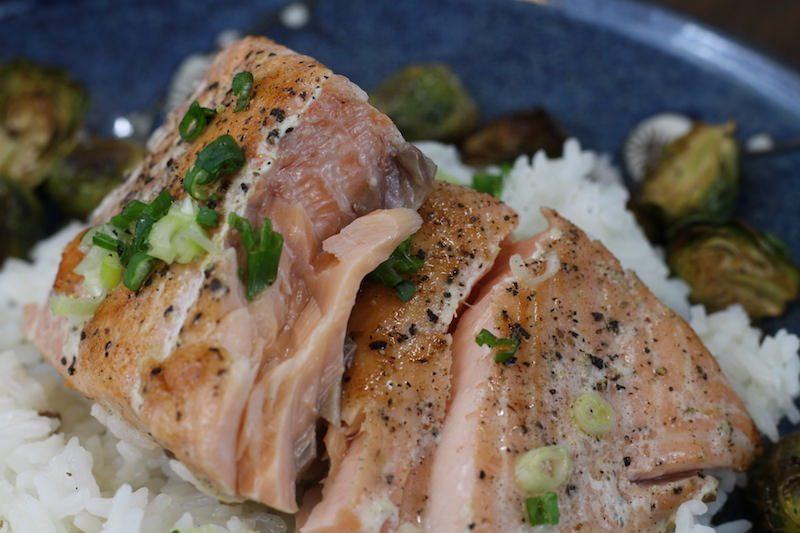 The only work involved is a little math to calculate the cooking time and some research about cooking temperatures for that perfect medium-rare or other niceties. Or if that sounds a bit too daunting, there are existing charts that give excellent protocol for cooking times and temps. In fact, many newer devices come equipped with an app to navigate sous vide recipes. Some even have videos you can watch!
Since this is a relatively new product available to the average home cook, it is still developing new ways to cook food in novel ways and this is where the online community is a great resource. There are some cookbooks available, but only a few truly unique ones. Many of them repeat the same old "how to cook a steak" recipe, although to be fair, that is the most popular dish since it's totally worth the extra time. Scrambled and poached eggs is another of my favorites to make!
Each brand of sous vide cooker has their own blog with countless recipes and online support, with ideas for keeping the bags from floating, how to save water, and other fun tricks and tips for getting results with whatever equipment works best for a kitchen and cook.
Whatever sous vide adventure that you decide to embark on, whether it be with a homemade hack, an immersion circulator, a PID controlled water bath, or a combi-oven, rest assured that there is a community of enthusiasts ready to take your hand and show you the way to sous vide heaven.
So there it is, the basics of sous vide, down to the very details. If you think you're ready, and already have an immersion circulator, then you can try one of these super easy beginner sous vide recipes.
Although it's been around for centuries, it still feels like a fun, "new" technique to cook great food, with minimal effort. Newer app controlled devices can even start your machine on a timer or while you're away from home, and allow you to check the progress of your meals on the go! Just fill your container with ice and bagged food, leave the house for work or shopping, then start the device remotely via smartphone and come home to a perfectly cooked meal!