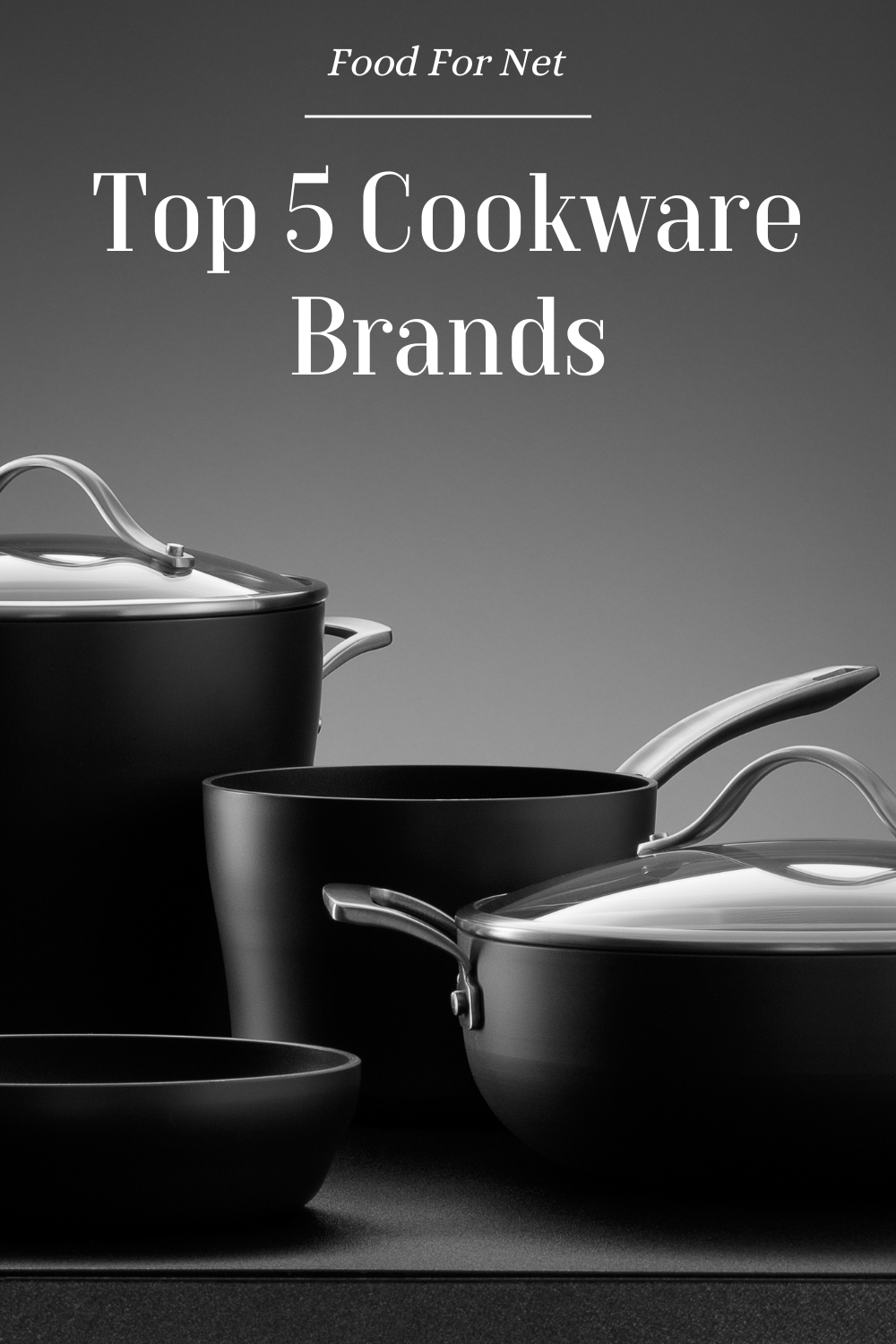 Whether you're an avid cooker or have mastered just a few basic recipes, everyone spends some time in the kitchen at some point or another. Even if you're just cooking basic meals for yourself or your family, the quality of your cookware and dinnerware matters. This is crucial, as certain brands of cookware can actually be toxic! Some brands have very little concern for the health of their customers and use materials that are known to be harmful. 
It's quite important, then, that you use only the best cookware brands if you want to ensure your food is 100 percent clean and harmless. While your health should be your priority, there are many other benefits to using only top-notch cookware and accessories. 
The better your tools are, the better the results will be. One of the biggest concerns is things sticking to the pan, but a lot of non-stick materials are the most toxic ones! So, you need to find a good balance between materials and function.
The following brands are some of the best on the market, in terms of health, functionality, and the flavor of your food. Get the most out of your meals, whether they're simple and healthy or fancy and adventurous. It's also nice to get a whole set of cookware – this way everything not only works together but also matches! The appearance doesn't affect the cooking process but it always looks good when your tools match your decor.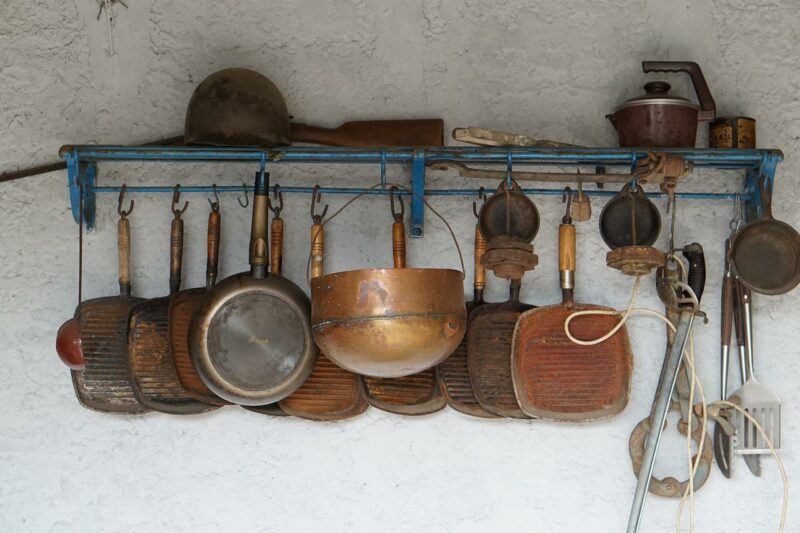 The Best Cookware Brands
1. All-Clad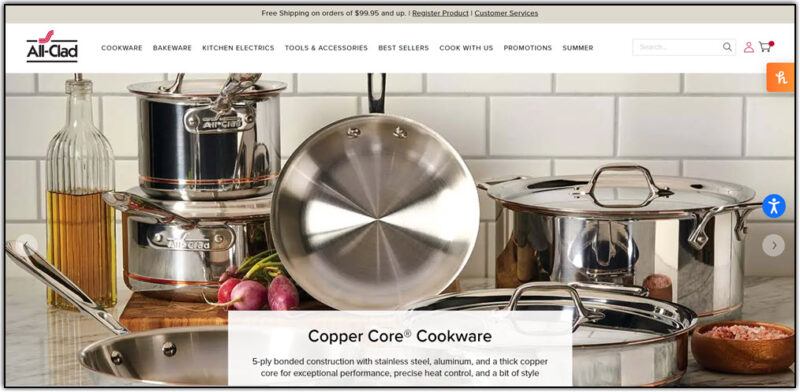 All-Clad has been specializing in premium stainless steel cookware for more than 50 years. It all began in 1971 when the founder wanted to combine their love of cooking with their deep knowledge of metals. 
Every piece of their cookware is handcrafted at their mill in Pennsylvania, using only the best practices and finest materials. Their ultimate goal is to provide top-notch cookware with superior performance and maximum durability to aid those of all skill levels in making delicious food.
Their collection of cookware spans a few different lines, including stainless, everyday, brushed, polished, copper core, and a few more. 
The everyday pieces are simple, affordable, and perfect for even the most casual cook. Like the others, they are made with All-Clad's revolutionary three-ply bonded materials and come in a variety of different sets. You can buy them by the piece if you're just looking for one or two things, or get an entire set of ten pieces.
In addition to incredible cookware, All-Clad offers an amazing selection of other kitchen tools, accessories, and electronics. This includes things like slow cookers, waffle makers, toasters, utensils, and a great collection of bakeware.
2. Cuisinart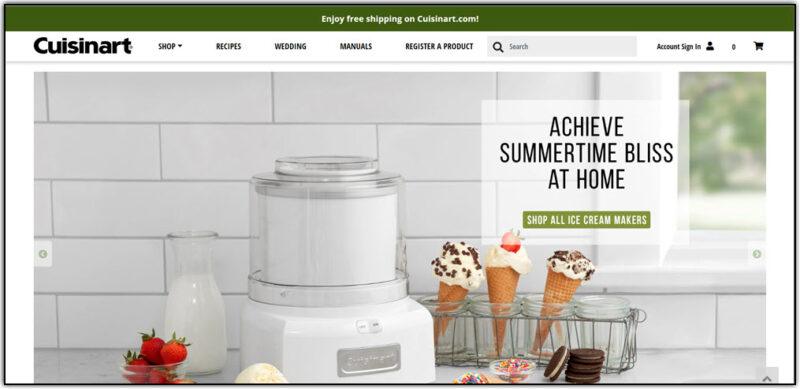 Cuisinart is a classic kitchen brand that has affordable but good-quality products to offer in just about every area of kitchen life you can think of. They have an amazing selection of bakeware, cutlery, tools, appliances, accessories, extras, spare parts, and of course – cookware. 
Their cookware selection is vast, with everything from baking and casserole dishes to classic pots and pans. They've got some of the most durable skillets and fry pans on the market and a great multi-functional griddle for cooking multiple things at once. 
They've also got an incredible selection of stylish cookware sets. These sets contain different styles and amounts of pots and frying pans. They've got plenty of classic blacks and silver to choose from as well as a few brighter colors like white, red, copper, and sage. There are so many to pick from that they offer a series of filters you can use to find your perfect set. With these, you can search by color, price, material, and even function.
Ultimately, Cuisinart has everything you need to outfit any kitchen, to successfully cook whatever it is your heart desires. If you're looking for inspiration, they even have a great collection of recipes posted to the website, categorized by things like events, meal types, main ingredients, and special diets like vegan or gluten-free.
3. Caraway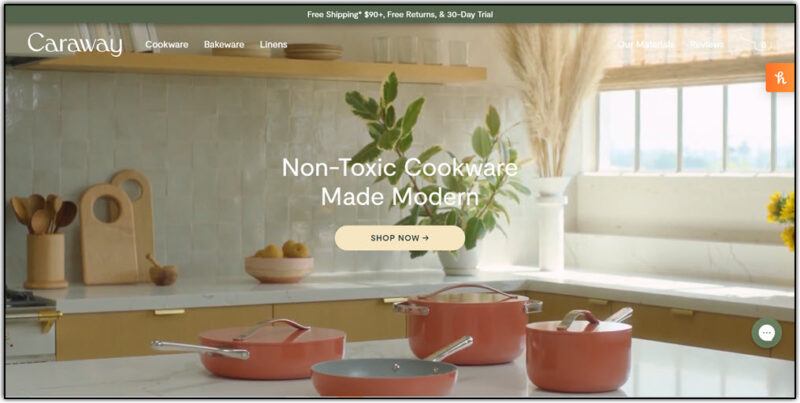 Caraway offers a beautiful collection of modern cookware with a commitment to being non-toxic. Their selection is not as broad as some others, but for them, it's quality over quantity. They have four key cookware pieces – a frying pan, saute pan, saucepan, and a dutch oven. You can buy them all individually as you please or save a little money by buying all four as a set.
These pieces offer some of the best quality on the market with their chemical-free ceramic coating and versatile designs. They are also available in several beautiful, classic colors including sage, navy, cream, gray, red, yellow, and light pink. These colors are bright but classic and will go with just about any kitchen aesthetic you may be after. Buying the pieces as a full set also gets you a storage rack included so you can keep the pieces contained and organized in your cupboard.
They have two other collections to offer – bakeware and linens. Each of these pieces is just as beautiful, non-toxic, and well-made as the cookware. They are also available in similar and complementary colors so everything not only works perfectly, but it all also looks amazing together in your kitchen. 
4. Made In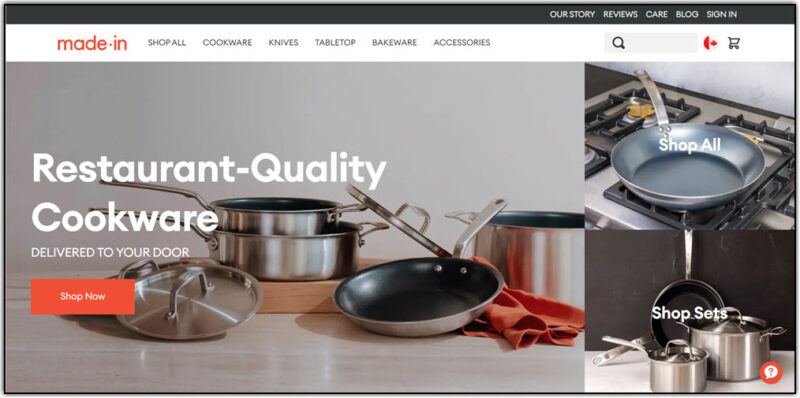 Made In is an innovative cookware brand offering restaurant-quality pieces with a budget-friendly price tag. Their big claims are backed up with an endorsement from the Food Network itself, that complimented their five-play pans and their ability to cook up perfectly browned crepes.
Their cookware comes in a variety of materials and styles, including stainless steel, copper, carbon steel, and specifically non-stick. Between all of these categories, they have a piece for just about anything you want to do in the kitchen, from classic pots and pans to dutch ovens, grills, woks, and more. You can get sets with anything from three to 13 pieces, or you can pick and choose with individually available pieces.
In addition to being on the Food Network's radar, the cookware is used and praised by many head chefs, professionals, and well-known cooks from all over, including the top chef at Craft.
If you love their cookware, they've also got a selection of bakeware, tabletop accessories, other kitchen accessories, and an amazing knife collection. Their selection of knives includes an eight-inch chef knife, santoku knife, nakiri knife, bread knife, and a pairing knife.
5. Le Crueset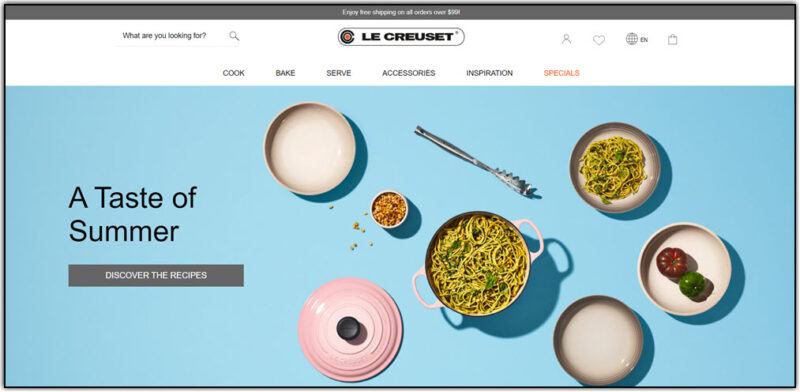 Le Creuset has been around since 1924 and has seen cooking and dining go through many changes over the decades. They began creating their amazing cookware right around the time the idea of dining together with friends was catching on. They took advantage of this turn of events and created the first bright, flame-colored cast-iron cocotte. This wild color was eye-catching and it only added to the newfound fun of the kitchen. 
Their cookware selection includes all the pieces you could ever need for the kitchen – from versatile pots and pans to French ovens, kettles, grills, and more. All of their pieces strive to combine quality and functionality with beautiful, striking designs. This includes the innovative design of the items themselves and the bright, bold colors they have available.
You can stick to basic black, white, grey, or silver if you want, of course. But, you can also pick from red, orange, and a few shades of green and blue. Some are also made with the blue outside but black on the inside, which offers an even more dynamic look if you've got a colorful but classy kitchen! First and foremost, Le Crueset focuses on quality and craftsmanship – but they also embrace the fun side of cooking and dining! 
Cookware Materials
There are so many different materials used in cookware that it can be hard to decide which ones are right for you. Some are better than others in one area but not others, so it's useful to know the general pros and cons of some of the most common materials before purchasing a brand new set of cookware:
Stainless Steel
Stainless steel is perhaps the most common material used. This is due to its versatility, durability, and quality. It cooks food well without affecting the taste of your food and is generally oven-safe. 
The quality can vary with stainless steel, though, depending on how it's made. If you're going stainless steel, it's usually better to get the higher-end stuff.
Cast Iron
Cast iron is an older-fashioned material that is known for being almost indestructible. Cast iron pieces will certainly last you a while and they cook your food up with so much flavor! It's also good at cooking food evenly, which is important. 
One of the biggest downsides to cast iron, though, is that maintaining it requires some extra effort. It can't be put through the dishwasher you so must hand wash it every time.
Another option here is to go with enameled cast iron. You can the benefits of cast iron with an easier cleanup. It is a little pricey, though, and it's not always the most effective non-stick out there.
Ceramic
Ceramic is a popular non-stick option. Non-stick pans are fantastic because you don't have to worry about greasing them up or using any oil. Ceramic is also popular because it contains none of the usual chemicals found in many non-stick pans.
The downside is that the non-stick effect tends to fade over time. It's also not dishwasher safe as this will ruin the non-stick qualities.