If you're looking to purchase an electric skillet, you might run into some product items that have copper in their names. Copper, as a cooking metal, is well known for its excellent material properties. Like iron metal, it has been used for cooking for thousands of years.
Its heat conductivity is what makes it stand out from other cookware materials. It heats quickly and evenly. This means that you are less quick to scorch your food.
In contrast, iron is a slow conductor of heat. Stainless steel is relatively better, but copper still takes the win for conducting heat twenty times better.
This is why cooking with a copper electric skillet sounds like a great idea. Because it heats rapidly and evenly, you can easily cook your meals with less energy. It also stores heat very well, so even if a particular copper electric skillet doesn't have a "Keep Warm" function, your meal will stay warm longer.
There are also some health benefits to cooking with copper. That's because copper has antibacterial and antiviral properties. Copper disrupts their cellular metabolism, rendering them inactive. This is why copper is also used as a hygienic material in hospital settings.
Unfortunately though, there's no electric skillet that's made out of real copper in the market today. I happened to look at those available online, and I found out that they're only referring to copper as a color and not as material.
I'm not sure why; maybe because copper is a metal that reacts with vinegar or anything with acid in it, like tomatoes, for instance. It can leach into the food and cause copper poisoning in the long-term. So it's more practical to use it as a base material than on the interior surface of an electric skillet.
Whatever the real reason, there's something to be said about the stylish quality of copper-colored cookware. The aspirational quality of a high end traditional kitchen set-up is, for the most part, due to the collection of copper pots and pans displayed elegantly in the cupboards. Copper is chic and exclusive. Copper looks good!
A copper electric skillet, with its classy red-brown color, sitting on your counter top will give your cooking space a bit of flair. There are many different shades of copper and each will give a different energy. Rose-toned metallic coppers have feminine energy while orange-infused ones have a manly, energetic vibe.
But even if you don't care a bit about the color and prefer the real thing, don't be too quick to rule out these copper colored electric skillets. They've got some of the best features for an electric skillet. In fact, here are my top 5 recommendations for the best copper electric skillets I wouldn't mind using for cooking.
For those looking for a reliable metal material for cooking and not just a non-stick version with color, you may want to consider a stainless steel electric skillet.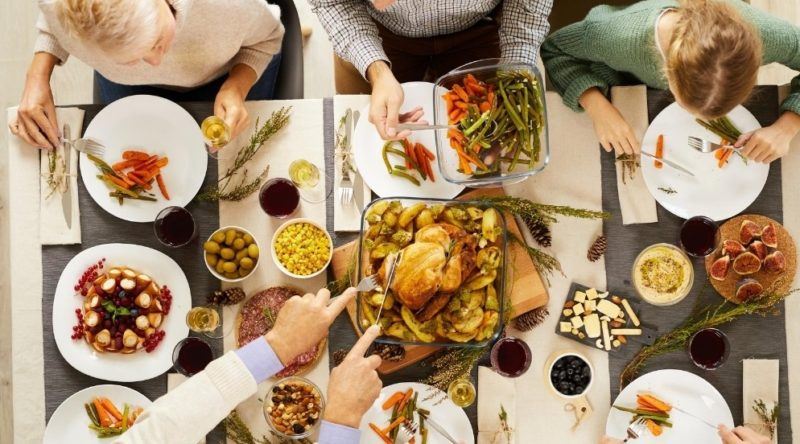 Best Copper Electric Skillets
Bella Electric Skillet, 12″ x 12″, Copper
Caynel 12 x 12 Inch Nonstick Electric Skillet with Glass Lid
Home-Style Kitchen 15″ Copper Ceramic Electric Skillet
Hamilton Beach Deep Dish Durathon Ceramic Skillet
CRUX 6QT Extra Deep Electric Skillet
1. Bella Electric Skillet, 12″ x 12″, Copper

Its titanium non-stick coating is colored copper, and it looks good when it' s used as a dish for your stir-fry. It accentuates the different colors of your vegetables. But more than that, the coating is 8 times durable and cooks up to 30% faster than your usual non-stick coating. And because it's titanium, it's scratch resistant.
You can roast, fry ,steam and even bake with this skillet. Once you've finished cooking, just remove the probe and the whole skillet becomes a serving dish that you can carry to the table.
Pros
Cool touch handles
Base is fully immersible in water for washing
Cons
Needs to be seasoned before first use to prevent burnt marks on the pan
2. Caynel 12 x 12 Inch Nonstick Electric Skillet with Glass Lid

This one has a large interior with high side-walls to accommodate big meals. The titanium non-stick coating is copper-toned and can be used for grease-less cooking. Its base is made from heavy cast aluminum to prevent any heat-induced warping.
It has adjustable 5-setting temperature control (200f-460F), and also has a warming function to keep cooked meals fresh. Its tabletop design allows it to be used as a serving dish; just remove the power cable.
Pros
Healthy-Eco Coating, PTFE and PFOA Free
Tempered glass lid has a steam vent
Washable by hand
Cons
Pan not fully immersible
Temperature dial is in 1,2, 3,4,5 settings, not in Farenheit
3. Home-Style Kitchen 15″ Copper Ceramic Electric Skillet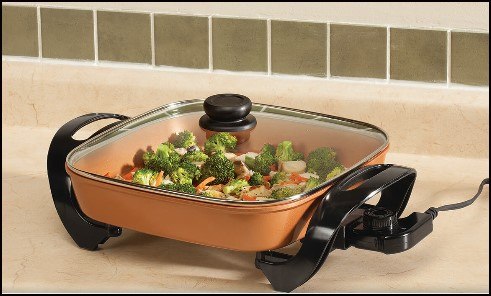 This electric skillet is copper-toned inside the pan and out. It has the usual ceramic non-stick coating that lets you cook even without using oils and fats. The tabletop design allows countertop cooking or buffet serving. Because of its color, it will easily stand out in any table-setting.
It has five temperature settings and can withstand up to 797F. It also dispersed heat evenly so there will be no hot or cold spots in the pan; you'll have consistent browning in your meats. It also has a tempered glass lid for easy viewing.
Pros
PFOA- and PTFE-free
Great for cooking big meals
Cons
Not dishwasher friendly, only handwash
Not immersible either
Buy it here from Walmart
4. Hamilton Beach Deep Dish Durathon Ceramic Skillet

Instead of the usual 2-inch depth, this copper colored skillet is 3 inches deep. This makes it easy to cook a variety of meals in this skillet. Whether you're frying, stewing or braising, your meals will come out nicely cooked and well done.
Its temperature can be adjusted from a warm setting to a hot 400F. Its nonstick coating is superior since it's made of Durathon ceramic. It also has cool-touch handles so you can move the skillet from your counter top to your table even if it's hot from cooking. It's also dishwasher friendly.
Pros
PTFE and PFOA free
Coating won't crack or peel; it's four times stronger than standard non-stick coatings
Cons
Bit slow to heat up; takes 20 mins to reach 400F
Temperature dial is half-covered by the base handle; some might difficult to grasp it.
5. CRUX 6QT Extra Deep Electric Skillet

This is a gorgeous looking copper colored electric skillet. At 6 quarts, this skillet can really cook for big parties. The extra 3-inch depth reduces spillage while creating more space for cooking.
It has a 1200 watt heating system and has a removable probe with adjustable temperature controls. You can preheat this skillet too.
The copper color is also used as an accent piece along its handles's edges. The exterior is coated in black matte finish. The overall design makes it look chic and luxurious especially when it's used as a serving dish after cooking your meals.
Pros
10% more durable
PTFE and PFOA free, non-stick
Metal utensil safe
Easy cleaning
Cons
When lid is washed, water may get under the handle
Buy it here from https://www.cruxkitchen.com/
Copper Electric Skillet Buyer's Guide

Even though there is no such thing as a real copper made electric skillet, it doesn't mean that you'll just have to settle for just anything. Here are some questions to ask when choosing your copper electric skillet.
What kind of color do you like?
Color preference is an entirely a personal choice although if you're picking cookware to fit the theme of your kitchen, remember that various shades of copper are ideal for specific styles. If you like a rustic and homey kitchen theme, darker shades of copper will do well. Lighter shades of copper, meanwhile, will give that metallic vibe that would be best for industrial kitchens.
What size and shape do you want?
If you plan to cook big meals, pick a copper electric skillet that can accommodate a big volume of food. Shape is also a big factor since some dishes can be more efficiently cooked in the usual rectangular shape; you can't bake a cake in a wok-shaped skillet.
What kind of heating system do you want?
Electric skillets can vary in their temperature ranges. Most have a 200F-400F range; for deep frying purposes however, consider a skillet that can heat up to 450F. Also check if they have removable temperature knobs so that its easy to use the skillet for serving food.
Is it dishwasher friendly?
Not all copper electric skillets are dishwasher friendly. Generally, all the models I've reviewed on the market are handwash friendly but not every product is immersible.
How reliable is the brand's customer service?
Pick a brand that is responsive to customers satisfaction. It will save you the frustration of dealing with a defective product.