Crock-Pot 6.5-Quart, Programmable Touchscreen Slow Cooker Review
Quality - 100%
Features - 100%
Price - 97%
Personal Experience - 100%
Value - 98%
Soak in the stylish design of the Crock-Pot SCVT650-PS because it's one of a kind. The chrome color and digital touchscreen interface are not common at all. If you've got a modern looking kitchen or just think it's time for slow cookers to catch up with the rest of the world, then this is the model for you. Also, considering it's the Crock-Pot brand, it's reliable as well. 1,000+ people on Amazon agree with me!
Introduction
Normally I like to review slow cookers that are part of a lineup like Cook and Carry or Set 'n Forget, but this time I decided to purchase, test, and review a very unique slow cooker just because it looked so different: the Crock-Pot 6.5-Quart Programmable Touchscreen Slow Cooker. There are a few main things which make this cooker unique, which should be immediately obvious just by looking at the photo on the top of this page.
But can looks and fun features really make a difference in your slow cooking? Let's take a look at what you get with the Crock Pot SCVT650-PS.
Standard Features
Though the SCVT650-PS looks pretty fancy, it comes with all basic features of any other slow cooker you've ever used. It's got a low/high/warm setting, and because this is a digital programmable cooker, it also has an automatic warming feature. The lid and crock are dishwasher safe. Actually, I thought the lid had kind of a cool design! At first I thought it was broken but nope – it was just a modern design. The crock is oven safe but you should not use it with any direct head like the burner or broiler.

The bottom of this Crock-Pot has rubber feet to prevent sliding, and there are cool-touch handles on the side made of silicon. However, as one video reviewer commented, and I personally discovered, they are not "cool". The handles definitely heat up with the slow cooker. The silicon part does not cover the full handle, and underneath it is metal, so there is a chance of burning yourself. I was able to touch both the silicon and the metal without issue, but it was noticeably hot and I would not want to leave my hand there.
Plain, plastic handles are much more practical, but these definitely look stylish. I don't mind grabbing a dish towel or oven mitt if it means that I have a pleasant-looking appliance that matches my kitchen. If you use a slow cooker every day, how your appliances match could definitely be something worth considering before you commit to buying!

Extra Features
Now, the fun part! This was a fun slow cooker to review because there are some cool features to talk about. I've reviewed almost 50 different slow cookers on FoodForNet, and sometimes it gets a bit monotonous…they are all very similar. Not model SCVT650-PS from Crock-Pot though!
First off, it's very obviously a unique color. The chrome finish is not something you see every day in kitchen appliances. Typically you'll get red, black, silver, or white for slow cookers. Though they call it "silver" instead of chrome, it's clearly a reflective chrome color versus the typical stainless steel look of silver. This really makes the slow cooker stand out, especially with black accents like the digital interface, lid handle, and silicon wraps for the carrying handles.
Best of all (this is really neat), you get a touchscreen interface! As far as I know this is the only touchscreen slow cooker out there, which makes this one from Crock-Pot truly one of a kind. Does a touchscreen make your food tasted better? Nope. But it's fun, and it makes your kitchen look more modern.

The downside to a touchscreen is that there's more of a chance that some kind of electronic issue will happen down the road. With other manual slow cookers, you select the temperature to cook at with a physical dial. Not much to worry about there. The cooker works or doesn't. Here though, much like newer cars, you simply have more things that can go wrong.
Still, regardless of that one negative I think I would prefer to have a touchscreen than a typical dial. I'm a millenial, love technology, and think it's about time slow cookers made some changes. I don't think there's been any real updates since the 50's!
Cooking Experience
OK OK OK. Enough about the looks and design. Did this thing actually perform like a regular slow cooker? How did the meal turn out? Well, as with any device, it takes some getting used to. Each device has its own temperature and heating settings that may change the outcome of a recipe you often make. With the 6.5 quart programmable touchscreen slow cooker from Crock-Pot, I made a shrimp risotto.

The results were not perfect. It turned out more like a "porridge" than risotto, as you can see from the photo. That's not to say it wasn't good – it was delicious. And the next day I made leftovers, adding veggies to make a kind of chicken soup veggie porridge. Yum! But it certainly wasn't classic risotto. The recipe will need some tweaking, or perhaps risotto just wasn't intended for the slow cooker.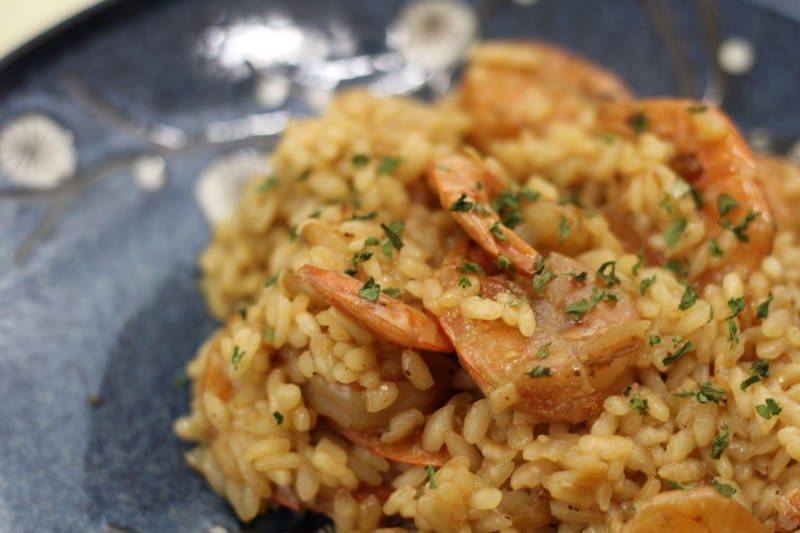 But even though the dish didn't turn out perfect, I was still happy with the way the Crock-Pot slow cooker performed. I was able to time it correctly, it automatically switched to warm when finished, and it was easy to clean up. Though warm, I actually really liked how sturdy the handles felt, and the sleek curve design of the lid handle.
Comparing The SCVT650-PS To Other Slow Cookers
At 6.5 quarts, it's a little larger than the 6 quart programmable slow cooker from Crock Pot I previously reviewed. Will 1/2 a quart make much of a difference either way? Probably not. Hamilton beach also makes programmable slow cookers of this size, and there are many types. One is the Stay or Go model which has locking clips to secure the lid for traveling with your cooker. The other is the Set 'n Forget model which has a temperature probe that allows you to measure the internal temperature of meats through a port in the lid. You can also set the cooker to stop cooking when the probe reaches a certain temperature.

If you're just looking for a regular style slow cooker, you could also consider these Crock-Pot standard models. There's nothing fancy about them except for a few more color and size choices. Otherwise, they're pretty much the same. Because they don't have the touchscreen interface or chrome design, they'll be about ten to twenty dollars cheaper, even for the programmable versions. Manual versions will be about 1/2 the price of this one.
That may seem like a huge discount, but remember that most slow cookers last for several years before they need to be replaced. Some last longer! Twenty bucks in the long run doesn't matter much. Still you may want the base model with no programming for extended cook times or even a color that will be easier to clean. Chrome tends to attract fingerprints!
For me? This is definitely in one of my Top 3 favorite slow cookers of all time. With over 1,000 reviews and excellent ratings on Amazon, I think most people agree with me. This model was even tested and mentioned on CHOW magazine a couple years ago.
Top Mid-Range 6-Quart Slow Cookers
Who Is The Crock Pot 6.5 Quart Programmable Touchscreen Slow Cooker Best For?
This slow cooker is going to be good for a few types of people. I cook for one, and would consider buying this pot to have leftovers I can pack up and reheat for lunch. It means I can make ribs without firing up the BBQ in the winter, and also make a stew without putting much effort into it (plus I can leave the house int he meantime).
However,  6.5 quart capacity is best for a small family, since it feeds 4-6 people.
If you like the touchscreen interface and "tech" look, then this is basically the only choice. No one else has this type of thing right now. It'll go perfect in a very modern kitchen as well. Most slow cookers are like the forgotten appliance, still using basic colors and sitting in the corner. If you find your cooker on the counter often because you use it so much, consider getting a fancy looking one like this one.

Conclusion
Though it doesn't make the food taste better, it makes my kitchen look better and I enjoy using it more. The touchscreen is just "extra", but sometimes it's nice to have nice things. For a few dollars more, you can get a beautiful, reliable appliance rather than a very standard and boring version. I'll probably keep this one instead of reselling it like I usually do after I test an appliance and review it here on my site.

Pros/Cons
Pros
Awesome, Innovative Design
Reliable Brand
Touchscreen and Light Display
Dishwasher Safe Stoneware/Lid
Easy Clean
Cons
Slightly More Expensive Than Other Similar Sized Slow Cookers
Hot Handles
Top Mid-Range 6-Quart Slow Cookers