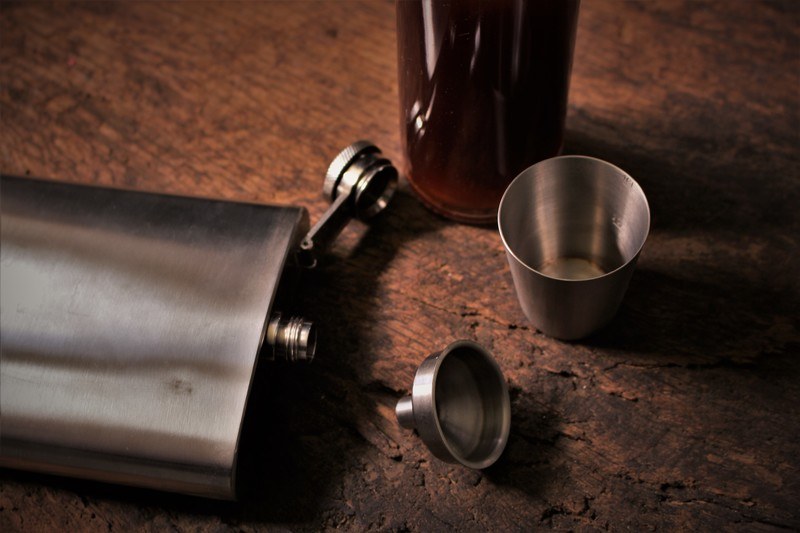 Flasks make great gifts, partly because they're so practical. Many of them are also inexpensive, so you can simply add a flask to a gift that you planned to give (like a bottle of their favorite whiskey). You could even fill the flask before giving it.
The custom engraved flasks in this list are all ways to take flask giving to the next level. The featured flasks come in a range of styles. Some are simple, others are more complex. Regardless of the style, the flasks are all gifts that come with that personal touch. After all, personal gifts always carry more meaning.
Find the perfect rare whiskey to fill your flask with the Flaviar whiskey club.
Groomsman Custom Flask
Stainless Steel Flask Funnel Rescue Knife Gift Box Set
Text-Based Colored Flask
Stylish Custom Engraved Flask
Cheers! Engraved Flask
Stainless Steel Belt Buckle Flask
5-Ounce Stainless Steel Flask
Personalized Vintage Style Whiskey Flask
Gunmetal Flask
Stanley Master Series Flask
Black Matte Hip Flask And Lighter Gift Set
Maverick Personalized Green Military Flask
Giant Extremely Large Flask
Wood Flask With Initials And Vertical Text
Hip Flask: The Classic
Glass Flask: The Vintage
Monogrammed Leather & Steel Flask
Millennium Flask
Glass Flask With Quote
Copper Plated Flask With Personalization
14K Gold Plated Groomsman Flask
Glass Flask With Vintage Inspired Look
Army Flask Or Flask Set
Rosewood Slim Flask
Cellphone Flask with Black Leather Pouch
Deep Engraved Glass Flask
Skull And Cross Bones Flask
1-Ounce Stainless Steel Flask
Custom Engraved Leather Flask
Monogram Colored Flasks
Game Of Thrones Flask
Wood Veneer Flask
Personalized Cork Flask
Skull Hip Flask
Sugar Skull Flask
Steampunk Engraved Flasks
Shotgun Shell Flask
Great Beard, Great Responsibility Flask
Art Deco Flask
Groomsman Custom Flask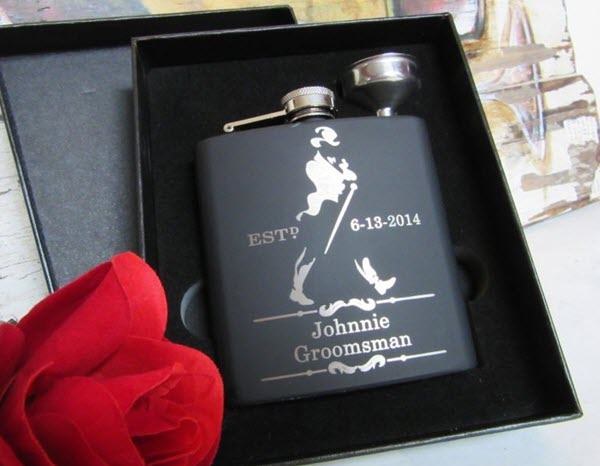 This flask might be designed for groomsmen, but it's not limited to that use. You could simply skip the title and date or put an entirely different title in that position. The engraving would still work well and has a fun style. The flask can be ordered in matte black (as pictured) or leather. Of those styles, the matte black stands out more.
Rescue Knife Gift Box Set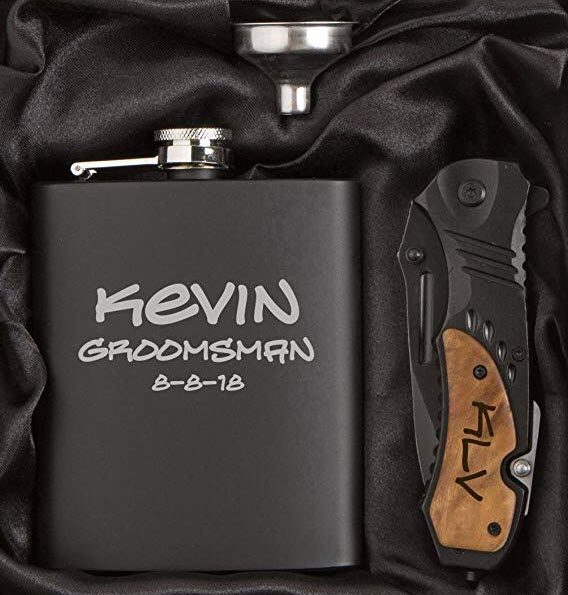 This Rescue Knife Gift Box Set is a great reminder that gifts can come in many shapes and sizes. For the flask, you can specify any 3 lines of text. They don't have to follow the name-role-date style unless you want that. The knife can be customized with up to 10 characters. You can choose the font in both cases.
Text-Based Colored Flasks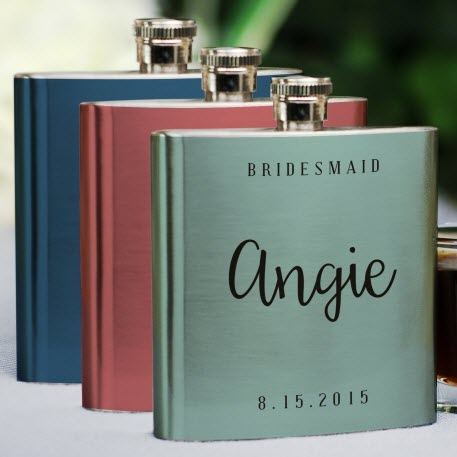 The main selling point of these flasks is the colors. There are 12 different color imprints to choose from. You're also able to specify the text color and 3 lines of text. Unusually, the color imprint is on the front of the flask only. The back is stainless steel. The style works well and stands out from most of the other flasks out there.
Stylish Custom Engraved Flask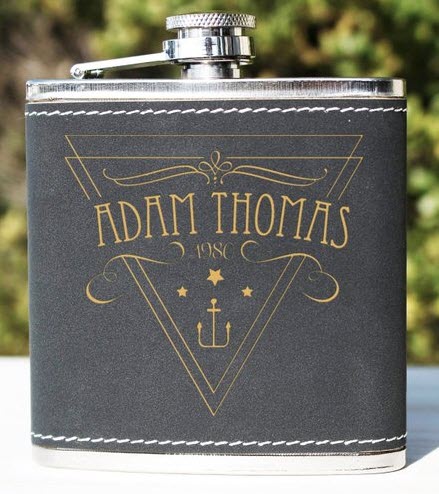 This Stylish Custom Engraved Flask is just that little bit different. Sure, it's still the same size and shape as many other options, but the engraving design is distinctive. You're able to specify the first name, last name and year on the flask.
Cheers! Engraved Flask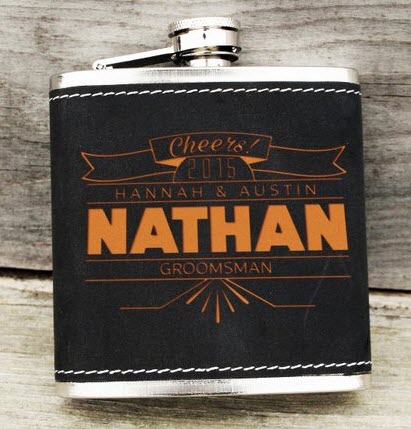 Here's another interesting design. The flask comes from the same seller as the previous one and the design stands out well. This Etsy seller has many different flask designs to choose from. Some of them are conventional, while others are pretty unusual.
Belt Buckle Flask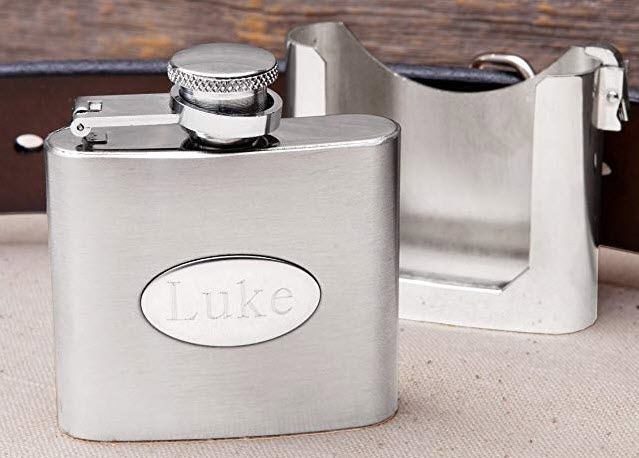 This Belt Buckle Flask is an interesting option for anyone who wants to be more discreet. The flask itself is small, holding up to 2 ounces of liquor. It can be engraved with up to 7 characters. Of course, the main focus is the flask holder, which can be attached to most belts.
5-Ounce Stainless Steel Flask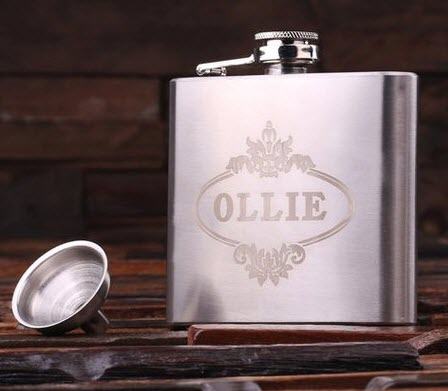 This stainless steel flask takes customization to a new level. The seller provides complete control over what is engraved on the flask. This includes the ability to add a logo, a graphic, a saying or whatever else you can think of. You can also purchase a box along with the flask, which is engraved as well.
Personalized Vintage Style Whiskey Flask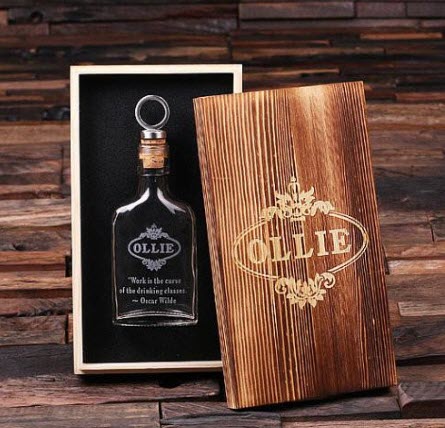 Most flasks are made from stainless steel. That's not the case with this Personalized Vintage Style Whiskey Flask – it's made from glass instead. The style makes it much more personal, while the flask remains functional. There are many engraving styles to choose from for the flask and for the gift box.
Gunmetal Flask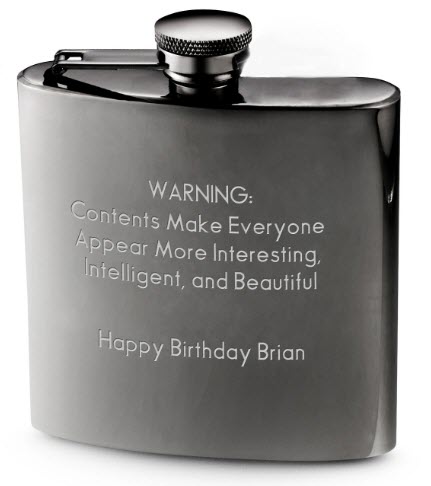 This Gunmetal Flask could be appealing if you want something that is just a little bit unusual. Another interesting aspect is the engraving. You're able to specify up to 15 lines of text on the front and the back. That's an impressive amount. There are other options too, like adding a graphic and choosing the font type.
Stanley Master Series Flask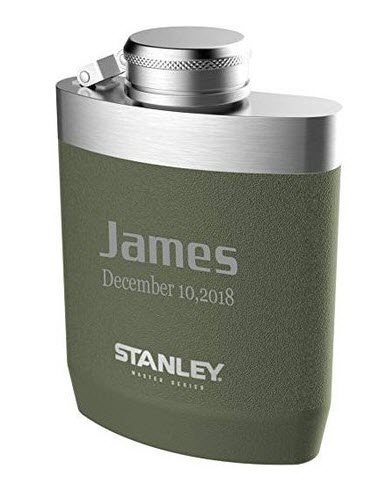 The engraving on this Stanley Master Series Flask isn't the main selling point (although you do get 3 lines of text that can hold up to 18 characters each). Instead, the focus is on the design. The flask is particularly resilient. It has a wider opening and grips around the lid, which make the flask easier to fill than most. There are no sharp corners, so the flask fits in your hand nicely.
Black Matte Hip Flask And Lighter Gift Set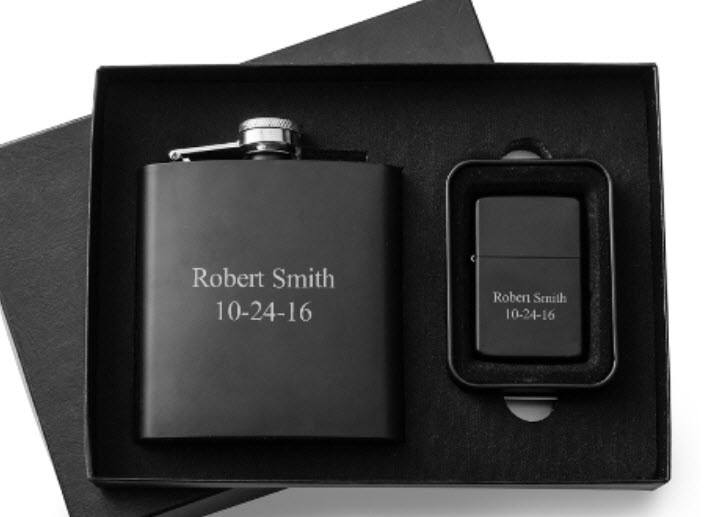 This Black Matte Set isn't going to win any awards for originality, but that doesn't matter. The combination of a black matte finish and silver text creates a gift that looks professional. Including a lighter is a nice touch too, as this means you're giving a little bit extra. The engraving consists of 2 lines, up to 15 characters each. Whatever you choose will be engraved on the flask and the lighter.
Maverick Personalized Green Military Flask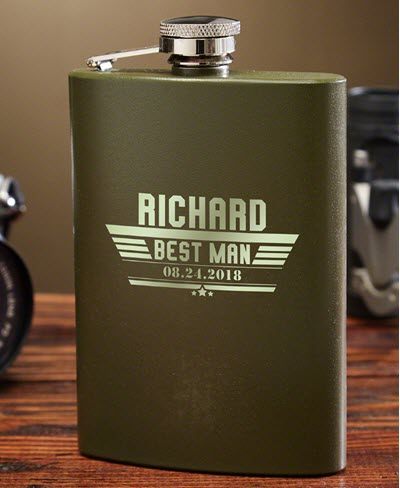 It's easy to see where this Maverick Personalized Flask takes its inspiration from. The engraving style is the biggest advantage, although the green of the flask is pretty cool too. It's always nice to find something different than the typical silver or black versions.
Giant Extremely Large Flask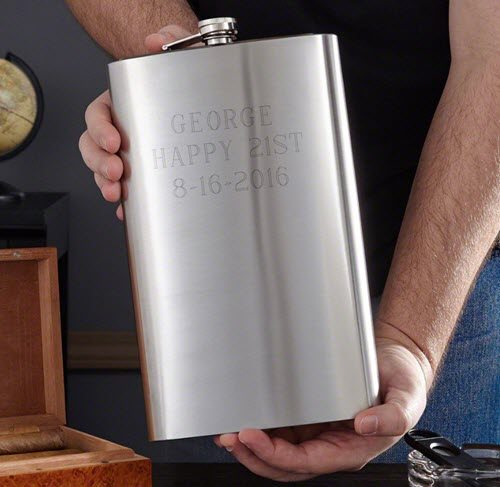 Calling this a Giant Extremely Large Flask seems a bit redundant, but that's the phrasing that the site uses, so we'll stick with it. Needless to say, the flask is absurdly large. It's mostly a novelty gift, although the flask is fully functional as well. It can be engraved with up to 3 lines of text. The main catch is that you have to pay individually for each line.
Wood Flask With Initials And Vertical Text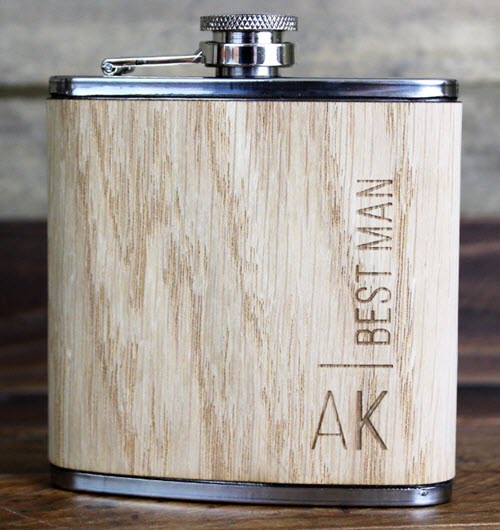 While there are many styles of flasks out there, this Wood Flask with Initials still manages to stand out. The flask itself is stainless steel, covered with wood veneer. The process makes the flask look great while ensuring that it remains practical. Then there's the engraving. The style minimalistic and combines well with the rest of the flask.
Hip Flask: The Classic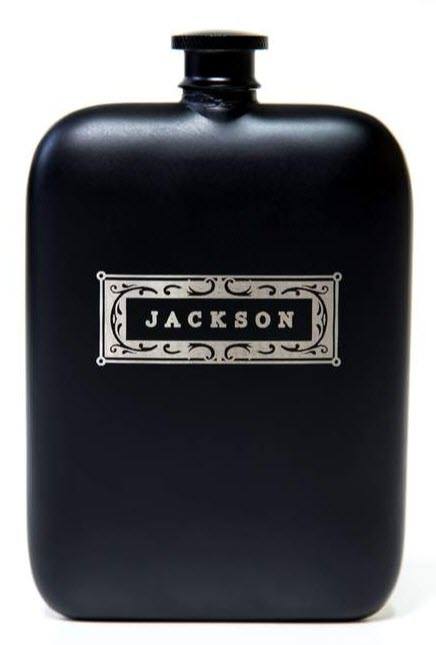 While this hip flask is called The Classic, the style is pretty unusual. The piece has rounded corners, along with a matte black finish that contrasts perfectly with the text. The border around the engraving is unusual too. You can stick with just the front engraving or add up to 30 words on the back as well.
Glass Flask: The Vintage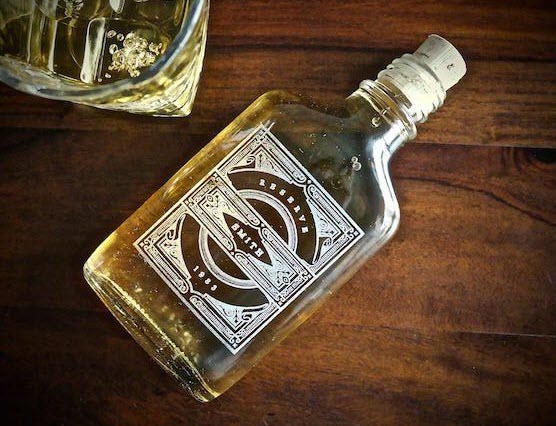 Products like this Glass Flask: The Vintage aren't extremely common, which makes them even better as gifts. This particular version has an interesting engraving style too. You're able to choose the name and date/year that shows on the bottom.
Monogrammed Leather & Steel Flask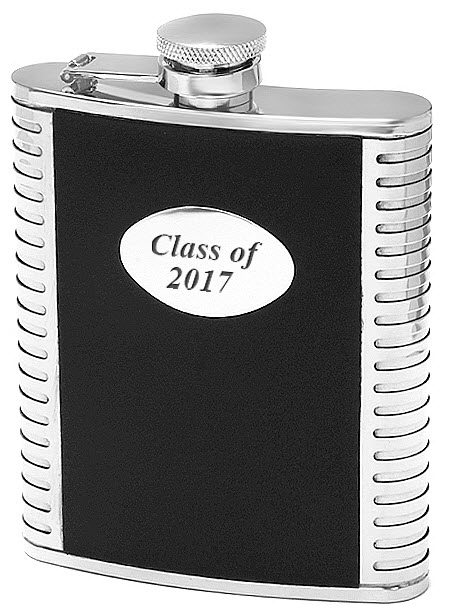 This Monogrammed Leather & Steel Flask is an interesting balance of different styles. The stainless steel sides look especially cool and is an idea that you don't typically see on flasks. This piece is best if you don't have much to engrave, as you only get 2 lines and these have to fit inside the small steel oval on the front.
Millennium Flask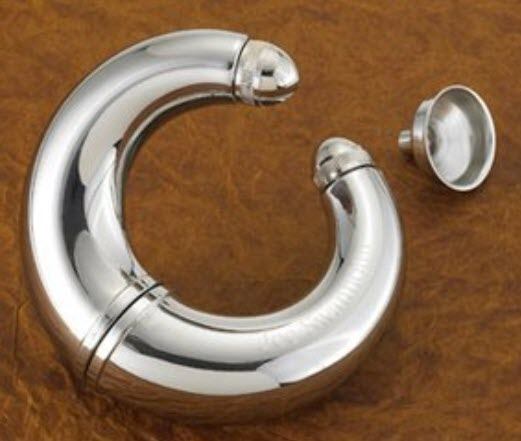 The unusual design of this Millennium Flask could make it a good gift (or you could keep it for yourself). The shape makes it easier to hold than most, while still being easy to fill. Another cool aspect is the sides. Each side of the flask holds 2.5 ounces of liquid. These are filled independently, allowing you to take 2 different types of liquor with you.
Glass Flask With Quote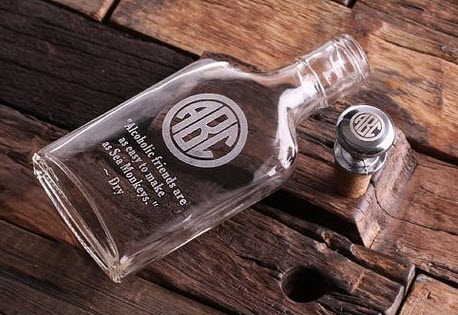 Who says that flasks need to be made of stainless steel? This glass flask shows that you can have an elegant gift made of glass instead. It's sealed using an antique-style silver bottle stopper. You get to choose the initials that it is personalized with, as well the quote. The flask can also be purchased with or without a personalized box.
Copper Plated Flask With Personalization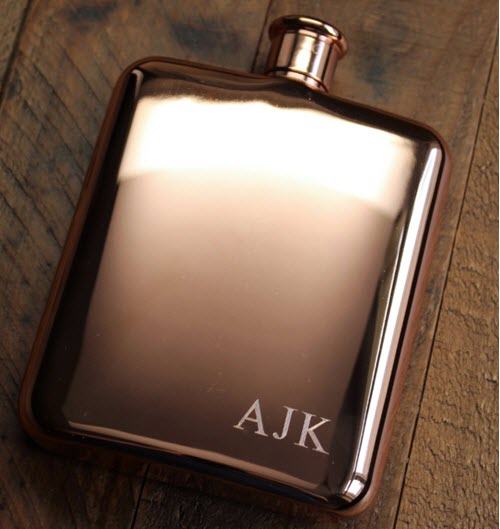 This Copper Plated Flask is ideal for someone who seems to have everything. It's surprising how much of a difference the copper plating makes to the look and feel of the piece. The engraving can either be 3 letters of the same size or the monogram style where the surname initial is larger and in the center.
14K Gold Plated Groomsman Flask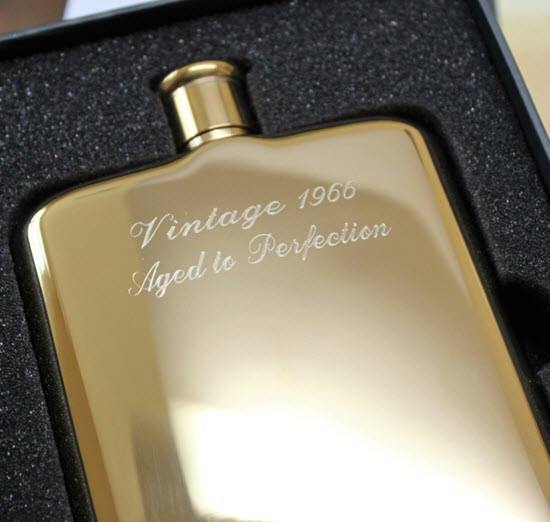 While we're talking about different colors, here is a 14K Gold Plated Groomsman Flask. As the name suggests, the flask is plated with 14 karat gold, which simply looks stunning. The piece can be engraved with initials or a monogram, like in the previous example. Alternatively, you can have up to 2 lines of text engraved on it.
You gotta put the good stuff in here, so get some good scotch and call it a day!
Glass Flask With Vintage Inspired Look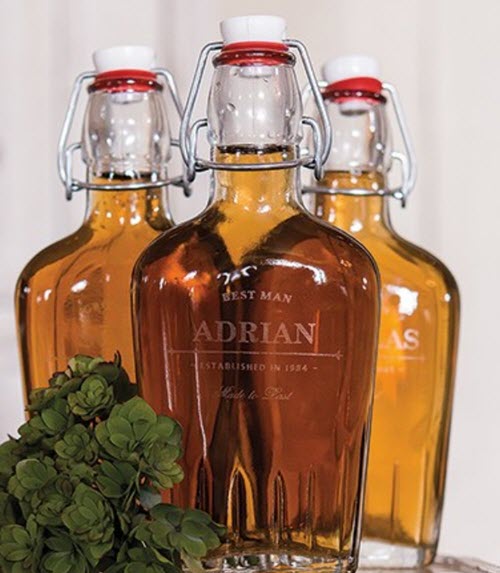 This glass flask is similar to the earlier examples, although it has an unusual seal. Many other glass flasks use a cork instead. This style could help to keep the cap in place, preventing any leaks. There are 3 engraving fields to customize: the title, name and year. If a title isn't suitable, you could include a first name in that field and a surname in the next (or some other variation).
Army Flask Or Flask Set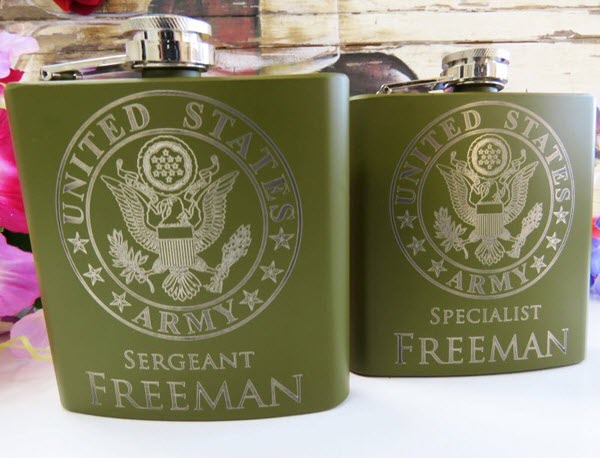 This United States Army Flask would be ideal for anyone with an army background. The flask itself is stainless steel and there are 6 different colors that you can choose from. There is also the option of a gift box or a rosewood box with it. Both box types come with stainless steel shot glasses and a funnel.
With a US logo, you gotta go with some American whiskey!
Rosewood Slim Flask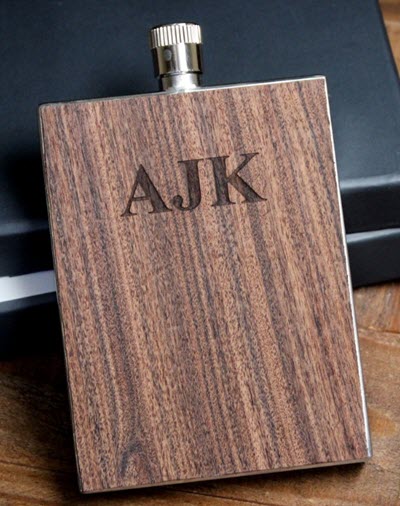 Flasks often hold 6 ounces or 8 ounces of spirits. This is a much smaller option and only holds 3 ounces. The size difference means that this flask is slimmer, making it easier to store. The rosewood veneer makes the entire piece look elegant too.
Cellphone Flask with Black Leather Pouch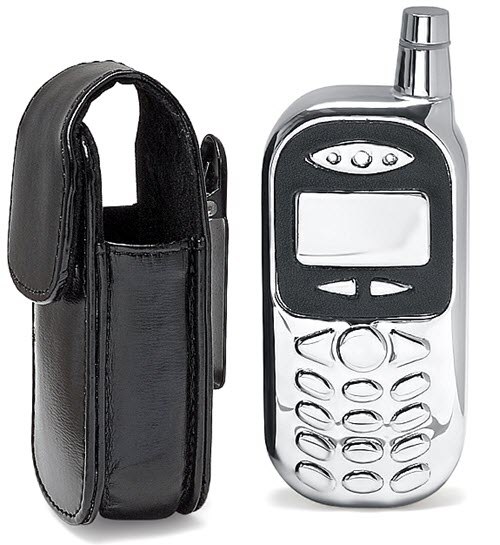 This Cellphone Flask is certainly unusual. The antenna can be unscrewed to fill the flask (or to use it). There is also an optional carrying flask that allows you to hook the flask onto your belt. You can add up to 2 lines of engraving. The writing is placed on the 'screen' of the flask.
Deep Engraved Glass Flask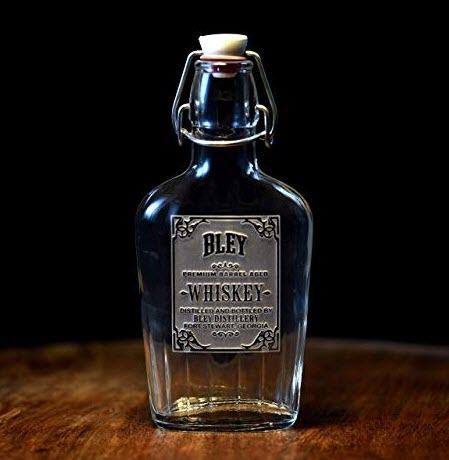 This Deep Engraved Glass Flask comes from a brand called Crystal Imagery. The brand focuses on a sandcarving technique. This style carves out the background around the letters and other elements, making them raised against the background. The finished effect is stunning and creates a truly unique gift.
Skull And Crossbones Flask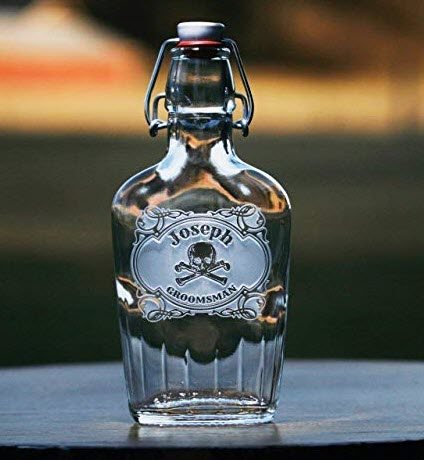 This Skull And Crossbones Flask comes from the same brand as the previous example. In this case, the design features a skull and crossbones, along with a name and title. This engraving design might be more appealing in some situations.
1-Ounce Stainless Steel Flask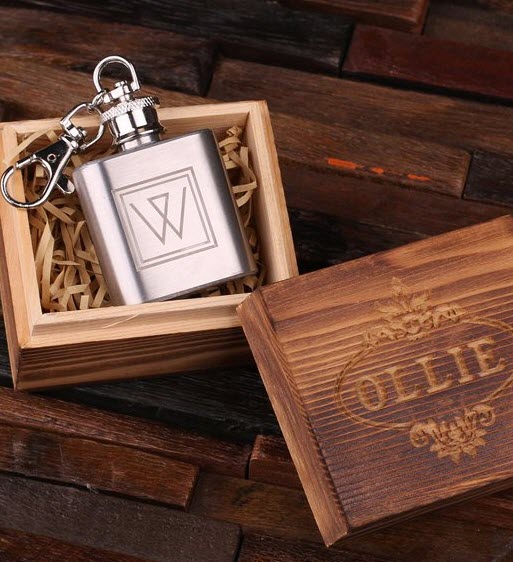 The best thing about this stainless steel flask is the size. It's only 1 ounce in size and would be easy to attach to a belt or a set of keys. You can even order it in a tiny customized box. You have full control over the engraving, although there isn't much space on the flask.
Custom Engraved Leather Flask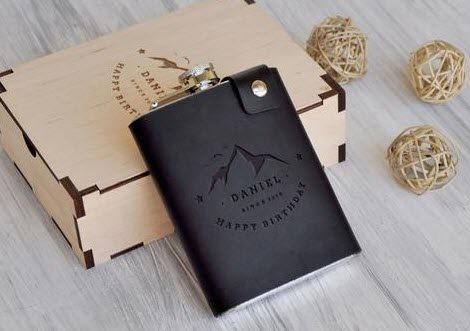 There are many different flasks out there and this Custom Engraved Leather Flask mightn't seem especially unusual. Even so, it does have an appealing visual style, one that feels elegant. The seller also provides 30 different design options that you can choose from, which is simply incredible.
Find more leather flasks here if this is your style.
Monogram Colored Flasks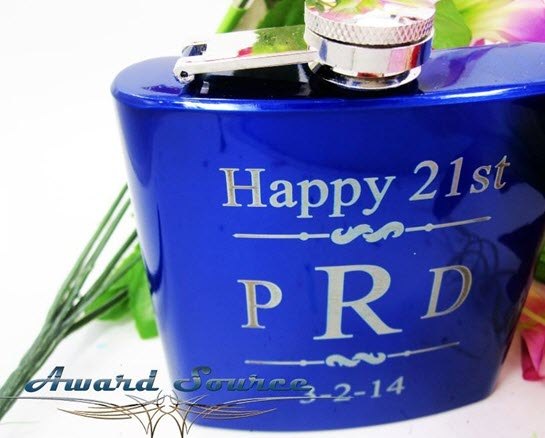 These Monogram Colored Flasks certainly stand out. There are 7 different colors to choose from, including bright red, army green and camouflage. Like other colored flasks, the writing isn't a sticker or a decal. Instead, it is made through engraving. The color of the lettering is simply the stainless steel of the flask underneath showing through.
Game Of Thrones Flask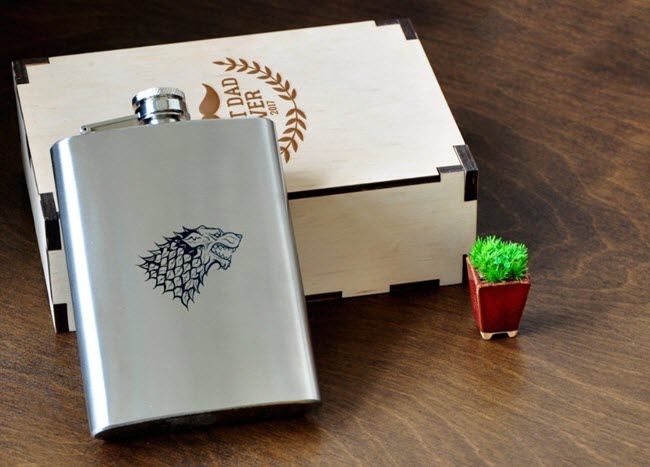 There's always something fun about pop culture gifts, like this Game of Thrones Flask. The basic engraving is simple, but you don't need to stick to that alone. There's also the option to add in your own personalized message on the flask and the gift box.
Wood Veneer Flask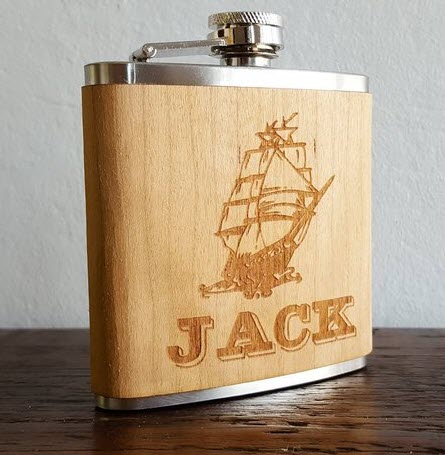 This Wood Veneer Flask is simply a regular stainless steel flask with wood veneer over the top. The approach makes it look more interesting than conventional flasks. You have various options about the flask that you end up with, including the type of wood veneer that is used, the engraving style and the name (or initials) that you are looking for.
Personalized Cork Flask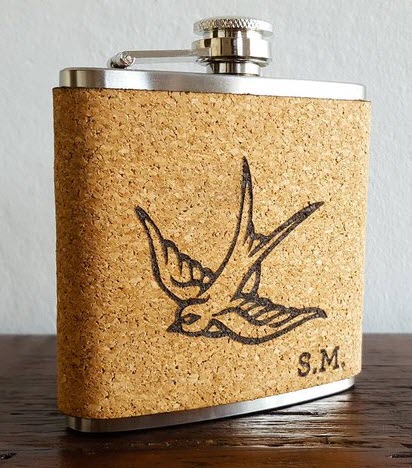 The Personalized Cork Flask in the image comes from the same seller as the previous entry. This time, cork is used as the covering, which creates a different texture. You have the same options for engraving style and what is written on the flask.
Skull Hip Flask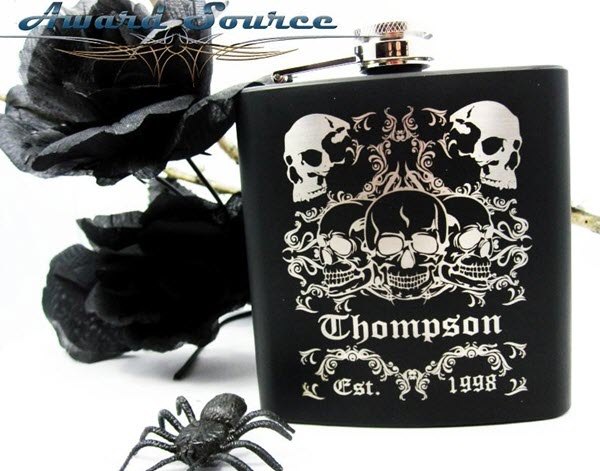 In many ways, this Skull Hip Flask is a hit or miss gift. It would be a fantastic choice for the right person, especially as the style is very unusual, On the other hand, it mightn't go over well with anyone who is very conservative.
Sugar Skull Flask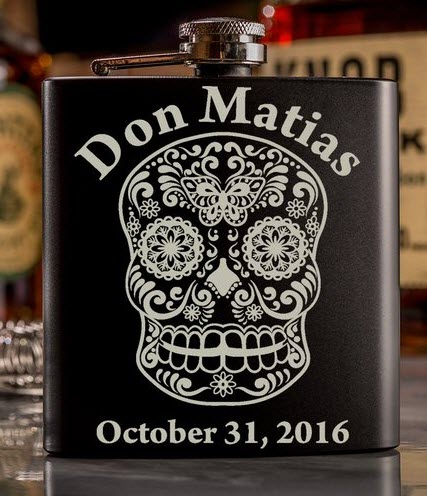 This Sugar Skull Flask offers another unusual engraving. You get to customize the name shown above the skull, along with the date below it. There multiple colors to choose from, including black (as pictured), pink, silver and leather.
Steampunk Engraved Flasks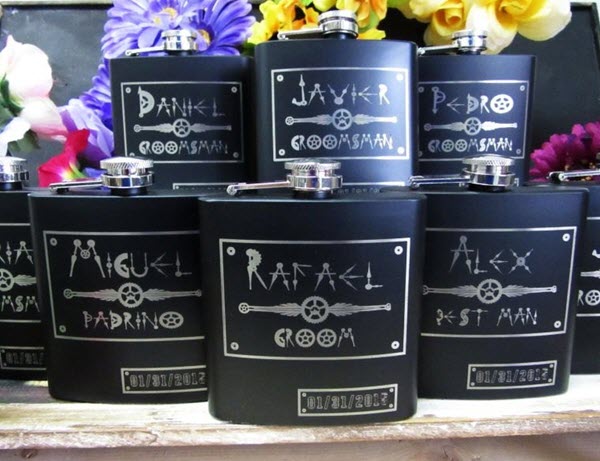 While there are many steampunk flasks out there, you won't find many Steampunk Engraved Flasks that include the ability to customize. That's why this flask works so well as a gift. You get to choose the title (optional), name/initials and date (optional). If you're thinking of a Christmas present, you could simply stick with the name and perhaps a made-up title.
Shotgun Shell Flask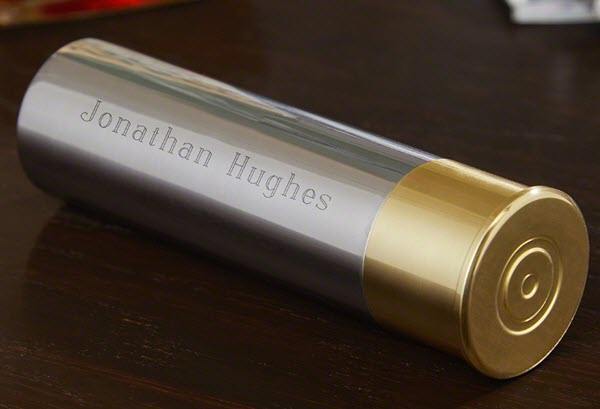 It's fantastic how this Shotgun Shell Flask doesn't really look like a flask at all. Yet, it can carry 3 ounces of whiskey without any problems. The flask is also customizable. You can specify a line of text (up to 20 characters long) and choose the font that you want to use.
Great Beard, Great Responsibility Flask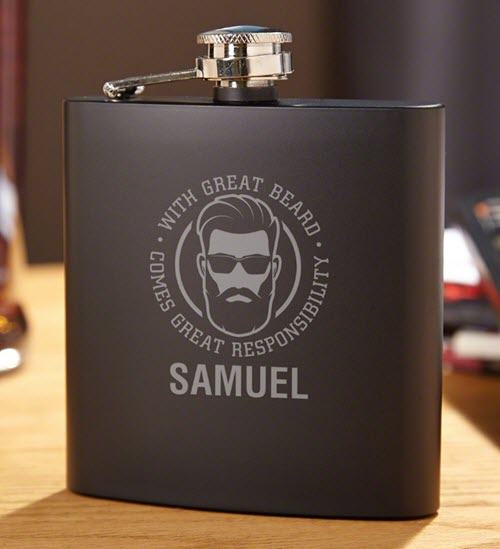 This Great Beard, Great Responsibility Flask is a fun option to consider. You're able to customize the name so that it says whatever you like. You could also skip the customization and just have a flask that says 'With Great Beard Comes Great Responsibility'. Why not? Either approach would be cool.
Art Deco Flask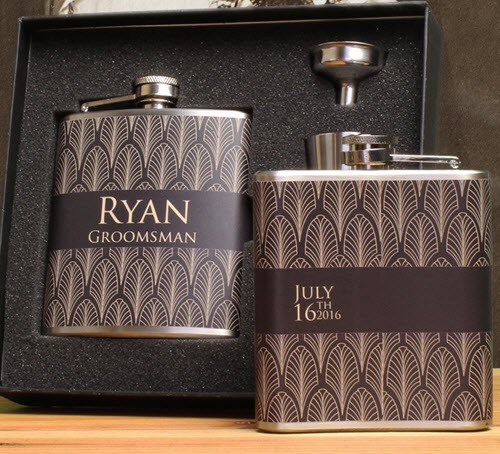 Many of the flasks on this list feature the same general approach, with slight variations. That's not the case here. This Art Deco Flask has a unique pattern, along with a different approach to engraving. The seller is likely to be flexible about what is engraved, allowing you to choose what best suits your situation.
Still need more ideas? Here are some lists for leather flasks and flasks for women.