In the past decade or so, meal kit delivery services have been working to answer the question of what to cook for dinner. The industry has grown immensely. By 2020, sales are expected to top $10 billion, which is an increase of $9 billion in about five years.
These companies work by sending recipes and the ingredients to cook them to people who subscribe to the services. Subscribers get to relax more in the evenings rather than scrambling for a quick dinner menu or rushing out for groceries or fast food.
These meals are generally based on good nutrition as well as how tasty they are, but how do you know which one to choose?
In this Dinnerly vs. Hello Fresh comparison, I'll show you how these two meal kit delivery services stack up against each other. At the very least, you'll be able to see what I look for and the kinds of questions I ask when I'm investigating a new meal kit delivery service. Who knows? You may even find one you'd like to try!
Types Of Meals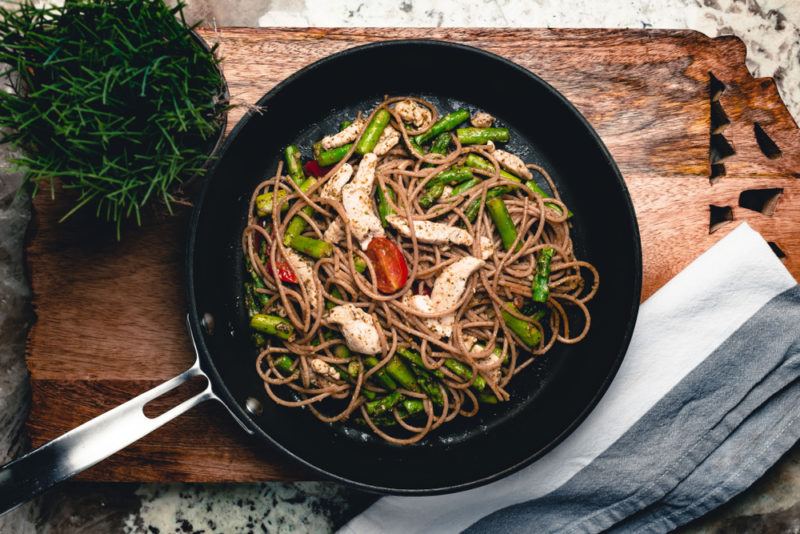 Dinnerly focuses on being a super-simple service to use. Unlike many companies in the field, Dinnerly doesn't have detailed subscription plans or a lot of choices when it comes to the foods that are offered. There are only eight recipes to choose from each week, while some companies have more than 20.
However, the limited choices don't make Dinnerly boring. You can plan on fun meals such as Garlic-Scallion Pork Burgers or Mexican Beef and Corn Lasagna. The portion sizes are smaller than with some other meal kit delivery services that I've tried, but not so small that I don't get enough to eat.
The simplicity of the subscription extends to its recipes. There are generally only half a dozen ingredients per dish, and most of them cook up in about half an hour or less.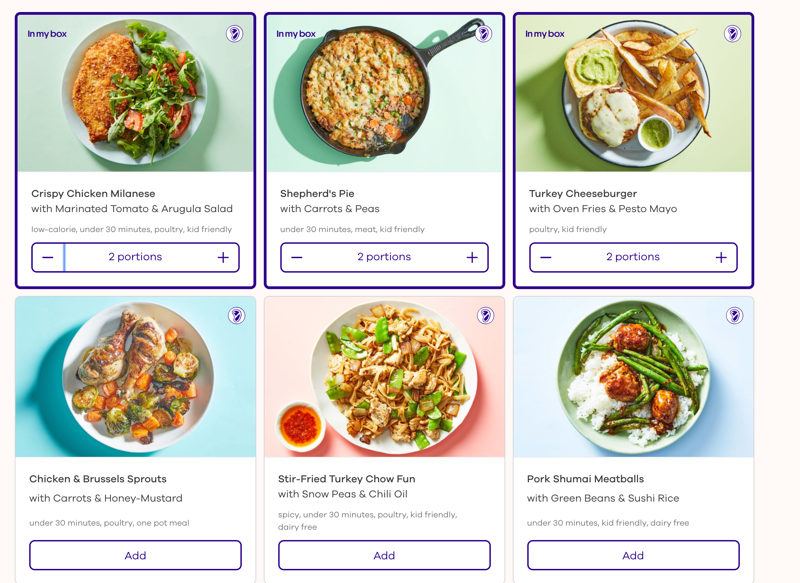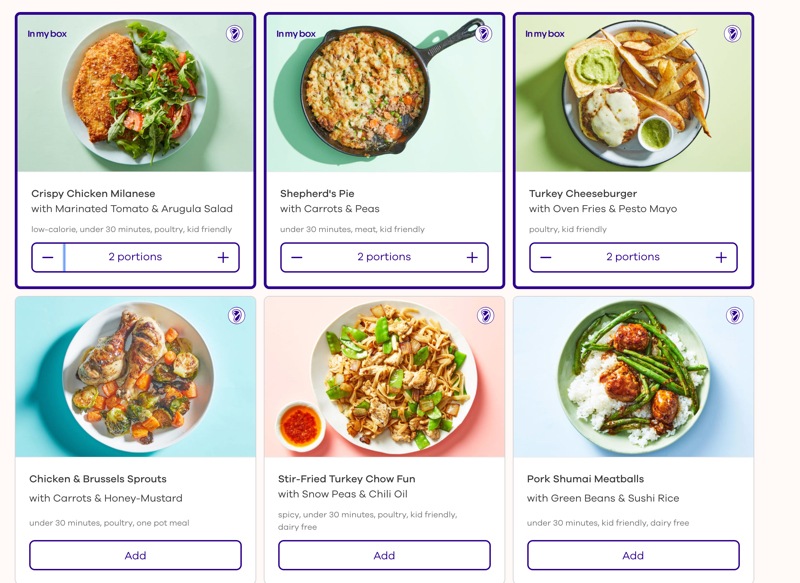 When you sign up for Dinnerly, you choose whether you want a two-person box or a family box, which feeds four people. You can choose to get recipes for three, four or five nights per week.
In contrast, Hello Fresh has 15 items on its weekly rotating menu. You get items like Cranberry-Apple Pork Chops or the Chipotle Chicken and Rice Bowl.
I was surprised when I first tried Hello Fresh because the food was a little blander than I expected. This was disappointing, but there were also generous portions of meat and plant protein, and Hello Fresh is one of the few meal kit delivery services that offer a wine option.
Like many meal kit delivery services, Hello Fresh relies on subscription kits. All this basically means is that when you sign up, you set some basic food preferences that you can usually use as a starting place for choosing your meals.
Hello Fresh has three subscription plans. The family plans feed four people, and you can get two or three recipes with ingredients per week. The veggie plan feeds two or four people for three meals per week.
The classic plan is the most flexible. With the classic plan, you can feed two or four people and you can get recipes with ingredients for two, three or four meals per week.
Hello Fresh also occasionally offers premium meals, which feature unusual or more expensive ingredients, such as better cuts of meat or exotic spices. These meals generally cost more than the basic Hello Fresh dinners do.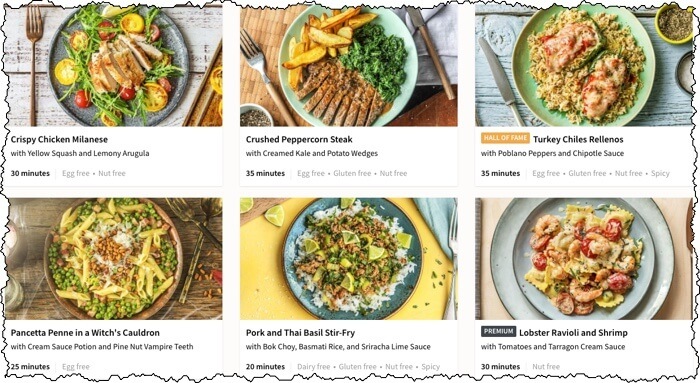 If you're looking at the online menu for Hello Fresh, you'll see labels for food allergens that are omitted from the recipes. There are also markers for categories such as hall of fame, gourmet, calorie conscious, carb conscious, dinner to lunch meals, and 20-minute meals.
The dinner to lunch feature is fun because you can use leftover ingredients from dinner the night before to create an entirely different meal for lunch the next day.
The recipes do need some work for clarity. You can't view a full recipe card unless you sign up for the service, either. However, once you do, you can get access to the full recipe archives of more than 2,500 recipes.
You can search through these recipes using filters that include world cuisines, quick meals, hall of fame, family friendly, easy to cook meals, and more. You can also download the recipes, which are colorful and also include nutrition information.
Dinnerly also has labels on its online menu. For example, its Two-Cheese Cannelloni with Garlic Broccoli has markers for being a vegetarian meal and for being kid-friendly. The Black Bean Burrito Bowl has labels for being fast and low-calorie.
When you click on an individual recipe, you'll be able to see food allergens that the recipe includes, how long it takes to cook the meal, and basic nutrition information, as well as how to prepare the meal. However, you don't see the full ingredient list or the amounts of the ingredients that you need.
Signing Up And Cancelling
To sign up with Hello Fresh, you choose your plan, the number of people you'll be cooking for and the number of recipes you'd like to receive each week.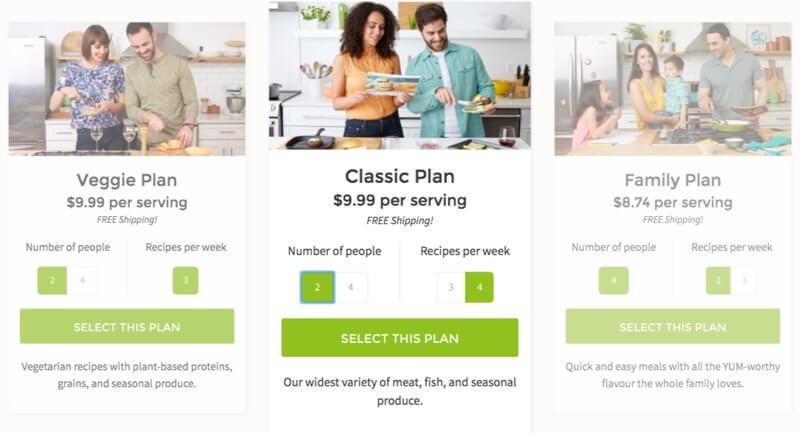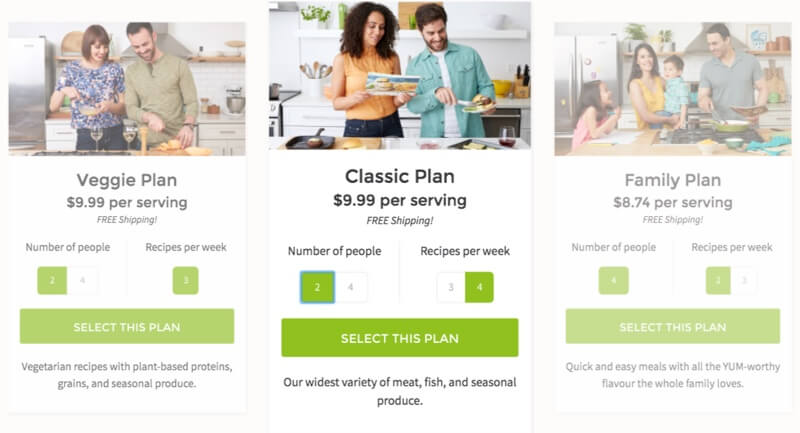 Cancelling Hello Fresh can usually be done online, but I had a frustrating experience. There was a mix-up with my order, and I ended up staying on the phone with the customer service department for around 45 minutes.
The first thing you do when you're signing up with Dinnerly is choose how many people you want to feed. Then you set the location and delivery details, pay for the subscription and customize your order. To cancel, you go into your account settings and click 'stop subscription.'
Packaging And Delivery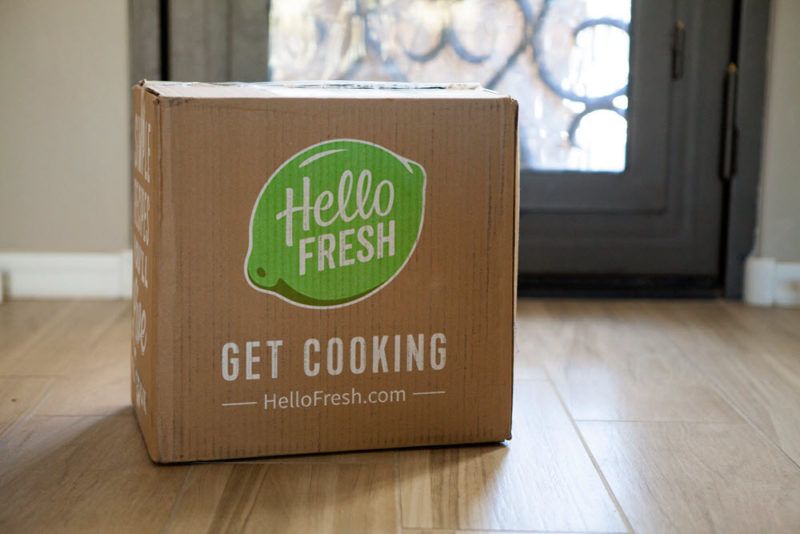 Both Hello Fresh and Dinnerly deliver ingredients across most of the continental United States. There are some differences in how the ingredients arrive, though.
With Hello Fresh, ingredients are pre-measured and foods are sorted by meals into brown paper bags with attractive labeling. This helps you find all your ingredients for a particular meal quickly and easily. With Dinnerly, ingredients aren't sorted or pre-prepped, so you have to do the sorting, cleaning and chopping yourself.
Most of the shipping material for Hello Fresh is recyclable, although some linings used during extreme weather may have to be discarded rather than recycled.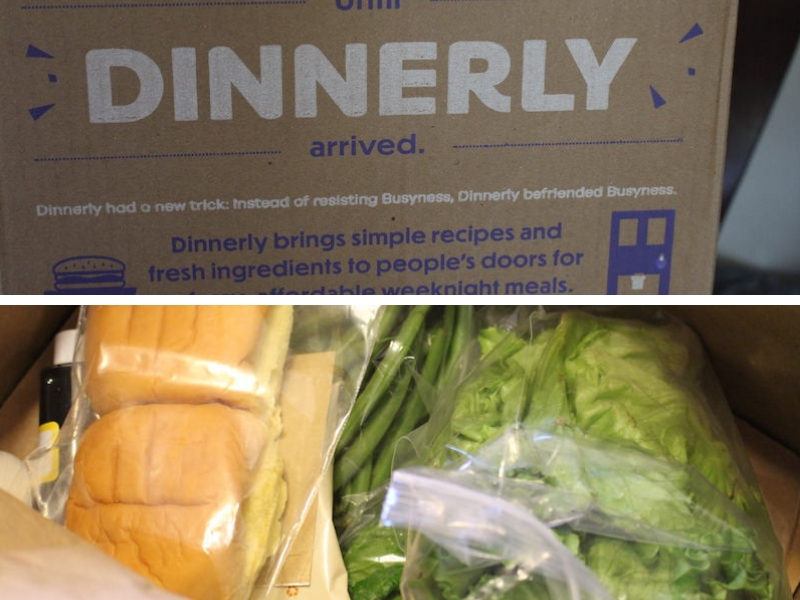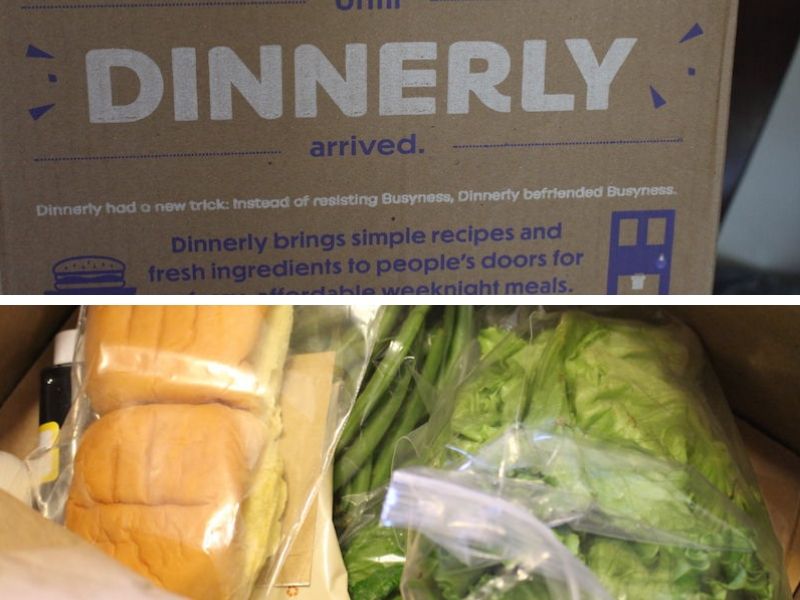 Both Hello Fresh and Dinnerly have shipping fees. With Hello Fresh, you pay $6.99 or $7.99 per box, depending on the plan and the amount of food you buy. Dinnerly shipping charges are $8.99 per box.
Pricing
With Hello Fresh, the price per meal depends on the amount of people you're cooking for and the number of recipes you get in a week. A four-person box on the veggie plan costs $6.99 per plate, and a two-person box comes out to $8.99 per serving. Costs per serving on the family plan range from $7.49-$7.87, and on the classic plan, you can pay $7.49-$9.99.
Compared to most meal kit delivery services, Hello Fresh pricing is reasonable. However, Dinnerly is even less expensive. All meals are $4.99 per serving.
Customizable options
Hello Fresh has enough options on the weekly menu to provide some decent customizable options. However, there are only three vegetarian meals per week, and folks on the veggie subscription are limited to those choices.
Customizability is even more limited with Dinnerly. In order to keep costs down for customers, there are fewer choices. There aren't menus to choose from, such as paleo or keto. However, for me, the ability to save money with a meal kit delivery service was worth giving up a few conveniences.
What Makes This Company Unique
There were things I liked and didn't like about both Hello Fresh and Dinnerly. Here are the top pros and cons on my list.
Hello Fresh
Pros:
I like the dinner-to-lunch feature.
It's nice to have a wine option, too.
Being able to access the full recipe archives and then to search them by filters is fun.
The portion sizes for meat were nice.
The costs per serving were reasonable for a meal kit delivery service.
Cons:
Overall, the food was bland and boring.
The cancellation process was frustrating for me.
Dinnerly
Pros:
I'm a huge, huge fan of their pricing strategy. This is the least expensive meal kit delivery service I've tried so far.
I've been pleasantly surprised at the deliciousness of the food.
Simplicity is always a way to win me over, so I appreciate how easy and streamlined Dinnerly is to use.
Cons:
There aren't as many customizable options with Dinnerly as there are with other meal kit delivery services.
The packaging and food prep aren't as nice.
You don't actually get physical recipes with Dinnerly. You have to get them online.
Alternatives
If you like basic dinner kits like Dinnerly and Hello Fresh, you might also like to try Gobble, Blue Apron and Home Chef. Sun Basket, Green Chef, and Terra's Kitchen have even more customizable options.
If you're trying a meal kit delivery service to help with health issues, you could try PlateJoy.
Conclusion
Between Hello Fresh and Dinnerly, I really like Dinnerly best. Not only were the prices good, but the food was excellent, too. Although I liked several features from Hello Fresh, the meals just aren't as good as what Dinnerly provides.