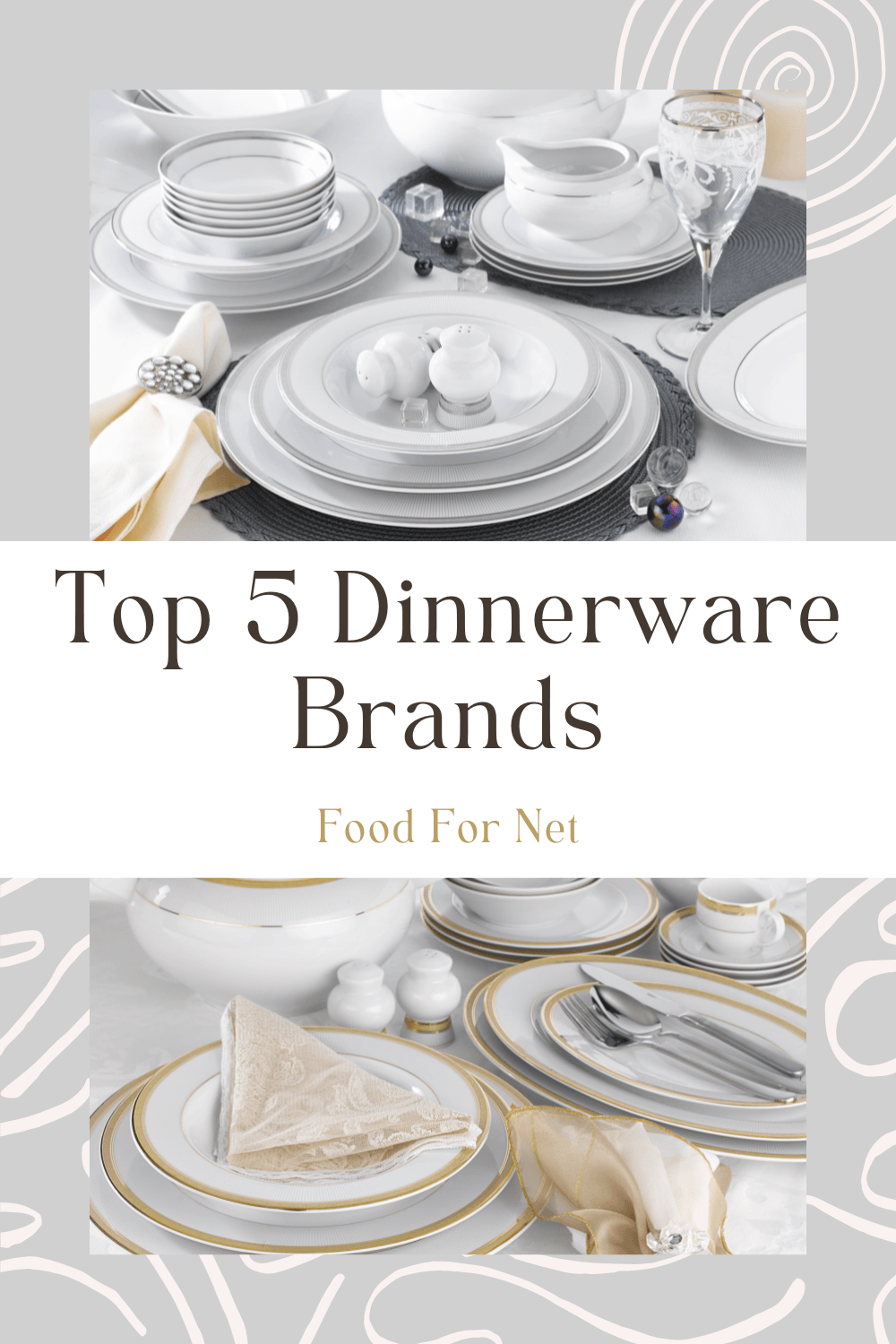 Dinnerware is an interesting thing that goes back quite a way. Even hundreds of years ago, people loved to serve and host, and with that came an expectation of presentation. A good set of china was not uncommon to see and is still kept as an heirloom in many families. Even if you're not seeing china at every dinner party these days, a coordinated kitchen is still the pride of many homes.
For some it's a matching table set, others like to have everything look the same from appliances to their utensils and even their oven tools. Whatever the case may be, durable, well-made, and aesthetically pleasing dinnerware is in high demand. The best dinnerware brands know what people are after and not only do they provide quality options, but they also have a great variety of colors and patterns.
Some people need a full set while others want only a few pieces – the best brands have all of this available and more. If you're in the market for a new set of dinnerware or simply want to add to your current collection, look no further because the following brands have some of the best.
The Best Dinnerware Brands
1. Wedgwood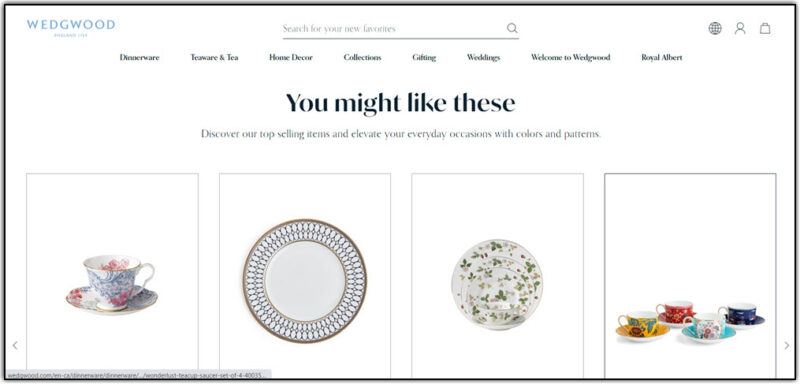 Wedgwood began in 1759 when Josiah Wedgwood was just 29 years old and began work as an independent potter in England. His legacy has continued to this day as Wedgwood still produces some of the original items invented by Josiah. When you buy the exquisite, elegant pieces from Wedgwood Dinnerware, just know you're bringing home a beautiful piece of history!
Not only was Josiah Wedgwood a talented potter and a pioneer in the dinnerware industry, but many of today's most common marketing techniques came from him as well! This includes things like money-back guarantees, free delivery, and even celebrity endorsement.
Their dinnerware set includes some of everything including plates, bowls, cutlery, and drinkware. You can pick and choose individual items or browse their sets. Their sets are beautiful, artful, and carefully curated for every special occasion you could imagine. You can also get sets with three or four pieces all the way up to larger sets of 16 pieces. They have delicate white sets with subtle markings and bold, colorful sets with bright shades and exciting patterns. There's something for everyone at Wedgwood.
2. Fiesta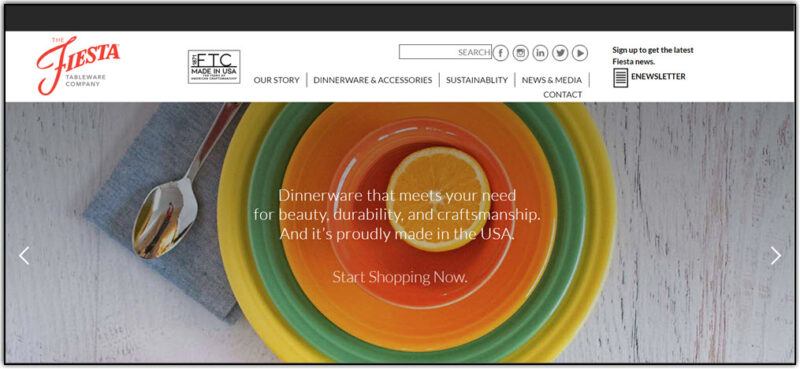 Fiesta is a wonderful and colorful brand of dinnerware that looks great in the kitchen and is a little easier on the budget. It's dinnerware that strives to thrive in all areas, from beauty and durability to top-notch craftsmanship. Not only does it look amazing on the counter, but it holds up to everyday wear, from constant handling to washing and abrasion.
They are also proud to have all their products made right in the USA, on the banks of the Ohio River in Newell, West Virginia. It all began in 1871 and they remain just as passionate about the craft today.
They have an excellent selection of dinnerware products from picnic accessories to durable plates and bowls and cute, colorful cutlery for everyday use. If you like their colors, they also have a selection of equally beautiful and colorful bedding and blankets for you to choose from. Even if you don't need your kitchen to match your bed, it's a good place to get some colorful pieces for both rooms!
3. Our Place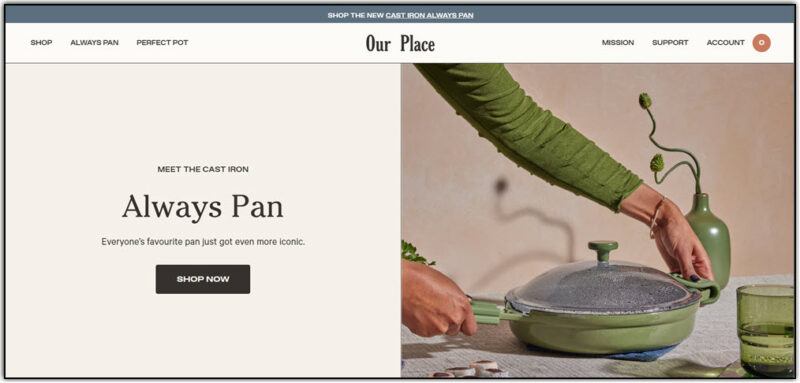 Our Place offers a wide range of dinnerware that they describe as iconic and "a win for cabinet space and kitchen cuteness." The brand was born from a belief that home cooking is a powerful tool for bringing people together. Their dinnerware collections are a mixture of different places and cultures that make up the traditions of the modern kitchen.
Their designs are thoughtful, their sourcing is ethical, and their production is always sustainable. Their selection includes everything from basic plates, bowls, pots, and pans to every gadget and trinket you may need in the kitchen, for your baking needs and for the oven.
The Always Pan was their original famous creation, with both a nonstick and cast-iron version. This versatile pan encompasses what Our Place is all about with its classic style, beautiful color selection, and excellent functionality. They offer free shipping, free returns, and a 30-day trial because they're confident you'll love it!
4. Noritake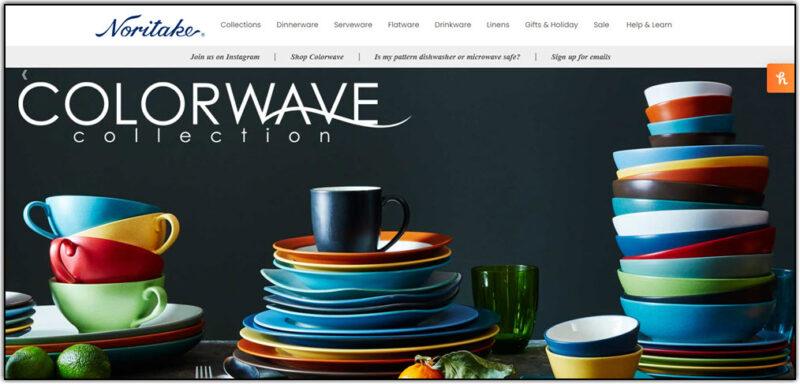 Noritake is an impressive company with a huge selection of dinnerware, serve ware, flatware, and even a collection of linens, gifts, and special holiday items. Their dinnerware specifically includes everything you'd need for your kitchens such as plates, bowls, cups, and all kinds of sets.
If you need more than a few individual pieces, they have a huge selection of beautiful and comprehensive dinner sets. Their sets range from just a few pieces to a full set of multiple plates and bowls.
The selection also includes square plates, salad plates, and some beautiful accent plates. They're not just focused on functionality at Noritake. With these sets, it's just as much about the beauty of each and every piece. They have basic colors or beautiful patterns – whatever it is you need to match the look of your kitchen and the style of your table.
Their regular dishes are perfect for serving and hosting any party you want, but they do have some items and collections that are specifically designed for parties, including a selection of beautiful hostess gifts.
5. Gibson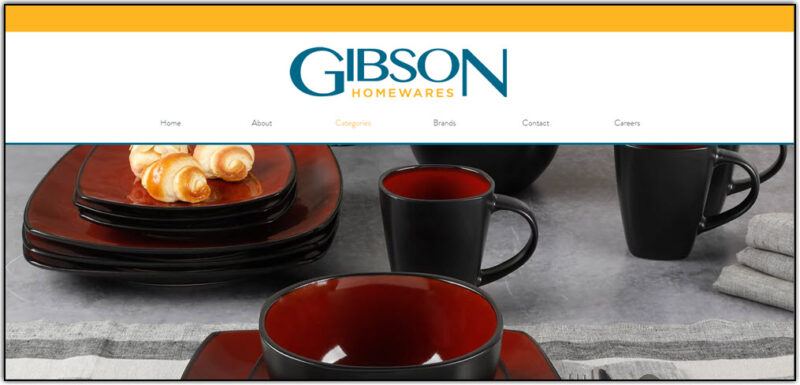 Last on the list is the beautiful, classy, and fancy dinnerware from Gibson. Gibson is a family-owned operation that's in its fourth generation of ownership. The founder had a vision for quality, innovation, and top-notch service, all of which have been upheld for many decades.
Their dinnerware category has a combination of ceramic, porcelain, stoneware, and more.
Other than dinnerware, they have a huge selection of just about everything else you could ever need for your kitchen. You can mix and match with colors and designs, or make everything the same! You can get separate sets for different occasions and parties, or have a dedicated hosting set. The options are endless with the beautiful pieces, sets, and collections available at Gibson.
Their products are available through many different retailers around the country, so they're always easy to find and they're dedicated to quality customer service should you have a question or concern. They even have a section on their website for taking suggestions, if you have anything you want to request or think they could improve upon!
Know Your Dinnerware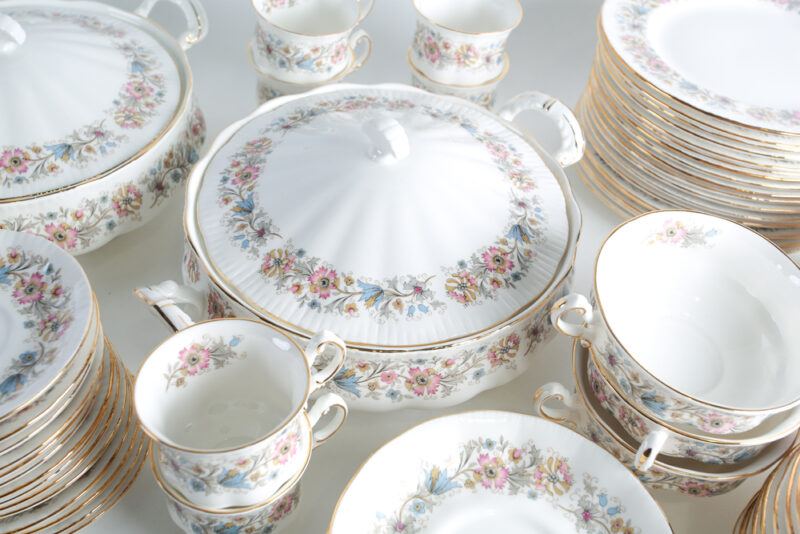 For such a simple thing, the world of dinnerware is vast. Beyond choosing your colors, styles, and sets, you must select a material! It's important to have a basic understanding of the difference so you know what will best meet your needs. For example, you may like the look of one type better but perhaps it's not the most durable – which is not ideal if you have kids in the house.
Porcelain
Porcelain is made of malleable clay and while it does have durable construction, it's still on the more delicate side. This is often reflected in its beautiful and delicate appearance, which is why it's so popular for dinner parties and fancy get-togethers. It is often microwave and dishwasher safe, sometimes even safe for the oven and it's generally more affordable than china.
Ceramic
Ceramic is a broad term for any dish made and formed from clay and then hardened with heat. Sometimes the clay is combined with other materials but not always.
Although ceramic may be prone to chips, it is very durable overall and won't easily break. It's also resistant to corrosion and is both oven and microwave safe. It's for this reason that ceramic is a popular choice for mugs and cups as well as frying pans and other cookware as well.
There are a few different types of ceramic. Stoneware, earthenware, and porcelain are the three main types. Porcelain is common among dinnerware, though stoneware and earthenware can still be found. Earthenware is made at lower temperatures and is not as strong though it's often budget friendly. Stoneware is extremely durable and made at higher temperatures. It can come in various colors but it's more opaque than other types such as porcelain.
China
China is also made from clay and is quite similar to porcelain, thorough it's a little better for more casual dining experiences. Much of the distinction does come from location. China dinnerware does in fact originate in China and this is often reflected in the designs and patterns you see on the pieces themselves.
Owning china is a long-standing tradition at this point, with pieces being passed down through generations and sometimes not even being used anymore. China is often revered as the most beautiful dinnerware, hence why many refrain from using it lest it gets broken.