Slow Cooker Gooey and Sweet Chocolate Molten Lava Cake
Speed - 97%
Simplicity - 97%
Tastiness - 99%
Slow Cooker Gooey and Sweet Chocolate Molten Lava Cake is gooey, warm, moist, and delicious. How could you not want to eat this dessert day in and out? It pairs perfectly with ice cream or whipped cream can comes with it's own chocolate sauce to drizzle on top!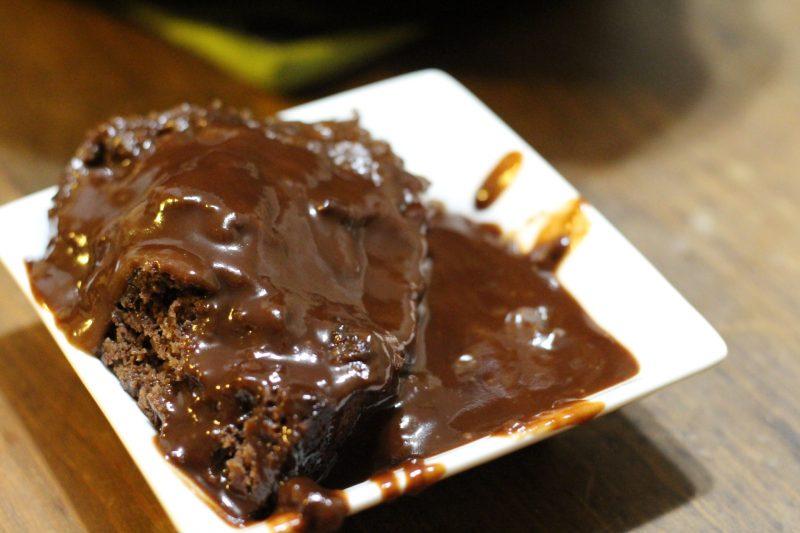 Ingredients
Cake
6

tablespoons

Cocoa Powder

2

cups

All Purpose Flour

1

tablespoon

Baking Powder

1 1/2

cups

White Sugar

2

teaspoons

Vanilla Extract

1

cup

Milk

1

teaspoon

Salt

4

tablespoons

Butter

melted
Gooey Lava
1/4

cup

Honey

3/4

cup

White Sugar

2

cups

Water

boiling

1/2

cup

Cocoa Powder
Instructions
Grease the inside of your slow cooker
Cake
In a large bowl, whisk together the sugar, flour, cocoa, salt, and baking powder

Add in the butter, milk, and vanilla and stir until smooth and no chunks remain

Pour your cake batter into the slow cooker
Gooey Lava
In a small bowl, mix together the cocoa powder and sugar

Sprinkle this mixture over the top of the cake

In another bowl, whisk together the water and honey until combined

Pour over top of the cake

Cover the slow cooker and cook on HIGH for 2 hours

Allow the cake to cool slightly

Serve

You are probably more familiar with the standard lava cake you can order at restaurants, but this easy chocolate molten lava cake is can be made in your slow cooker. I think you'll be surprised at just how gooey and decadent this cake tastes, and it goes perfect with ice cream.
After doing some research online and trying to develop my own recipe, I was a little surprised that honey was an ingredient that's often used for sweetener. Of course I had to try it, and I was not disappointed in the results.

This recipe is extremely easy to make and you will find that it is not as difficult as the oven molten lava cake, which can be a pain to make.
I know that I do not always have time to do what I want in my oven. Therefore, I have created some slow cooker variations to traditional recipes to ensure that me and my family can enjoy them, even when my schedule does not allow it. You can just toss together the ingredients to cook after dinner and it'll be ready by dessert time!

Oh, did I mention that this is a great dessert recipe for your family get together and all of your company picnics?  Everyone will mmmm and ahhh as they take a bite. Don't be surprised when you finally get a moment to take a bite and you are scraping up the crumbs. This dessert is so good that it will be gone in record time.
I do want to share some tips, tricks, and variations with you because I think they can help improve and elevate your molten lava cake even more. As I mentioned the flavors I liked above, you too can make some of these different flavors. In fact, how does a red velvet cake with a molten cream cheese center sound? Amazing right? Or, you could switch things up a bit and make a vanilla cake with a molten chocolate or marshmallow center. DELICIOUS!

When you serve this dessert, make sure that you have some whipped cream or ice cream nearby. It'll help balance out the chocolatiness, plus, that molten "lava" truly is hot, so be sure to let it cool down before you bite into it.
One thing I do want to point out is that you are probably worried about pouring the warm water and honey over the top, but don't be. Yes, it is on the top when you add it in, but once you cook the cake, the molten lava will be at the bottom of the cake, so no worries.

As with any other slow cooker recipe, I suggest that you watch the cake the first couple of times you make it to ensure that it does not burn. You can check the doneness of the cake by sticking a toothpick into the center of it. If the toothpick comes out clean, the cake is done.
The top of the cake will cook, and the sauce will form at the bottom, so once you punch through the cake you'll be able to scoop out that goodness and drizzle it on top of your cake and ice cream.
I know you will love this recipe as much as I do.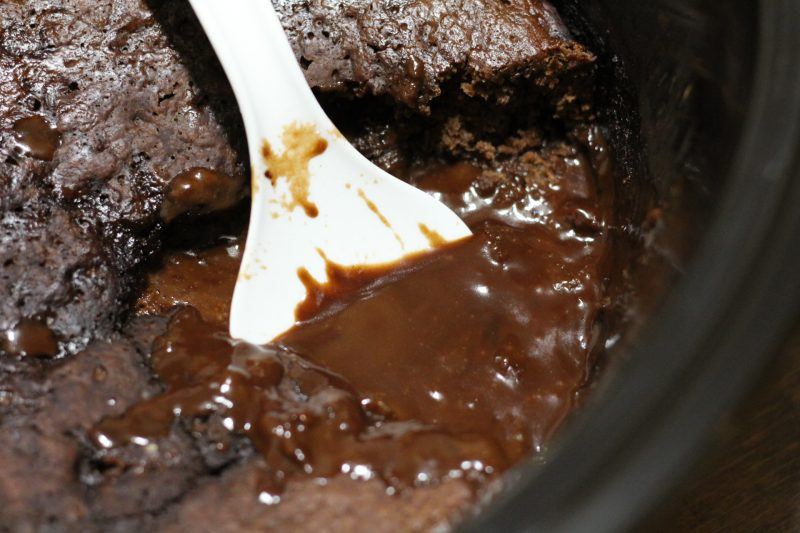 The slow cooker I used for this recipe was the Bella Programmable Slow Cooker With Locking Lid. It worked great for this recipe, but I do have some comments on the design so be sure to check out the full review to see if you should get this one for your home!