If your kids are bouncing off the walls, then giving them an energy boost mightn't seem like the best idea. Yet, energy foods for kids are often exactly what you need.
Just think about how much energy your kids spend tearing around the place. That's not even counting all the athletic kids and the ones that spend a lot of time outdoors.
Making sure your kids get enough energy is only part of the equation. You want to be choosing healthy foods too, including those that provide sustainable energy (rather than a sugar spike that will quickly wear out).
To do so, you'll need to focus on protein rich foods. Ones that are easy to eat on the go are ideal. That way your child doesn't even need to slow down. Combining protein rich foods with carb rich ones can work well too, as you'll see from this list. You could also play around with picnic food for kids. Many of those foods a perfect for a variety of situations.
Energy Boosting Foods For Your Kids
Bananas
Cheese
Nuts
Seeds
Trail Mix
Oatmeal
Eggs
Yogurt And Granola
Dried Fruit
Homemade Energy Bites
Greek Yogurt
Apples
Apples With Nut Butter
Water
Watermelon
Any Other Fruit
Cottage Cheese
Bananas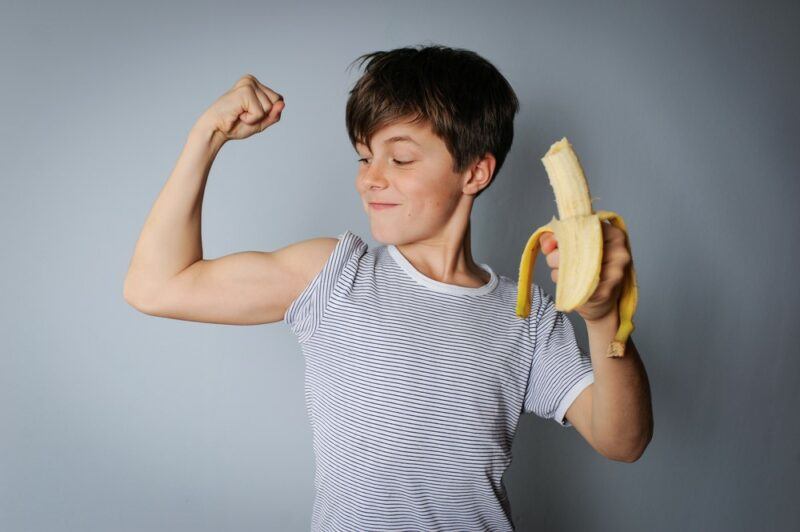 What says energy better than a banana? The high sugar content of the fruit makes it excellent as an energy booster. But, there's also plenty of fiber. That fiber helps to balance out the sugar, so your child shouldn't get a dramatic blood sugar spike.
They're also an easy choice, as they have a natural handle and are portable. There are plenty of nutrients too, including potassium and vitamin B6.
Plain bananas aren't your only option either. If the weather is warm, why not try making nice cream instead? This is a healthy alternative to ice cream. The simplest version just requires blending frozen bananas with some type of liquid (like milk or plant-based milk).
Here's another cool thing. Bananas have many of the same features as sports drinks, including the sugar content and the potassium. Bananas are also healthier, as they contain more fiber and don't have the additives that you find in sports drinks.
Cheese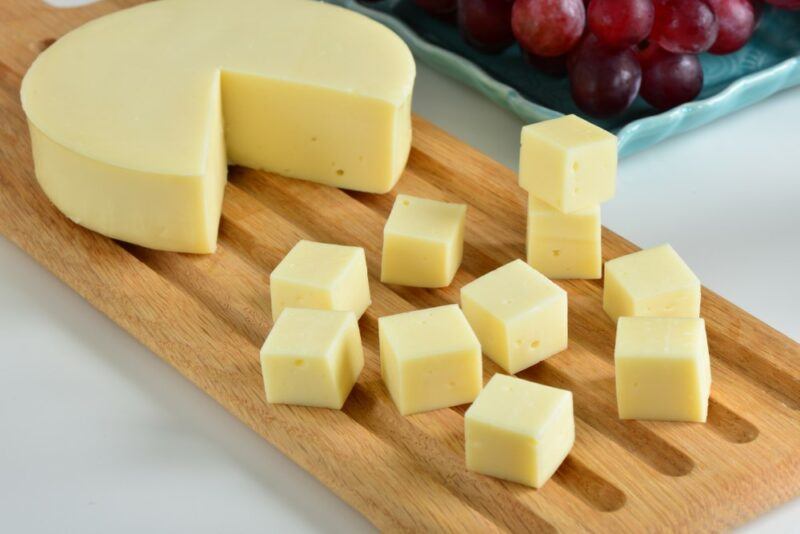 Cheese is an excellent choice, as it is rich in protein and calcium. Protein doesn't provide the same fast energy boost that you get with high carb foods, but the energy from protein lasts much longer. This is why you'll often feel satisfied after a high protein snack (and not after eating a candy bar).
Protein is important in other ways too, helping our bodies to grow and playing essential roles in our muscles, skin, and bones. Plus, kids are still growing and developing, which makes protein even more crucial.
To get around the slower energy release of cheese, try combining the snack with a high carb snack, like crackers or some fresh fruit. Doing so gives your child a good balance of fast and slow releasing energy.
String cheese is an easy go-to choice for children, as it is low in fat and often comes individually wrapped. Don't be afraid to experiment though, as there are many delicious types of cheese to choose from.
Nuts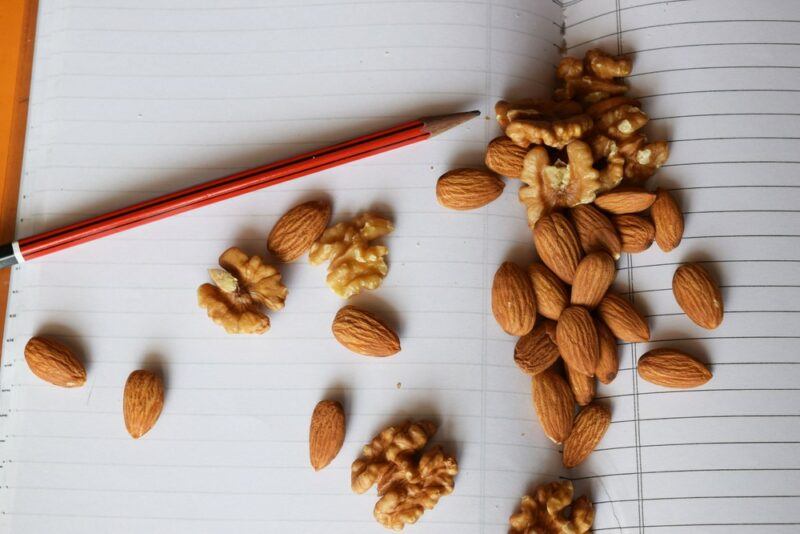 We can't forget about nuts, can we? They're one of the most obvious energy choices, partly because they are portable, easy to eat, and contain plenty of protein.
We also know that nuts are sources of healthy fats. They also offer plenty of important nutrients.
Nuts are, however, something to be cautious with. While they can be very good for you, nuts are also energy dense. This means you get many calories in a small serving size.
The energy density makes it easy to consume too many nuts in a serving, which can then lead to weight gain. To avoid this, try portioning out the nuts beforehand. This way you can be confident about the amount your child is eating.
Seeds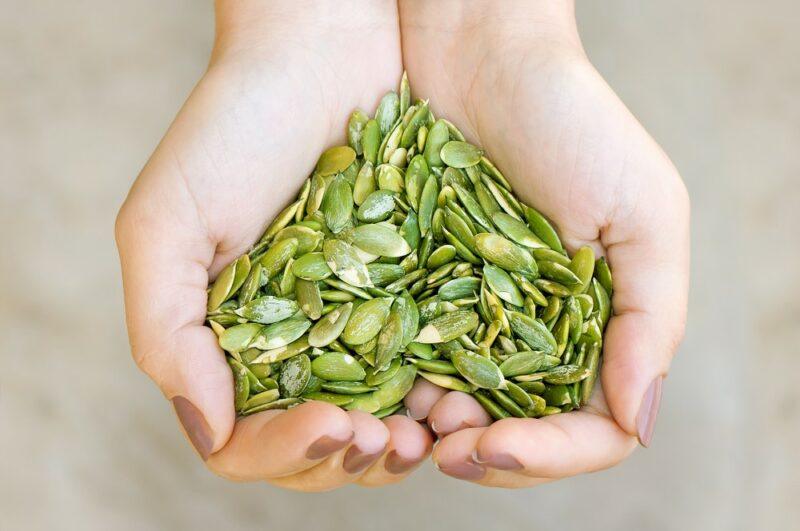 Seeds are just as important as nuts and have many of the same benefits. For example, seeds tend to be easy to eat, contain healthy fats, and offer plenty of nutrients.
Some types of seeds are rich sources of ALA omega 3 fatty acids as well, including flax seeds. ALA isn't as powerful as the omega 3 from fish and seafood, but there are still some benefits.
Don't forget about chia seeds either. These tiny seeds behave strangely, where they become gelatinous once they've been sitting in water for a bit.
Still, that property can be fun for kids, simply because it's such a novelty. You can play around with making chia seed pudding, which simply requires the chia seeds, some type of liquid, and perhaps some ingredients for flavor.
Chia pudding often ends up looking and tasting like dessert, while still being very healthy. That combination of features is exactly what you need when preparing food for kids.
Trail Mix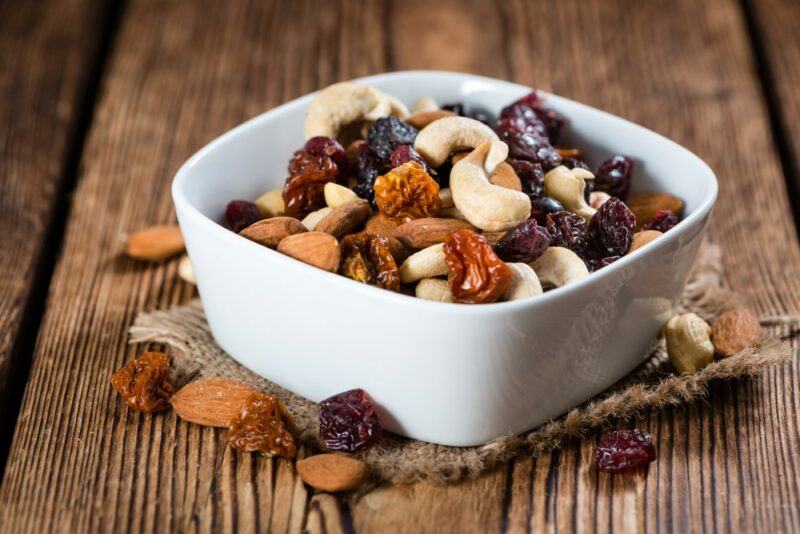 Trail mix is the next step up from nuts on their own. It generally includes at least a few different types of nuts, along with additions like dried fruit, chocolate, and seeds.
The extra ingredients often contain more carbs and sugar than nuts, so they provide a faster boost of energy than nuts on their own. In fact, trail mix is an excellent snack for balancing carbs, fat, and protein.
Just be sure to pay attention to the ingredients in the trail mix (and their proportions). Some trail mixes seriously overdo it with the fruit, creating a sugary snack that isn't very healthy. Dried fruit does offer benefits, but it's also energy dense, so a little goes a long way.
Oatmeal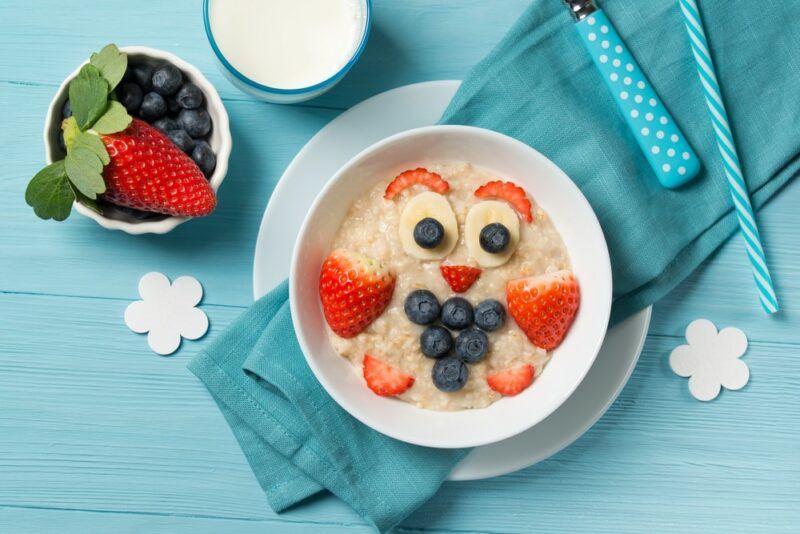 Here's one for when kids have a little time to sit down and eat. Despite the carb content, oats have many benefits, including the soluble fiber they contain, along with plenty of nutrients.
The fiber content is why oatmeal ends up being a slow releasing source of energy, one that can keep children going for hours.
You can easily make the dish more interesting by sprinkling fresh berries, brown sugar, or even some chocolate on top. Even a small amount of any of these will kick the oatmeal up a notch.
Small packets of oatmeal are the easiest option, as these are often flavored and cook quickly in the microwave. However, they're not a great choice, as they tend to be more heavily processed, are high in sugar, and often contain additives.
Try preparing oatmeal directly from oats and adding whatever flavoring ingredients you need to. Doing so doesn't take much extra time anyway.
Eggs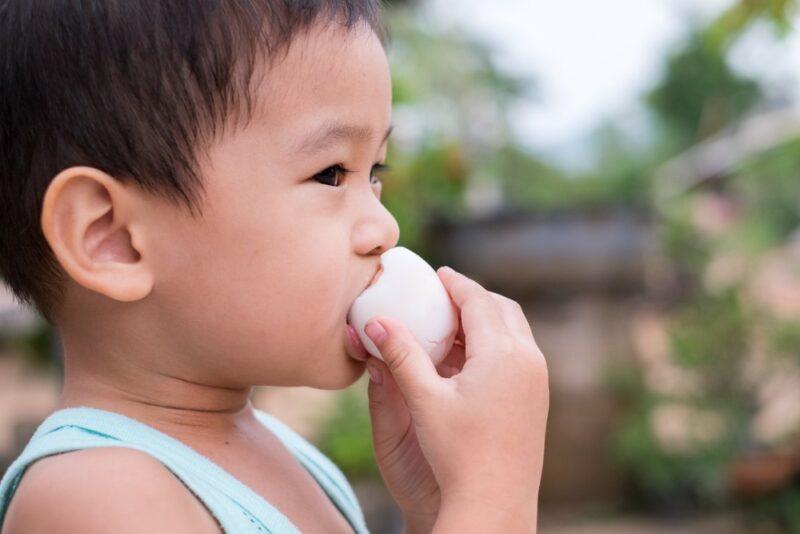 Like nuts and cheese, the protein content is what makes eggs stand out. This protein is crucial, as kids don't generally chow down on large cuts of meat. Eggs, on the other hand, are an easy addition to the diet.
It helps that there are so many ways to cook eggs. You can easily change things up from one day to the next, so that the kids don't get bored.
Or, you might find a favorite approach and stick with it. Scrambled eggs are often popular for kids. You might mix a little cheese and ham in there too. Doing so gives the dish even more protein and some extra nutrients to boot.
Yogurt And Granola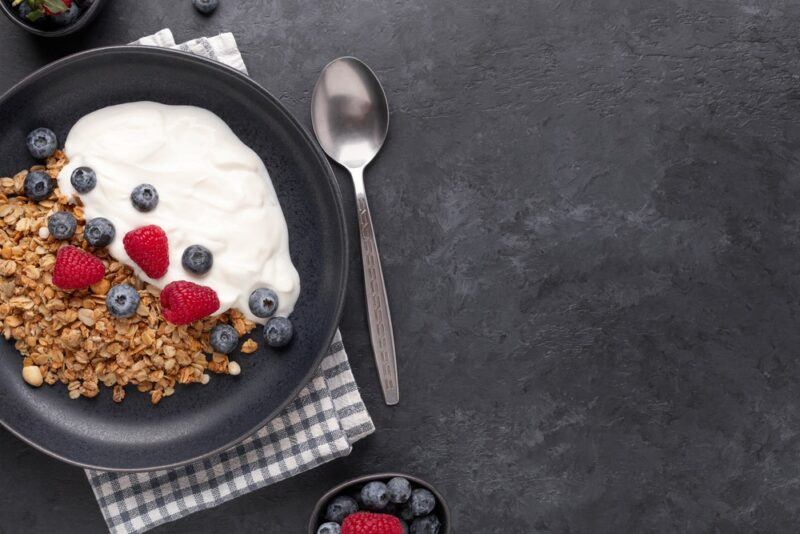 The combination of yogurt and granola can work well, especially if you choose Greek yogurt (which is strained and contains more protein than normal). Doing so gives you another meal that has a good balance of protein and carbs.
Paying close attention to the products you choose really is essential here. Granola products are often highly processed, with too much sugar and a variety of additives to improve the flavor.
Those additives never offer health benefits and might even harm your kids instead. Brightly colored foods are a particularly big problem, as the artificial colors used could possibly cause hyperactivity and other problems in kids.
Dried Fruit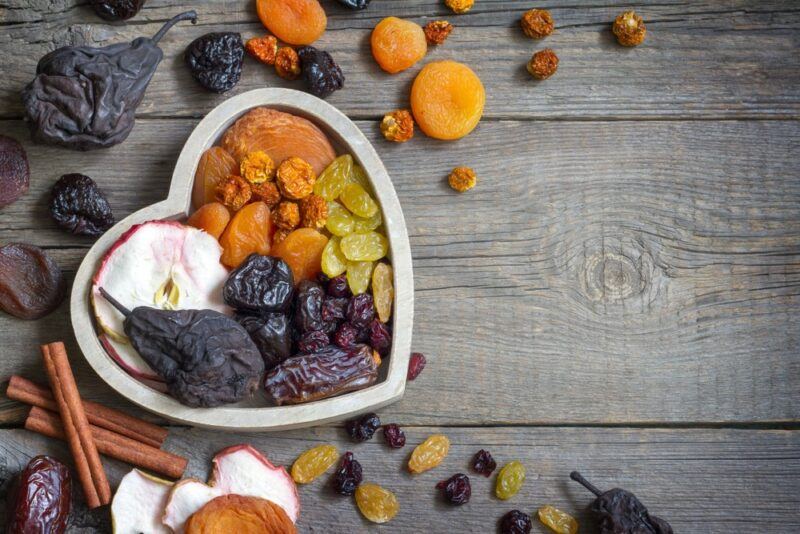 Dried fruit, like apricots, is a healthier option than candy. It certainly provides a pick-me-up too, which isn't surprising given the high sugar content. There's also a decent amount of fiber. That helps to balance the blood sugar impact of the fruit.
Even with the fiber, you need to be cautious with serving sizes for dried fruit. It's easy to forget just how much sugar there is in the fruit and eat more than you intend to.
To avoid the problem with kids, make sure that snacks are always portioned out for them – particularly the ones that are high in sugar. If you're giving them a lunch box, you can always use vegetables to bulk it out.
Homemade Energy Bites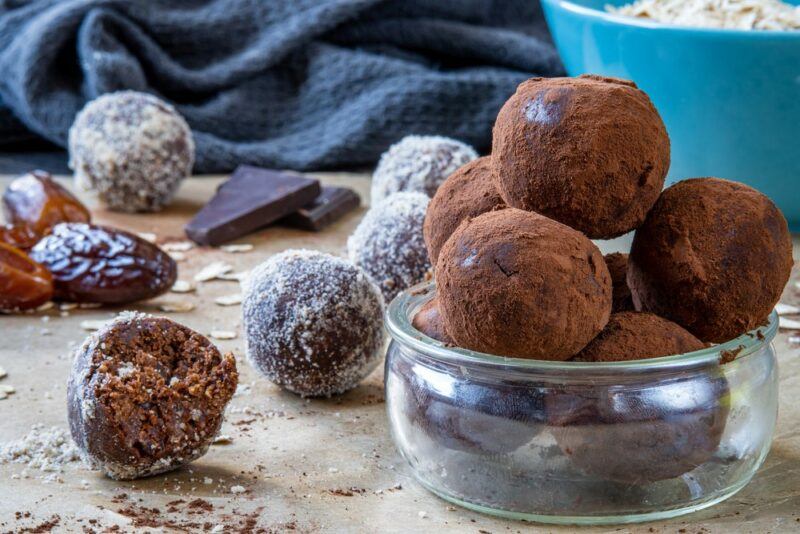 You can also get a bit more elaborate and make energy bites or bars for your kids. These often combine multiple energy dense foods, including nuts, seeds, and dried fruit. Dates are sometimes used for the sweetness they provide.
Energy bites work well, as they're often delicious, are easy to eat without being messy, and you can easily tweak the recipe.
Energy bites do have a downside though – they're often very high in calories. Thankfully, they're nutritionally dense too, so your child might only need a small one to get the energy they need.
It's often worth thinking of energy bites as treats rather than as a type of healthy food. After all, many energy bite recipes end up with a similar amount of calories to candy. That's not what you want.
Greek Yogurt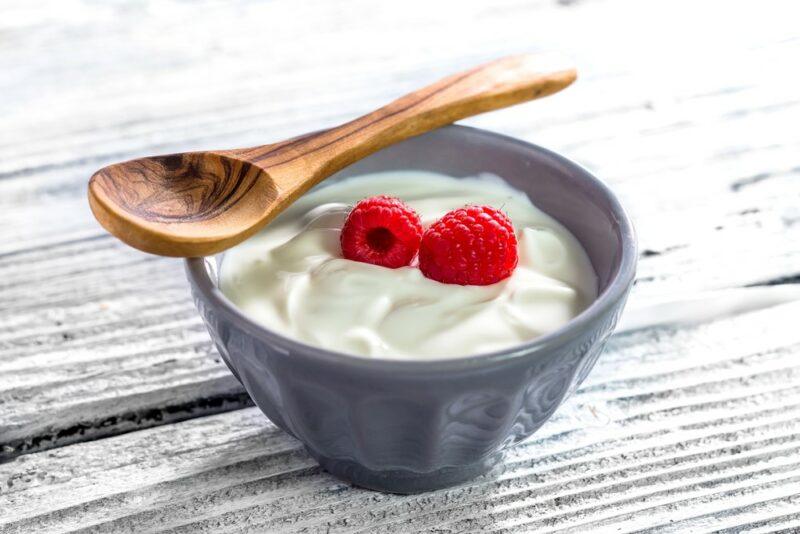 Earlier on, we mentioned how you can serve yogurt and granola together. Sometimes though, yogurt on its own is enough to give your kid an energy boost.
While you can choose any type of yogurt, we recommend Greek yogurt, due to its high protein content.
Be sure to check the ingredients label carefully too. Plenty of yogurt brands aren't as healthy as they first seem. They often rely on additives and too much sugar.
The healthiest products will add little to the yogurt. They'll also rely on live cultures so that you get probiotic benefits from the yogurt. Don't be afraid to try plain yogurt either.
You can easily mix fresh berries, cocoa powder, or another ingredient into the yogurt for extra flavor. The combination of Greek yogurt and honey is a simple option here, one that's very popular.
Apples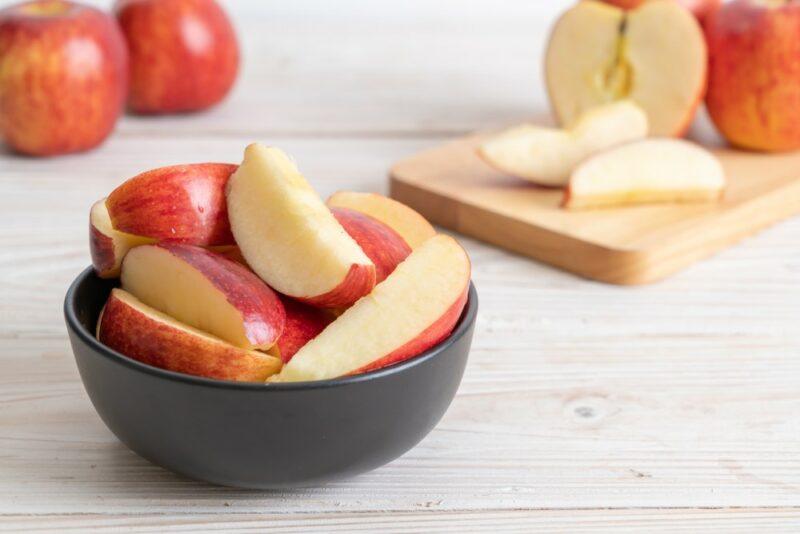 Apples are another fantastic fruit to use as a snack. Like bananas, much of that energy boost comes from sugar.
Apples also have a few advantages over bananas. For one thing, they're lower in sugar. Apples can contain a little more fiber too, which tends to give them a lower GI and means that they have a lower blood sugar impact.
Don't forget about portability either. Apples and bananas are both easy to carry around and add to lunches. But, while bananas can be easily bruised and squashed, apples tend to be very resilient.
Apples With Nut Butter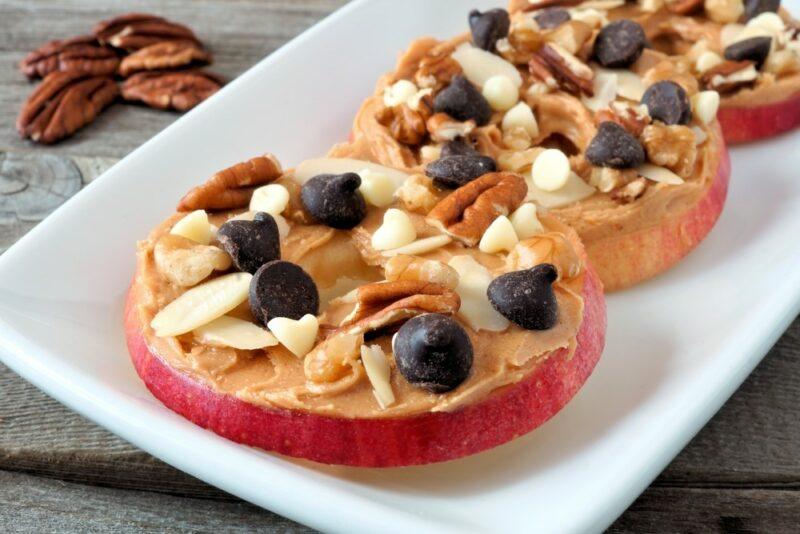 Spreading nut butter on apple slices gives you a snack that's even better for energy. This one works so well because you're getting the sugar from the apple, along with healthy fats and nutrients from the nut butter.
You can get creative here too, like making apple rounds with peanut butter, nuts, and some chocolate or blueberries.
Peanut butter is the easiest choice here, simply because it's so inexpensive. However, if you're going with peanut butter, you'll need to choose carefully, as peanut butter is often highly processed. Look for a brand that uses peanuts and perhaps some salt as ingredients – and little else.
Other types of nut butter can be even better.
Almond butter, for example, offers a slightly richer and nuttier flavor than peanut butter. It's also an excellent source of all the nutrients that you find in almonds.
While almond butter might be less familiar, most kids that love peanut butter will be just as thrilled with almond butter. Besides, it's always fun to try something a little bit different.
Water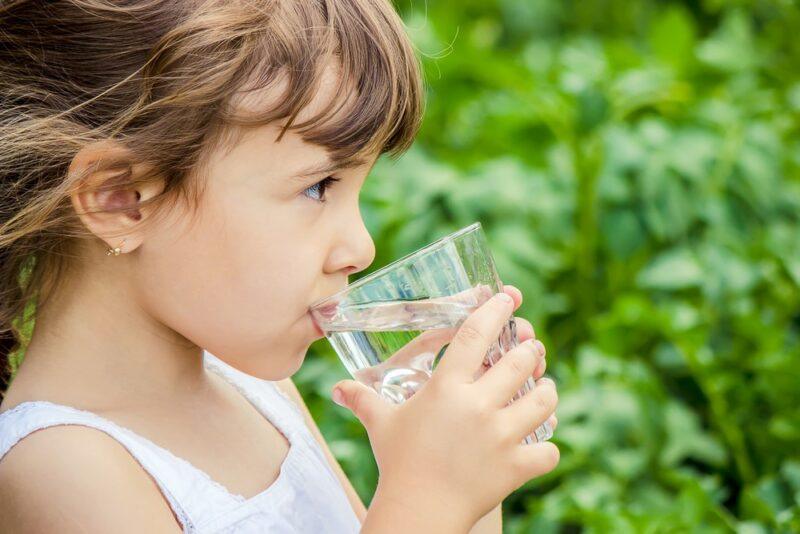 Okay… water is a drink rather than a type of food. It's also far more important than you might realize, as kids get easily dehydrated. Just look at how much time they spend running around.
That's not all. A decrease in energy is one of the symptoms of dehydration, making water an easy way to perk kids up a bit.
For kids that resist plain water, try mixing a little fruit juice in. The trick here is to keep the juice content low, as learning to love plain water is incredibly important.
Be wary of sweetened and flavored drinks, including sports drinks like Gatorade. These offer few benefits, are often very processed, and contain far too much sugar. Giving kids that much sugar at once will give them energy for a short while, but the energy won't last, leading to the inevitable sugar crash.
Most parents already know to steer well clear of sugar crashes.
So, stick to plain water or water with subtle flavoring. This way you get the energy benefits, while still keeping your kids healthy.
Watermelon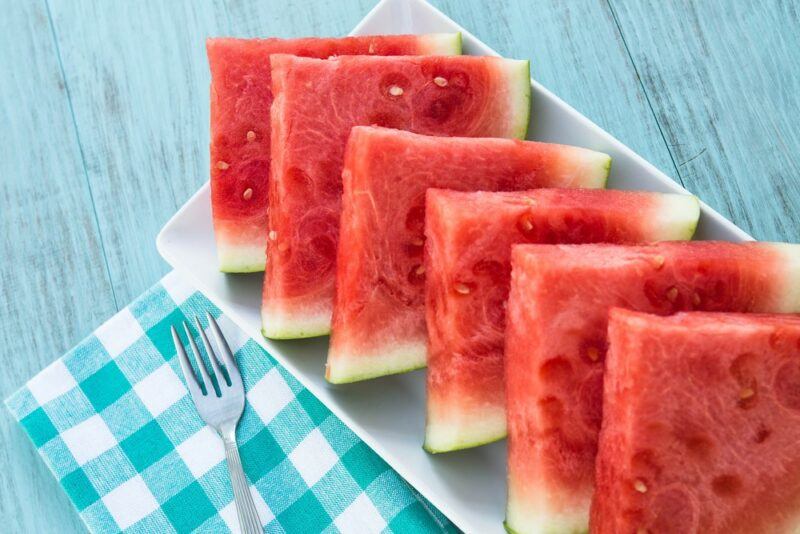 Watermelon is an easy choice in the summer months. While the fruit isn't as portable as apples or bananas, the high water content of watermelon makes it a perfect way to keep kids hydrated.
Drinking water is better than water for hydration, but it's often easier to get kids to scoff down some watermelon than to have a glass of water.
Any Other Fruit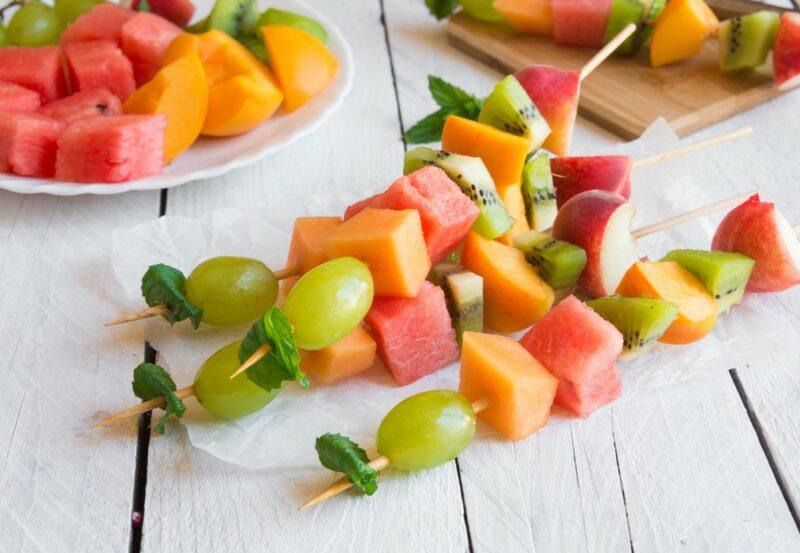 We've mentioned apples, bananas, and watermelon already, but really, any type of fruit acts as an energy food for kids. They all contain a decent amount of sugar, along with fiber, which reduces the blood sugar impact.
Plus, fruit is always a fantastic source of nutrients and antioxidants.
If whole fruit seems too boring, why not mix things up a bit? You could try making a fruit salad or thread some fresh fruit onto a skewer. Both approaches allow your kids to enjoy multiple types of fruit in the same sitting.
Cottage Cheese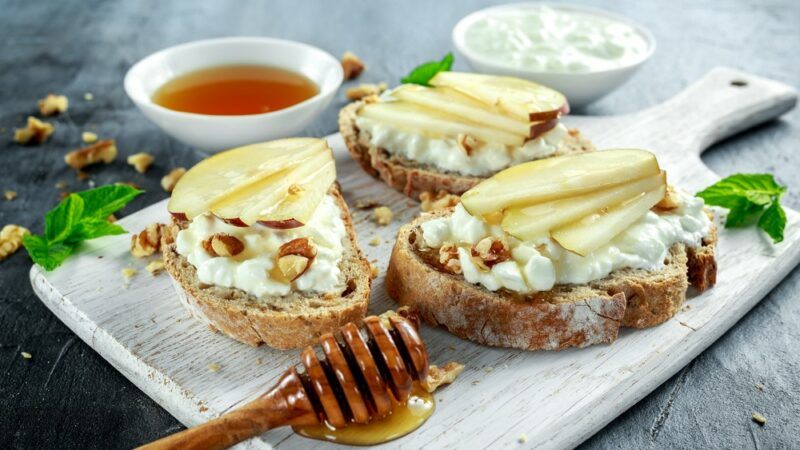 Cottage cheese is a rich source of protein and calcium, and it isn't just for dieters. It also works well as an energy boosting snack for kids.
Because cottage cheese doesn't have an incredibly interesting flavor, it's best served with other ingredients. Having some on toast or crackers is an easy option here.
You could take things even further and add extra toppings, like the pear, honey, and walnut cottage cheese snacks in the image.