Following a gluten free diet doesn't mean that you're forced to spent long hours in the kitchen or that you have to eat boring and unappetizing food. Instead, with the right recipes, gluten free food can be just as good, if not better, than traditional fare.
Regardless of your skill in the kitchen, cookbooks are simply the best place to look for information and insight into gluten free cooking. If you find the right book, you have a wealth of information at your fingertips. In some cases, you might choose to follow an entire recipe as written, while in other cases you might take recipes as inspiration for dishes of your own.
So, however you use them, cookbooks are certainly worth the effort. But, picking a good one can be tricky. With this list, we're focusing on making that process much easier by showing you some of the best gluten free cookbooks out there. However, this list also has a twist, which you might have already noticed.
Specifically, we're focusing on gluten free recipes for slow cookers. Why slow cookers? Well, they're much more powerful than most people imagine and they are the perfect way to save time in the kitchen without sacrificing the taste or nutritional quality of your food. So, why not give some of these a try?
Gluten Free Slow Cooker Cookbooks
The Everything Gluten-Free Slow Cooker Cookbook
The Gluten-Free Slow Cooker
Gluten-Free Vegan Slow Cooker
The Gluten-Free Cookbook for Slow Cookers
Gluten Free Crock Pot Recipes
Gluten-Free Slow Cooking: Over 250 Recipes of Wheat-Free Wonders
Gluten-Free Slow Cooker
Paleo Slow Cooker: Simple and Healthy Gluten Free Recipes
Gluten Free Slow Cooker Recipes
Freezer Meals: Delicious Gluten-Free Slow Cooker Recipes
Gluten Free Slow Cooker Recipes by John Webb
Top Pick
The Everything Gluten-Free Slow Cooker Cookbook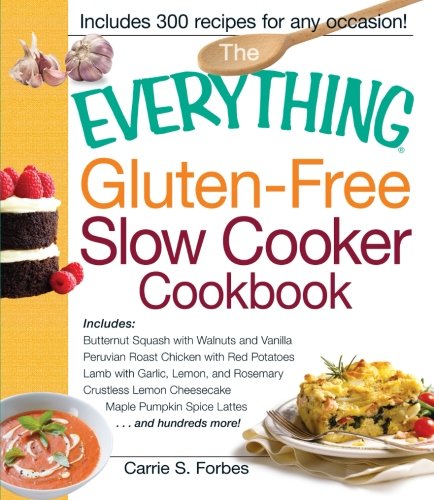 There are a few different books in this range and they all act as a great starting point for specific types of recipes. In this case, the focus is on gluten free meals in a slow cooker, which shouldn't be surprising, as that is specifically what we're talking about in this list. The book itself is pretty popular, averaging 4.3 stars on Amazon across 305 reviews. That outcome is pretty good for a cookbook, as people tend to vary so much in the types of recipes that they are looking for.
One of the key reasons to consider this cookbook is simply the variety. With more 300 different recipes, there are more options in this book than in most others, including recipes for breakfast, dinner and everything in between. Nevertheless, it is worth noting that the book isn't as healthy as many other options and some of the food is relatively simple. These aspects may not suit some people but they're likely to be perfect for others, especially for people just getting into gluten free cooking.
The Gluten-Free Slow Cooker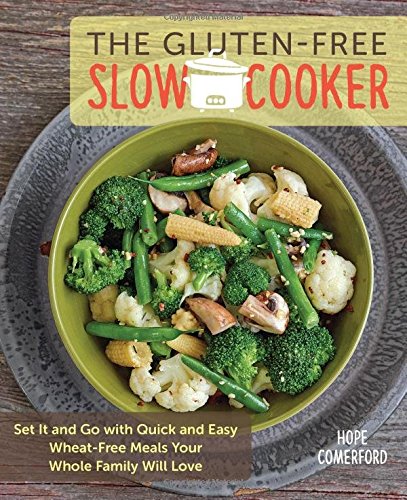 This cookbook is considerable smaller than the previous entry, offering around 100 recipes. Nevertheless, there is still a lot of variation among those recipes, including many side dishes and desserts. As such, this is a particularly good book for people who get a little bit sick of just dinner recipes and want more options.
The author also seems to do a good job at creating recipes with interesting flavors that turn out well. This is a major advantage, because many slow cooker recipes end up being mostly flavorless. Additionally, the recipes are also fairly straightforward, so you don't have to be an expert cook to get the best out of them.
Gluten-Free Vegan Slow Cooker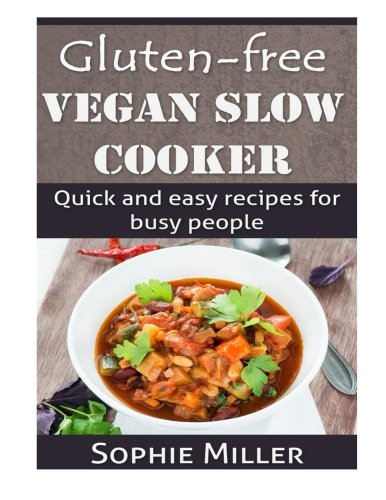 In terms of size, this book is on the small side, offering just 25 recipes. Once again, these come from a range of categories, including breakfasts, dinners and desserts. Because of this, there are not a lot of individual recipes in each category.
Nevertheless, this is a good book to get started with, especially if you are trying to follow a gluten free and a vegan diet. Additionally, the Kindle version of the book is fairly inexpensive, so this may be one book to simply pick up on the off chance that there are a few useful recipes for your needs.
Oh, and be sure to check out our full list of vegan slow cooker cookbooks as well!
The Gluten-Free Cookbook for Slow Cookers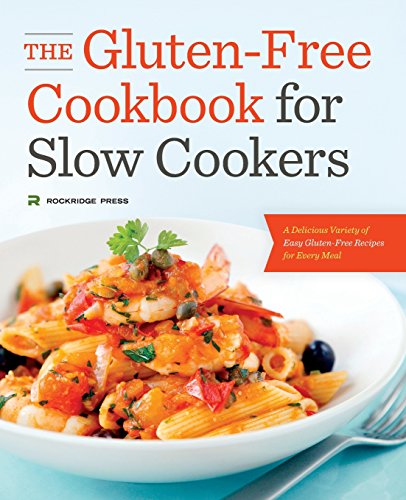 One interesting thing about this cookbook is that there is an emphasis on various dietary needs. In particular, each recipe states whether it is vegan, vegetarian, dairy free and so on. That aspect is a great advantage for anyone who has multiple restrictions about the food that they eat.
At the same time, this book acts as a key source of information about following a gluten free diet in general. This includes a discussion on surprising sources of gluten and substitutions that you can make to turn to make gluten free versions of conventional recipes.
Because of all the information it offers, this cookbook also acts an overall resource for a gluten free diet, especially for people who have recently started eating in this way. There are also around 135 recipes on offer, so there's a decent amount of variation in the food that you can cook as well.
Gluten Free Crock Pot Recipes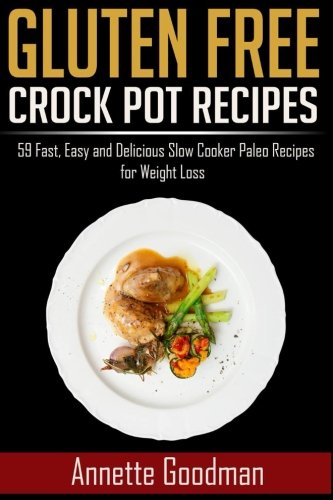 An appealing thing about this cookbook is that it actually caters for a paleo diet as well as a gluten free one. However, you don't actually have to be on the paleo diet to use the cookbook and it would work just as well for people who are only gluten free. Another interesting thing is that all of the recipes are focused on weight loss.
The paleo and the weight loss aspects of the book mean that you won't find many recipes that rely on processed ingredients or that are high in sugar. As such, the recipes will be a great fit for anybody trying to lose weight, regardless of what diet they are following.
Gluten-Free Slow Cooking: Over 250 Recipes of Wheat-Free Wonders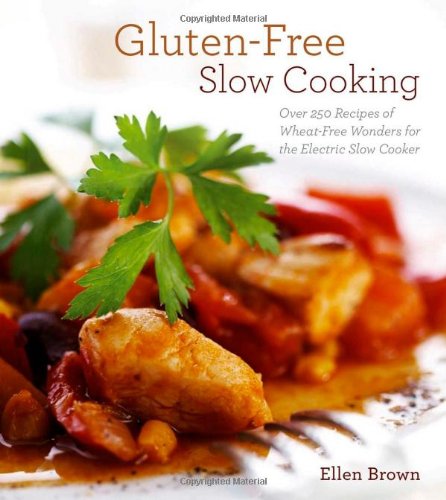 The best cookbooks are often those with a large selection of recipes, like this one here, which has 250 different ones. If nothing else, more recipes does mean an increased chance that you will find some that are exactly what you're looking for. Unlike some of the other cookbooks on the list, this one does have appealing photography and that can help people to figure out which dishes to make.
Despite these positives, there is one thing to be aware of with this cookbook and with most of the options in the list. In many cases, authors will list some ingredients that have gluten free and gluten containing versions. One example of this is soy sauce. Typically, authors assume that you already know to source gluten free versions. While that may be true for many gluten free cooks, people who are new to the diet may struggle early on.
Gluten-Free Slow Cooker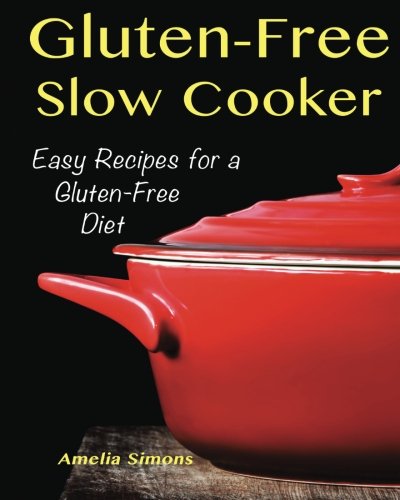 For the most part, this cookbook is fairly typical, especially when compared to others on this list. However, it does also have a somewhat unusual emphasis on making gluten free bread in the slow cooker. This technique might seem a little strange but it can be an effective way to make bread, especially for people without a bread maker.
The biggest disadvantage of the book is simply that it doesn't offer a large number of recipes. It also isn't especially high quality compared to some of the others on this list. With that in mind, we'd recommend considering the Kindle version of this cookbook, rather than the paperback version.
Paleo Slow Cooker: Simple and Healthy Gluten Free Recipes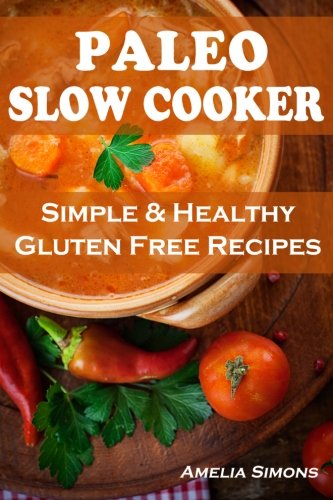 This book may seem like an odd inclusion because it focuses on paleo food primarily. However, as a general rule, paleo tends to be gluten free simply on the basis of the food that you are excluding. Additionally, this cookbook is a pretty popular one, with many people enjoying the recipes and saying that the book is a great choice for anyone following a gluten free diet.
So, you can still use this cookbook even if you aren't at all interested in paleo. In fact, there is some controversy surrounding many of the recipes, as some of the ingredients used aren't ones that a person would eat if they were strictly following paleo.
Gluten Free Slow Cooker Recipes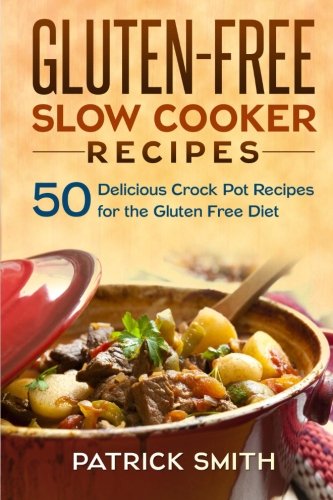 In many ways, gluten free cooking with a slow cooker is a fairly narrow topic, so it isn't too surprising that many of the cookbooks out there are limited in the number of recipes that they cover. In this case, the cookbook mostly focuses on mains and soups, although there are some additional recipes for side dishes, breakfasts and desserts.
Some of those recipes are fairly typical and you'll find similar options in other cookbooks. Nevertheless, this is still a good starting point, especially as the Kindle version is inexpensive and is easy to use.
Freezer Meals: Delicious Gluten-Free Slow Cooker Recipes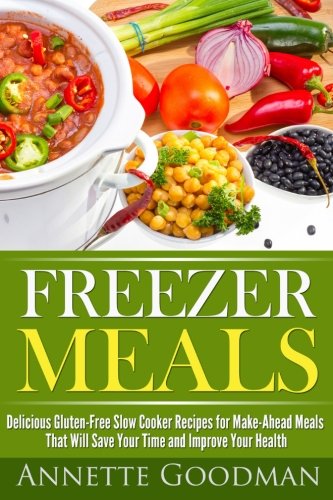 This cookbook offers a twist to the idea of gluten free cooking. Here, the emphasis is on meals that you can make and then freeze. That technique is one of the biggest advantages of a slow cooker in terms of saving time and it means that you can end up preparing multiple meals at once.
Unfortunately, most cookbook authors don't offer information about whether their meals can be frozen or what their shelf life is, so it's nice to see one cookbook that provides all of the information that you are going to need.
Gluten Free Slow Cooker Recipes by John Webb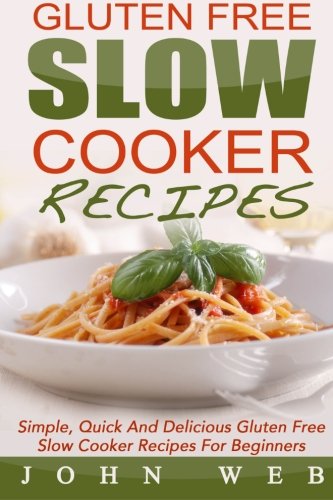 Like many of the smaller cookbooks that have made the list, this one appears to have been self-published. That's not necessarily a bad thing, especially as self-published books are often less expensive and they can sometimes be a little bit different than what people formally publish.
In this case, the recipes do appear to work well and be easy to follow, resulting in meals that taste good overall. However, we recommend focusing on the recipes with this book, not the general information on being gluten free, as there are much better options for that information out there.
Top Picks
In compiling this list, we noticed that there were a surprising number of relatively short self-published books on gluten free cooking in a slow cooker. Typically, those books tended to have fairly decent recipes, although many were not especially unique. Those shorter books may be worth using for inspiration but they aren't a good choice for people who want a good reference book. Instead, there are a couple of books out of this list that we highly recommend to anyone serious about using a slow cooker for gluten free meals.
The first of these is The Everything Gluten-Free Slow Cooker Cookbook. This book is one of the best choices, partly because it contains so many different recipes. That should mean that there should be at least some recipes to suit your tastes. Now, this book does tend towards some processed ingredients, even though most of the ingredients are 'real' food. This may make the book less suitable for those who want the healthiest possible meals. But, the choice does make the book extremely relevant for those wanting to make fast and easy gluten free meals.
The second book that we strongly recommend is The Gluten-Free Cookbook for Slow Cookers. This is another book with a decent number of recipes but, more importantly, it acts as a valuable source of information about being gluten free and how to follow a gluten free diet. That information would be especially relevant for anyone who is new to a gluten free diet as well as people that are curious about what's involved. Plus, the recipes on offer look and sound great, which is reason enough to consider the cookbook.
Also, don't forget that there are many similarities between this diet and the paleo diet! We've also published a list of top paleo slow cooker cookbooks you can take a look at to expand the possibilities of what can happen in your kitchen.
Best Slow Cookers
Since you're getting an awesome cookbook, you should get an awesome slow cooker to match. Cheap ones come as low as fifteen or twenty dollars, but they simply lack the features and accurate cooking of the better models out there. Will you be preparing meals for 1, 2, or 10 people? Size matters as well.
Be sure to browse all of our slow cooker reviews to find the price, size, brand, and model that will best suit your kitchen, budget, and eating needs.