Are you in love with yarn? Many crafters are, which is what makes fiber and yarn clubs so fantastic. They help you to grow your collection without too much legwork. Why not? After all, yarn does have a long and fascinating history.
The first yarn was created from animal and plant fibers. And according to archeological digs, yarn has been around for at least 20,000 years. However, back then and for centuries to come, yarn was all handspun by rolling fibers between one's hands or rolled down your thigh to create a tight twist of the fibers.
It wasn't until 5,000 BC that spindles were used to help make the process easier, but even then, yarn crafting was a long and tedious project. After the spindle came the whorl, but what truly revolutionized the art of making yarn was the spinning wheel. Though no one knows for sure, many believe that the first spinning wheel was invented between 500-1,000 AD somewhere in India.
Today, yarn is still made with fibers from animals and plants such as alpaca, sheep, and cotton. In addition to the traditional fibers, yarn is also created with synthetic fibers like acrylic.
Beyond the variety of fibers used to design yarn, there is an array of styles too. Some of the more unique yarn types include bouclé and chenille. And the fiber and style are not the only things to have changed over the years, but colors, weight, and texture have all evolved throughout yarn history.
Though having a vast selection of yarn to choose from is fun, it can be challenging too, which is why yarn of the month clubs are perfect for avid crafters. Yarn of the month clubs allow crafters to try various yarns from all over the world, many of which are handmade yarns, and some help to give back to the community. Best of all, the yarn is conveniently delivered to your door each month, so you will never run out of yarn for fun projects.
If you are the creative type, why not check out other clubs at the same time, like craft of the month clubs or bead clubs. Each has its own collection of products that are certain to make your crafts more exciting.

Yarn of the Month Club
Darn Good Yarn
Southern Skeins
Into the Whirled Yarn & Fiber Co.
Paradise Fibers
Hypnotic Yarn & yARNaBLE
Mindful Makes Yarn Box
Yarn Love
KnitCrate
Darn Good Yarn

Darn Good Yarn was started in 2008 by Nicole Snow to help bring more fair and sustainable jobs for those in need. The company aids in providing safe employment and strives to help protect and improve the planet. Darn Good Yarn sources some of the yarn and ribbon from villages in India that repurpose and recycle saris and manufacture remnants into handmade fibers.
By reusing these fabrics, Nicole has saved more than 100,000 pounds of textiles from ending up in a landfill, not to mention providing gainful employment to those in need. The cloth is all hand-torn, sewn together, and sometimes dyed to create the vibrant and fun fibers offered in their store.
Darn Good Yarn's positive vibes have been recognized and featured in several media venues like Forbes, USA Today, PBS, Vogue, and The Wall Street Journal. They have been recognized not just for their global efforts to help others but also for the programs they have to help their local community, such as those with disadvantages such as those with developmental disabilities.
And yarn isn't the only thing offered at Darn Good Yarn, they also sell apparel, homemade home décor, yarn bowls, acrylic paints, and canvases.
For crafters looking for a regular supply of feel-good yarn, they offer a yarn of the month club. The monthly yarn subscription box is $20 per month. Each month the recipient will receive:
1 skein of eco-friendly handmade yarn from India
A crochet and knitting pattern for the skein of yarn
Access to the Darn Good Yarn exclusive Facebook page for more free patterns
A mystery gift such as needles, hooks, embellishments, and more
Shipping in the US is an additional $3.95 per month, and the first box usually arrives within two weeks. All yarn subscription memberships are flexible and can be paused or canceled anytime.
Southern Skeins

Southern Skeins is based out of Georgia, where the yarn is hand-dyed and shipped worldwide. The yarn is all humanely sourced from various farms, including those in Florida and South America.
Southern Skeins sells a few different yarns individually, but the focus of the business are the yarn of the month clubs. There are two primary yarn clubs to choose from:
Sock Yarn Club – $28 per month

100 grams of yarn
A 20-gram mini skein
Themed progress tracker
Tea
Mystery items
A scented bonus item
Most months include a pattern
Ships the 15th of the month

NOT Sock Yarn Club – $28 per month

100 grams of yarn (yarn material and weight varies)

Some of the yarns included are Alpaca, BFL, and SW Merino
Mystery items
Tea bag
Stitch marker
Most months include a free pattern or pattern recommendation
Ships the 25th of the month
Both clubs have the option to add on an additional 100-gram skein for $45, a project bag for $45, or both the skein and project bag for $65. The cost of shipping is included in both clubs.
Into the Whirled Yarn & Fiber Co.

Into the Whirled Yarn & Fiber Co. (ITW), started in 2008 and is owned and operated by married duo Cris and James out of Phoenicia, New York. In addition to their online store, they also are found at various fiber events such as the Maryland Sheep & Wool Festival and NYS Sheep & Wool Festival.
In addition to their hand-dyed wool, ITW also offers spinning fiber, batts, hand-crafted jewelry, and a Classic Spinning Fiber of the Month Club. The Classic Spinning Fiber of the Month Club comes in two options:
ONE bundle of classic fiber starting at $22.50 per month
TWO bundles of classic fiber starting at $43.50 per month
Each bundle is 4 ounces. Fibers may repeat after 4 months. Some of the previous fibers included in the clubs are Rambouillet, Falkland, Romney, Targhee, and English Shetland.
Monthly charges vary based upon where the fiber is shipped. The fiber of the month boxes ship out between the 15th and 20th of each month. All of the subscriptions are flexible and can be canceled anytime. Also, any fiber not sold that month will be available to members only on their website for up to 6 months, while supplies last.
Paradise Fibers

Paradise Fibers has a brick-and-mortar shop located in Spokane, Washington. Both their Spokane and online shops offer everything a crafter could want when it comes to fiber and yarn, including spinning wheels. Spinning wheels are one of their specialty items and something that Paradise Fibers offers as a custom option.
In addition to the spinning wheels designed by Paradise Fibers, they also sell a variety of top brand names of yarns, looms, and patterns. Some of the various items found on their online store include double row wood combs, dyes, blending boards, carding cloth, a variety of fibers and yarns, weaving looms, and project kits.
Plus, Paradise Fiber offers a Fiber of the Month Club, which is available in 4 duration options:
Month-to-month for $34.99
3 months for $104.97
6 months for $209.94
9 months for $314.91
Each month is based on a theme and includes between 4-10 ounces of fiber, a spinning pattern, and a few surprise items. Plus, all members receive a 10% discount on all fiber purchases.
Hypnotic Yarn & yARNaBLE

Hypnotic Yarn & yARNaBLE has been dyeing yarn since 2017 and is owned and operated by Cheryl Ham. Hypnotic Yarn & yARNaBLE is the same company that sells yarn; the Hypnotic side of the business is an online yarn store that carries digital patterns and yarn.
And the yARNaBLE side of the company focuses on hand-dyed yarn subscription boxes. The yARNaBLE subscription club is limited, so sometimes they sell out, but they offer a waitlist so you can join as soon as there is an opening. Their yarn of the month club has a few options:
1 or 2 skeins
Weight Plush Sock or DK
The boxes ship out the last day of each month, so most subscriptions arrive the first week of the next month. Each box's contents include the specified number of skeins, coupon codes, and 2-3 mystery items.
All of the subscriptions are flexible and can be canceled or paused anytime. However, returns and exchanges are not available for their yarn of the month boxes.
Mindful Makes Yarn Box

Mindful Makes Yarn Box is a subscription-based company and does not sell products individually. The Mindful Makes is available for sale through Cratejoy for $50 per month. Each of the yarn subscription boxes includes:
1 skein hand dyed international artisan yarn
2 patterns
Cotton yarn
Handmade wooden hook 
Handmade stitch markers
3 mystery items
2 bonus gifts
Place your order by the 19th of the month to receive the following months box. The retail value of each box always exceeds $50. Shipping is not included and rates vary based on location.
All memberships are flexible. They auto renew each month, but can be canceled anytime.
Yarn Love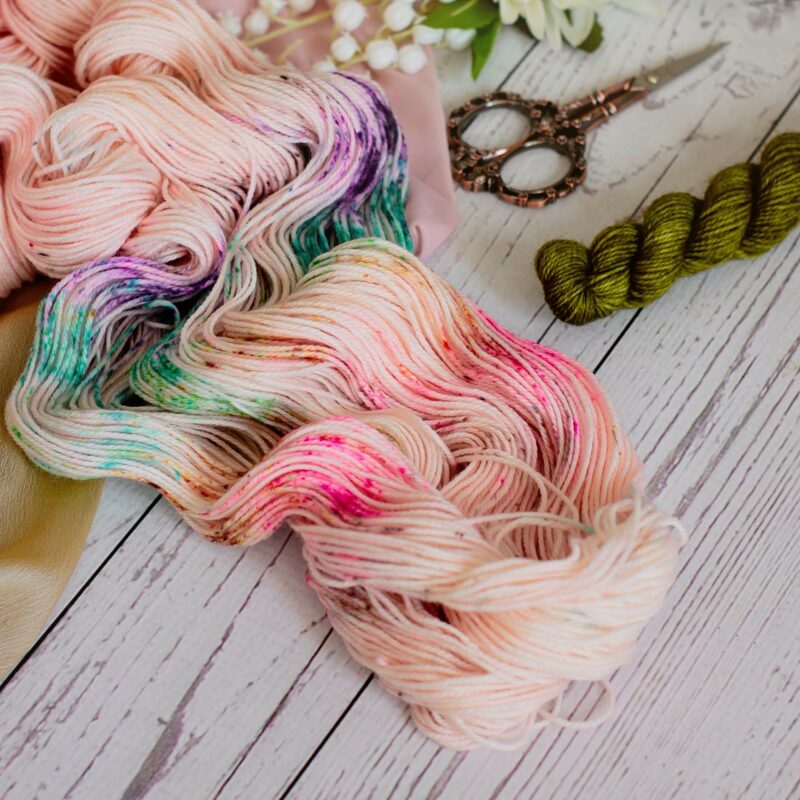 Yarn Love focuses on hand-dyed yarn that is packed and shipped out to you each month. The dying is an intensive process, one that leaves you with a unique skein of yarn. Even yarn that comes from the same batch will have slight differences, giving you the chance to create some amazing things with it.
There are 2 main yarn clubs from Yarn Love. The first is their Sock Club for $30 per month. This includes 100 to 140 grams of fingering yarn each month, always in an interesting new color. As the name suggests, the yarn is perfect for creating amazing socks.
There are prepaid memberships too. For people in the United States, 3 months costs $75 and 6 months costs $150. The prices are $105 and $210 instead if you're in Canada and higher if you live internationally.
Alternatively, check out their Heavy Weight Yarn Club. This one is a monthly subscription only and sends out 4-ounce skeins of sport, worsted, bulky weight, or Dk yarn.
KnitCrate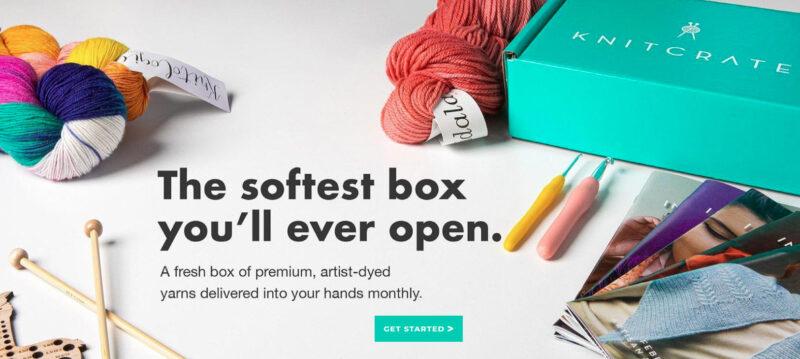 If you love having plenty of choices, you can't go wrong with KnitCrate. You first choose your color vibe, from the options of Energize Me, All Natural, Chill Out, and Anything Goes. You also select whether you want eco-friendly packaging or traditional packaging for an extra $2 per month. The traditional version comes with a printed magazine, while the eco-friendly version gives you a digital magazine link instead.
There are multiple clubs too, including:
Knit & Crochet Monthly Club for $29.99 per month (with discounts if you prepay) + $7.95 S&H. Each package contains skeins of premium yarn, a pattern for crochet and one for knitting, Knitcrate STASH points to spend in their store, and promo codes.
Sock Knit & Crochet Monthly Club for $24.99 per month (with discounts if you prepay) + $6.95 S&H. The packages are described identically to the Knit & Crochet Monthly Club, although there are likely to be differences in the types of yarn that you receive.
Malabrigo Quarterly Club for $49.99. This quarterly subscription features premium yarns and patterns from Malabrigo. It often sells out, but you can join their waitlist so you don't miss out in the future.
Mrs. Crosby Travels the World Quarterly Club for $69.99. This subscription focuses on yarns and patterns from around the world. The yarn is all hand-dyed and the box may contain some extras. Bonus promo codes and STASH points are included.