If you're stuck for Father's Day gift ideas, try going with the old classic – food! Sure, you could take the easy option and buy a gift card to a restaurant or a selection of chocolate from the local store.
But, there are many more creative options out there that are available online, regardless of your dad's tastes and your budget. We've listed 50+ great food and snack gifts for this Fathers's Day because we know that dads love food, but not all dad's like the same kind of food!
The 50 items on this list are for a wide variety of tastes. Some are ready-made rare finds like the Exotic Meat Crate, and others are DIY like the Kombucha Tea on Tap kit. Some of them are actually food, like unique gift sets or bacon-flavored sauces (of course there's bacon). But, other options simply help to make food that much more interesting and entertaining.
Regardless, you're bound to find some items to suit the foodie in your life – even if they seem to have everything. For that matter, most of these items would suit many other occasions as well.
We've listed the gifts under price categories:
If you want to brand out beyond food & snacks, then try one of these engraved flasks, or engraved whiskey decanters for the whiskey drinker in your family!

$10 – $50 Gifts
Molecule-R Cuisine R-Evolution Kit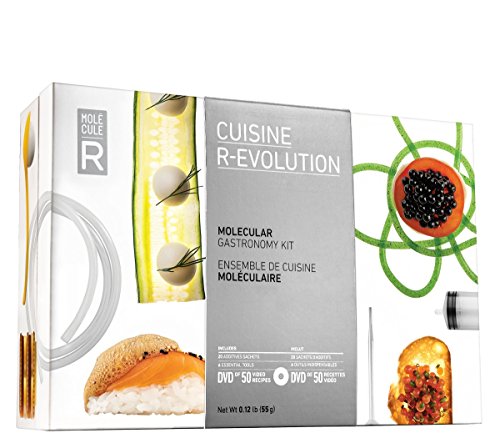 Molecular gastronomy probably won't appeal to everyone but this Molecule-R Cuisine R-Evolution Kit could still be the right fit for some fathers.
In particular, the idea offers a new and unusual way to approach food, while also being something entirely different to try.
= = > Get Molecule-R Cuisine R-Evolution Kit Here
Elite Cuisine Hot Dog Toaster Oven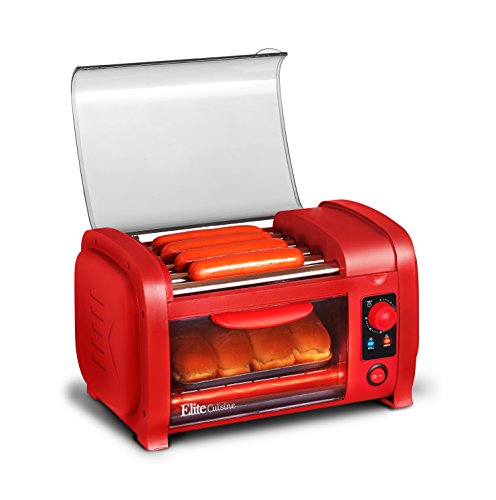 For any father that absolutely loves hot dogs, this Hot Dog Toaster Oven is an interesting product to go with.
It's basically a small toaster oven that also has heated rollers on top for cooking hot dogs and sausages. The ideal way to use it would be to heat the buns inside and the hot dogs on top – although the product does simply function as a normal toaster oven as well.
= = > Get Elite Cuisine Hot Dog Toaster Oven Here
Zombie Cajun Hot Sauce Gift Set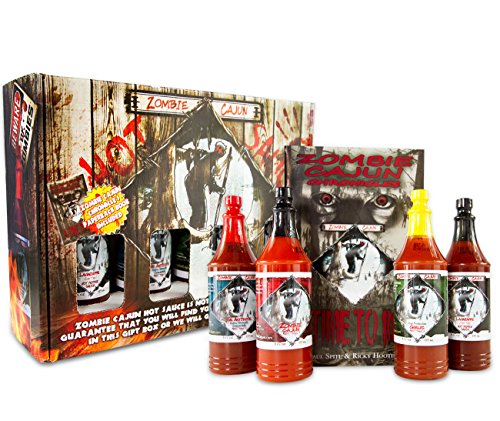 The idea of a Zombie Cajun Hot Sauce Set seems perfect for anybody who loves The Walking Dead or zombie movies. In it, you get four bottles of hot sauce that vary in intensity. The idea is fun and the sauce itself seems to taste great as well.
= = > Get Zombie Cajun Hot Sauce Gift Set Here
Pizzacraft Grilled Pizza Cone Set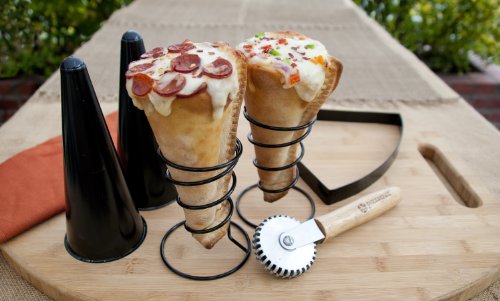 This Pizzacraft Pizza Cone Set is a fairly simple gift but would be a great fit for anybody that loves pizza.
The kit comes with everything you need to make two pizza cones at a time, including instructions for people new to the concept. This type of cone makes a great alternative to traditional pizza, especially as they can be cooked in a conventional oven.
= = > Get Pizzacraft Grilled Pizza Cone Set Here
World's Largest Gummy Bear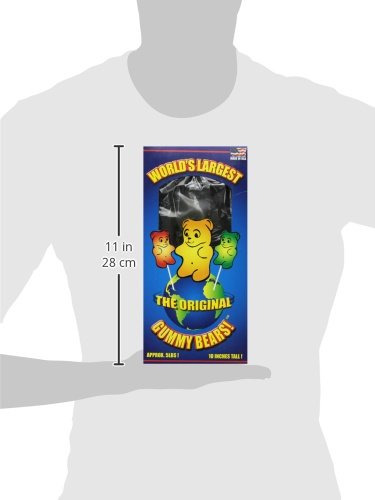 Buying a World's Largest Gummy Bear for Father's Day borders on the absurd – but sometimes that's the point.
I'm not sure whether this is actually the largest gummy bear in the world. Still, at around 5 pounds, it's fairly impressive either way. There are 11 different flavors to choose from as well, so you're not stuck with lime unless that's the flavor you want.
= = > Get World's Largest Gummy Bear Here
Star Wars Death Star Waffle Maker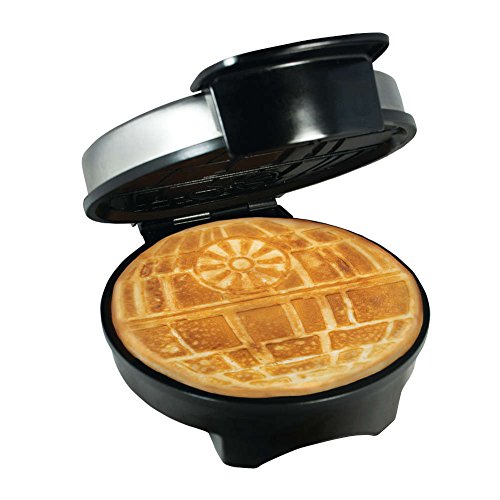 If you have a Star Wars nut in the family, this Death Star Waffle Maker could be the perfect gift.
Not only does it look fun but the tool is easy to use, with five different temperature settings. It isn't just a waffle maker either and it could also be used as a sandwich press or for cooking other things, like quesadillas, eggs or brownies.
= = > Get Star Wars Death Star Waffle Maker Here
Death Star Popcorn Maker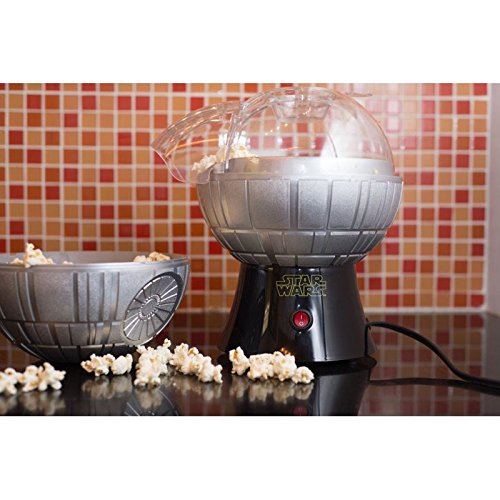 While we're on the topic of Star Wars, this Death Star Popcorn Maker makes a great gift for movie-style popcorn at home.
The design means that it comes with its own bowl, which can be placed on top when not in use – resulting in a decorative Death Star. The price is fairly similar to a conventional popcorn maker anyway, so why not go with a more interesting one like this?
= = > Get Death Star Popcorn Maker Here
The Original Baconkit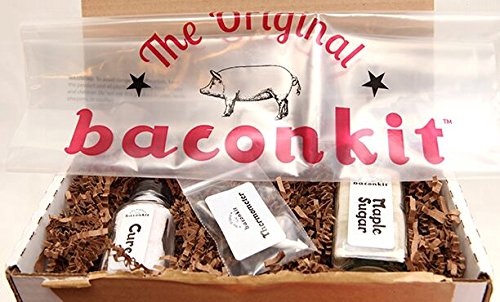 This Original Baconkit is a fun idea for any bacon lover and offers the ability to make bacon from pork belly.
The idea itself is surprisingly simple and a single kit is suitable for around 5 pounds of pork belly. It may not be the most efficient way to make bacon but the kit is a cool way to learn and get started. Plus, it does make a great gift and is certainly unusual.
= = > Get The Original Baconkit Here
Deluxe Hot Sauce Kit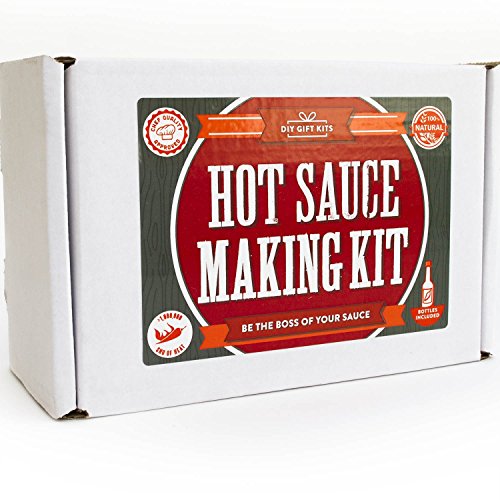 Why simply buy hot sauce when you can make your own instead? This Deluxe Hot Sauce Kit has all of the tools, ingredients and instructions for creating 14 bottles of hot sauce.
Not only is the end result great but the kit itself is fun to use. It makes for a perfect way to entertain dad and can also be an activity that the whole family gets involved in.
= = > Get Deluxe Hot Sauce Kit Here
Bacon Jam – Spreadable Bacon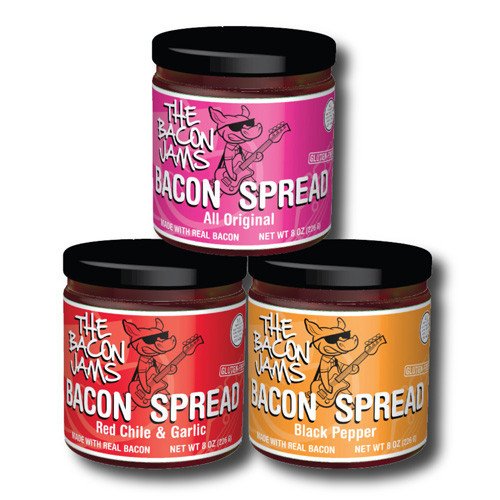 The idea of bacon-flavored everything gets a little overdone but this Bacon Jam is an extremely appealing gift that manages a good balance of serious and silly. Reviews suggest that the spreads do actually taste like bacon and they can be good on their own or in cooking. The same company does also sell their products individually, if one flavor sounds more interesting than the others.
= = > Get Bacon Jam – Spreadable Bacon Here
Stonewall Kitchen 3-Piece Bacon Gift Set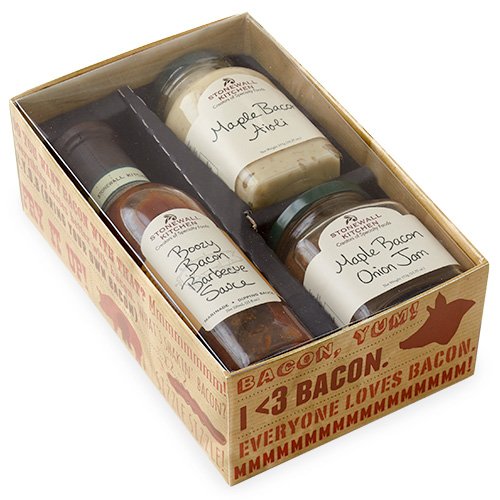 Bacon gift sets are fairly common but most don't look like this Stonewall Kitchen Gift Set. The most attractive thing about this one is that it isn't gimmicky in the slightest. Instead, you have three products where bacon would add to the flavor, making for great tasting sauces overall. One of the three is also a boozy bacon barbecue sauce, which is bound to be especially popular.
= = > Get Stonewall Kitchen 3-Piece Bacon Gift Set Here
$50 – $100 Gifts
Gourmet BBQ Sauce Tool Box Set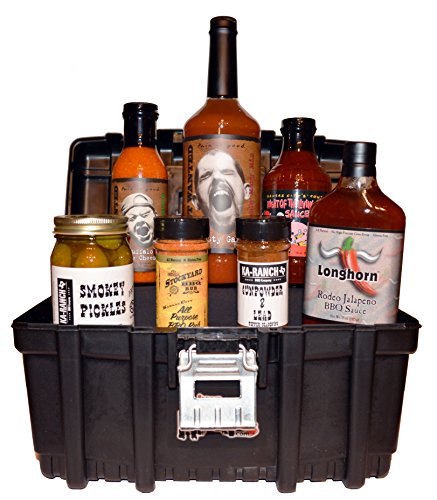 Why not go all out with barbecue sauce and pick an option like this Gourmet BBQ Sauce Tool Kit? The selection is rated as being 'medium heat' and comes with various sauces, barbecue rubs, some smoky pickles and Bloody Mary mix.
At the same time, the presentation is simply fun and your dad ends up with a usable tool box once all the consumables are gone.
= = > Get Gourmet BBQ Sauce Tool Box Set Here
Table In Tuscany Gift Basket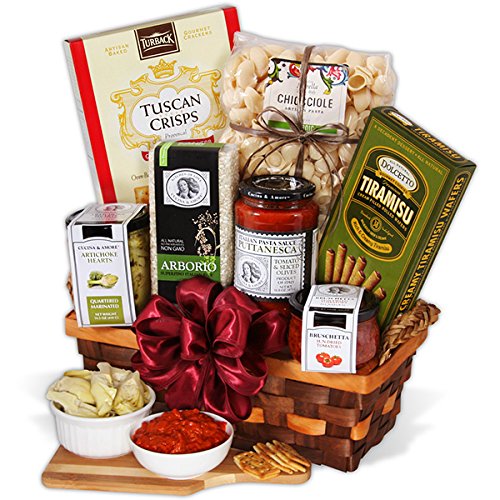 This Table in Tuscany Gift Basket would work so well for anybody that loves Italian food, especially dads that also love to cook. The whole thing ends up looking great visually too and means you don't have to figure out the presentation yourself.
= = > Get Table In Tuscany Gift Basket Here
Bean Box Gourmet Sampler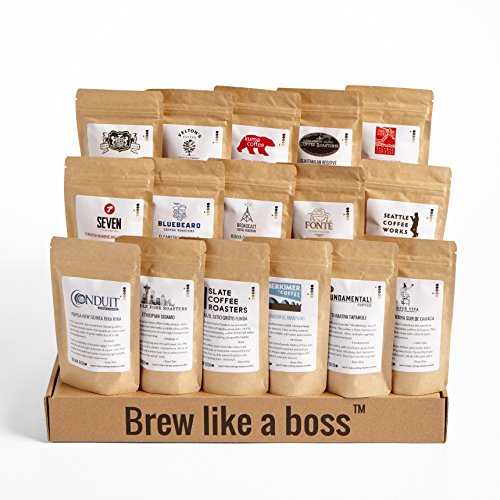 Coffee is important for many people, particularly foodies. That makes this Bean Box Gourmet Sampler a very attractive option.
The gift comes with 16 types of gourmet coffee from a range of different companies across the world. It can be a great way to experience new types of coffee, especially as each bag tells you a little bit about the coffee that it contains.
= = > Get Bean Box Gourmet Sampler Here
Bloody Mary Hot Sauce Tour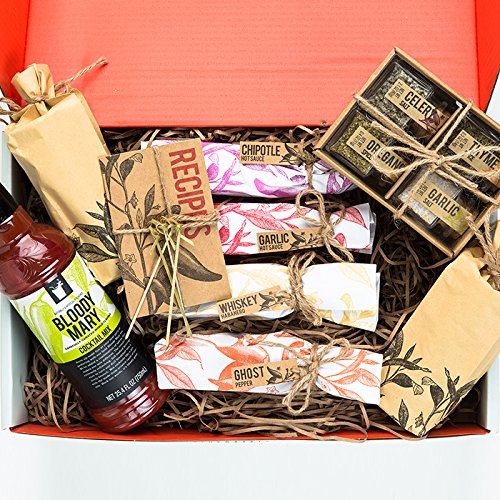 This Bloody Mary Hot Sauce Tour is all about making unique Bloody Mary drinks and you end up with all the tools for doing just that.
The kit offers four different hot sauces and four highball glasses, along with garnishes, Bloody Mary mix and bamboo picks. The end result is good value for money and makes for a fun gift overall.
For more hot sauce options, try these hot sauce subscription boxes.
= = > Get Bloody Mary Hot Sauce Tour Here
Bistro Electric Burr Coffee Grinder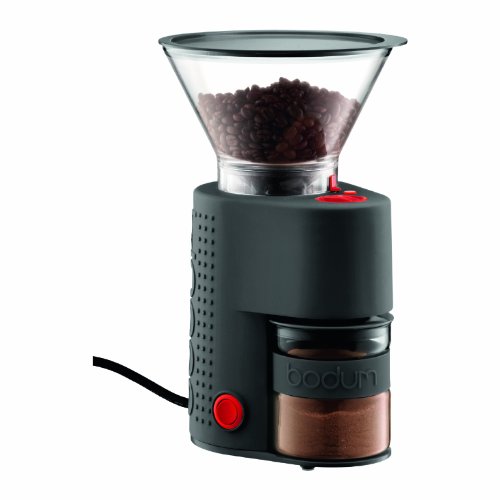 Coffee grinders let you get the most flavor and freshness out of your coffee, so they're a must for many foodies. There are many such products out there but this Bistro Electric Burr Coffee Grinder is a cool pick.
Not only is it practical but the overall style looks great. There are also different colors to choose from (like lime green or copper) if you want something a little more unusual.
= = > Get Bistro Electric Burr Coffee Grinder Here
Hamilton Beach Electric Deep Fryer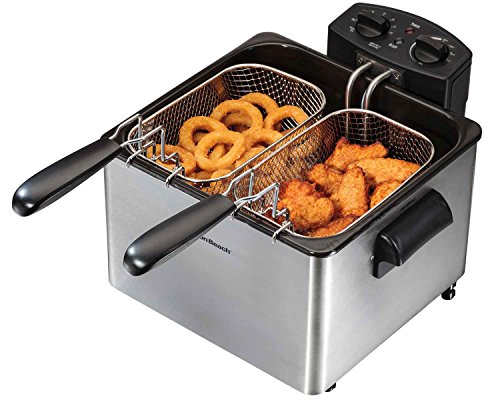 Deep frying isn't the healthiest practice out there but it is still well loved – and great for special occasions.
So, why not give dad the chance to make is own fried food with this Hamilton Beach Electric Deep Fryer? The product also offers one large basket and two small ones, letting users cook two separate types of food at once if they want to.
= = > Get Hamilton Beach Electric Deep Fryer Here
VonShef Fondue Set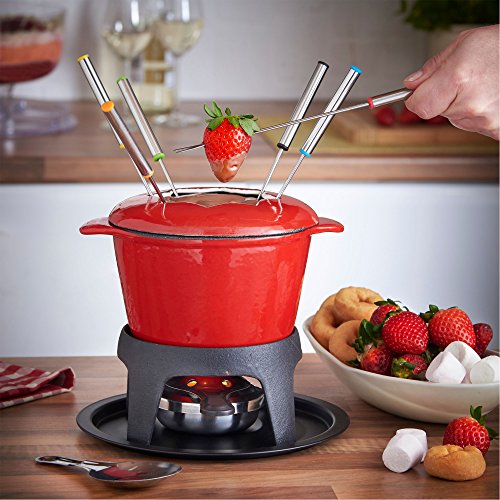 Fondue always makes for a great party experience and can be a fun gift as well. This VonShef Fondue Set is one option for doing so and there are plenty of recipes online for getting the most out of it.
On a side note, fondue isn't just for chocolate fans either. Instead, cheese fondue is extremely popular and there are various recipes for boozy fondue sauces as well.
= = > Get VonShef Fondue Set Here
Deluxe Kombucha Brewing Kit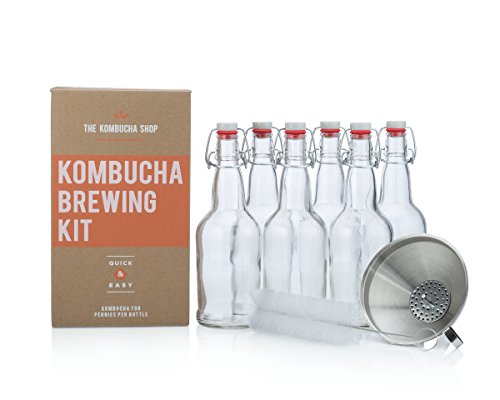 Kombucha is all the rage right now and this Deluxe Kombucha Brewing Kit is the perfect place for dads to get started. The kit really does include everything that he might need, including 16-ounce bottles (6 of them!), instructions, ingredients and various tools. This can also make a fun experience for the whole family and the end product is even healthy.
= = > Get Deluxe Kombucha Brewing Kit Here
Nostalgia Retro 3-in-1 Breakfast Station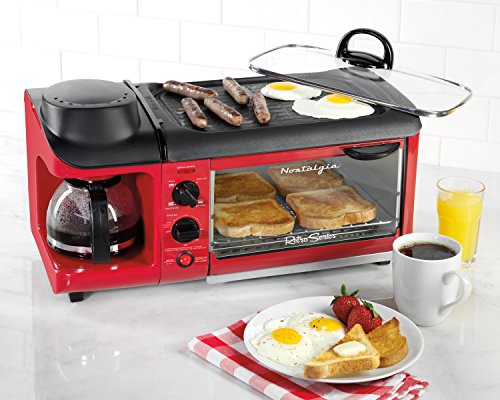 This 3-in-1 Breakfast Station could work well for anybody that loves breakfast. Simply put, it offers the ability to cook all of your breakfast needs in one go. That includes making coffee and toast, in addition to a fully functional toaster oven and non-stick griddle.
= = > Get Nostalgia Retro 3-in-1 Breakfast Station Here
Avalon Bay Digital Air Fryer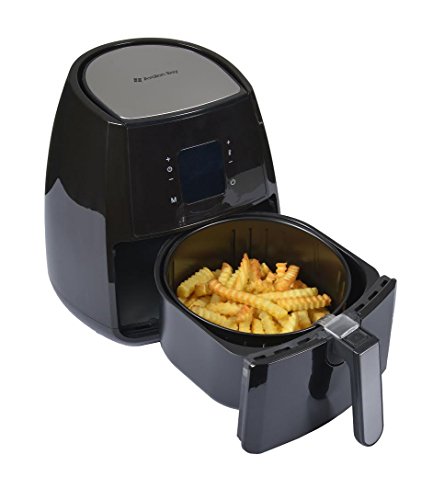 Deep fried food may taste amazing but this Digital Air Fryer is a much healthier option that offers most of the same textures and flavors.
The digital aspect would also make the device fun for any dad that loves gadgets in the kitchen. Besides – what's a better gift than making fries semi-healthy?
= = > Get Avalon Bay Digital Air Fryer Here
Bacon Lovers Sampler Set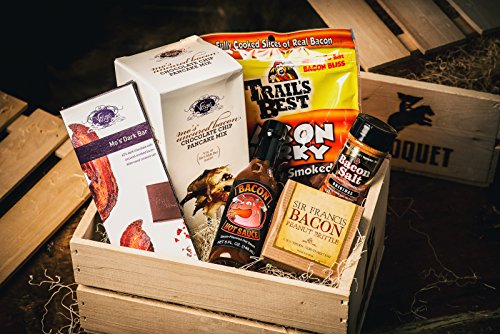 For anyone into bacon, this Bacon Lovers Sampler Set is simply too good to pass up.
It offers a combination of sweet and savory components, including bacon salt and bacon hot sauce, along with bacon brittle and some other options. The presentation is neat too and the crate could easily be reused once the treats had been eaten.
= = > Get Bacon Lovers Sampler Set Here
Exotic Meat Crate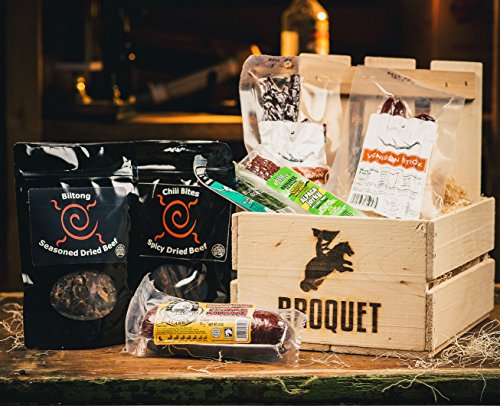 Speaking of crates, this Exotic Meat Crate is another fairly similar gift to choose from. In this case, the focus is entirely on savory treats, specifically jerky and meat sticks.
Some of the individual items are also fairly unusual, such as a kangaroo meat stuck and spicy Alaskan reindeer sausage. This makes for an interesting gift that's a bit different than what you would buy in the store.
= = > Get Exotic Meat Crate Here
Just for the Camo Man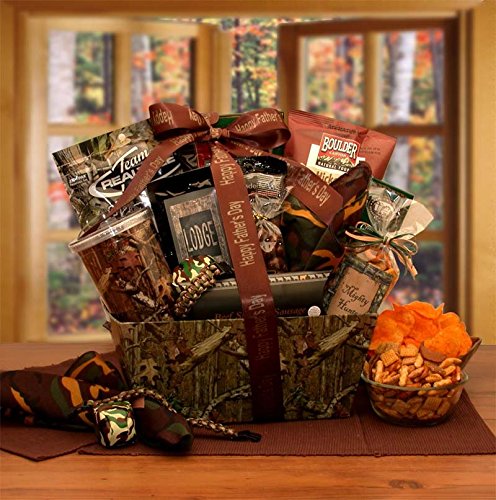 This gift box is titled Just for the Camo Man, which seems fairly accurate when you look at it.
The whole camo theme may not work for everybody but for the right father it is likely to be the perfect fit. The gift box itself contains a variety of different treats, including cheese, mustard, salami and nuts.
= = > Get Just for the Camo Man Here
Yothiko 8-Inch Chef Knife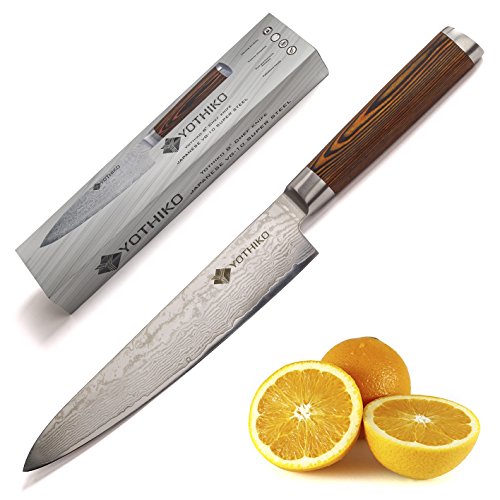 Every foodie I know loves having a high-quality knife for the kitchen and this Yothiko 8-Inch Chef Knife is one great example. This is also an all-purpose knife, so it can be used on pretty much any food that you can imagine.
With that in mind, the knife is a particularly great gift for any dad that hasn't had a chef's knife before. Just be warned, he might not want to go back to cheap knives afterward.
This would go perfect with a personalized wood cutting board!
= = > Get Yothiko 8-Inch Chef Knife Here
Crock-Pot Countdown Touchscreen Slow Cooker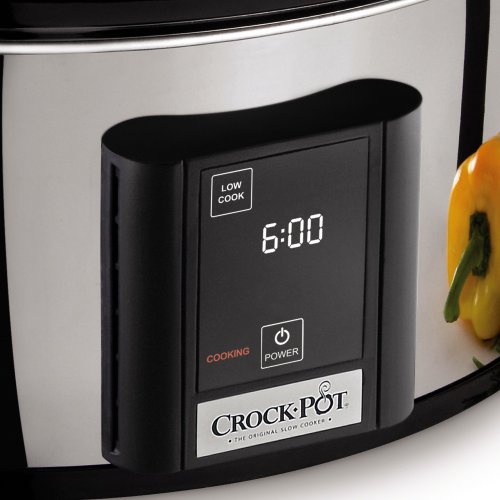 As gifts go, a slow cooker isn't the most exciting option. But, this Touchscreen Crock-Pot model is going to appeal to any dad that likes new toys and gadgets for the kitchen. It would also be particularly attractive to anybody who already loves slow cooking, along with dads still getting used to the idea.
= = > Get Crock-Pot Countdown Touchscreen Slow Cooker Here
The Steakhouse Gift Box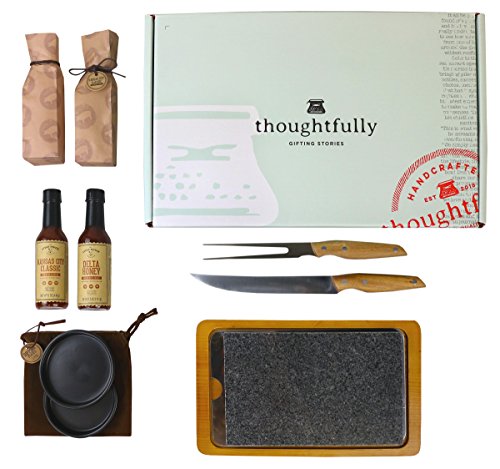 The relationship between men and steak often borders on a love affair. So, what could be more perfect than this Steakhouse Gift Box?
The kit offers everything needed to make restaurant-quality stone grill steak at home. The inclusion of barbecue sauce and dipping plates is a nice touch and the entire gift is simply fun from start to finish.
= = > Get The Steakhouse Gift Box Here
$100 – $500 Gifts
Ultimate Grilling Assortment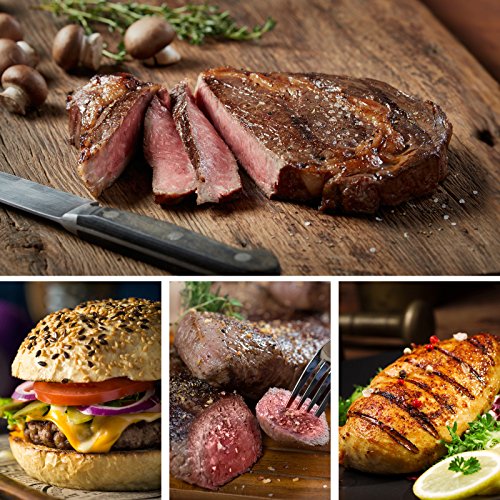 Speaking of man and his steak, this Ultimate Grilling Assortment is another powerful choice for any dad that loves grilling and red meat.
In this case, the gift set isn't about tools but actually contains the meat itself, including two types of steak, steak burgers and chicken breasts. It's easy to see how the selection would be great for any grill master and is a tasty treat all around.
= = > Get Ultimate Grilling Assortment Here
Italian Luxuries Gift Basket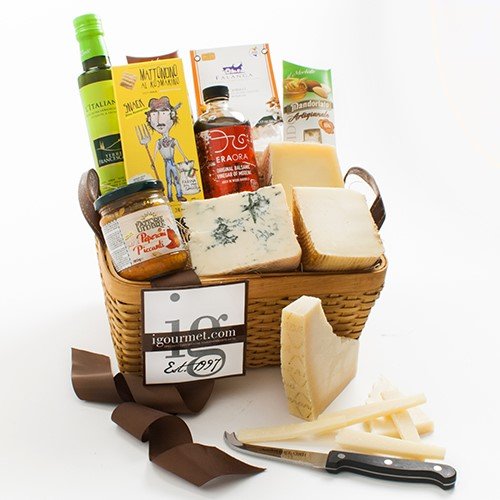 For foodies that aren't as focused on meat, this Italian Luxuries Gift Basket is a fun alternative. As the image shows, the basket comes with a selection of cheeses, along with other Italian products, such as olive oil, biscotti and some chocolate.
The presentation is fun too and makes the gift look impressive. The company can also provide a gift message, giving you the chance to ship this directly to your dad if you wanted to.
= = > Get Italian Luxuries Gift Basket Here
Sausage Stuffing Kit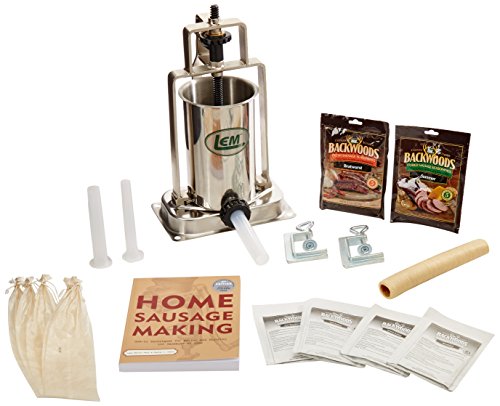 For a dad who loves gourmet sausages, this is a great way to provide all the tools and information in one special Father's Day gift.
The idea is particularly fun for dads who like having control over their food, along with anybody who just likes to experiment in the kitchen. Careful though, if it really works out, you're gonna have to start eating jalapeño cheese bacon stuffed sausages and other weird combinations your dad cooks up!
= = > Get Sausage Stuffing Kit Here
Lodge Cast Iron Cookware Set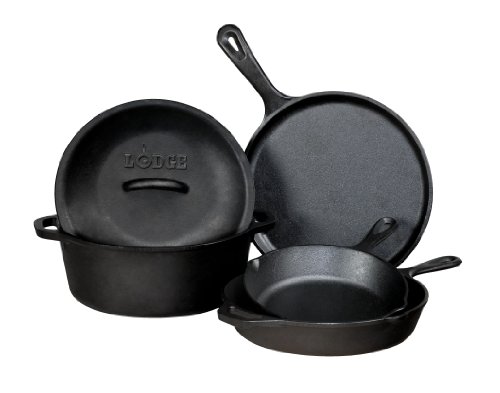 Cast iron cookware is amazing for food quality and countless people swear by the idea.
This Lodge Cast Iron Cookware Set is a great place to get started, especially as all of the components are already pre-seasoned. There are many similar products out there but this set is one of the best simply because of the value for money, along with the rave reviews from customers.
= = > Get Lodge Cast Iron Cookware Set Here
Solo Stove Campfire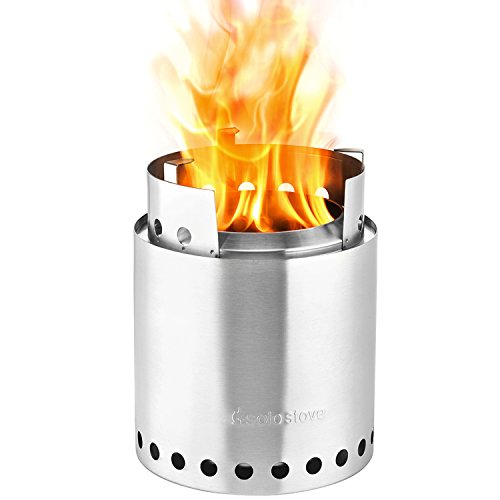 For any dad that loves camping, this Solo Stove Campfire is a great lightweight camping stove. The idea is unusual, as the product basically does act like a miniature campfire. It also uses wood, twigs and leaves as fuel, meaning there is no need to carry around a fuel canister.
The company also offers cookware to go with the stove or it could easily be used just as a campfire. The whole concept is also safer, simpler and often more practical than starting an actual campfire.
= = > Get Solo Stove Campfire Here
The Baconator Gift Crate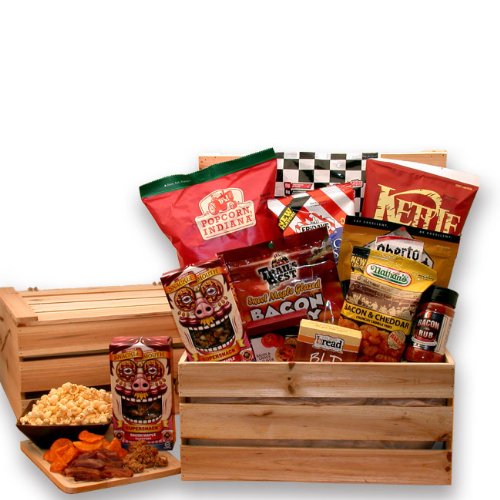 Bacon, bacon, bacon. If your dad loves bacon (and who doesn't?), then this Baconator Gift Crate is a fun way to fill that need, while also being a little silly at the same time. There isn't actually any bacon in the gift but everything is bacon flavored, so that scarcely matters.
= = > Get The Baconator Gift Crate Here
Not enough bacon? Try these chocolate covered bacon packages you can buy online.
Kombucha Tea On Tap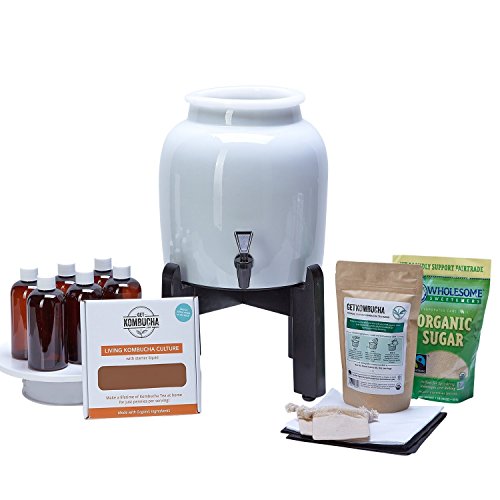 I highlighted one kombucha kit earlier but this Kombucha Tea on Tap kit takes the idea a few steps further. In this case, the product gives dad everything he would need to make kombucha continuously without mess or hassle.
The company also focuses on high quality components and ingredients. This aspect alone makes the kit seriously worth it.
= = > Get Kombucha Tea On Tap Here
The Best Salts In The World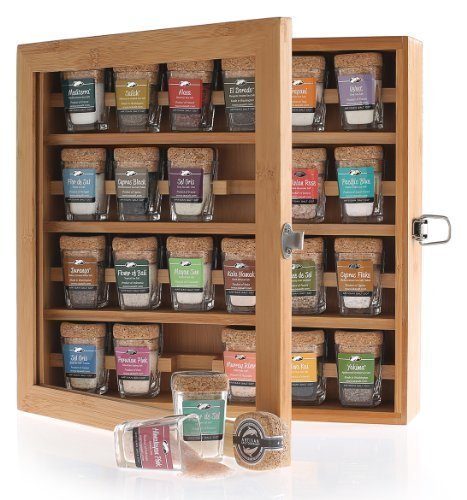 For any father that loves salt with cooking, this Best Salts in The World collection could make an amazing gift. In it, there are 24 individual jars of salt, including 12 different variations and a range of grind sizes.
The display cabinet also looks great and would be perfect in many kitchens. Besides that, it could easily be used as a spice rack once the salt had been finished.
= = > Get The Best Salts In The World Here
You can also get him some really cool spices at these spice or rub of the month clubs.
Ultimate Molecular Gastronomy Starter Kit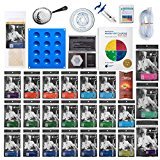 I mentioned a kit for molecular gastronomy earlier but this Ultimate Molecular Gastronomy Starter Kit is in a field of its own. In particular, it is a much more comprehensive kit that still contains all of the tools and information that beginners would need.
For that matter, the kit has a 250-page recipe book, which makes the set that much easier to use.
= = > Get Ultimate Molecular Gastronomy Starter Kit Here
PancakeBot 2.0 Pancake Printer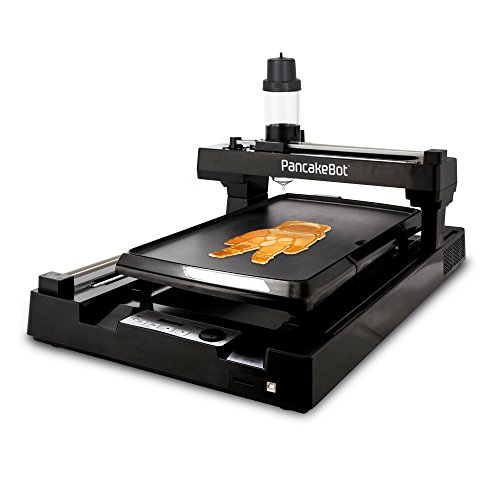 This PancakeBot 2.0 is a little gimmicky and isn't the most practical tool for any kitchen. But, it still makes for a fun gift. As the creator has commented, it is also an interesting way to explore technology and to simply have some fun with food. Besides, you can be certain that nobody else would consider buying your dad this particular gift.
= = > Get PancakeBot 2.0 Pancake Printer Here
Dalstrong Knife Set Block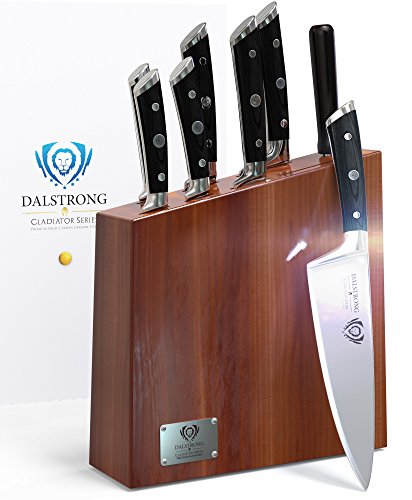 While we're on the topic of knives, this Dalstrong Knife Set Block is another option. In this case, you end up with a very elegant collection that is also high-quality. The brand itself is also a trusted one, so you end up with knives that are going to last a long time.
= = > Get Dalstrong Knife Set Block Here
Cangshan V2 Steak Knife Set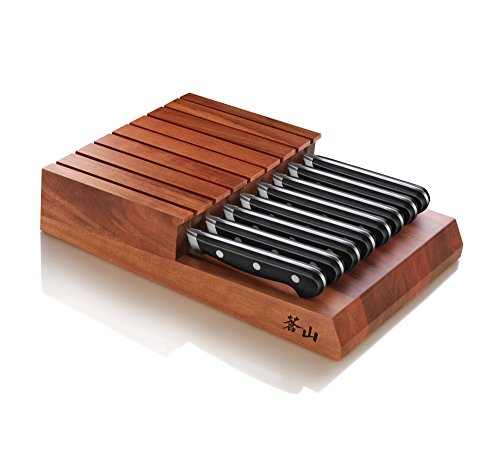 Of course, knives for cooking aren't the only option. You could also go with something like this Cangshan Steak Knife Set. This choice is particularly powerful for any steak lover out there and the presentation is great here as well. Having steak knives like these can truly change the experience of eating steak and that alone makes the set a great gift.
= = > Get Cangshan V2 Steak Knife Set Here
Deluxe DIY Cheese Kit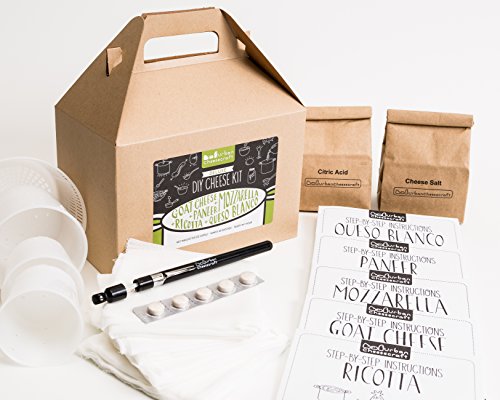 Many foodies are cheese fans, so why not give dad something practical like this Deluxe DIY Cheese Kit? The kit has everything needed to make upwards of 40 pounds of cheese and it allows dad to make his own mozzarella, paneer, ricotta, goat cheese or Queso Blanco. There are other similar kits to choose from but this one does offer amazing value for money.
= = > Get Deluxe DIY Cheese Kit Here
Does dad love cheese, but doesn't want to make it himself? Here are some cheese subscription boxes that deliver rare and gourmet cheese each month.
Dad's Gotta Eat Gift Set

In this list, I've tried to focus on products from Amazon, partly because they are just so accessible. But, this Dad's Gotta Eat Gift Set is an exception to that rule.
I love the combination of components that come with this gift set, especially as most of them are fairly 'manly'. For that matter, the site offers a range of powerful gift baskets and they're likely to have at least one that takes your fancy.
= = > Get Dad's Gotta Eat Gift Set Here
Here are some more gourmet food of the month clubs worth considering as well.
KettlePizza Pizza Oven Kit with Pizza Stone and Peel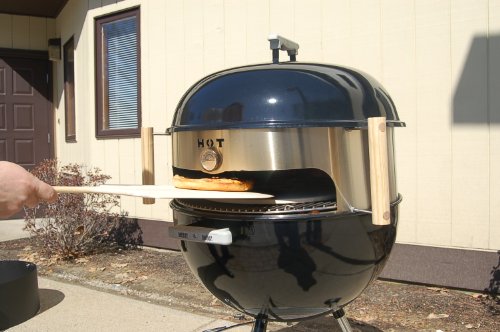 This KettlePizza Pizza Oven Kit is a second method of making pizza without a traditional pizza oven. In this case, the item is an insert designed for Weber kettle grills. It is a little more complicated to use but does come with a peel and pizza stone, which is a plus. Additionally, it can work extremely well and even looks fairly elegant.
= = > Get KettlePizza Pizza Oven Kit with Pizza Stone and Peel Here
KettlePizza Gas Pro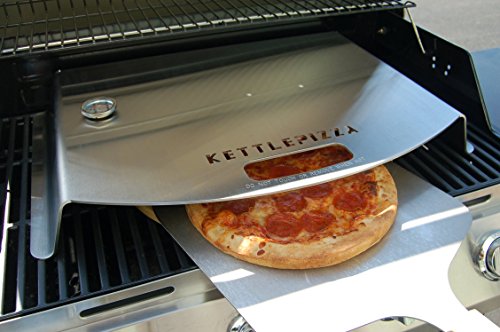 The KettlePizza Gas Pro comes from the same brand as the previous example but it is designed for gas grills. Of the three options, this is my personal favorite and is an exceptional method of cooking homemade pizzas in the backyard. This one is also very easy to use and does come with a pizza stone and pizza peel, meaning everything dad would need is at hand.
= = > Get KettlePizza Gas Pro Here
You could also get them a steak of the month club subscription!
Weber Gas Grill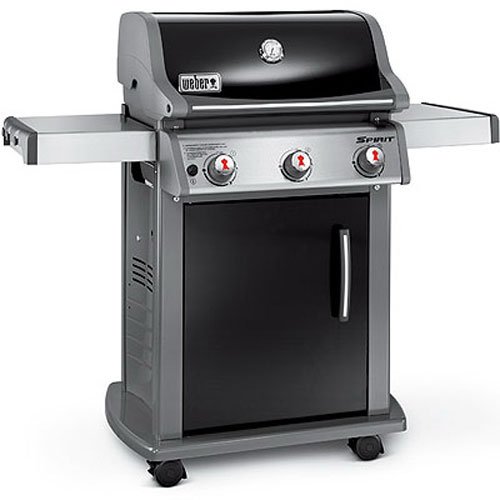 For any dad who needs a new barbecue, this Weber Gas Grill is an amazing Father's Day gift. The grill is one of the most highly rated options out there and works great for any type of grilling. You could also use this in combination with the pizza ovens that I mentioned earlier to make the ultimate backyard gift.
= = > Get Weber Gas Grill Here
For those who want to support American-made products, you can check out this list of USA-made grills. Nothing like grilling with an American-made barbecue on the Fourth of July!