Braces are important for aligning your teeth, there's no doubt about that. But, they can also be frustrating, especially when you first get them. You have to be very careful at the beginning, as many foods can damage your braces, which is the last thing that you want. Thankfully, there are many types of food you can eat with braces.
A good general rule is to be careful with food that is sticky or gooey, along with food that requires a decent amount of chewing. This is true regardless of whether you're eating healthy or unhealthy foods (your braces don't know the difference!).
While breaking the rules every so often might seem appealing, this isn't a good idea, especially when you first get your braces. Damaging your braces often means that you'll need extra appointments to fix any problems. This can cost money and may even lengthen your treatment time.
And, regardless of what you eat, make sure that you brush your teeth and floss regularly. Doing so can make a huge difference to your overall experience.  
Food You Can Eat With Braces
Most Dairy Foods
Plant-Based Dairy
Steamed Vegetables
Mashed Vegetables
Soup
Stews
Curries
Cooked Grains
Fruit
Soft Crusted Bread
Smoothies
Meatballs
Meatloaf
Lunch Meat
Crab Cakes
Poultry and Red Meat
Fish
Eggs
Pizza
Soft Desserts
Oatmeal
Pasta
Noodles
Avocados
Salads
Tortillas with Dip
Creamy Nut Butter
Beans
Tofu
Most Dairy Foods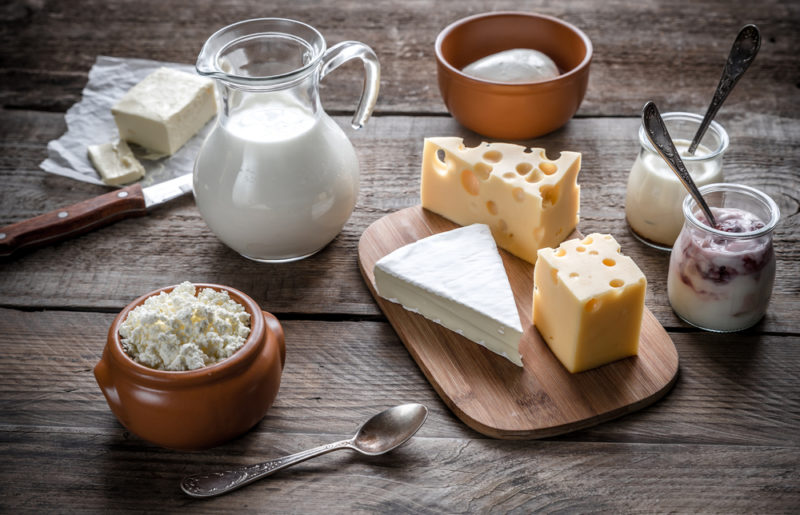 Dairy products tend to be soft, which is great news. This means that foods like yogurt, ice cream, cottage cheese, and cream cheese are all on the table.
Yogurt is often an ideal choice when you first get your braces, as there is nothing to chew at all. Plus, yogurt offers a variety of nutrients and can be a source of probiotics too. These probiotics can help to improve your balance of gut bacteria, which may lead to health benefits.
Many foods that use dairy as an ingredient end up being a good choice too. For example, dishes that heavily rely on milk or cream tend to have a smooth texture, so they're easy for you to eat. Quiche is a classic example, as long as you make sure that the other ingredients are soft too (so, be wary of crispy bacon).
You'll be able to eat most types of cheese too. But, this is an area where you need to be a little warier, as some cheeses are harder than others. You could grate or melt the cheese to make it easier to use, or simply focus on the softer cheeses. Cottage cheese can be the ideal place to begin.
Plant-Based Dairy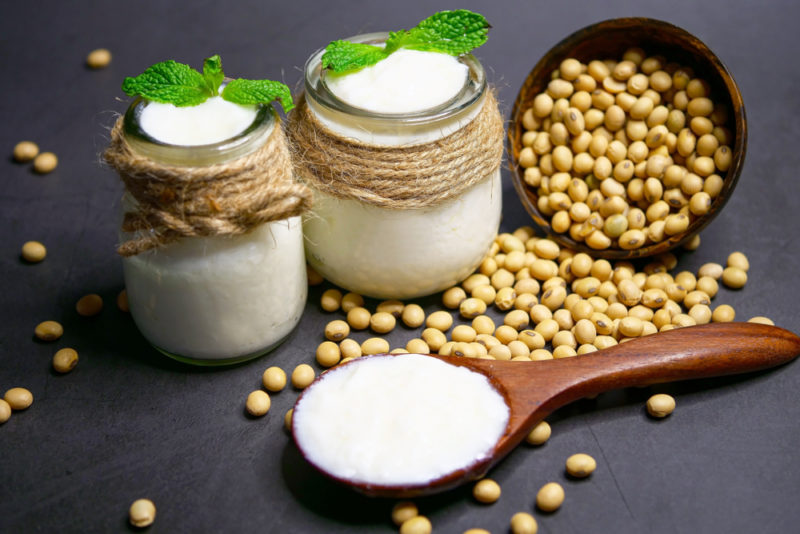 If you're vegan, lactose intolerant, or avoiding dairy for another reason, then plant-based dairy alternatives are a good option. These include options like soy-based desserts and soy milk. They're often as soft as dairy products, so they can work well.
In fact, with the increasing interest in dairy-free products, you should have many options to choose from. Just make sure to check the ingredient label carefully. Some plant-based products are highly processed and may include extra ingredients that you don't want.
Steamed Vegetables

Raw vegetables will often be too crunchy to eat with braces, so you'll need to cook them first. Steaming is an easy approach, as this creates a soft texture with your vegetables and doesn't take too long either.
Steamed spinach is one example. This works well as spinach only needs to be exposed to hot steam for a few minutes before it is ready to eat. This process helps to mellow out the flavor of the leafy green a little too, making it easy to enjoy.
Other vegetables that can be steamed include various leafy greens, zucchini, asparagus, carrots, cauliflower, broccoli, and green beans. Some of these end up softer than others, so you may need to play around with cooking time to make sure that your vegetables are soft enough for your needs.
Mashed Vegetables

If cooked vegetables aren't soft enough, you can try mashing them too. Mashed potatoes are the most common option, but other vegetables can be cooked and then mashed too, including parsnip and carrot.
Mashing vegetables like this is the ultimate solution if you have braces, as there is nothing to chew at all. You'll get bored of the idea soon enough, but mashed vegetables are still one of the best places to begin when you have braces.
Soup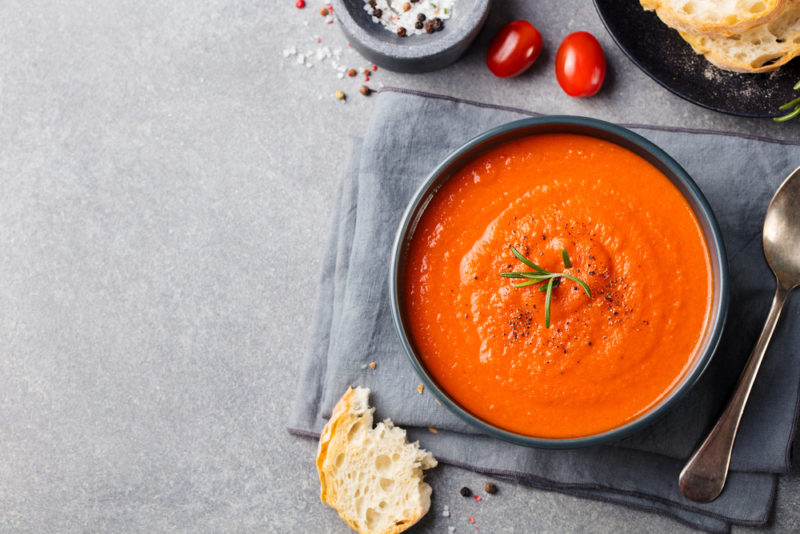 Soup is the other logical starting place. Many soups contain nothing that needs to be chewed. You could even drink them if you wanted to. Creamy soups are a great example of this pattern, as the various ingredients are often blended together. This means that you end up with plenty of nutrients, but there are no chunks of vegetables or meat.
Other types of soup mightn't be blended in the same manner, so there are some larger chunks that need chewing. However, the process of making soup tends to mean that any ingredients are very soft and easy to eat.
Chicken noodle soup is one popular example, especially when children and teenagers get their braces. The soup is simple, delicious, and tends to be loved even by picky eaters.
Stews

Most stews work well for people with braces too. The biggest difference between stews and soups is that stews tend to be chunkier. Stews will often be thicker too. You'll typically see chunks of vegetables and possibly meat. Legumes like beans or lentils can make an appearance too.
Stews tend to be cooked for a long time at a low temperature. This helps to create intense flavors and also softens the ingredients. Because of this, the ingredients in stews tend to be soft. Stews also end up being a powerful way to enjoy a hearty meal when you're new to your braces, without feeling like you're eating baby food all the time.
Curries

Curries are a great alternative to soups and stews. They're a little like stews in some ways, except that you tend to have a rich flavorful sauce and plenty of spices.
The meat in curry tends to be very soft, which is a good reason for eating curries regularly. They may also be a source of some trace minerals and important plant-based nutrients, due to the spices they contain.
But, pay attention to curries that rely on turmeric. Turmeric can easily stain the clear bands on your braces, making them bright yellow instead.
Cooked Grains

Many grains end up being soft enough once they have been cooked. This includes pasta and rice, along with pseudograins like quinoa. However, you do need to pay attention to the cooking time to make sure that the texture is right.
Grains are controversial these days, due to their carb content and the way that some grains contain gluten. Even so, grains do have many advantages – they're easy to prepare, are often inexpensive, and offer plenty of nutrients too.
Fruit

Many types of fruit are soft enough that you can eat them as-is with braces, this includes peaches, berries, grapes, and bananas. In general, you're looking for fruit that you can eat without much chewing at all.
In some cases, you may want to peel or cut up a piece of fruit before eating it. For example, a whole apple might be a bit tough when you first get braces, but pieces of apple may not be any problem at all.
You can also focus on fruits that have been cooked or steamed. These processes make the fruit softer still. For example, stewed apple is much easier to eat than a crisp fresh apple. You can even mash the apple to create applesauce, which is a common choice when people have sensitive teeth or have just been fitted with braces.
Soft Crusted Bread

Some types of bread are perfect when you have braces, while other types are no good at all. The crust is one of the key indications. You need bread that has a soft crust, so that it doesn't end up being crunchy or chewy.
Many loaves of bread from the grocery store will be perfect, making grocery stores an easy place to begin. And, if you get stuck, you can always cut the crust off the bread and just eat the middle.
Loaves of bread from local bakeries and specialty stores can be more touch and go. Having a crispy or chewy crust is appealing for many types of bread, so bakers may go to efforts to create this type of crust. Still, if you buy from a local bakery, you can always ask which breads will be the best with braces.
You'll also need to think about the bread itself. While most bread tends to be soft, some types are chewy instead. French bread is a classic example of chewy bread and well-made sourdough will often be chewy as well. This may be a problem for people with braces, so you'll need to focus on bread with a soft interior.
Smoothies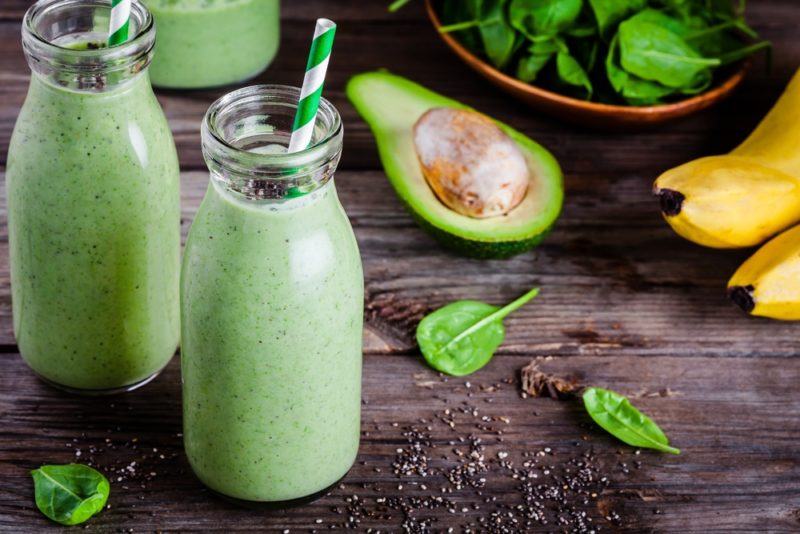 While they're more of a liquid than a food, smoothies are an excellent choice for people with braces. The process of blending means that they're smooth and there is nothing to get stuck in your braces. At the same time, smoothies are an easy way to increase your nutrient intake, as you can pack them full of healthy ingredients.
One general approach is to include some fruits and vegetables, some type of liquid, a thickener, some flavoring ingredients, and perhaps a superfood or two. Superfoods include various powdered supplements, along with ingredients like flaxseeds or chia seeds.
Just be aware while smoothies can be very healthy, you do need to be careful. It's easy to end up with a sugar packed drink that doesn't provide many nutrients at all.
Meatballs

Meatballs often end up being very soft, especially if you cook them slowly in sauce. This makes them an easy choice for soft red meat. Adding in herbs and spices can help ensure that your meatballs don't taste bland.
You can easily pair meatballs with other soft foods, such as mashed potatoes or well-cooked pasta. Meatballs also happen to be another choice for picky eaters. After all, most kids love meatballs and many adults do too.
Meatloaf

Meatloaf has similar advantages to meatballs. The main difference is simply the shape of what you're eating. So, once again, you're ending up with a soft meal that often relies on red meat.
This is appealing when people first get their braces, as red meat requires some chewing.
Lunch Meat

Deli lunch meat is another soft type of meat that you can rely on. This includes chicken, turkey, ham, pork, and even beef. It's rare to find deli meat that isn't soft and easy to eat.
And, of course, there are countless ways to use lunch meat. Eating it in a sandwich is an obvious example. This may work well once you've had braces for a while, especially if you steer clear of chewy bread.
That being said, eating a sandwich with braces can get a bit messy. You can get around this by cutting the sandwich up into smaller pieces, rather than simply biting into it. Or, you may need to bring a toothbrush with you so that you can clear up your braces afterward.
You could also include lunch meat as part of an omelet, egg cups, some type of wrap, or a salad. The most important thing is to pay attention to the other ingredients and decide from there.
Crab Cakes

Crab cakes are another simple option, although they're better suited for adults than for kids. Crab cakes have the added advantage of providing you with marine nutrients, along with a decent amount of protein.
You can make fish cakes too. These have a slightly different flavor profile, but the advantages are similar in either case.
Poultry and Red Meat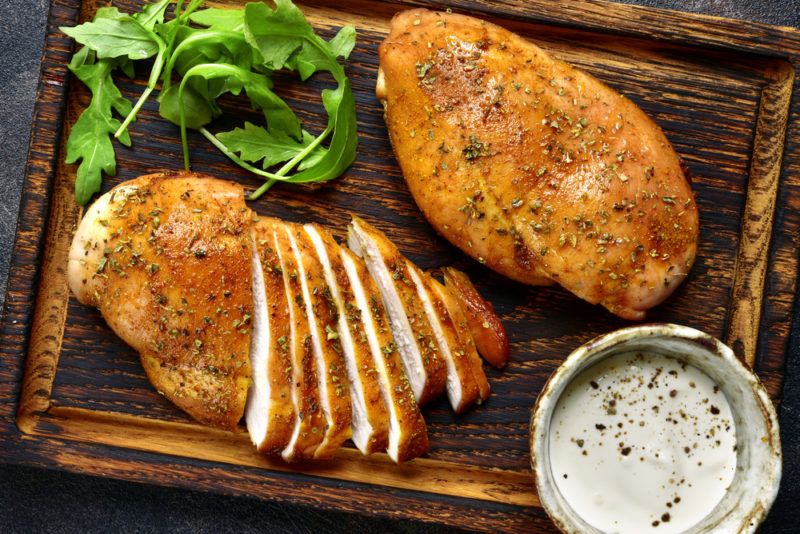 You can enjoy chicken, turkey, pork, beef, and lamb when you have braces too. The trick is to be careful about the cut of meat that you choose and how it is cooked. Doing so is especially important for red meat, which can be difficult to chew.
If you're worried about meat being too chewy, you can try to slow cook it instead. Slow cooking in a rich sauce is an easy way to make sure that your meat ends up being tender and delicious.
Still, even here, the type of meat and how you cook it remains important. For example, if you choose low-quality beef and cook it without much liquid, it could easily end up chewy.
Fish

While we're on the topic, having braces isn't going to stop you from enjoying fish. Fish tends to be soft, especially if you're preparing skinless and boneless fish.
Another advantage is that fish tends to be very fast to cook. You can normally get fish on the table in less than 15 minutes. That's fantastic straight after work. Fish is also powerful as a source of omega 3 fatty acids.
You don't need to focus only on fresh fish. Canned fish is often soft too. Just make sure that you get fish without bones, as the bones could easily be a problem with braces.
You should also be cautious about the fish that you're eating and the frequency. While fish is very good for you, it does tend to accumulate mercury. Consuming too much mercury can be dangerous, so it's essential to keep an eye on your intake.
Be especially wary of fish that is high in mercury. Tuna, for example, has a decent amount of mercury, which can be a problem if you eat canned tuna regularly.
Eggs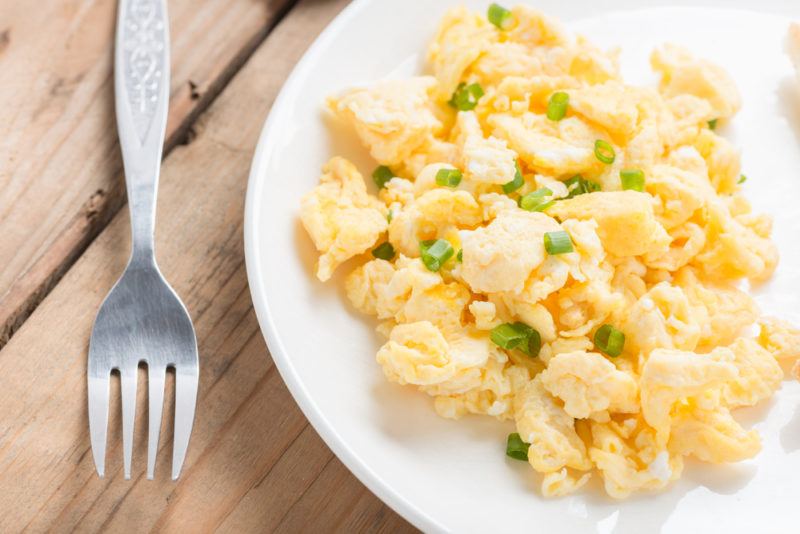 It's almost impossible to go past eggs. They're the perfect food in some senses, as they are full of so many beneficial nutrients and are also high in protein. The protein content helps to make eggs filling, which is why many people eat eggs for breakfast.
Plus, there are countless ways to cook eggs, not to mention all the recipes that use eggs as an ingredient. Eggs tend to be soft regardless of how you cook them, making them a logical choice when you have braces.
If you want an easy choice, try a simple omelet or scrambled eggs. You can choose as many or as few extra ingredients as you like. Most common omelet ingredients should be fine when you have braces and, if in doubt, you can always cook any vegetables before you add them to your omelet.
Don't worry too much about the controversy that surrounds eggs. True, they're high in cholesterol, but they often won't affect the cholesterol in your body at all. As long as you're not eating multiple eggs every day, the benefits of eggs should far outweigh any problems.
Pizza

Having braces doesn't mean that you need to miss out on your favorite foods. More than anything, you simply need to think through your decisions a little more closely.
In the case of pizza, you need to focus on soft crust pizza, rather than one that is chewy or has a crisp crust. This is easily done, as you can normally choose the type of crust when you order your pizza.
Pay attention to the toppings too. You want toppings where the pieces are fairly small. This way nothing is likely to get stuck in your braces.
Taking small bites is helpful too. This makes everything easier and is a good practice for most of the foods on this list. The idea might feel a little annoying at first, but you'll get used to it. Small bites may even help you to enjoy your food more.
Finally, don't stress about the mozzarella on your pizza. Mozzarella does have a sticky quality to it, but it doesn't stick to your braces in the same way as caramel will.
Soft Desserts

Desserts mightn't always be soft, but they often are. It'll normally be obvious which desserts are and aren't soft beforehand, so you don't need to stress too much. Some good examples are cake, pudding, jello, mousse, ice cream, and even soft cookies.
However, you will need to be wary, as desserts often have additions like nuts. Sometimes you'll even find additions like caramel, gummies, and sprinkles, especially in ice cream.
Your general approach should be to avoid anything sticky, chewy, or crunchy. And, while you can enjoy soft desserts, you'll need to clean your teeth well afterward.
Oatmeal

Oatmeal can be a fantastic choice when you have braces. After all, oatmeal is very soft and doesn't need much chewing at all. It is also good for you, as it acts as a notable source of fiber. It's been linked to many health benefits too, including better digestion and decreased cholesterol levels.
Besides, crunchy granola and other types of cereals aren't a good choice when you have braces, so you need other breakfast options.
Don't worry if plain oatmeal seems unappealing. You can flavor it in various ways. A little honey and cinnamon can work wonders. The warmth of the oatmeal is perfect when you first get braces too – helping to soothe your mouth.
Pasta

Pasta deserves a special mention, as this is such a classic dish for anyone with braces. The main trick is to make sure that you are keeping your pasta soft. When you first get your braces, it may even be better to overcook the pasta.
Many pasta meals end up being soft as well, such as carbonara and macaroni cheese. You do still need to keep an eye on the ingredients in your meal and watch out for anything crunchy or chewy, but doing so shouldn't be too difficult.
Noodles

Pasta isn't the only type of noodle out there. You could focus on egg noodles, rice noodles, ramen, or other types of noodles too. Most types of noodles do end up being soft. This gives you the chance to choose the best type for your situation.
For example, if you're sensitive to gluten, you may need to focus on a gluten-free type of noodle, rather than pasta.
Avocados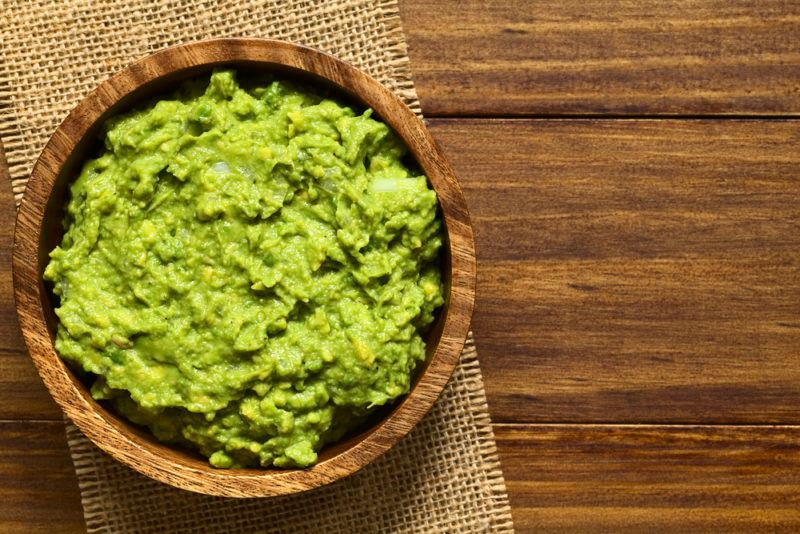 Here's some good news, avocados are soft too. This means that you can an avocado on its own, use it to make guacamole, add it on top of many meals, or do something else with it. You have countless options at your fingertips.
In fact, most of the ways you can eat avocados end up being soft. Avocados can even be used creatively. For example, you can make brownies or chocolate mousse using avocado as a key ingredient.
Salads

Salads are often a good choice with braces. Most of the ingredients are relatively soft, including cucumbers, tomatoes, and olives. Despite its crispness, you can eat lettuce with braces too, along with other leafy greens.
You can even use some harder ingredients, like red peppers, as long as you cut it into small enough pieces.
Tortillas with Dip

If you find yourself missing corn chips, then spreading dip or guacamole on a soft tortilla can be an easy alternative. Tortillas are much softer than corn chips and they are still a perfect vehicle for the dip.
Combining tortillas with guacamole might not be as appealing as corn chips with guacamole, but the combination still works well as an alternative.
Creamy Nut Butter

Nuts aren't a good choice when you have braces, but nut butter is a safe option that gives you access to the same nutrients that you'd get from the nuts themselves. There are some catches here though. For one, you need to focus on smooth nut butter rather than anything chunky.
Keep an eye out for additives too. Some brands of nut butter include artificial ingredients or extra sugar. Neither of these patterns is especially appealing.
Beans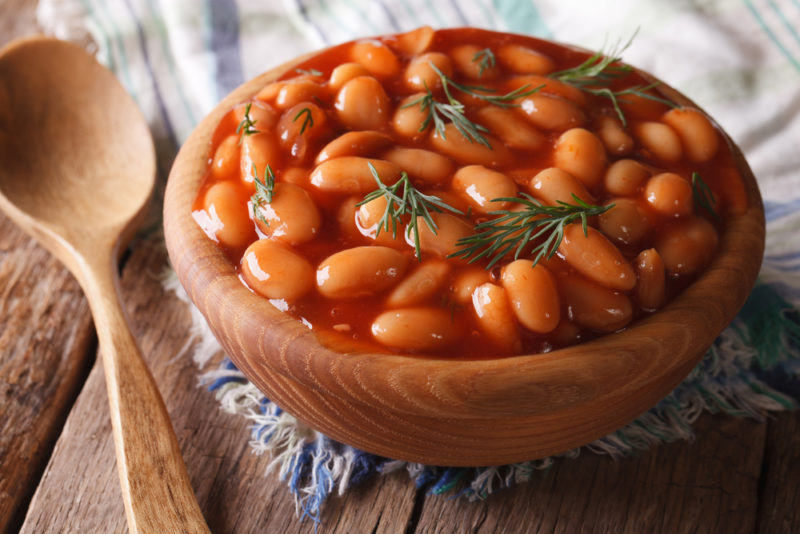 Beans tend to be soft when they're cooked. They also happen to be an excellent plant-based source of protein and an enticing choice for nutrients all around. You can also pretty much guarantee that the beans you prepare will be soft and easy to eat. This isn't the case when you're focusing on a meat-based meal instead.
While beans aren't all that appealing on their own, many meals use beans as a key ingredient. These tend to be soft and easy to eat too.
In fact, it's often possible to take a meat-based recipe and use beans instead of meat. This is an easy way to make the meal softer.
Tofu

Tofu is another plant-based source of protein. It is made from soy milk and is often used as an alternative to meat. Whether you use tofu or beans in a recipe will depend on the other ingredients and your own personal preferences.
Either way, tofu is soft enough that you can rely on it without concern. Tofu also happens to be incredibly popular as a vegan ingredient, so countless recipes rely on it.