You might have seen the many advertisements on the internet now for meal kit delivery services. These companies send you recipes and ingredients so you can cook nutritious, delicious dinners scrambling to create a menu or get the shopping done.
There are a lot of options to choose from. Some meal kit delivery services only provide dinners, while others branch out into other meals and add-on items. A few zero in on one or two types of eating styles, and some try to provide a broad range of menus based on different diets, such as paleo or keto.
If you're new to the meal kit delivery scene and you're thinking about trying one, you might be wondering where to start. Knowing which questions to ask and what to look for can help narrow down your choices.
In this Gobble vs. Hello Fresh comparison, I'll share with you what I look for in a meal kit delivery service. You'll get a good overview of these two companies, including what they have to offer as far as meals and plans go.
Types Of Meals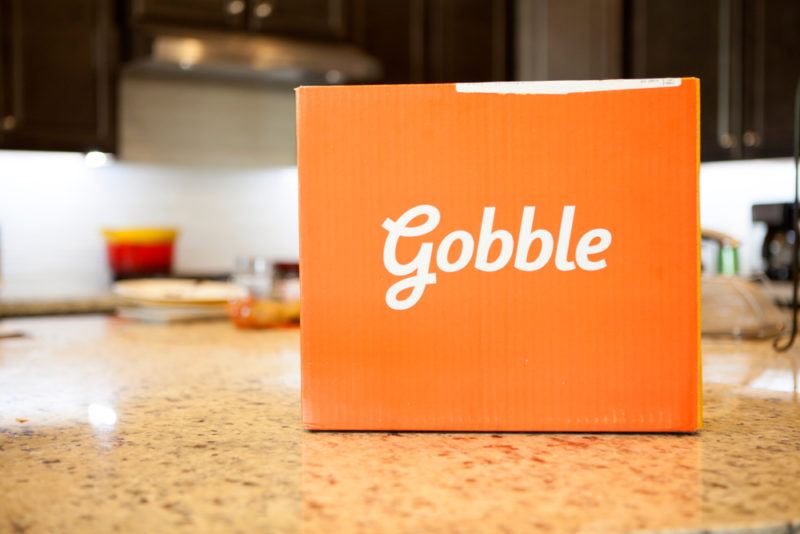 Ingredients for both Gobble and Hello Fresh come pre-sorted and pre-prepped, so making dinner is easy. There's not a lot of food waste, and meals come together without a lot of mess.
Gobble meals are designed to be ready in 15 minutes using just one pan. Hello Fresh meals take anywhere from 25 to 50 minutes to get to the table.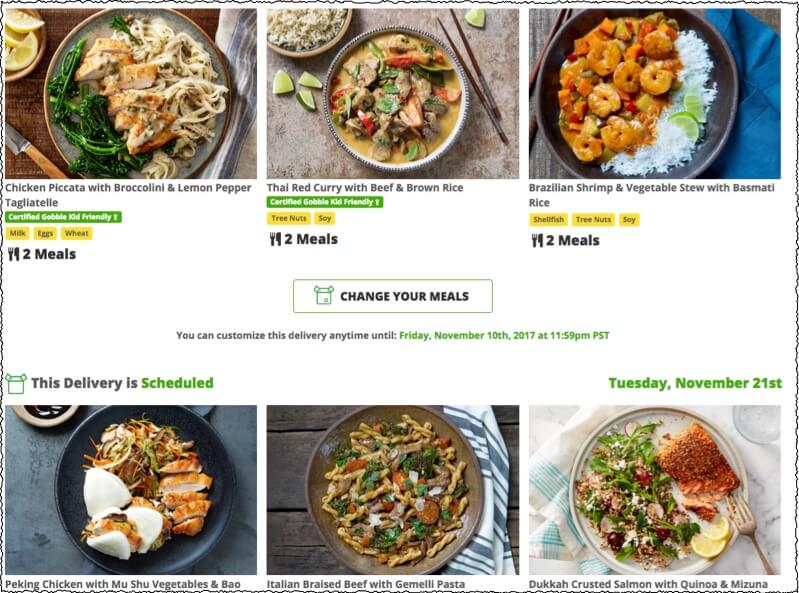 Both companies offer subscription-style plans, so their customers get recipes and food every week. Gobble has two plans: a two-person plan, and a four-person plan. Both plans get three recipes with ingredients each week.
Hello Fresh has three plans: a veggie plan, a classic plan and a family plan. The veggie and the classic plan can both feed either two people or four people, and the family plan is scaled for four people.
You can get three meals a week with the veggie plan. The classic plan can have two, three, or four meals per week, and the family plan gets two or three meals per week.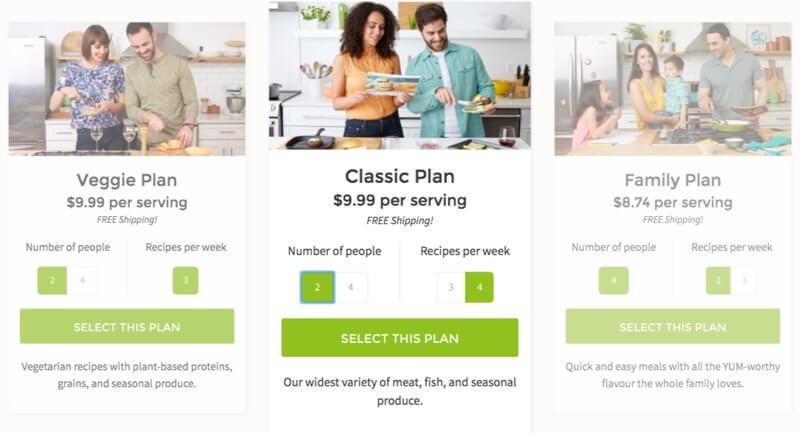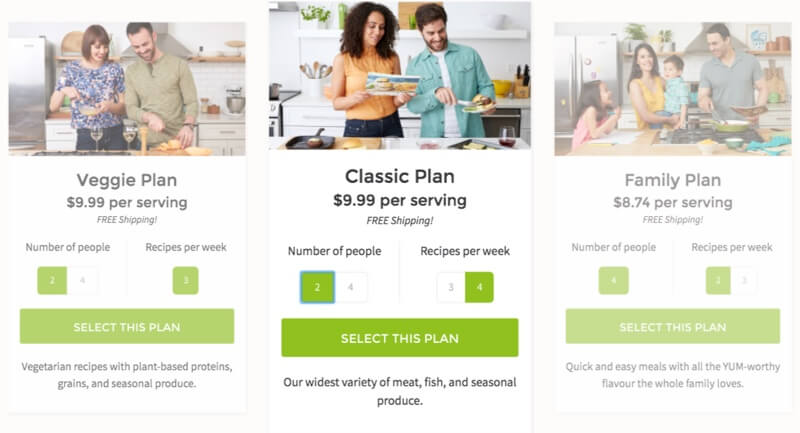 Gobble and Hello Fresh are good examples of meal kit delivery services that use rotating weekly menus. There are 15 meals per week with Hello Fresh. Three of those are for the veggie plan. You're not able to see the full recipe until you've subscribed to a plan and paid for your meals.
Hello Fresh has a cool recipe archive feature, though. Subscribers can see 2500 recipes and search by world cuisines, quick meals, hall of fame, family friendly, and easy to cook categories.
The recipes also have nutrition information and colorful pictures, and they can be downloaded, so you can cook other Hello Fresh recipes as well as the ones you've ordered for the week.
Gobble has four separate menus based on the different types of meat you want to eat—red meat, poultry, and seafood—or a vegetarian option. Each menu has six meal offerings per week, so there a total of 24 weekly choices for dinners.
On the online menu, Gobble labels its recipes as kid-friendly, and there are some markers for food allergens, including meals that contain tree nuts, milk, soy, wheat, fish. There are also markers for gluten-free and dairy-free meals.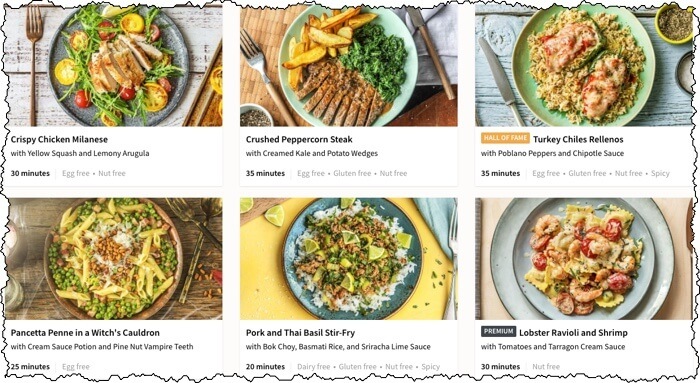 Hello Fresh labels its menus, too. There are markers for dairy, nut, gluten, eggs and vegetarian meals. The menus can also tell you how long it takes to prepare a meal. There are occasional specialty labels such as Hall of Fame, Gourmet, 20-minute meals, and dinner-to-lunch options.
The Hello Fresh dinner-to-lunch options are a fun way to get two meals in one. You use the leftovers from the first meal (a dinner) to create a second, completely different meal for lunch the next day.
Gobble also has a lunch option and a breakfast option. Both are separate subscriptions from the dinner subscription. The breakfast subscription feeds either two people or four people, and you get four breakfasts to prepare each week. The Lunch Box option provides ingredients and recipes for six take-along lunches weekly.
One other feature that I like about Gobble's dinner plan: if you want more dinner meals than normally come with your subscription, you can add more.
There are some things I especially liked about Hello Fresh, too. It comes with a wine option—although it's expensive. The portion sizes for meats and plant protein were relatively large, too. One thing that I didn't like was that the food was boring compared to other meal kit delivery services that I've tried.
Signing Up And Canceling
With Gobble, you start the sign-up process on the first page. First you select the number of people you want to feed, and then you choose the types of meats you'd like to include in your meals or click the vegetarian option if you don't want meat at all. Then you enter an email address and password, and your zip code to create your account.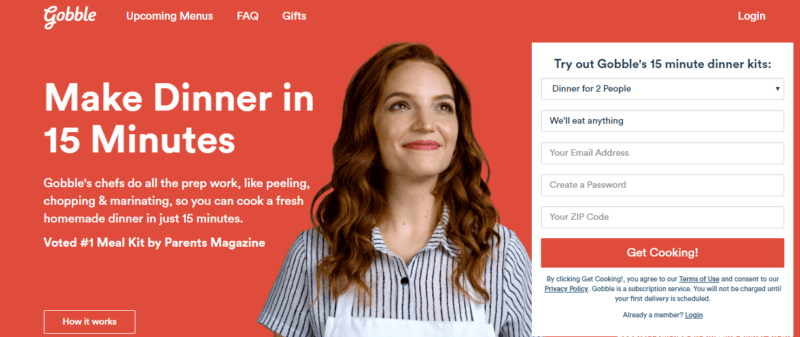 Signing up with Hello Fresh is similar. You sign up by choosing your plan based on your dietary preferences. Then you choose the number of people you want to cook for and the number of recipes with ingredients you want to get each week.
You can cancel subscriptions from both companies online. With Gobble, this is done from inside the 'managing my account' section. Hello Fresh can be canceled from within 'account settings.'
Canceling with Hello Fresh was a frustrating experience for me because there was a mix-up about a previous subscription, and I ended up being on the phone with customer service for quite a while to sort it out.
Packaging And Delivery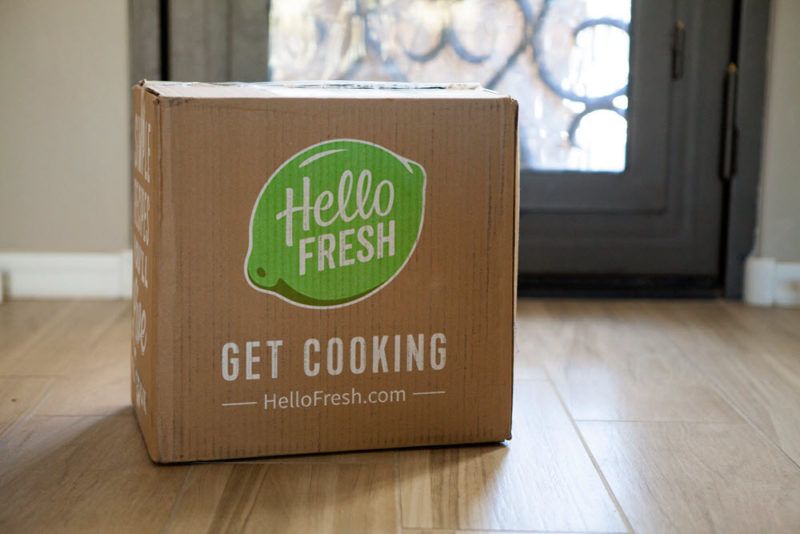 Both Gobble and Hello Fresh use mostly recyclable packaging. Gobble ingredients come in Ziploc bags, and Hello Fresh ingredients come in brown paper bags. Both companies label the foods so it's easy to find what you're looking for when you're ready to cook.
Gobble has a $6.99 shipping fee per box. Hello Fresh shipping fees range from $6.99 to $7.99.
Pricing
Gobble meals are generally $11.99 per serving. An order of 3 dinner kits for two people is $71.94 per week, plus the $6.99 shipping charge. A four-person box costs $143.88.
The separate breakfast subscription with Gobble costs $44 per week for two people and $88 for 4 people. The Lunch Box subscription ranges from to depending on the ingredients you choose to use in your lunches.
Prices for Hello Fresh meals vary depending on the plan you get, how many people you're feeding and how many recipes you get each week. You can pay as low as $6.99 per meal for four people on the veggie plan, or $8.99 per meal for two people.
On the classic plan, costs per meal range from $7.49 to $9.99. Family plan meals cost $7.49 per serving for three recipes and $7.87 per serving for two recipes. These prices include the dinner-to-lunch options.
Customizable Options
Gobble and Hello Fresh are both decently customizable without being remarkable. They have a nice number of weekly meals to choose from.
With Gobble, you can mix and match across the entire weekly menu. If you have a Hello Fresh classic plan or family plan, you can mix and match your meals, but veggie plans are limited to the three meal offerings that the company arranges each week.
Gobble's separate breakfast and lunch subscriptions make it a little more customizable than Hello Fresh, although Hello Fresh's dinner-to-lunch option adds some variety for other meals.
What Makes These Companies Unique
Overall, I feel that Gobble and Hello Fresh are kind of right down the middle when it comes to basic meal kit delivery services. However, there are some features that make them stand out, and there are things I liked and didn't like about both companies.
Gobble
Pros:
Gobble was voted the number one meal kit by Parent's magazine
Gobble also offers special promotions and credits which can make future purchases less expensive.
The meals are as delicious and as quick to prepare as they're advertised to be.
It's nice to have options for breakfasts and lunches, too, even if you need a separate subscription.
Cons:
The price per serving is high for such basic, quick-to-prepare meals.
Hello Fresh
Pros:
The price per meal is reasonable, especially compared to some other meal kit delivery services.
The recipe archives are a nice feature.
I like the dinner-to-lunch option.
The portion sizes were nice, especially for the meats and plant protein.
There is a wine option with Hello Fresh.
Cons:
The food isn't as exciting as the meals provided by some other meal kit delivery services.
The recipes weren't as clear or easy to follow as recipes from other companies I've tried.
Alternatives
Gobble and Hello Fresh are both good basic dinner kits, but there are others out there to try, too. Blue Apron and Martha and Marley Spoon are great if you want to focus on dinners alone. Plated, Sun Basket and PlateJoy are some of my favorites.
There's also Terra's Kitchen and Green Chef if you want a wide variety with healthy boundaries.
Conclusion
Between Gobble and Hello Fresh, I like Gobble best. The meals were simple and delicious, and there wasn't a lot of extra time spent in the kitchen. I also like having the options for breakfast and lunch subscriptions.
Hello Fresh was in fact "fresher" IMO, but didn't really satisfy my need to cook my own meal. If I'm going simple, go all the way!