Ten years ago, meal kit delivery services were relatively unheard of. Now what used to be a crutch for getting dinner on the table has now become a necessity for many people, because it provides a way for them to connect over a home-cooked meal at the end of the day.
There are a lot of companies to choose from and a lot of variety in the types of meal kits you can get. If you're ready to try a meal kit delivery service, how do you know where to start and what to look for?
This Gobble vs. Home Chef comparison can give you an idea of what questions to ask as well as a peek into the types of plans and features that some basic meal kit delivery services provide. Learning about these companies may help you discover the kind of meal kits that would be the best fit for you.
Both of these companies were great. I personally tried them, and cooked the meals myself (links to individual reviews below). Personally, I preferred the meals with Home Chef, and I think other people agree with me as well. Gobble currently has a 2.1 star rating from 75 votes.
I wouldn't say it's quite that bad, but Home Chef was definitely tastier and more fun to cook!
Types Of Meals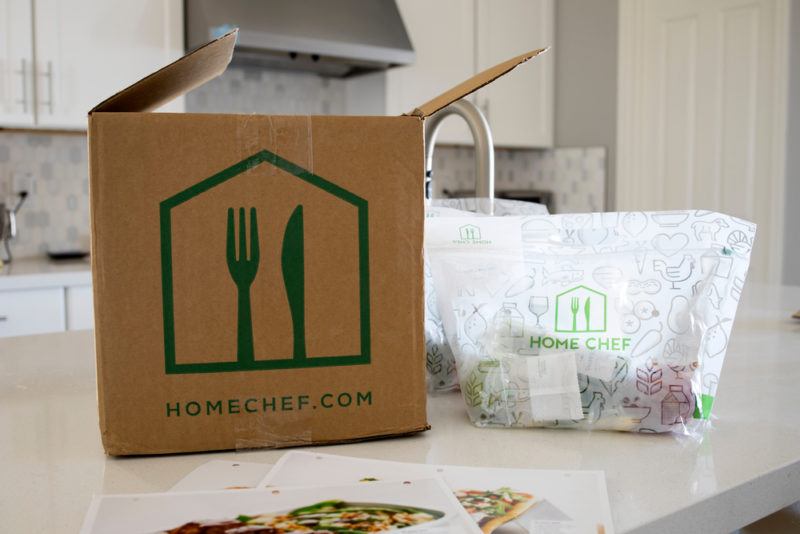 Both Gobble and Home Chef are solid companies when it comes to providing a dependable, tasty set of dinner dishes. Like many companies, these two rotate their menus weekly so that subscribers get plenty of variety to choose from.
Gobble has four menu sets per week. One is based on poultry, one on red meat, one on seafood, and one on vegetarian dishes. In each menu set, there are six meal choices. No matter what menu you choose when you decide on your taste preferences, you can mix and match meals across the entire weekly offerings—so you have 24 dinner choices each week.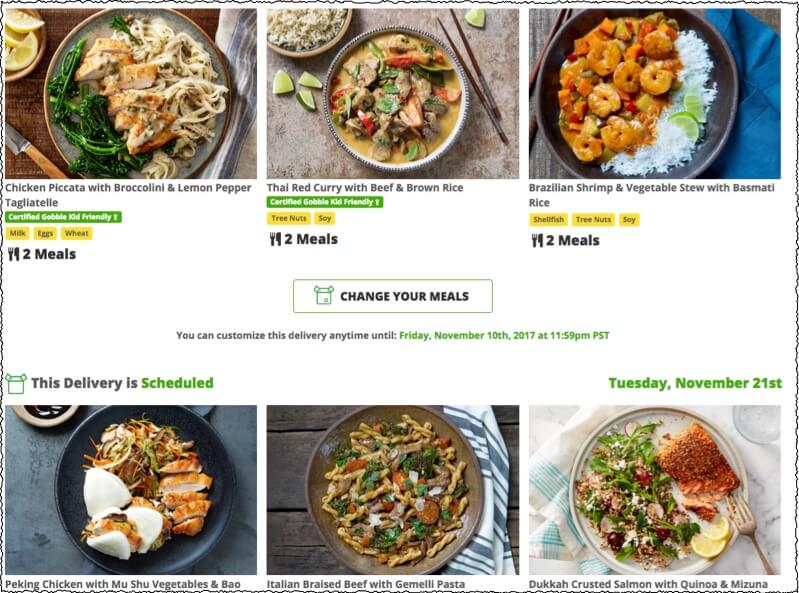 You don't get 24 meals, though. Gobble designs its dinners to feed two people or four people, and both plans come with three dinner recipes each week and the ingredients to cook them.
The ingredients arrive already prepared with tasty sauces you can mix in as you prepare the meals. Most recipes can be fixed in about fifteen minutes in one pan, so there's not a lot of cleanup, either.
One thing that both Gobble and Home Chef do is provide labels on their product pages, so you can see which food allergens are in the recipes. Gobble labels its dishes with categories such as gluten free, dairy free, tree nuts, milk, soy, wheat and fish. There are also labels for low carb, vegetarian, and kid-friendly meals.
Markers on the recipe pages for Home Chef meals include calorie conscious and carb conscious recipes. There are also labels for recipes containing milk, wheat, soy, tree nuts, fish, shellfish and peanuts.
Like Gobble, Home Chef ingredients are proportioned before they're sent to you, so the waste from cooking is significantly reduced. Home Chef also has a weekly rotating menu with 15 meals that you can choose from. Most meals take around half an hour to cook.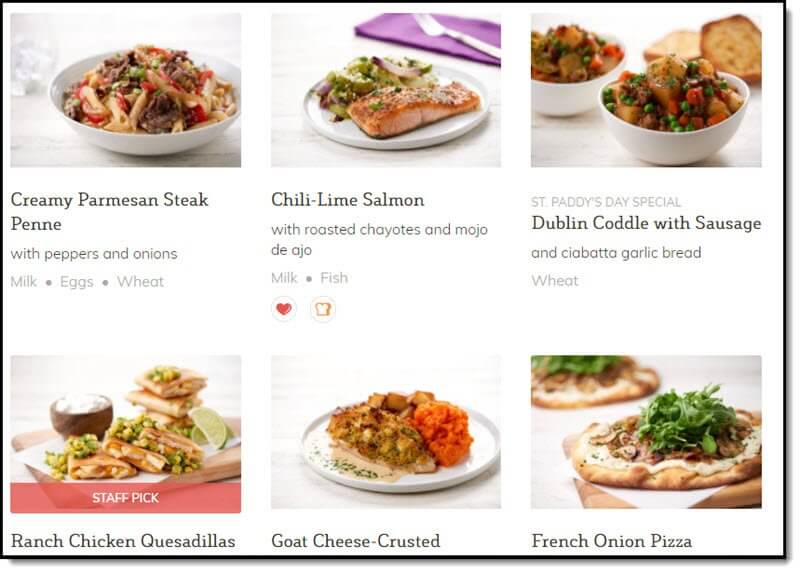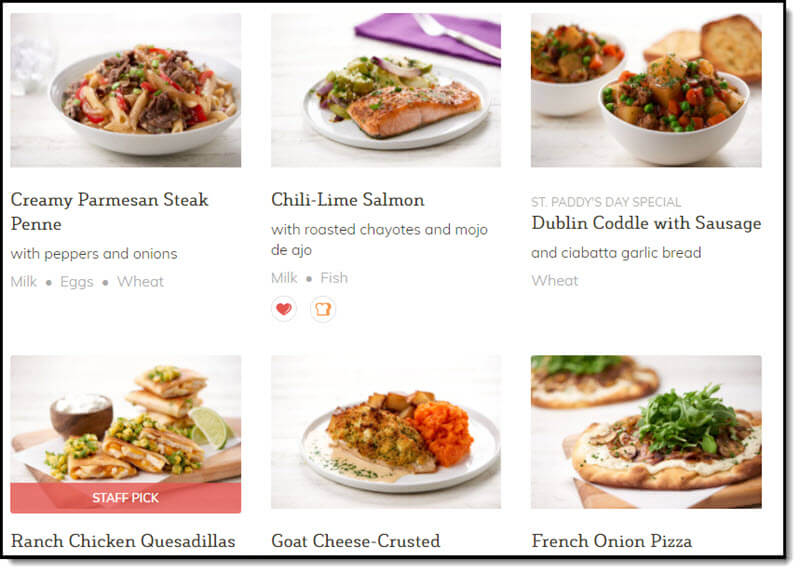 Both companies have branched out beyond dinners. Of the 15 items on Home Chef's menus, a few are lunches or add-ons like a seasonal fruit basket or smoothie. Occasionally there will also be recipes for breakfasts, holidays or desserts.
Gobble's beyond-dinner expansion includes sides, soups and desserts. Gobble also has s breakfast subscription and a new lunch box subscription, which gives you six make-ahead lunches to try.
Signing Up And Cancelling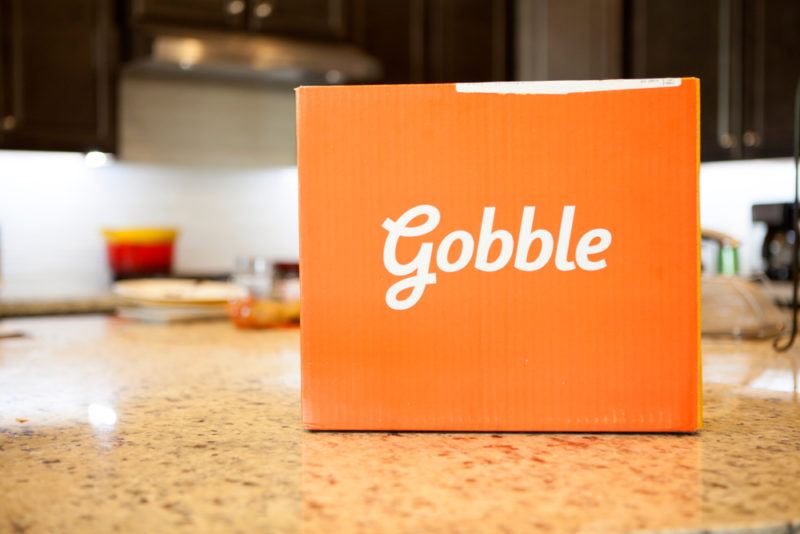 Signing up with Gobble begins on the very first page. There's a prominent box where you can select the number of people you want to feed and then choose the types of meat you'd like to try (or click vegetarian).
Once you've set those basic taste preferences, you enter your email address, a password and your zip code.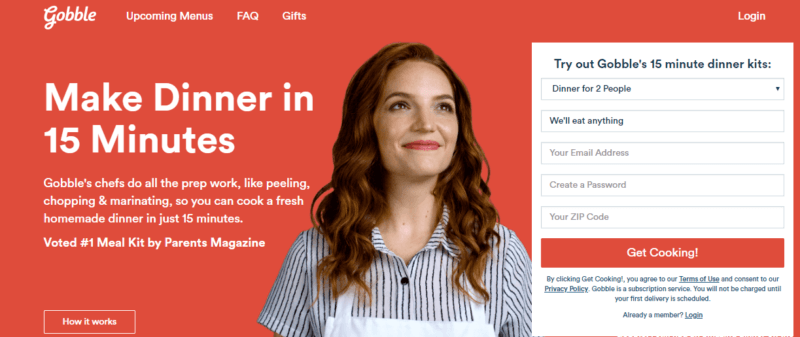 Signing up for Home Chef services also begins with entering an email address, a zip code and a taste preference questionnaire. Before you can select your meals, you also have to enter your shipping and payment information.
Cancelling with both companies can begin from within your online account. With Gobble, you start the cancellation process under the 'managing my account' section.
With Home Chef, you can deactivate your service from within your account information. Once your account is deactivated, you can start again anytime by placing a new order.
Packaging And Delivery
Both Gobble and Home Chef ingredients were sorted into meals, which was nice. However, Gobble packaging wasn't as enticing as it could have been. Ingredients were placed inside simple Ziploc bags with labels.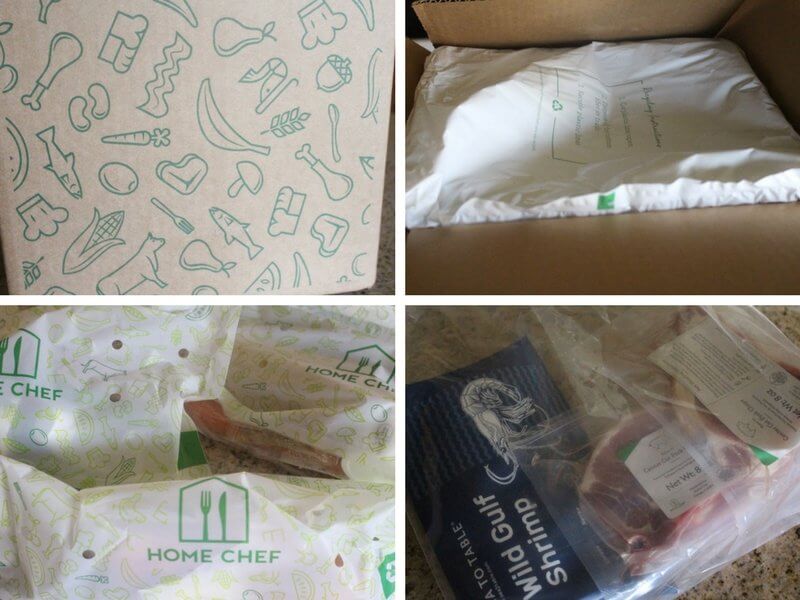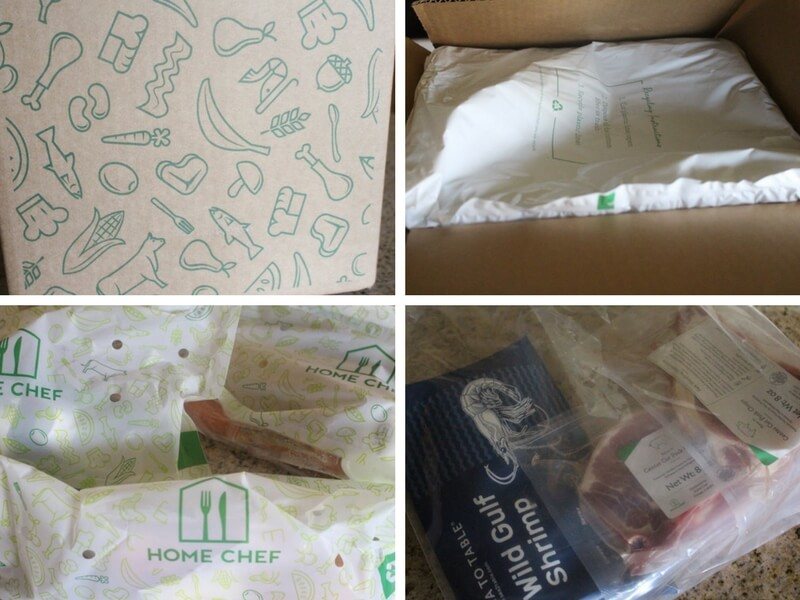 Home Chef ingredients arrive in a recyclable box with produce bags, plastic containers, and paper for the fruit basket wrap.
If your Home Chef order is more than $45, it ships for free. If it's less than $45, there's a $10 shipping fee. Gobble meals have a $6.99 shipping fee per box. There's also a minimum order of two dinner kits, or four total servings, in order to schedule a Gobble delivery, and the price per meal goes up if you only order the minimum.
Pricing
With Gobble, if you only order the bare minimum, meals cost $13.99 each. If you order normally on the two-person or four-person plan, meals cost $11.99 each. At three recipes per week, you'll pay $71.94 for a two-person box and $143.88 for a four-person box.
Gobble's add-on breakfast subscription costs $44 per week for 2 people and $88 per week for 4 people. You get four breakfast meals a week with either subscription. The lunchbox subscription costs $47.88 up to $59.82 depending on the ingredients you order.
Home Chef meals are a little less expensive. The lunch options are $7.99 per serving, and most meal kits are $9.95 per serving. The price per serving doesn't change by the number of servings or meals you buy, although there are some meal kits labeled as 'premium meals,' and these are more expensive.
Customizable Options
Both Gobble and Home Chef are decently customizable. Although you'll receive a set menu to start with, you can switch out the recommended meals for other ones you'd rather try.
There are a number of weekly meals to choose from, and both companies have add-ons to try, as well. I'm especially impressed with Gobble's separate subscriptions for breakfasts and lunches.
What Makes Each Meal Kit Company Unique?
While both Gobble and Home Chef are solid basic meal kit services with a lot in common, they also have some significant differences. I liked both of them for different reasons, and there were things I didn't like, too. Here are my top thoughts about both of these companies.
Gobble
Pros:
I like that the meals came together so quickly and that the cleanup was fast, too.
Gobble was voted the number one meal kit delivery service by Parent's magazine.
Sometimes Gobble has credits or promotional offers that you can use to save money on future meal kit orders.
The lunchbox and breakfast subscriptions are great ideas.
Cons:
The meals seem a little bit expensive, especially when you consider how simple the meals they are and what the costs per serving are compared to other meal kit delivery services.
Home Chef
Pros:
There were some interesting flavor combinations which made Home Chef meals fun to try.
Home Chef started selling some meal kits at Kroger-owned supermarkets in 2018.
The seasonal fruit basket is a nice touch.
I like the free delivery on orders over $45.
The pricing was reasonable for a meal kit delivery service.
Cons:
For me, navigating the website to find out things like pricing was a little bit challenging.
Alternatives
A decade ago, there wouldn't have been many meal kit delivery services to compare, but now there's a wide variety of companies to choose from. If you like basic dinner kits, Blue Apron and Martha and Marley Spoon are good ones to try. Plated and Sun Basket are also some of my favorite options.
Lately I've become intrigued with the unique services of PlateJoy, as well. If you're into vegetarian eating, you might like Daily Harvest.
Conclusion
When it comes to Gobble and Home Chef, I like Home Chef best. That's just my personal preference for flavor, and I also enjoy the "making" process of cooking.
Gobble is great too, even though people are complaining about it on my other review. I thought it was tasty! It's fast and easy, it's got a lot of options to choose from, and the separate subscriptions for breakfast and lunch make it easy to stay on top of a full day of meals. The food is delicious, too.