Time doesn't wait for anyone anymore, and that includes families. The sit-down-and-eat-together days that the baby boomer generation knew are almost gone. It takes some real work to create a home-cooked meal that families can sit down and enjoy together.
In the past decade or so, meal kit delivery services have started competing with fast food, take out and junk food to help families cook meals at home and eat together. Even single people or couples with no children are jumping on board with this idea.
With a meal kit delivery service, you don't have to plan the menus, create a shopping list, do the shopping, or prep the food. If you're on a diet, you don't have to do the nutritional legwork, either. The kits make dinner easy by sending you recipes and ingredients for the meals you want to try right to your door.
In this Gobble vs. PlateJoy comparison, I'll share with you what I've learned about two popular and unique meal kit delivery businesses. Besides sharing the pros and cons of each, I'll show you how the companies work and what to look for when you're considering signing up for a meal kit delivery service.
Types Of Meals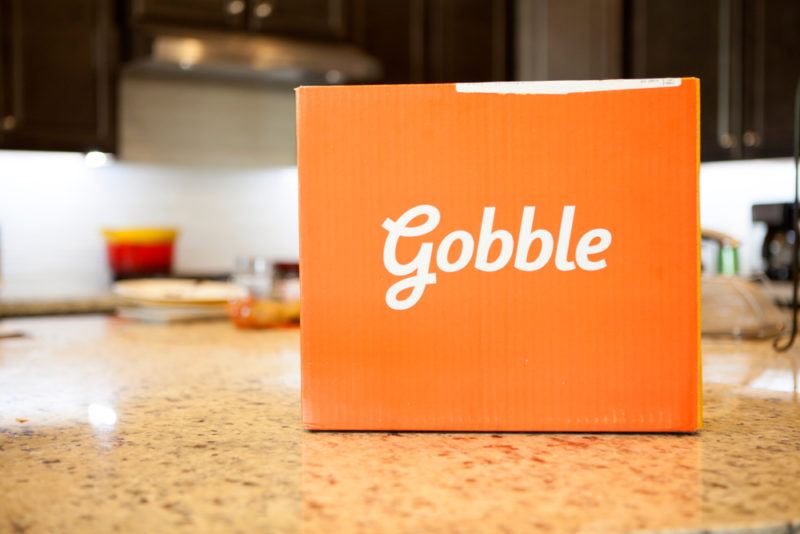 Gobble is, in many ways, typical of many of the meal kit delivery services out there. The company sends a set number of recipes each week, along with ingredients that are pre-portioned with all the prep work done. The company uses a weekly rotating menu, as well.
Gobble's menu is themed by the type of dishes you want: vegetarian or meals based on red meat, poultry, or seafood. There are six meals for each menu set, but you can mix and match across the entire weekly menu each week.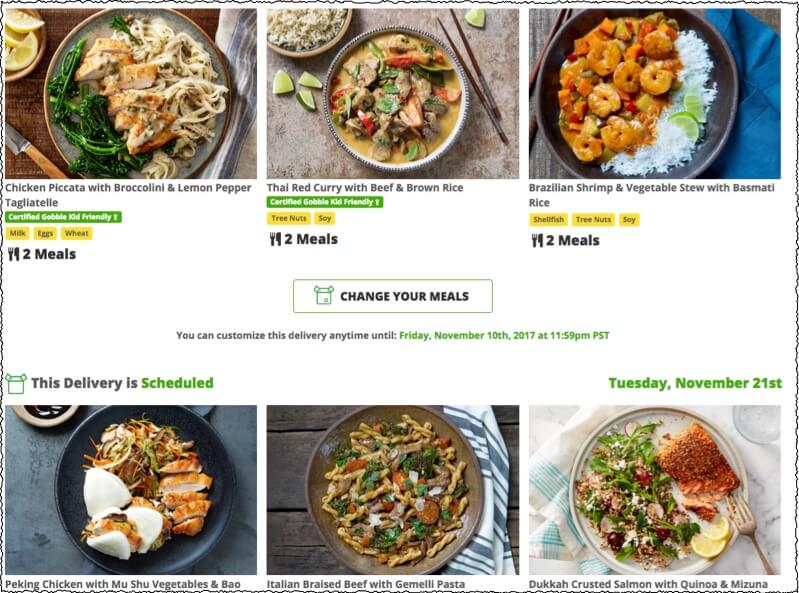 The recipes and ingredients are set up in plans. The two-person and the four-person plan both get three recipes to try each week. The meals are tasty and really quick to prepare.
I can get a Gobble meal on the table in about fifteen minutes using one pan, which means there's not a lot of cleanup, either. I really like the tasty sauces that come with the recipes. They're the key both to the delicious flavors and the quick preparation.
When you're looking at the online menu, you'll see that the recipes are labeled as kid-friendly, gluten free, or by food allergens. You can see whether the dish contains tree nuts, milk, soy, wheat, eggs or fish.
If you want more meals than your normal three, you can add more meals to your delivery each week. You can also add soups, sides, and desserts as well as a separate breakfast subscription.
The breakfast subscription comes with four meals each week and feeds either two people or four people. There's also a new lunch box subscription that allows you to batch-build lunches that you can take to work with you.
The breakfast subscription and lunch box options are unique to Gobble, but overall the company is similar in many ways to other meal kit services I've tried. In contrast, PlateJoy is one of the most original meal kit delivery services that I've seen so far.
The service focuses on designing the perfect menus for individuals and families that will help you avoid diabetes and other lifestyle diseases. It's based more on meal plans than on meal kits, although PlateJoy does partner with a third-party shopping service to get your ingredients to you.
PlateJoy has an advanced lifestyle quiz that helps to determine your lifestyle and preferences. Once the lifestyle quiz is filled out, the service creates custom meal plans and shopping lists. The shopping lists can be sent to your phone, so you can do the shopping yourself, or to Instacart, which partners with PlateJoy to deliver the groceries.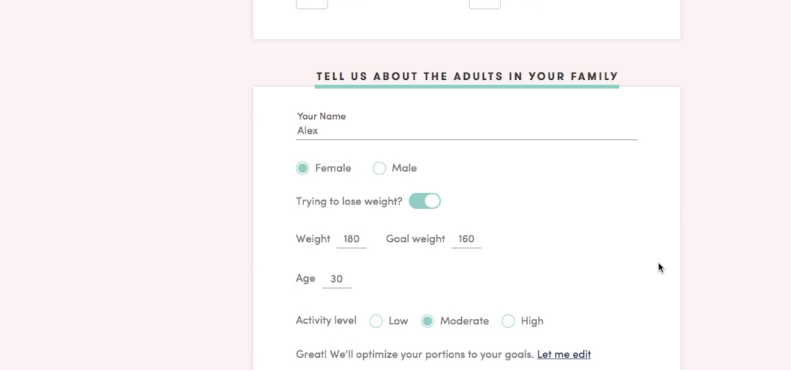 The recipes are scaled for each individual member of your family. This helps to prevent waste. The highly technical service also keeps track of what you've already got in your pantry so you can use up the groceries you already have, and it pairs recipes using similar ingredients together so that you don't waste produce.
The recipes can be tailored to your preferences, and you can add in your own family favorite recipes to the menu, too. There are unlimited personalized meal plans for breakfasts, lunches, dinners or snacks—whichever courses you'd like.
There's the nutrition side, too. You can use the service to set weight loss goals, get nutritional information for every meal, and get on-demand advice from a personal nutrition coach. You can also change your dietary preferences for free anytime that you want to.
There's no plan to limit your choices. You can choose the exact number of meals you want each week with the number of people you'll be feeding and get exactly the meals you want, within the goals you set. You approve the menu, get the shopping list (or have it sent to the Instacart shopping service), and get your custom recipes. Once you have your ingredients, you can get cooking.
Signing Up And Canceling
Signing up with Gobble starts on the home page. You enter the number of people you want in the 'get started' box and click the 'we'll eat anything' button to get a drop-down menu of the types of menus you'd like to try. Then you enter your email address, a password and your zip code and click 'get cooking.'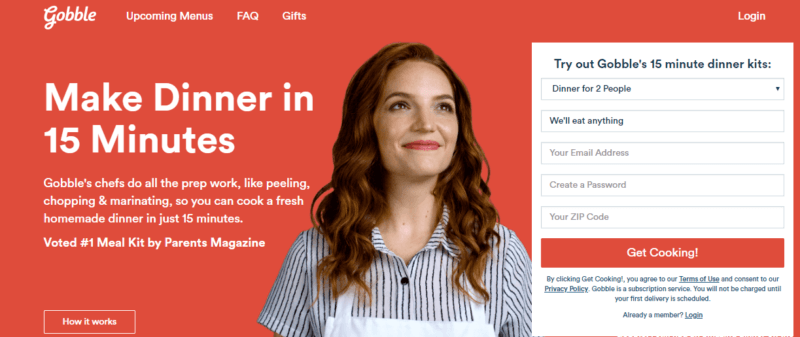 To sign up with PlateJoy, you enter your email address and start a free trial. This creates your account.
Canceling your account with Gobble can be done online from the 'managing my account' section.
Packaging And Delivery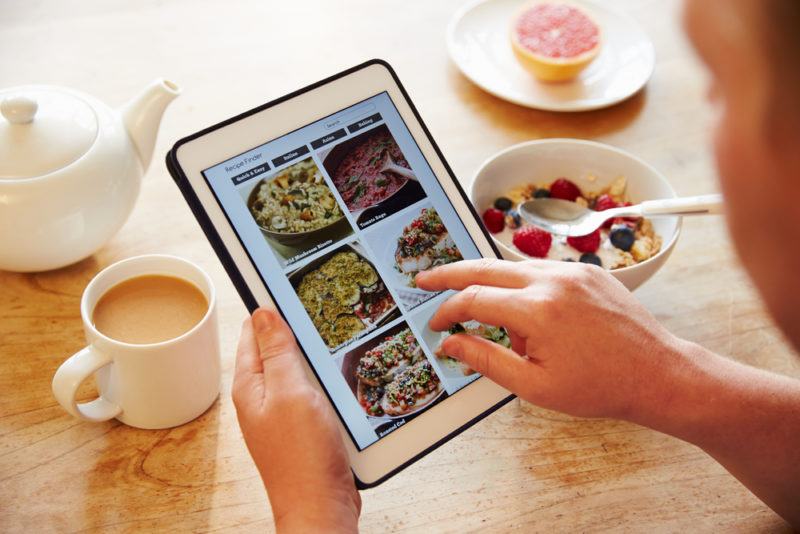 Gobble packaging includes Ziploc bags, where ingredients are placed, with labels. Ingredients are sorted by meals, which is helpful. The box that the ingredients are shipped in is recyclable. While the packaging isn't the most beautiful, it works.
The minimum order for a weekly subscription is two meals for two people, although you can order more. There's a shipping charge of $6.99 per box.
PlateJoy doesn't actually ship ingredients. Instead, the company relies on a third party service to get the groceries to you. This means, depending on who does the shopping and the store that packages the ingredients, they could arrive in a variety of packing materials.
You can always opt to do the grocery shopping yourself. If you choose to go with Instacart, there will be a cart for you once you've updated your shopping list for ingredients and quantities. Then you just check out and wait for your delivery.
Pricing
Gobble meals are generally priced at $11.99 per meal. On the two-person plan, that works out to $71.94 per box. On the four-person plan, a box costs $143.88. If you make just the minimum order of two meals for two people, the price per serving goes up to $13.99, and you pay $55.96 per box.
The separate add-on breakfast subscription costs $44 per week for two people and $88 per week for four people. The new lunch box option starts at $5.99 per vegetarian-based lunch, so you can get a week of lunches for around $36.
Prices with PlateJoy depend on the grocer you use, whether you utilize Instacart, and the plan you choose with PlateJoy. The grocery purchases are separate from the PlateJoy plan.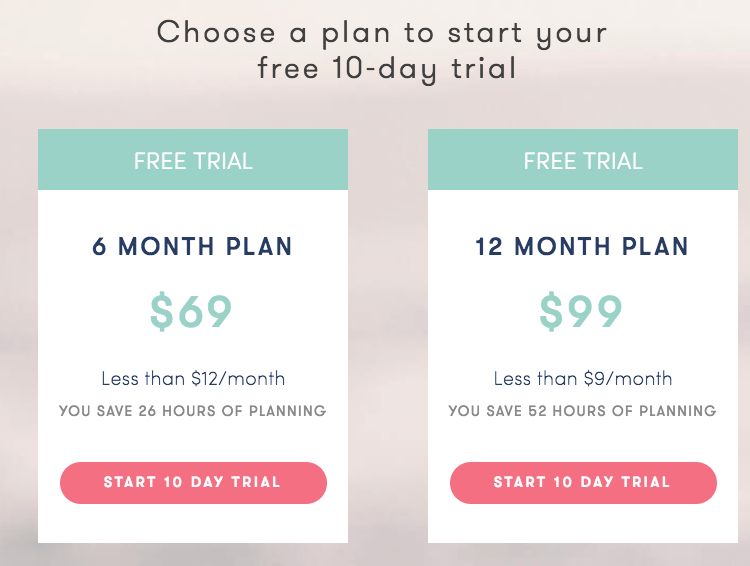 Basic PlateJoy meal planning subscriptions cost $69 for six months and $99 for twelve months. A month's subscription can cost $8-12, but it's billed in one installment. The PlateJoy weight loss subscriptions cost $89 for three months and $119 for six months, or around $20-30 per month.
Fees to use Instacart are separate from the PlateJoy plans. If you want your groceries delivered within an hour, the delivery cost is $7.99. A delivery that takes two hours or more will cost $5.99. Alternatively, you can pay a $149 yearly fee and get orders that total more than $35 delivered in two hours or more for free.
With PlateJoy, the cost of the food is over and above the cost of PlateJoy plans and the cost of Instacart.
Customizable Options
With Gobble, customization begins on the first page when you begin choosing your menu preferences. You can also mix and match meals across the full weekly menu, and you can add on breakfasts, sides, soups, desserts and the new lunch box subscription, as well.
PlateJoy is one of the most customizable options I've seen so far. Besides getting to choose which courses you want meal plans for, you have a lot of say in the types of recipes you want to try—including your own family favorites.
You can order for as many people as you need to, scale recipes and add in your own favorite family recipes. You can even choose whether to do the shopping yourself or have someone else do it for you. If you use Instacart, you can switch grocers you want to get ingredients from anytime. I really haven't been able to see a downside with the customizable option where PlateJoy is concerned.
What Makes These Companies Unique
Both Gobble and PlateJoy have a lot to offer people who want to try meal kit delivery services. There are things I liked about both companies and some things that I felt a little bit more cautious about. Here are my thoughts about both of them.
Gobble
Pros:
Parent's Magazine voted Gobble the #1 meal kit for parents.
Occasionally Gobble will have promotional offers or offer credits that make future orders more affordable.
The food is really delicious.
Meals come together quickly with little to no mess.
Cons:
For such simple meals, it feels like the cost per serving is a little on the expensive side.
PlateJoy
Pros:
PlateJoy has a free trial.
The digital pantry allows you to keep track of your food inventory and avoid waste.
I like having the option of choosing between having the groceries delivered or picking them up myself.
PlateJoy will sync with your Fitbit.
Cons:
The only downside I see to PlateJoy is that the fees for PlateJoy plans, Instacart services and groceries are all separate. It might take a few deliveries to get an idea of about how much money you need to budget for this program.
Alternatives
While I really like both of these companies, there are a lot of other good meal kit delivery services to try, as well. Blue Apron, Sun Basket, Plated and Martha and Marley Spoon are all solid companies with delicious foods.
Terra's Kitchen caters to people who like Mediterranean style eating, while Green Chef is all about organic eating.
Conclusion
When it comes to Gobble vs. PlateJoy, I like PlateJoy best. The fees for the PlateJoy plans are reasonable, and even the costs for delivery through Instacart are manageable. On top of that, the customizability is simply the best, and the recipes are delicious.