If you've ever wanted to break away from fast food dinners and get back to home cooked meals, now is a great time. The meal kit delivery industry is booming. There's a wide variety of meal kit services to choose from that deliver tailored recipes and the ingredients to cook them right to your door.
Most of these services target nutritious, tasty dinners that don't cost a lot of money or time in the kitchen. If you've never used a meal kit delivery service, though, you may be wondering what to look for before you try one.
In this Gobble vs. Sunbasket comparison, I'll share with you what I've learned about two meal kit delivery services that I've tried. You'll learn about the types of meals, the packaging, pricing and even how you can tailor the menus to your own family.
Types Of Meals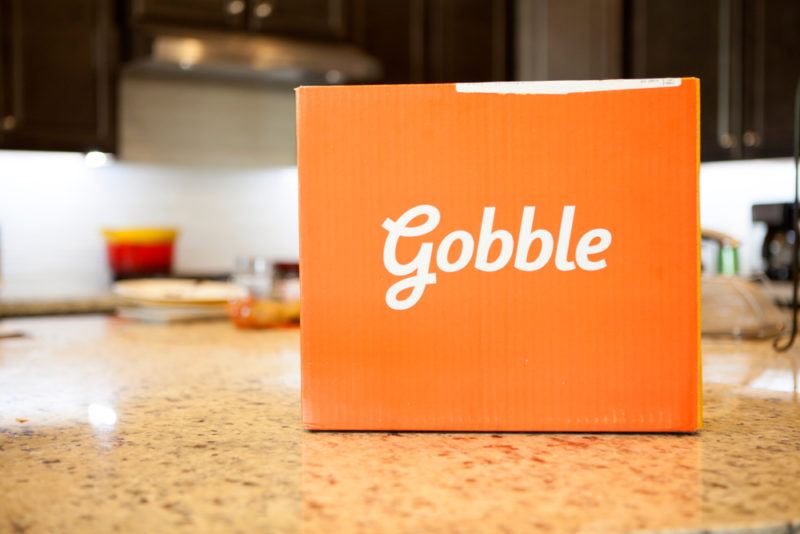 Gobble and Sunbasket are typical of many meal kit delivery services that focus on getting a nutritious dinner on the table quickly. I can get a Gobble meal on the table in around 15 minutes, and Sunbasket meals are ready in around half an hour.
With Gobble, the ingredients are already pre-prepped when they arrive. Most meals can be cooked in one pan. Without having to chop veggies or wash extra dishes, the cleanup is easy, too.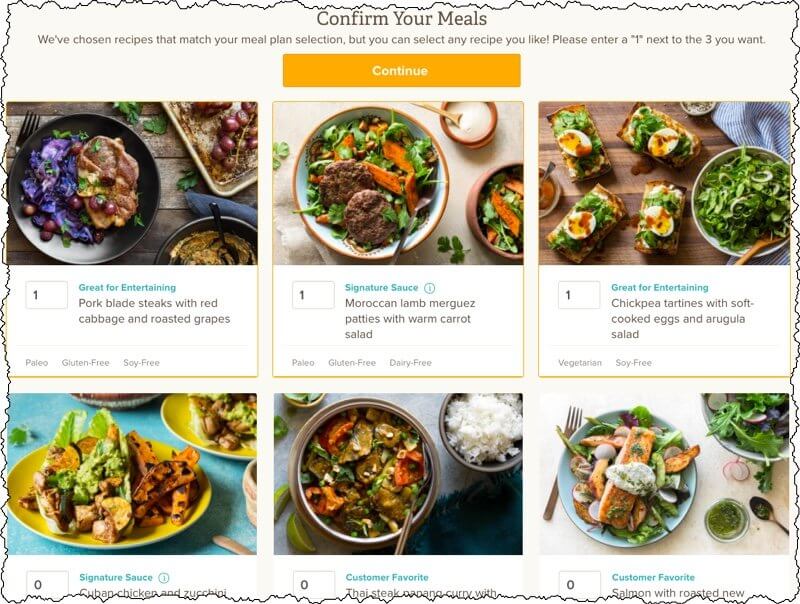 Sunbasket ingredients are premeasured, too, so there's not a lot of waste from cooking. The produce is organic, the meats are antibiotic-free and hormone-free, and the seafood is wild-caught and sustainably sourced. To speed up the preparation process, ingredients that go together in a meal are packaged together, but the meat is kept separate.
Both Sunbasket and Gobble have menu plans that rotate weekly. Sunbasket has 18 options each week to choose from, and Gobble has 24. Both of these companies also sign up subscribers to specific plans based on their food preferences.
For example, Gobble plans are based on the number of people you want to feed. The two-person plan and the four-person plan both get three recipes with ingredients each week. The food preference quiz starts at sign-up, where you can choose meals based around beef, fish, lamb, pork, poultry, shellfish or vegetarian menus.
After you sign up, you can pick the meals you want. Recipes are labeled as low-carb, vegetarian, and kid-friendly. There are also markers for food allergens. When you're looking at the online menu, you can see at a glance whether a meal has gluten, dairy, wheat, eggs, tree nuts, soy, or fish in it.
The plans are designed for three meals a week, but Gobble allows you to buy more meals per week if you want to.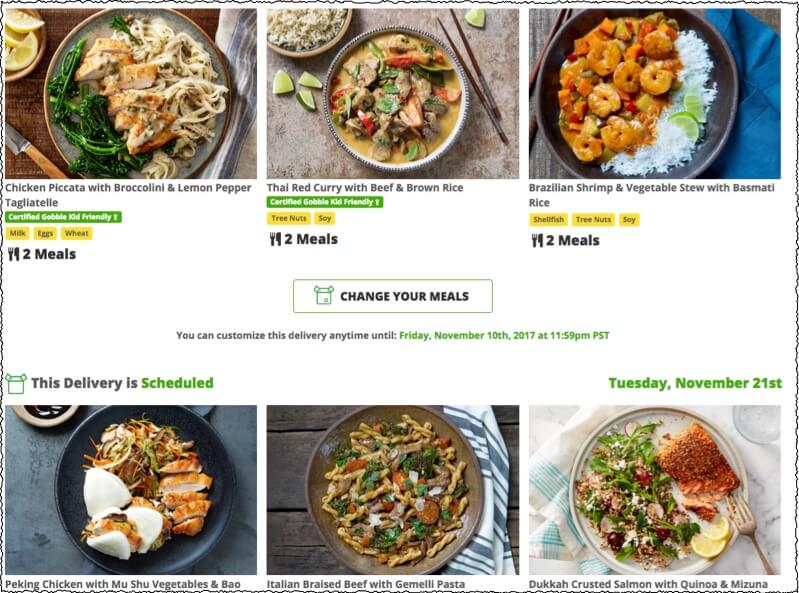 Sunbasket plans are based more on your eating style than on the number of people you want to feed, although that plays a part, too. There are two types of plans: The Classic Plan category, and the Family Plan category.
Classic plans are designed to feed two people or four people, and you get three recipes with ingredients each week. If you decide on a Classic plan, you'll also get to pick your menu preference from Chef's Choice, paleo, lean & clean, gluten-free, vegan, vegetarian, Mediterranean, pescatarian, diabetes-friendly, and quick and easy options.
Family plans feed four people, and you can get two, three or four recipes with ingredients each week. There are two menu options on the family plan (chef's choice and vegetarian) and only six meals to choose from.
If you go with Chef's Choice, recipes include kid-friendly items like tacos or pasta, and there are 'kids can' steps in the recipes so that children can safely help with the food preparation.
Like many meal kit delivery services, both Sunbasket and Gobble are broadening their horizons. Besides dinners, Sunbasket also has add-on menu items like five-minute salads, snacks and sauces. Gobble also has separate subscriptions for breakfasts that feed four people, four times a week and lunchbox menus for creating a week's worth of take-along lunches.
Signing Up And Cancelling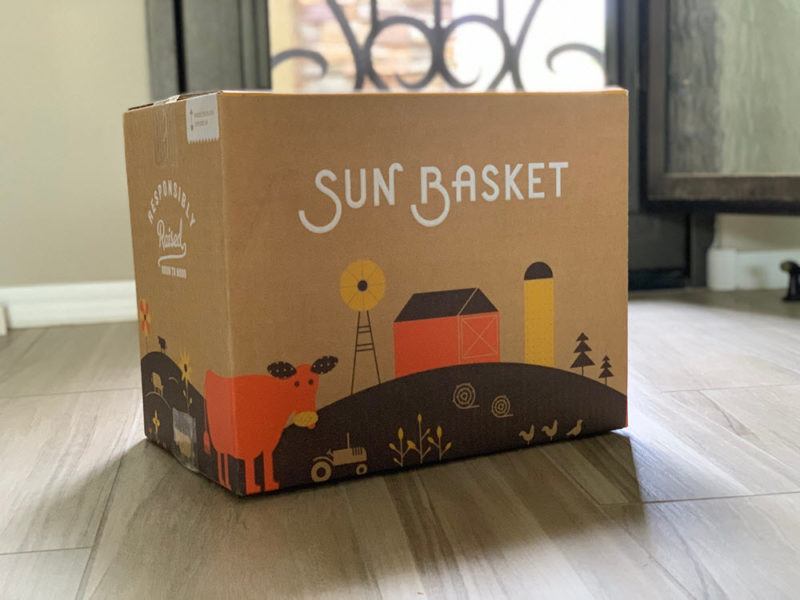 To sign up with Sunbasket, you click the 'Get Started' button and enter an email address, password, zip code and your name. Once you've created your account, you choose whether you want the classic plan or the family plan, and then you pick your menu.
Gobble is easy to sign up with, too. The sign-up box is prominently displayed on the home page. First you select the number of people you want to order food for. Then you choose which meats you'd like to try (there's also a vegetarian option). Next you enter an email address, a password, and a zip code to create your account.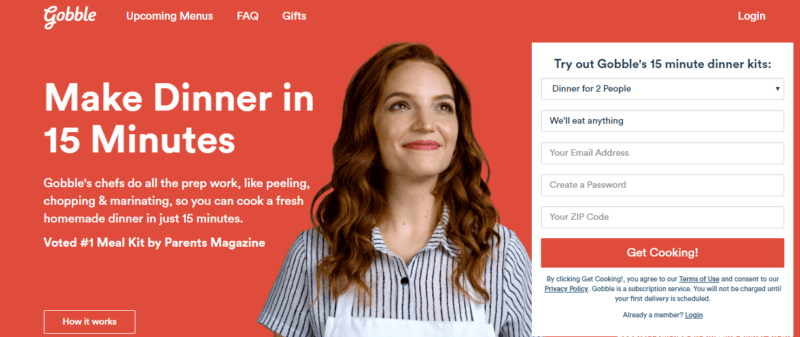 Cancelling Gobble can be done online from the 'managing my account' section. You can also start the cancellation process for Sunbasket online from the 'manage weekly deliveries' section under the frequently asked questions. Sunbasket also has a toll-free number you can call if you'd like to start the cancellation that way.
Packaging And Delivery
In order to schedule a delivery with Gobble, you need to order at least two dinner kits for two people for the first order. The ingredients come in Ziploc bags that are labeled. It's practical and simple, but it's not as appealing as some of the other packaging I've seen.
Gobble delivers its food across the continental United States. The first week of delivery is free. After that, you'll pay a $6.99 delivery fee per box. Sunbasket also charges $6.99 per box for delivery.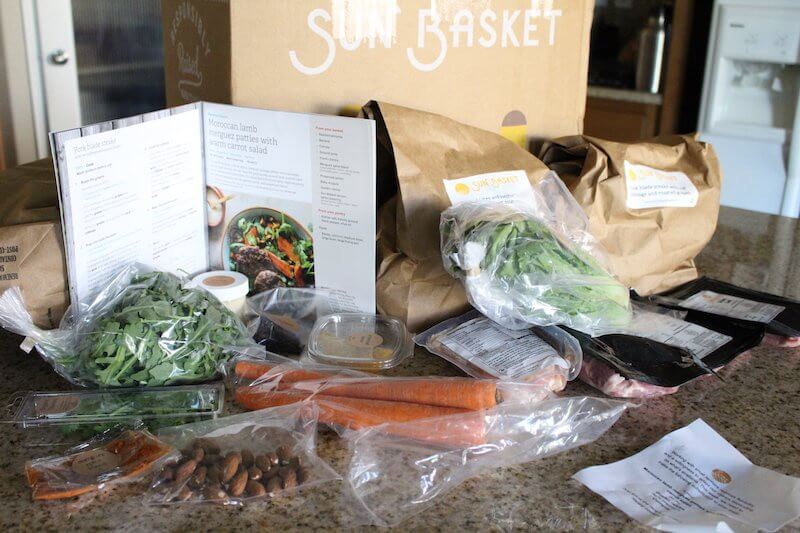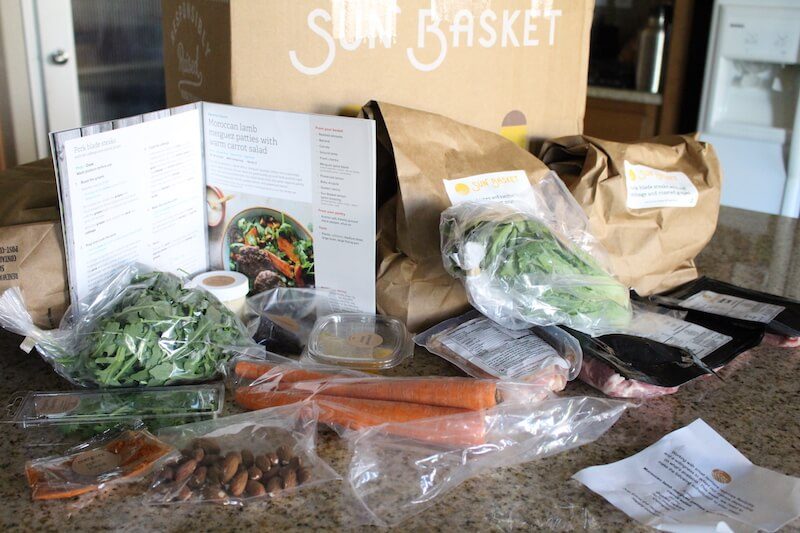 Sunbasket ships its food inside plastic bags and jars that can be recycled. This company doesn't ship to Hawaii, Alaska, Montana or parts of New Mexico.
Pricing
Gobble plans are priced by the meal. On both the two-person plan and the four-person plan, you pay $11.99 per serving. This comes out to be $71.94 for three recipes for two people and $143.88 for a box of three meals for four people. The shipping fee isn't figured into those totals.
Gobble's breakfast subscription costs $44 per week for two people and $88 per week for four people. You get four meals per week with the breakfast subscription. The cost for a lunch subscription varies from $47.88 to $59.82 depending on the types of foods you want to include. You get six lunch boxes for this price.
Sunbasket's pricing strategy is almost identical to Gobble's. Classic plans cost $11.99 per serving, so the boxes cost $71.94 or $143.88 depending on how many people you're cooking for. The family plan is a little bit less expensive at $10.99 per serving.
Customizable Options
Both Gobble and Sunbasket are decently customizable. You can pick and choose your dinner options from a wide variety of weekly offerings or go with the meals the company suggests for you. Gobble lets you add on more meals than just three per box if you want to.
They also both have some great add-ons. Gobble's breakfast subscription and lunch box subscription can make cooking healthy meals for the entire day easier. Sunbasket also has five-minute salads, snacks like grape tomatoes and delicious sauces to add on to your delivery.
What Makes These Meal Kit Delivery Services Stand Out
I enjoyed trying both Gobble and Sunbasket and frankly, I was a little bit surprised at the many similarities in how they work. However, there are things I liked better about Gobble than Sunbasket, and vice versa, and there are some things that are unique to both companies. Here are my top thoughts:
Gobble
Pros:
This is one of the fastest services I've tried for getting meals on the table quickly.
I liked that there isn't a lot of mess or prep work.
Gobble was voted the #1 meal kit by Parent's magazine.
Sometimes Gobble has promotional offers or gives credits that can be used to offset the cost of future orders.
Cons:
Because the meals come together so quickly, you might sometimes feel like you're missing out on the cooking aspect.
The price per serving seems a little bit high, especially when compared to local grocery store prices.
Sunbasket
Pros:
As far as taste goes, this is one of my favorite meal kit delivery services so far. The food was delicious.
The recipes are delivered in a book, and you get all the recipe cards for that week—including ones for the meals you didn't order.
The 'kids can' steps in the Chef's Choice family plan is a great way to get children involved in the cooking process.
Cons:
When I cancelled my subscription with Sunbasket, I couldn't find the link to start the cancellation process online, so I had to call customer service—not my favorite.
As with Gobble, the price per serving feels a little bit expensive.
Alternatives
While Gobble and Sunbasket are great options if you're trying a meal kit delivery service for the first time, they're not the only choices you have.
Martha and Marley Spoon and Blue Apron are both focused on dinners alone and the costs per serving are some of the most reasonable I've seen. Terra's Kitchen has some great customizability and a unique way of shipping that cuts back on waste.
If you're focusing mostly on trying to eat more nutritious meals, Green Chef's foods are all organic.
Conclusion
Deciding whether I liked Gobble or Sunbasket best was tough. They both had tasty meals that came together quickly without a lot of fuss, and the companies were easy to work with. In the end, I decided I liked Sunbasket best because the food is a little bit more adventurous.