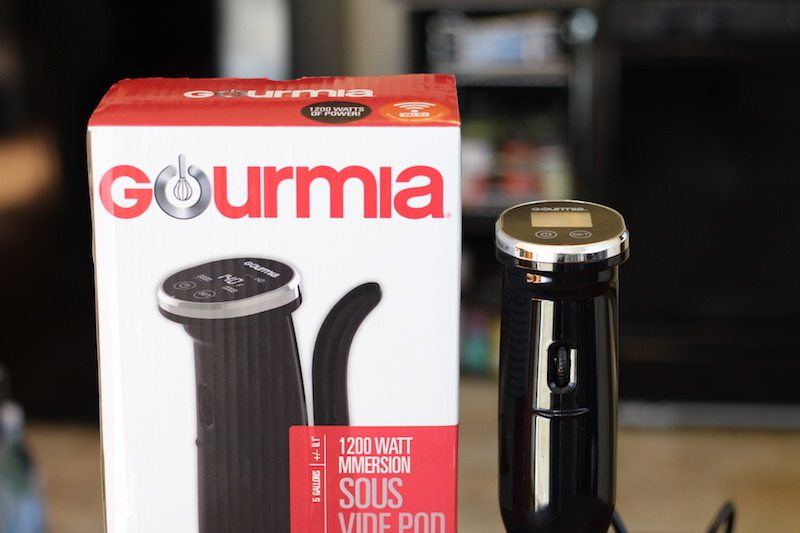 Gourmia GSV150 Immersion Circulator Review
Quality - 98%
Features - 96%
Price - 100%
Personal Experience - 97%
Value - 100%
Any kitchen device that can connect to wifi is pretty awesome in my book, and that seems to be the way that most of the new models of premium immersion circulator are going. In this review we're going to compare the GSV150 to older models from Gourmia as well as other brands that offer wifi connected sous vide devices. This was a fantastic device to work with but is it the best available?
Introduction
As of the writing of this review, the Gourmia GSV150 was released just a month ago and is already racking up great reviews. With a number of other bluetooth sous vide immersion circulators on the market already (and probably more on the way), I had to test this model out to see not only how it compared to the previous Gourmia circulators, but how it faired against other bluetooth devices available.
Overall, the GSV150 met my expectations, having tested the GSV130 and GSV140. With it's slim design, inexpensive price, and powerhouse (1200 watts) heating element, this is definitely an appliance I can recommend. Where I think it was lacking though, was the app to allows you to connect to the immersion circulator from your smartphone.
Keep reading to see if the Gourmia GSV150 is the immersion circulator you're looking for, or if you'd be better off spending your money elsewhere.

Standard Features
Like most immersion circulators, the GSV150 comes equipped with a clip that allows you to connect it to almost any style pot. The "lever" style you see on Gourmia circulators is actually what I prefer. Some devices have a "screw down" style where you have to open and close it by turning a dial. Spinning that dial takes just a little more work! You may find it difficult to use the lever style on thicker-walled containers like coolers though.


This circulator also comes with and easy-to-see minimum/maximum water mark, so you can use it with many different widths and heights of pots. The display of the GSV150 continues with the usual Gourmia style. Hold the ON button for a few seconds to turn it on, then set your temperature and time using by tapping the SET button and rolling the dial wheel on the front of the device. At first, it was bit strange getting use to touching buttons that were like a smartphone (flat), but you get used to it.

You can cook at a maximum temperature of 203ºF (95ºC). Once the temperature and time is set, the water will heat until it reaches your desired temperature. Then it will beep every 3 seconds until you hold the SET button for a few seconds to indicate that you put the food into the water bath and want to start the time. You may or may not like this feature!
The advantage is that if you are doing something else around the house, you can finish what you're doing and then put the food into the bath. The countdown timer will not start automatically when it reaches the target temp, and you won't forget to put the food in because the darn thing will keep beeping. For me, I need this reminder!
Sometimes I'm writing an article and want to finish my thought before getting out of my chair. However, the beeping can get annoying if you don't go turn it off right away. Despite being a bit annoying, I like having this feature as a reminder as opposed to other devices like Kitchen Masters version [LINK] which just beeps once then starts counting down without any interaction from you.
This model currently comes in two colors, black (shown in this review) and white.

Extra Features
The main thing worth talking about here is the addition of bluetooth connectivity for this model. This is a really handy feature in my opinion. Part of the appeal of sous vide for me is that it's very "hands off" meaning I can do errands and work while my food is cooking. It saves me a lot of time in the kitchen. For example, while cooking pork chops today, I went to get a haircut, go grocery shopping, and got and a cup of coffee.
I cooked the chops for 2 hours and they were ready when I got home. I checked on the food a few times during my outing using the Gourmia App on my smartphone to see how much time I had left until they were done.
After a quick sear, I just made a green salad and boom. There's a healthy lunch. 90% of the cooking was done while I was doing other things, and not even at home and I could basically keep an eye on my food from my phone. Cool huh?

Unfortunately, the app is my main complaint about the GSV150. Though it doesn't really affect how the device works, it reduces the appeal of the bluetooth ability. Yes, you can use the app to start and stop the device, and that's the main thing you'll be using the app for.
However, the other features of the app are just not very good. "Chef Recipes" is currently not doing anything (just coming soon). Favorites is just a place to store your favorite recipes from the app Recipe section. The recipes are a little helpful, but there's no search feature. So when I click "Poultry", I get just a long list of random poultry recipes.
It is helpful that the recipes are listed by type of food (beef, pork, eggs), but to get any more specific than that, like "tri-tip", you have to manually scroll. Cook time for some of these recipes ranges from 2 hours to 2 days. I find myself wanting to just set a time for "steak" rather than search a specific cut of meat.
That leads us to the temperature guide called Time & Temp! This is quite a confusing section that I'm still not quite sure how to use. The temperature and time guide seems very thorough but it's a little confusing. I just want to find out what temperature to cook my steak at. They want me to cook an eye round stake for 1 to 2 days? That sounds a bit excessive! I could probably finish it in 2 hours or less, no? Perhaps they mean a whole roast instead of a steak slice. They don't list the thickness, so it's impossible to know.

In addition to the time confusion, I wish there was a way we could just select a cut of meat, a thickness, and then press GO. You can do that via the recipe section, but then you are trying to match your cut of meat with the recipe. Anyway, it's not very user friendly.
I thought this misspelling was a little funny, but for a "professional" app, I would expect a bit more effort from Gourmia!

So to summarize, the ability to monitor your food through your phone is very cool. However, Gourmia is still far off from a user friendly, fun app. Chefsteps has them beat without a doubt in this category.
Cooking Experience
I cooked a number of dishes with the Gourmia GSV150, including pork chops, sturgeon, and some steaks. They all turned out delicious, as expected. Surprisingly though, it was very difficult to find information on how to cook sturgeon.
This was just a random cut of fish I found at the store. I cooked it at a higher temperature than salmon just to be sure, but there were still some bloody spots that looked quite unappetizing while I was eating. Of course, this wasn't Gourmia's fault, but then again, maybe they should have sturgeon listed in their fish cooking temperatures! They have scrod and skate, but no sturgeon.

As I mentioned above, I also cooked a "kings cut" pork chop earlier today while grocery shopping. Everything pretty much went as planned. I didn't take the time to photograph much because I was in a rush, but here's the GSV150 at work. You can see the temperature was only 84º but I already tossed in the food because I was in a rush. Unfortunately, that meant I could not start the countdown timer while I was a way, but I also wasn't at home to listen to the beeping after it reached the target temp of 140.

Technical Stuff
Unit Size Size: 2.8 x 5.8 x 14.8 inches, 3.5 lbs
Temperature Range & Precision: +/- 0.1 degree
Power: 1200 Watts
Pump Circulation: 1.5 gallons per minute, up to 10 gallons
Let's break some of this down into simple language! The size of the unit is pretty standard, although it is a little slimmer and taller than most. I prefer this look because it seems more elegant. There are some other quite chunky looking devices like the Sansaire, so the Gourmia models look quite nice I think. It's quite light as well, though no the lightest I've bought.
1200 watts is simply the most power you can get, and it's obvious when you are heating the water before you start to cook. When I just want to make some poached eggs in the morning and it takes an hour to warm up then an hour to cook, it ruins the fun of having awesome eggs for breakfast. But with 1200 watts you can reduce that wait time significantly.
Most devices nowadays have a precision of 0.1 degrees, so while it is impressive and will certainly help you make better food, it's pretty standard.
Comparing The Gourmia GSV150 To Other Immersion Circulators
So this is a very interesting immersion circulator to review because it has some very close comparisons. Honestly, I like this part of my reviews because it gives me a chance to find the best product for you. So the three main things I want to look at are other bluetooth devices, other Gourmia devices, and then try to break down a price comparison.
Compare To Other Bluetooth/Wifi Devices
The main other two sous vide immersion circulators that offer wifi are the Joule from Chefsteps and the Anova Precision Cooker. Having tested all three, the wifi features work pretty much the same. They are all easy to connect, and let you monitor as well as turn on/off the device remotely. The main difference is going to be the app, which is how you interact with your appliance through your smartphone.
Hands down, the best app is the joule. It's much more user friendly, and much more targeted to newbies that just want to get cooking. There's a whole introduction sequence with a real person (video) speaking to you and there images + videos for each type of food you want to cook.
You can choose how you want to cook your food based on "doneness" with a visual guide in case you aren't sure what's best. Choose temperature, thickness of meat (if applicable), and then click start to activate the device. I'm a huge fan of the Joule as well, but it costs almost double what the GSV150 is currently selling for.

The Anova Precision Cooker app is my #2 choice. It's not a user-friendly and doesn't have as many cool features, but it works alright. It's pretty much what I would expect from a cooking company without a super tech savvy team but a budget to pay someone. The Anova device is currently less expensive than Joule, but more expensive than Gourmia. So in this respect you get what you pay for when comparing these three devices.
Unfortunately, that means the Gourmia team really missed the mark with their app. Yes, it allows you to interact with your device, but beyond that it's kinda useless. If you are buying the GSV150 purely for the wifi connectivity, my advice is to opt for one of these other two devices. If you simply want the best Gourmia model, you can certainly get this version since it's the newest model. Otherwise, you can get the GSV140 and save yourself about twenty bucks
Compare To Other Gourmia Models
Just looking at the other two models available (GSV130 and GSV140), it's easy to see some similarities. In the image below, they are listed left to right, from oldest to newest model. The only big difference in terms of look is that the GSV140 has a reversed display and a clear setting dial which lights up when turned operating.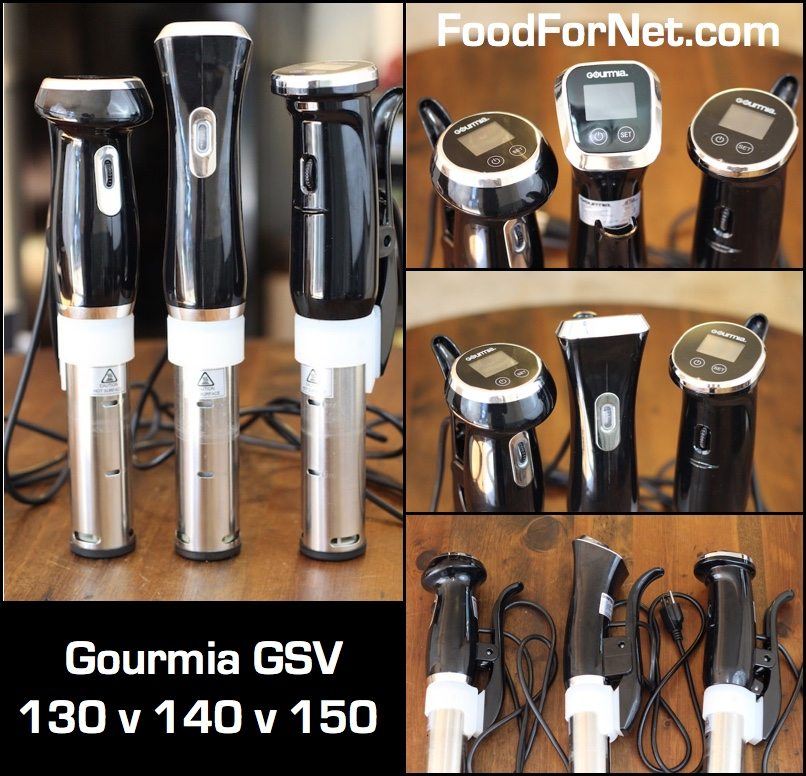 Clocking in at 3.5 pounds, the GSV150 model is the heaviest of the three, but it's only 1/2 a pound heavier than the GSV140. Perhaps that was to make it more sturdy? It's got basically the same cooking ability as the previous model, heading up to 10 gallons of water and having a pump that can circulate at 1.5 gallons per minute (the 140 can do 2.1 GPM).
The clip to hold the circulator in place is exactly the same. In terms of design, it's really up to you which one you like better. I prefer to long sleek look of the 140, but I think the 150 also has a nice look to the display case. The actual display typeface and interaction is exactly the same between models. I don't think there's enough of a design difference to really say you should spend more money for the 150.
There are three colors available for the 130 (black/white/gold), 5 colors for the 140 (black/white/gold/blue/silver), and 2 colors for the 150 (black/white). If you like this brand but want it without wifi, I highly recommend you check out my GSV140 review for a full look at that model.
Comparing Prices
The specific price of the Gourmia GSV150 fluctuates on Amazon (the same as any other product), so it would be unfair to list an exact price here. That being said, it's currently the most expensive of the Gourmia immersion circulators, and the cheapest of the bluetooth devices. You can click one of the links on this page to see the current price.
I also want to point out that all Gourmia models operate at 1200 watts of power which is the most on the market. That means fast water heating! And considering they are among the most inexpensive sous vide devices on the market, you are getting a lot of value here. Devices such as the Instant Pot SV800 [LINK] cost up to 50% more but offer only 800 watts of power (30% less).
Who Is The GSV150 Best For?
If you would like a wifi-enabled immersion circulator to cook sous vide and want the most inexpensive model out there, then the Gourmia GSV150 is the perfect choice for you. It's an awesome appliance, the wifi option works great, and Gourmia immersion circulators are the most powerful on the market.
Also, in comparison with other sous vide devices out there that can cost over $700, this is an extremely inexpensive appliance. If you just like the Gourmia brand and want to get the newest model out there, then the GSV150 is what you should get.
Conclusion
This is a really good immersion circulator, and can serve as a great starter appliance for someone that's brand new to sous vide, or for an experienced cook that wants an inexpensive device for their home. However, I still prefer the previous model, the GSV140 based on looks alone. The tech-specs are pretty much the same between the two, so that's still my #1 choice for inexpensive immersion circulators. In terms of wifi, I prefer the Joule, and that's my #1 pick for premium immersion circulators. However, the GSV150 is still a very good, and very inexpensive wifi-enabled option.
Pros/Cons
Pros
Inexpensive
Reliable Brand
Easy Travel
Wifi-Enabled
Free App
Two Color Options
Temperature Alarm
Sleek Design
1200 Watts Means Fast Water Heating
Holds Temperature After Cook Time Finished
Cons
App Not User-Friendly
Noisier Than Water Activity Than Other Brands
Casing Not Removable (Difficult To Clean)

All Gourmia sous vide cookers come with a really nice cookbook to get you started.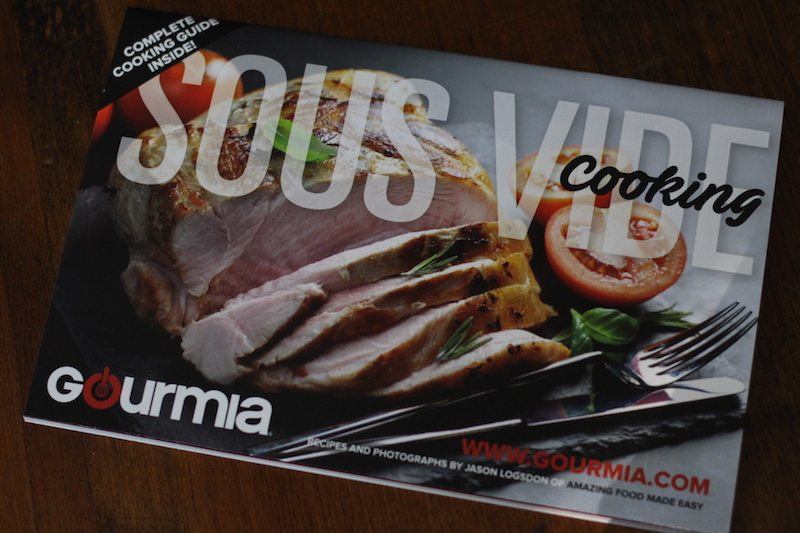 Video: Gourmia GSV150 Review