Gourmia SlowSmart 8.5 Quart Digital Slow Cooker Review
Quality - 97%
Features - 94%
Price - 97%
Personal Experience - 100%
Value - 99%
This extra big, digitally programmable slow cooker from Gourmia made my day after I cooked an excellent recipe I'm glad to say I ate 100% by myself. It's enormous size makes it great for cooking large amounts of food, and the digital timer makes for accurate cooking. No fancy straps, clips, or lid locking needed...just a simple and effective appliance!
Introduction
The Gourmia DCP-860 SlowSmart 8.5 quart Digital Slow Cooker is the largest slow cooker I've tested to date. Clocking in at eight and a half quarts, it's a monster. But slow cooked meals lend themselves to making extra, so buying a cooker as big as this is not a crazy idea. Gourmia is a brand headquartered in New York City, which specializes in specialty kitchen equipment. They have a few sous vide immersion circulators available, as well as multi cookers, rice cookers, and mini fridges.
Their lineup of slow cookers is not very diverse, but there are two main options – both 8.5 quarters. One is programmable, one is not. Today we're going going to be reviewing the programmable version.

Standard Features
The SlowSmart is a pretty standard slow cooker for the price point. It comes with a dishwasher safe crock and lid, plastic, heat-resistant carrying handles, and a digital interface to set the amount of time you want your meal to cook. It comes in a sleek stainless steel design with black handles, and a blue-lit LCD panel to show the countdown timer.

There is also a 7 quart option with the same design that's also available. Keep in mind, the 8.5 quart model DCP-860 is a very large slow cooker so the dimensions are quite big (16 x 11.5 x 11 in) and the device weighs about 16 pounds. That's about 1.5 pounds heavier than Maxi-Matic's 8.5 Quart digital model! However, I do like the sturdiness of the Gourmia construction, and tend to trust their brand more than Maximatic
Extra Features
Though pretty standard for programmable slow cookers, the option to set a specific number of hours for your meal to cook is an upgrade form the manual slow cooker from Gourmia. You can set this slow cooker for an extended number of hours as well, due to the large size. When cooking large roasts or chickens, you might need to cook for up to 10 hours to have the meat thoroughly cook through.
After it's done cooking, you can have the meal set to automatically warm for up to 20 hours. Your food will definitely not be cold when you get home from work in the evening!
One small issue I have with this model is that the handles were very small for this size of a cooker. I didn't do any major transporting, and am a relatively fit man, so lifting was not an issue. But if you're a slim or older lady, you might not be able to get a good grip. Some more ergonomic and robust handles would be a welcome change to come to this slow cooker.

It does not come with a travel-ready locking lid or rubber seal though, so don't plan on taking this anywhere! For that option, you'd need to get the Hamilton Beach 7-quart manual [LINK] with lid-latch straps (not entirely effective), or the 7-quart Stay or Go from the same brand.
Cooking Experience
To test out this extra large slow cooker I made breakfast for the week. I created a Mexican breakfast casserole recipe that blew my mind. I didn't even know I could make something that good. I started with a few ideas from around the internet and made it my own. The recipe isn't up yet, but it's coming soon.

As mentioned above, the recipe turned out amazing. I was able to make a large amount of food (enough for about 8 breakfasts) in one go. The food cooked overnight, so for 6 hours, plus 2 hours on warm. Though personally I think this is quite a bulk appliance, it was very convenient to make a meal for an entire week overnight. I just put everything in Tupperware and heated it up in the morning before I started work (on this blog).
I as well as other reviewers have commented that this Gourmia slow cooker consistently cooks everything evenly, so this is a very good buy! Plus, considering it's being sold on Amazon for 1/2 the cost of what it's listed for on the Gourmia website, you're getting a great deal.
Comparing The Gourmia SlowSmart 8.5 Quart To Other Slow Cookers
What are you looking for in a slow cooker? If you definitely need something extra large, then you could also consider the Hamilton Beach 7-quart programmable, however it's shy a quart and a half (but it is cheaper as well). If you aren't sure about the Gourmia brand you could get that one instead, or check out the Crock-Pot 7 quart as well.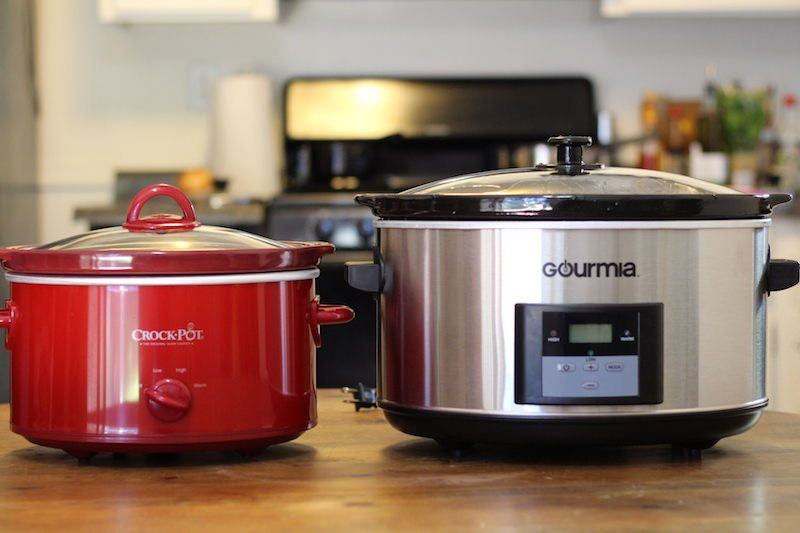 For similarly sized pots, check out our post on extra large slow cookers which showcase devices with quart-capacity larger than 7 quarts. The eight and a half quart capacity is the biggest size we could find, but there are lots of 8 quart versions as well from brands like Maximatic, Hamilton Beach, and Crock Pot. However, large models tend to be manual rather than programmable. I'm not sure why that is, but it seems to be a trend.
For that reason – the fact that this is a large cooker and is digitally programmable, the Gourmia SlowSmart made my top 3 list. It's in my Top 3 recommended large slow cookers. It's a great value, cooks evenly, from a brand I like, and it has a nice design too. It's a little bulky, but you can't get away from that if you're going to cook an 8 pound turkey in it!
Who Is The Gourmia SlowSmart DCP-860 Best For?
If you have a large family, meal prep, and have a spot on the kitchen for this appliance then it's definitely worth the money. For me, I probably am too lazy to meal prep on a regular basis, and I like to cook fresh food more than heat stuff up. I would probably use it for that purpose a few times, then be stuck with a bulk item to store somewhere. But if you plan to make large meals on a regular basis, then this is one of the best brands and models to consider.
Conclusion
The large size and weight of the Gourmia SlowSmart 8.5 digital slow cooker is not for everyone. But it's a niche item, and if it's what you're looking for, then you can take my recommendation on this. The meal I made with it was delicious and went off without a hitch. It's got a simple but elegant design, is easy to use, and very inexpensive despite being so big and being manufactured by a US company.

Pros/Cons
Pros
Inexpensive
Reliable Brand
Dishwasher Safe Stoneware/Lid
Easy Clean
Perfect for making extra large meals
Digital LCD Screen and Programmable
Cooks Evenly
Simple To Use
Cons